When I think about my favorite memories from my time spent in Montana, many of them revolve around white water rafting. There's nothing better than putting on the splash gear and piling into the raft filled with anticipation of what's to come on your Montana whitewater rafting trip.
Whether you fill the raft with your entire family or get paired up with strangers that become friends, you're sure to have a fun time filled with shrieks and laughs.
There's something uniquely special about whitewater rafting in Montana and the options are endless – choose from locations such as Yellowstone, Glacier, Red Lodge, or Big Sky. These are some of the best spots in the US for rafting, so wherever you end up, you're sure to have a blast.
Montana is full of iconic rivers that make for perfect rafting destinations. Whether you're looking for a calm and scenic raft or for a thrilling ride with class III-IV rapids, there's a trip waiting for you.
8 Best Places For Whitewater Rafting in Montana
Montana is well-known for more than its hiking, fishing, and hunting. Whitewater rafting is an outside adventure perfect for adrenaline seekers, families, and those looking to experience the landscape in a new and exciting way.
As an absolute white water rafting buff who has experienced more of the state's rapids than most, I've narrowed down my favorite stretches of white water for this list of the 8 best rafting spots in Montana.
Map of the Best Whitewater Rafting Spots in Montana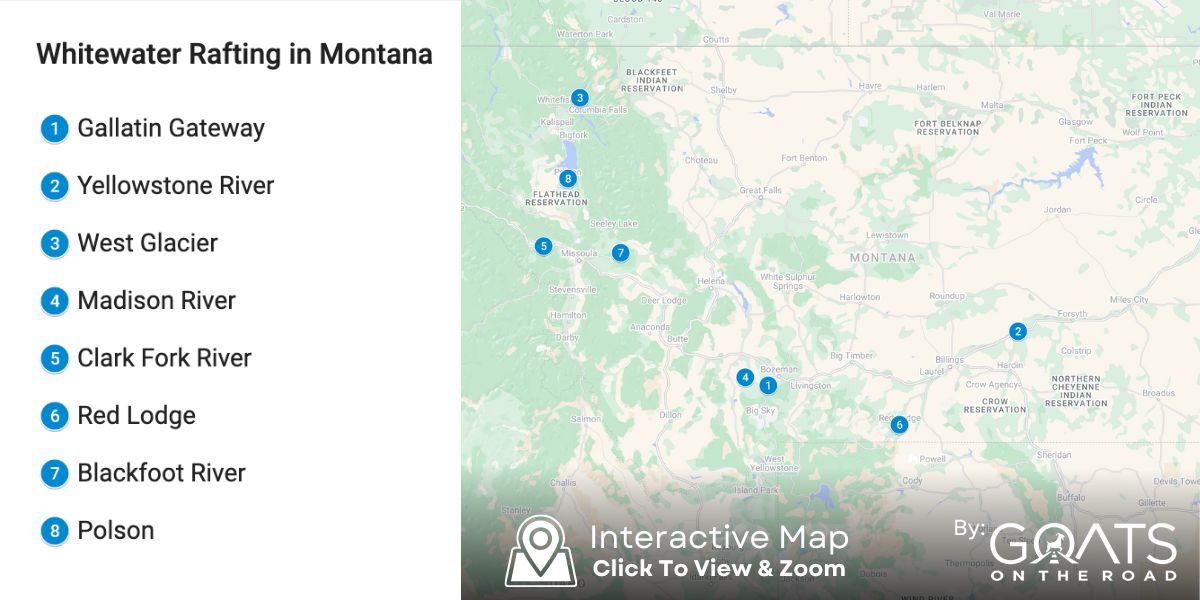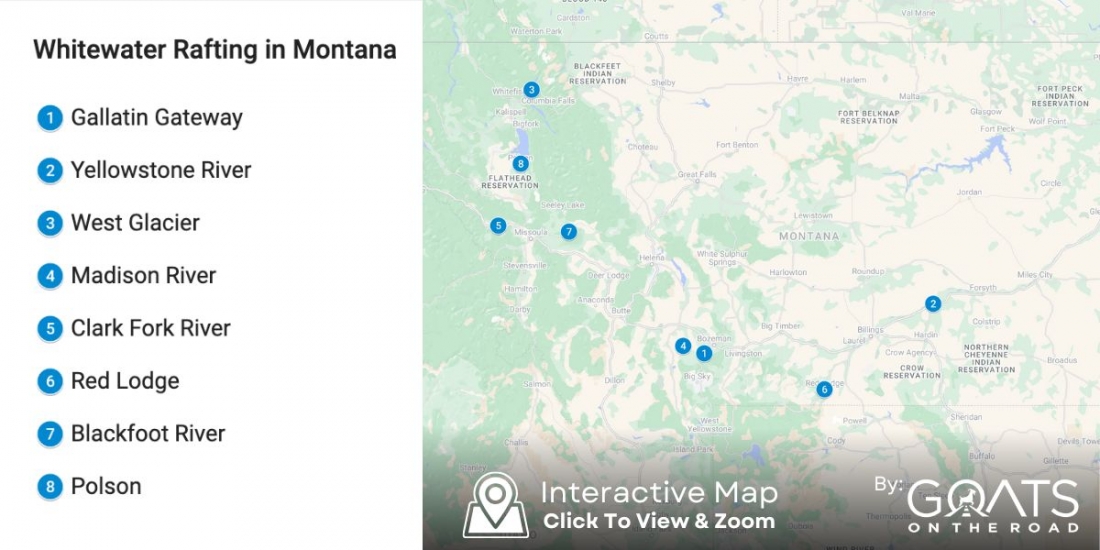 1. Gallatin River: Gallatin Gateway, MT/Big Sky, MT
The Gallatin River runs for over 100 miles through Southern Montana from Bozeman to Yellowstone. Some of the best water to raft on the Gallatin is accessible near the town of Big Sky, MT in the Gallatin Gateway.
The Gallatin River makes for one of the premier destinations for whitewater rafting in Montana. The Gallatin offers some of the best scenery of mountain meadows and canyons paired with high-class rapids and impressive whitewater.
Guided trips down the Gallatin are guaranteed to meet your needs. For those who are looking for whitewater and fast rapids, book a trip early in the season when the water levels are still high.
May and early June are ideal for high waters and reasonable temperatures. Also, make sure your trip includes the infamous Mad Mile class IV rapid. A trip like this would cover class II-IV rapids.
If you're looking for something for first-timers or those after a more gentle experience, book a trip on the upper section of the Gallatin River and consider a time later in the season when the water has lowered.
Try rafting throughout late June into August. A trip like this would cover class II-III rapids and is still sure to provide splashes and smiles.
Book a rafting trip on the Gallatin River through Montana Whitewater. From personal experience, this family-owned business provides some of the most experienced and fun guides around; ensuring a high-quality and high-fun day of rafting every time.
What I love further about this company is that they offer a variety of trips. They have half-day options that range from less challenging to more challenging. A half-day trip costs $76 per person and lasts for 3 hours. They also offer full-day trips that range from 5-6 hours and start at $146.
If you're looking for a place to stay for your time in Montana that's close to Montana Whitewater, consider this cozy cabin.
Staying here will give you an authentic Montana experience surrounded by animals and yet you'll only be 8 miles from Bozeman and 7 miles from the heart of the Gallatin Gateway. The journey to Montana Whitewater is just down the road from this accommodation.
2. Yellowstone River: Bozeman, MT
If you've chosen Bozeman as your Montana summer adventure destination, you'll be just a short drive away from some of the best whitewater rafting in the state. Head south to the Yellowstone River which is one of the longest free-flowing rivers in the United States.
The Yellowstone River makes for great whitewater rafting as you're guaranteed to experience classic Montana scenery and beauty as part of the package. Perhaps you'll even see bald eagles, elk, or whitetail deer.
If you're looking for medium-range rapids with a combination of class II-III rapids and calm stretches to take in the scenery, I recommend you book a trip on the Yellowstone River. The most difficult part of the river is called Yankee Jim Canyon which is a section that features many class III rapids.
To get the most out of your time on the Yellowstone River, book the 18-mile full-day rafting trip. This trip lasts around 4-5 hours and costs around $150 per adult and $130 per child, (12 & under).
The 18-mile trip starts calmly as you take in the morning air and scenery. After you eat the lunch provided for you, you'll get back on the water and even stop at a safe place to swim. Throughout the ride, you'll experience both class II and III rapids!
For a shorter day on the water, book the 2-hour 8-mile trip. This trip is $80 per adult and $59 per child, (12 & under). This ride is a combination of smooth floating sections and class II and III rapids to navigate.
Finally, for the thrill seeker and those in good shape, you can book a 6-mile trip that travels through class III and IV rapids. This trip is $85 for those 16 and older – expect to be soaked after this exciting 6-mile trip.
To be in a prime location to Bozeman, Yellowstone National Park, and also to the start of this whitewater rafting trip, check out this new 3-bedroom cabin in the heart of Paradise Valley. This cabin provides prime views of Emigrant peak and offers privacy and peace.
3. Flathead River: West Glacier, MT
If you're visiting Glacier National Park (and you should, it's one of the top places to see in Montana), consider adding whitewater rafting to your trip itinerary. The Flathead River offers some beautiful water and rafting and so visiting is sure to become a memory you won't forget from your time in Montana.
The Flathead River runs from the Rocky Mountains in Northwest Montana and Canada. The river forms three waterways along its path, with two of those being the Middle Fork and the North Fork. The Middle Fork and North Fork create the southern and western boundary of Glacier National Park.
While whitewater rafting isn't permitted within Glacier National Park, the Flathead River provides some of the best views of the picture-perfect park along its routes. Whitewater rafting the Flathead River would give you a unique way to experience the area.
Book this half-day whitewater rafting trip that navigates the Middle Fork of the Flathead River. This 8-mile, 3.5-hour ride includes class II-III rapids and epic views as you navigate through John Stevens Canyon. Be prepared to traverse one of the most well-known rapids known as the "Bone Crusher"…
The trip begins in West Glacier, MT and you'll be provided with all instructions and equipment necessary. The cost of this trip is $93.59.
Located just down the road from West Glacier and the west entrance of Glacier National Park, book the Spruce Pine Cabin to be in the perfect location for your next Montana trip. This modern and cozy cabin sits at the base of the Swan Mountain range and is well-stocked with all of the necessities for your stay.
4. Madison River: Norris, MT (near West Yellowstone)
Montana Whitewater offers a unique rafting experience on the Madison River through Bear Trap Canyon. Bear Trap Canyon is a designated wilderness area that's only accessible by foot or by boat and is where you'll find the longest stretch of whitewater on the Madison River.
Booking this trip will mean you'll get an exclusive experience only available to some – it's seriously special.
With just a few boats allowed on the water at a time, as you travel through Bear Trap Canyon you might be lucky enough to spot some eagles, mountain goats, or maybe even a bear.
The 10-mile trip traverses through some class III rapids, some scenic floating, and even passes through a class IV rapid known as the "kitchen sink." During this trip, you'll be treated to a river-side lunch and will stop at places that make for good swimming holes.
The Bear Trap Canyon trip can take place if there are at least 5 guests signed up. The trip meets north of Norris, MT, and costs $225 per person, (ages 6 and up).
This full-day trip down the Madison River is a unique and remote experience that will allow you to take in the beauty surrounding Yellowstone from a fantastic new perspective.
Just 20 minutes south of Norris and an hour from the entrance to West Yellowstone, this home in Ennis, MT would be a great place to return to after a day of exploring or whitewater rafting. The guest home is located on 3-acres of property and offers stellar views of the Madison mountain range.
5. Clark Fork River: Missoula, MT
Rated as the #1 thing to do while visiting Missoula, MT, be sure to add whitewater rafting on the Clark Fork River to your bucket list. Traversing down the Clark Fork is well-known for some of the best whitewater rafting in all of Montana.
Adventure Missoula is comprised of experienced guides and has an impressive history of providing safe and family-friendly adventures along with trips that please the adrenaline junkies.
Adventure Missoula is located right along the Clark Fork River and all of their raft trips navigate through the famous Alberton Gorge, which provides a diverse scenic display.
Adventure Missoula offers both full-day rafting trips and half-day rafting trips. The full-day, 12-mile experience begins at 10am and wraps up around 4pm.
During this full whitewater rafting adventure, you'll experience class I-III rapids; experience both time to relax and take in the scenery, and time to get the heart rate up as you go through rapids named Boateater, Fang, Cliffside, and Tumbleweed.
The half-day trip is safe and accessible for families and people of all ages. This trip includes a couple of class III rapids with calmer waters that follow.
The full-day trip is $90 for adults and $80 for those ages 6-17 and the half-day trip is $70 for adults and $60 for those ages 6-17.
If you book a trip through Adventure Missoula, you'll be provided with life jackets, wet suits, (if needed), splash jackets, water shoes, an experienced guide, and transportation from Missoula if required.
The options for beautiful places to stay in Missoula are plenty. The whitewater rafting trip actually takes off from Alberton, MT but if you stay in Missoula, you'll be just a 25-minute drive away.
This modern townhome in downtown Missoula is in a great location to explore the city and adventure in the outdoors.
After a day of whitewater rafting, you could happily return to this home to freshen up and choose to explore the food scene in downtown Missoula. Or, if you've had enough excitement for the day, pop to the grocery store and cook your own meal in the fully stocked kitchen.
Looking for more fun things to do around Montana?
6. Stillwater River: Red Lodge, MT
If you drive north from Red Lodge, MT for 33 miles, you'll come to a town called Absarokee. This is where an epic whitewater rafting experience on the Stillwater River begins.
The Stillwater River is known for some famous rapids such as the Beartooth Drop, Mad Max, and the Nemesis. You can also expect to see Montana wildlife while on the water.
One local guiding company out of Absarokee, MT is Adventure Whitewater. This is a family-oriented business that offers rafting trips down the Stillwater River and tailors the trip based on the season. They raft down the Stillwater and the Yellowstone – depending on what section of water will provide the best rafting experience.
Adventure Whitewater offers half-day trips that cost $70 for adults and $35 for kids, (12 and under). They also offer a unique experience called "Paddle and Saddle." This is a full day of adventuring where you ride horses for half the day and hit the whitewater on a raft for the other half.
If you're spending time in Red Lodge, be sure to add whitewater rafting to your list of things to do!
If you need a place to stay in Red Lodge, you have numerous Airbnbs options to pick from to suit your entire party. This new townhome in downtown Red Lodge is absolutely stunning. The three bedrooms and three baths are ideal for a couples trip or a family.
7. Blackfoot River: Missoula, MT
The Blackfoot River is best known for its iconic fly fishing but it also has some impressive whitewater great for rafting too. The river runs for 100 miles starting at the Continental Divide and running to the Clark Fork River close to Missoula, MT.
The section of the Blackfoot River most common for rafting is located in the scenic Blackfoot River Recreation Corridor surrounded by beautiful mountains. The Blackfoot River is a common destination that those from Missoula, or those visiting Missoula, flock to on a hot summer day.
Zoo Town Surfers offers rafting trips down the Blackfoot River with both half-day and full-day options that traverse through class I-III rapids.
The earlier in the season that you raft, the higher the water level will be. May and early June provide fast and spicy rides while trips later in the season allow more time to swim, splash, and take in the scenery.
No matter when you choose to book your trip, you'll be sure to experience the iconic Blackfoot River made famous by the movie, "A River Runs Through It".
Rafting down the Blackfoot river is a great option for beginners. An adult half-day trip is $60 while children 12 and under are $44. Adult full-day trips are $75 and children are $69. For both the half-day and full-day trips, you can pay a little extra to have a homemade lunch provided.
If you're looking for an interesting Airbnb option in Missoula, you'll be pleased to know there are dozens to choose from.
This townhouse is perfect for a larger family. It has 3 bedrooms and 2.5 bathrooms. Plus, it's in an ideal position to travel to the rafting location early in the morning, and experience all of the other exciting things that Missoula has to offer.
8. Lower Flathead River: Polson, MT
Up near Glacier National Park, you can whitewater raft the Middle Fork and North Fork of the Flathead River. As you head south of Flathead Lake, you can find Flathead Raft Company which offers guided trips down the lower Flathead River.
The Flathead River is known to be the warmest river in the state and the lower section of the river provides long stretches of consistent whitewater. If you choose this destination, you can expect to navigate class II-III rapids including the famous Wild Buffalo rapids.
A half-day rafting trip down the lower Flathead River departs at either 10am or 2pm. The cost is $70 for adults and $60 for children, (ages 8-12).
Polson, MT is on the south side of Flathead Lake, so you have all sorts of options in terms of housing and entertainment. If you want a true lake-style home, you'll need to spend a decent amount, but the options are wonderful and definitely worth the price.
This cabin in Polson is right on the lake and offers a ton of privacy and room for the entire family to explore the beauty of northern Montana.
The three bedrooms and two bathrooms allow for a few couples or a full family to stay comfortably. Plus, if you didn't get enough of the water on your rafting trip, you have your own private lake access to spend some more time paddleboarding or kayaking.
FAQs About Whitewater Rafting in Montana
Answers to some commonly asked questions about whitewater rafting.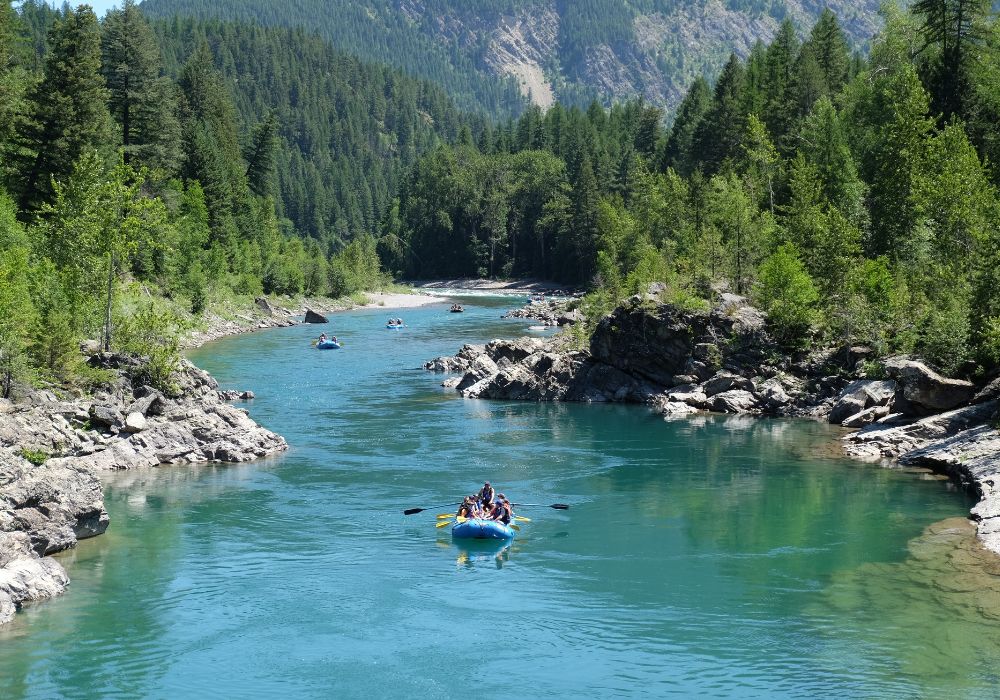 Does Montana have white water rafting?
Montana has many rivers and destinations that make for perfect whitewater rafting. There's whitewater rafting near Yellowstone and Glacier National Park, and near towns like Big Sky, Gardiner, Missoula, and Red Lodge.
Is there white water rafting in Glacier National Park?
Whitewater rafting isn't allowed on the premises of Glacier National Park, however, many outfitters guide trips on the Flathead River just outside of the park. Whitewater rafting can be found on the Middle and North Forks of the Flathead River on the Western and Southern borders of Glacier National Park.
Is there white water rafting in Yellowstone?
Whitewater rafting isn't permitted in Yellowstone National Park but there are plenty of rafting options just outside of the park. Towns like Gardiner and Big Sky offer many whitewater rafting options down the Yellowstone River, the Gallatin River, and the Madison River.
What should I wear for a whitewater rafting trip in Montana?
Many outfitters and guide companies provide rafters with splash gear such as pants, jackets, wetsuits, and shoes for times when the water temperature is very low.

However, when the water temperature is higher, you can get away with wearing your own quick-drying clothing like board shorts or water shorts.

Consider a shirt that provides UPF sun protection. For shoes, water shoes or waterproof tightfitting sandals that stay on work great. Additionally, bring along a hat and sunglass for extra sun protection.
In Conclusion
The options for places to whitewater raft in Montana are plenty. From family friendly trips perfect for beginners to adrenaline-pumping trips designed for the adventurous or experienced, Montana has several different whitewater rafting options available.
No matter where you choose to whitewater raft in Montana, you're guaranteed to be surrounded by beauty and experience the landscape in a way like never before by raft.
From personal experience, as soon as you get over the crisp and cool water temperature and navigate through that first rapid, the adventure begins and you're in for an incredible ride.
Consider whitewater rafting in Montana to escape the summer heat, make life-long memories with your family, or just try something new.
Like This Article? Pin it!