As a native of Montana, I've always found Helena to have a distinct feel due to its historical downtown. The gothic cathedral in town gives it more of a European feel, while the surrounding mountain ranges make it an outdoor adventurer's paradise.
Helena has always been a unique Montana spot to visit for a blend of culture, history, and nature. If you're looking for the best things to do in Helena, MT, you've come to the right place.
Whether you're into outdoor activities, art, history, or just want to relax and take it easy, there is something for everyone.
1. Explore Mount Helena State Park
One of the top things to do in Helena in summer is to hike or mountain bike in Mount Helena City Park. This state park has over 20 miles of trails with varying degrees of difficulty, so it's perfect for both beginner and experienced hikers.
There are also several scenic lookouts where you can take in the incredible views of the city and surrounding mountain ranges.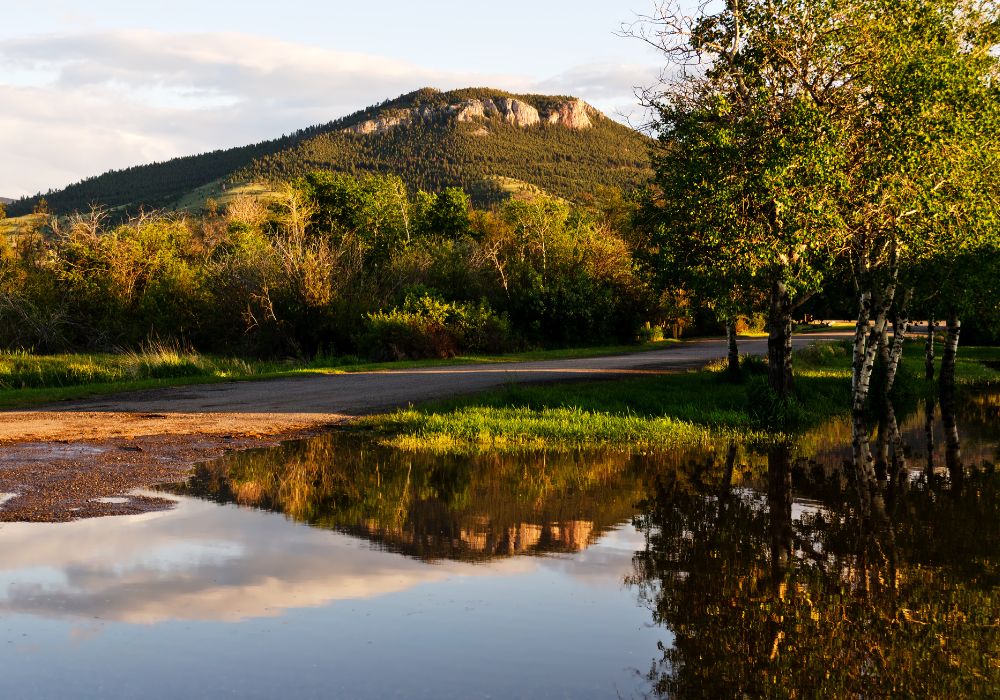 The best part about this nature-filled area is that you don't even have to leave the city limits. Helena is one of the only cities in Montana that has a state park right in town.
If you want, you can easily get in as much hiking as you want, bring a picnic, and then explore other areas of Helena when you're ready.
You can even stay in a hotel or Airbnb close by so that you can spend a few days exploring the park and other close by areas of Helena on foot.
2. Take a Self-Guided Walking Tour of Historic Downtown
One of the best free things to do in Helena is to take a self-guided walking tour of the historic downtown. This area is full of beautiful historical buildings from a previous gold rush, many of which are on the National Register of Historic Places.
The city of Helena has its own walking app that you can download, which will give you all the information you need to know about each building. Plus, recommendations for popular photo-worthy stops.
If you have more questions about Helena history or what to explore, you can also stop by their visitor center downtown for more in-depth information as well. They might even be able to recommend a local tour guide.
Noteworthy stops include:
Montana State Capitol
Reeder's Alley
Pedestrian Mall
Governor's Mansion
Cathedral of St. Helena
If you're interested in learning more about Helena's history, this is a great way to do it. And even if you're not, the buildings are still beautiful and worth checking out. Plus, you can always stop for a coffee, a little shopping, or a beer on tap as you explore this historic area.
3. Take a Last Chance Train Tour
If you are interested in a more formal tour of things to see in Helena, you might consider the Last Chance Train Tour. This is rated as one of the top Helena tourist attractions for visitors.
Tours typically run from May to August. You can also book an entire train for larger groups or even a private trolley tour.
You can expect to see a lot of the same places that you would on the self-guided walking tour. However, this guided train tour will provide you with a lot more interesting history while riding in a climate-controlled Trolley.
Plus, you will also see a lot more of the area than you would on foot. This makes this tour particularly great for families with young children or those who are short on time and want to quickly get a taste of Helena history.
4. Ski at the Great Divide
For fun things to do in Helena in winter, consider grabbing a pair of skis or snowboarding. The Great Divide Ski Area is just a short drive out of town and offers trails for all levels of skiers.
There are five chairlifts that will help you explore different areas of the mountain, depending on your experience level. Just make sure you stay on the chairs that correspond to your skill level.
Other than that, all you have to do is show up and rent equipment or sign up for lessons at the base of the mountain. If you'd like, you can also rent gear in town. And when you need a break, stop in their lodge for a brew or burger and relax.
Personally, I'm a huge fan of low-key ski mountains like the Great Divide. You can enjoy the snow and nature, without the crazy price tags of crowds. It's a win-win. Check their website for hours and what months they are actually open each year.
Planning to visit other areas in Montana? See these posts:
5. Take a Dip and Relax
Visiting Broadwater Hot Springs is one of the romantic things to do in Helena. It is also fun for singles and families as well. Although, parents are encouraged to let their kids play in the rec pool rather than in the hot pools- reserved for quiet and relaxation.
These are the only hot springs near Helena and are easy to access right in town. There are a few different pools to choose from, all with different temperatures. So whether you like it hot or prefer a cooler dip, there is something for everyone.
While you're soaking (or after), you can also grab a bite to eat from the on-site bar and grill as well — making this your one-stop shop for a lovely day. Additionally, you can also get in a workout before your soak if you'd like to. A visit to the hot springs in Montana is always a great idea.
6. Hike Ruby Valley
For more fun things to do in Helena, consider exploring the Ruby Valley. This is a gorgeous area just outside of town that offers hiking, biking, fishing, and camping. Just throw your favorite gear in the car and head out to this nearby destination.
There are several different trails in the area, so you can tailor your hike to your fitness level and time frame.
A few options include:
Snowcrest Trail
Little Willow Trail
The Lookout
The best time to visit Ruby Valley is in the summer when the weather is warm and the wildflowers are blooming. However, there are also great winter activities like cross-country skiing and snowshoeing.
If you don't have this gear, you can rent it from a local outfitter too. No matter when you go, you are sure to find something active to do.
7. Try Fly Fishing
For a classic and favorite Montana activity, consider going fly fishing.
This is a great activity for all ages and can be done in many different areas around Helena. You can even take lessons if you have never done it before with a fishing guide. Otherwise, grab your fishing gear and head out to one of the three rivers nearby.
Rivers that are great for fly fishing and are reachable from Helena include:
Missouri River between Holter Dam and the town of Cascade (the closest option)
Black Foot River
Clark Fork River
8. Visit Summer Star Ranch
If you're looking for unusual things to do in Helena, the Summer Star Ranch might be your next fun adventure. While they offer classic Montana activities like horseback riding, they also offer decadent tea parties.
A tea party is a unique activity for a girl's day, self-care day, or a special occasion while enjoying the beautiful scenery of the ranch- all you have to do is book ahead. (Don't forget your favorite fancy tea attire.)
Even if you're not up for a tea party, the ranch is still a great place to explore with family and friends on horseback. Or you can book a stay at their bed and breakfast. Get in touch with the ranch for more details on availability for booking a room, horseback ride, or party.
9. Explore MacDonald Pass
For great outdoor places to visit in Helena, there are plenty of nearby forests. One notable area is MacDonald Pass.
While it's beautiful year-round, this area is best known for its 15 miles of cross-country ski trails. It's a great place to enjoy the snow and fresh air without having to travel far from town. It's free to ski, although membership is encouraged to support the local Nordic ski team.
There are also plenty of hiking trails in the summer if you'd rather wait for warmer weather. When in the vicinity, you can also find primitive camping in the summer months as well- just remember to pack your bear spray.
10. Visit Exploration Works
For things to do in Helena for families, consider a visit to Exploration Works. This is a science museum that has interactive exhibits for all ages meant to encourage learning through play.
There are a few permanent exhibits, such as waterway exploration and a toddler play area, as well as rotating traveling ones. You can check their website periodically to see what exhibits they currently have on display for exploring.
Visiting an indoor facility like this is perfect for those rainy or extra cold days when going outside isn't much fun.
11. Go Lake Fishing at Canyon Ferry
Twenty miles east of Helena is Canyon Ferry Reservoir. This is a great place to enjoy some lake fishing from multiple docks and marinas. Lake fishermen of all skill levels love catching trout, bass, and walleye here.
Additionally, you can also bring your own boat or rent one from Kim's marina on-site- ranging from a jet ski to a pontoon party boat.
This is a perfect activity for those hot summer days when you want to cool off and relax by the water. You can also bring a kayak and paddle board and get in a good workout while exploring the water.
When you're finished fishing or boating, you can go for a swim in a designated area or even find a place to stay. Plus, there are plenty of camping and Airbnb options in the area.
12. Visit the Holter Art Museum
For fun indoor things to do in Helena, check out the Holter Art Museum. In addition to art displays, it also has an education and research center. This makes it perfect for those who want to learn more about the artwork and the artists themselves.
The museum collections include paintings, sculptures, photographs, and more from regional artists. They also have rotating exhibitions so that there is always something new to see.
Admission is free, although donations are encouraged. It's a great way to spend an hour or two and feel inspired.
13. Drive to Lewis and Clark Caverns
For unique things to do in Helena, MT jump in a car and head an hour south to Lewis and Clark Caverns. A hidden gem that I always loved visiting as a kid, this beautiful state park is a great place to explore.
The most memorable aspects of this tour were getting to experience the caverns in complete darkness and going on a nature-made rock "slide" during the tour.
The magical tour of the caverns takes about two hours, and you'll get to see plenty of stalactites and stalagmites. I recommend wearing comfortable shoes since there is a lot of walking involved.
You can also hike some trails before or after your tour. Plus, there are opportunities in the area for fishing, canoeing, camping, and mountain biking as well- making it yet another great outdoor destination spot.
14. Explore the Historical Society Museum
To learn more about the history of Helena and the state of Montana, visit the Historical Society Museum. This is a great place to go if you want to spend an afternoon indoors learning about the area and getting a sense of Montana's extensive native history.
The museum has exhibits on topics such as early settlers and railroads. You can also see artwork from regional artists, as well as plenty of historical artifacts.
Perhaps most impressively, they have a large collection of Native American artifacts. When you're done exploring, be sure to visit the museum shop filled with beautifully made-in-Montana textiles and products.
15. Play at the Gates of the Mountains Wilderness
Finally, for fun things to do near Helena, check out a local canyon that Lewis and Clark once explored by boat called the Gates of the Mountain's Wilderness. Hop in the car, head north, and you'll be there in about half an hour.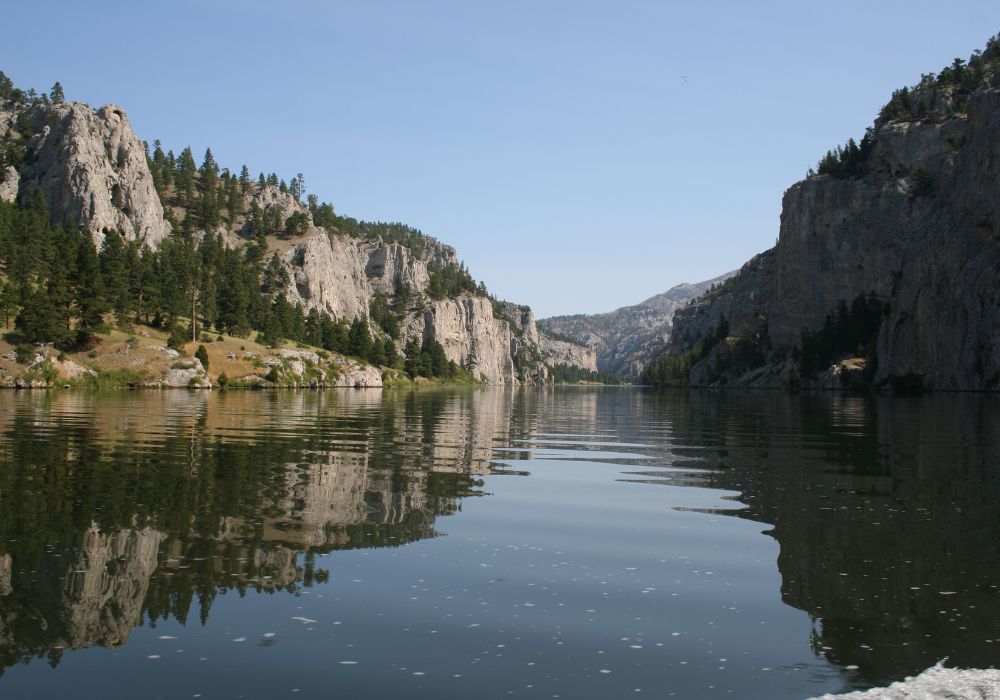 Since you'll be on the Missouri River, you'll have a lot of options for exploring. To name a few, you can fish, canoe, drive, hike, picnic, bike, and camp. Choose one or two of your favorite modes and enjoy a day or two exploring the area.
FAQs About Helena, MT
Here are some answers to commonly asked questions about visiting Helena.
Is Helena MT worth visiting?
Yes, Helena is definitely worth visiting as the state's capital. It's a great place to learn about the history of Montana and see some beautiful scenery. There are plenty of things to do in the area, including hiking, fishing, and visiting museums.
What is Helena city known for?
Helena is best known for its history. The downtown area is rich with history from the early days of Montana's settlement when there was a gold rush. There are many historical buildings and museums to explore in the area.
However, most people fall in love with the area for all of its outdoor activities to try year-round.
Is Helena MT a beautiful city?
Yes, Helena is a beautiful city. It's located in the mountains (Big Belt and Ruby mountain ranges) and has plenty of green space- including a state park in the vicinity of the town. There are also many historical buildings downtown that are worth admiring.
Where to stay in Helena?
You have tons of choices when staying in Helena. The countless recreational areas offer camping spots if you have the gear for it. Otherwise, you can choose between local hotels and Airbnbs in the area.
Which area of town you want to stay in will depend on what you're most interested in doing each day. I recommend staying near downtown or Helena state park for some easy exploration that you can do on foot.
Where to eat in Helena?
There are plenty of great places to eat in Helena. If you're looking for a quick bite, there are plenty of fast food and casual dining options like Planet Gyros. For a sit-down meal, some popular choices include the Union Grille and the Silver Star Steakhouse.
There are also several great coffee shops in Helena, such as the 1889 Coffee House and Park Avenue Bakery.
In Conclusion
With this great list of options, you should have an idea of what to do in Helena. Have fun exploring the state capital and all it has to offer.
If you're short on time, pick one or two items from the list and enjoy them. Otherwise, try to do them all! Whichever you choose, you're sure to have a great time. Enjoy!
Planning to visit other areas in Montana?
Like This Article? Pin it!