Big Sky may be known for its epic skiing, but it's also home to hundreds of miles of hiking trails. Hikes in Big Sky range from short and family-friendly to long and perfect for the outdoor enthusiast.
The trails in Big Sky offer epic mountain views, wildlife encounters, mountain meadows and wildflowers, alpine lakes, and aspen groves.
One of the best things about hiking in Big Sky is that the trails are close to the city, yet make you feel that you are truly out in the wild, making it one of the best places in the United States for hiking..
Grab the bear spray and your hiking poles and you're ready to hit the trails! Big Sky hiking is guaranteed to please both the beginner hiker and the experienced hiker. I know that during the several times I've visited Big Sky, I've not had enough time to visit all of the trails in the area – there are so many!
I love all of the unique aspects of the trails and the views. It's a perfect mix of remote and challenging.
10 Best Hikes in Big Sky
Here are the 10 best hikes in the Big Sky area-ranging from short and sweet to long and challenging. I've hiked all of these trails and many more, and can definitely recommend the ones on this list as the best in the area. Click Here to see all of these trails on an interactive map.
1. Ousel Falls
Ousel Falls is a great hike if you're looking for something close to Big Sky. Located just 5 minutes south of town, Ousel Falls makes for one of the best waterfall hikes near Big Sky. This is a perfect hike for the entire family as it is relatively flat and can be completed in less than an hour.
No matter who you are, don't skip this hike just because it's less than 2 miles long. The views along the way are stunning as the trail follows the Gallatin River. On the hike, you will cross 3 bridges before you reach the falls themselves.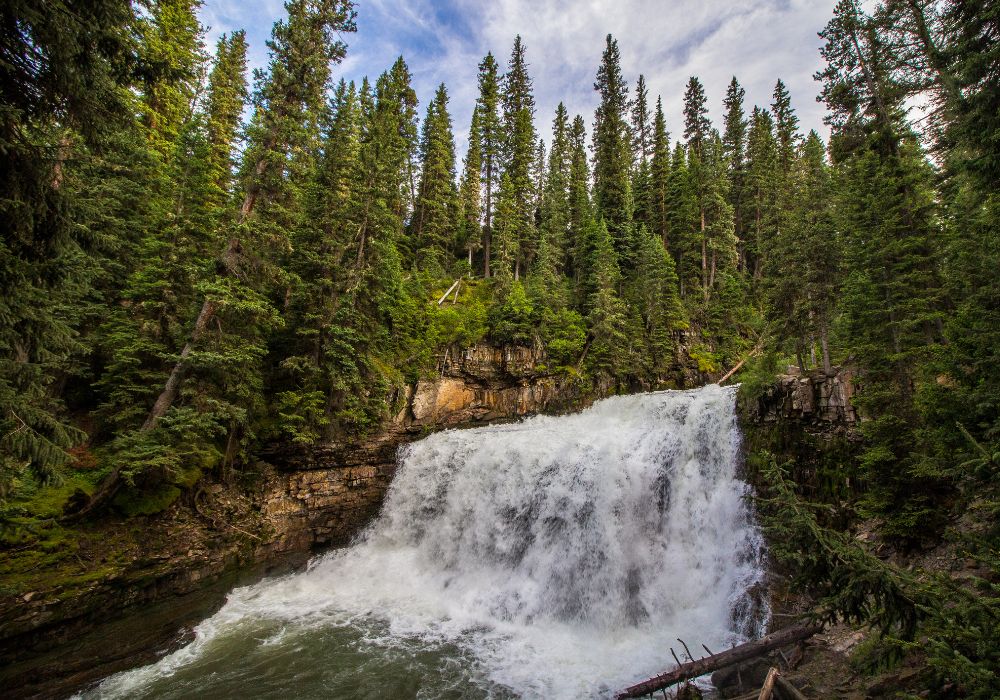 I suggest packing a lunch and enjoying it at a picnic table near the falls. Hiking to Ousel Falls is also a great option for a hot summer day as the trail is located in a shady forest and you are following water the entire way.
Trail Details and Information
2. Summit Lake
If you're looking for a challenge, look no further than Summit Lake. Located in the Custer-Gallatin National Forest, Summit Lake has everything you might want for a mountain adventure. You'll hike along the Gallatin River, pass through Bear Basin, and climb up a mountain pass to arrive at a stunning alpine lake.
The journey to Summit Lake is challenging but the views are worth it. You will pass through a dense, green forest, a beautiful open valley full of wildflowers and big peaks, and will end at a shining blue alpine lake.
If you are going to hike to Summit Lake, it is important to be bear aware. Make sure to hike with at least one other person, carry bear spray, and make noise appropriately. On our visit to Summit Lake, we didn't come across any bears on our path, but we saw plenty of fresh scat and prints along the trail.
Trail Details and Information
3. Beehive Basin
There's a reason Beehive Basin has been noted as one of the best hikes in the United States. Located close to town and known for its beauty, Beehive Basin is one of the most popular and best hikes in Big Sky.
Beehive Basin is known to be a moderate trail surrounded by beauty the entire way up. When we hiked Beehive Basin, I remember constantly looking around and taking in my surroundings. The trail passes through meadows of wildflowers and you have perfect views of mountain peaks the entire way.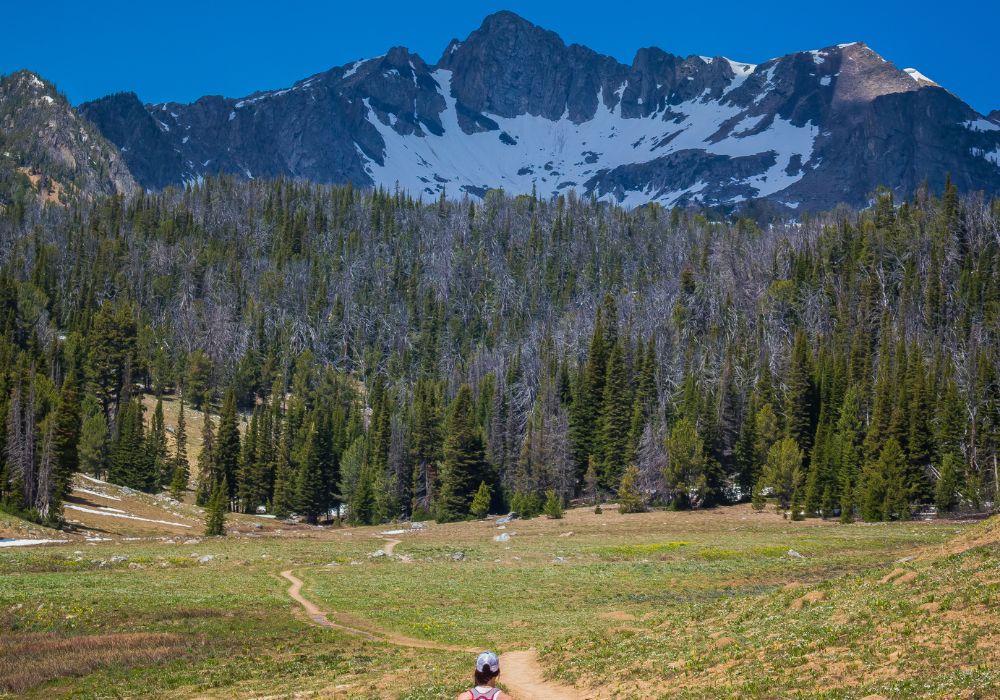 Once you get to the top, choose a rock to rest on and eat lunch as you enjoy the view of the glacier lake and the snow-packed peaks towering over the basin.
The climb up Beehive Basin is gradual – I don't remember thinking that it was too steep or hard to keep going at any point.
Trail Details and Information
4. Lava Lake
The hike to Lava Lake is a gradual climb with a rewarding destination at the end. The trail begins in a dense forest that reminded me of the Pacific Northwest. While meandering through this green and lush section, you'll walk along creeks and cross over them a few times on bridges.
Once you're close to the top, you'll make a final climb up to Lava Lake. You might be surprised by how big the lake is – I certainly was! Lava Lake is surrounded by tall pine trees with the Spanish Peaks towering over the lake in the distance.
I recommend packing lunch and enjoying it next to the lake as you relax and take in the view. The parking lot at the trailhead for Lava Lake is very large but it fills up quickly-especially on the weekends. I suggest getting there early to secure your spot and hit the trails in peace and quiet.
Be mindful that this trail is busy so even if you start early, you will likely be meeting several people making their way up as you are going down.
Trail Details and Information
5. Uplands Trail Loop
The Uplands Trail Loop is a great new addition to the Big Sky area. Just a few miles away from the city center, Uplands Trail Loop is great for those looking for a short and sweet workout close to town.
The dirt-surfaced path offers expansive views of Big Sky from the top. As you make your way up, you'll pass by wildflowers and through aspen groves and a forest canopy. Just because this loop is close to town does not mean that you don't need to remain bear and moose aware.
Try this easy hike in Big Sky on your next trip!
Trail Details and Information
6. Albino Lake
Albino Lake is a great hike option for those who are looking for a little more distance but less elevation gain. Albino Lake is located in Montana's Madison Mountain Range and is a dog-friendly option.
Be prepared to get your feet wet on this hike as you'll come across some creek crossings. As you make your way towards Albino Lake, you will have magnificent views of the surrounding peaks like Koch Peak and the Taylor Hildgards.
Head out on this Big Sky hike to enjoy the mountain views and the expansive blue skies of Montana.
Trail Details and Information
7. Gallatin Peak
If you're looking for a backpacking trip or a big day hike, get your gear together and summit Gallatin Peak. Gallatin Peak is located close to Big Sky and is equally beautiful and challenging.
Most people hike to Summit Lake (9 miles) on day 1, camp at the lake, and attempt the summit the next day. The hike to Summit Lake is lush and you'll pass through Bear Basin before ascending up to the lake itself. The summit to Gallatin Peak is no joke – it is a true scramble that involves all fours at times.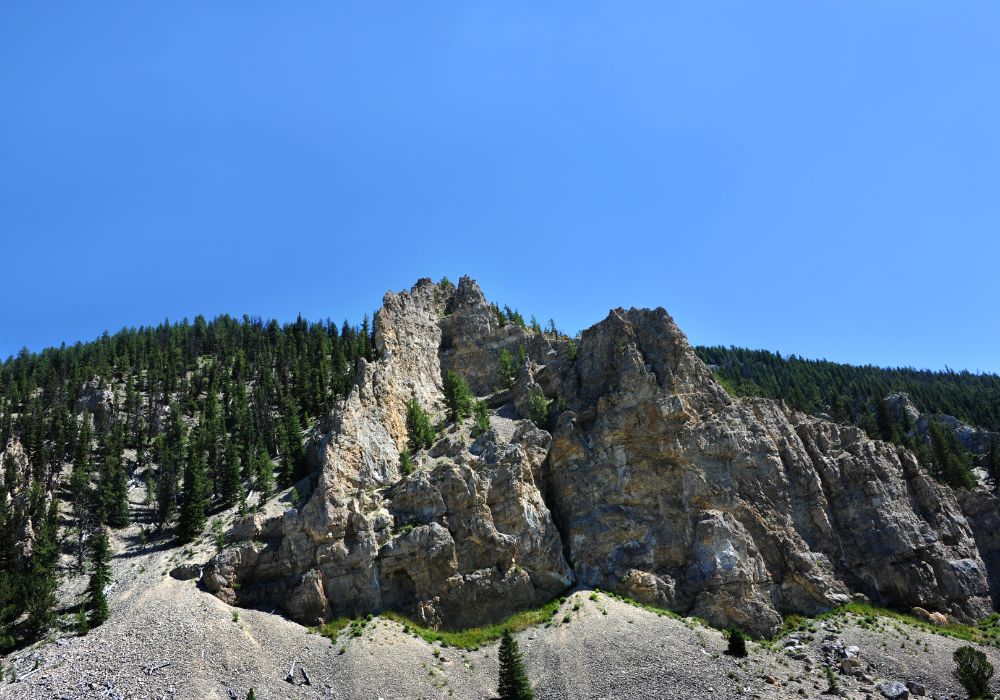 In July of 2021, I attempted to summit Gallatin Peak as one big-day hike, but only made it to the lake because of the weather and not feeling like we had the right conditions. I hope that I get a chance to come back and complete the entire hike! The views of the basin and the massive peaks have not left my mind ever since.
If you're attempting to summit Gallatin Peak, make sure to pack your bear spray as the entire trail is home to bears. Also, pack layers as you never know when the weather might shift as you are high up in elevation.
Trail Details and Information
8. The Reflector Loop
The Reflector Loop is a great moderate hike located close to the center of Big Sky! Because it is close to town and has a gradual incline, this is a great option for the entire family.
This hike might not have the sweeping mountain views like others in the area, but its accessibility, views of Lone Peak, and path through aspens still make it a worthwhile hike.
Be sure to pack your bear spray as it is common to encounter black bears in the area.
Trail Details and Information
9. Cinnamon Mountain Trail
Cinnamon Mountain Trail is a beautiful trail through a pine forest with an old fire lookout tower as the final destination. The hike starts with a gradual incline, then transitions to switchbacks to get above the tree line, and ends with the climb to the lookout tower.
At the top of Cinnamon Mountain, you can expect to find panoramic views of the surrounding area including Lone Mountain, the Taylor Hilgard range, the Spanish Peaks, and Gallatin Canyon.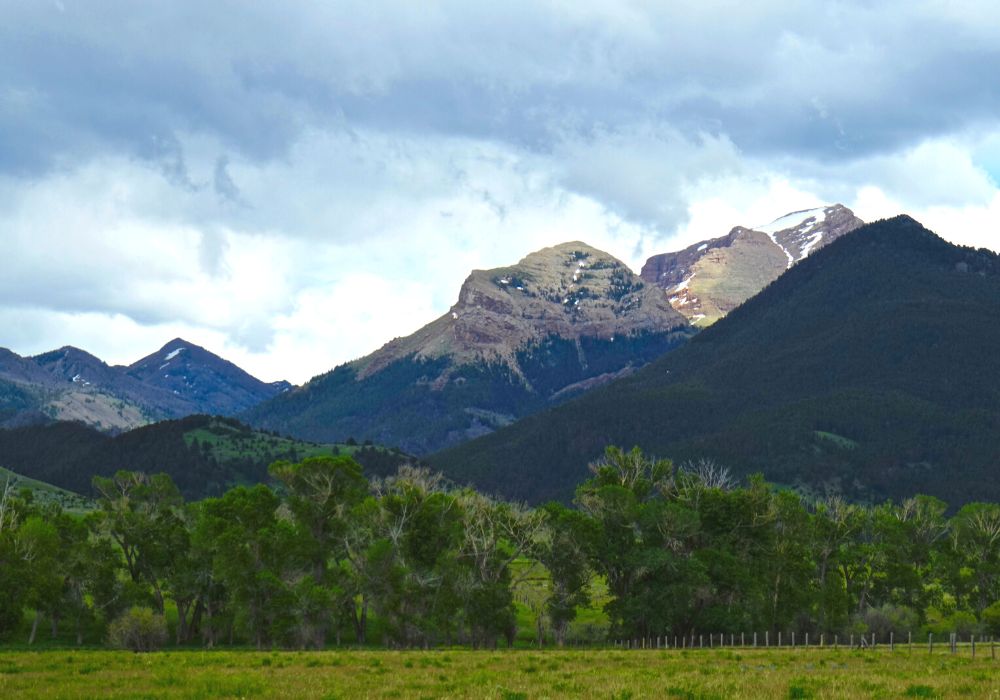 The lookout at the top is a great place to rest and eat lunch. However, be aware of afternoon thunderstorms and be ready to head down to avoid any change in weather.
Trail Details and Information
10. Lone Mountain
Summiting Lone Mountain might be one of the most challenging hiking options in the Big Sky area. The summit involves over 3,000 feet of elevation gain, aggressive scrambles, and steep drop-offs. For those that don't want to take the tram to the top, you can attempt to summit on your own two feet.
Lone Mountain is the iconic peak that seems to tower over Big Sky and is home to Big Sky Ski Resort. There are many options for routes up to the top so I suggest finding a map of the area to decide the best route. Many people take the Southeast ride of the "Summit Climb" as the trail map calls it.
Get ready for an epic summit that involves technical climbs and breathtaking views.
Trail Details and Information
Where to Stay in Big Sky
These are a few of the best neighborhoods and areas in and around Big Sky.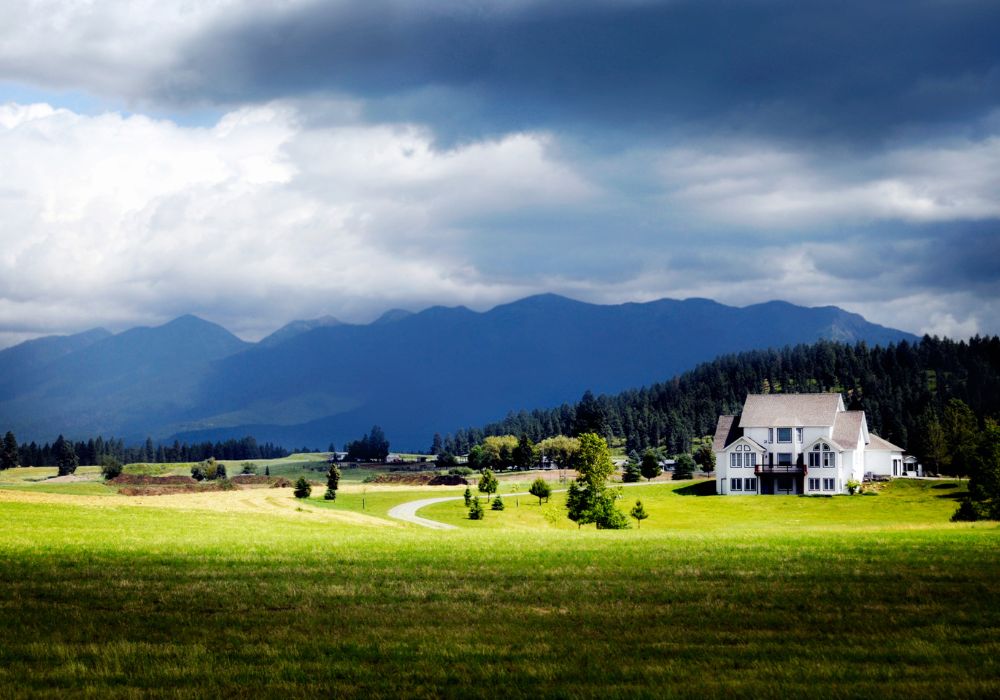 The Mountain Village
If you're headed to Big Sky to hit the slopes, then staying in the Mountain Village area is perfect for you. Home to the best ski resorts and lifts up to world-famous ski funs, the Mountain Village will meet all of your needs.
The Mountain Village has its own restaurant options but is also only 15 minutes from the city center with even more options for dining and shopping.
If you're looking for a place to stay just steps away from the ski lifts, check out this 1 bedroom condo at the base of Big Sky Resort. This is a newly renovated condo and is contemporary yet cozy.
City Center
Staying in the city center of Big Sky gives you amazing access to the best restaurants, bars, and shopping in the town. If you like to be around the energy of a city and be close to just about everything, staying downtown is the best option for you.
Check out this luxury 2 bedroom and 2 bath condo in the heart of Big Sky. This modern space has an open floor plan, is just steps away from the restaurants and shopping, and is located in the new community center with the option to rock-climb and use the gym.
If you choose to stay in the city center, you'll still only be 15 minutes from the ski resort and 45 minutes from the west entrance to Yellowstone National Park.
Meadow Village
The Meadow Village area of Big Sky is known for its golf course and a more residential feel. If you enjoy golfing and would still like to be close to Big Sky's restaurants and shops, this area is perfect for you. The Meadow Village is a convenient location for golfing, the city center, and the ski resort.
Check out this cozy condo on the golf course for your stay in Meadow Village. This 2 bedroom 2 bathroom condo is fully furnished with everything you would need and has a wrap-around porch that offers amazing views of Lone Mountain and the 17th green of the golf course.
Hiking in Big Sky: FAQs
Here are some answers to commonly asked questions about hiking around Big Sky.
What is the most popular hike in Big Sky?
The most popular hike in Big Sky is Beehive Basin. This 7-mile hike just north of town is known for its mountain meadows and alpine lake surrounded by massive peaks. Beehive Basin is a bit challenging at first, and the second mile is fairly flat. At the end, you'll climb a few hundred feet of elevation, but the most challenging part is the beginning.
What is the easiest hike around Big Sky?
The easiest hike around Big Sky is Ousel Falls. Ousel Falls is just 2 miles away from Big Sky and is a flat 1.7-mile hike along the Gallatin River with the falls as the final destination. These falls are absolutely beautiful and are well worth the trip. You can easily combine these falls with another hike on the list.

Make sure you don't leave Big Sky without seeing Ousel Falls.
Are there any waterfall trails in Big Sky?
The best waterfall trail in Big Sky is Ousel Falls Trail. A 1.7-mile roundtrip hike takes you along the Gallatin River and finally to Ousel Falls.
What should I wear when hiking in Big Sky?
Layers are the most important things to wear when hiking in Big Sky. You never know when the wind might pick up or an afternoon storm will roll in. Always have a rain jacket handy and wear sturdy hiking shoes. Also, bring a change of socks.

The trails can be fairly muddy, so it's nice to be able to change socks once you reach your destination and be comfortable before you begin your descent.
What is the most beautiful trail in Big Sky?
The most beautiful trail in Big Sky is Lava Lake. This 6-mile hike journeys through a lush forest with creeks flowing near the trail and ends at a large alpine lake with large peaks towering in the distance.
While it can be fairly busy on the weekends, you'll find a lot of solitude during the week.

Get to the trailhead early, so you can get a nice parking spot and see the sun rising over the peaks surrounding the lake.
Is hiking in Big Sky dangerous?
Hiking in Big Sky can be dangerous if you're not prepared. The area surrounding Big Sky is known for bears and moose so it is important to hike with 3 people if possible, to make noise while hiking, and to always carry bear spray.

You also have the potential to run into severe storms, so make sure you have the proper gear for inclement weather. Overall, however, hiking in Big Sky is a safe and enjoyable experience.
In Closing
The options for hiking in Big Sky are almost endless. The surrounding Custer-Gallatin National Forest and several surrounding mountain ranges offer many trails to explore. Hiking in Big Sky also provides variety -whether you're looking to summit a mountain, see a waterfall, relax next to an alpine lake or pass through wildflower meadows, there is something for you!
It's easily become one of my favorite areas in the United States to hike. It gives me all the things I want: seclusion, views, wildlife, and a challenge. You won't be sorry for hitting the trails in and around Big Sky.
Planning to visit other areas in Montana?
Like This Article? Pin it!