When the summer tourists clear out in September, Bozeman is wide open for the cold weather adventurers. The amount of things to do in Bozeman in the winter is enough to keep you busy year after year. Not enough people take advantage of the countless activities that range from skiing to snowshoeing.
I spent several years visiting Bozeman during the warmer months and finally decided to venture there in the winter. The privacy and solitude I'd been longing for during the summer was finally found once winter hit.
Bozeman is already one of the best mountain towns in the United States, and one of the best places to visit in Montana, but it takes on an entirely new personality in the winter.
The Bozeman winter activities are nothing short of spectacular. You'll find yourself intrigued by the limits you can push yourself to and discover unique experiences you can't find anywhere else.
If you're visiting Bozeman in other months, be sure to check out our guide for the best things to do in Bozeman at any time of the year. Also, check out our epic bucket list of the 101 must-see places to visit in the US.
Check out this list for the best things to do in Bozeman in the winter
I've spent plenty of winters in Bozeman myself on trips with my wife and also with my family. I've been going to the city in the winter for years and in that time I've enjoyed much of what the town has to offer.
I've narrowed down my favorite winter activities to bring you this list of the best things to do in Bozeman in winter.
1. Yellowstone Wolves and Winter Tour
In terms of things to do in Bozeman in the winter, the most unique option you'll likely find is this guided 4-day and 3-night Yellowstone Wolves and Winter excursion. On this semi-inclusive tour, you'll receive a full wildlife tour of Yellowstone National Park in a comfortable van with large windows so you can take in all the sites.
The guides are local biologists and ecologists who have a massive amount of knowledge about everything that can be found throughout the park.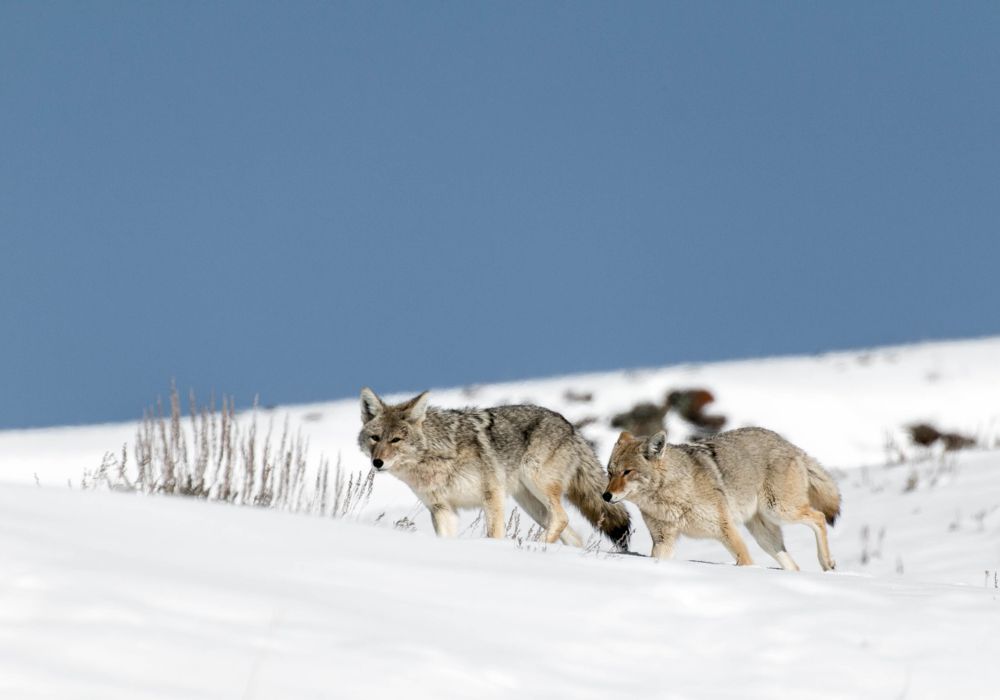 As you travel the park, you'll have the opportunity to ask questions, stop and take pictures, and see it through a lens few others get to experience. The winter months bring far fewer visitors to the park. Plus, the animals are still active and easy to spot.
You'll stay in high-quality accommodations for the three nights of your trip. The guides offer recommendations on where to eat each night and offer the opportunity to eat all together as a group. If you're interested in showing up and having everything planned for you, then this is the ideal trip.
You'll start the tour in Bozeman and make your way around the park and surrounding areas for 3 full days. The park fees, snacks, breakfasts, and several other benefits are provided.
At around $1,900 per person, you'll be receiving a wonderful, one-of-a-kind experience. Tours like these are what make visiting Bozeman in winter a unique adventure.
2. Yellowstone Winter Tour From Bozeman
If you're interested in a day tour of Yellowstone in the winter, then the winter tour from Bozeman with a naturalist guide is an ideal option. People interested in seeing moose and wolves should prioritize this tour as this is the time of year when the animals are easiest to spot.
The tour begins in Bozeman and your guide will pick you up in a Ford Expedition. You'll start your drive by heading into Yellowstone via Paradise Valley and enter the park through the north entrance.
From here, you'll experience Mammoth Hot Springs while it's surrounded by snow – it's extremely beautiful and the white powder adds an entirely different aesthetic to the area.
After the hot springs, you'll spend time driving along the Yellowstone River toward Lamar Valley. Once you reach Lamar Valley, the wildlife viewing begins. Elk, moose, deer, and wolves all inhabit this valley in the winter. Your tour guide will provide all sorts of interesting information on these animals as they appear.
You'll return to Bozeman the same way you went into the park with a stop in Emigrant.
The tour costs around $400 per person. It includes breakfast, lunch, and a selection of snacks. You'll be responsible for the $20 per person fee that it costs to enter the park and any additional gratuities you wish to give your guide.
3. Bridger Bowl Skiing
Whether you're a veteran skier or a family looking to learn how to ski for the first time, Bridger Bowl is the perfect option for you all. Located just 16 miles north of the heart of Bozeman, it's perfect for a full-day or half-day trip. Plus, you won't find it to be as busy or chaotic as some of the other ski resorts you'll find in the western United States.
The Bridger Bowl was the first place I ever snowboarded in Montana. It was a nice place to warm up for a week of winter adventures.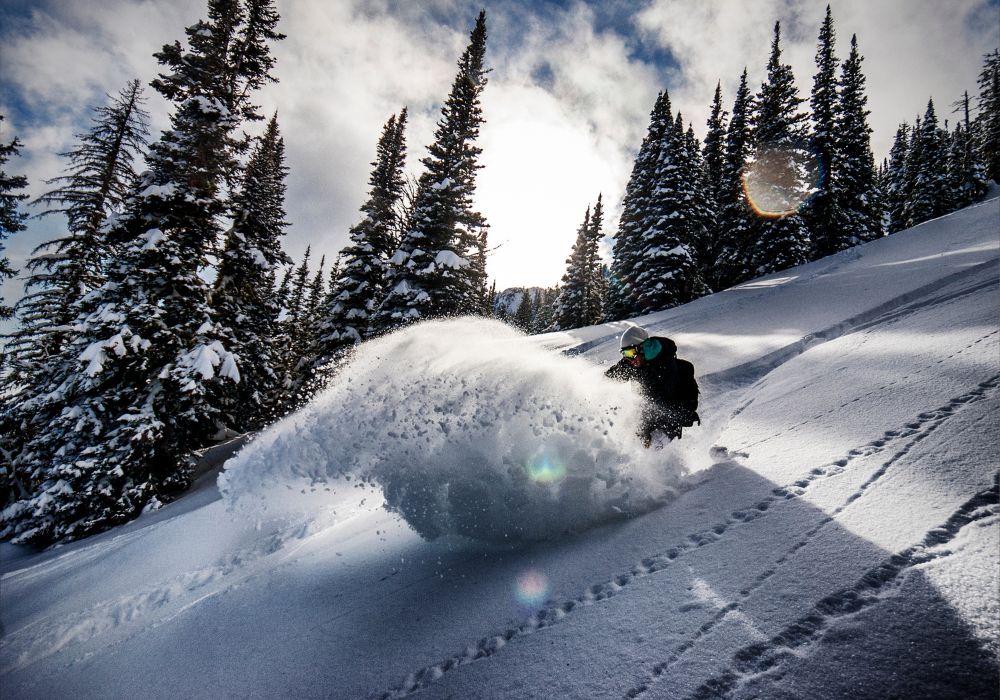 I found the slopes and terrain park to be high quality and all of the facilities in great shape. If you're an avid skier or snowboarder and are looking for something that's going to test every aspect of your repertoire, this may not be for you, but it's challenging enough and the conditions are great.
The mountain usually opens in early December and closes in late March. It's open every day from 9 am until 4 pm and there are over 2,000 acres of skiable terrain with 75 different runs across the mountain.
There are 11 different lifts across the mountain as well as a terrain park and there are trails and runs for people of all skill levels. The bunny hills and backcountry terrain are wonderful.
Perhaps the best part of the Bridger Bowl is the affordable prices. While most western ski resorts are several hundred dollars for a full-day lift ticket, you'll not find that to be the case here.
Adult lift tickets are $70 for the day and $60 for a half day. Junior tickets, (ages 13-18), are $45 for the day, children's prices, (ages 7-12) are $30, and anyone under the age of 6 is free.
If you have any seniors in your family who like to ski, they'll pay $40 for a day-long lift ticket. Also, if you're a beginner and only interested in spending time on the beginner lifts, you'll only be charged $20 for the day.
Gear rentals range from $20 to $45 depending on your age and the equipment your need.
4. Big Sky Resort Skiing
Skiing at Big Sky Resort is an experience you'll never forget. After skiing mountain resorts in Colorado for many years, I didn't realize what I was missing when I started skiing at Big Sky Resort. Seeing the mountain in the summer intrigued me, but once I got on it in the winter, my mind was blown.
The views are spectacular and there were enough runs for skiers and snowboarders of all levels. I loved visiting the resort, and it's quickly made it into my top three snowboarding resorts in the country.
Big Sky Resort has nearly 6,000 skiable acres with 39 lifts and 4,300 vertical feet to explore. Bunny hills, backcountry, a terrain park, and everything in between are there to explore.
Lone Peak is one of the higher peaks in the area, and you get a wonderful view of the surrounding beauty when you visit. They have some of the best bowl skiing you can find – it's an absolute blast.
For lift tickets, you're going to spend around $100 a day for an adult, (15-69). Juniors, (7-14,) are $65 for the day, and children, (6 and under), are just $1. These are prices are fairly reasonable compared to what you can spend at other ski resorts across the west.
Rentals are anywhere from $70 to $100 for the day. See also: 15 Best Things To Do in Big Sky
5. Ice Climbing
One of the most unique things to do in Bozeman in the winter is ice climbing. Bozeman is a hotbed for climbers in the summer, and that doesn't have to stop just because the weather gets cold.
Montana Alpine Guides offer over a dozen types of courses for all different skill levels. It doesn't matter if you've never climbed before or are an intermediate climber looking to expand your skills, you'll find a course to meet your challenge needs.
They even have courses specifically for women, military veterans, and kids.
Take your adventurous spirit on a trip with Montana Alpine Guides and you'll expose yourself to a brand new hobby. You'll get to experience the beauty of winter in ways that few can. Seclusion and hard work are guaranteed on your ice-climbing adventures.
Courses start at around $500 for two days. The courses include all the necessary equipment including ice tools, boots, crampons, helmets, and harnesses, as well as instruction. They are generally run from Thursday through Sunday.
On occasion, they'll offer free Saturday courses for kids. Pay close attention to their calendar to learn about any upcoming kids' events.
6. Cross Country Skiing
Cross Country skiing should be a priority for anyone visiting the Bozeman area. The Custer-Gallatin National Forest offers thousands of miles of trails for cross-country skiers to explore. You can rent cross-country skis from one of the several sporting goods stores in town or bring your own and hit the trails.
The Bridger Ski Foundation is a ski club in Bozeman that grooms trails all across the Bozeman area. Local golf courses and parks all have extensive trail systems for skiing enthusiasts of all different levels. It's one of the more extensive ski clubs in the entire country.
Hyalite Canyon outside of Bozeman offers trails from 3.5 – 12 miles. All of these connect and you can find more challenging trails depending on what you're looking for.
If you're after an organized experience, the Crosscut Mountain Sports Complex in Bozeman offers 45km of groomed trails for you to explore.
Lone Mountain Ranch near Big Sky is another cross-country skiing paradise. You have over 50 miles of groomed trails and 2200′ of elevation change – it's absolutely stunning!
7. Snowshoeing
Snowshoeing in Bozeman is one of the more unusual activities that outdoor enthusiasts choose to do. If you have your own snow shoes, you can hit the trails all over town. Bridger Creek Golf Course has its own set of trails that are more for the beginner. Hyalite Reservoir in the Hyalite Recreation Area is another easy trail for a casual stroll.
On a family vacation, we decided to snow-shoe around on the Hyalite Reservoir near our Airbnb. It was a great chance to break a sweat and see all the beauty that the area has to offer.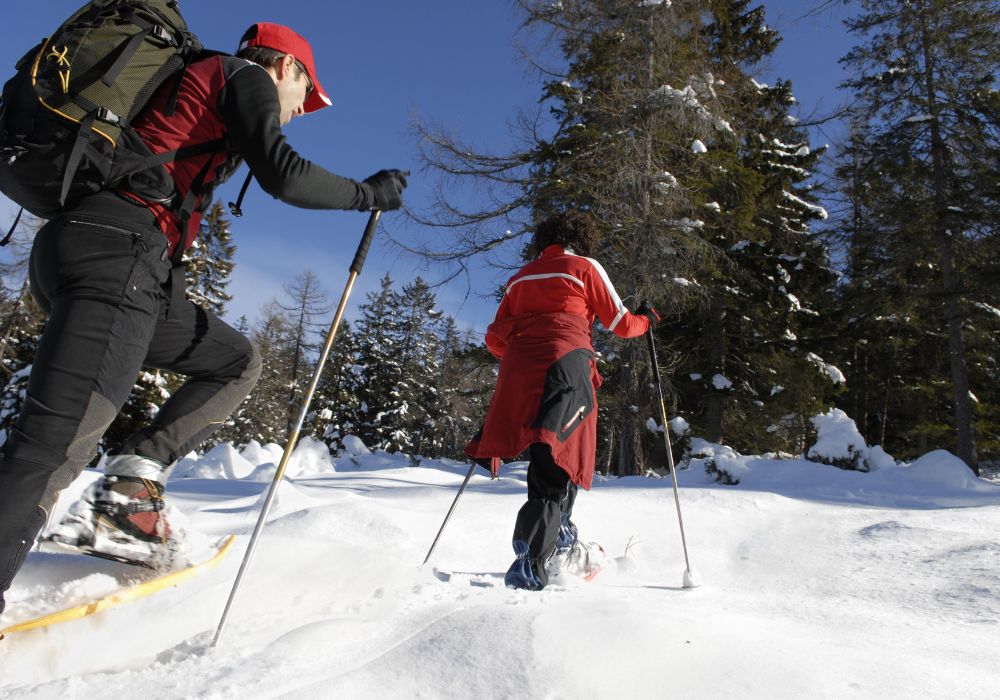 If you want more of a backcountry adventure, you can snowshoe up to Lava Lake south of Bozeman in the Gallatin Canyon. Moser Creek Trail in Hyalite Canyon or the Grotto Falls in the Hyalite Recreation area are also brilliant locations.
If you need to rent snowshoes in town, Roundhouse Sports or Chalet Sports have everything you could possibly need.
8. Bozeman Hot Springs
A trip to the Bozeman Hot Springs is the perfect way to end a full day of outdoor activities. It's not far from the Gallatin International Airport, just 8 miles west of Bozeman.
The hot springs offer 12 separate pools with a wide variety of temperature options. They range from cold temperatures of 56 degrees to upwards of 102 degrees.
The indoor pools are naturally flowing and they're drained and refilled each day. They don't use any kind of chlorine or chemicals to keep them clean. Their website has a full list of the chemicals that you'll find in each of the pools.
They have kiddie pools as well as several pools that are larger and suit both families and adults. For a single-time admission throughout the week, everyone from 14-59 pays $17 for a single admission. Kids from 5-13 are $15. Young children ranging from 0-4 are $8 per child and seniors, (60+), are $12.
It's a wonderful activity for the whole family. See Also: 15 Must-Visit Hotsprings in Montana
9. Ice Skating
Ice skating in Bozeman is broken into two categories: groomed ice and wild ice. There are a variety of ice rinks around town for you to try.
The Haynes Pavilion has a partial indoor and outdoor skating rink for you to enjoy. Several of the parks around town build ice rinks in the winter with Bogert Park and Beall Park being two favorites for the locals.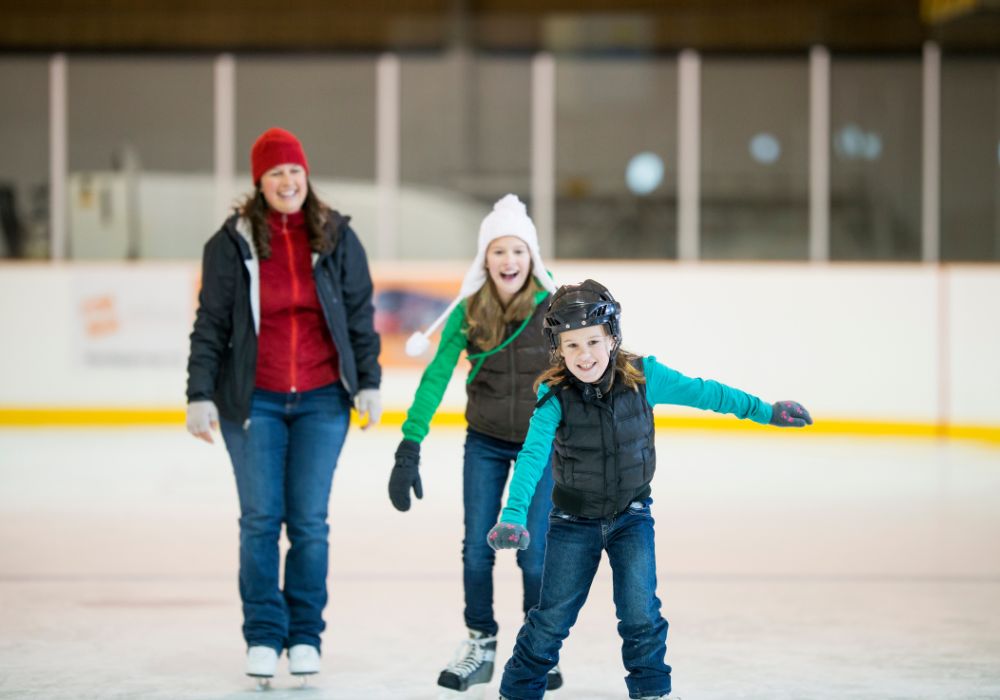 If you're looking for wild ice skating, Cattail Pond near Valley Center Rode and Canyon Ferry Reservoir are your two best options. Each of these bodies of water has public access.
10. Bozeman Winter Farmer's Market
There aren't too many mountain towns across the United States that offer a winter farmers market. The Bozeman Winter Farmer's Market begins October 1st and runs from 9 am – 12 pm. It usually happens twice a month on Saturdays in the Gallatin County Fairgrounds. Buildings 1 and 2 are both filled with vendors.
Local foods, clothing brands, and artists set up shop and sell their products. It's a great way to meet other locals and see the small businesses that exist in town. Grab a gift for friends back home or select your own souvenir to remember your stay.
11. Snowmobiling
Snowmobiling in the greater Bozeman area is something that every visitor should experience.
The Surrounding Custer-Gallatin National Forest has miles and miles of trails for people to explore. Places to explore include Battle Ridge, Olson Creek, and Brackett Creek. Each of these areas has at least 10 miles of trails for you to explore.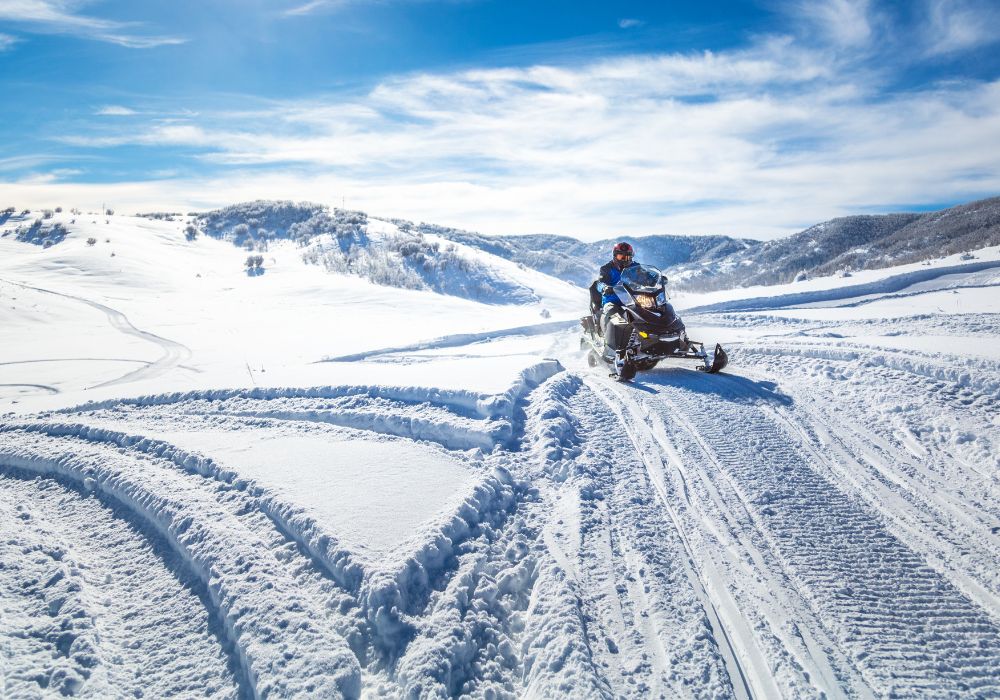 If you want the true Bozeman experience, the Big Sky Snowmobile Trail is 123 miles long and starts at Little Bear Creek, extending all the way to West Yellowstone. It's a true backcountry experience.
Summit Motor Sports All Terrain Rentals is the best option in the area for snowmobile rentals. They'll set you up with everything you need. You can do a full-day rental, 4-hour rental, or 2-hour rental depending on your requirements. The rentals range from $100 – $300 depending on the time length.
12. Museum of the Rockies
The Museum of the Rockies is the perfect activity if the weather is too extreme. They're open year-round from 9 am – 5 pm, they regularly rotate through exhibits, and have a vast array of children's activities. If you're interested in the history of Native Americans and the first European Settlers in the western United States then it's a good option for you.
Adults, (18-64), cost $18 to enter. Youth, (5-17), cost $12 to enter, and children under the age of 5 are free. Seniors, (65+), are $17.
13. Montana Grizzly Encounter
While seeing Grizzly bears in the wild is an exciting experience, it can be tougher to find them in the winter due to their irregular feeding times and habits.
The Montana Grizzly Encounter is a Grizzly Bear rescue and education sanctuary. You can learn all about grizzlies and get a chance to see them in a natural habitat.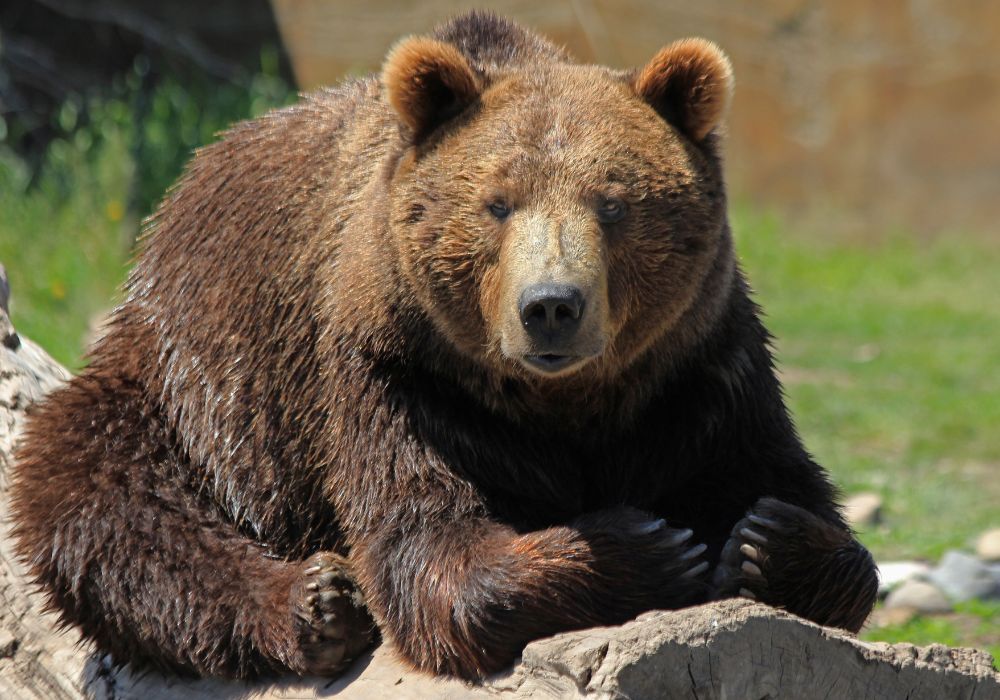 General admission is $10 per person. Plus, when you purchase your tickets, they're valid for two days. In the winter, the Grizzly Bear Encounter is open from Thursday to Sunday from 10 am – 4 pm.
I used the Grizzly Encounter as a chance to burn a few hours in the afternoon and get out of the house and was surprised how much I genuinely enjoyed learning all about these creatures and how they're properly cared for.
14. Fly Fishing
Most people think of fly fishing as a summer and fall activity, however, this isn't the case. The Gallatin River that flows south of Bozeman is still productive throughout the winter. It doesn't freeze over, and the local trout populations are eager to feed.
When fly fishing for trout in the winter, make sure you use a light tippet because the trout are very wary. They don't want to exert much energy, so they're skeptical of everything they see. Use small midge patterns and streamers. Your goal is to drift your fly as close to the face of the trout as possible.
I always try to sneak away to the Gallatin for a few hours whenever I visit Bozeman in the winter and I'm often successful in catching fish in the slack water throughout the river. It doesn't matter the conditions, the fish are always willing to bite if I'm patient.
I never get the aggressive fish that I find in the summer, but I do enjoy the challenge of firing up sluggish winter trout.
Don't waste your time fishing early in the morning as the trout wait for the warmer parts of the day to feed. Start fishing late morning through the afternoon. Visit Montana Angler in town with any questions you may have.
15. Ice Fishing
Ice fishing in Bozeman is an absolute blast and Canyon Ferry Reservoir is the best place to go. They have healthy populations of perch, walleye, and several different types of trout.
You never know what you're going to pull out of Canyon Ferry. Montana is the only other state I have ice-fished in, and Canyon Ferry is where I've gone each time. I always find luck with rainbow and lake trout.
They're beautiful, and always give you their best fight.
Dailey Lake in Paradise Valley is another good choice. This lake has nice perch and trout that are going to be caught all winter long.
Fort Peck is another reservoir you should visit in the area. The pike and trout in here grow to be massive.
Make sure you have your ice house and heater as it can get really cold out on the reservoirs.
How I Chose These Winter Activities in Bozeman
I've spent many of my winters in Bozeman both with my wife and with my family growing up. We enjoyed a lot of the winter activities there and I narrowed my favorites down for this list.
I chose them based on their proximity to each other, their accessibility in the winter months, and of course, how much fun they are!
Quick Travel Itineraries For Bozeman in the Winter
The beauty of Bozeman is that people are able to create a variety of different itineraries to fill their different desires.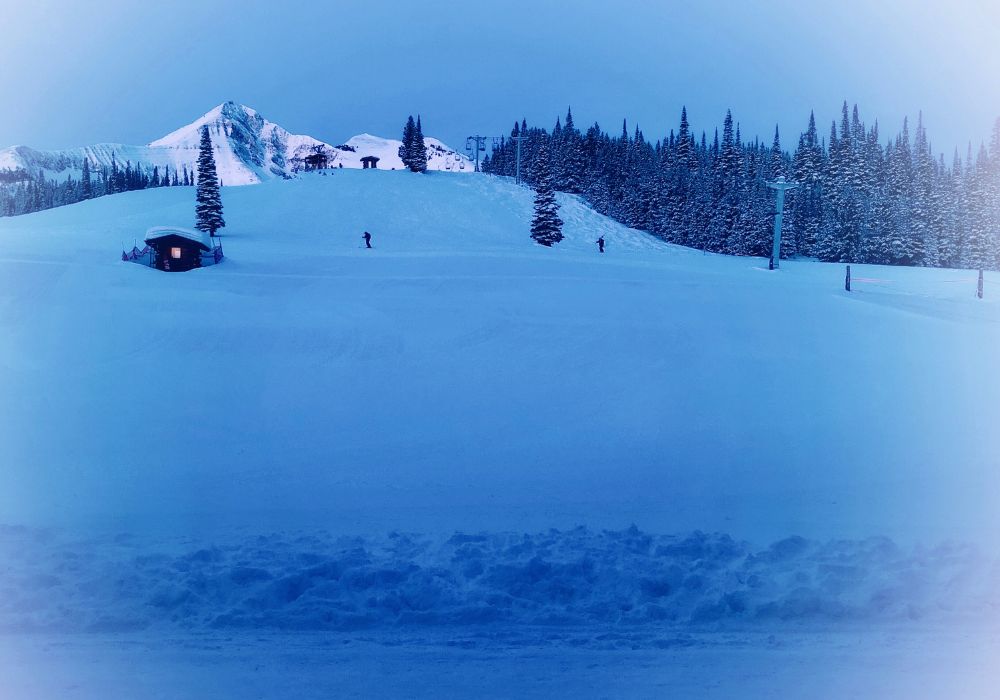 Skiing, sightseeing, and general relaxation is all available depending on what you're after. If you visit Bozeman in the winter, however, you need to at least try one or two outdoor activities. There's nothing like the mountains in the winter.
1 Day in Bozeman Itinerary
If you only have one day in Bozeman in the winter, you need to give skiing or snowboarding a try. Bridger Bowl is just a few minutes outside of town, and they have every single thing you would need for a full day on the slopes. You can rent all of your gear on-site and get a full day of pristine skiing conditions.
Adults can get a full day pass for $70 and kids, (13-18), can get passes for $45. Any child from 7-12 is only $30 and children 6 and under are free. Daily rental fees are anywhere from $20 to $45 per day. In terms of western skiing adventures, you'll get a wonderful deal.
There are 75 different runs at Bridger Bowl Ski Resort for guests to enjoy. The longest run is upwards of 3 miles. You can avoid some of the larger crowds that the Big Sky resort sees and still have a chance to enjoy a nice dinner downtown at the end of a long day.
For dinner, visit the South 9th Bistro. It's a small, classy restaurant with a continually changing menu. You'll get a high-quality dining experience in the heart of a mountain town.
2-3 Days in Bozeman
Two to three days in Bozeman will allow you time to explore some of the local attractions and not feel as if you're missing out on all the fun.
I'd recommend renting snowmobiles one day and exploring a portion of the Big Sky Trail. Get lost in the backcountry and amazing powder for a full day. This trail is extensive and will provide all sorts of fun for the family.
On your second full day, spend time skiing or snowboarding at the Bridger Bowl or Big Sky Resort. This will give you another glimpse into the surrounding beauty and amazing winter conditions. The powder always seems as though it's fresh, and you'll be thankful to be on your feet after a long day of riding the day before.
If you have a third day, try visiting the Bozeman Hot Springs to help your body recover and spend the afternoon and evening exploring downtown. Grab lunch or dinner at a local brewery and do some shopping in some of the unique shops in the area.
If you're interested in Italian food, Blackbird near downtown Bozeman is a great choice. The restaurant is loved by both locals and visitors alike so I recommend you call ahead to book a table.
1 Week in Bozeman During the Winter
If you have a week in Bozeman, you can pack in enough to make it feel like you've experienced all that this destination has to offer. You should spend the first two days skiing or snowboarding.
Spend one day at Bridger Bowl to get warmed up and used to the skiing conditions in the area. On the second day, head to Big Sky Resort to attempt some of the more advanced runs and explore the backcountry. These two days will be a blast and are sure to tire you out.
On the third day, take it easy and head to the Bozeman Hot Springs and the Museum of the Rockies. This will give you a chance to learn some local history and let your body recover after two long days on the slopes.
On your fourth day, do the day tour of Yellowstone National Park. You'll get another day to let your legs recover, and see some of the wonderful scenery within the park. You can listen to the local guide tell you all about the park and wildlife and learn a lot as you go, (bring along your camera because you're going to see some amazing things).
On the fifth day, rent snowmobiles and explore the trails in the area. There's no better time to explore the Custer-Gallatin National Forest than in the winter. There are hundreds of miles of trails in the area to see. Odds are, you'll be alone and will have the chance to see many of the larger local wildlife.
For your sixth day, try your hand, (or legs!), at cross-country skiing at Lone Mountain Ranch. Lone Mountain Ranch was voted as the best place to cross-country ski in the country – and for good reason. You have over 50 miles of trails on the property to explore. There's no other place like it in the country.
If you're looking for an eclectic restaurant to visit on your trip to Bozeman, check out Plonk Bozeman. It's a wine bar that offers a variety of cool foods and delicious wine! If brunch is on your mind, then you need to visit Jam – a great spot that serves brunch all day long.
Where to Stay in Bozeman in the Winter
These are a few of the best neighborhoods in Bozeman for tourists. Make sure to read our post about the best Airbnbs in Bozeman.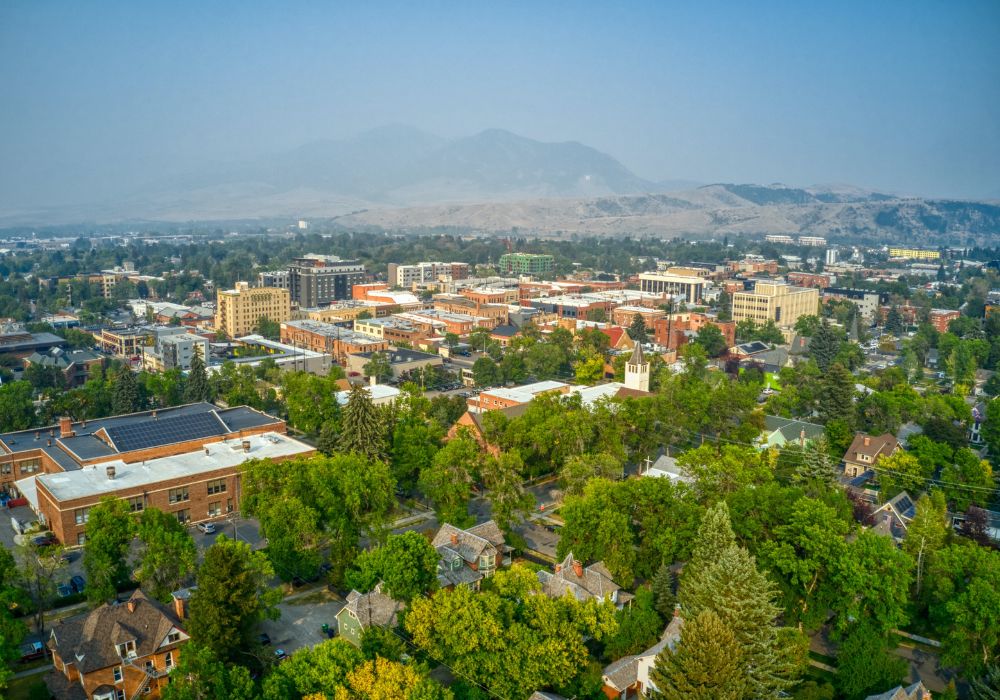 West Bozeman- Best for Families and Visitors
West Bozeman has turned into one of the fastest-growing areas of Bozeman. Single-family homes are popping up all over the place, so if you're looking for some nice peace and quiet, this is the perfect option for you.
You'll find plenty of space to park vehicles and secure any toys you bring along on your trip. Plus, you're just a short drive to downtown as well as some local lakes and trails.
West Bozeman has all sorts of unique stays for visitors to choose from. This home on the west side is a good option for couples or small families. You'll have everything you need for a comfortable stay.
Downtown- Best for Nightlife and First-time Visitors
If you want a true experience of Bozeman, make sure you stay downtown. You have all the bars, restaurants, breweries, and dessert places you could ever dream of. Downtown Bozeman is easily walkable, meaning you can enjoy all that it has to offer just steps from your condo or apartment.
Check out this hotel in downtown Bozeman for your stay. You'll be within walking distance of all sorts of great restaurants from here and the accommodation features everything you might need to enjoy your stay — including an indoor pool.
Bridger Canyon – Best for Luxury Homes and Families
If you want to experience a true mountain experience, stay in the Bridger Canyon area. You're close to the National Forest and thousands of miles of trails. You'll find mountain hideaways and rentals with a decent amount of land for you to explore.
Bridger Canyon has all sorts of amazing places for couples and families. Check out this modern chalet guesthouse in the perfect location. It's a few minutes from the nightlife as well as skiing and lots of hiking.
Things To Do in Bozeman in the Winter: FAQs
Here are answers to some commonly asked questions about a winter visit to Bozeman.
What is Bozeman like in winter?
Here are some answers to commonly asked questions about visiting Bozeman in the winter.
In the winter, Bozeman is a winter wonderland. From November to March, the average temperatures are around 30 degrees. It's a fairly temperate climate in terms of weather conditions in the west.

Throughout the three or four months of winter, Bozeman receives somewhere between 63 and 82 inches of snow. Depending on the year, weather conditions can turn harsh, but for the most part, it's a manageable climate that is great for all sorts of outdoor activities.
What is there to do in Bozeman when it's snowing?
When it's snowing, there are numerous activities for all types of visitors. Whether you're a hard-core adventurer or a young family, you'll find yourself with something to do. Skiing, snowboarding, snowmobiling, ice fishing, and sightseeing are the most common winter Bozeman activities.

However, the town and local museums also offer a good amount of things to do. Shopping and trying the numerous restaurants in the wonderful downtown can take up quite a bit of time on those especially harsh days. People of all types will be able to find something that they enjoy doing in the winter in Bozeman.
Is Bozeman worth visiting in the winter months?
Absolutely! Bozeman is less busy with tourists, so it doesn't feel as crowded. If you enjoy outdoor winter activities, there are few better places to visit than Bozeman.

The proximity to several wonderful ski resorts as well as Yellowstone National Park offers you a chance to explore in a way few people across the United States are able to do.

Bozeman always has activities and fun things occurring, so with a little exploring and research, you'll be more than content.
What is the temperature in Bozeman in winter?
In the winter, you'll find that the temperatures in Bozeman hover between 20 and 30 degrees Fahrenheit. The conditions aren't overly harsh, but there can be extremely cold and snowy days.

It's not uncommon to experience a single-digit day, but it's also possible for there to be a day in the 50s. It can vary due to the weather in the mountains. For the most part, however, people find Bozeman winters to be fairly pleasant.
What month does Bozeman get the most snow?
The most snow falls in Bozeman in December. In December, Bozeman will get an average of 10-15 inches of snow. Again, it's heavily dependent on the year, but December is consistently the snowiest month in Bozeman.
In Conclusion
One visit to Bozeman in the winter will show that even though the weather is harsher, the adventuring doesn't slow. Take advantage of the sled dog rides, skiing, and fishing opportunities that you can't find any other time of year.
What you find here in the winter will take your breath away. It'll test your limits, but reward you with one of the best trips of your life.
Bozeman will give you as much fun as you're wanting to have. With some effort and planning, you can gain life experiences unlike any other.
Planning to visit other areas in Montana?
Like This Article? Pin it!