Bozeman is currently one of the fastest growing cities in the U.S. And if you've ever flown or driven into this beautiful mountainous city, you'll probably know why – and may have felt pulled to stay too!
I never fully appreciated Bozeman for its proximity to outdoor activities until I met my husband, an avid cross country skier, runner, hiker, and biker. The city really is one of the best places to visit in Montana and Montana as a whole is one of the top destinations in the US.
Bozeman truly is an outdoor enthusiast's paradise — there are numerous things to do here. If you want to see Bozeman for yourself, why not take a trip and stay for a few days, weeks, or even months?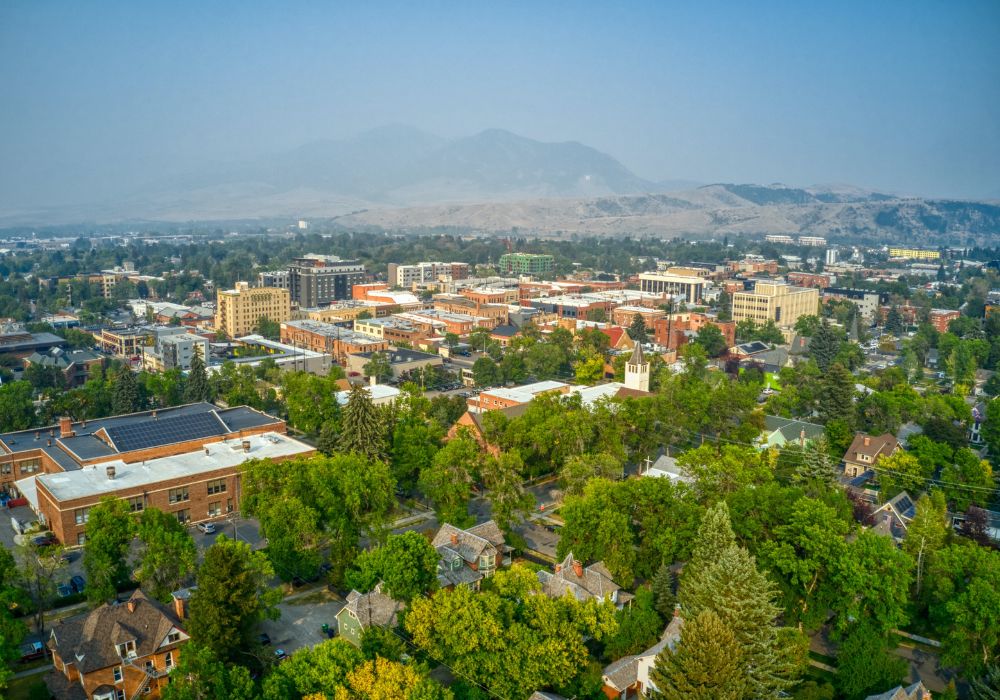 If you're looking for a place to stay in Bozeman, Montana, there are many great Airbnb options available.
In this blog post, I will take a look at 10 of the best Airbnbs in Bozeman. Whether you're looking for a place to stay while on vacation, or if you need a place to stay whilst visiting family or friends, these accommodations will not disappoint!
Here are the 10 best Bozeman Airbnbs.
1. Black Bear Run (The Best Bozeman Airbnb)
This Airbnb home tops the list as the best Airbnb in Bozeman, Montana because of its location and surroundings. A cosy cabin in the woods is what most people imagine when they think of visiting Montana, and this one delivers perfectly.
This one bedroom, one bathroom house can fit up to four people. Making it perfect for couples, a few friends, or a smaller family.
The charming cabin is near the beautiful Hyalite Creek amongst the trees, giving you a full nature experience. You have great creek and tree views to enjoy from the lofted bedroom, living room, and back porch. Plus, the living area has a wood-burning stove for additional heat and a romantic ambiance.
Other than sharing the driveway with the homeowners, you have the entire cabin to yourself.
Best of all, this Superhost property is one of the closest Bozeman listings to Big Sky, just 40 minutes away. Plus, there are a lot of nature activities close by in Hyalite Canyon. Depending on the season, these include hiking, cross country skiing, snow shoeing, and fishing.
Read reviews and book your stay at this top Bozeman Airbnb, here.
2. Mountain Modern Loft
This beautiful apartment is one of my personal favourites because of its close proximity to Bridger Bowl ski resort; 14 miles north of Bozeman. Yet, it's still just 2 miles from downtown Bozeman too.
This area is quiet and full of beautiful homes with mountain views that you can enjoy by driving, hiking, or biking.
With two bedrooms and one bathroom, this space is versatile for parties of up to four people.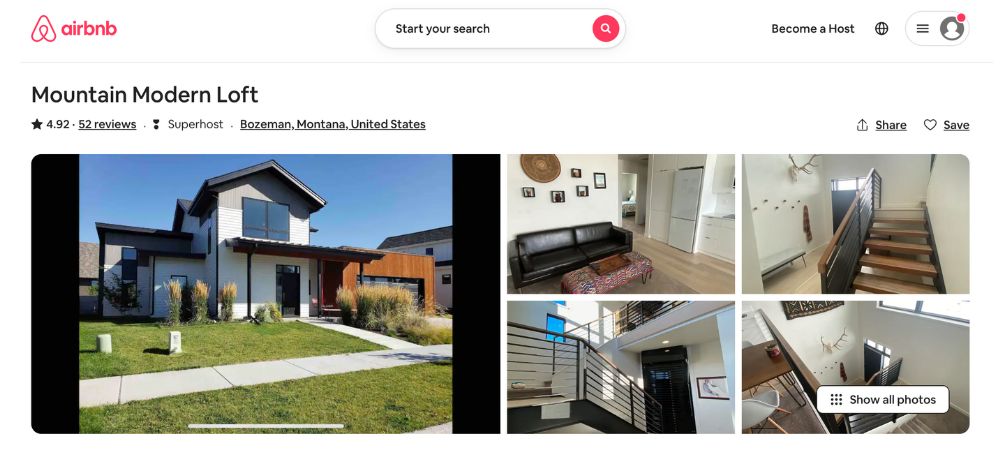 The apartment is located right on Bridger Creek and an extensive trail system. You can hike, run, and bike in the summer on these trails. From the front door, it's simple to get to Story Mill Park, (a great activity for kids in winter or summer), or the "M" trail head, (another local favourite hike).
What's more, you can golf in the summer, and cross country ski in the winter, at the nearby golf course.
The Mountain Modern loft is hosted by two Superhosts, Pete and Jill – and their 4 dogs – that live in the downstairs home. The loft is completely separate.
It lives up to its modern title with fast WiFi and self check-in available to keep you connected and comfortable. Learn more about this beautiful Airbnb in Bozeman, here. 
3. In-Law Apartment on Beautiful Horse Property
If you're looking for a unique Montana experience, you might consider a farm stay. This option is for animal lovers that want to experience life on a real farm.
Thanks to its location, you'll get the full countryside experience whilst still being close to all the Bozeman amenities just 10 miles away – so long as you have a car, which is recommended.
The rental property includes an in-law apartment above the garage.
You can expect to interact with horses, dogs, chickens, and cats, so this stay is not for anyone with allergies! The apartment sleeps up to 4 people, making it ideal for singles, couples, or families. Plus, this apartment is dog friendly.
This is the ideal location to unwind and relax, watch the sun rise and set, enjoy a hammock nap, interact with the animals, or socialize by the fire pit in the summer!
If you want an authentic farm experience, you'll enjoy this very rustic stay. Click here to find out more about this country apartment in Bozeman on Airbnb. 
4. Bozeman Trail Inn – Yellowstone Room
The Bozeman Trail Inn is a great option for visitors that want to be in the heart of it all. This location is close to Main Street and all of its shops, restaurants, and bars.
This private room can accommodate two people. You can also add a floor mattress to accommodate up to three people in this space. Plus, you have access to the kitchen, living room, and outdoor spaces.
The Yellowstone room is a great resting spot to return to after all of your daily outside adventures. You have three different outdoor areas to hang out in. Depending on your mood, you can enjoy mountain views, expansive fields, or sit at the fire pit to roast marshmallows.
For activities, there's a playground in the neighbourhood which is perfect for families. The Gallatin Trail System is close by; making it easy to get out for a walk, run, or bike ride. Plus, in the winter you can cross country ski. If there's enough snow, you can head out straight from the driveway.
If you need help deciding where to go, the Superhosts are happy to provide you with some guidance too. It probably explains why they have around 300 happy reviewers on their listing. Find out more and book your stay here. 
5. Papa's Tree House (Off-Grid Bozeman Airbnb)
Papa's Treehouse is a great option for those that want to be away from it all. This treehouse is outside of town, and provides a unique off-grid experience in the trees – I would consider it rustic glamping to be honest.
This one room "house" has four beds that can accommodate up to five people. It's fun for people of all ages, and is great for singles, couples, and families alike.
Keep in mind that you'll need to hike to the treehouse about a half mile with everything you need for your stay, such as food and water. The hosts, Dale and Jackie, can help you get organized and settle in if needed.
Although it has no water or running electricity, the home is quite cosy. You still have to use a compost toilet and a comfy bed. You're practically guaranteed to have a great night's rest in the cool mountain air. Find out more about this unique Bozeman Airbnb, here.
6. Bridger View Bunkhouse
This home is centrally located, making it easy to get around Bozeman. Plus, like most listings in Bozeman, it's close to a Dinosaur Park – one of my daughter's favourites, and trail systems for further exploring.
The Bridger View Bunkhouse is a great option for smaller groups. It can accommodate up to 3 people in its one bedroom. This is one of the cheapest listings in Bozeman, despite its brand new furnishings.
I love this listing the most because it has tons of great perks, as long as you are a smaller group. These include free bikes for cruising around Bozeman, (the only listing with this option!), trails from the front door, and great views of the Bridger Mountain range.
No matter what season you're staying, there's always something close by to do. Click here to learn more and book your stay at this centrally located Bozeman accommodation. 
7. The Cowboy Cottage
The Cowboy Cottage was built in 1945 and has kept its unique vintage charm, with a few modern modifications, that make it a comfy and pleasant home away from home. It features genuine cowboy artwork, antique furnishings, and high-quality bedding.
This listing is great for up to four people. There are two bedrooms and one bathroom at your disposal during your stay in this private space.
This Gallatin County vacation home is comfortably contained. Featuring a modest country living room where the gas range warms the area, WiFi, and a smart TV to keep you connected to your job and/or life.
Plus, you're near downtown Bozeman, making this a great base camp for exploring anywhere in the Gallatin Valley and beyond. Finally, don't forget the backyard and firepit for the evenings.
Local restaurants, such as the Feed Cafe and The Roost are within walking distance. Plus, you can easily drive to Bridger Bowl in 20 minutes, or travel a little further to Big Sky in 45 minutes. Find out more about this Bozeman Airbnb here.
Planning to visit other areas in Montana? See these posts:
This shared home is another budget friendly location for anyone wanting to explore both Bozeman and Big Sky. Located just South of Bozeman, this short term rental is a great base for all your adventures.
This listing has two bedrooms, which the hosts rent out separately, or together for up to 5 guests. You have access to a shared bathroom, (between the two rooms – not with the hosts), kitchen, and living room during your stay.
If you're a larger group, you can also message the owners about booking their third room and private bathroom in the basement as well – making this an excellent option for slightly larger groups or families.
Enjoy the large covered deck on the 30 acre lot before heading off to Big Sky Ski Resort, Yellowstone National Park, or any other lower key adventure in between.
The hosts are super accommodating; offering to help with laundry, sharing goodies from their garden in the summer, and providing information you need for exploring.
Plus, they love stories from visitors from around the world – if you're up for a chat! WiFi is available, and pets are allowed for an additional fee of $10 per day. Learn more about this budget-friendly Bozeman Airbnb, here.  
9. Ross Creek Cabin – Amazing Mountain View
This is the most expensive Airbnb on our list, but it's also one of the most beautiful. The Ross Creek Cabin is located in Belgrade, which is about 20 minutes from downtown Bozeman.
When you see the views from this cabin, you'll know it's worth every penny. This cabin was built with large windows to take in the natural light and breath-taking scenery. It's a studio space, but can accommodate up to four people, with the addition of a futon in the living room.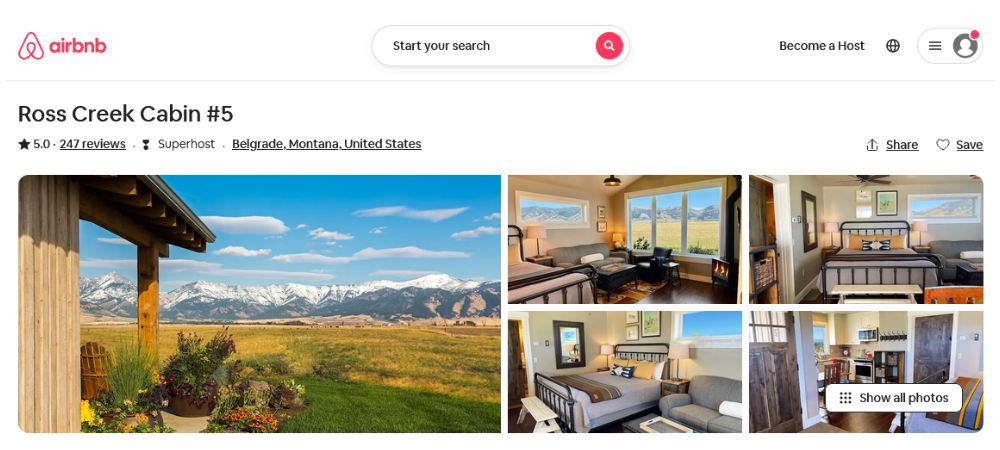 There's a full kitchen if you decide to cook during your stay, but there are also plenty of great restaurants nearby if you wish to eat out, with downtown Bozeman only 10 minutes away. Plus, for the winter months there's access to a public hot tub to warm up after a day of snow activities.
Whilst this listing is slightly further away from the center of Bozeman, it is still super easy to access all of Bozeman and the surrounding areas. Click here to find out more about this Airbnb with an incredible mountain view.
10. Farm Stay in Belgrade
Farming is a huge part of Montana culture, particularly in Bozeman. So of course, there are two farm stay options in this article. This unique stay is offered on a 50 acre start-up farm.
If you want to experience the real deal, this is for you. In addition to goats, ducks, turkeys, and chickens, there's also a good chance you'll see local wildlife such as deer, elk, birds, and foxes here. You're welcome to gather your own eggs for a fresh breakfast during your stay too.
The property boasts a natural spring that runs through the property and a pond that can be used for ice skating in the winter. The pond is also set up as a mini beach area with a gazebo, fire pit and BBQ to enjoy.
The listing is for a two bedroom, one bath in-law suite. While it indicates up to six people, it's best for up to four adults and two children. There's another attached one bedroom apartment on the property that you can book as well.
As far as amenities go, you're still within 20 minutes to Bozeman. Plus, the superhosts can direct you to a local trout fishing hole that's just 5 minutes away. The hosts are also local outfitters and offer adventure tours, so you can inquire further about activities with them too.
Overall, this listing is best for anyone looking for a fun, eccentric, and slightly noisy – thanks to the animals – countryside experience. View this country stay Airbnb in Bozeman, here.
Best Areas to Stay in Bozeman (Neighbourhoods)
Here's a breakdown of the best areas to stay in Bozeman, Montana.
Downtown Bozeman
The best area to stay in Bozeman if you're looking to be in the action. Downtown Bozeman is home to great restaurants and bars, as well as shopping and art galleries. If you're looking for a more low-key adventure, downtown Bozeman is also a great starting point for exploring the rest of Montana.
My favourite restaurants to try in Downtown Bozeman include Copper Grill and Urban Kitchen. For a great place to stay, check out this listing in Downtown Bozeman.
West Bozeman
West Bozeman is a great option for families, or those looking for a quieter stay. With plenty of parks and open spaces, West Bozeman is perfect for anyone who wants to escape the hustle and bustle of downtown.
Hop on the intricate trail system in the area, or head to Bozeman Hot Springs for a relaxing dip. For a great place to stay in Bozeman, have a look at this listing.
South Bozeman
South Bozeman is the perfect option for those looking to be close to nature. This university district is just minutes from Hyalite Canyon and South Bozeman offers access to some of the best options for hiking, fishing, and cross country skiing.
It is also the closest area to Big Sky Ski Resort. For a great Bozeman Airbnb in this area, click here.
Northeast Bozeman
Northeast Bozeman is a great option for anyone looking for easy access to the outdoors. With Bridger Bowl and the Northern Forest range nearby, it's perfect for skiers, hikers, and climbers.
With newer cafes and breweries popping up in the area known as 'the hip strip', Northeast Bozeman has something for everyone. Check out this listing in Northeast Bozeman.
Northwest Bozeman
Northwest Bozeman is the closest area to the airport and interstate, making it a great option for those looking to explore other parts of Montana.
The Bozeman airport is now a SouthWest hub and has access to a lot of bigger cities like Denver and Seattle. You can also drive west to enjoy the best things to do in Missoula, or east to experience Billings, and explore other unique Montana towns right off the interstate. Check out this listing in Northwest Bozeman.
Now You Know The Best Bozeman Airbnbs
Overall, Bozeman is a smaller city with a population of fewer than 50,000 people. Thus, no matter where you stay, or which vacation rental you choose from in Bozeman, you'll be close to the action and outdoor adventure.
Ideally, having a car is best for exploring Montana. Otherwise, you can use Uber or taxis in the area as well. Ultimately, pick a Bozeman Montana Airbnb that sounds most appealing to you and book away.
Like This Article? Pin it!