If you're looking for an amazingly diverse travel destination, look no further than Montana! This beautiful state has something to offer everyone, from stunning mountain ranges and pristine lakes, to charming cities. In this article, I will review the best places to visit in Montana.
Montana is famous for being a part of the Wild Wild West. And most visitors come to enjoy the great outdoors, and get a feel for what the original pioneers must have felt.
Montana's population is quite small with only 6 people per square mile. This means there aren't really any bustling cities; it's a great place to help you disconnect from busy life, reconnect to nature, and recharge.
As a native Montanan, my love for this state runs deep. I never truly understood why we considered ourselves the "Big Sky" state until I travelled to other parts of the US. That's when I realized that inspiring star-filled nights and large blue bird skies were not the norms across the country.
Here are the 15 best places to visit in Montana, USA.
1. Glacier National Park (One of the Most Popular Places To Visit in Montana)
There's a reason that Glacier National Park is one of the top places to see in Montana. The Rocky Mountains are truly majestic. There's something about the scale of them that's hard to wrap your head around until you see them in person.
The Rockies mountain range, (in Montana and Alberta, Canada), is my favourite for sure.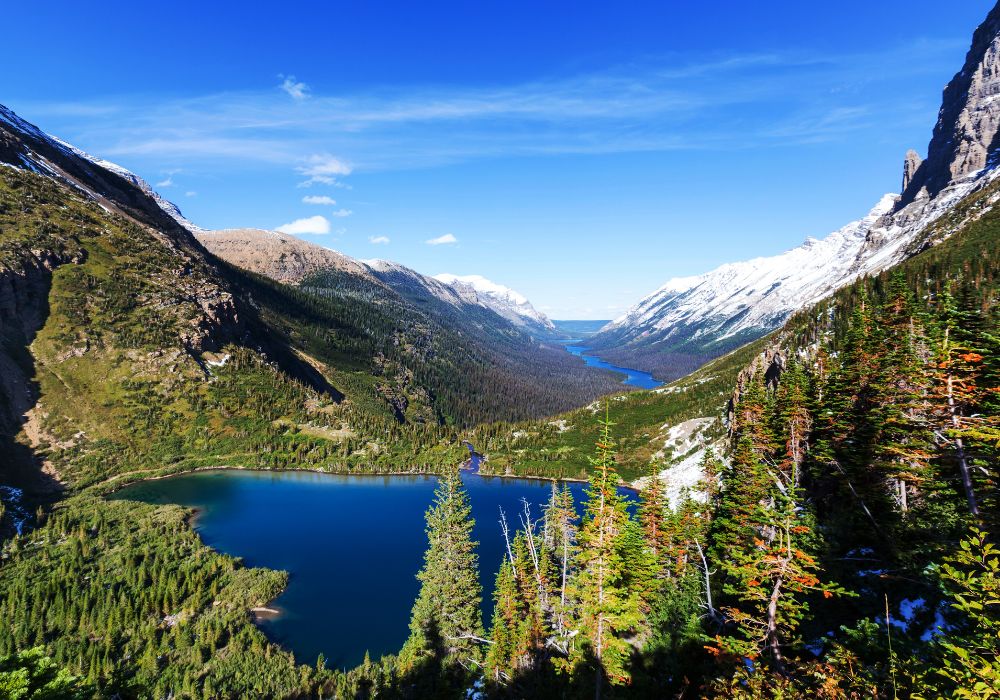 Glacier National Park offers over 700 miles of hiking trails, waterfalls, alpine meadows, and lakes. And don't forget about the Going-To-The-Sun Road.
This scenic drive will take you through some of the most incredible mountain scenery in the country. Climbing the side of a mountain on a narrow road with the best views Montana has to offer, is a sight to remember.
There's something here for every type of explorer: hiking, biking, boating, picnics, scenic drives, and beyond. For an afternoon break, make sure to bring a picnic and take it to one of the beautiful lakefronts!
Please keep in mind that Glacier is a popular summer destination. Try to plan ahead and book what you can in advance on the official NPS website.
2. Yellowstone National Park
Yellowstone is another bucket list must-see park for many travellers. While the majority of the park lies in Wyoming, there are three entrances to the park in Montana. And just getting to these entrances via car is noteworthy.
Cooke City. This entrance is only open in the summer when the Cooke City Highway and Pass are cleared of snow for the season. Drive up to 10,000 feet for breath-taking views of the Beartooth Mountains before reaching this small town and the entrance to Yellowstone. A bonus is that this entrance tends to be a little quieter than the others.
Gardiner. Getting to Gardiner requires driving through the iconic Paradise Valley, an area that many celebrities flock to for its beauty. Drive along the meandering river and enjoy the mountain views. For campers, there are a few state park campgrounds you can stay at before reaching the entrance.
West Yellowstone. This entrance is one of the most popular ones because of all that the town itself has to offer. With plenty of accommodation options, it's easy to explore Yellowstone. Plus, you can also book adventure tours such as white water rafting, ATV activities, fishing, and more.
Once you're in the park, don't miss out on favourites like Old Faithful and Mammoth Hot Springs! There's a reason why Yellowstone is one of the best places to visit in Montana, so just be ready for traffic jams and loads of people all summer long.
3. Virginia City
This well-preserved National Historic City is a must-see in Montana for any history buff. Virginia City used to be a booming gold mining town with thousands of people. Now, you can explore the original buildings and get a feel for what life was like back then.
What's most fun about Virginia City, (and makes it one of the unique places to visit in Montana), is that it has the feel of a ghost town, but still has a population of around 600 people. These residents are proud of their small town and happily welcome you to explore.
You can wander around the city for free and pick up some goodies and souvenirs to take home. For a more immersive experience, book a tour on a vintage fire truck or the local train.
You can also check the local bars for shows or concerts whilst you're there. An old friend of mine from graduate school still plays there most weekends and it's always a hoot.
For more details, see their official website here.
4. Red Lodge
Red Lodge is a great basecamp for exploring the Beartooth Highway – one of the most scenic drives in the state. This 68-mile road takes you through 10,000+ feet of elevation with plenty of pull-outs to take in the views.
In the town of Red Lodge, you can explore the historic downtown and visit the Carbon County Museum to learn more about the local history and geology. For a unique experience, visit the Wildlife Sanctuary where you can see some local animals.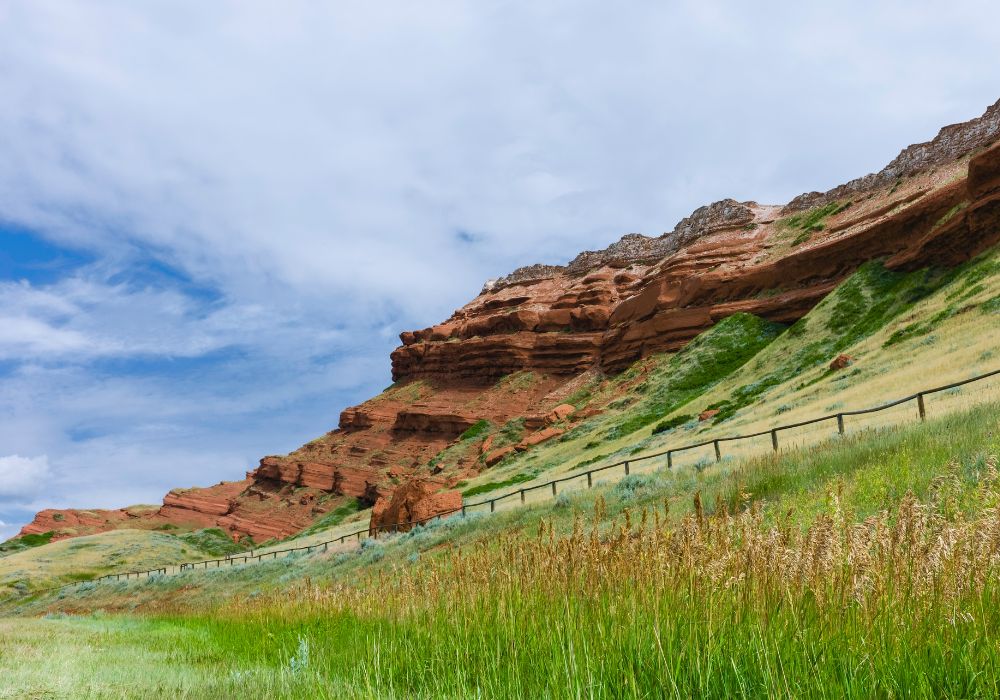 There are also plenty of hiking and biking trails in the area just south of town if you want to explore the great outdoors. Red Lodge Mountain Resort is also a popular local spot for skiing and snowboarding in the winter. I grew up skiing here and had so much fun!
There's almost always something going on each weekend in this small town; from concerts to rodeos. See their full calendar of events for the time you plan to be there.
For campers, there's tons of BLM, (Bureau of Land Management), land. It's free, but on a first come first serve basis, and is along the beautiful Rock Creek River on the way to the Glacier Lake Trailhead. It's a favourite weekend camping spot for my family.
Finally, for family-friendly outdoor fun (even with a baby!), head to Wild Bill lake for short hikes and a well-stocked fishing hole.
5. Missoula
This college town is the cultural hub of Montana and has a little bit of everything. From great food to outdoor adventures, there are numerous things to do in Missoula — the city has it all.
Start with a bite to eat in the historic downtown area. If you happen to be there on a Saturday in the summer, find something yummy from a farmer's market vendor.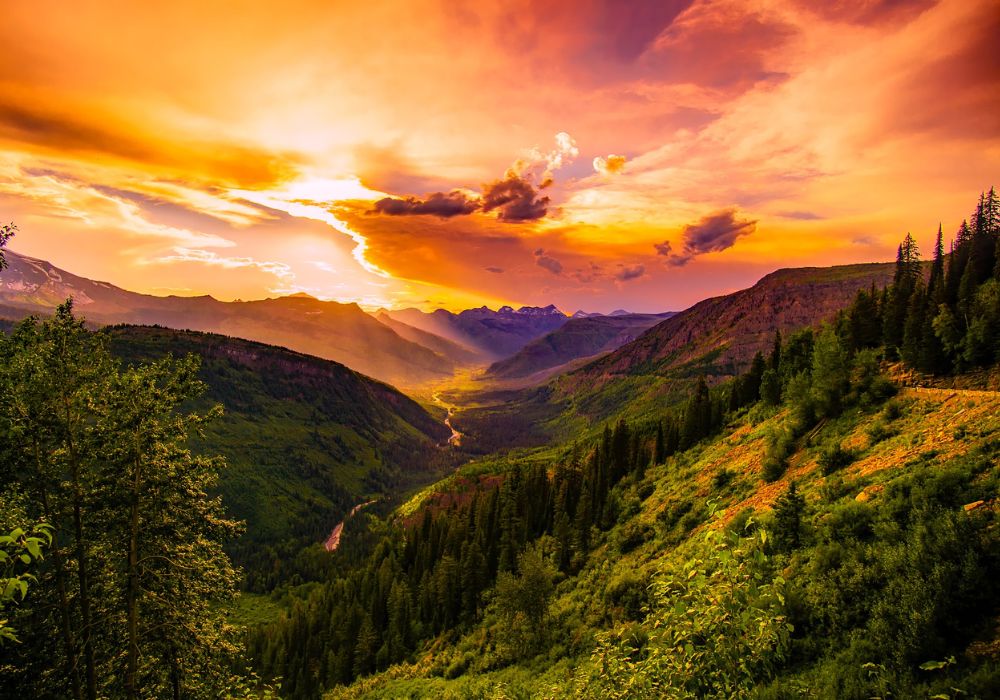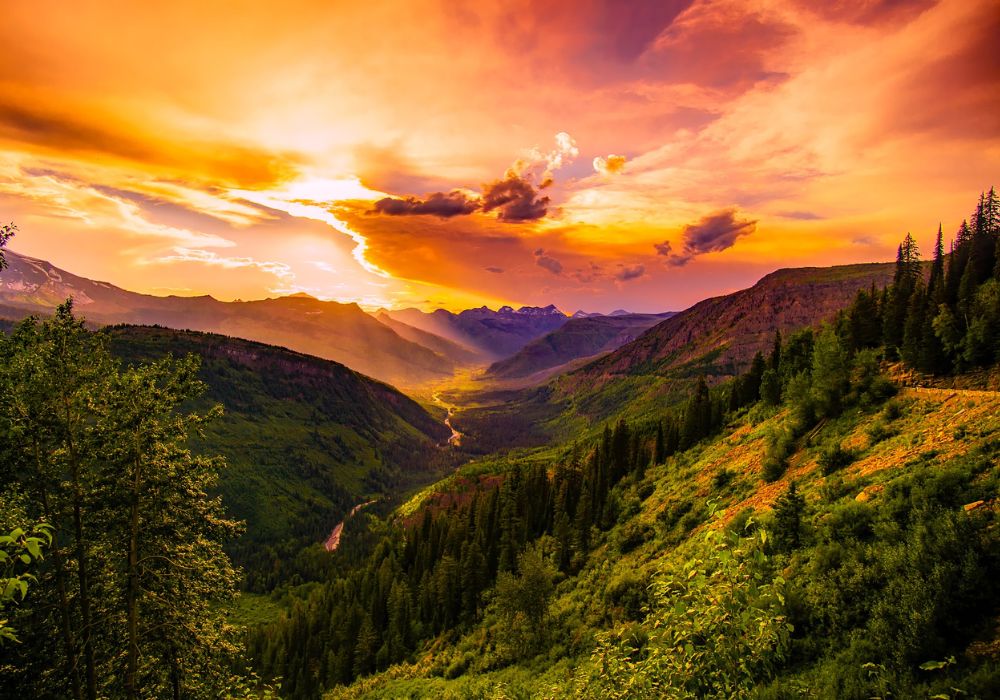 For lunch or dinner, Finn & Porter is a splurge with great river views. Or for an easy late lunch or early dinner, head to Bridge Pizza to grab a slice of pizza and free beer from 3 to 5 – a local favourite and my favourite as a college student.
Hop across the street to grab some locally made ice cream at the Big Dipper. I can highly recommend the yellow cake ice cream dipped in chocolate sprinkles.
After you've had your fill, explore some of the many art galleries in town, or catch a show at the historic Wilma Theater.
If you want to enjoy the outdoors, there are plenty of hiking and biking trails in Missoula. Or you can head to the nearby Rattlesnake National Recreation Area for a day of exploring.
For something more lowkey, you can simply walk along the paved river path in town, or head over to the short but steep "M" hike at the university grounds for great city views.
In the summer, you can also cool off in one of Missoula's public pools, or take a float down the Clark Fork River. No matter what time of year it is, be sure to catch a game at Washington-Grizzly Stadium – home of the University of Montana Grizzlies.
There's always something going on in Missoula.
6. Bozeman
This town is a great place to visit in Montana for its lively downtown and outdoor adventures. With mountain views in practically every direction, you won't be disappointed!
There are many things to see and do in Bozeman, but the best place to start is downtown. Here you'll find tons of great shops, restaurants, and bars.
There are plenty of hiking and biking trails in the area, and Bozeman has some excellent fly fishing as well. You can meander around this beautiful town on pedestrian-friendly roads, (by foot or bike), or visit one of the many local parks. My daughter's favourite is the Story Mill Community Park.
Just a short distance from town, you can also explore the nature of Hyalite Canyon or the Bridger Bowl area. In the winter, you can go skiing or snowboarding at Bridger Bowl. And no matter what time of year it is, be sure to catch a game at Bobcat Stadium – home of the Montana State University Bobcats.
See all Bozeman has to offer, including events, here. Search for a top place to stay in Bozeman, whether it's mountain views you're after, a country home, or a downtown apartment, you'll find it in our list of the best Airbnbs in Bozeman.
Other surrounding must-see destinations that you can drive to from Bozeman include: Big Sky ski resort, and Lewis and Clark Caverns. Whilst the caverns are perfect for a day trip, you may find you want to stay a few extra days in the Big Sky area, (if you're ready to splurge!).
7. Billings
This is the largest city in Montana, making it a great place to get all of your shopping done. You'll find everything from big box stores, to local boutiques and farmers' markets here.
Billings is a unique hub in the middle of the state, with tons of mountains to explore to the south, (Beartooths near Red Lodge), and west, (toward Big Timer). Plus, it has its own unique rock formations known as the "Rims" that run along the entire north end of town.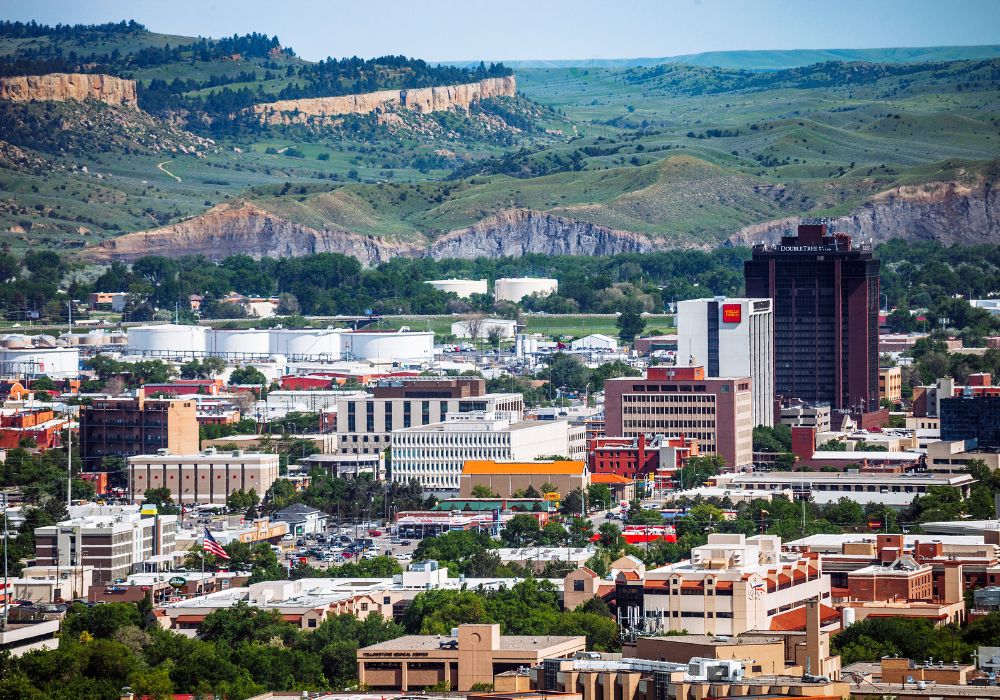 Finally, you can also head east to the plains of Montana where you can explore historic areas like the Little Bighorn Battlefield.
If you want to be out in nature, there are plenty of hiking and biking trails along the rims and close to the Yellowstone River. My personal favourite is walking along the trails behind the Yellowstone Country Club where I grew up.
Additionally, if you have kids that need a break from hiking and museums, you can head to a local park with a free splash pad or wading pool. If you're ready for some more fun history, check out the Western Heritage Center, or get a tour at the Moss Mansion.
When you're done exploring, Billings has tons of local breweries you can try out. You can find more than one by foot in the downtown area, or head out to some of the newer west-end breweries like Diamond X and Meadowlark. With so many things to see in Billings, you'll never be bored.
8. Helena
This state capital is a must-see for its stunning architecture and rich history. The best place to start is the Helena Visitor Center downtown where you can pick up a map and get oriented.
Be sure to stroll along Last Chance Gulch, the main street in Helena that's lined with historic buildings. You can also visit the Montana State Capitol, one of the many museums, or the Helena Civic Center which has great views of the city.
There are plenty of options for hiking, biking, and kayaking in the area. One of the easiest access points to nature is Mount Helena City Park, which has also has great views to offer.
In the winter, you can go skiing or snowboarding at one of the nearby resorts like the Great Divide Mountain. And no matter what time of year it is, you can always visit one of the many local breweries or distilleries in Helena. Discover more things to do in Helena here.
9. Dillon
This small town is located in southwest Montana and is a great place to visit for its beautiful scenery and outdoor adventures. This location is off the beaten path and best for those that want to get a better feel for more rural areas of Montana.
The drive to Dillon is a lot of fun on its own; with wide open countryside and distant mountain views.
The best place to start is downtown, where you'll find a small handful of shops, restaurants, and bars. Be ready to dine primarily on burgers and steak.
Plus, Dillion is a hub for the outdoor brand Patagonia as well, so you can stop into their outlet store for some killer deals on outdoor apparel too. Sometimes our family goes to Dillon just for this!
For those that want to get outside, this area is perfect for fishing and hunting in the Bitterroot Mountains. The local river is a fly fisherman's paradise. If you've never fished before but want to give it a try, hire a local guide.
For some history, take a day trip over to Bannack State Park. You can head north along the Beaverhead-Deerlodge National Forest for hiking, camping, and hot springs fun.
The first time we visited this area we were surprised by how beautiful this remote area is. Learn more about what to do in Dillon in our post here.
10. Whitefish
This town is a great place to visit for its access to both Glacier National Park, and Whitefish Mountain Resort. The downtown area is quaint with shops, restaurants, and bars. You can also take the historic Whitefish Depot tour.
One of the best times to visit Whitefish is in the winter, when you can go skiing or snowboarding at Whitefish Mountain Resort. This resort has some of the best views in Montana, and is a great place for both beginner and experienced skiers/snowboarders.
In the summer, you can still enjoy the mountain views by taking the gondola to the top of Big Mountain. If you're up for it, you can hike or mountain bike back down.
If you'd rather stay closer to town, there are also plenty of options for hiking and biking close by. The Whitefish Trail is a great place to start with over 50 miles of trails.
Alternatively, you can also take a day to relax and lounge by Whitefish Lake as well. One of my favourite memories of Whitefish is staying at a lodge right on the lake, which I highly recommend if you can do it.
Whitefish is one of the best places to visit in Montana, both in the summer and winter months. Learn more about the fun things to see and do in our post.
11. Hamilton, MT
This town is located in the Bitterroot Valley, and is a great place to visit for its access to nature and small-town charm. The downtown area is lined with shops, restaurants, and bars. Be sure to check out the Copper King Mansion for a taste of the old west.
There are plenty of options for hiking and biking in the Bitterroot Mountains, and Sapphire Mountains. You can also go fishing in the area.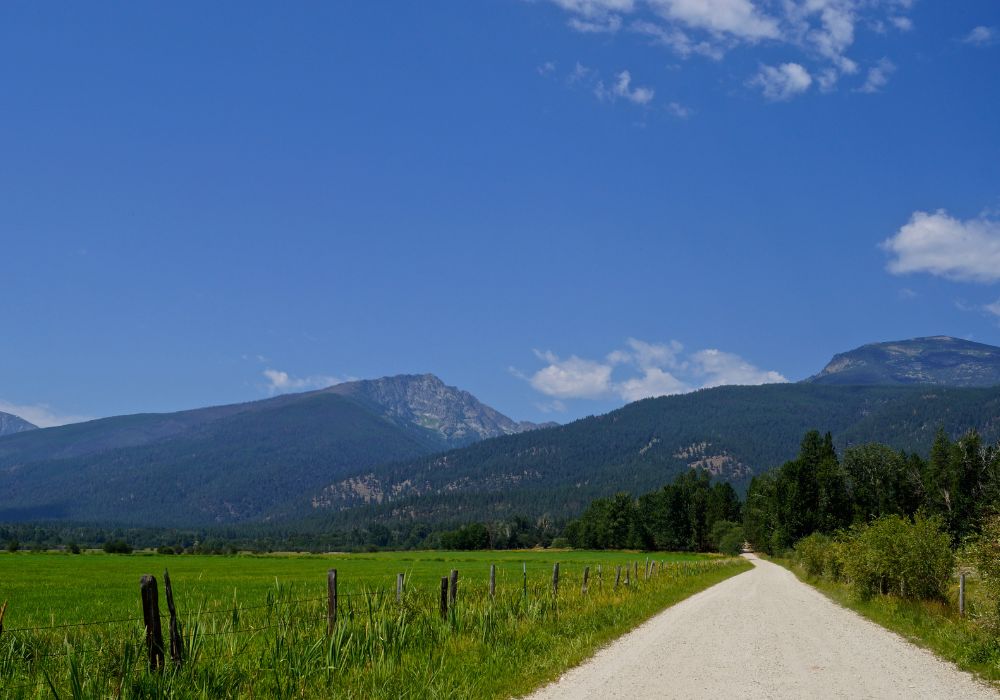 In the winter, you can go skiing or snowboarding at one of the nearby resorts like Lost Trail Powder Mountain, (a lowkey resort with the best powder in the state). Finally, no matter what time of year it is, you can always visit one of the many local breweries or distilleries in Hamilton.
12. Hot Springs
Particularly if you're in Montana during the winter months, (or cooler shoulder seasons), it's always fun to find a rejuvenating hot spring. Here are a few favourites:
Norris Hot Springs. A very low-key developed hot pool approximately 40 minutes outside of Bozeman. This is our personal favourite developed hot spring. You can get local and organic food here, and even enjoy music on Saturday nights.
Chico Hot Springs. This developed pool can be an all-inclusive visit as there's a hotel and restaurant on-site, or a stopover on your way to Yellowstone.
White Sulphur Hot Springs. This developed pool is a bit off the beaten path and, quite honestly, in the "middle of nowhere." Take a soak, then grab some goodies from the local Hutterites and explore the nearby Belt Mountain Range.
Jerry Johnson Hot Springs. This undeveloped natural hot spring area is just over an hour outside of Missoula. It requires a short hike that's well worth it. In the fall, you can even soak right next to the river.
For more details and other options for relaxation, have a look at our guide to the best hot springs in Montana.
13. Off the Beaten Path Ski Resorts
Montana may be best known for its skiing at Big Sky. However, it comes with steep prices and huge crowds.
Here are some local favourites that are easier on the wallet, offer beautiful views of Montana, and still offer some terrain for every level of adventurer.
Lost Trail Ski Resort near Hamilton, MT
Showdown Ski Resort near Great Falls, MT
Red Lodge Mountain Ski Resort
Maverick Ski Resort near Dillion
Discovery Ski Resort near Anaconda/Butte, MT
14. Georgetown Lake
This majestic lake is surrounded by three mountain ranges, and is a great place to come in the summer for swimming, boating, and fishing. In the winter, it's a great place to come cross-country skiing or snowshoeing.
There are several campgrounds around the lake, as well as cabins and Airbnbs. Or, you can stay in the nearby town of Anaconda.
To explore the surrounding area, grab lunch and a local brew in Phillipsburg before or after exploring the dirt road that goes to Skalkaho Falls.
15. Flathead Lake
This list of the top places to visit in Montana wouldn't be complete without mentioning one of the biggest lakes in Montana; Flathead Lake. This lake is 27 miles long and 15 miles wide.
There are plenty of small towns located around the lake where you'll find restaurants, shops, and bars. You can also find cabins and Airbnbs if you're looking for a place to stay.
In the summer, you can enjoy swimming, boating, fishing, and hiking. It is a local boater's paradise. And in the winter, you can go cross-country skiing or snowmobiling.
If you happen to be in Flathead during its cherry season in the summer, be sure to grab these famous local cherries that only grow in this area. They'll be for sale along the road!
FAQs About Visiting Montana
Let's review some answers to some commonly asked questions about visiting all the beautiful places in Montana.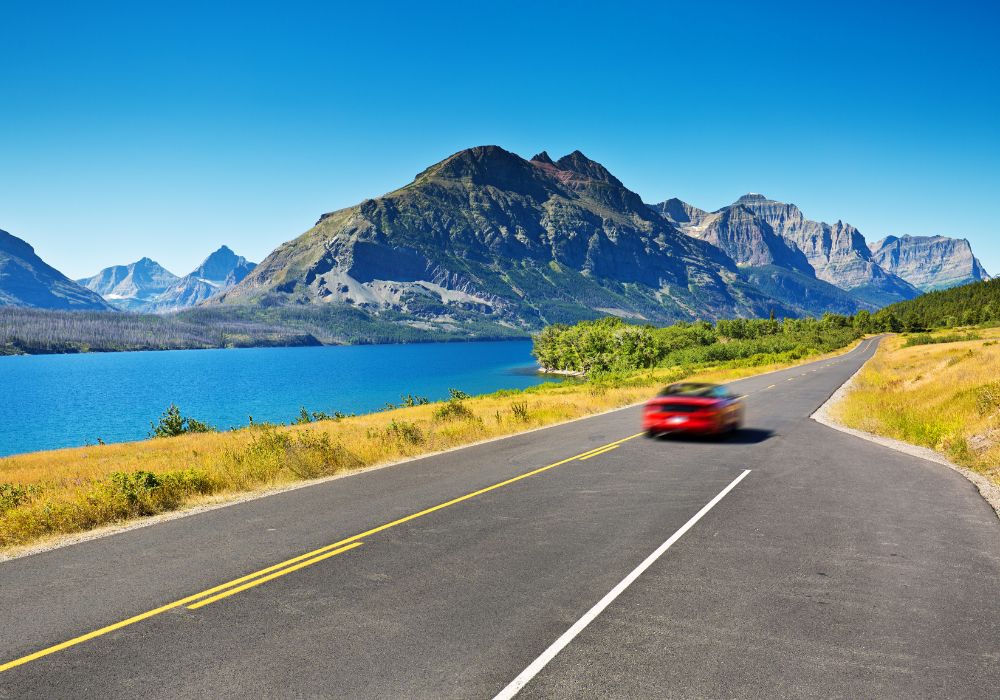 What is the Most Beautiful Part of Montana?
There are so many beautiful places in Montana that it's hard to choose just one. However, the most popular places are clustered on the Western side of the state. Since many people come to visit the mountains, seeing the Rockies at Glacier National Park is arguably one of the most beautiful.
What Are the Best Places to Visit in Montana in Winter?
Many people love to come to Montana to ski. You can access ski sites practically anywhere in the Western half of the state, however, if you're not into skiing there are plenty of other winter activities available such as hot springs, snowmobiling, cross-country skiing, and ice fishing.
What Are The Best Places to Visit in Montana in Summer?
In the summer, you can enjoy hiking, camping, fishing, swimming, boating – really anything outdoors. Many people come to Montana to escape the heat of lower elevations and enjoy the cooler temperatures of the mountains.
Whitefish, with its quaint town and beautiful lake, is a great place to visit in Montana in the summer. As is Glacier National park for the spectacular mountains. Other favourites include Helena, Missoula, Bozeman, and Virginia City.
Now You Know The Best Places To Visit in Montana
I hope you enjoyed learning about the best places to go in Montana. This state has so much to offer in terms of natural beauty, outdoor adventure, and small-town charm.
There's truly a little bit of something for everyone with a mix of history, views, and outdoor adventures.
What's your favourite place in Montana? Let us know in the comments!
Like This Article? Pin it!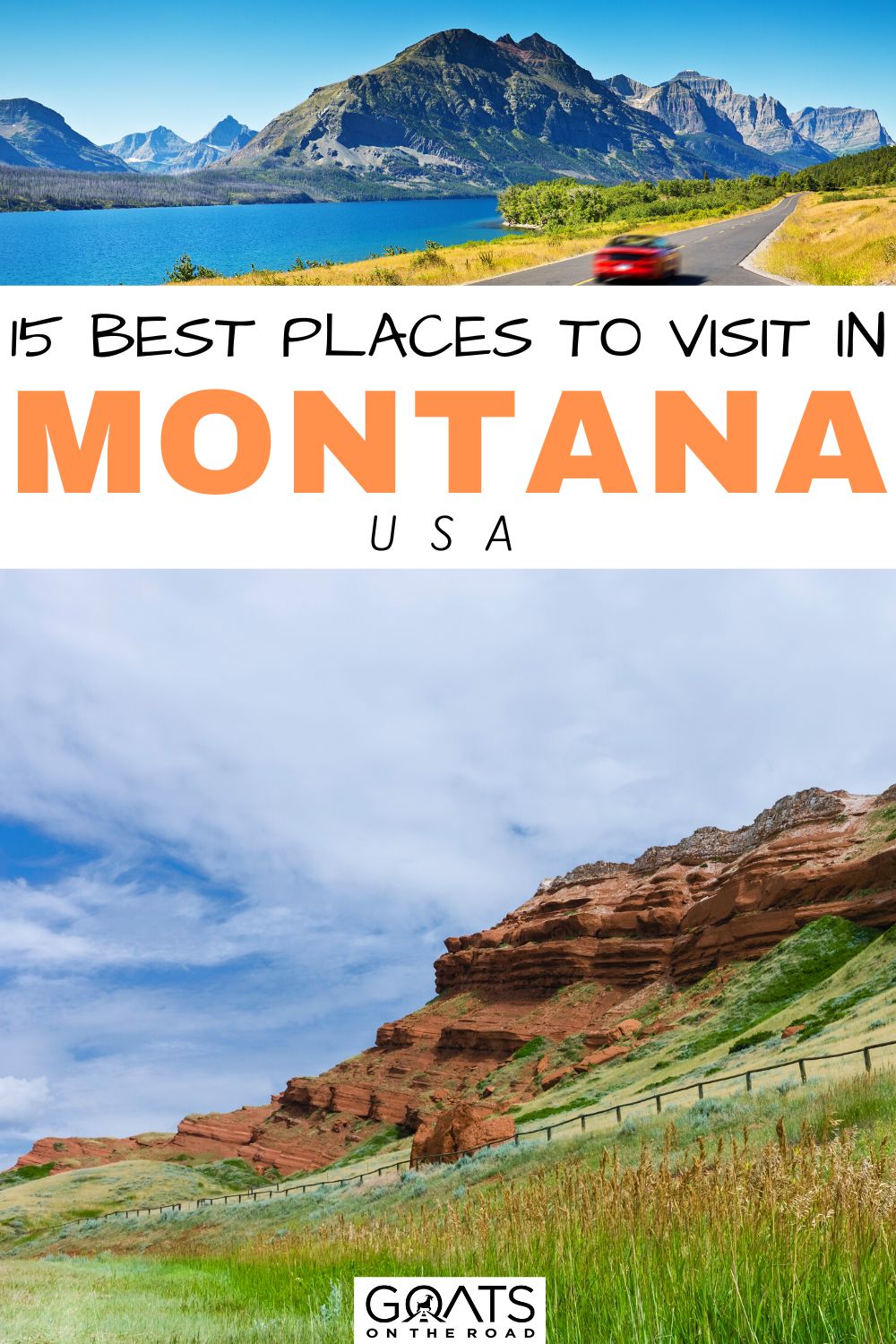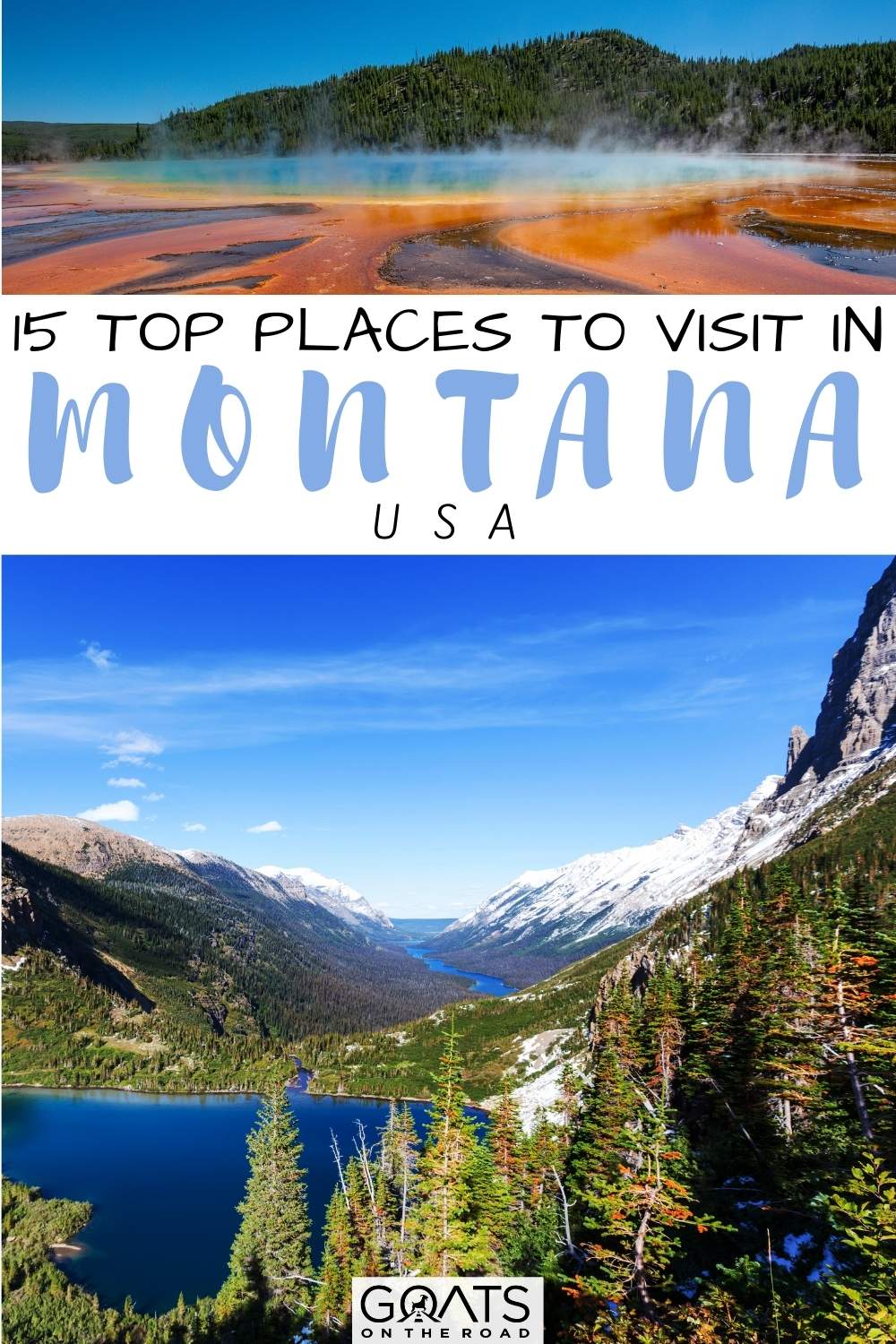 Disclaimer: Goats On The Road is an Amazon Associate and also an affiliate for some other retailers. This means we earn commissions if you click links on our blog and purchase from those retailers.