Montana experiences the fullness of all four seasons every single year. It has beautiful warm summers, colorful and cool falls, cold and snowy winters, as well as life-giving springs. Each season offers amazing travel and adventuring opportunities.
The seasons can, however, be harsh in Montana with heavy precipitation and extreme temperatures. Regardless of the weather, there are endless chances to explore all that Montana has to offer.
The best times to visit Montana are during the summer and fall. The weather is cooperative and almost all activities are on the table. I've spent numerous days in Montana through all four seasons, but the late summer and fall are easily my favorite times to go.
The 12 million people who visit Montana a year generally come during the warmer months, but the mountains and lodging fill up in the winter due to the incredible skiing and snowboarding across the state.
Quick Look: Best Time to Visit Montana
Overall: September
For Fishing: April, June, July, August, September, and October
For Swimming: July, August, and September
For Hiking: June, July, August, September, and October
For National Parks: June, July, August, September, and October
For Fewer Crowds: May, June, September, and October
Overall Best Time To Visit Montana: September
September is the best time to visit Montana. The weather across the state has begun to cool after a warm summer and most people are returning back home after a few months of travel.
Regardless of where you visit, you'll find that parks, trails, lakes, rivers, and mountains are far quieter than they are during June, July, and August.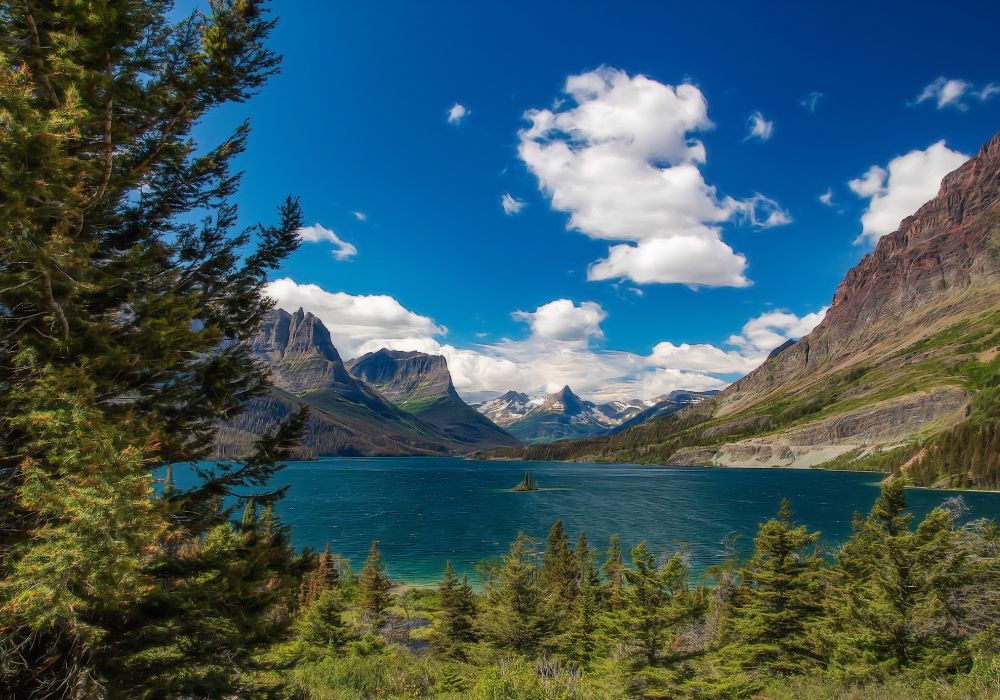 I've spent quite a bit of time in Montana from June through August, but in the past few years, I've started visiting during the fall. October can get cold and snowy in the northern part of the state, but September offers comfortable temperatures wherever you visit.
It doesn't matter if you're camping, fishing, or hiking, the weather is ideal. The cool mornings and warm afternoons are perfect for adventuring.
I absolutely love the peace and quiet that September offers after a crazy summer of tourists covering all parts of the state. Plus, I'm a diehard fly angler, and the fish tend to respond better when the air temperatures are cooler, (and conditions cool down enough for fish to be active longer).
One of the final things that makes September a great month to visit is that peak season prices are over. Lodging, activities, and even small things like gas fall back to more normal prices at this time of year.
Montana residents start crawling out of their summer hibernation and begin to enjoy all that the state has to offer now that the tourists are gone. Everything is easier to find and it's easier to travel around the state freely.
→ Check out our epic bucket list of 101 of the best places to visit in the United States!
Peak Season in Montana (June – August, and December – February)
During the year, June through August is when most people choose to visit Montana. Almost all of the trails are open and everything is in full bloom. The state is filled with families, hardcore adventurers, and all kinds of travelers in between.
Most national park trails and campgrounds are completely full during this time. Prices are at their highest, and extensive planning is required to make sure you have access to everything you need.
Fishing, hiking, mountain biking, and climbing are some of the most popular activities during the peak season.
December – March is the peak season during the winter. Snowboarders and skiers flock to the dozen or so ski resorts spread across the state. Since there's such a variety of snowboarding and skiing available in the state, first-timers, and families, all the way up to professionals can be found on the slopes.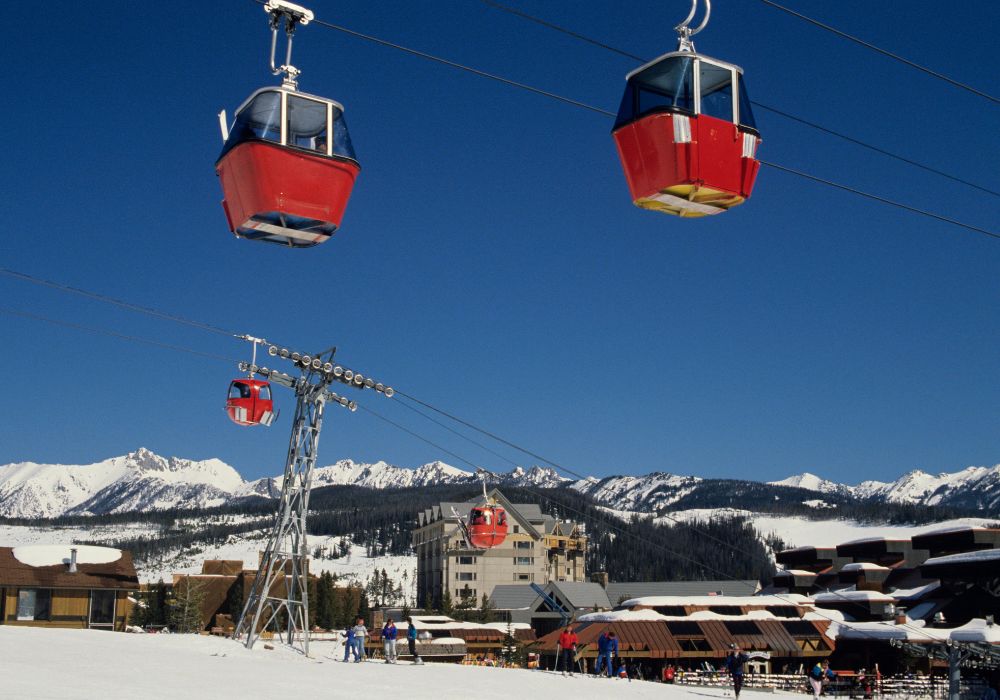 Snowmobiling, ice fishing, and cross-country skiing is also popular with guests of Montana during the winter. This time of year is definitely less busy than the summer, but you'll find high levels of visitors in fewer areas, so it feels a little crowded.
Shoulder Season in Montana (September – October, and May – June)
The shoulder season is my favorite time to visit Montana. The fall shoulder season runs from September to October. All of the activities that are available during the peak season in the summer are essentially all available during the shoulder season too.
Some of the northern parts of the states, as well as the mountain peaks, begin getting snow in October and temperatures can drop into the 20s at night. The main people on the trails, visiting the parks, and enjoying other areas are locals.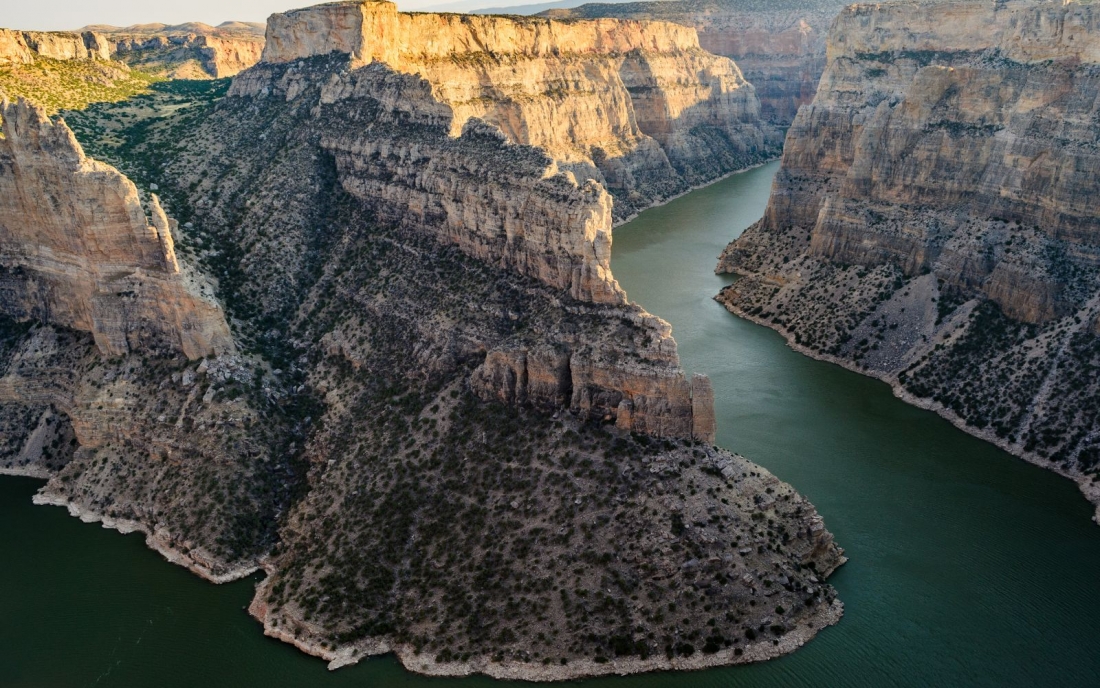 There are plenty of full-time travelers all over the state, but the number of tourists is much lower compared to peak season.
In the spring, the shoulder season is May – June. This is a challenging time to visit the state unless you're comfortable spending time in the low country. All parts of the state are hit with snow, so runoff is in full force in May and June.
As the temperatures warm, rivers, streams, and higher-elevation areas are muddy and filled with water. Activities like fishing and general sightseeing are possible, but only in particular areas.
Prices during May and June are low, and if it's been a particularly dry year, this can be a great time to visit.
Off Season in Montana (October – November, and March – April)
During the fall off-season, adventuring can be very hit or miss. October and November provide beautiful fall colors, but the time of year also comes with snow and other precipitation. Prices are low and most places are fairly empty, so if privacy is what you're after, then it's a great time to go.
If you're willing to work through some testing conditions, you can have some of the most popular places in the state to yourself. There are weather windows where the highs are still in the 50s and 60s, but that can change extremely quickly, so be prepared. Areas like Bozeman, Billings, and other southern parts of the state are best to visit in late fall.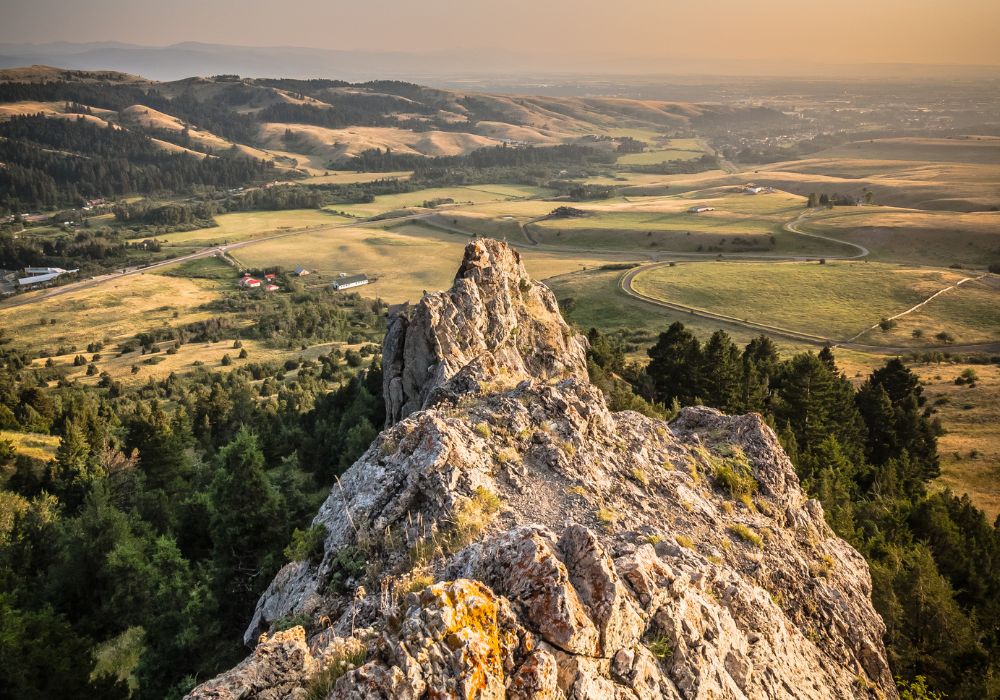 In the spring off-season, you'll find that weather is all over the place. One day it could be 60 and sunny and the next it's 25 and a blizzard. The closer you get to the mountains, the more unpredictable the weather gets.
Like the fall off-season, the prices are low and places are empty compared to the peak and shoulder seasons. You're able to get in some skiing in the northern parts of the state, but for the most part, you'll be limited to fishing and sightseeing. Bring your snowshoes if you intend to hike!
When to Visit Montana For Swimming
The best time to visit Montana for swimming is during July and August. Since almost all lakes in Montana freeze during the winter, the water needs time to warm up! Plus, the average temperature in Montana in July and August is in the high-70s to mid-80s.
It's not uncommon for there to be days over 90 degrees, especially at lower elevations. Beaches along Flathead Lake in Kalispell and Whitefish Lake in Whitefish are amazing to visit this time of year. The water is comfortable and the warmer conditions give you a chance to cool off with a swim.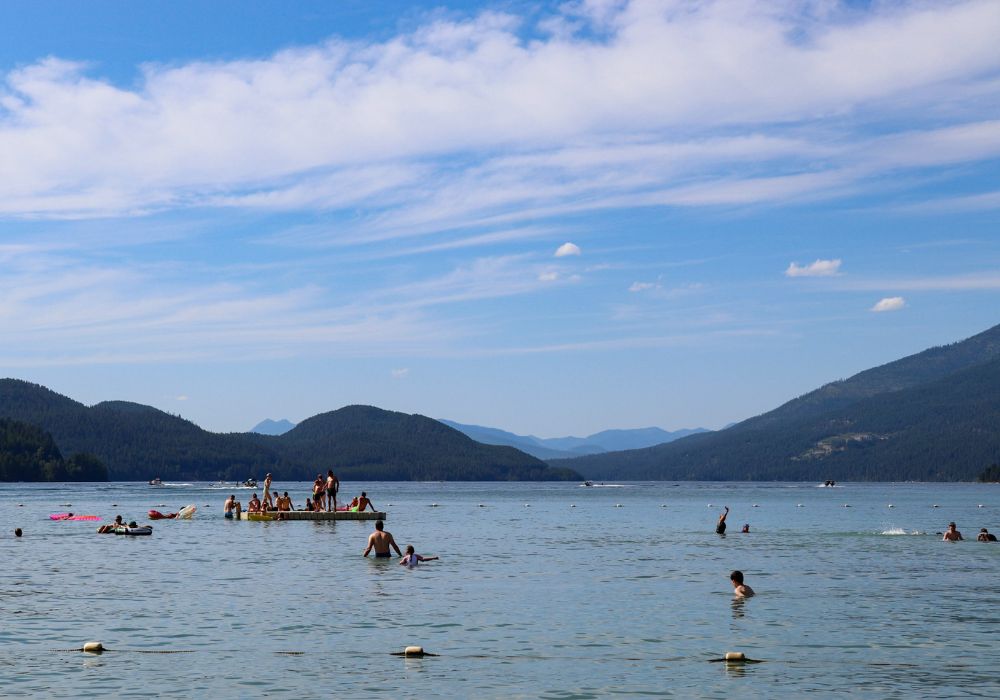 Other beaches, like my personal favorite Lake McDonald Beach in Glacier National Park, are great to visit during these months. Since Glacier National Park is so far north of the state, it takes a while for the ice to leave the lake, and for the air temperatures to warm the water enough to swim in.
While you'll find that many of the lakes and rivers across the state don't become like bathwater, (since most are filled with snowmelt and underground springs), the majority of lakes and rivers are comfortable temperatures on those warmer days.
When to Visit Montana For Skiing
I love to visit Montana in January or February for skiing. My favorite resort, Big Sky, is best during this time of year. Yes, the temperatures are cold, but the snow conditions are almost always perfect – the high elevation and thousands of acres available to ski are covered in fresh powder.
Christmas time is incredibly busy around the ski resorts in Montana, so a mid-January or early February ski trip gives you a chance to find some peace and quiet and still enjoy the amazing winter conditions.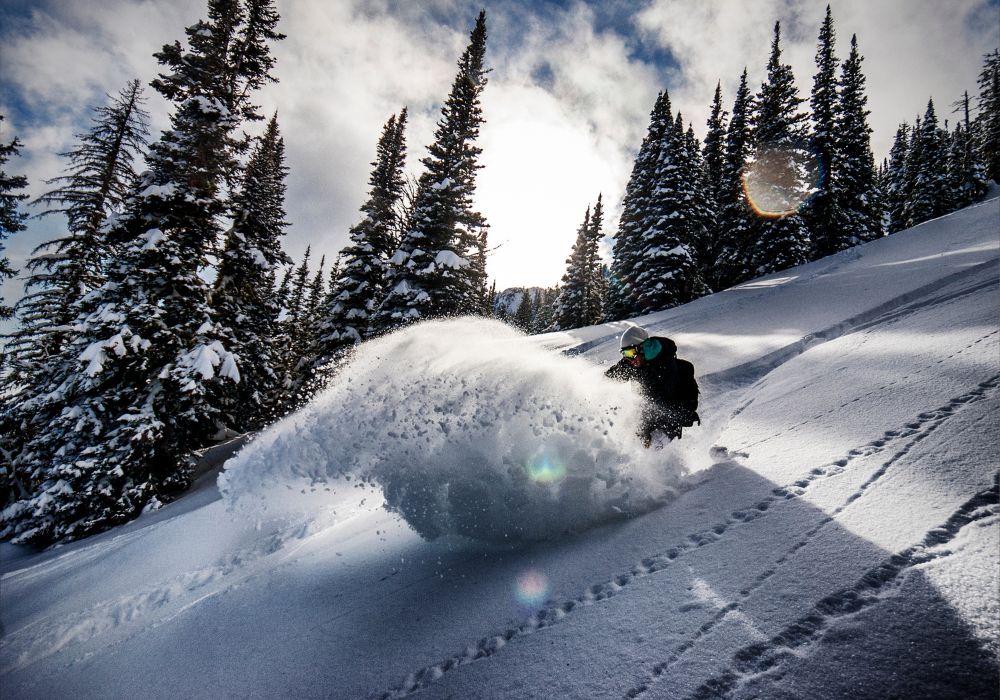 Almost all of the resorts across the state are capable of creating their own snow, but it's rarely needed, especially at resorts based higher in the mountains. Bridger Bowl, Big Sky Resort, Whitefish Ski Resort, and Blacktail Mountain Resort are some of the best choices in the state.
The variety of slopes and challenges, as well as the beautiful mountain views, are extremely hard to beat. Stick to January and February, and you'll be happy.
When to Visit Montana For Cities
If you're hoping to enjoy the unique cities in Montana like Bozeman, Missoula, Kalispell, Big Sky, and Whitefish, your best bet is to go during May, June, September, or October. The temperatures are comfortable and they're not so packed with tourists.
Most stores and restaurants run to their peak season hours, so you don't have to worry about missing out on a local favorite. Plus, the weather isn't too hot or cold, so you can enjoy walking around the cities and not have to worry about any inclement weather.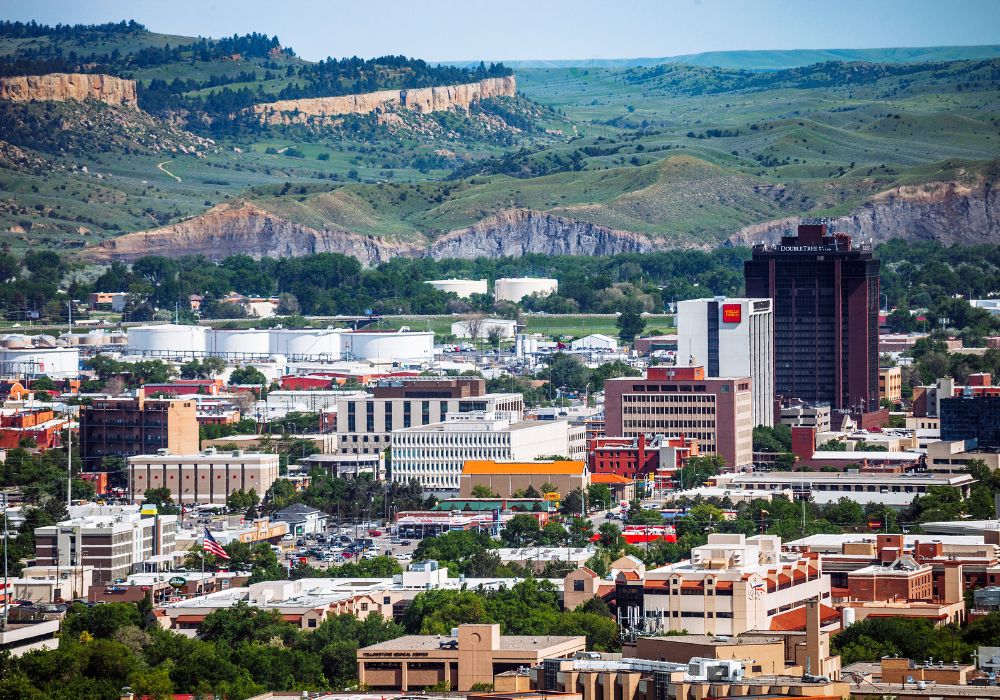 A lot of cities in Montana don't have public transportation, so it's up to you to make your way around the city. While Helena and Billings are unique in their own right, some of the mountain "cities" are the best in the country.
Missoula is my personal favorite due to its unique architecture, phenomenal restaurants, and fun college-town atmosphere. Montana cities are unlike many other mountain towns in the west; filled with history and constantly evolving.
When to Visit Montana For Fishing
Fishing is the best in Montana from mid-June to early July. Anglers will also have great success in September and October. The months of July and August can be productive, but the warmer weather and heavy pressure can make fishing more challenging.
Mid-June is my favorite time to visit because of the Salmonfly hatch that occurs in many rivers across the state. The Gallatin River near Bozeman and Big Sky has a wonderful Salmonfly hatch each year.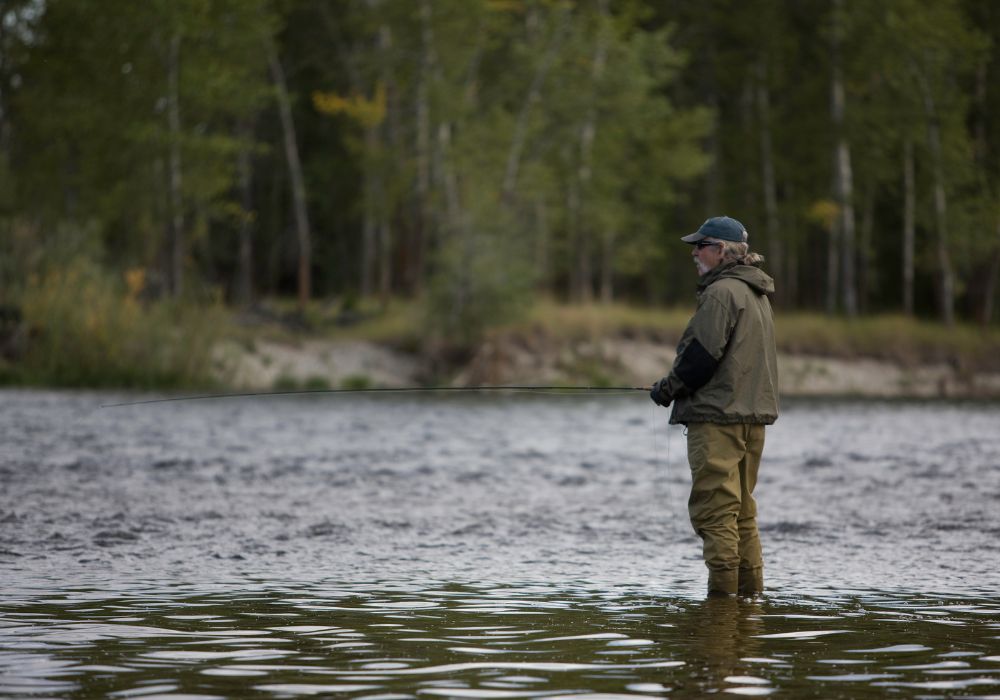 Other rivers like Yellowstone and Madison offer better fishing in late June – early July. It takes quite a bit of time for the runoff season to conclude in Montana due to the high amount of snow the surrounding mountains receive.
September and October are other good months to fish. Most tourists have returned to their home states, and the water levels have dropped. The fishing becomes more technical, but the fish are hungry and eager to feed before the cold winter temperatures hit. I love to grow my skills in the fall.
When to Visit Montana For Camping
Camping in Montana is best from June to September. Be mindful that early June and late September nights can drop into the 30s, but temperatures for most of July and August are perfect. If you're in higher elevations like Red Lodge or Missoula, the nights regularly drop into the 40s, so you won't ever be too hot when you're sleeping.
The main thing to be aware of during these months is that campgrounds can be extremely busy. Pay close attention to reservation systems in March and April when they begin opening dates to book. You'll want to jump on these!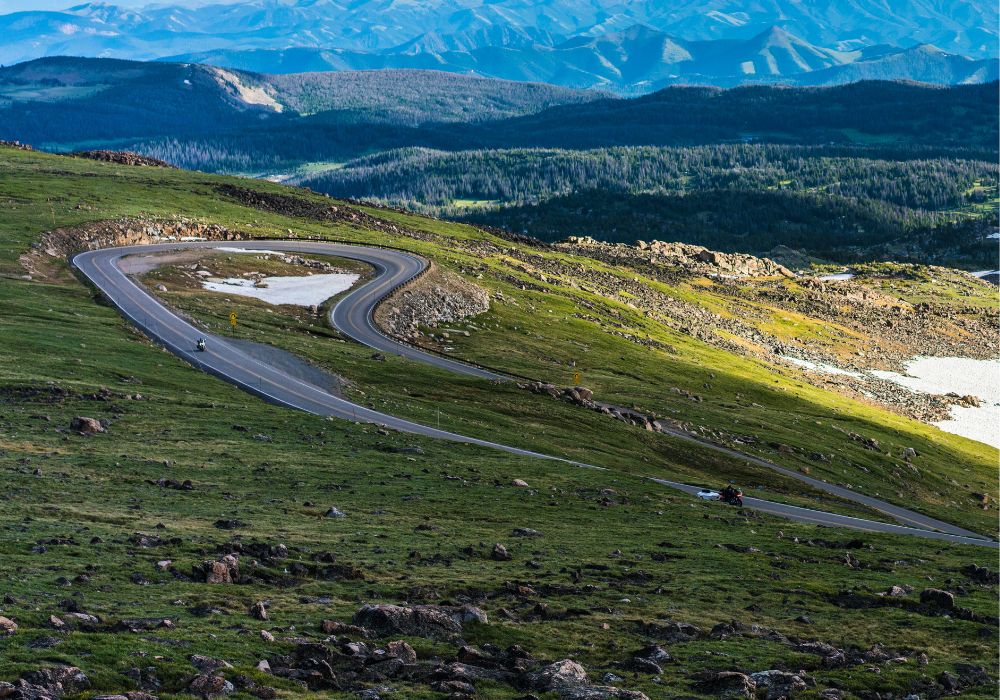 There are many dispersed campgrounds across the state that are first-come-first-served, so you don't have to worry about reserving any of the sites. Plus, most National Forest land has dispersed camping all over the place, so you can live a little more without a plan and still find a great place to stay.
Dispersed camping is free, but you won't have any facilities, so make sure you're equipped to go off-grid. All of my camping experiences in Montana have been in national forests or wilderness land. There are so many beautiful spots to pick from!
When to Visit Montana for National Parks
The best time to visit National Parks in Montana is from June to October. Glacier National Park has sections that are closed (Going to the Sun Road, etc) until late June; make sure you pay attention to the national park websites to figure out what's open.
Most of the parks will be fully open by mid-July. Certain parts have reservation systems that last until the end of August, so visiting in September and October is best as you won't have to worry about booking your reservation as far in advance.
Yellowstone National Park is much further south than Glacier, so most of the park is accessible in June. Some of the higher-elevation trails will still be covered in snow through early July, but most of the park is easy to get to. Wildlife in Yellowstone is active in June as the temperatures are a little less severe.
Wildlife is still out and about in July and August, but it's most active during the mornings and evenings.
Both Glacier and Yellowstone are two of my favorite parks in the entire country. The amount of backcountry land available to explore in each park is unlike any other park in the lower 48.
Montana's backcountry is my favorite place in the United States and simple applications for backcountry permits provide you with a week's access to beautiful trails, phenomenal wildlife, and great fishing.
When to Visit Montana For Cheap Prices
For cheap prices, you'll want to visit Montana from September – November or April – June. Lodging, activities, restaurants, and even simple purchases like groceries and gas are lower during the shoulder and off-seasons.
Lodging fills up fast during the summer, but hotels and vacation rentals are keen for bookings during the off seasons when prices are heavily reduced compared to the peak season.
Guides, outfitters, and experience hosts are also aware of the lower traffic during the offseasons and they'll often offer big discounts outside of months that see more visitors.
Be aware that it may take a little more work to find outfitters during this time as many will almost shut down during the offseasons.
Montana has boomed in popularity in the past 10 years, so prices continue to rise regardless of the time of year. However, if you want a chance at some more reasonable options, visit during the shoulder and off seasons.
When to Visit Montana For Hiking
Hiking is best in Montana from July to September. Montana is best to hike when all of the trails are nearly wide open and are clear of snow. It usually takes until mid-July for most trails to completely clear and many routes across the state won't ever clear entirely, but they're passable by the time August hits.
Yes, the trails are busy during these three months, but the better weather gives you a chance to get out further away from the crowds.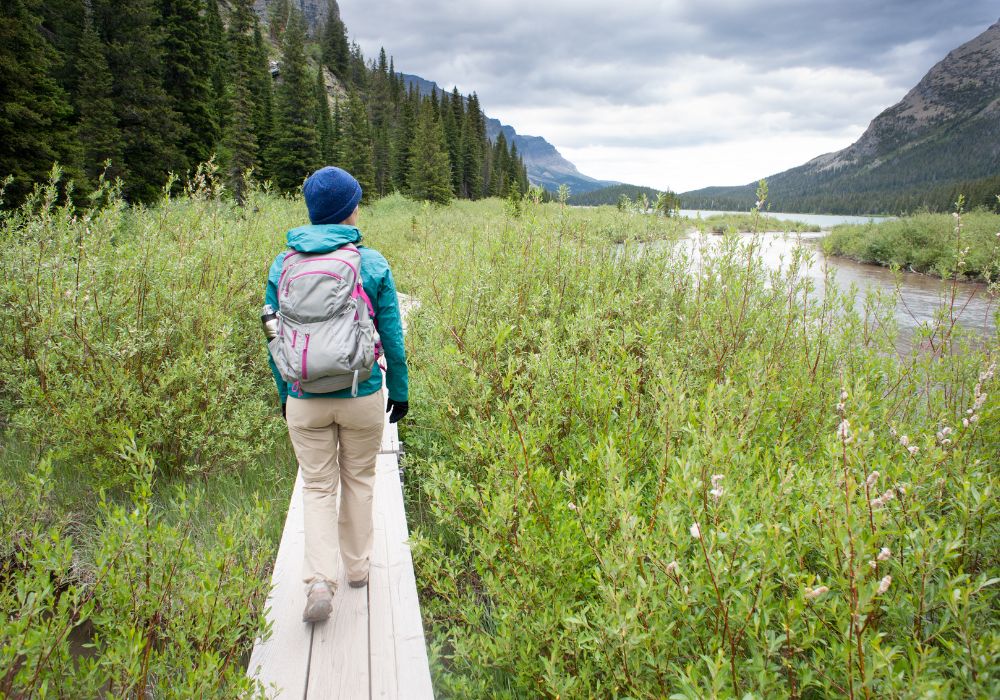 I love to hike in Red Lodge and Kalispell during these months. The Absaroka Wilderness and Bob-Marshall Wilderness are still relatively untouched compared to the rest of the state. There are few places in the lower 48 as remote as these two wilderness areas.
The wildlife and unique hiking trails are some of the best I've ever seen. You have to earn the views, but they're always worth the effort. There's nothing quite like a hike on a remote Montana trail in the summer.
The Best Time to Visit Montana By Month
Each month in Montana provides its own unique weather and adventures. While some months are easier to visit than others, all of them give visitors access to the amazing parts of the state. Once you know what to expect in each month, it makes preparation for travel far easier.
Montana in January
January in Montana is part of the peak season for winter tourists and all winter activities.
Weather in Montana in January
In January, the weather in Montana is cold and snowy. The average temperature across the state is 22 degrees Fahrenheit. The state is almost entirely covered in snow, so winter activities are at the forefront of everyone's mind.
At over 5,000 or 6,000 feet elevation, there's likely to be a few feet of snow, and temperatures are commonly in the teens and single digits throughout the day. Cold and snowy is the name of the game in Montana in January.
Things To Do in Montana in January
In January, people are focused on skiing, snowboarding, snowshoeing, snowmobiling, and ice fishing. The conditions are perfect for winter activities throughout the entire month.
Visitors can spend time exploring the national forests on snowmobiles, snowshoes, and skis, and I personally love taking my cross-country skis out on the trails near Big Sky at this time – usually, after I've ice-fished or snowboarded at Big Sky Resort.
Montana in February
In February, Montana is still in the midst of winter, but the tourist numbers aren't as high as they are at the beginning of the year.
Weather in Montana in February
The weather in February isn't entirely different than the weather in January. The average temperature across the state is 27 degrees Fahrenheit and snow is still a common occurrence.
At higher elevations, temperatures hover around the single digits at night and the mid-teens or low-20s during the day. Snow regularly occurs with a couple of feet of fresh powder hitting the mountains every few weeks.
Things To Do in Montana in February
In February, travelers are either spending their time entirely indoors or outside enjoying winter activities. Visiting Whitefish Ski Resort in February is a personal favorite because temperatures aren't as brutal and the slopes aren't as busy as they can be in January.
Ice fishing is also great in February. With slightly warmer temperatures, fish become more active. Canyon Ferry Reservoir near Helena is one of the best places to ice fish in Montana in February.
Montana in March
Montana in March is one of the slowest in terms of tourism and the weather starts to change as it becomes warmer and more springlike.
Weather in Montana in March
In March, the lower elevations sit in the mid-30s for the average temperature. It's still not uncommon to see a few snow storms throughout the month and some extreme temperatures, but lower elevation areas become quite comfortable.
At elevations near 5,000 feet, winter is still in force in March. The major difference is that there'll occasionally be abnormally warm days in the 40s and 50s, but 20-degree days and snow storms will still regularly occur – winter isn't done yet.
Things To Do in Montana in March
In March, winter activities are heading toward their last leg. Most ski resorts will stay open throughout the entire month as long as there's enough snow. Snowmobile trails are still good to visit, but beware that as soon as the snow starts melting in the mountains, getting stuck becomes a real possibility.
People are starting to fish in the rivers and streams due to the warming temperatures at this time, and you can still visit the mountain towns before they slow way down for the quiet season.
Montana in April
April in Montana is another slow month for tourism and the weather starts to become more comfortable.
Weather in Montana in April
Weather in Montana in April is about as predictable as the Powerball numbers. At lower elevations, you'll find temperatures sitting in the low-60s with quite a few days of rain.
At higher elevations, temperatures start to rise and the runoff season begins. Snow starts melting and filling every lake, stream, and river around. There can be some days of snow, but temperatures are mostly in the 40s for a high.
Things To Do in Montana in April
In April, Montana is in a time of transition. As a result, there isn't a concrete activity that always occurs. Hiking trails are wet from snowmelt, rivers are beginning to fill, and the ski resorts are likely closed.
As a result, most people stay at lower elevations and enjoy mountain biking or sightseeing tours. Anglers may be hitting rivers and streams before the runoff becomes too extreme. Take this time to visit cities and try some indoor activities.
Montana in May
In May, the tourist numbers are still down and the snow runoff is at its peak. The plants are beginning to bloom and almost everything is wet.
Weather in Montana in May
In May, the weather across Montana is much warmer. Average temperatures climb into the mid-60s, but rain is still common at lower elevations.
At higher elevations, temperatures crawl into the 50s with some good spring rains that add to the already significant melting process. Be aware that May is a common time for flooding in Montana.
Things To Do in Montana in May
Like April, outdoor activities are a bit more of a challenge. The unpredictable weather and changing conditions invite visitors to visit some of the quaint mountain towns as they prepare for the peak summer season.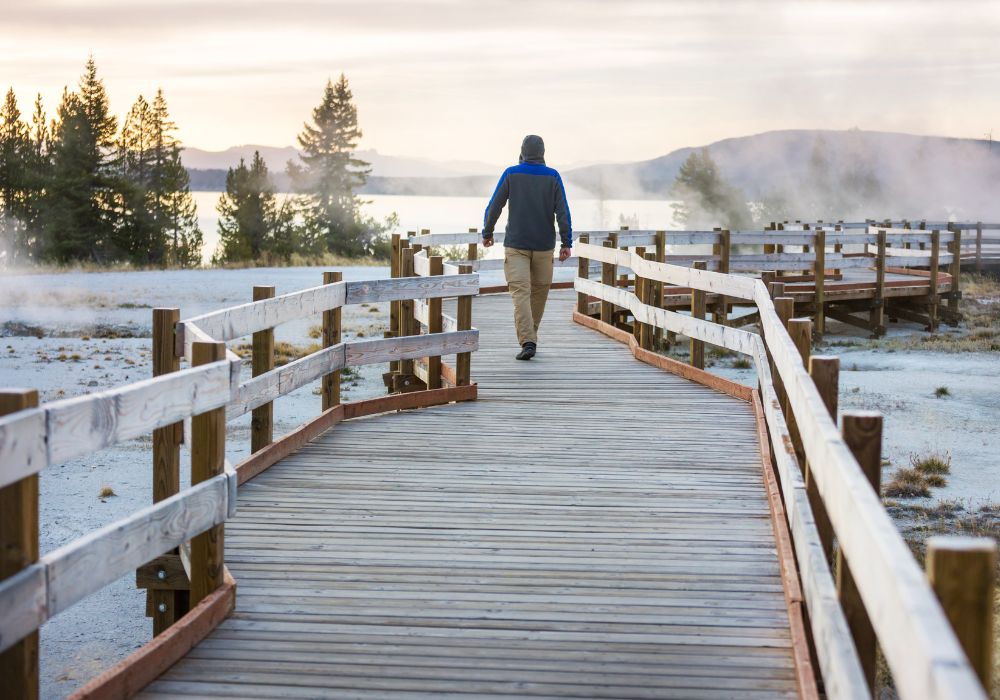 Driving tours and wildlife tours are great in May. Visit Yellowstone National Park and see the park come to life after a long winter.
Montana in June
Peak season in Montana begins in June and almost all summer activities are available for tourists to enjoy.
Weather in Montana in June
The weather in June across the state is almost at its best. Temperatures during the day are in the mid-70s at lower elevations and rain isn't as common as it is during April and May.
At higher elevations, the temperatures are in the high-60s and mid-70s. Everything is beginning to dry and become far more accessible for adventurers.
Things To Do in Montana in June
While you won't likely be summiting any peaks in June, many trails below 10,000 feet elevation are far more accessible, and many of the trails across the national parks are accessible.
Runoff has usually subsided by June, so fishing is extremely productive. The Salmonfly hatch occurs in June, so hit the Gallatin if possible.
Montana in July
Montana in July is absolutely beautiful with sunny skies, clear trails, and access to all things that make Montana great in the summer.
Weather in Montana in July
Lower elevation temperatures in July easily reach the mid-80s and into the low-90s and it's usually dry.
In the mountains, July is a great month. The days are usually around 75 or 80 degrees and the nights are still in the 40s and 50s.
Things To Do in Montana in July
Montana is fully alive in July. Every mountain town, trail, and activity is in full swing. Mountain biking, backpacking, fishing, horseback riding, and climbing are some of the most common activities.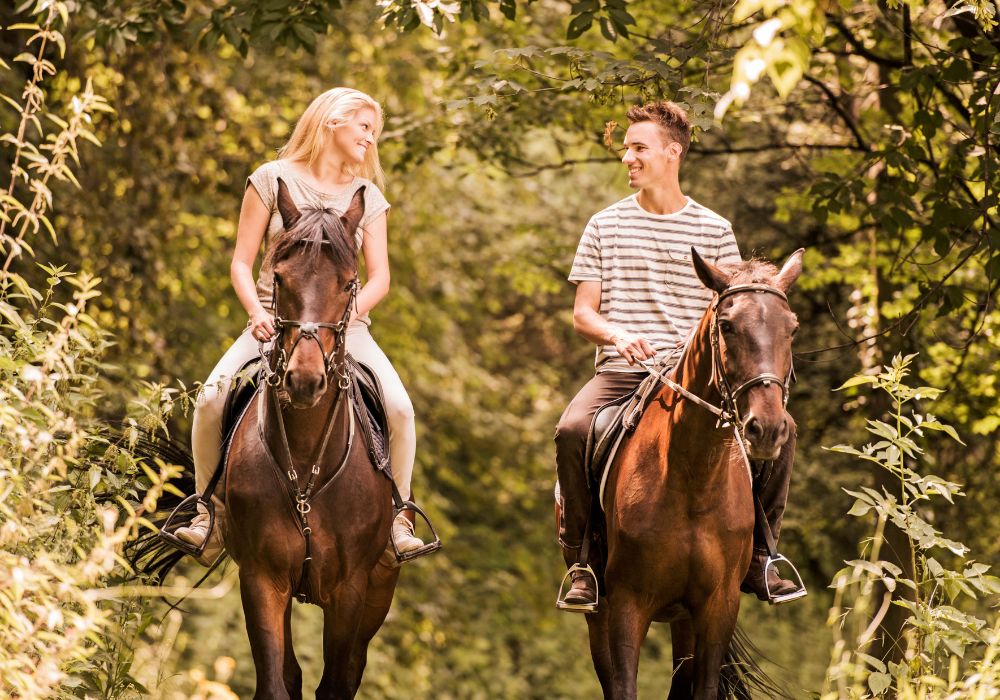 Whenever I visit in July, I try to cover as many miles on trails as I can. Many of the higher-elevation trails become accessible and my eagerness to summit some mountains increases beyond belief.
Montana in August
Montana in August is filled with tourists, cool evenings, warm days, and summer activities at their peak.
Weather in Montana in August
August in Montana is very similar to July. The lower elevations may see more temperatures in the 90s, but they'll get a bit more rain than in July.
Higher elevations sit in temperatures that average 80 to 85 degrees and have nights in the high 40s or low 50s. This is the last month of true heat in Montana.
Things To Do in Montana in August
August in Montana is still filled with summer activities. Some of the areas that are packed by snow in the winter finally become accessible in August, so keep that in mind. Biking, climbing, and hiking are popular activities during this time.
Fishing can be slow due to less rainfall and warmer temperatures, so make sure you're out early or in the evenings to have the best chance.
Montana in September
Montana in September is when tourists begin to leave and everything starts to calm down after a full summer of millions of visitors passing through the state.
Weather in Montana in September
September in Montana is when the temperature differences between low and high elevations become vast. At low elevations, temperatures are regularly in the 80s and low 90s, but rain is even more common in September.
At elevation, temperatures fall from the 80s to the mid to low 70s and there are more consistent 40-degree nights. Remember that the mountain storms in September can be intense.
Things To Do in Montana in September
September is the best month to try all the traditional summer activities in Montana. Nowhere is fully covered by snow and some of the most popular places become far quieter due to the lower levels of tourists.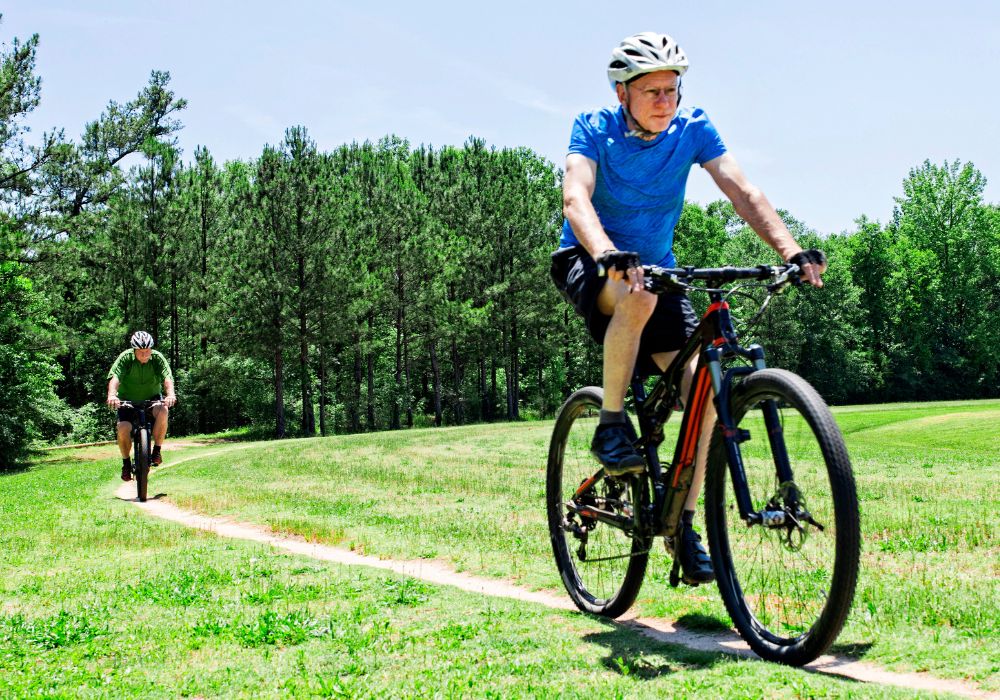 Hiking, fishing, climbing, and biking are still what you should be doing in September. My favorite part is that the trees at higher elevations begin to change colors.
Montana in October
Fall colors and cool temperatures fill the state in October with almost all summer activities still available.
Weather in Montana in October
The weather in October at lower elevations is usually somewhere in the 60s and low 70s at the beginning of the month. By the end, temperatures only reach into the 50s for highs.
At elevations above 5,000 feet, temperatures are consistently in the 50s and the nights are somewhere in the 30s. Plus, snow is starting to fall at those elevations above 8,000 feet.
Things To Do in Montana in October
In October, most summer activities are still available at the lower elevations. You won't be spending time above 8,000 or 9,000 feet without seeing snow, but below that, you can still hike, bike, and climb without worrying about too much snow.
Fishing is also great in October. I love to fish in October because the fish are eager to fatten up before winter fully hits. Check out Rock Creek near Red Lodge. I always have success, here.
Montana in November
November in Montana is the first month of winter conditions, so be prepared for empty trails and dig out your winter adventuring gear.
Weather in Montana in November
In November, the lower elevations consistently see temperatures in the low-40s during the day and 20s and 30s at night.
In the mountains, winter has arrived by November. Temperatures sit around the freezing mark during the day and drop into the teens and 20s at night. Plus, snow is starting to hit regularly at elevations above 5,000 or 6,000 feet.
Things To Do in Montana in November
Some ski resorts are able to open in November, but most people are snowshoeing and snowmobiling around some of those higher elevations. Cross-country skiing is also extremely popular.
Spend time in the cities and on concrete during November. Montana usually needs this month to transition into full winter mode.
Montana in December
All winter activities become available in December due to the cold conditions and higher snowfall.
Weather in Montana in December
In December, lower elevations see temperatures around freezing and receive quite a bit of snow. Winter has fully hit lower elevations by December.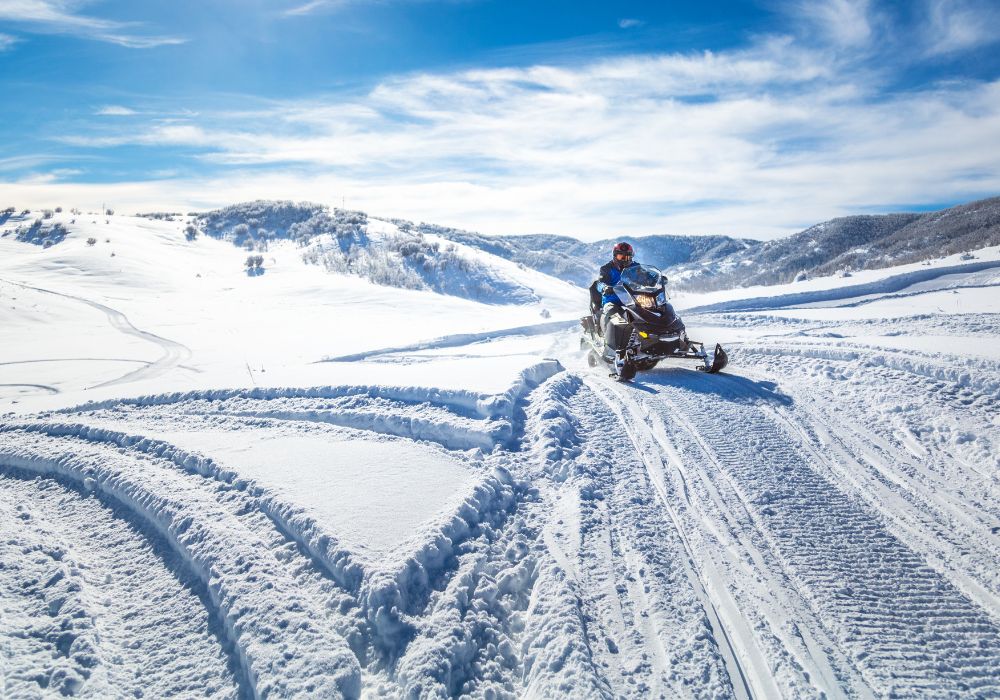 In the mountains, temperatures are in the 20s and snow is consistently hitting higher elevations above 5,000 feet. It's a winter wonderland everywhere you turn in the mountains throughout December.
Things To Do in Montana in December
Snowfall should be high enough that all ski resorts are open and winter activities are in full effect. Snowboard, ski, ice fish, and snowshoe your way around the mountains – they're a must-see in winter by all means.
Most towns have decorated nicely for Christmas, so they're great to visit after a long day of adventuring.
In Conclusion
Choosing the best time to visit Montana isn't always the easiest due to the variety of activities available and the weather conditions to be aware of. If you really want to experience Montana and all its true beauty, it's best to visit during all four seasons. You'll always find plenty to do.
Each time I visit, I find myself feeling that I love a different season best. Montana has never let me down regardless of when I visit.
Like This Article? Pin it!