With the Custer Gallatin National Forest as its backyard, there are endless amounts of hikes in Bozeman, MT. The city is the perfect location for outdoor enthusiasts who are looking for trails to explore and ways to escape into solitude.
From my time spent in Bozeman and the surrounding area, I've learned that you can't go wrong when heading down any of the many hiking trails. My first trip to Bozeman took me south down the Gallatin Corridor, and I return in that direction every year.
The Gallatin National Forest has provided me with hours and hours of fun and countless miles of trails. I am truly at peace on the trails surrounding Bozeman and believe these are some of the best places in the US for hiking.
Impressive mountain ranges, alpine lakes, waterfalls, and dense forests make hiking in Bozeman a diverse experience full of adventure and beauty.
Hiking trails in Bozeman are in abundance right in the heart of the town and in the surrounding area. Bozeman offers plenty of hikes to choose from you as you plan your next Montana adventure.
Whether you're looking for some short morning steps, a mid-range daytime hike, or a challenging 15+ mile trek, Bozeman has an option for you.
15 Best Hikes in Bozeman, Montana
From summiting mountains to strolling through a local public park, there's something for families, couples, solo travelers, and avid hikers of all kinds.
Check out this list to find the wide variety of hikes available in Bozeman and the surrounding area. You won't be disappointed with the scenery, the chance to see wildlife, and the crisp mountain air.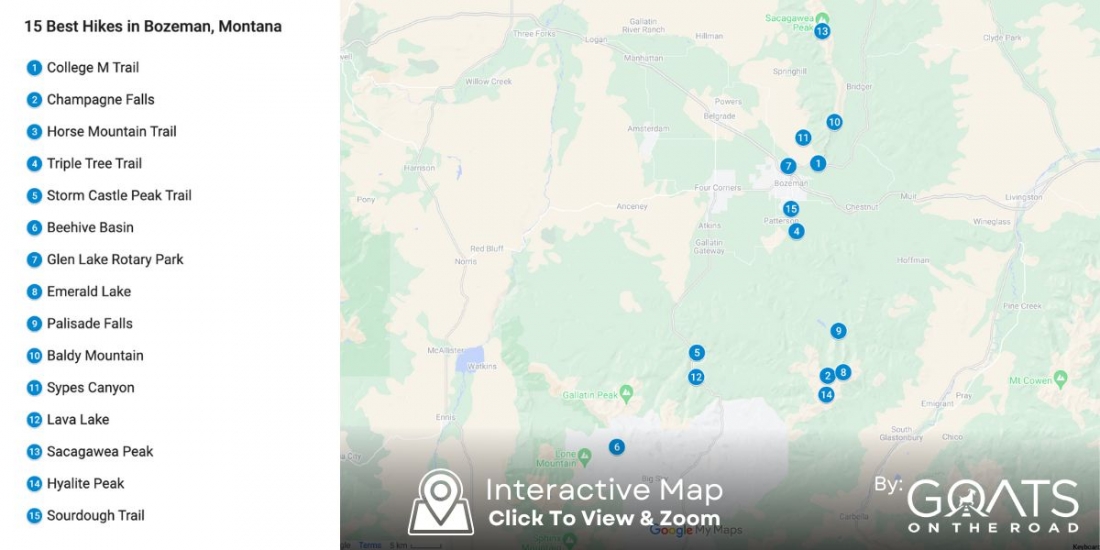 1. College "M" Trail
If you're looking for one of the most iconic and popular hikes in Bozeman, the College "M" hike is for you. Being only 5 minutes from downtown and 2 miles long, this hike is well loved by many in the city because of its proximity and accessibility. And in case you're wondering, the "M" represents Montana State University.
There are two routes available to head up to the "M." The steep trail to the right is a more direct path to the top, whereas the trail to the left is more of a winding path and is therefore less steep.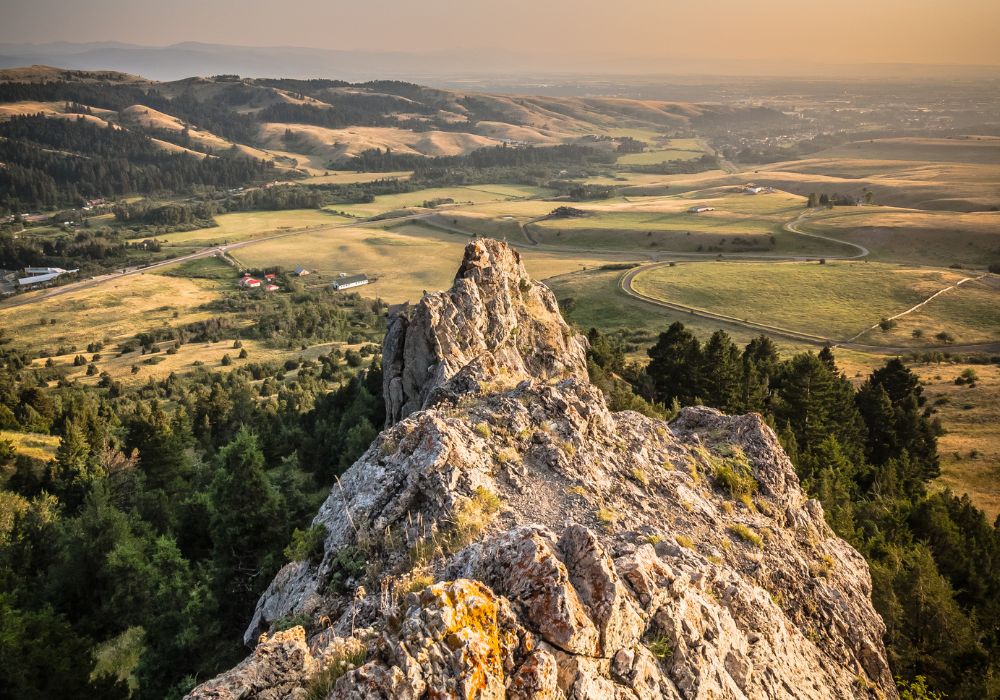 No matter what route you take, you'll have beautiful views of the valley and the mountains on the horizon. Depending on the season, you can also expect to be surrounded by wildflowers as you walk.
Make sure to get to the trailhead early because of the trail's heavy traffic. If the parking lot is full, head across Highway 86 and park at the Drinking Horse Mountain trailhead. The College "M" Trail is one of the best and easiest hikes around Bozeman.
Trail Details and Information
2. Champagne Falls
If you're looking for a waterfall hike near Bozeman, plan to hike to Champagne Falls. Located 28 miles from Bozeman, this hike begins at the Grotto Falls trailhead.
Along this trail, you have a chance to see many waterfalls: Arch Falls, Grotto Falls, and finally Champagne Falls. With all of these water features, it's a great choice for a summer hike in Bozeman.
Arch Falls tumbles 20 ft. down and Grotto Falls and lands into beautiful swimming pools. Be sure to stop and take in the breathtaking views along the way.
Be aware that if you hike this trail in spring or early summer, you could still run into some snow. Not only is this route great for summer hiking, but the frozen falls also make it one of the best winter hikes in Bozeman as well.
Trail Details and Information
3. Drinking Horse Mountain Trail
Located just across the highway from the iconic College "M" trail, the Drinking Horse Mountain Trail makes for another easy hike around Bozeman. Because of its short length and proximity to town, this trail is popular for families and first-time hikers.
The route makes a figure eight loop and has benches and scenic viewpoints along the way. You don't have to be worried about getting lost as the trail is very well-marked.
Because of its quick climb, the view from the top gives amazing views of the Gallatin Valley and the Bridger Mountains out in the distance.
This hike is a great option for those looking to do something solo, with a family, or with your dog. Consider packing a lunch and enjoying it on a shaded bench up at the top.
Trail Details and Information
4. Triple Tree Trail
Just 10 miles from downtown Bozeman, this trail is shared by hikers, runners, leashed dogs, and mountain bikes. So, if you're looking for a little more mileage that's close to town, the Triple Tree Trail is a great option.
Along the trail can expect to cross Limestone Creek a few times – plenty of perfect spots for you and your dog to cool off. You'll also pass through grasslands and head through the forest.
In the spring you'll be surrounded by wildflowers and in the fall you'll be engrossed in colorful crisp leaves. At the top, you can get a perfect view of the sunset.
It's suggested that you carry bear spray and avoid hiking alone as it's not unheard of to encounter these grizzly mammals on this trail.
Trail Details and Information
Planning to visit other areas in Montana? See these posts:
5. Storm Castle Peak
If you conquer the steep hike to the top of Storm Castle Peak, you'll be rewarded with expansive and panoramic views of Gallatin River Canyon. There's also a unique archway at the top which makes for some memorable pictures.
As you explore the Custer Gallatin National Forest, you'll feel like you're in an enchanted forest as you navigate the switchbacks of this steep and rewarding hike.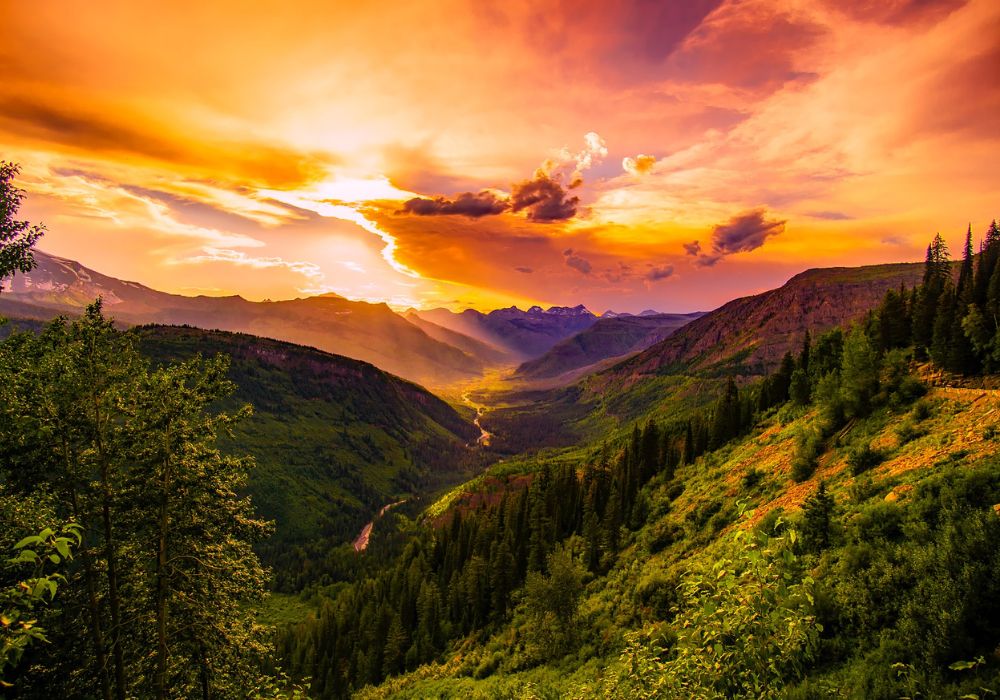 The trailhead is located about 17 miles from Bozeman and begins just past the Squaw Creek Bridge. You can choose to camp here too; continue down the road for a few miles and you'll find Spire Rock Campground – it's beautiful.
We did this hike early in the morning in hopes of loosening our legs. We wanted to do a summit that wouldn't take too long, and this peak was the perfect option. It's only 5 miles in total, with less than 2,000 ft. of elevation gain. We brought some water and granola bars and completed it in less than 3 hours.
Trail Details and Information
6. Beehive Basin
Based on personal experience, I promise that the 50-mile drive from Bozeman to the trailhead is worth it to hike to Beehive Basin.
The drive itself is stunning and the beauty only gets better as you hit the trail. This trail gives you big mountain feelings and rewards you with a destination of an alpine lake and a prime view of Lone Peak.
The hike is a gradual climb and is moderate in difficulty. It's important to know that the ending elevation is 9,600 ft. so you might feel it in your lungs!
The high elevation also means you'll encounter some snow in the spring and early summer. Take your time to enjoy all of the surrounding beauty as the trail is mostly wide open giving you panoramic views.
When you arrive at the Beehive Basin, don't rush back down. The peace and quiet found here is unique to most things you'll have experienced. There are several runoff lakes that fill the basin and provide a beautiful reflection of the surrounding peaks.
We ate our packed lunch, laid down on a rock, and listened to the birds and calm breeze for several hours. There's enough room for numerous people to find a quiet place and relax.
Completing the trail in late June gave us wonderful views of the wildflowers. The colors on the trail are spectacular and the leafy aspens and tall Ponderosa Pines mixed in with the wildflowers seem to grow more spectacular around every corner.
There's also nothing better than finding one of the big flat rocks to settle onto and bask in the strong mountain sun.
Trail Details and Information
7. Glen Lake Rotary Park
If you're looking for an easy hike around Bozeman, head to Glen Lake Rotary Park. Located just 2 miles north of downtown, this short and flat loop trail is accessible to people of all ages and hiking experience.
The park has a large lake in the center and is surrounded by a trail system that loops around it – the biggest loop is three miles long. As you walk the loop, you can enjoy the view of the water, the grasslands, and the wildflowers. It also makes for a great place to bird-watch so consider traveling with your binoculars!
Glen Lake Rotary Park is great for families with young children. There's beach access and sand volleyball courts making it a fun place to hang out and have a picnic on a warm summer day.
Trail Details and Information
8. Emerald Lake and Heather Lake
Starting with a few miles of gradual climbing and ending with a series of switchbacks, this makes for a moderately challenging hike with a rewarding view at the top.
The journey is worth it as you have a chance to take in the beauty of two crystal-clear alpine lakes, (you'll encounter Emerald Lake first).
The views are unbeatable as Emerald Lake is surrounded by rugged peaks – they're truly sights to behold. Take your fishing pole along as this lake is also a great fishing location. If you wish to discover another breathtaking destination, take the extra mile past Emerald Lake and you'll arrive at Heather Lake which offers more solitude and spectacular views.
If you choose to hike this in the summer, make sure to pack bug spray. Also, give yourself a good amount of the day to complete this hike as you'll want time to enjoy the destination.
With a combination of mountain views, alpine lakes, wildflowers, and meadows, this path makes for some of the best hiking near Bozeman.
Trail Details and Information
9. Palisade Falls
Champagne Falls isn't your only option for a waterfall hike near Bozeman. Palisade Falls is located 40 minutes south of Bozeman and is known to be an easy and family-friendly trail.
The trail is located in the Hyalite Recreation Area and is a great trail to escape the summer heat. Not only is your destination a waterfall, but you'll be spoilt with a stream that follows the trail the entire way. The destination is a bridge that faces the impressive Palisade Falls which cascade down around 80 ft.
This short, paved, and shaded trail is an ideal choice for families and those who want to adventure with their dogs.
Trail Details and Information
10. Baldy Peak Mountain
If you're looking for a challenging mountain summit, Baldy Peak is the trail for you. One way up to the summit is 4.5 miles and just over 4,000 ft. of elevation. These stats mean you must carve out plenty of time to make the steep trek up.
The hike to the top includes passing through covered forested areas and also hiking along an exposed ridge beyond the tree line. The ridge can experience harsh winds and sun exposure so it's important to pack adequate sun protection and layers for the cold breeze.
We made an attempt at the Baldy Peak Summit for our first hike when we arrived in Bozeman. It was definitely a lung-buster! It took us around 4 hours to complete.
If you want an amazing workout paired with great panoramic views, this is for you. We brought 3 liters of water each along with a full lunch and used all of the provisions we brought.
Summiting Baldy Peak would make for a rewarding experience during your time in Bozeman.
Trail Details and Information
11. Sypes Canyon
The Sypes Canyon Trail gives you the magical chance to take in the views of the Bridger Mountain Range. Even better, the trailhead sits just 15 minutes north of downtown Bozeman; making it accessible and popular for locals and visitors alike.
In the spring you'll see plenty of wildflowers and in the fall you'll experience a variety of autumnal colors. If you hike in the summer, you'll have plenty of shade and chances to cool off in the creeks that pass by the trail. Expect to share the trail with other hikers, horseback riders, and mountain bikers.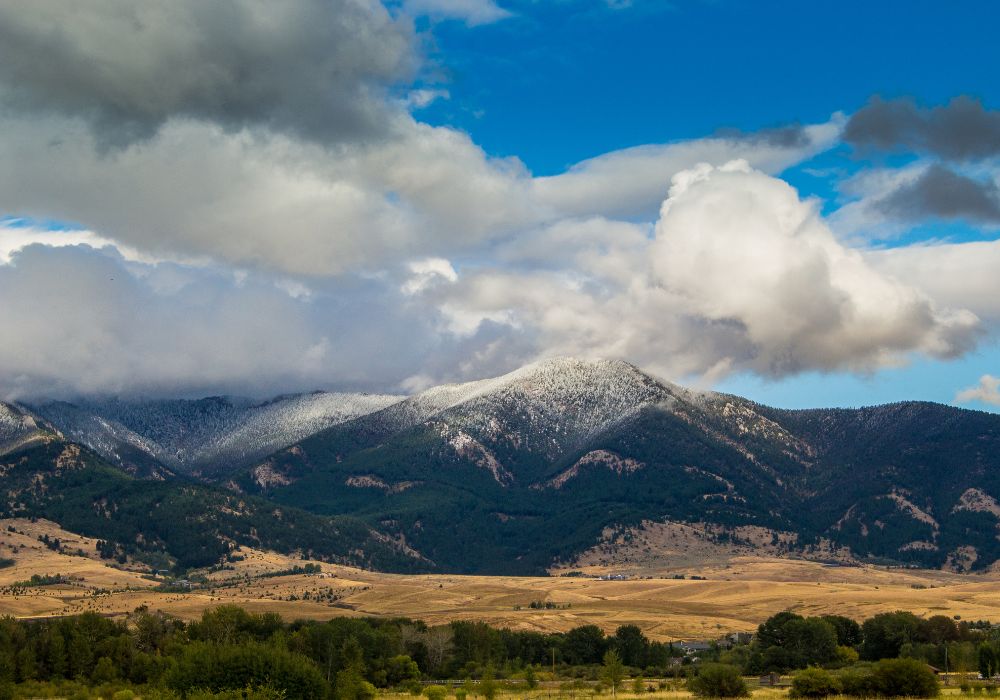 The moderate elevation gain of this hike still means it's family-friendly. No matter who you're with, make sure to remember your bear spray as bears are frequently spotted in the area.
Trail Details and Information
12. Lava Lake
If you're willing to drive 30 minutes south of Bozeman into the Gallatin Gateway, I highly suggest hiking to Lava Lake. I struggle to decide if Beehive Basin or Lava Lake is my favorite hike in the Bozeman area – I'll let you discover for yourself!
Lava Lake is a moderate 6-mile trail with a beautiful alpine lake as its ending destination. The elevation gain along the way is consistent and steady but very doable for those in decent shape.
As you make your way up towards the lake, you'll hike through the dense and lush forest; even crossing some different streams and creeks on bridges.
As we were hiking along, the vegetation was packed in around us. It felt as if we were hiking in Washington or British Columbia. We knew open landscapes were going to meet us at the top so we appreciated the chance to around at all of the unique plant life on the way up.
Once you finally arrive at the lake, the view opens up to the surrounding Spanish Peaks. We found a rock along the shore, put our feet in the water, and took in the surrounding views. The snow on the mountain peaks provides a great contrast.
Since we did it in early July we were worried about bugs, but they were never an issue. We ate our lunch in peace and quiet and quickly made the trek back down to our parked car. The steady incline makes the descent quite easy.
The water is crystal-clear, and we were able to spot some trout swimming through the shallows. This is a great hike for those who enjoy fishing in alpine lakes.
Pack a lunch and plenty of snacks to enjoy at the top. You deserve to take it all in after climbing all the way up!
Trail Details and Information
13. Sacagawea Peak
The hike to the top of Sacagawea Peak is not for the faint of heart. Being the tallest peak in the Bridger Mountains, I can assure you that you'll finish this hike with a feeling of great accomplishment.
Not only does the hike test the savviest of hikers, but the road getting to the trailhead also requires some skill, (and ideally a 4WD).
For many, the 2,000 ft. climb over just 2 miles of trail is worth it. At the top, you'll get to take in views of The Crazy Mountains, Tabacco Root Mountains, The Spanish Peaks, and the rest of The Bridger Mountains.
The actual journey up to Sacagawea Peak begins in a forested area, transitions into large meadows, and finishes up with some tight switchbacks and challenging climbs.
Make sure to pack plenty of food and water, a jacket to weather the strong winds, and hiking poles to navigate the switchbacks and tough climbs.
Trail Details and Information
14. Hyalite Peak
Hyalite Peak Trail can best be described as a long and challenging journey with rewarding views at the end. The trailhead is a 40-minute drive from Bozeman but is a popular trail for those looking for a challenging hike in the area.
You can expect the hike to start with four miles through dense pine forest. Along the way, you'll encounter about 10 mini waterfalls and several creeks.
The creeks sometimes have bridges and sometimes require you to cross them on your own. I'd consider taking an extra pair of socks and/or hiking poles to make the creek crossings more manageable.
As you continue on towards Hyalite Peak, you'll experience meadows, shots of craggy peaks, and views of Hyalite Canyon. At the top, you'll encounter Hyalite Lake surrounded by impressive mountains.
This challenging hike finishes out above 10,000 ft. and is guaranteed to both wipe you out, and offer you some of the most wonderful views in the area.
Trail Details and Information
15. Sourdough Trail
If you're looking for an easy, family-friendly hike around Bozeman, head to the Sourdough Creek Nature Trail. Located just a few minutes away from downtown, this 2.5-mile out and back trail makes for a great place to explore during a morning or afternoon in Bozeman.
The gravel nature trail is 8 ft. wide and provides many benches along the way to rest and take in the surrounding beauty. This trail could also be accessible for strollers or those in wheelchairs, (depending on the wheel types).
Consider making a stop at Sourdough Trail during your next outdoor Bozeman adventure.
Trail Details and Information
Where to Stay in Bozeman
These are a few of the best neighborhoods, areas and Airbnbs in and around Bozeman.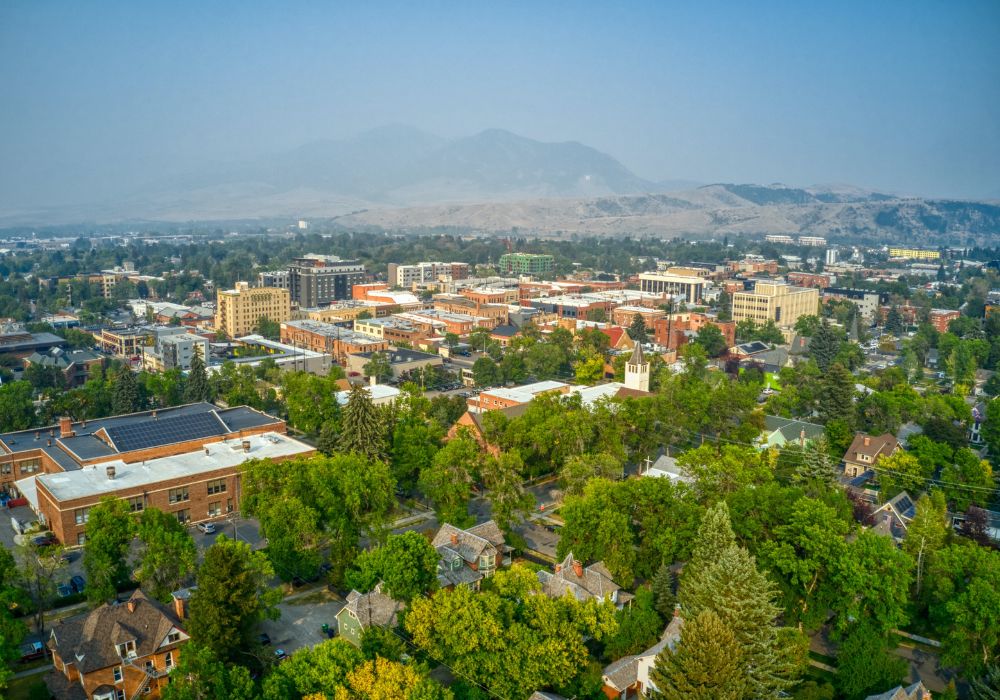 Downtown Bozeman
If you prefer to stay in the heart of a city close to restaurants, breweries, shops, and nightlife, staying in downtown Bozeman is the best option for you.
Staying downtown still provides a great home base for your outdoor adventures as you don't have to travel far outside of the city to get your hiking, biking, fishing, or skiing fix.
On one of our visits to Bozeman, we stayed downtown right above a few restaurants which was great! After a nice dinner, we were able to walk a few blocks and head to bed.
Check out this newly-built condo downtown that's within walking distance to the heart of downtown. Take in the surrounding mountain views from your private deck and balcony, and either explore the restaurant scene or cook in the fully-stocked kitchen.
If you love whiskey as much as you love walking, I recommend trying out this whiskey bar and grill – Copper – offering favorites such as brisket sandwiches and burgers to suitably refuel after your adventures.
West Bozeman
Over the past few years, West Bozeman has been growing and developing. People describe it as "Small town charm. Big sky living." This area of Bozeman is family-friendly and full of a variety of duplexes, townhomes, and single-family homes. The west side of Bozeman also offers new parks, an extensive trail system, and some lovely lakes.
This modern condo in west Bozeman is brand new and in a prime location for most activities. The 3 bedroom, 2.5 bath condo is only 10 minutes from downtown and has walking and biking trails right from the front door. Consider booking this location for a quieter place to return to after a busy day of exploring.
Bridger Canyon
The Bridger Canyon neighborhood in Bozeman, MT, is full of some of the finest homes in the area. Bridger Canyon is a prime area to stay in because of its location near local hiking trails and the national forest. Additionally, Bridger Canyon is home to the Bridger Bowl Ski Area and Crosscut Mountain Sports Center for cross-country skiing.
We stayed in the Bridger Canyon area in an effort to be close to skiing in the winter as well as hiking in the summer. It gave us the peace and quiet we desired but also put us close enough to town to experience all the restaurants and nightlife.
If you're looking for a unique and cozy place to stay in this area, check out this 2 bedroom, 1 bathroom peaceful mountain hideaway. Consider booking this peaceful hideaway to be in an ideal location for the mountains, hiking, and downtown.
Hiking in Bozeman: FAQs
Here are some answers to commonly asked questions about hiking around Bozeman.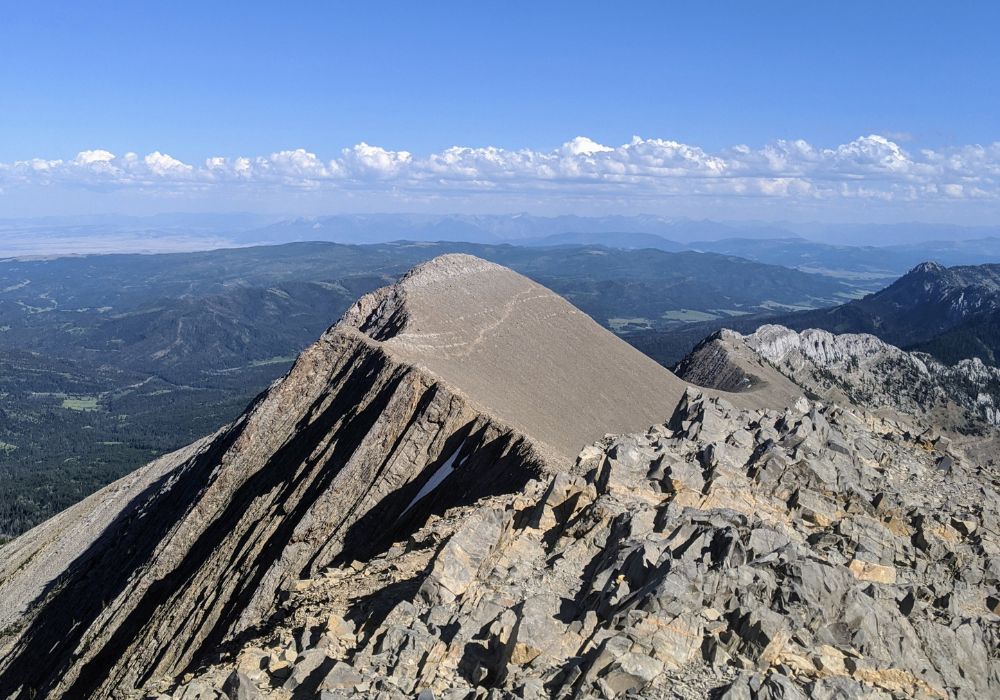 What is the most popular hike in Bozeman?
The most popular hike in Bozeman is the College "M" Trail. Located just 5 miles from downtown and only 2 miles in length, this trail is popular for locals getting in their morning workout or for visitors who want to climb up to the iconic "M."
What is the easiest hike around Bozeman?
The easier hike in Bozeman is found in Glen Lake Rotary Park. The public park consists of a lake, sandy beaches, and a family-friendly trail system. The path is flat and the largest loop you can create is 3 miles.
Are there any waterfall trails in Bozeman?
There are many options to see waterfalls along the trails in Bozeman. Two popular hikes with prominent waterfalls are Palisade Falls and Champagne Falls.
What should I wear when hiking in Bozeman?
No matter what the season, it's important to hike in layers. You never know when the weather will shift in the mountains and the higher you get, the windier and chillier it gets. I also recommend you wear a strong pair of sturdy hiking shoes or boots to best navigate the climbs.
What is the most beautiful trail in Bozeman?
The Emerald Lake and Heather Lake Trail offer some of the most beautiful views in the Bozeman area. On this hike, you'll see impressive mountain vistas, fields of wildflowers, and a destination of rugged peaks towering over clear alpine lakes.
Is hiking in Bozeman dangerous?
Hiking in Bozeman can be dangerous if you're not well-equipped with proper gear. It's important to hike with hiking shoes and poles for the steeper and more exposed trails. It's also always a good idea to carry bear spray as grizzlies and black bears frequent the surrounding areas. Never forget plenty of water and food.
Conclusion
As mentioned earlier, you can't go wrong when choosing between any of the many hikes available in and around Bozeman. Whether you want to start getting into hiking or you're an experienced adventurer, Bozeman is a great destination for you.
Grab the bear spray, put on the hiking boots, pack some layers and you're all set to take in the beauty of the mountains, lakes, meadows, and forests