Bozeman, Montana has seen major growth in the past few years. People from all over the country are eager to find a place to live in this city and for good reason. It's close to amazing outdoor adventures and offers something for everyone to enjoy.
The places to stay in Bozeman range from luxury to extremely affordable and everything in between. If you're wondering where to stay in Bozeman, each neighborhood has something unique to suit your needs.
I've visited Bozeman multiple times, and I find myself enjoying a new aspect of it each time. Even though I'm a diehard camper, I always enjoy getting an apartment near downtown to experience the amazing atmosphere it has to offer.
See Also: 101 Best Places To Visit in The USA (The Ultimate Bucket List)
Learn where to stay in Bozeman with this guide
Quick Look: Best Areas to Stay in Bozeman
South Bozeman: Where to Stay in Bozeman for Your First Time
South Bozeman is the perfect place to stay for a first-time visitor to Bozeman. The south side shows everything that's great about the city.
You're within 10 minutes of Main Street and 10-15 minutes away from the peace and quiet of the mountains. It has something for every type of person who wishes to visit Bozeman.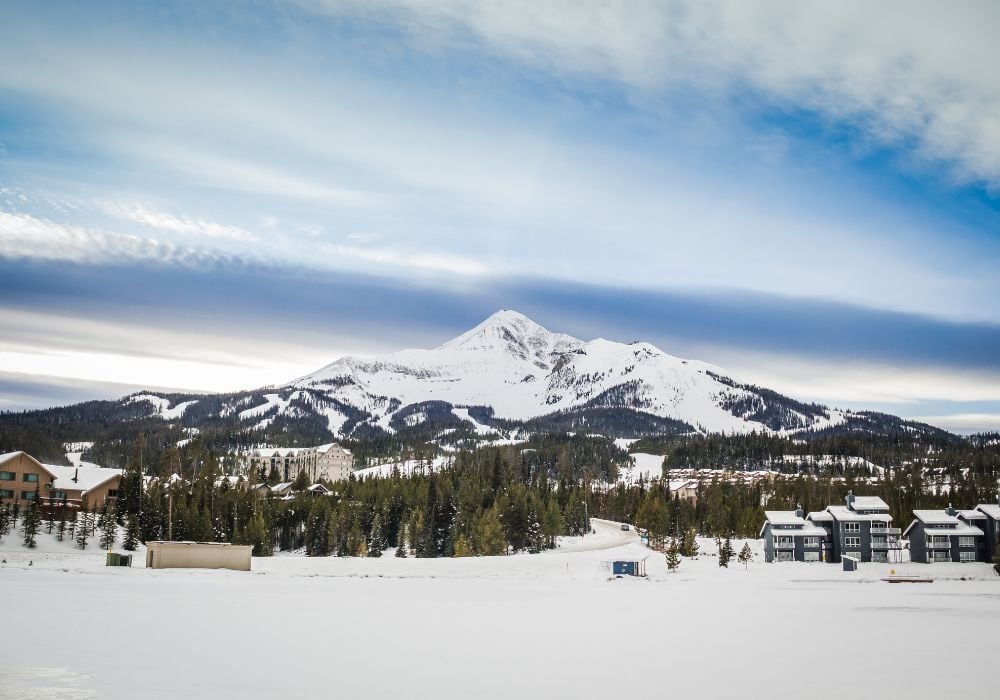 Southern Bozeman has some of the oldest neighborhoods in the city. It's one of the first areas of the city that was founded due to the proximity to the mountains, so there are large and wonderful homes in this part of town.
The houses mostly feature large lots and plenty of room for guests to feel secluded.
The newer sections of southern Bozeman are filled with townhomes and some new, unique architecture. Families, couples, and adventurers will feel right at home in southern Bozeman.
My wife and I chose to stay in south Bozeman on our first visit because it allowed us to drive down toward Yellowstone and Big Sky while still enjoying the features of the town.
Best Places to Stay in Southern Bozeman
Southern Bozeman has quite a few private homes to rent whilst visiting Bozeman.
1. Mountain View Home on 2 Acres: This beautiful home is on the south side of Bozeman. It holds up to 6 guests and has 3 bedrooms as well as 3 bathrooms. It has great access to the mountains as well as downtown. The modern decor and large acreage are perfect for families. Click here to learn more.
2. Patterson Farm – Custom Home South of Bozeman: This home is the definition of a luxurious modern farmhouse. The 3 bedroom, 3.5 bathroom house can hold 6 people. It's very modern and has all top-of-the-line amenities. You're guaranteed comfort staying here.
3.
5 Top Things To Do in Southern Bozeman
Southern Bozeman is the oldest part of town, so there's some great history in store, as well as access to outdoor activities.
1. Museum of the Rockies: The Museum of the Rockies is a large museum with information and displays on all of the significant events that have happened throughout the Rocky Mountains throughout the years. Families, history buffs, and casual observers will have a great time here.
2. Visit Montana State University: Montana State University in Bozeman has a great campus. The old buildings are a treat to look at. Throughout the year there are all sorts of events happening across campus, so feel free to attend if you're interested.
3. Hike or Bike Leverich Canyon Mountain: Leverich Canyon Mountain is the perfect place to hike or mountain bike. The several-mile trail is somewhat steep, but it provides great views of the Gallatin Valley.
We opted to use this trail as a chance to stretch our legs in the mornings before we chose our adventure for the day.
4. Head into the Gallatin Canyon: Gallatin Canyon is the gateway to Yellowstone National Park. The drive down Highway 191 is beautiful. Take your time observing the surroundings and taking in the views. The drive into Gallatin Canyon is one of my favorite drives in the western United States.
5. Fish Gallatin River: Access to the Gallatin River is close to southern Bozeman. The fly fishing opportunities here are fantastic. Rainbow and brown trout fill these waters and are waiting to be caught.
Whenever I'm in Bozeman, I spend countless hours fishing on the Gallatin. My personal best rainbow trout came out of here: 23″!
Where to Eat and Drink in Southern Bozeman
Southern Bozeman is close to the Montana State University campus, so there are plenty of good food options.
1. Bridger Brewing: Bridger Brewing has a great selection of local beer and delicious pizzas. We ate here several times throughout our stay. The wood-fired pizzas are hard to beat.
2. Feast Raw Bar & Bistro: Feast Raw Bar & Bistro is an intimate restaurant with fine dining options.
3. Storm Castle Cafe: Storm Castle Cafe has a wide variety of food options. Burgers, enchiladas, carnitas, and chili are a few.
Downtown Bozeman: Where to Stay in Bozeman for Foodies and Nightlife
Downtown Bozeman is one of the most quaint, comfortable, and lively downtowns you'll find in the western United States. There are plenty of unique restaurants that cater to all different types of palettes.
The bars are unique and have their own mountain town feel. One of the best aspects of downtown Bozeman is the number of lodging options available. Historic homes are mixed in with new high-rises that are being built.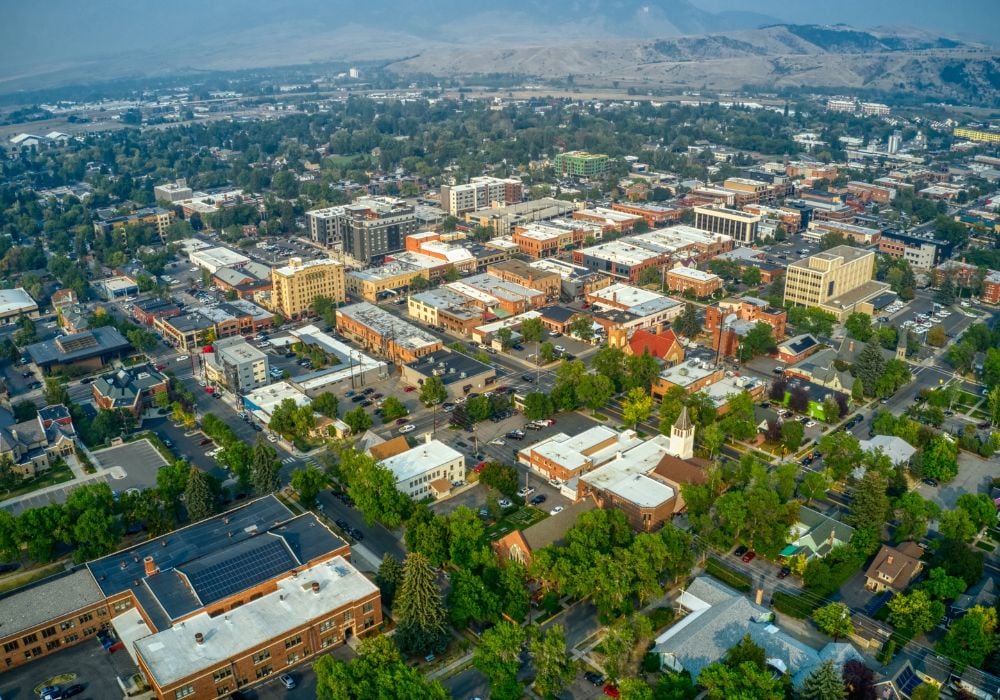 So, depending on your style, there's something for you. I recommend simply walking the streets to explore the dozens of locally-owned stores and restaurants that make you feel right at home.
It's never too lively and rowdy, but it still has plenty of excitement and a buzzing atmosphere on a regular basis.
Best Places to Stay in Downtown Bozeman
Downtown Bozeman has a myriad of houses, condos, townhomes, and apartments.
1. RSVP Hotel Downtown: If you're in pursuit of a more reasonable stay in Bozeman, then this hotel is a solid choice. It even offers free bicycles and an outdoor pool. Have a look at this highly-rated hotel in Bozeman.
2. Kimpton Armory Hotel: This stylish hotel is a gorgeous option for Downtown Bozeman. Not only are the rooms comfortable and well-decorated, but there's an outdoor pool, fitness center, free parking and free bicycles for guests' use. There's also an excellent onsite bar and restaurant. Learn more here.
3. Downtown Digs: This 1 bedroom apartment is just a few blocks from downtown and is a wonderful home base. It's nice and modern and offers a large deck. Everything is in great shape and it's one of the more affordable places to stay in downtown Bozeman. Find out more here.
5 Top Things To Do in Downtown Bozeman
Downtown Bozeman has all of the shopping and eateries you would ever need.
1. Bozeman Sculpture Park: The sculpture park in downtown Bozeman is a pleasant place to walk before or after dinner. You'll also have the chance to see some displays from local artists here. My wife and I spent several evenings wandering the sculpture garden while waiting for dinner reservations.
2. Walk on Gallagator Trail: The Gallagtor Trail is a crushed gravel trail that stretches through downtown. It's around 1.5 miles long and is perfect for an evening walk or run.
3. Shop Downtown: Downtown Bozeman is filled with small businesses. Outdoor gear, art, and unique clothing fill these storefronts.
4. Visit Peets Hill/Burke Park: Peets Hill/Burke Park is filled with trails and great places to sit and appreciate the mountains that surround Bozeman.
5. Grab a Bite to Eat: Downtown Bozeman is most well-known for its food, and rightfully so. Grab a bite to eat at one of the many restaurants – my favorites are listed below.
Where to Eat and Drink in Downtown Bozeman
Downtown Bozeman is a hotbed of great restaurants and bars.
1. Jam!: Jam! has great breakfast and lunch options including a large vegetarian menu. The eggs Benedict is amazing.
2. Montana Ale Works: Montana Ale Works has the best selection of burgers and beer in the city. I'm a sucker for a good bison burger and Montana Ale Works presents a phenomenal burger.
3. Dave's Sushi – Off Main: Dave's Sushi is the best choice for sushi in Bozeman. Be sure to prioritize this restaurant over the others.
Northeast Bozeman: Where to Stay in Bozeman on a Budget
With Bozeman's growth, much of it has expanded toward the outskirts. Northeast Bozeman has just recently begun the growing stage.
Throughout its history, Northeast Bozeman was a place with smaller homes and quiet neighborhoods for families living and working in town.
As the town grows, the older homes are being remodeled and restaurants are beginning to open in Northeast Bozeman. It's definitely becoming one of the most unique parts of Bozeman and it displays well the day-to-day life that occurs in this quaint town.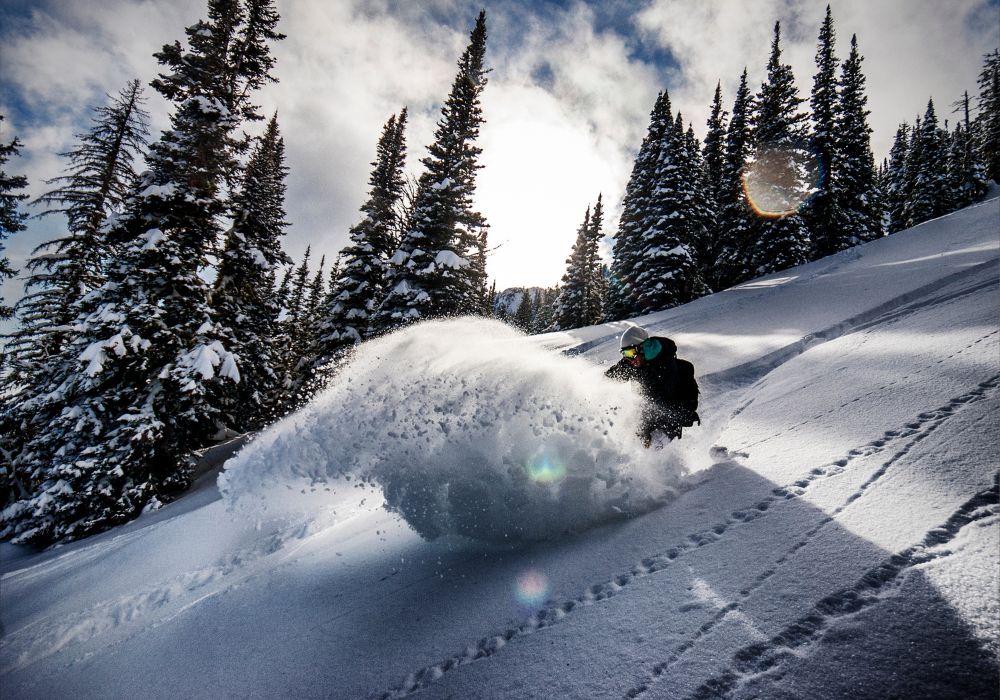 If you're looking for busy nightlife and constant events, this isn't the place for you; it's a place to head if you're looking for some peace and quiet. I personally appreciate the slower pace of life in the Northeast part of town.
Best Places to Stay in Northeast Bozeman
Northeast Bozeman is filled with unique homes that you won't find elsewhere in Bozeman.
1. Adventures From Bozeman (Perfect Location): This deluxe 2-bedroom suite sleeps 4 people, and offers free bikes, parking, BBQ, and is set on a beautiful property. The large windows and tasteful decoration make this feel like a home away from home. Click here for details.
2. Chalet in Bozeman: This Chalet is one of my favorite Airbnbs in all of Bozeman. The full kitchen and lofted bedroom are enough for a couple. The modern decor is amazing. My wife and I have stayed here twice on our trips to Bozeman. It's a hidden gem.
3. La Quinta by Wyndham: If you need an affordable place to stay, the king and queen-sized rooms at La Quinta are your best bet. The hotel offers all the amenities you would need. You won't be here much anyways, there's so much to explore! Click here for details.
5 Top Things To Do in Northeast Bozeman
Northeast Bozeman is a quiet part of town with several unique activities.
1. Visit Bridger Bowl: The Bridger Bowl is the closest ski area to downtown Bozeman. You can be on the slopes within 30 minutes of leaving downtown. I've skied at the Bridger Bowl several times over the years. It's far less busy than many of the other resorts out west. See also: 10 Best Ski Resorts in Montana
2. Story Mill Park: Story Mill Park is a quiet park in Northeast Bozeman. Walk the dogs or take the kids for some fresh air in the morning.
3. Yellowstone Safari Co.: The Yellowstone Safari Company tours leave from Northeast Bozeman. Be sure to book one for your trip.
4. Hike Types Canyon Trail: Types Canyon Trail is a quieter trail on the north side of Bozeman. You can mountain bike or hike this trail depending on your preference. Mountain biking Types Canyon Trail is a great, quick burn with some awesome downhill sections.
5. Bridger Creek Golf Course: Bridger Creek Golf Course is one of the nicest public courses in the area. You'll definitely be challenged here. I like to test out the golf course of any new town I visit, and this was my first choice in Bozeman. It's affordable and gave me a good challenge.
Where to Eat and Drink in Northeast Bozeman
Northeast Bozeman is a quaint part of town with some tasty small restaurants.
1. Seven Sushi: Seven Sushi is a new sushi place in town that has some more unique options.
2. Pizza Campania: Pizza Campania is a smaller pizza place that serves Neapolitan pizzas from a wood-fired oven.
3. The Daily: The Daily in Bozeman is a delicious coffee shop with all sorts of pastries and other bakery items. My wife made sure to stop here each morning on our way out to adventure (I had no complaints!).
West Bozeman: Best for Families
West Bozeman is growing rapidly. New homes are being built each week around the numerous parks and trails that are located through the western suburbs. The west side of Bozeman is located near several elementary schools as well as a local high school.
If you want a family feeling in a newer home, then west Bozeman is the perfect choice for you. It's still finding its feet, so it's not as developed as Northeast Bozeman, but it still has some of the charms you'd expect from an exciting mountain town.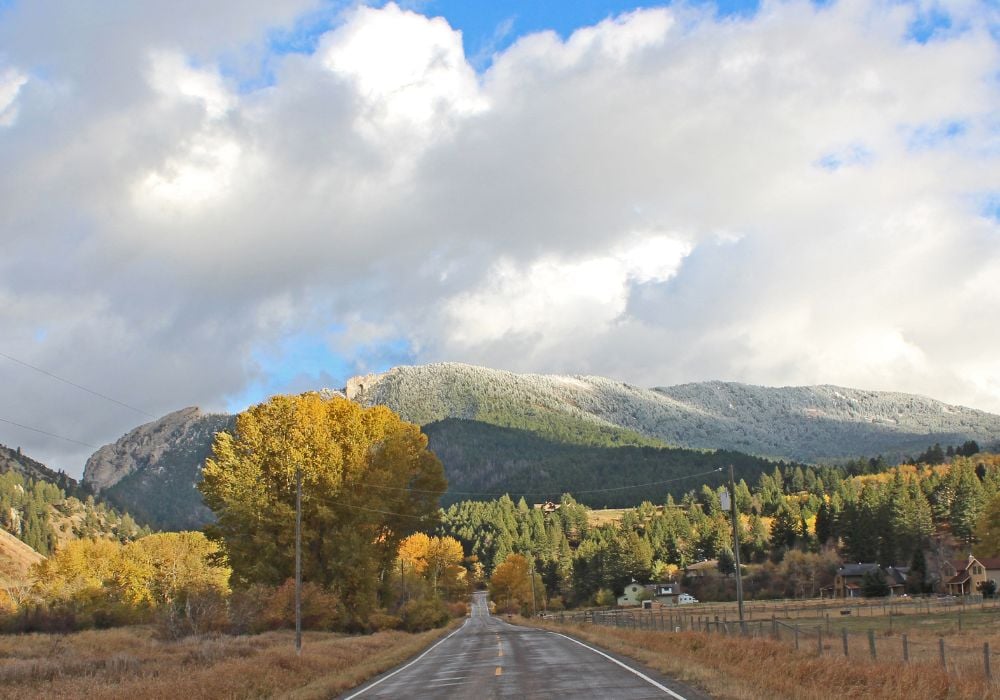 West Bozeman allows great access to Gallatin Canyon, Big Sky, and Yellowstone National Park. It's a perfect home base for families looking to explore all of the outdoor activities Bozeman has to offer.
Best Places to Stay in West Bozeman
Western Bozeman has large homes with decent-sized lots as well as some recently built condos.
1. Bozeman Getaway with Mountain View: Families looking for a place to call home for a few days will love it here. This property has 4 bedrooms and 4 bathrooms with a large yard for the kids to burn off some energy. Plus, the full kitchen is perfect for cooking up a family feast. There's also a BBQ area available. Click here for details.
2. Bozeman Gem with Hot Tub: This home is decorated in a modern way and has 3 bedrooms as well as 2 bathrooms. There's a private patio, a hot tub, and hot springs a mile away. There's plenty of room for your family and friends. Click here for more.
3. Beautiful Modern Home in Big Sky Country: This 4-bedroom, 3-bathroom house in Western Bozeman is great for groups and families. It's the ideal home base for anyone looking to explore the endless outdoor activities within Bozeman. Click here for details.
5 Top Things To Do in West Bozeman
West Bozeman is brimming with amazing outdoor activities. If that's what you're after, then stay here.
1. Gallatin Canyon: The Gallatin Canyon is the best part of the Bozeman area. The drives, hikes, and fishing opportunities are phenomenal.
A 30-minute drive into the canyon presented us with miles of hiking and fishing that my wife and I took advantage of every day. Many people skip over the canyon to get to Yellowstone.
2. Drive to Big Sky: Big Sky is around 30 minutes south of Bozeman. It's an amazing mountain town with access to thousands of miles of trails. Big Sky is a great place to spend an entire day. Do a hike in the morning and enjoy a rewarding meal in the evening.
3. Drive to Yellowstone: Yellowstone is one of the largest National Parks in the United States; it's well worth the 1.5-hour drive. Take the Yellowstone Winter Tour if you're there in the colder months. The West Entrance is my favorite entrance to the park. It has great fishing on the Madison River close by.
4. Butte, Anaconda, and the Headwaters of the Missouri, Private VIP Tour: This private tour will take you to the headwaters of the Missouri River and allow you to explore some of the area's state parks. The full-day tour is definitely worth your time.
5. Gallatin County Regional Park: Gallatin County Regional Park is a large park filled with several ponds and numerous trails for exercising. It's one of the nicest regional parks in the country.
Where to Eat and Drink in West Bozeman
West Bozeman is a comfortable and wide-open part of town with some really high-quality family-owned restaurants.
1. Sidewinders American Grill: Food like pizza, sandwiches, soup, burgers, and even pot pies are on the menu at Sidewinders American Grill.
2. Cafe Zydeco: Cafe Zydeco offers Bozeman visitors some authentic Louisiana fare.
3. Mama Mac's: Mama Mac's is a bakery and sandwich shop that serves lunch and brunch. I've stopped here several times after a long day on the trails. It always hits the spot.
Midtown Bozeman: Coolest Place to Stay in Bozeman
When I think of a modern mountain town, the Midtown section of Bozeman is exactly what comes to mind. Modern condos and townhomes with interesting breweries and some great local food spots line 7th avenue.
It was once an industrial part of town, but nowadays, it's an eclectic part of town and definitely a "cool" neighborhood.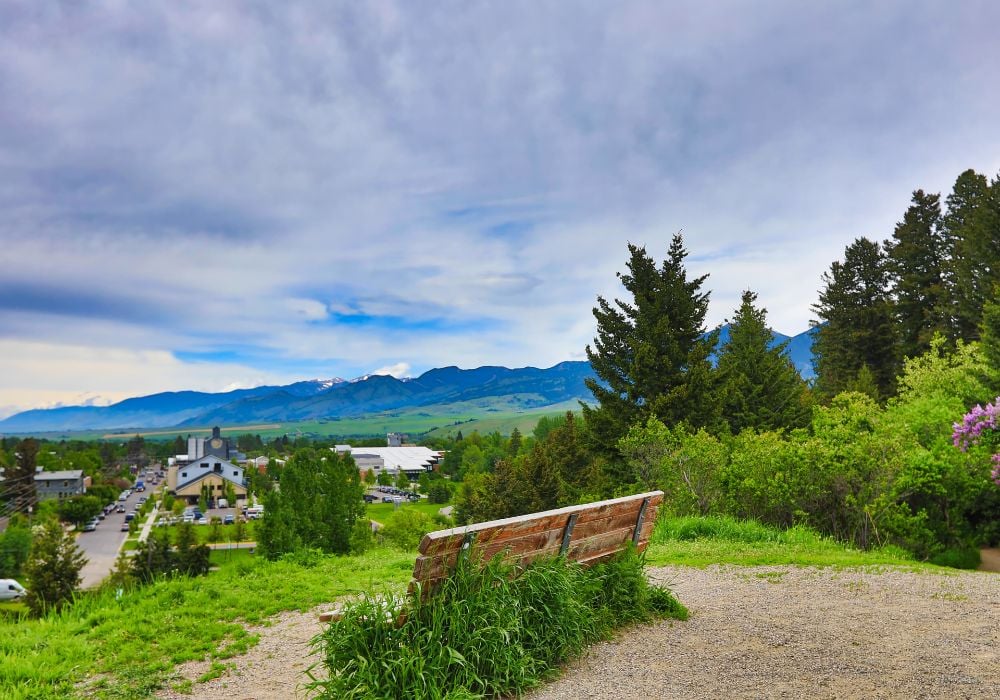 The best part is you're off Main Street, but you can still walk there if you need. 7th Avenue has its own restaurants, but if you want some of the more established options, then downtown is just a few blocks from your Midtown accommodation.
Life is simple on 7th avenue. Everyone here is happy they are!
Best Places to Stay in Midtown
Midtown Bozeman is the place to be if you want to experience the modern amenities of the town.
1. Saphire Midtown Bozeman: The Saphire offers affordable, comfortable accommodation in Midtown. The spacious rooms have a minifridge, microwave, and kettle. Bikes are available for guests, and there's free parking. Click here for details.
2. Townhome Hip Mid-Town Bozeman: This 3-bedroom, 3-bathroom townhouse is in the heart of Midtown. Restaurants, breweries, and shopping establishments are right outside your front door. It's in an excellent location.
5 Top Things To Do in Midtown
Midtown isn't known for its activities, but it has great food and bars.
1. Westlake Park: Westlake Park is a simple and pleasant park located near Midtown. It's a great place to kill some time before dinner.
2. Shop along 7th Avenue: 7th Avenue is continuing to gain interest from local artisans and business owners looking to purchase some of the storefronts. It's definitely a wonderful place to shop.
3. Cherry River Fishing Access: Cherry River Fishing Access is a few miles north of Midtown. This access site has a boat launch as well as a few trails to explore. This is a quiet fishing access point that very few people visit. I've had success on the river here!
4. Gallatin County Regional Park: You're not far from Gallatin County Regional Park when staying in Midtown. It has plenty of room for you to burn off some energy.
5. Check out a Restaurant: Midtown is most well-known for the new restaurants and bars that are being opened on a regular basis. Check one out!
Where to Eat and Drink in Midtown
Midtown Bozeman is filled with all sorts of recently opened restaurants.
1. Last Place Brewing Company: Last Place Brewing Company is one of the newest brewing companies in Bozeman. The local beers are delicious. We visited earlier this fall, and it had great drink options. It's new and exciting and it was brilliant to support a local business.
2. Ramires Mexican Food: 7th Avenue has several Mexican food options that are delicious. Start by trying Ramires'. It has great carne asada (grilled and sliced steak) tacos that I've enjoyed several times.
3. El Rodeo Food Truck: El Rodeo Food Truck generally stays on 7th Avenue during the summer nights. It's another tasty Mexican food restaurant.
FAQs About the Best Areas to Stay in Bozeman
Here are answers to some commonly asked questions about where to stay in Bozeman.
What area of Bozeman is best for tourists?
The best area for tourists in Bozeman is either Midtown or Downtown Bozeman. You're close to the main highways that will get you to the mountains and exceptional sites as well as all of the food and drink options you would imagine.

Plus, much of the construction in the area is new or updated. Bozeman is constantly growing and evolving and it all starts near downtown.
Where should I avoid staying? (Where NOT to stay in Bozeman)
There really aren't any "bad" places to stay in Bozeman. The whole city is safe and close to a variety of activities. Northeast Bozeman is the part of town with the least amount of activities.

You're close to the Bridger Bowl, but other activities are somewhat limited. There also aren't as many restaurants near Northeast Bozeman. You'll have to travel downtown to get to anything unique.
What is the safest place to stay in Bozeman?
The safest place to stay in Bozeman is either west or southern Bozeman. These areas of the city are more on the outskirts of town. The homes have large grounds and it's a primarily residential area. If you want some peace and quiet, choose one of those two locations. No part of Bozeman is unsafe, so you have no need to worry about which part of the city you choose to stay in when it comes to security.
Where to stay in Bozeman for shopping?
The best shopping in Bozeman is found downtown. They have unique, local shops as well as some more well-known retail options. It's easy to kill a morning or afternoon at the variety of shops located downtown.

Downtown Bozeman is one of my favorite mountain towns to shop in. It's shocking how many unique stores fit into the downtown area.
Does Bozeman have a downtown?
Yes, Bozeman has an amazing downtown. The restaurants, bars, stores, and lodging options are phenomenal. The majority of downtown Bozeman is walkable, so you won't even need to get in your car to experience all that the town has to offer.

Even if shopping and nightlife aren't your top priorities, you need to at least visit. It's very unique and is a ton of fun.
Is Bozeman a walkable city?
The downtown and midtown portions of Bozeman are walkable. All the stores and restaurants you would want to visit are easy to walk to from your accommodations. If you're staying in southern, western, and northeast Bozeman, you'll need a car.

The stores and other amenities are too far to reach without one. Plus, most of the amazing sites around Bozeman will require you to have your own means of getting around. Make sure you have some sort of transportation when you visit.
Is Bozeman a good place to stay for Yellowstone?
Yes, Bozeman is a great place to stay for Yellowstone. It's 1.5 hours from the west entrance of the park, but the drive to and from the entrance is absolutely beautiful. You won't even notice how far of a drive it is.

You can make day trips to the park each day you're in Bozeman. Montana in general is an extremely large state, so it takes a while to get anywhere you want.
Is it worth visiting Bozeman, Montana?
Absolutely! Bozeman is one of the fastest-growing towns in the western United States. Infrastructure is starting to better support the influx of residents and tourists, so it's becoming a wonderful city to visit.

It doesn't matter if you're extremely adventurous or mildly curious about the outdoors. Bozeman is a treat to visit and there's something for everyone to enjoy.
In Conclusion
Bozeman, Montana is one of the most manageable and welcoming towns in the western United States. Families, couples, low-budget travelers, luxury seekers, and everyone in between will find a place and area of town that suits them best.
It's continuing to grow, so the travel and lodging options are only going to increase. Take advantage of this booming mountain town. There's a reason so many people across the country absolutely love it and continue to return.
Whenever I'm passing through Montana, I make it a priority to visit this amazing city.
Like This Article? Pin it!