The northeast of the United States is an unexpectedly beautiful region, among the better-kept secrets of this part of the world. This is where the flatter coastal plain of the southern shore rises up into some of the oldest mountains in North America.
Spend a weekend in New Hampshire and get inspired, not just by the sea, the sun, the mountains, and the lakes, but by the lives of the people who live in this adventure-packed state.
In this guide, I'll share the top places to visit, things to do, places to eat, and the best places to stay on your weekend in New Hampshire, a state that made the Goats On The Road list of 101 places to see in the US.
Introducing New Hampshire
This is a place to live free, explore the outdoors, feast on the freshest seafood and enjoy all things that life has to offer.
The mountainscape here is understated when you compare it to the dramatic panoramas of the West. Mountain ranges like the Adirondacks and the White Mountains have been worn down over thousands of years of erosion.
They are rolling and inviting, but breathtaking in their own right, especially as the emerald greens hues emerge so vibrantly in the summer months.
The mountains mark the horizon and to some extent the lives of the people who live in and around these hills. The same glaciers that shaved off mountain tops have also carved out series of little lakes all throughout the northeast.
There is water everywhere.
It's a mecca of sorts for outdoor recreation of all kinds. The metropolitan sprawl that spans most of the east coast, from Washington DC, to New York and Boston peters out here.
The air is fresher and wild places abound.
Amidst the northeastern states, New Hampshire is a singular kind of place. "Live Free or Die" are strong words to live by and that motto always stuck with me during my trip even though I knew relatively little about the state that neighbors my home of Vermont.
It seems that sometimes it's closest to home that you make the most surprising discoveries. Here are a few observations and recommendations from a beautiful trip I took to New Hampshire this past weekend.
Visiting Portsmouth
On the coast in the south of New Hampshire state, Portsmouth is a bustling place in the summertime.
Part hippie, part young-professional, and part vacationers escaping from the summer heat in the city, there's a unique energy here.
There's a definite buzz of activity about the place, but everything appears to unfold in a relaxed way.
The town is on the sea and a river, so it is surrounded by water on all sides. The seafood is fresh, local and delicious. It's only a 45-minute drive from Boston, making Portsmouth a relatively easy place to reach.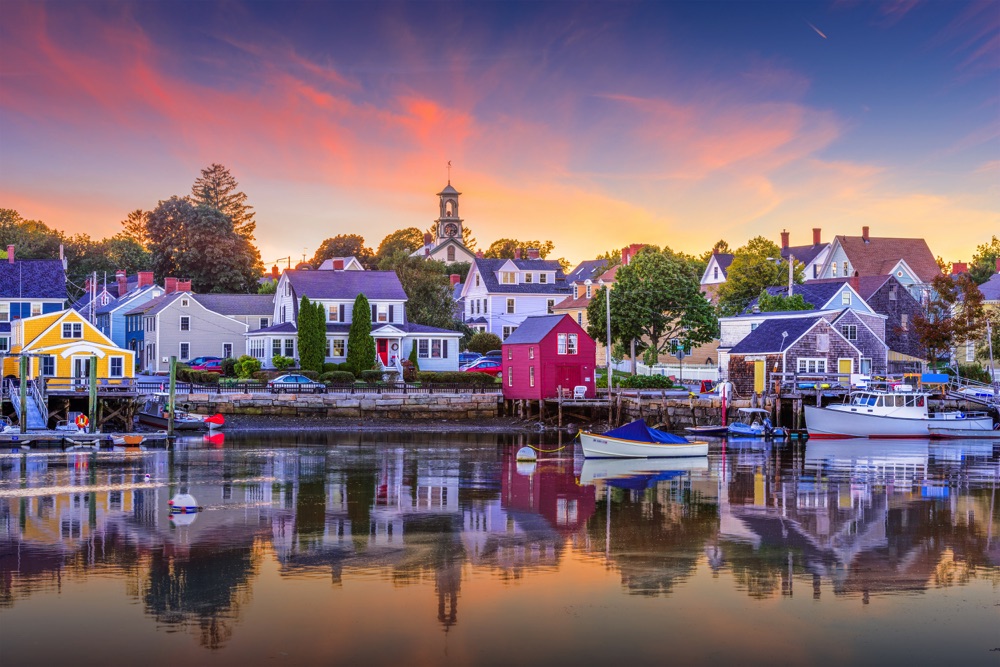 Things To Do in and Around Portsmouth
The city boasts many activities for the adventurous traveller, the history buff, the foodie and the partier. Portsmouth is an easy getaway from Boston, making it a top spot for a weekend in New Hampshire.
1. Go Surfing
Just 20 minutes south of Portsmouth there's a place called Rye and the town has a big beach that fills up with people on a hot day.
In the summertime, the waves are small and rolling, perfect for a beginner to learn how to surf. In the wintertime, waves get bigger, up to around ten feet and that's not even mentioning the freezing winter temperatures.
Surfing is a beautiful way to be on the water and get connected with the elements, regardless of being 'good' at it or even knowing what you're doing a little bit.
I've been surfing before farther south, but I was easily able to get back in the groove of it here and get in sync with the sea.
Summer Sessions offers board and wetsuit rentals and you can also sign up for a lesson with one of their instructors.
Expect more supervision than anything else, but it can boost your confidence if you're new to surfing.
It's $60 for an hour lesson, including a wetsuit (which you will want in these chilly waters) and board rental. If you get hungry afterward there's a café in the same building as the board rental with coffee to warm up, plus baked goods and smoothies. Food and drinks range from $2-$10 for typical café offerings.
2. Summer Concert Series in Prescott Park
Prescott Park is nestled right next to the river and minutes from the center of Portsmouth. There's a large green area and they set up a stage in the middle of the park for a summer concert series (by donation: $8-$10).
They attract some surprisingly big-name artists, so it's well worth seeing who is on the lineup while you're in town.
I had no idea what to expect and I ended up landing at a Bela Fleck concert, one of the top bluegrass players in the world.
Everyone sets up lawn chairs throughout the park and it's a magical scene as the sun sets and the moon slowly lights up behind the stage.
People were friendly and down to earth here. I ended up chatting with some musicians who had come up from Boston just for this concert. You never know who you could meet in Portsmouth, I suppose.
There's a concession stand if you get hungry or you can pack a picnic if you're into planning ahead. Lawn chairs are also available to rent, in case you didn't bring any along.
3. Visit Portsmouth Harbor Lighthouse
Just outside of the downtown core, on the grounds of the Coast Guard station, you'll find the Portsmouth Harbor Lighthouse.
You can see it from afar, but a better idea is to go inside and climb to the top for spectacular views. You'll have to go up 44 stairs to the watch room and a 7-rung ladder to the lantern room. Make sure to wear sturdy footwear.
The entrance fee is donation-based (it's recommended to give $4 for adults and $2 for children), and entrance is based on a first-come, first-served basis. Click here for details.
Where to Eat in Portsmouth
There is no shortage of local, fresh food here in New Hampshire. And, with Portsmouth being on the coast, seafood is definitely the specialty here.
Row 34
Row 34 (5 Portsmouth Place – $10-$25) is right in the center of town. The menus and the design of the place are sleek and polished.
They have a nice $1 oyster special before 5pm, but they are also one of the few places open late night (by New Hampshire standards that is).
"Bar open till whenever" as their website puts it and this held true as it was the only place still serving food after the concert, at around 9:30pm.
The drink menu stands on its own and they have a wide variety of local, craft beers, cocktails and wine. The servers here are friendly and helpful; they receive a briefing every day about new items on the menu, so they're knowledgeable about all of the restaurant's offerings.
The Decks
There are several places to eat in The Decks area (10 Ceres St. – $15-$30 for an entrée) that have seating right on their decks that overlook the Piscataqua River.
These restaurants are on Bow and Ceres Street. All of these restaurants offer beautiful outdoor seating for when the weather is right.
I ended up eating at the Old Ferry Landing, the oldest restaurant in Portsmouth. The restaurant is full of local seafood offerings. There's fried food plus some healthy options. The service was fast and friendly.
Where to Stay in Portsmouth
Martin Hill Inn (Rooms from $207, depending on the season) is a historic place to stay about a ten-minute walk from the downtown area. There's a quiet calmness here that's so different than the experience you'll have at a conventional, modern hotel.
There are gardens surrounding the main home and the rooms are arranged with a lot of attention to detail. The furniture is antique and the place has a quaint feeling about it.
The innkeepers serve a full, home-cooked breakfast in the morning between 8:30 and 9:30.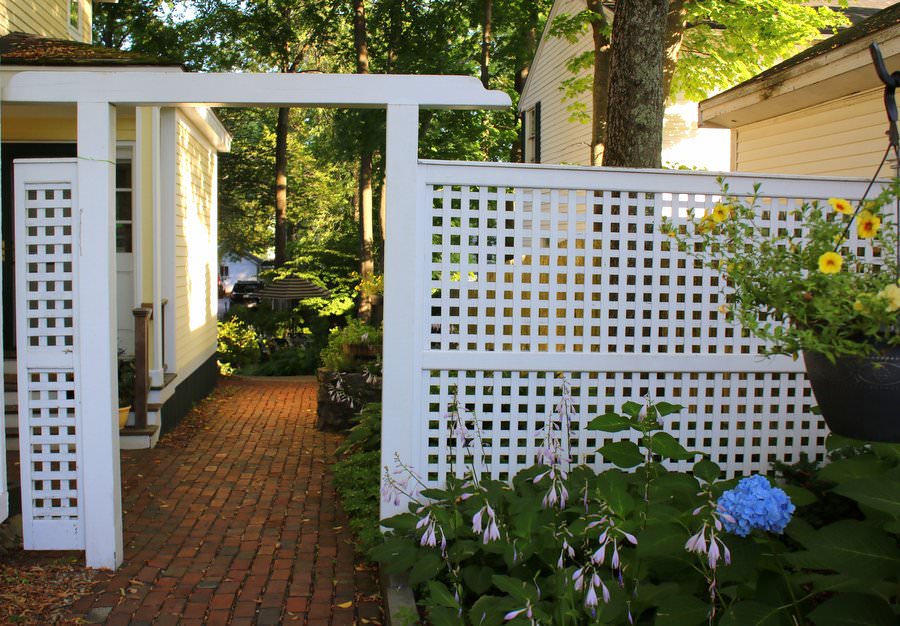 The innkeeper told me he thought the building dated back about 200 years, judging by its lack of a front door.
He explained that at one point in history this was a tactic people would use to pay fewer taxes, since the building would be taxed differently given that it only had an eastern facing entrance, and not one onto the main street in the front of the building.
This also explains why some of these buildings have little or no closets since any room that had a door was considered an extra bedroom and taxes would rise accordingly!
The current innkeepers have been at Martin Hill for 2 and a half years so far. Apparently, most innkeepers only last about ten years in this demanding job, but at Martin Hill they're planning to buck the trend and hopefully stay in Portsmouth for many years to come.
All the rooms have their own style, which you can see on the Martin Hill website. I stayed in the Typhoon room and the bed was as comfortable as they claim on their website.
Visiting Meredith on Lake Winnipesauke
From Portsmouth, I drove a bit farther north to explore one of the best-known lakes in New Hampshire, Lake Winnipesauke. I was staying in the little town of Meredith, right on the shore of one of the sheltered bays of the lake.
Things To Do in Meredith
Lake Winnipesauke is saturated with outdoor recreation and is the perfect place to find your next adventure, both in Meredith and the surrounding areas.
Especially during the summertime there is no shortage of things to do outside. Here are a few activities that I enjoyed during my time there.
1. Go Hiking
There is a big network of trails in this area and you can do all kinds of hiking here. I went to Mount Major, which is one of the most popular local hikes.
From Meredith, it's about a 30-minute drive south. The trailhead is off of Route 11 before you reach Alton and you'll see a brown sign that indicates the turn-off.
The hike leads you through old logging roads, up to the top of the mountain where there is a rocky outcrop and a stunning 360-degree view of Lake Winnipesauke. There are three trails, but the most popular is the main trail, marked in blue.
The hike is not easy, but not strenuous either. Don't pay attention to the signs at the bottom informing you that "Mt. Major is not an easy hike". It's technically true but you don't need to be intimidated either. Bring water and a warmer layer since there's a lot of wind at the top.
2. Go Kayaking
You can easily explore the lake by kayak ($30/half-day), which are available to rent right on the lake next to the town docks. Kayaking is a beautiful way to be on the water.
It's calm and quiet and the shoreline next to Meredith is perfect for exploring. There's a 'no wake zone' so you don't have to worry about bigger boats making waves or anything.
Two little islands are just out of the harbor and make a good kayaking excursion to go see them. The water in the lake is clean and clear. Plus, it's not too cold for swimming, especially on a warm day.
3. Paddle Boarding
I've only recently started paddleboarding and I can already recognize the appeal. Paddle Boards ($40/half-day – classes Wednesday, Thursday, and Sunday 8:00 – 9:30, $35/person) are also available for rent at the Ekal center, plus they offer SUP Yoga classes a few days of the week if you want some instruction.
4. Go Biking
You can also easily explore the surrounding areas by bike ($25/half-day and $35/full-day).
They rent them by the day or the half-day and it's a good way to explore all the small roads right around Meredith. The locals hang out and live at Lake Waukewam, which is surrounded by some quiet dirt roads where I went to ride around.
If you want to do some trail riding, Hamlin Recreation and Conservation Area offer 6 miles of trails that you can explore.
5. Visit the Historic Sights
Castle in the Clouds ($16 entrance) is a historic estate about a 30-minute drive away from Meredith that has opened its doors to visitors.
The staff has incredible knowledge about the history of the property as well as its original occupants.
It was built in 1913-1914 over an 18 month period by a man named Thomas Plant. Plant had made his fortune running a shoe company and decided to retire early with his second wife Olive in the mountains of New Hampshire where he'd acquired a large estate.
Today, the building is cared for by the Castle Preservation Society that takes care of preservation and restoration efforts on the property. The top two floors have been beautifully restored and present a rich history of the area, as well as a vision of what it would've been like to live in that area.
There are some surprisingly modern amenities, such as a central vacuum, showers in the upstairs bathrooms that don't look so different from today, and a refrigeration system.
The grounds of the estate include miles of carriage trails where you can walk and hike. There is also a stable that offers horseback riding, if you prefer to explore on horseback.
Where To Stay in Meredith
The Inn at Mills Falls (rooms from $230/night depending on season and availability) is a unique and beautiful place to stay. The rooms and amenities are all modern, but the setting is historic and the charm is it's own.
The building itself is actually a restored 19th-century linen mill and it's built over a waterfall that would've been historically used to power the mill. It includes 54 rooms that are comfortable and spacious.
The Marketplace offers some shopping and dining options. Plus, everything in Meredith is a short walk away.
Enjoy Your Weekend in New Hampshire!
New Hampshire is full of surprises and even after a short trip, I felt I had discovered so much about the state. People were friendly and low-key and I loved the time in nature here, plus the quirky businesses, restaurants, and shopping that made it feel like a really unique destination.
It's the perfect place to visit in the summertime since there's so much you can do outdoors.
To learn more about this adventure-filled state, check out Live Free in NH and experience their "Live Free" attitude for yourself 🙂 This post brought to you by New Hampshire Division of Travel and Tourism Development. The content and opinions expressed in this article are that of Goats on the Road.
Note: some images in this article were sourced on Shutterstock – a website for finding high-quality royalty-free images and videos.
Like This Article? Pin it!