Through the windows of the comfortable coach, we watched as the gridlock traffic and hustle of the big city slowly gave way to the vastness and calm of the countryside. Our prior night in the iconic New York City was both fascinating and exhausting at the same time. The idea of spending one day offline from our devices to reconnect with ourselves, each other, and new friends in one of the best US cities was something we were both very much looking forward to.
"Look at the colours of the trees!" This became a common sentence between Nick and I during our weekend away. You would think that we had never seen autumn by the way we were reacting to foliage, but even though we're from Canada, we actually hadn't been anywhere in the northern hemisphere to experience this season in a very long time – years in fact.
The hills were painted in red, orange and yellow, and with the brilliant blue sky, the colours really popped. This was the picture-perfect landscape, and the ideal destination for our one day digital detox retreat.
As we entered the Hudson Valley in Upstate New York, signs for "U-Pick Apples", and tiny corner shops such as The Paint Store started to appear. With endless stretches of road, a couple of lights at the intersections, and just a handful of stop signs, we really felt like we were in the middle of nowhere, also known as Germantown, population: 2,000.
Built in the 1700's, the Maple Grove Farmhouse was our home for the next two nights, while the The Red Rooster Barn and exquisite Route 66 Farmhouse was where all of us would meet for eating, dancing and mingling.
It really felt like we were at a summer camp for adults. The group of us who were invited to partake in this event (creators, bloggers and influencers) all bunked together in the farm-house, with the doors to our respective rooms tagged with our names. To our delight, at the end of our names was a perfectly placed little gold star. I think we were all feeling pretty special!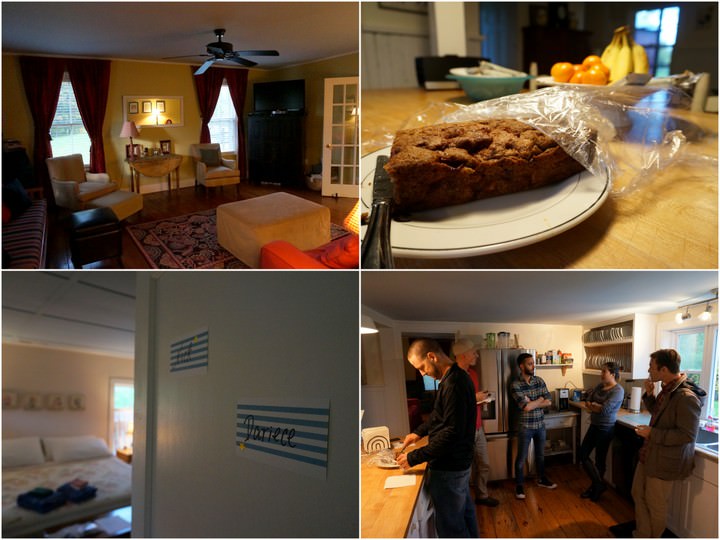 Although we were staying in the Maple Grove Farmhouse, the Red Rooster Barn was where all of the action happened, and it was the perfect venue.
This spot was handpicked by Mashable's team, as were six storytellers from around the globe (Australia, Asia, Europe and North America), eleven influencers (travel bloggers, social media experts and video creators) and a large crew (producers, cameramen, editors, drivers, directors and event planners).
Everyone came together to take part in this unique event.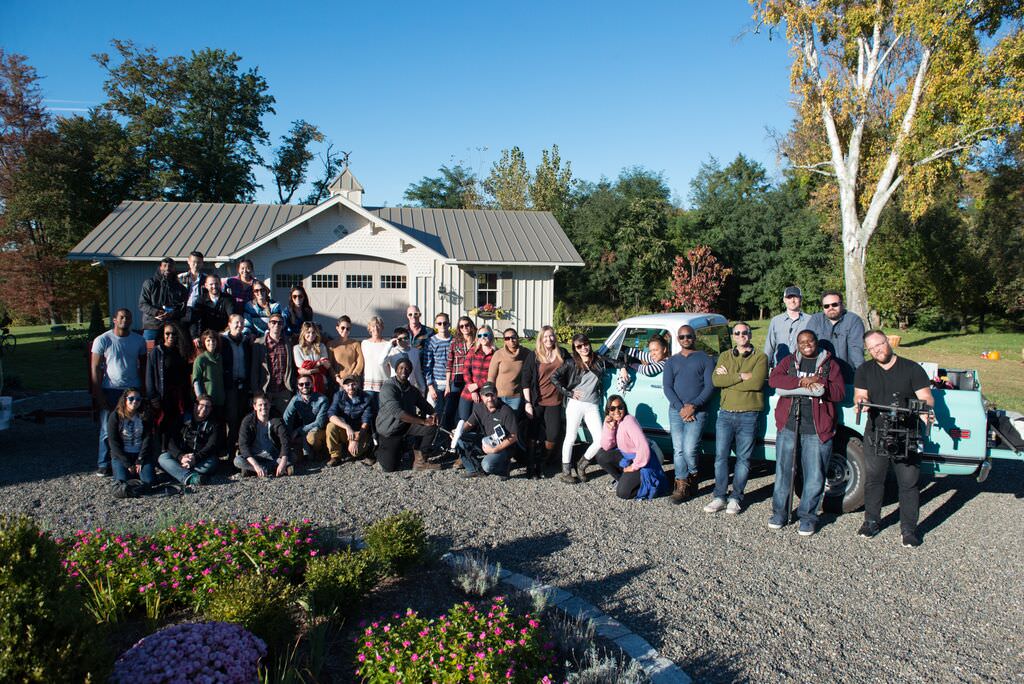 Sponsored by Cathay Pacific and organized by the team at Mashable, this digital detox was all part of Cathay Pacific's Life Well Travelled philosophy, which is all about not only having a comfortable journey, but to really enjoy your days on the ground in the new destination that you find yourself in.
When you travel well, you broaden the mind. Rather than tweeting, interact with someone. Instead of searching for restaurants on TripAdvisor, ask a local for their recommended spots. Forget about online maps, ask a resident. Be in the moment.
Learning about culture and meeting the locals of the countries that we travel to is what Nick and I are all about, so this event really spoke to us. I had recently written an article about modern technology and whether it's helping, or hindering travellers, so when Diana from Mashable contacted us with the invite to New York, it was as if the stars had aligned.
This trip was meant for us!
Put down the smart phone and interact with real people. Talk, don't text. Look up instead of down. These are all things that we can implement to have a better travel experience, and we think that Cathay Pacific's campaign is a very important one.
After freshening up in our respective farmhouses, we all got together in the Red Rooster Barn, which was decorated with pretty little lights and lovely table settings. Although those details were perfection, they were overshadowed by the amazing sunset scene unfolding in front of us.
Over copious amounts of red wine and plates filled with roasted chicken, grilled skirt steak, smashed potatoes, roasted vegetables and pesto gnocchi, we all got to know each other and couldn't believe that we still had a whole day ahead of us to enjoy our surroundings, followed by another night on the farm.
Our host and speaker for the event, Rachel Rudwall, gave a welcome speech and told us a little bit more about the campaign and the importance of leaving our gadgets at home the following morning. She introduced Lisa from Cathay Pacific who spoke much more about the company's ideals the following day.
Before hearing Rachel talk, Nick and I thought that we would still bring our camera to photograph some of the things we would be doing, how could we not, our camera is practically a part of us!
But, Rachel's words inspired us to think otherwise and the following morning, no one showed up with any electronics! Powerful stuff.
(Luckily there was an awesome camera crew with us, so we have some pics to show you guys 🙂 )
"The school bus will be here to pick you up at 7:30am" announced Diana, who we began to refer to as our Den Mother! We all laughed. Right, a school bus. You mean our coach with comfortable leather seating?
Nope, an actual yellow school bus, driven by Mike who was born and raised in the area, arrived to collect us all bright and early. We excitedly ran to the very back of the bus as we would have done in elementary school.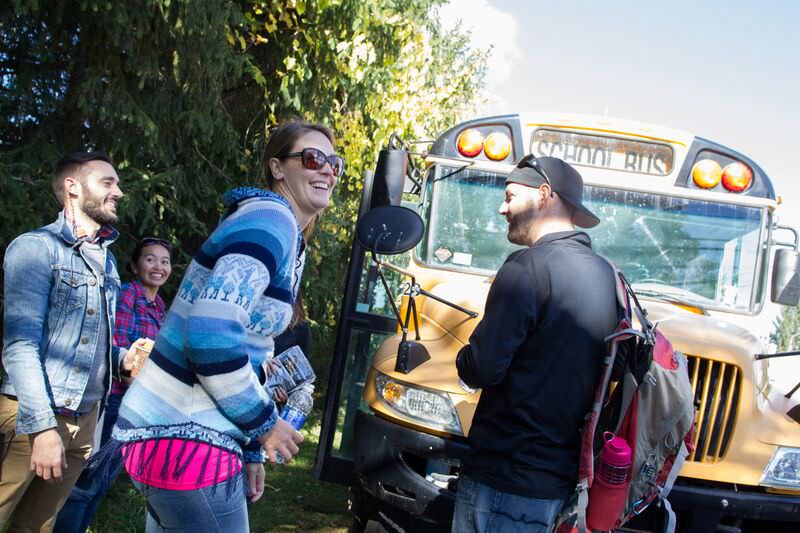 Our day without internet had officially begun.
It's amazing what you can get up to when there's no Facebook, SnapChat and YouTube, not to mention emails and websites to check (a significant part of life for bloggers & creators).
Our day was filled with fun games and relaxing activities. If you can believe it, here are some of the activities we did:
Yoga
Soccer
Bubbles and foam sword playing (yes, you read that correctly)
Bean bag toss
Volleyball
Croquet
Hula-Hoop
Hiking
Fishing
Horse Feeding
Picnicking
Apple Cider Making
Hay Riding
One thing that really goes hand-in-hand with New York is apple picking and orchards! So, what better way to spend the afternoon than at an orchard with the most incredible estate home, overlooking the Hudson River?
We picked pesticide-free, organic apples, which tasted like an actual apple, rather than an altered fruit that you would find in the supermarket.
These were crunchy, juicy and sweet. We frolicked in the orchard (literally), Nick juggled apples, and we fed some to the beautiful horses.
To end off the day, we gathered again at barn for our last magical night together. We all found cowboy hats at our place settings and after a few drinks, we were more than ready and willing to learn how to square dance.
A live band joined us this evening and we were all taught the moves. Before long, we were swinging, docado'ing and hootin' and a hollerin'! It was so much fun, especially watching people "duck for the oyster, dive for the clam" and singing along to "Old Dan Tucker".
To cool off from all of the dancing, we headed outside into the chilly night air and wrote our thoughts and wishes onto a Chinese lantern, before setting them free into the universe. After a few failed attempts, mine finally took off and disappeared into the black sky.
Even though we lived in China for a year and have spent a lot of time in Asia, this was the first lantern we had ever released together. As we all said goodbye to our wishes, our attention was directed to the large bonfire that had been created while we were preoccupied.
I would've been happy to just congregate and chat around the warm fire, but to my delight, s'mores were passed out. A second round of dessert? Don't mind if I do! From the toasty fire to the chilly school bus, we all made our way back to the farmhouse and promptly passed out after our memorable day.
This trip will go down as one of the most extraordinary things that we have ever been a part of. Getting a group of strangers to come together and share in the same experience, while all getting along, isn't an easy task. But somehow, this group of upbeat, positive human beings didn't just get along, but forged friendships.
This time away from the digital world really reiterated what we had both already been pondering – our need to spend more time away from our devices. We were reminded of our love for travel. Travelling together. Travelling with purpose. Travelling well.
Before leaving and heading back to Manhattan, we all gathered around, popped the corks off of the bottles of champagne and toasted to a wonderful weekend, this was the icing on the already sweet adventure.
To learn more about this concept, follow #onedayoffline and check out www.onedayoffline.com.
What would you do with one day offline? Tell us in the comments below!
We were guests of Cathay Pacific and Mashable, however, as always, all thoughts and opinions remain our own, despite any complimentary services received.