The first thing that comes to mind when somebody mentions Florida is of course the theme parks. Yes, Florida is known for its many attractions and especially Disney World in Orlando, and yes the theme parks are great fun for the whole family!
However, what most visitors don't know is that there are many other activities or places to see that should not be missed on their trip over to the Sunshine State. No matter what time of year you visit Florida, there's always so much to do.
Here is a list of some of those things and places that I would recommend you see on your next visit to Florida. Also don't miss the Goats On The Road Bucket List of 101 Must-See Places in The USA.
1. The Everglades
Located west of Miami, at the southern tip of Florida, the Everglades is a national park filled with wetlands, mangroves, and alligators. The nature is untouched, and the swamps are home to some of the largest alligators and snakes around (not for those who are scared of them!).
There are many ways of experiencing the wilderness of the Everglades, such as airboating (mentioned next), fishing, biking, or a walking tour. The easiest way to get there is by driving through it, and stopping at different viewpoints where you can observe the wildlife safe from harm.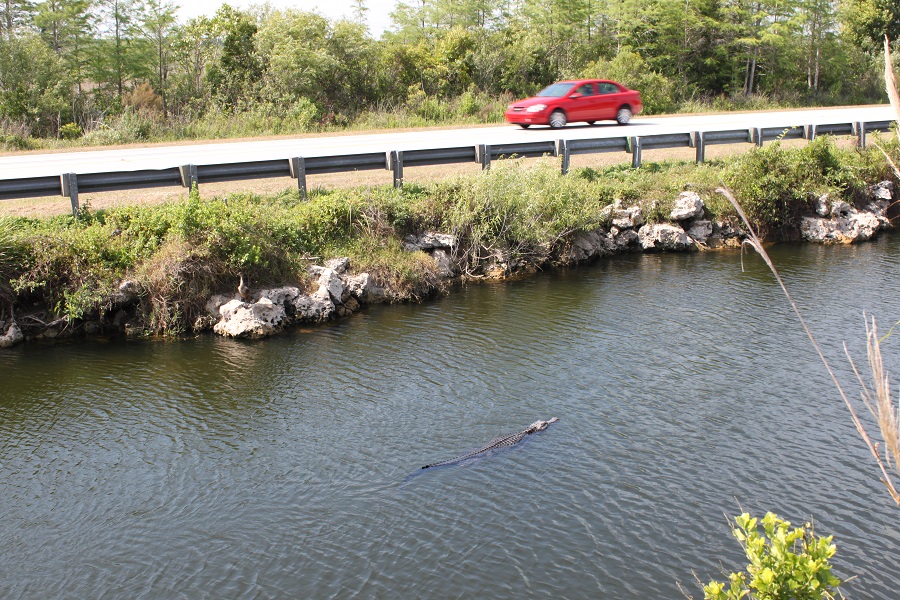 ☞ Click here to see available rooms, reviews and prices on Everglades properties on Booking.com
2. Airboating
Being full of swamps and lakes, the best way to see alligators up-close is to take an airboat tour!
The tours include a ride on an airboat, with the appropriate ear protection equipment, with a local guide helping you to point out the different species hanging around the wetlands.
Boggy Creek Airboat Adventures, located in Central Florida, is one of the best companies around, recommended by all Floridian tourism boards, and you can do a 30-minute tour from $30 per person, which won't break the bank.
Note: you can find great flights from Ft. Lauderdale, Miami, and Orlando direct to the Bahamas! We recently flew from Ft. Lauderdale to Staniel Cay and spent 10 days exploring the Exumas. Renting our own boat, seeing the grotto, lazing on beaches, and seeing the swimming pigs of the Bahamas were some of the highlights. Don't miss it!
3. Celebration
If you used to watch the series Desperate Housewives, then you must remember Wisteria Lane and its beautifully manicured houses.
Well, Celebration is that in real life!
This town is just off Route 192, next to the Disney World complex, and is most definitely worth a quick visit. Drive around the neighborhoods to admire the Victorian houses with their white picket fences, or take a walk through the town center with its local shops and waterfront restaurants.
Sit on one of the rockback chairs in front of the lake, or head over to the amazing golf course to better your stroke.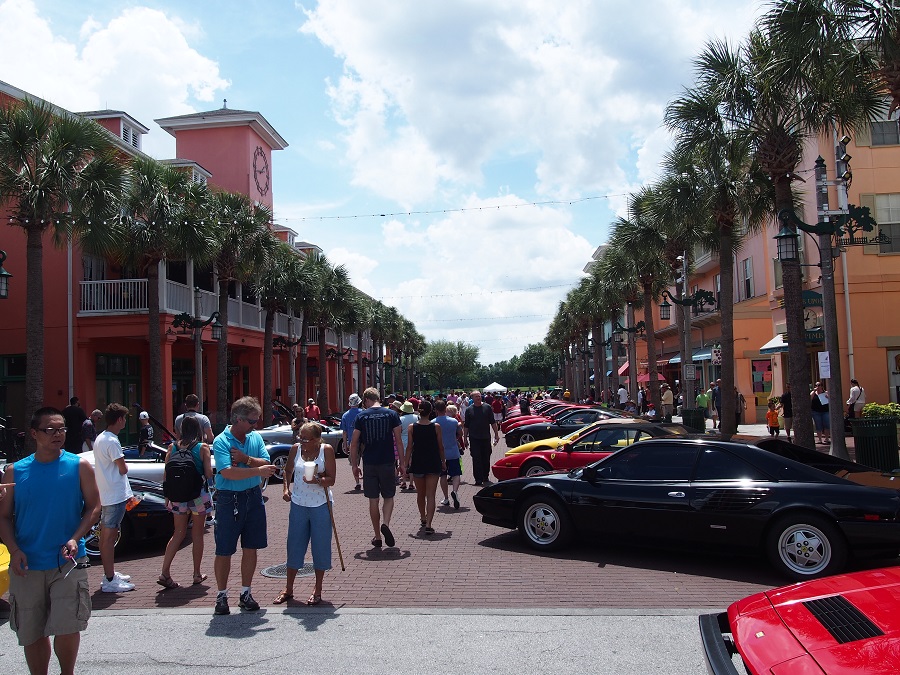 4. Kennedy Space Center
I'm sure some of you dreamed of being an astronaut when you were a kid. If you didn't make that dream a reality, the Kennedy Space Center Visitor Complex offers the chance of a lifetime to see a rocket launch. Beware, the ground and buildings nearby will shake!
The complex offers many different activities, such as a behind-the-scenes tour of launch site and facilities, landing training simulators, or the IMAX 3D theater where you can experience one of two movie experiences. You'll learn all about NASA, its history, and its works.
5. Take a Cruise
Technically, this means leaving the state and country, but Florida is one of the best departure points for a cruise.
You can take a ship from Fort Lauderdale, Tampa, or Miami, and head over to the Caribbean or even Mexico! There are a few companies leaving daily from all of those ports, ranging from 3 nights to 3 weeks, and with different budgets in order to fit everyone's dream of cruising around the Caribbean islands.
☞ Click here to see available rooms, reviews and prices in Miami on Booking.com
6. Tarpon Springs
Also called Little Greece, this city sits on the Gulf Coast and is famous for its sponges.
Tarpon Springs has a large Greek history due to its settlers in the early 1900s who were sponge divers. Walking around, you will find a long street full of Greek restaurants and eateries at the waterfront, and many sponge shops for those who need a little extra help when showering.
It's a fun lunchtime stop if you're heading to or from Clearwater, just south of Tarpon Springs.
☞ Click here for available rooms, reviews and prices in Clearwater on Booking.com
7. Monster Jam
Have you ever heard of monster trucks? Those huge roaring modified trucks make a good show during the Monster Jam festival in Orlando, Florida, in January.
The stadium is filled with fans, cheering on their favorite monster truck, while enjoying a hot-dog. It's a fun activity for those who are nearby in January, and want to see something different (yes there are other things to do in Orlando besides Disney).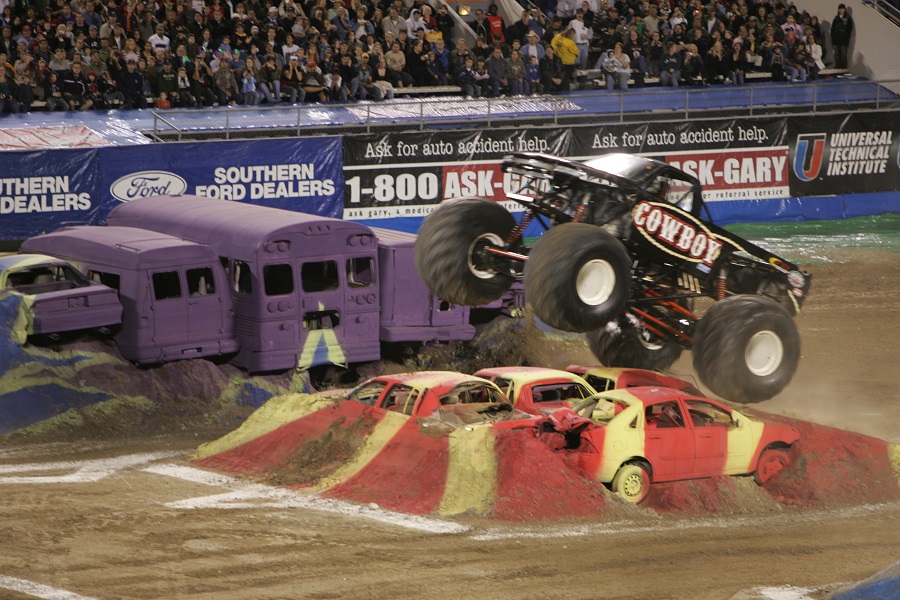 ☞ Click here for available rooms, reviews and prices in Orlando on Booking.com
8. Daytona Beach Bike Week
Daytona Beach Bike Week is an annual event happening every March that gathers thousands of motorcycle fans from all over the U.S. and the world!
Located on the Atlantic Coast, Daytona gets packed during this 10-day event, where people show off their bikes, enter the competition, and enjoy a cold drink in the Florida heat.
☞ Click here for available rooms, reviews and prices in Daytona on Booking.com
9. Key West
The southernmost point of the United States, Key West is a great destination for those who want to experience island life without getting off the main continent. There are so many things to see and do in Key West to keep you busy.
With its pastel houses and Cuban-inspired restaurants, you can have a bite Jimmy Buffet's Margaritaville, or visit the author Ernest Hemingway's House. If you feel like hitting up the ocean, the Keys are full of snorkeling and diving spots for the diving fanatics.
On the drive down to Key West, be sure to stop at Bahia Honda State Park on Bahia Honda Key to enjoy the spectacular beaches! It really is an area of Florida that you won't want to miss.
☞ Click here for available rooms, reviews and prices in Key West on Booking.com
10. Naples
Located on the Gulf of Mexico, Naples is home to some of the nicest neighborhoods in Florida.
Known for its high-end shopping, this city is also home to many beautiful golf courses, and dolphin sightings. With world-class waterfront hotels and cosmopolitan restaurants, this destination is for those who want a bit of luxury.
But you can still enjoy the white-sanded beaches for free!
☞ Click here for available rooms, reviews and prices in Naples on Booking.com
Ready For Florida?!
As you can see, there are plenty of activities for you to do besides visiting Mickey Mouse or the Marvel heroes. Florida is full of hidden gems and beautiful towns, and those who have done the theme parks one too many times, hopefully this article helped you find other ways to enjoy the Floridian sunshine.
Whether you want to explore a National Park, enjoy the luxurious streets of Miami Beach, or visit a town that reminds you of a utopia, you'll find it in Florida.
Like This Article? Pin it!