Whether you're interested in cars, art, music, history, sports, or nightlife, there are plenty of fun things to do in Detroit to satisfy your interests.
Here you can spend a morning visiting a world-class art museum, cycle along the riverfront in the afternoon, and rock out to live music while sipping a Michigan craft beer at night.
Detroit is a city that goes by many different names. You may know it as the Motor City, Detroit Rock City, or Motown, but I call it home. I was born just outside of Detroit and spent the better part of my life there until moving off to college just up the road.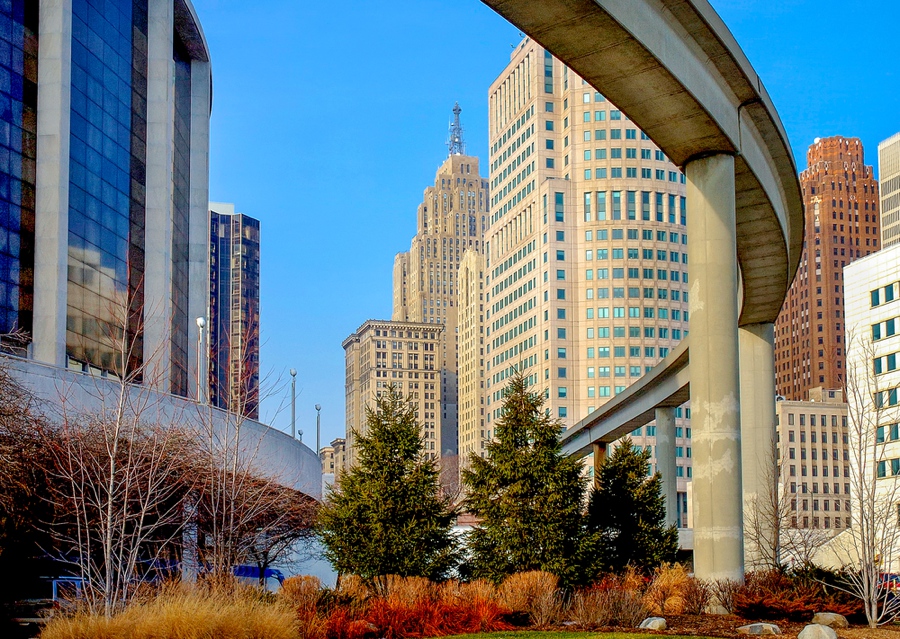 While my hometown made the news for all the wrong reasons for several decades, Detroit has been experiencing a major renaissance in recent years.
There's a saying around Motown that goes "Detroit hustles harder," and that never-say-quit attitude has brought new life back into the city. Motor city is still one of the top spots to see in the US.
Best Things To Do in Detroit, Michigan
I'm excited to share some of the best Detroit attractions with you along with some local tips to make your visit to the Motor City an unforgettable experience!
If you're ready to see the best that Motown has to offer, read on for some of the top activities and best things to do in Detroit.
1. Take a Walking Tour
The best way to get acquainted with the Motor City (or any city, for that matter) is on your own two feet. As long as you're not visiting in the dead of winter, downtown Detroit is a perfectly walkable place.
If you'd like to learn more about Detroit as you stroll (and are looking for free things to do in Detroit), go ahead and sign up for one of the free walking tours with Detroit Experience Factory.
But, these tours only run on Saturday, so if you don't happen to be in Motown over the weekend you can check out this affordable and informative walking tour of Detroit on Get Your Guide, or if you prefer, on Viator.
Along the way, you'll spot some of Detroit's most famous landmarks and architecture, such as the Fisher Building and Fox Theater, the historic Motown Museum, and much more. Be sure to bring your camera along for this one!
Going on a walking tour is definitely one of the best things to do in Detroit.
2. Detroit Institute of Arts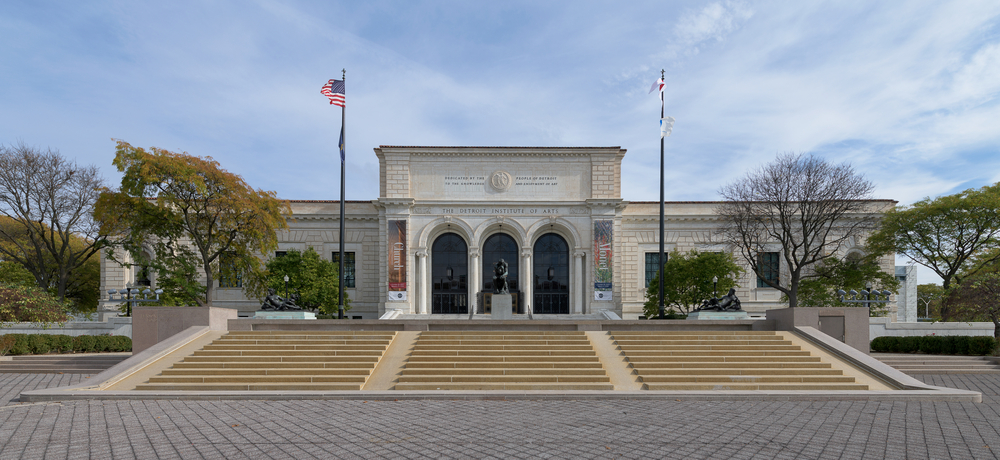 While Detroit may be famous for its cars and music, there's also a fantastic art scene here. Art lovers are in for a real treat when traveling to the D thanks to the city's numerous museums, galleries, and street art.
To begin your art adventure in the city, head to the Detroit Institute of Arts. This world-class museum is home to one of the largest art collections in the United States and features over 100 galleries in all. It's definitely one of the top Detroit attractions and a must-visit.
The inner courtyard of the museum features the famous Detroit Industry frescoes by Diego Rivera. These 27 panels depict the automotive industry at Ford Motor Company and Rivera even considered them his most successful work.
There's so much to see at the Detroit Institute of Arts that you can easily spend an entire day there. The museum is open from 9AM-4PM Tuesday to Thursday, 9AM-10PM on Friday, and 10AM-5PM on the weekend. Tickets are $14 for adults, $9 for seniors, $8 for college students, and $6 for youth ages 6-17.
Address: 5200 Woodward Ave, Detroit, MI 48202, United States. You can find the museum on the map here.
3. Listen to Live Music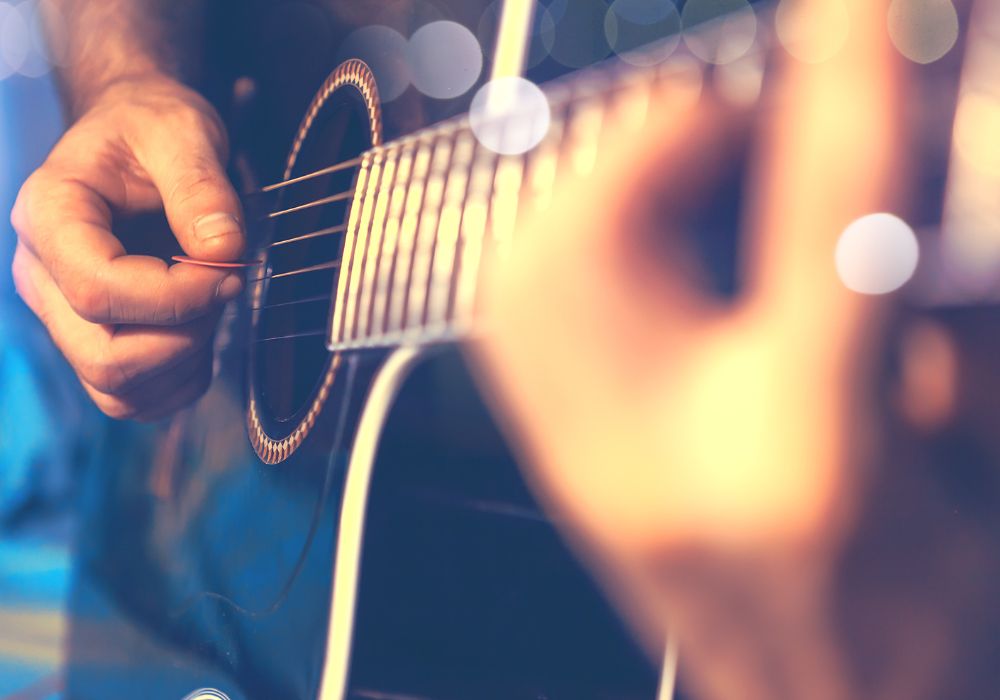 Without a doubt, one of the best things to do in Detroit is to see some live music. After all, this is Detroit Rock City! No matter what night of the week it is, you've got plenty of options for rocking out in Detroit.
Shows here run the gamut from massive international touring bands at the football stadium to tiny dive bars with local bands looking to make a name for themselves.
Whatever your musical tastes are, there's something playing for you in Detroit. Rock, jazz, electronic, hip hop, classical – the list goes on and on.
Some of my personal favorite places to see a concert in Detroit include the Fillmore, the Majestic Theatre/Magic Stick, and the Masonic Temple.
To find out what's playing in Detroit, I recommend checking out the calendar of events from the Metro Times or Jambase.
☞ SEE ALSO: 21 Fun Things To Do in New Orleans – An Insider's Guide
4. Hang Out in Campus Martius
One of the best places to visit in Detroit is Campus Martius. For those who aren't Latin scholars, the name of this downtown Detroit park means "Field of Mars." The original was the most populous area in Rome, and this one is a great place to kick it in Motown.
Before we get into the fun things to do in Campus Martius, a little history lesson. Back in 1805, the city was devastated by a huge fire. Augustus Woodward, the first Chief Justice of the Michigan Territory, set about rebuilding the city centered around this park.
After some major renovations in 2004, the park is now home to sculptures, gardens, a nice fountain, and a few places to grab a snack or a drink. In the winter months, you'll find an ice skating rink here, while the warmer months feature a fun little beach in the middle of the city.
If you happen to be visiting Detroit in the fall, you can attend the festive Christmas tree lighting here the Monday before Thanksgiving. Whichever season you visit, be sure to add a stop in Campus Martius to your list of things to do in Detroit.
Address: 800 Woodward Ave, Detroit, MI 48226, United States. You can find the park on the map here.
☞ SEE ALSO: 21 Awesome Things To Do in Asheville, NC
5. Visit the Motown Museum
Stevie Wonder, Marvin Gaye, the Supremes, and Michael Jackson — are just a few of the legends who recorded music right here in Detroit. As such, one of the top Detroit attractions is the Motown Museum, aka, Hitsville, USA.
Motown founder Berry Gordy purchased a photography studio in 1959 and transformed it into a recording studio. Over the following decade, countless hit songs were recorded here in Studio A. In short, the Motown sound was born in this very building.
Motown Records moved its operations to Los Angeles in 1972, and many believe the heart of the label was lost in the process. In 1985, the Motown Museum opened up to continue the legacy of this important piece of musical history.
The Motown Museum is open from 10AM-6PM Tuesday-Sunday from May to October. During the fall and winter, it's also closed on Sundays. Tickets are first-come, first-serve, and often sell out on the weekend. It costs $15 for adults and $10 for seniors and children ages 5-17.
Address: 2648 Berry Gordy Jr. Boulevard, 2648 W Grand Blvd, Detroit, MI 48208, United States. You can get directions to the museum and find it on the map here.
☞ SEE ALSO: 15 Things To Do in Austin – A Guide to The Texas Capital
6. Take the RiverWalk
These days, one of the top things to do in Detroit is to take a stroll along the RiverWalk. Part of a greater transformation of the Detroit riverfront as a whole, this 3.5-mile trail is the perfect place to enjoy some fresh air and get some exercise in the Motor City.
Along the trail, there are several parks, fishing piers, picnic areas, and even a carousel. While walking here is just fine, there are also plenty of places where you can rent a bike. Whether you walk or ride, it's a scenic area to spend a few hours in.
Work on the RiverWalk is ongoing as it continues to expand. For now, it starts at Joe Louis Arena downtown and stretches to Milliken State Park. Make sure you stop here for a great photo op with the lighthouse!
The RiverWalk is hands down one of the coolest places to visit in Detroit, so be sure to add it to your itinerary.
Address: 1340 Atwater St, Detroit, MI 48207, United States. You can get directions to the RiverWalk by checking the map here.
☞ Wandering along the riverfront is one of the top things to do in Chicago as well. If you're heading to the Windy City, don't miss it.
7. Explore Belle Isle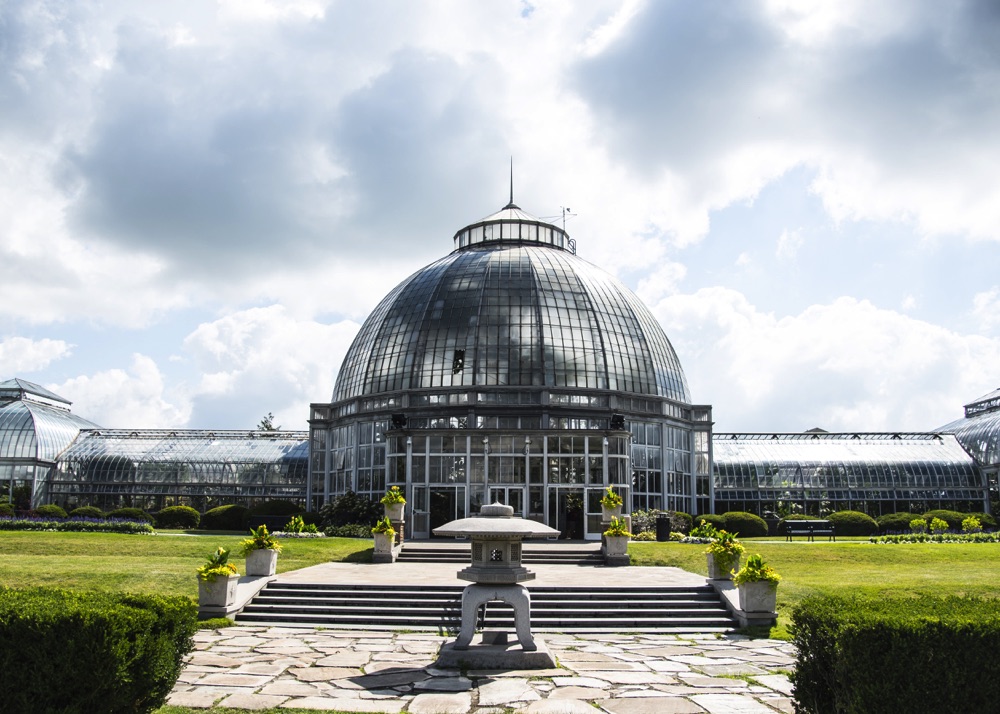 I spent most of my life in the Detroit area, and my favorite place to go in the city is definitely Belle Isle. A fun way to see the island is on this private tour in an antique Model T Ford.
This state park is actually an island in the Detroit River between Michigan and Ontario, Canada. From one side of the park, you can see downtown Detroit, and from the other, you can catch a glimpse of Windsor. Pretty cool, eh?
Belle Isle has actually had quite an interesting history. Once a playground for the well-to-do with a casino, zoo, and bandshell, the park fell into disrepair for many years. It became a state park in 2014 and it has been on the up and up ever since.
There's plenty to see and do on Belle Isle to warrant spending an entire day there, especially during the warmer months.
You can check out the greenhouses at the conservatory, visit the aquarium, hit a bucket of golf balls, or just lounge on the beach. It's definitely one of the most fun places to visit in Detroit.
It's free to visit Belle Isle, but you need a Michigan Recreation Passport to drive onto the island. These cost $31 for non-Michigan residents and they get you access to all state parks for the entire year. Another option is to take this antique car tour of Belle Isle!
If you're just visiting and don't think it's worth it to shell out the dough, you can just cycle or walk across the bridge to access the island for free. Belle Isle Park is open from 5AM-10PM every day.
Address: 99 Pleasure Dr, Detroit, MI 48207, United States. For directions, check the location on the map here.
☞ SEE ALSO: 15 Top Denver Attractions You Don't Want to Miss
8. Eat and Drink, Detroit Style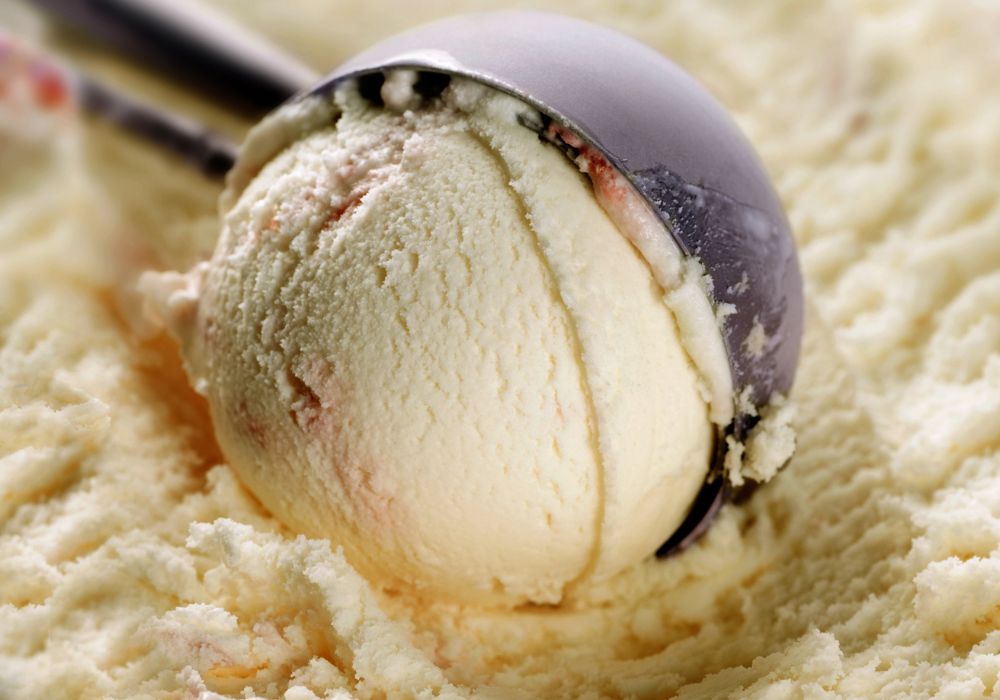 I don't know about you, but I always love to try local snacks and drinks when I travel. There are plenty of tasty made-in-Detroit options that you should definitely sample when visiting Motown.
If you've ever heard someone call soda "pop" and wonder why, that's because of Faygo. This Detroit company coined the term long ago and still produces unique carbonated beverages such as Rock & Rye and Redpop.
Another classic Detroit drink is Vernors ginger ale, which goes especially well in a Motown Mule cocktail.
Moving on to the snacks, we have to start with Better Made potato chips. Founded back in 1930, they still churn out delicious varieties of chips such as red hot BBQ and salt & vinegar. I know I'm a local and may be biased, but I really think these are the best chips around!
To satisfy your sweet tooth, you can pick up a box of chocolates or try some ice cream from Sanders. If you'd like to live out your own version of Charlie & the Chocolate Factory, you can even take a guided tour of their factory.
You'll need some wheels, though, as it's about a 30-minute drive outside of downtown Detroit in Clinton Township. Check the map for directions here.
☞ See Also: 21 Best Place To Eat in Chicago – A Guide For Foodies
9. Take the Coney Island Hot Dog Challenge
We can't talk about eating in Motown without mentioning the classic Detroit Coney Island hot dog. This culinary masterpiece is a beef frankfurter in a natural casing, topped with an all-meat chili, diced white onions, and yellow mustard.
Don't you dare put ketchup on this hot dog!
If you're wondering why the Detroit-style hot dog is named after a place in New York, well there's really no definitive answer there. I can give you a little history lesson, though…
Back in 1917, a Greek immigrant named Gust Keros opened American Coney Island in downtown Detroit. His brother moved to town a few years later and eventually opened Lafayette Coney Island right next door.
Both are still in business to this very day, although ownership of Lafayette has since changed hands.
One of the top things to do in Detroit is taking the "Coney Challenge" where you try a hot dog from both establishments to see which one you like best.
I have my personal favorite, but you'll just have to go try them both and decide for yourself! You can find American on the map here, and Lafayette is literally right next door.
10. Catch a Professional Sports Game
If you're looking for fun things to do in Detroit, catching a game is a great idea.
As you may have noticed by now, Detroit has a lot of nicknames. In addition to being called the Motor City, Motown, and Detroit Rock City, it's also commonly known as Hockeytown.
That's because the city is home to the Red Wings, who have won more Stanley Cups (11) than any other American team.
The Wings recently moved into a new home downtown at Little Caesars Arena, which is now one of the top Detroit attractions.
The regular season runs from October to April with home games every few days. They share the arena with the NBA's Detroit Pistons, so there's a good chance there will be a game on if you're visiting in fall/winter.
Detroit is actually one of only two cities where teams in all four major sports play downtown (Denver being the other one). In addition to the Red Wings and Pistons, Detroit is home to the Tigers (MLB) and Lions (NFL).
The Tigers play at Comerica Park and have games very often from April to October, while the Lions play eight home games at Ford Field during the season starting in September.
Even if you're not a huge sports fan, catching a game is one of the best activities in Detroit. Depending on the game, you can even score last-minute tickets for super cheap!
Sports games are one of the top things to do in Detroit with kids, as is Legoland where you and your family can learn about how Legos are made, and of course, enjoy the Lego playground. Find out more here.
☞ SEE ALSO: Seattle Attractions – 15 Top Things To Do in The Emerald City
11. Check Out the Heidelberg Project
Of all the Detroit attractions, it's really hard to beat the uniqueness of the Heidelberg Project. This outdoor art project has a very inspirational story and messages behind it.
Artist Tyree Guyton returned to his neighborhood on Heidelberg Street after serving in the army only to find that it "looked like a bomb went off." After the riots of 1967, poverty and blight made this a place where people were afraid to walk, even in broad daylight.
With the help of his wife and grandpa, he began painting houses with brightly colored dots and attaching salvaged items to them. They continued to transform abandoned houses and lots into one big art project, eventually developing a non-profit community center around it.
It's a fascinating place to visit and a great cause to support, so be sure to add it to your list of things to do in Detroit.
The Heidelberg Project is just a short drive from downtown Detroit. There's plenty of street parking so you can get out of the car and walk around, or you could just catch an Uber there. Alternatively, it's not a bad bike ride if you rent some wheels.
Address: 3600 Heidelberg St, Detroit, MI 48207, United States. You can find it on the map here.
☞ SEE ALSO: 15 Awesome Things To Do in Portland, Oregon
12. Ride the People Mover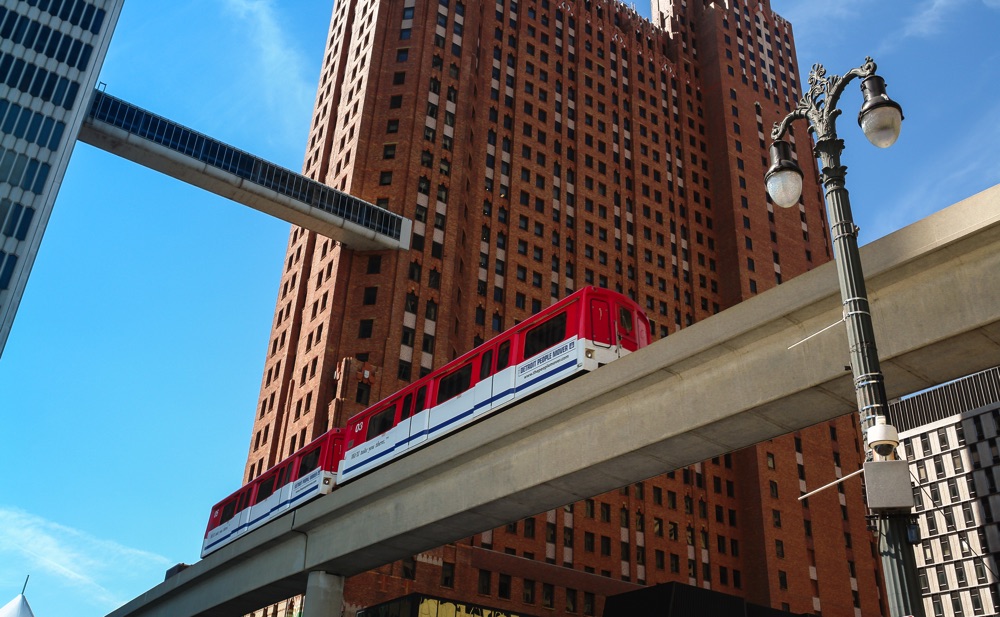 To be honest, public transportation in Detroit isn't great. What can I say? It is the Motor City after all. That being said, things are slowly improving as mass transit finally comes to Motown.
While it isn't exactly the most useful or profitable system, the People Mover is pretty cool as a tourist attraction. This elevated light rail train circles downtown Detroit, stopping at 13 different stations along the way.
A ride on the People Mover only costs $0.75 and provides some nice views of the city. It's an easy way to get between some of the top Detroit attractions such as the RenCen and Greektown.
The People Mover operates between 6:30 and midnight from Monday to Thursday. It stays open until 2AM on Friday, runs from 9AM-2AM on Saturday, and from noon to midnight on Sunday. You'll need to pay in cash or pick up some tokens to use for your rides.
13. Explore Eastern Market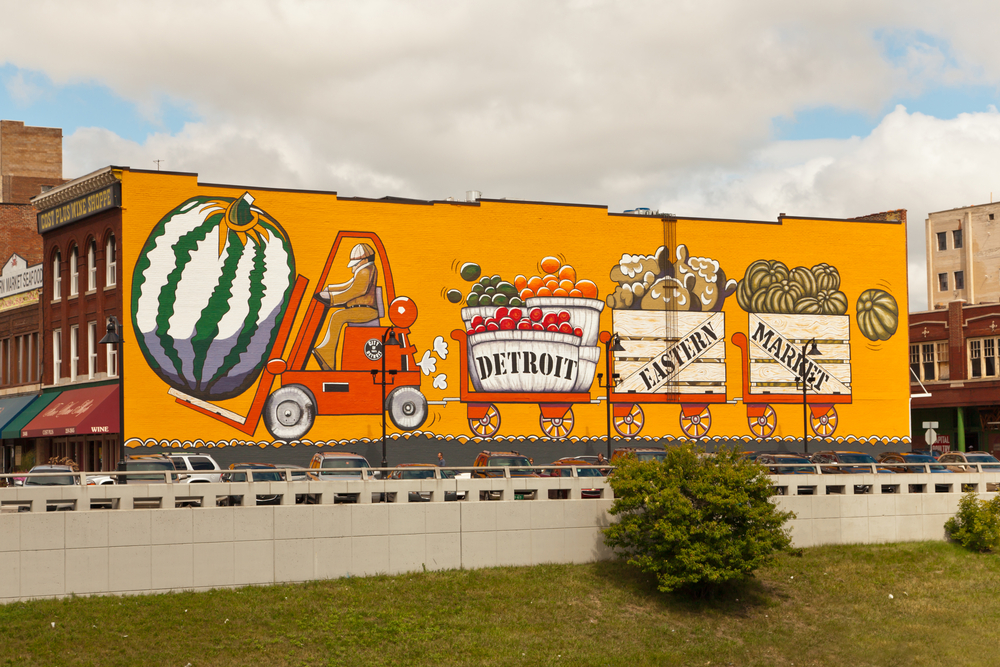 Eastern Market has been a Detroit institution since way back in 1841. That makes it one of the oldest urban farmers' markets in the country! It's a fun place to explore and definitely earns its spot among the top places to visit in Detroit.
On a visit to Eastern Market, you can shop for fresh produce, clothing, art, jewelry, and so much more. In total, around 225 different vendors set up here.
There are also several excellent cafes, restaurants, and bars in the area. You could easily spend all day exploring the Eastern Market.
The market is at its busiest on Saturdays, when upwards of 40,000 people visit. The Saturday market operates year-round from 6AM-4PM. There are also seasonal markets on Sundays, Tuesdays, and Thursdays. Be sure to check their website for all the relevant information about the many different markets.
While you're in the area, be sure to grab your camera and search for amazing street art. The annual Murals in the Market festival brings artists from all over the world here to brighten up the neighborhood with eye-catching murals.
Get directions and check the location of Eastern Market on the map here.
14. Visit Greektown and Mexicantown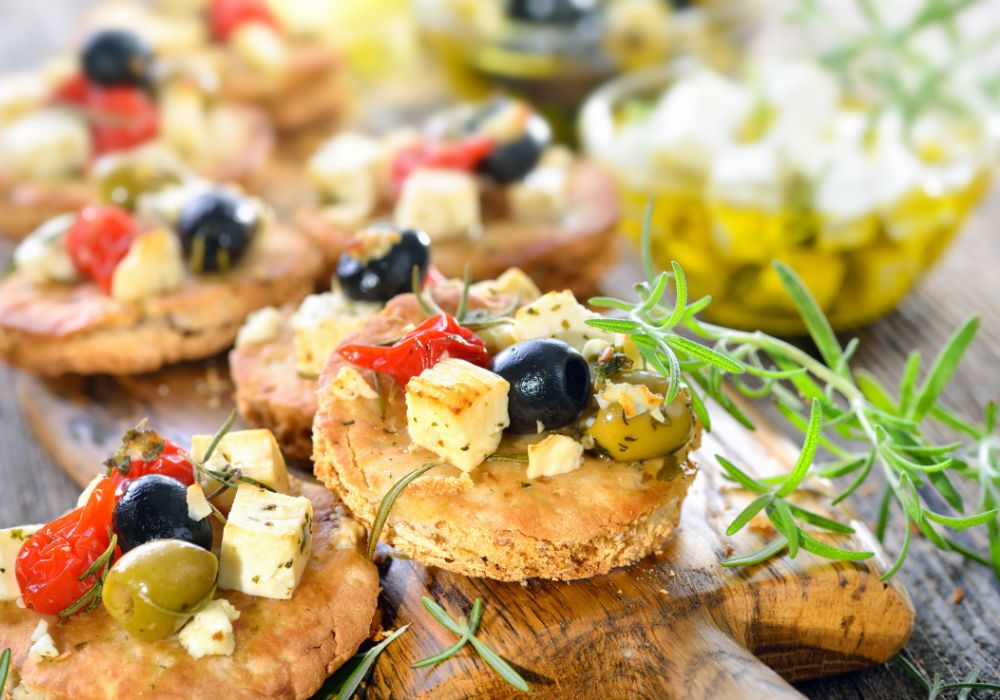 Many cities in the US are home to a Chinatown or Little Italy, but not that many have a Greektown or Mexicantown. Detroit has both! Exploring these neighborhoods should certainly be on your list of things to do in Detroit.
Greektown is located right smack in the heart of the city near the stadiums and theatres. Here you'll find the popular Greektown Casino as well as a handful of awesome Greek restaurants.
I love eating at Pegasus in Greektown, especially ordering saganaki. This appetizer of fried cheese comes to your table on fire as your waiter yells "Opa!" It's quite the dining experience. You can find Greektown on the map here, and can get there via a ride on the aforementioned People Mover.
Over in southwest Detroit, you'll find the area known as Mexicantown. Mexican immigrants began flocking to Detroit in the 1920s due to turmoil in Mexico after the revolution. These days, Mexicantown is a thriving neighborhood full of Mexican-owned shops.
I actually live in Mexico now and can attest to the fact that the Mexican food in this part of Detroit is legit! If you're craving some tacos, this is where you'll want to head. You can find Mexicantown on the map here.
15. Go for a Bike Ride
Detroit is definitely still the Motor City, but it's also a very bike-friendly place. More and more bike lanes are being installed in the city every year as cycling becomes a more popular means of getting around.
As I mentioned above, the RiverWalk is a great place to go for a bike ride in Detroit. There are several places that rent bikes along the trail.
You can also find bike rentals all over the city at the various MoGo stations. A day pass costs $8 with unlimited 30-minute trips. If you use the bike longer than that, it costs an additional $4 for each 30 minutes.
If you don't feel like paying for the car pass to visit Belle Isle, cycling is a solid option. The island is a great place for a leisurely bike ride, especially on a nice sunny day.
To really experience cycling in Detroit Rock City, you should join the Slow Roll. This weekly bike ride brings out tons of people for a group ride through the streets of Motown. Thousands show up, many with impressively tricked-out bikes.
The group meets on Monday nights and takes winter off for obvious reasons. Keep up with their Facebook page for their schedule.
16. Explore the RenCen
Dominating Detroit's skyline, the Renaissance Centre is a group of seven interconnected skyscrapers on the riverfront. Commonly known as the RenCen, it's the world headquarters of General Motors.
The RenCen has been one of the top Detroit attractions for quite some time. Come here to admire Michigan's tallest building from outside, and then head in to explore a bit. Make sure you check out GM World, which showcases some of the company's latest vehicles.
There are also plenty of different shops, cafes, and restaurants inside the complex if you want to stay awhile. While the restaurant on the top floor recently closed, a new one will be moving in on the 71st and 72nd floors soon.
You can actually take a free tour of the RenCen if you'd like. They run from Monday-Friday at both noon and 2PM. Check their website for more details about the tours and everything else on offer there.
17. Cruise on the Detroit Princess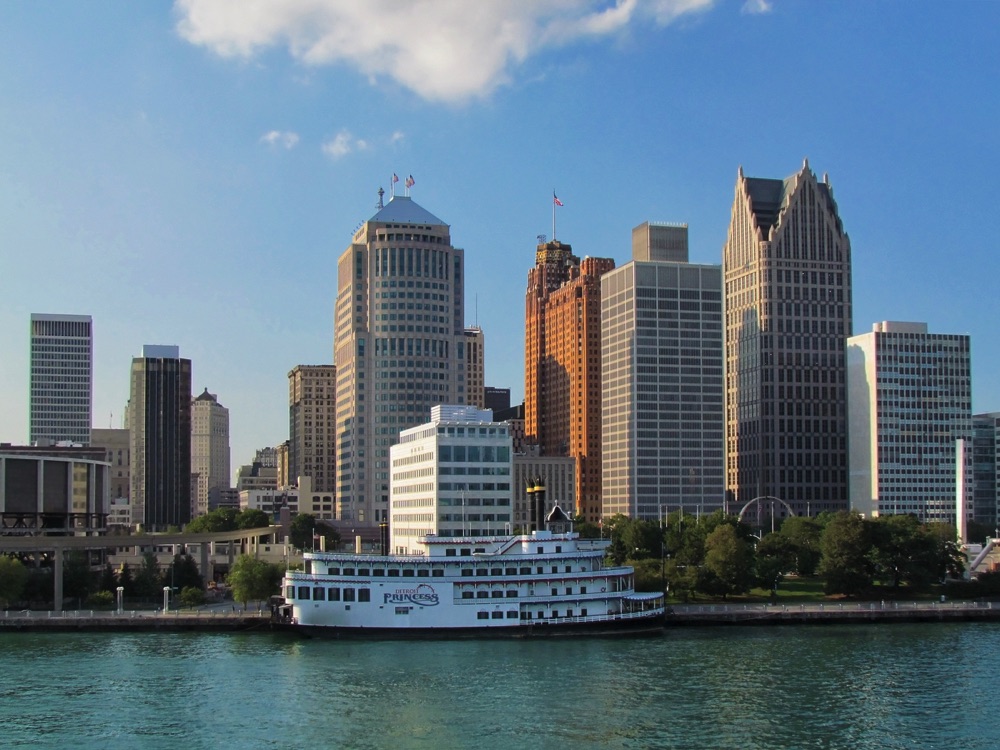 If you enjoy being out on the water, you might want to add a river cruise to your list of things to do in Detroit. The Detroit Princess Riverboat is a massive 5-story cruise boat that holds up to 1,500 passengers.
On this dinner cruise of the Detroit River, you'll get to enjoy some incredible views of the city along with a mouth-watering meal. Chefs carve up prime rib and juicy pork tenderloin, and there's also a buffet with a wide range of choices.
In addition to the views and dinner, you're treated to some live Motown classics. Each level also has a full bar set up, making this one amazing floating party!
Prices and times for the Detroit Princess cruises vary depending on the season. Adult tickets cost between $55-70 and typically last from 7-9:30PM. They also have a lunch cruise which is a bit cheaper.
Be sure to check their schedule and book your tickets in advance for this one. Cruising on the Detroit Princess is one of the fun things to do in Detroit for couples that you don't want to miss.
☞ See Also: Chicago Architecture River Cruise – A Guide For Travellers
18. Visit the Henry Ford Museum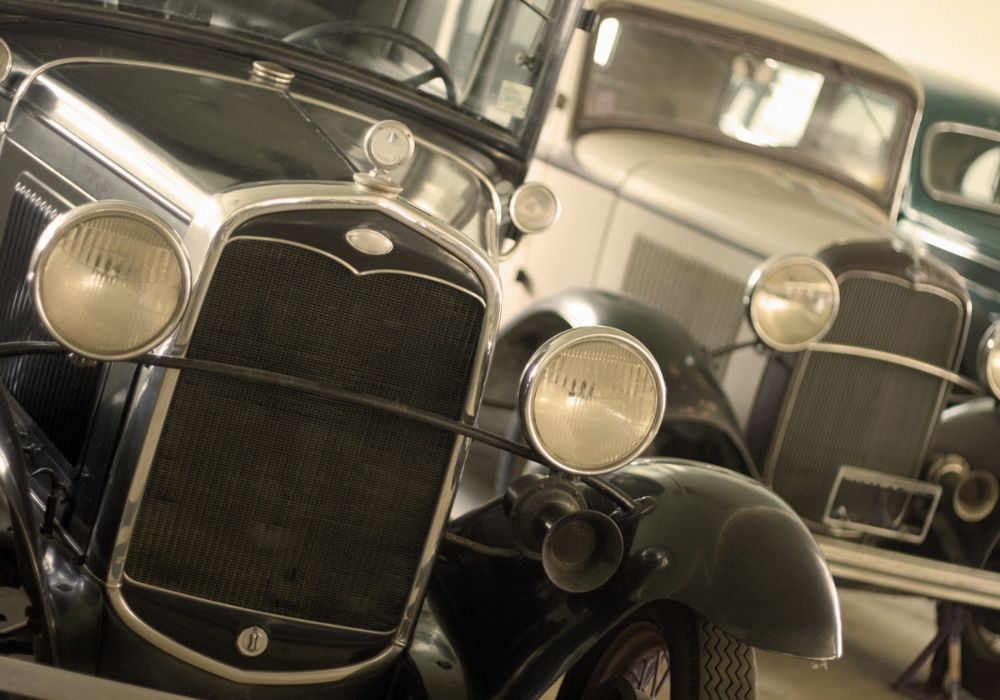 Without the vision of Henry Ford, there's no doubt that Detroit would not be what it is today. In fact, his Model T car changed the entire world!
Ford founded this museum in an effort to preserve the history of his time, especially the Industrial Revolution that he helped spur.
There's a lot to see and do here, as it's actually the largest indoor-outdoor museum complex in the entire US. You can visit the Henry Ford Museum of American Innovation, which began as a collection of historical objects by Ford himself.
Here you can see the limo that JFK was assassinated in, the bus Rosa Parks refused to give up a seat on, and even an Oscar Mayer Wienermobile!
In addition, you can explore the fascinating Greenfield Village. It's a collection of buildings from the 17th century to the present and is meant to show how Americans have lived and worked since the country was founded.
There are nearly 100 different buildings here that were all moved from their original locations and arranged in a village.
If you want to see how cars are made in person, you can sign up for a tour of the Ford Rouge Factory. Here you'll get an in-depth look at the making of the Ford F-150, America's most iconic truck.
If you're wondering what to do in Detroit when it's raining, or cold outside, this museum is a good bet.
There are several different options for tickets and tours, so be sure to check their website to pick which one is best for you The museum is located in Dearborn, which is about a 30-minute drive from downtown Detroit.
Address: 20900 Oakwood Blvd, Dearborn, MI 48124, United States. You can find it on the map here.
Another awesome option is to take a drive around Detroit in a 1930 model A Ford car while visiting important manufacturing sites along the way. Click here for details about this trip — it's one of the more unique things to do in Detroit.
19. See a Great Lake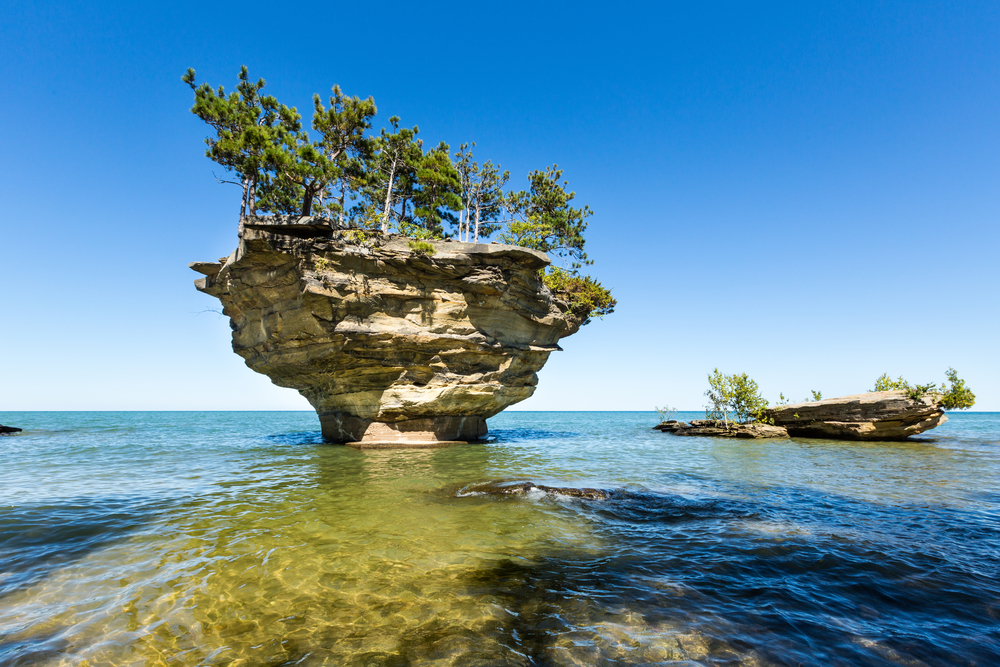 We have a saying in Michigan that goes "Great lakes, great times!" Indeed, my home state is surrounded by the five great lakes — Huron, Ontario, Michigan, Erie, and Superior.
While Detroit is actually located on the river, you don't have to travel too far to visit the Great Lakes.
Head north from the city for about an hour and you'll find yourself on Lake Huron. Alternatively, you can go south for about half an hour to reach Lake Erie. A visit to one of the lakes is one of the best things to do near Detroit for sure.
You can visit the Great Lakes in any season, but my preference goes for the summer months. On the weekends, you'll find lots of people coming out to enjoy a day on the water. Fishing, swimming, wakeboarding, and more are all on offer at the Great Lakes.
Visiting one of the Great Lakes is definitely one of the top things to do in Detroit. The problem is you likely won't have a boat with you. If you want to get out on the water, you'll want to find a tour to do so.
20. Catch a Local Festival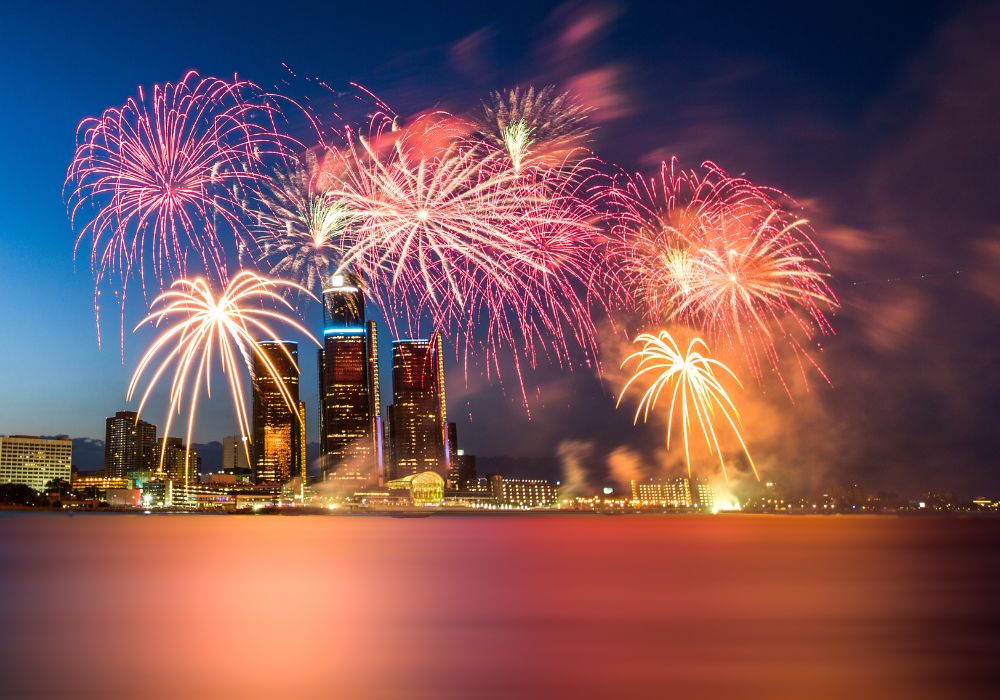 Attending a local festival is always fun when traveling. Motown hosts festivals all throughout the year of all shapes and sizes.
We've got plenty of music and food festivals, as well as several dedicated to cars and boats, which should come as no surprise here. Even though the winter months can be unbearably cold, that doesn't stop Detroit from having festivals!
Every January, the North American International Auto Show takes over Motor City. Other car-related events include the Detroit Grand Prix race and the Woodward Dream Cruise.
As far as music goes, the city that invented techno throws one of the best electronic music festivals in the world. Movement takes over downtown Hart Plaza every Memorial Day weekend and features an amazing lineup of international artists.
Country fans may want to check out Downtown Hoedown, while jazz lovers can come to town in September for the Detroit Jazz Fest. The latter is actually the largest free music event in North America, with over 120 bands!
Checking out a festival is one of the most fun things to do in Detroit for sure.
21. Sample Michigan Beers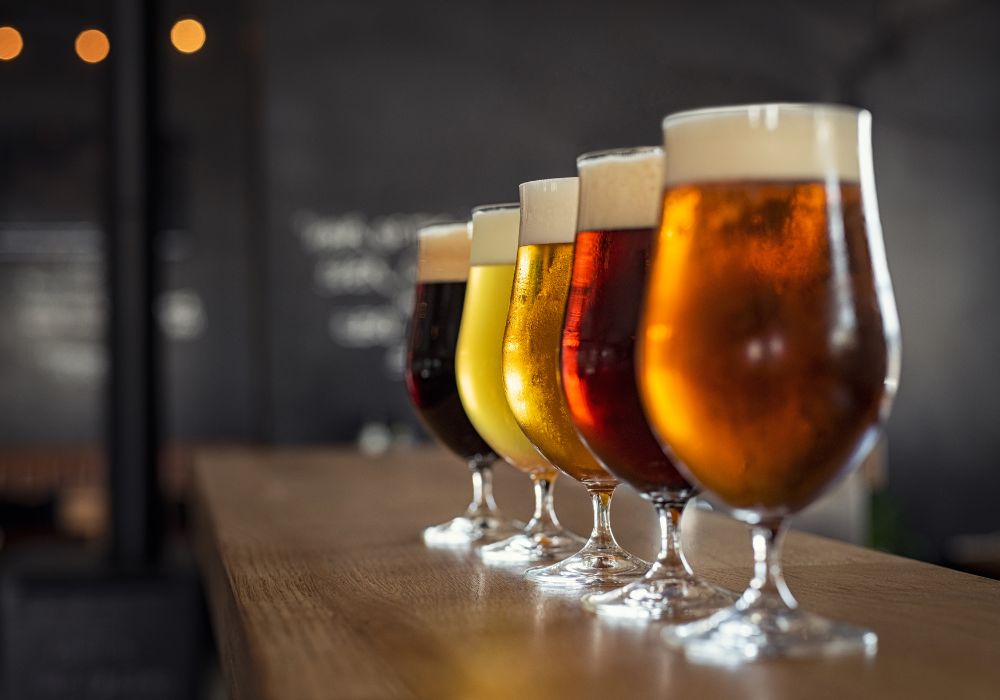 There are plenty of states brewing up great beers, but few do it better than Michigan. That's not just me bragging as a native Michigander, either — 5 of the top 10 beers in the country come from the Mitten!
I'm happy to see that my personal favorite – Bell's Two Hearted Ale – is actually atop the list.
With all these amazing beers, you'll want to be sure to sample a few on your visit to Detroit Rock City. It's not hard to find Michigan craft beer in the city, as we're quite proud of our brews. If you're looking for cool things to do in Detroit, visiting one of these local breweries is a good bet.
One excellent bar where you can try several different Michigan beers is HopCat, where they have quite an impressive selection of beers from all over. This is the perfect place to pre-game before going to a sporting event or concert downtown.
If you want to try some beer that's made right here in Detroit, you've got quite a few options. Local breweries include Batch, Atwater, and Motor City Brewing Works. Just check the map here to find the Detroit brewery that's right for you. My advice? Hit them all.
Where to Stay in Detroit
There are many options when it comes to accommodation in Detroit. Downtown and Midtown are good neighborhood to base yourself in. Here are some top hotel options in Detroit:
Element Detroit at the Metropolitan: this 3-star accommodation is in an excellent location. There's an onsite restaurant, a bar, and private parking, and they even have free bicycles available for guests. The reception here is super helpful and the suites are clean and nicely decorated. Learn more here.
Shinola Hotel: located in the heart of Detroit, the highly-rated Shinola has an onsite fitness center, a restaurant, and a bar. The rooms here are modern and well-designed. Learn more here.
1-Bedroom Apartment: if you're looking for more space on your trip to Detroit, or if you simply want the option to cook for yourself, have a look at this apartment. It's in an excellent location and offers all the comforts of home. Click here for details.
Visiting Detroit: FAQ's
Answers to your frequently asked questions about visiting Detroit, Michigan.
Is there anything to do in Detroit?
Yes! There are lots of things to do in Detroit – as you can see from this article. People always ask this, as Detroit isn't as popular as some of the other US cities. But, there are lots of things to see here, don't miss the Henry Ford Museum, join a fun walking tour, visit the markets, and sample the craft beer and hotdogs.
Is Detroit a fun city to visit?
Yes, Detroit is a fun city to visit. If you're into music, there are so many live music venues (the Fillmore, the Majestic Theatre/Magic Stick, and the Masonic Temple), an excellent pub and bar scene, and lots of festivals (check out #20 on this list).
What is Detroit famous for?
Detroit is famous for being the center of the US automobile industry, its contribution to music (Motown, punk rock, and techno), and the city's art, architecture, and design are known and loved by architects and art aficionados worldwide.
Can you see Canada from Detroit?
Yes, you can see Canada from Detroit. You probably assume that Canada is north of the Lower 48 states. However, you can get to Ontario, Canada by driving south from Detroit! The Ambassador Bridge joins Detroit with its Canadian neighbor, Windsor, Ontario.
What food is Detroit Michigan known for?
There are some great foods to try in Detroit. Don't miss the Coney Island hot dog challenge and the Greek food and Mexican food in Greektown and Mexicantown. Plus, you'll want to try the Detroit deep dish pizza, the Dutch Girl Donuts, and Scotty Simpson's Fish and Chips.
Now You Know What To Do in Detroit
Many travelers skip over my hometown of Detroit in favour of visiting places like New York or LA. Don't get me wrong – I love the Big Apple and Tinsletown, but there's just something special about the Motor City.
I hope this article has shown you how much Detroit has to offer as a travel destination.
Us Detroiters are very passionate about our city, and I think we have good reason to be at the moment. Detroit Rock City is doing amazing things these days. Come and see for yourself!
*Some images in this article are courtesy of Shutterstock.com.
Like This Article? Pin it!