Durham, North Carolina may not be as well known as some of its bigger neighboring cities such as Raleigh and Charlotte, but there are so many great things to do in Durham that it shouldn't be missed. It very quickly became one of my favorite US destinations.
Having just spent almost 3 months there, I've put together a list of the best places to visit in Durham, as well as other activities that await you in and around 'Bull City'.
With amazing lakes and hikes, an awesome bar, coffee and restaurant culture, as well as some seriously interesting and important parts of American history to uncover, there's some really cool stuff to do in Durham.
☞ SEE ALSO: Best Day Trips from Durham, NC
Best Things To Do in Durham
After experiencing the city for around 3 months, I was able to see and do a lot of fun things in Durham. This list includes my top recommended activities, plus some of the other must-dos around the city – there's something for everyone in Durham!
1. Watch a Durham Bulls Game
The Durham Bulls are a Triple-A affiliated baseball team. This basically means you're sure to see some top-notch ball players all hoping to make that final step or make a quick return to the major leagues.
Once the subject of an acclaimed 1988 film starring Kevin Costner and Susan Sarandon, the Bulls are a famous and well-supported team on the baseball scene. They have an impressive stadium, the Durham Bulls Athletic Park, that is easily walkable from the city center.
Tickets start from as little as $10. They also offer promotions such as $1 hot dog night, $5 beer night, and kids eat for free night. Partaking in one of America's favorite pastimes is one of the best things to do in Durham for families and people of all ages.
Address: 409 Blackwell St, Durham, NC 27701, United States (click here for directions)
2. Explore the Warehouse District
Durham was once the center of the tobacco world and its revenues were the lifeblood of the town's economy, from its earliest days until the eventual demise of the cigarette industry. A huge amount was produced annually right from the heart of the city.
As big tobacco started to close down in the early 2000s, it left behind a lot of warehouses and factories in Durham. These have since been converted into bars, offices, restaurants, breweries, apartments, shops, and wine bars to make it one of the coolest tourist attractions in Durham.
It's easy to simply walk around admiring some of the beautiful old buildings and features such as the Lucky Strike water tower and chimney, before resting your weary legs with a cold craft beer at Clouds Brewing in Brightleaf Square.
Address: Brightleaf Square, 905 W Main St, Durham, NC 27701, United States (click here for directions)
3. Get to Know the City with a Durham Scavenger Hunt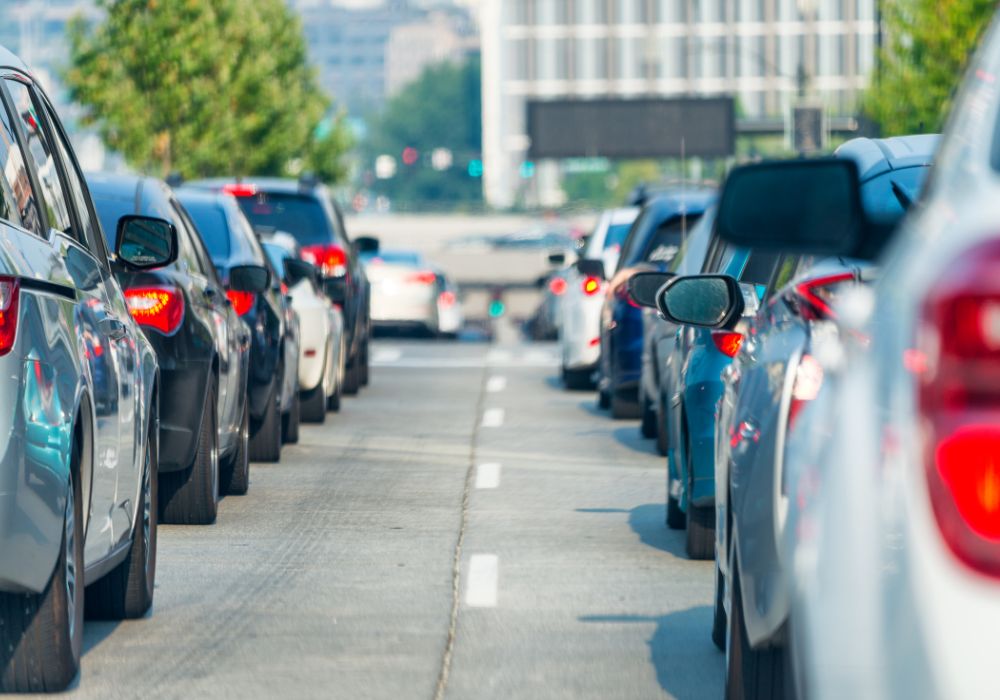 Durham is a great walking city so consider signing yourself up for a Durham scavenger hunt. It's a really great way to see some different areas and spend a few hours sightseeing in Durham. It's a fun, and slightly competitive, activity that's great for couples.
Using your phone as an interactive guide and with a remote host you'll be set challenges around Durham to complete. Submit photos of the cool things you find along your hunt to an interactive scoreboard, and see how you compare with current and previous competitors.
The scavenger hunt costs as little as $10 and lasts two hours. I won't give any clues as to the things you might explore along the way, but it is an alternative way to explore the city. It's one of the most fun things to do in Durham.
Click here to learn more about the Durham scavenger hunt.
4. Get Out to Falls Lake
Twenty minutes outside of the city, you'll find Falls Lake. It's a massive expanse of water surrounded by beautiful woodlands making it one of the best things to do around Durham.
There are a number of recreation areas that have picnic benches, barbecues, and toilet facilities as well as easy parking. There's also access to boats, kayaks, and paddle boards, as well as some great freshwater swimming. My favorite area was Sandling Beach – it's absolutely beautiful.
It gets pretty busy on weekends, especially during the warmer months. I visited early on Independence Day, however, and had no trouble finding a nice shady spot by the lake. It costs $5-$7 per vehicle, but if you're out of season on a weekday it's free. Just one of the great free things to do in Durham.
Address: 14813 Creedmoor Rd, Wake Forest, NC 27587, United States (click here for directions)
5. Visit the Sarah P. Duke Gardens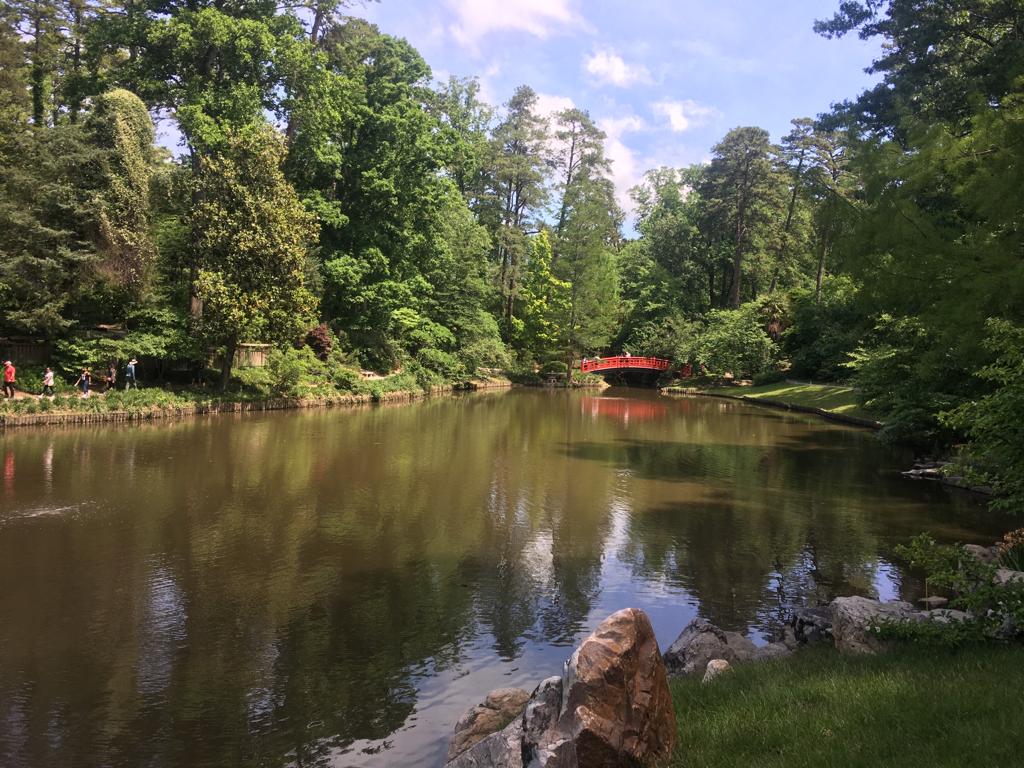 Talking of free things to do in Durham, Duke Gardens has to rank as one of the best ways to spend a few hours. Just a short hop from the city center, Duke Gardens is a marvelous 55-acre park of small lakes, woodlands, flower gardens, sculptures, bridges, ponds, and wildlife. Don't miss it!
Named after the wife of the adjacent university's main benefactor, Benjamin N. Duke (more on the Dukes later), this is an inspiring and impressive place to visit. Be sure to wear your walking shoes as there are over 5 miles of pathways and trails throughout the gardens. I definitely rate this as one of the best places to visit in Durham.
Address: 420 Anderson St, Durham, NC 27708, United States (click here for directions)
6. Walk the Tobacco Trail
Durham's Tobacco Trail is a former railroad corridor that stretches from central Durham to the town of Apex, 22 miles away. What was once a crucial route for transporting tobacco is now a well-maintained trail dotted with popular public recreation areas. It attracts plenty of hikers, joggers, cyclists, and general fans of the great outdoors — it's one of the best places for hiking in Durham.
Along the trail, you'll gain a fascinating glimpse into some of Durham's rich cultural heritage as you encounter old tobacco barns, commemorative signage, abandoned rail tracks and stations, artwork, and sculptures.
You can join the trail at many access points, so it's not necessary to walk the whole 22 miles if you don't want to. The gentle slopes make this a perfect activity for all ages and is without a doubt one of the top things to do in Durham.
Address: 601 W Main St #103, Durham, NC 27701, United States (click here for directions)
7. Have a Beer (or three) in the Breweries Downtown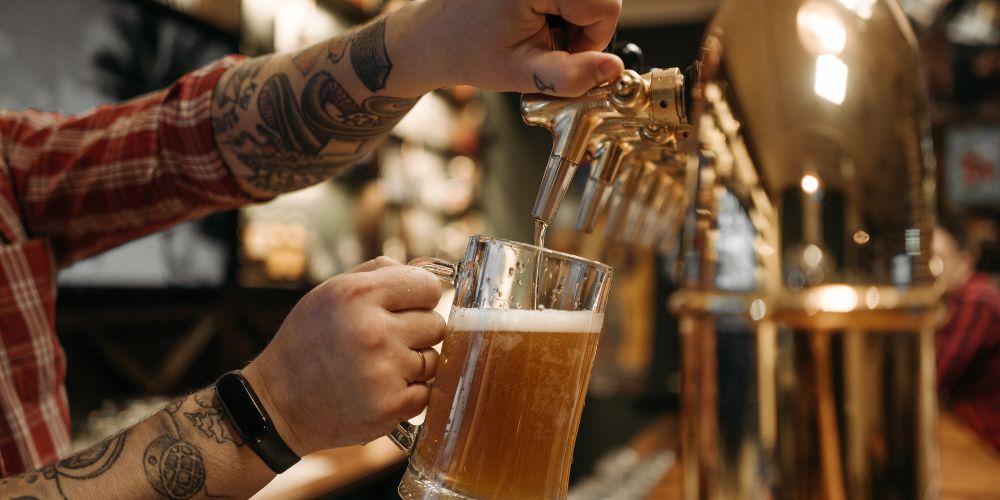 Downtown Durham is a lively and popular part of town; full of cool bars, breweries, and restaurants. Visiting is one of the best things to do in Durham at night.
Two of the most popular brewing companies downtown are Fullsteam Brewery and Ponysaurus Brewing Company. Both offer thirsty patrons an inviting taproom and bar, and friendly, knowledgeable staff. There are also some imaginative craft beers to try, that are made onsite with locally sourced ingredients.
There are so many things to do in Durham for couples but downtown has to be my pick for a few quiet early drinks. Maybe grab a nice meal, followed by some live music with cocktails or some retro fun at the Boxcar Bar and Arcade. It's worth the very short walk from the city center any day of the week.
8. See a Show at the Carolina Theater
The Carolina Theater was built in 1926 and is a beautiful building full of historical charm. Its character, elegance, and ornate architecture make you feel as though you're stepping back in time. People travel from all over to attend performances here and it is one of the most popular Durham attractions.
Musicians, comedy acts, dance recitals, and film screenings are on at the theater on a regular basis. I was lucky enough to see one of my favorite country music artists here who by chance was passing through Durham during my stay. The Carolina Theater also houses an intimate cinema that showcases independent and classic films.
Address: 309 W Morgan St, Durham, NC 27701, United States (click here for directions)
9. Take a Walk Around the Duke Campus
During my stay in Durham, I lived two blocks from the East Campus of Duke University, and every day I took a walk through the beautifully landscaped grounds.
I loved admiring the Georgian-style architecture of the main thoroughfare. I wish this had been my school! Duke is a big player on the US college scene and its prestige is evident as you stroll around.
The lap around the East Campus is about 1.6 miles and is a popular route for joggers and dog walkers. However, it can be intersected at many points. I always enjoyed finding new alleys and pathways while discovering some of the less obvious buildings and things to see in Durham.
Address: 712 Broad St, Durham, NC 27705, United States (click here for directions)
10. Take a Day Trip to Wilmington
Just a 2-hour drive away is the charming historical town of Wilmington. It's one of the great places to visit near Durham. A charming city on the southeastern coastline, it's known for its picturesque waterfront, rich history, and lively arts scene.
You can take a nice walk along the 1.75-mile boardwalk that runs along the Cape Fear River, and explore a World War 2 battleship – the USS North Carolina. If you fancy it, you can also drive 10 minutes further to the beautiful Carolina and Kura beaches.
Also known as 'Hollywood East' due to its popularity as a filming destination, you can take a tour of some iconic set locations for TV shows and movies such as One Tree Hill, Dawson's Creek, and Iron Man 3.
I opted for an architecture and history tour and got to see some of the town's most iconic and historically significant homes, churches, and buildings. I also learned loads of cool facts about Wilmington's history.
11. Explore Cape Fear From a Unique View
Very few private charter boats are available on the stunning Cape Fear River, but they do exist. And although the Wilmington Boardwalk is a great way to see part of the river, it's well worth finding a skipper willing to take you out for an interesting and unique perspective of Wilmington from the water.
Some friends and I booked a very reasonable 2-hour boat tour and had so much fun just cruising along the river on a beautiful spring day. Our guide was really knowledgeable about the history of the local area and gave us some great tips for bars and restaurants after our cruise too. What's not to like? Click here to book your river cruise.
12. Scare Yourself Silly with a Ghost Walk
Of all the cool things to do near Durham, a short drive over to Raleigh must be on your list. The state capital of North Carolina is only about 30 minutes away and has its own blend of unique history and Americana mixed in with a vibrant bar, brewery, and art scene. It's well worth a visit.
There's a lot to see, and with only a night in Raleigh, I opted for a ghosts and ghouls walking tour of the city to get to know some of the spooky history that haunted the ground I was walking on. I had no idea one place could have so many paranormal events and sites with chilling histories.
The stories of corrupt politician bootleggers that still haunt the undergrounds and the peg-legged spirit were thoroughly entertaining and I will admit to feeling a little relieved when I reached the well-lit safety of my modern hotel…
I also got to see a good chunk of Raleigh this way and learned some interesting facts. The tour lasted around an hour and was really enjoyable. I'd definitely recommend giving it a go. Click here to learn more and to book your ghost walk.
13. Get Some Goodies From the Durham Farmer's Market
You'll never be stuck for things to do in Durham, especially on a weekend. Located in the heart of downtown, in Central Park every Saturday from 8 am – 12 pm, you'll find the Durham Farmer's Market. It offers a ton of diverse and unique vendors selling everything from local fruits, vegetables, and meats to artisan bread, beers, and art.
It's not just a market. Locals use the weekly gathering as a chance for community engagement where visitors can connect with fellow growers and farmers to learn more about sustainability and events within the city.
You'll also find a number of food trucks should you want to grab a tasty snack. There are also coffee stalls if you're looking for a little pick-me-up, and live music playing while you browse. During the warmer months of April to September, a late afternoon market is also held every Wednesday from 3 pm until 6 pm.
Address: 501 Foster St, Durham, NC 27701, United States (click here for directions)
14. Visit the Duke Homestead and Tobacco Museum
One of the top things to do in Durham is to visit the Duke Homestead and Tobacco Museum. It's located just a few minutes outside of the city center where this historic site preserves the home and history of Washington Duke. He was the patriarch of the Duke family who laid the foundation for what would one day become the American Tobacco Company – one of the largest the world has ever known.
From this quaint and peaceful farm that dates back to the mid-19th century, the Duke family wrote its name into the history books by becoming the undisputed leaders in American tobacco production. The home and surrounding farmland and barns have been excellently preserved, and in some places respectfully restored, making it a fascinating peak into the past.
It's free to visit but guided tours are available for just a few dollars. The accompanying museum (also free) offers a great deal of information on the history of tobacco in North Carolina; from its origins and manufacturing to the historical trends, advertisement, and consumption of tobacco throughout the USA and the world.
I've never smoked but I loved this place for the history aspect. It's a great way to spend a few hours in Durham.
Address: 2828 Duke Homestead Rd, Durham, NC 27705, United States (click here for directions)
15. Visit Eno River State Park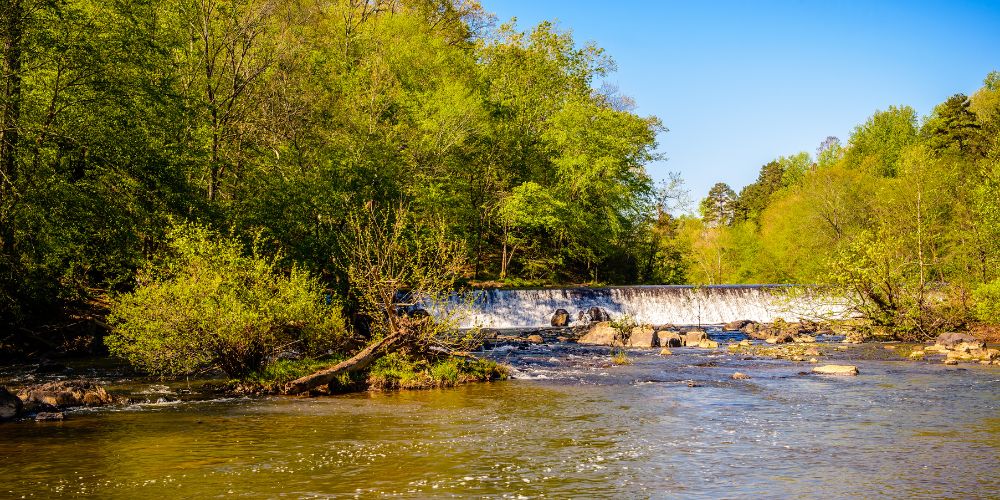 Last but by no means least on my list of what to see in Durham is the stunning 4000-acre Eno River State Park. It offers some of the best hiking around and an abundance of great trails and rolling hills. There are so many glorious spots for picnics and some of the most beautiful scenery in North Carolina.
As you may guess, it's also a popular spot for river activities such as fishing, paddle boarding, kayaking, and canoeing. The clean, fresh water is also a popular swimming spot, especially during the warmer months of the year.
It's pet friendly and you can even camp over (though fees do apply for certain activities). Eno River State Park is just a short 10-minute drive from central Durham and absolutely worth the trip.
Quick Travel Itineraries For Durham
Here are some ideas to help you plan your visit to Durham; from one-day, short stays, or an entire week, read on to find out more:
1 Day in Durham Itinerary
Spend a few hours exploring the Sarah P. Duke Gardens in the morning before it gets too hot. Then hit the breweries downtown in the afternoon to cool down with a cold one. Finish off by getting yourself down to a Bulls game as the sun sets in the evening.
2-3 Days in Durham Itinerary
On your first day get to know the city with a fun scavenger hunt. Then stop off downtown to explore some of the cool bars and breweries on offer.
On day two, get out of the city a little and explore the Duke Homestead and Tobacco Museum, an iconic and important part of Durham's history. Carry on a little further in the same direction to the beautiful Eno River State Park for a spot of hiking or just to chill out by the majestic Eno River.
On your final day take in the beauty of Duke University with a short walk around the East Campus. From there you can easily stroll through the historic Warehouse District, stopping at any number of cool bars and cafes along the way that take your fancy.
Finish up with a live show or movie at the Carolina Theater in the evening. Or, if you're in luck and the Bulls are playing at home, get to a game.
1 Week in Durham Itinerary
Kick off your week by discovering the best places to see in Durham. Take a fun scavenger hunt and see some of the highlights of the city. You'll definitely want to revisit downtown more than once, so head down to Fullsteam Brewery for a few beers in the evening.
Be sure to head up to Duke Gardens – one of the best free things to do in Durham. If you've got the energy afterwards you can even walk back to the city through the Duke University East Campus. Continue on through the Warehouse District and be sure to reward yourself at one or more of the numerous coffee and beer stops that you find along the way.
Get out to Falls Lake for some R&R. It's such a beautiful spot; they have beaches at numerous recreation sites and the water is so refreshing to swim in. Leave time to get to one of the biggest tourist attractions in Durham; either a show at the Carolina Theater or a Durham Bulls game. Both are an absolute must!
A week will give you plenty of time to take a few day trips out of town. So head down to Wilmington for an informative walking tour, then charter your own boat and explore the Cape Fear River. Raleigh is one of the best places to visit near Durham and is just 30 minutes away. Learn about some of the history and give yourself a fright with a ghosts and ghouls walking tour.
Finish off your week with another trip Downtown. There are plenty of breweries, cafes, bars, and restaurants and it's a lively and fun place to be at any time.
Where to Stay in Durham
For a definite guide on where to stay in Durham, click here. These are a few of the best neighborhoods in Durham for tourists:
Downtown Durham
Downtown Durham is full of bars, restaurants, cafes, and breweries. It's the lively part of town but also homes some real historic sites such as King's Sandwich Shop. It's a cute hole-in-the-wall style eatery that's been in operation since 1942.
You'll also find a cool bar / retro arcade called Boxcar here that has a great daily happy hour, a huge beer garden, and lots of awesome classic gaming machines.
Downtown is the best place to stay for first-time visitors and you'll find that apartments will be more readily available for accommodation, especially if you want to stay close to all the action. Have a look at this great apartment that not only offers a luxurious space ideally located for downtown, but also a fitness center and BBQ area.
Central Durham
Durham is such a walkable city, it felt like everything was 15 minutes in any direction. This is especially true in Central Durham where, like in most city centers, you'll find a ton of bars, good shopping, and places to eat. My personal favorite was 106 Main, a cool old dive bar and one of the cheapest around with free food up for grabs 3 nights a week.
The iconic Durham Hotel is an ideal place to stay. It's a cool historic building, has a rooftop bar, and is seconds from a main hub of other attractions where you can deeply immerse yourself in Durham's nightlife scene.
Trinity Park
Trinity Park is a great area to stay for families, and you'll find more apartments than hotels as it's a suburban area with tree-lined quiet streets, small parks, churches, schools, and of course the famous Duke East Campus.
Basing yourself here means you'll still only be 10-15 minutes walk in either direction from everything you could possibly require during your stay in Durham.
It's the kind of area where you wouldn't be shocked to see a classical quartet striking up a set in the park or a bluegrass band jamming on a front porch. Check out this great studio apartment close to both the Duke campus and downtown.
Best Restaurants in Durham
Durham has a ton of great places to eat, you'll never be short of a terrific restaurant. Whether it's traditional North Carolina barbeque or Asian fusion tapas, Durham's got you covered. Here are just a few of my favorite places to eat in Durham.
The Blue Note Grill
Offering a great selection of North Carolina BBQ, The Blue Note Grill sits in an iconic location in the heart of downtown Durham. There's always a great choice of beers and cocktails as well as nightly live music, with only certain high-profile events requiring a cover charge.
The ribs here are amazing, and absolutely not to be missed. Being someone that always struggles to decide on a side dish, it was great to see the option to order a plate of sides – pick any 4 for $11. Great if you just want something small or to share. Click here to find it on the map.
Hutchins Garage
Hutchins Garage is regarded by many locals as the best pizza in Durham. Many make a weekly trip downtown to grab one of these delicious pies. I can confirm, the pizzas are huge, fresh, and some of the best I've ever eaten. They're reasonably priced too and go perfectly with a cool beer selection from the accompanying bar.
The building was once, as the name suggests, an old garage and has been converted into a great indoor and outdoor eatery. Click here to find it on the map.
Juju
On the far side of the Duke East Campus, you'll find Juju, a very popular Asian fusion and tapas bar that has a terrific menu of small plates and bites as well as a huge selection of sake.
The food here is awesome, the Mongolian beef was my personal favorite. It's worth the Uber ride from downtown or a nice stroll through the campus for a visit. I strongly recommend booking as it gets busy. Click here to find it on the map.
Elmo's Diner
Elmo's Diner has been a fixture of the Durham food scene for decades. It's a much-loved and popular spot for locals and visitors alike. It offers quintessential American home cooking with a vast menu that covers everything from basic breakfasts to hearty evening meals. Located on 9th Street, Elmo's has the look and feel of a traditional diner and it's a great experience just walking through the door.
You might have to wait a few minutes for a table, but the staff is super organized and will call you as soon as your table is ready. If you're heading in alone or just with a friend, opt for countertop service where you'll be seated quicker and have even more of that true vintage diner experience. Click here to find it on the map.
Bull City Burger and Brewery
The name says it all I guess! Boasting award-winning burgers in a real casual setting, this place is a must. The portions are huge and the quality is exceptional – and don't get me started on the side dishes. The relaxed atmosphere and bench-style seating make it a very welcoming place to visit.
BCBB also features a microbrewery that offers a great selection of beers to accompany your meal, in fact, many people go for the drinks and end up staying for the food. Click here to find it on the map.
Getting to Durham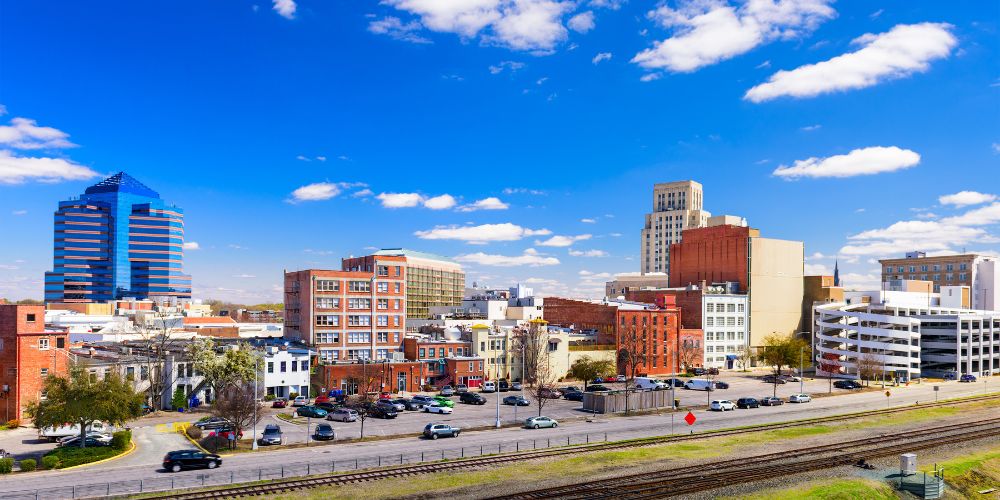 Durham is in close proximity to a large-sized international airport (RDU) with flights from all across America landing every hour, and from major global destinations such as Paris and London on a daily basis.
From here, you can easily hire a car, arrange a private transfer or simply order an Uber to take you to the center of Durham (around 25-30 minutes away).
One of my biggest attractions to Durham was that it's such a walkable city, but it does get very hot during the summer months, and the occasional storm can quickly descend. Luckily, Uber is readily available and usually very affordable given that it's not a huge city to traverse.
Hireable scooters are often at hand if you just fancy getting there a little quicker and a regular and reliable bus service also links all main parts of the city and beyond.
Things To Do in Durham: FAQs
Here are some answers to commonly asked questions about visiting Durham:
What is Durham known for?
Once the tobacco capital of the world, Durham is now famous for its historic landmarks, top university, and lively brewery and bar scene.
When is the best time to visit Durham?
In the springtime, before the heat and humidity become too intense.
Is Durham worth visiting?
Absolutely. There are a ton of things to do and its proximity to a major university makes it a really happening city.
How many days should I spend in Durham?
A week to ten days will give you plenty of time to explore all the unique things to do in Durham with chances to revisit all the places you really loved. You'll also have time to get out and about, outside the city.
Is Durham safe?
I always felt extremely safe walking about day and night. As when visiting any major city, you should always be cautious, but it's a comfortable and friendly place to be.
What is the most popular thing to do in Durham?
Visiting the breweries and bars of downtown Durham. You can spend a good few afternoons partaking in lots of locally brewed beers in some really cool settings.
What is the best beach in Durham?
Sandling Beach, which sits on the banks of Falls Lake, is around 20 minutes from central Durham. If you're willing to travel a little further out, Carolina Beach is stunning and sits on the Atlantic Ocean about 2.5 hours drive away.
What foods should I try in Durham?
North Carolina is known for its own particular brand of barbecue, so you won't be short of options. My best pick is the Blue Note Grill in downtown Durham. Order the ribs!
In Closing
Durham is a wonderful city that I came across by pure chance and a set of strange coincidences, but I loved every minute of my time there. From the friendly and welcoming people to the lively bar scene and vintage slices of American history, there are so many cool places to visit in Durham, I truly believe it has something for everyone to enjoy.