Durham, North Carolina is a thriving university city packed with cool places to visit and things to do. Once known predominantly for its tobacco production, Durham now enjoys an ever-increasing reputation as a hub for breweries, bars, restaurants, BBQ, and cafes. I recently spent three months in this North Carolina city and loved it — it's a great city to visit in the USA.
As a digital nomad who loves a good cup of coffee, I got to know the best Durham cafes well during my time there. With such a variety of cafes in Durham offering unique and quirky spots as well as traditional options, you can certainly enjoy some different cafe experiences with each daily coffee.
☞ SEE ALSO: Best Hikes in Durham
Best Cafes and Coffee Shops in Durham
My coffee preferences change on a day-to-day basis. Sometimes I want a quick pick-me-up, other days I enjoy a long coffee while reading a book, and sometimes I just need a quiet space to work from with good WiFi and regular cheap, (or even free), refills. With that in mind, I've put together a list of 15 of the best cafes in Durham that I enjoyed during my recent stay in the city.
1. 321 Coffee (Best Coffee in Durham Overall)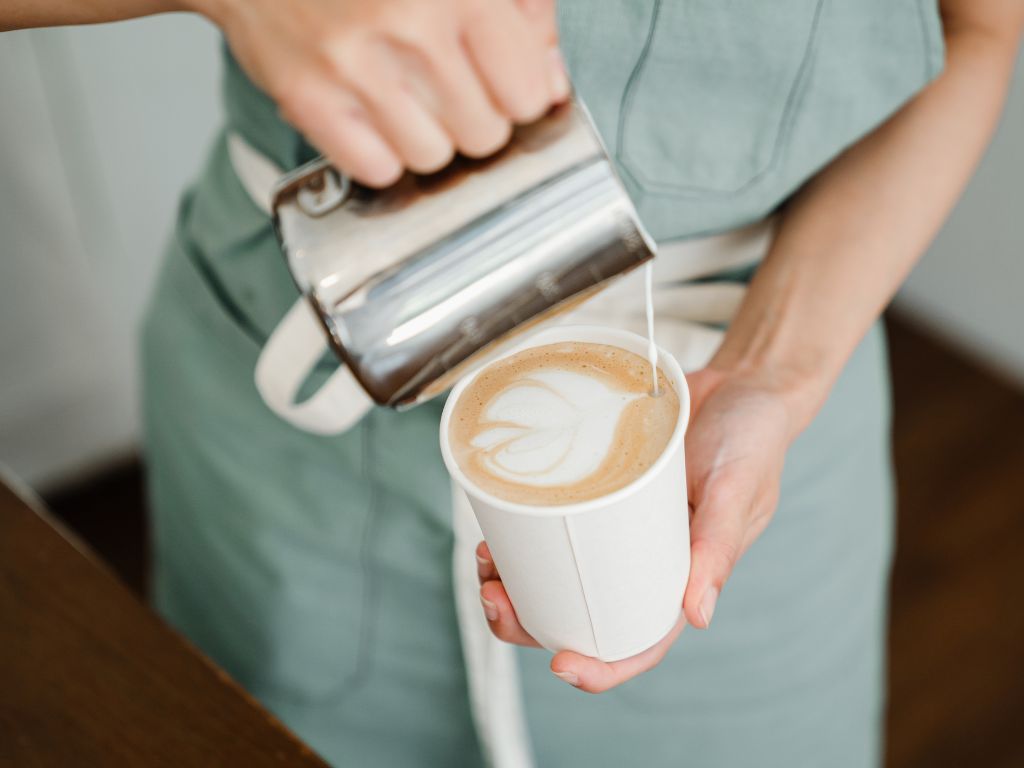 Of all the cafes in Durham NC, 321 Coffee is my favorite. It began in 2017 as a small team of committed roasters selling coffee on folding tables.
It's now one of Durham's biggest success stories and today, 321 Coffee has three permanent locations – two in Raleigh and one in Durham. They not only serve up some of the best coffee around but also have a mission statement unlike any other I've come across that embraces diversity to the fullest.
321 currently employs over 50 adults with intellectual and developmental disabilities (IDD) in various roles; whether as bean roasters, drink makers, or front-of-house servers. Around 80% of adults who live with IDD are unemployed in the US, and 321 is aiming to change this.
The Durham location is in a great spot just between downtown and the city center, making it the perfect halfway stopping point heading either way. The WiFi is good, the drip coffee is very reasonably priced, and the air-conditioning is a savior on a hot Durham afternoon.
321 Coffee Information
Address: 300 Morris St Ste 101, Durham, NC 27701, United States
Operating Hours: 7 am-4 pm Mon-Fri, 8 am-4 pm Sat & Sun
Must-Try Items: Nitro Cold Brew, Dark Hot Chocolate, the varying daily pastry specials
Average Cost: $3-$5.75 coffees and teas. $4-6 pastries, bites, and snacks
Website: 321coffee.com
2. Cocoa Cinnamon (Best for Unique Coffee Blends)
Located on Geer Street in downtown Durham is Cocoa Cinnamon. It's one of three shop fronts for Little Waves Coffee Roasters – a welcoming and independent business that, unlike the same suggests, is making big waves in the city. They serve award-winning coffee and their shops are all popular Durham cafes.
In addition to a great outdoor seating area and some very efficient WiFi, they also offer a menu of some pretty unique coffee blends. During my last visit, the pour-over special of the day was a blueberry, lemonade, and peach combination, and the daily drip brew was orange peel, wild berries, and vanilla.
I'm typically a black coffee girl but I know many people love experimenting with different and unique flavors. Cocoa and Cinnamon also make a lot of their syrups in-house too, so if you like mixing it up then this is the place for you. The branch on Geer Street just so happened to be a couple of blocks from where I was staying and I highly recommend stopping by.
Cocoa Cinnamon Information
Address: 420 W Geer St, Durham, NC 27701, United States
Operating Hours: 7 am-7 pm Mon-Fri, 8 am-7 pm Sat & Sun
Must-Try Items: Their daily changing pour-over coffee and batch brews
Average Cost: $4-$6 coffees, teas, and snacks
Website: littlewaves.coffee
3. Joe Van Gogh (Best Chilled-Out Environment)
If you're staying a little further out of town, around 9th Street or anywhere on the far side of the Duke East Campus, a trip to Joe Van Gogh must be considered.
It's nicely tucked away from the hustle and bustle of the busiest areas of Durham and is a great spot for whiling away a few hours with some great coffee and a good book. Their coffee is always excellent and they have some of the friendliest staff around.
Joe Van Gogh is a community-driven, art-inspired coffee house where everyone can feel comfortable and welcome; whether you're grabbing a quick espresso shot to go or settling in for a lazy afternoon. They have two locations in Durham and I've heard locals rave about their vanilla lattes and savory tarts. It's one of many Durham cafes absolutely worth checking out.
Joe Van Gogh Information
Address: 1104 Broad St B, Durham, NC 27705, United States
Phone: +19192864800
Operating Hours: 6.30 am-5.30 pm every day
Must-Try Items: Vanilla Latte, Savory Tart, spend an afternoon with coffee and a good book
Average Cost: $2.25-$4.50 for coffee, $4-$6 snacks and cookies, $6-$8 hot and cold food options
Website: joevangogh.com
4. Monuts (Best for Breakfast)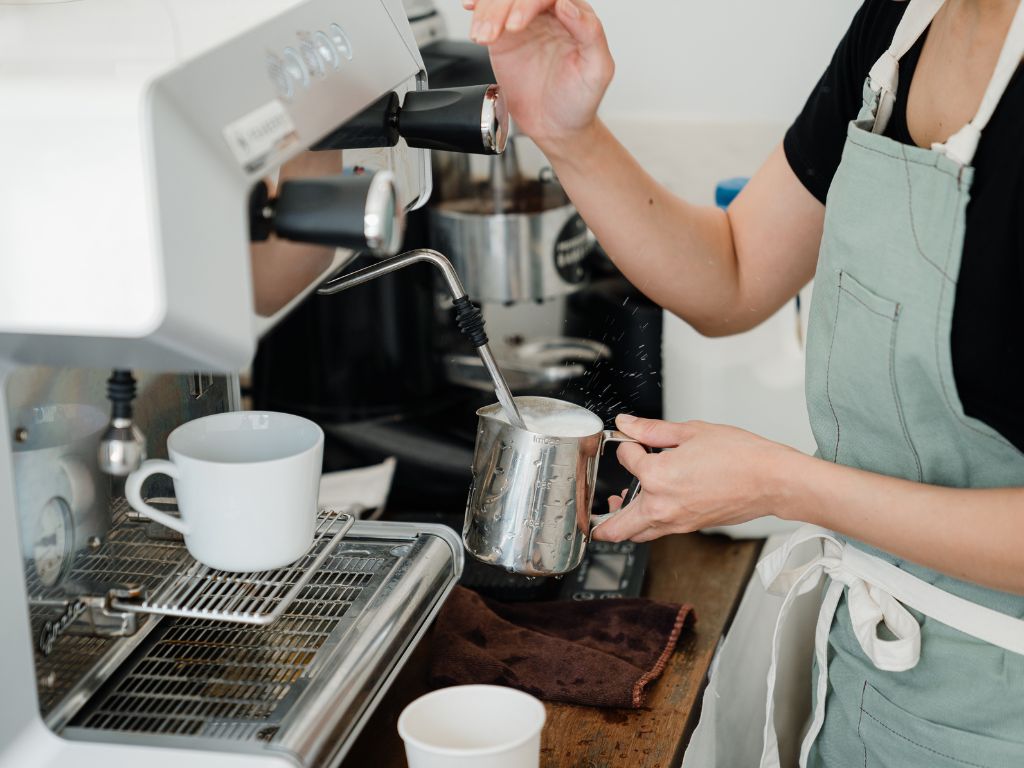 Whilst we're on this side of town, let's talk about Monuts. It began as a donut stand operating from a tricycle near the Durham Farmer's Market, and has grown into a popular brick-and-mortar cafe and bakery that serves breakfast, lunch, and dinner.
With an emphasis on good food, good people, and good jobs, they've created a real atmosphere of positivity and good vibes that can be felt from the moment you arrive.
Monuts offers straightforward coffee options at very competitive prices, but it's the food menu that attracts most customers. Their bacon and guac burrito, which is only available on weekends, is my personal favorite, but you can't go wrong with the build-your-own bagel starting at just $2.25 – it's a delicious bargain any day of the week.
I highly recommend you stop by Monuts. Go for the coffee and stay for the food.
Monuts Information
Address: 1002 9th St, Durham, NC 27705, United States
Phone: +19192862642
Operating Hours: 7 am-7 pm Tues-Fri, 8 am-7 pm Sat
Must-Try Items: Bacon and Guac Brrito, build-your-own bagel, good value Drip Coffee
Average Cost: $3-$5 per coffee, $2.25 and up for bagels, $7-$14 for larger plates
Website: monutsdonuts.com
5. Coffee Bar at The Durham Hotel (Best Cold Brew)
There are numerous great cafes in Durham city center, but one of the nicest spots for coffee is found at The Durham Hotel Coffee Bar. Located inside the hotel, it's a classy and sophisticated place to enjoy your brew. You may pay a few cents more for your drink, but it's well worth it.
The Durham Hotel has linked up with Counter Coffee Culture – a local coffee roaster and producer that ensures sustainability in all they produce.
A unique offering from Coffee Bar is their Markola Coffee Soda, It's made from organic cold brew coffee beans, organic cane sugar, and real vanilla that's reduced down to a concentrated coffee bliss.
Served either with club soda or milk, it's a one-of-a-kind caffeine experience. A selection of daily pastries made in-house is always available, and Monday through Friday from 1-2 pm, customers can enjoy 'Cookie Hour' with, you guessed it – cookies, made by various popular Durham bakeries.
Coffee Bar at The Durham Hotel Information
Address: 315 E Chapel Hill St, Durham, NC 27701, United States
Phone: +19197688831
Operating Hours: 7.30 am-5pm Mon-Sun
Must-Try Items: Durham Coffee Soda, Durham Coffee Milk, Cookie Hour (1-2 pm Mon-Fri)
Average Cost: $3.25-$4.25 for normal coffees and teas, $4.25-$5.50 for specialty coffees and teas
Website: thedurham.com/coffee
6. Beyu Caffè (Best Community Cafe)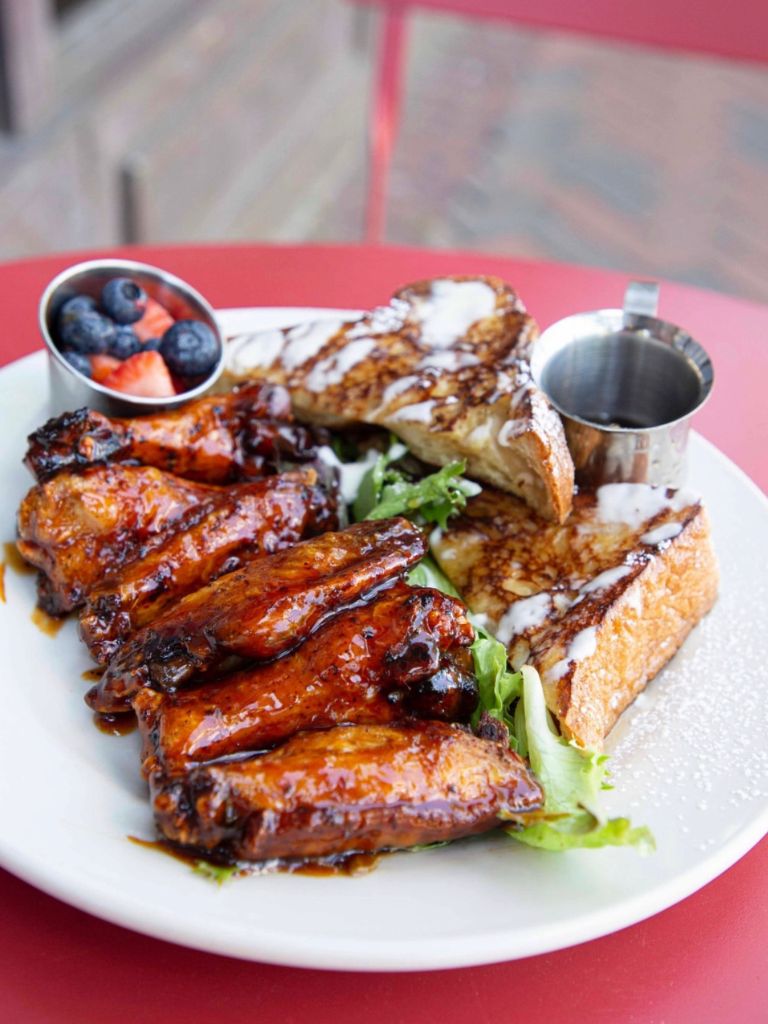 Right in the heart of the city center, situated on Main Street is Beyu Caffè – a delightful coffee, breakfast, and lunch stop that's known for its soulful sophistication and mellow vibes.
This Durham cafe is the kind of place where you can get some serious work done on a laptop, chill with a book for as long as you like, meet with friends for a catch-up, or even watch some live music. Beyu Caffè has really gone the extra mile since opening in 2009 to exist as an all-purpose, come-one-come-all establishment and they do it really well.
The menu at Beyu Caffè is concise but delicious. I highly recommend the breakfast burrito, it's so good! The coffee here is well-priced and of a high standard. In fact, they only serve their own branded Beyu coffee options, which can also be purchased as beans or ground to take away.
There's a clear, firm commitment and link with the local community, and the spacious setting allows for music to play while you work or relax. They even host regular live music events on Saturday evenings, so if you can, try and stop by then.
Beyu Caffè Information
Address: A341 W Main St, Durham, NC 27701, United States
Phone: +19196831058
Operating Hours: 7.30 am-3.30 pm Mon-Thurs, 8 am-3.30 pm & 5 pm-9 pm Sat, 8 am-3.30 pm Sun
Must-Try Items: Supreme Breakfast Burrito, Beyu House Coffee, Live Music on a Saturday Night
Average Cost: $3-$5 coffees $9.50-$15 per breakfast and lunch dish
Website: Beyucaffe.com
7. Elmo's Diner (Best for Brunch)
As the name suggests, Elmo's is definitely more of a diner than a cafe, but it still earns a place on my list. Having been there many times, I think the food and coffee are excellent and can compete with any of the local cafes, (guests I've taken with me agree too).
Though I'm sure you could go in for just a coffee, I'd suggest going to Elmo's if you're also looking for some food as there's often a wait to get seated (as it's so popular) and the food is not to be missed.
In terms of coffee, regular or decaf are your options, (it is a diner after all!), but expect regular free refills before your cup is even close to being empty. With a full menu that covers everything from basic breakfasts to hearty dinner plates, you're sure to find something delicious to eat. Elmo's is an institution in Durham and somewhere to try at least once when in the city.
Elmo's Diner Information
Address: 776 9th St, Durham, NC 27705, United States
Phone: +19194163823
Operating Hours: 7 am-3 pm Mon-Fri, 7 am-3.30 pm Sat & Sun
Must-Try Items: California Omelette, Southwest Chicken Salad, Elmo's Drip Coffee
Average Cost: $2.50 coffee inc refills, $7-$14 breakfast, lunch, and dinner plates
Website: elmosdiner.com
8. Panera Bread (Cheapest Coffee in Durham)
Although Panera is a big nationwide chain, I felt it's worthy of inclusion in this list for a number of reasons. Firstly the price – they're able to offer some of the best prices around for great brew coffee. Secondly – free help-yourself refills, and thirdly – it's a nice space to work or relax with lots of good tables, comfortable chairs, power points, and WiFi.
In addition to all of that, the food is always good. Panera prides itself on its breads, soups, sandwiches, salads, and treats that are free from preservatives, artificial sweeteners, and additives.
Panera may not be your first choice when looking for a quaint coffee shop or an independent roaster in Durham, but sometimes needs must and this branch located up on 9th Street was a decent option for me on many occasions.
They also have an excellent member program – The Unlimited Sip Club, which at under $12 a month gives you all the coffee, tea, and soft drinks you could want. It's even cheaper if you buy an annual subscription; it's an absolute bargain for coffee lovers.
Panera Bread Information
Address: 737 9th St #200, Durham, NC 27705, United States
Phone: +19192860002
Operating Hours: 7 am-9 pm every day
Must-Try Items: Fresh Brew Coffee, Unlimited Sip Club, getting your coffee fix and enjoying the free refills and WiFi
Average Cost: $2.89-$4.50 for coffees and teas, $4-$14 for breakfast options, bagels, sandwiches, and salads, and $3.50-$6 for sweet treats
Website: Panerabread.com
9. EverLou Coffee Co. (Best Latte in Durham)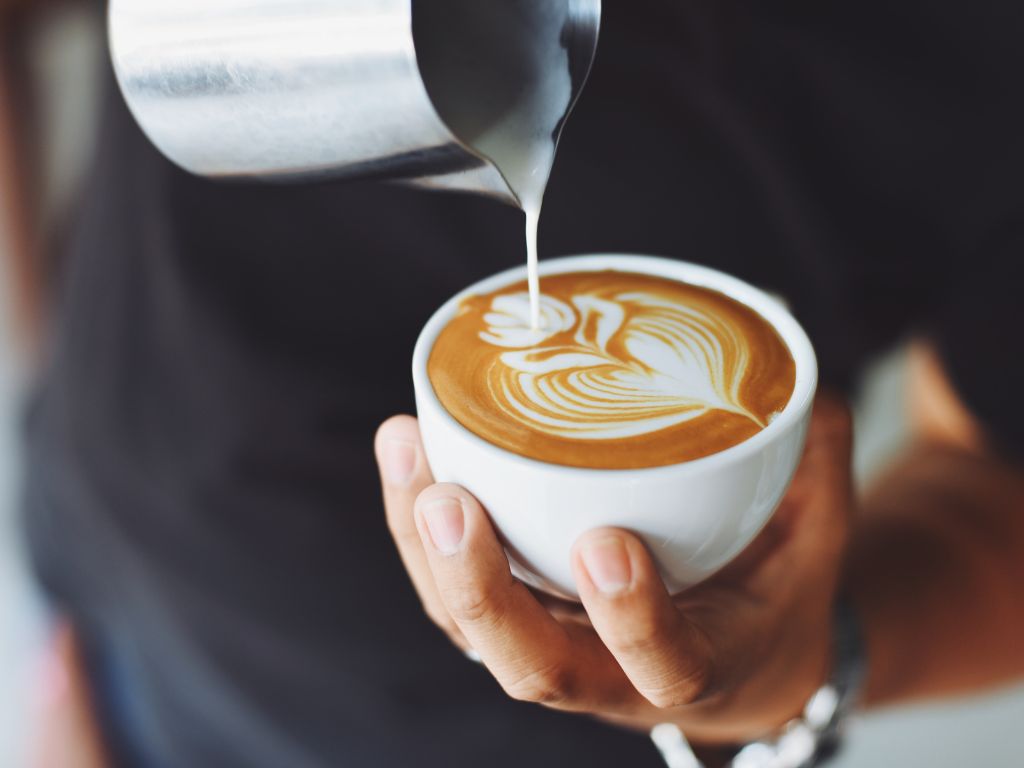 If you're looking for a small independent back-to-basics cafe with a nice vibe, good coffee, and tasty fresh snacks then EverLou Coffee Co. might just be the place for you.
This is probably the best place in Durham to get a latte, with the friendly baristas using a variety of oat-based milk as standard to create some delicious options – I'm told their signature Toffee Oat latte is exceptional.
Don't be surprised to see weekend specials such as Salted Maple lattes, as well as seasonal drinks like Pumpkin Pie around Halloween time. Most, (but not all), places are welcoming of pets inside, but EverLou is one of the most dog-friendly cafes in Durham, and even offers 'Puppaccinos' for your thirsty four-legged companion should you wish to bring them along.
As well as the great coffee and latte specials, expect to find a varying choice of sweet treats, cookies, shortbread, and other such pastries freshly made and available while stocks last.
EverLou Coffee Co. Information
Address: 506 N Mangum St #102, Durham, NC 27701, United States
Phone: +19199088171
Operating Hours: 7 am-2 pm every day
Must-Try Items: Toffee Oat latte, a Puppacicno for your pup, or any of the freshly baked sweet treats
Average Cost: $3-$5.50 coffees and teas, $4-$6 Snacks and sweet treats
Website: EverLouCoffee.com
10. Foster Street Coffee (Best Digital Nomad Cafe in Durham)
Ideally located in Durham's Central Park District, Foster Street Coffee is another great option for anyone who works remotely or is seeking refuge from the office, and is a popular location thanks to its proximity to all downtown and central Durham has to offer.
Many people opt for Fosters Street because of the free refills, excellent WiFi, and quiet ambiance. They even offer a conference room that can be hired by the hour for as little as $10.
The stylish decor and comfortable furniture and lighting give the feel of a peaceful work environment, and they knock up some interesting coffees too. Try their strawberry oat milk lattes or cold brews served with lavender syrup.
Be warned that it can get pretty busy on weekends. Being so close to the Durham Food Hall and the weekly Saturday Farmers' Markets in the adjacent Central Park, can mean the ambiance becomes somewhat more bustling, and good tables are sometimes hard to find.
There's always plenty of space at the Food Hall, however, so if you do find yourself struggling for a seat, grab a coffee to go and relocate yourself next door where you can eye up your next meal too.
Fosters Street Coffee Information
Address: 530 Foster St #2, Durham, NC 27701, United States
Phone: +19197979555
Operating Hours: 7 am-6 pm Mon-Fri, 8 am-6 pm Sat & Sun
Must-Try Items: Foster Street Brew Coffee with free refills, Cold Brew with Lavender Syrup, book yourself a private workspace for an hour or two
Average Cost: $3.25-$5.50 for coffees and teas, $9-$15 for sandwiches, baguettes, and burritos, $2-$5 for sweet treats, snacks, and bites
Website: fosterstreetcoffee.com
11. The Oak House (Extended Bar Menu and Trivia Night)
If you like your cafes with beer, wine, and whiskey on the menu too then look no further than The Oak House. Opened in 2019, this cool and sleek cafe/bar set out with a simple goal – to offer the best quality products they could source to their customers; whether that be a simple latte or a full-bodied red wine.
Everything from the coffee beans to the lounge furniture is locally sourced from a long list of small Durham and North Carolina businesses.
The Oak House also hosts regular trivia nights every Thursday, as well as live music events on certain days throughout the year. I really like that this place opens early and closes late; it achieves that real amalgamation of both cafe and bar, which is a difficult thing to do. It's also a great spot to head down to for a late afternoon coffee and then stay for an early evening wine.
Their members' clubs are definitely worth considering if you're in town for a while or staying nearby. Buying a monthly Coffee Card for $55 gets you a daily 16oz drip, brew, or iced coffee. If you stop by every day (open 6 days a week) for a month, that works out at just $2.29 a coffee, making it some of the cheapest of all the Durham cafes on this list.
The Oak House Information
Address: 126 W Main St, Durham, NC 27701, United States
Phone: +19193391383
Operating Hours: 7 am-10 pm Mon-Thurs, 7 am-12 am Friday, 8 am-12 am Sat
Must-Try Items: 4-cup French press (great for sharing), Thursday night trivia, join the Coffee Club
Average Cost: $3.25-$5.50 coffees and teas, $5-$7 beers, $7-$12 glasses of wine, $3-$7 snacks and pastries
Website: oakhousedurham.com
12. Whisk & Rye (Best Vegan Cafe in Durham)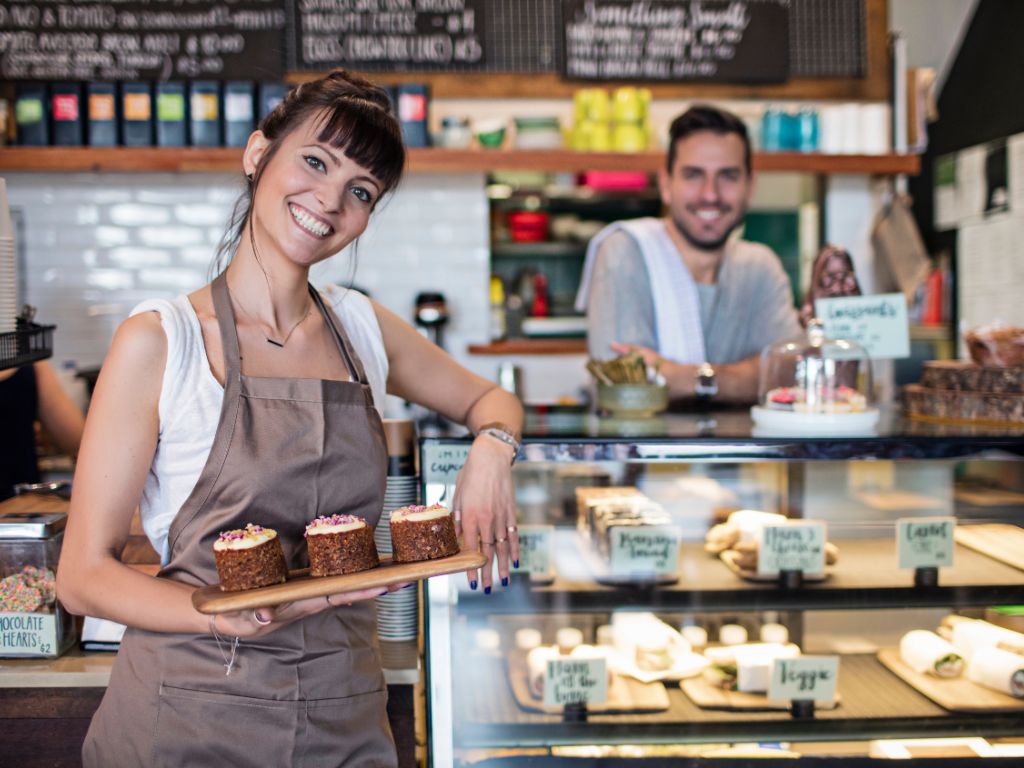 Who doesn't love a good coffee trailer? The very definition of coffee on the go. Whisk & Rye is a terrific little operation that not only has a mobile coffee station at Northgate Park twice a week but also a lovely bakery and cafe 10 minutes outside of the city center styled on a first-come-first-serve 'Viennoiserie' (Vienna-inspired).
The brainchild of owner Shelby Smith, a baker trained at Le Cordon Bleu, Whisk & Rye puts emphasis on the quality of their pastries and baked goods and rightly receives rave reviews for their food. They proudly offer a daily range of vegan options, which is an area the owner has grown to embrace as part of the establishment's daily baking practices.
For every baked good they make, Whisk & Rye strives to create a vegan counterpart too, a first for cafes I've seen in Durham. Although the emphasis may be on the bakery, don't overlook the coffee here – they serve up some great drinks to accompany your food. It amazes me the quality of coffee that can be produced from a mobile trailer and Whisk & Rye doesn't disappoint.
Whisk & Rye Information
Store Address: 3401 University Dr. Suite 5, Durham, NC 27707, United States Trailer Address: 300 W Club Blvd, Durham, NC 27704, United States
Store Operating Hours: 7 am-1 pm Wed, 7 pm-3 pm Thurs & Fri, 8 am-3 pm Sat, 8 am-1 pm Sun Trailer: (weather permitting) 7 am-11 am Wed, 9 am-12 pm Sun
Must-Try Items: Any of the baked goods and vegan counterparts, visit their fantastic mobile trailer in Northgate Park
Average Cost: $2.50-$4.50 coffees and teas, $4-$8 for daily varying bakery items
Website: whiskandryenc.com
13. Bull and Bean (Best Smoothies and Specialty Drinks)
Around a 10-minute drive away from downtown, but well worth the journey, is Bull and Bean; a cafe and market with a real neighborhood feel to it that serves some truly delicious food.
It's another one of those places where you could probably eat anything from the menu and it would be great, but if you're going for breakfast, go hard and have the Perfect Big Bull Breakfast, you won't be left disappointed, (or in the slightest bit hungry!).
Again don't overlook the house brew coffee here. A tremendous amount of effort is evidently put into the food, but the coffee ranks equally as high. Bull and Bean also offers specialty drinks too, like green and chai teas, gourmet hot chocolate, and iced lattes. I've also heard great things about their smoothies.
The market aspect of the store surrounds the walls inside and they supply everything from locally sourced salsas, jams, and granola to coffee, wine, and beers. The pecan and dark chocolate toffee from Chapel Hill (the next town over from Durham) seemed to be a popular purchase during my visit.
Bull and Bean Information
Address: 3710 Shannon Rd #100, Durham, NC 27707, United States
Phone: +19192372398
Operating Hours: 8 am-5 pm Mon-Fri, 8 am-3 pm Sat & Sun
Must-Try Items: The Perfect Big Bull Breakfast, Chapel Hill Pecan and Dark Chocolate Toffee, the smoothies
Average Cost: $3-$5.50 coffees and teas, $4.50-$6.50 smoothies, $7-$14 breakfast plates and sandwiches, $10-$16 lunch and larger plates
Website: bullandbeancafe.com
14. New World Cafe (Best Sandwiches and a Great Patio)
A nice convenient stop for me on my walk from Trinity Park to the city center was New World Cafe. A straightforward place that offers a concise menu of acai bowls, smoothies, good sandwiches, and consistently great coffee.
If you're strolling around the Warehouse District, this spot is certainly worth a look as it's situated just a block or so from Brightleaf Square. Styled somewhat on a European cafe with a nice outdoor seating area, and offering coffee, pour-overs, and espressos from local roasters Black & White and Counter Culture Coffee, you know you're going to get great java here.
I haven't eaten here myself but stopped in numerous times to see others tucking in. The sandwiches look divine and having scanned the menu and pretend planned what I would order, the Turkey Baconator would be hard to overlook, as would the BLT Strikes Back.
They generously stack the meats and cheeses in their sandwiches and despite only opening in 2022 are quickly building a solid reputation with the local community and have a host of positive online reviews.
New World Cafe Information
Address: 701 W Main St Suite 130, Durham, NC 27701, United States
Phone: +19192371755
Operating Hours: 7 am-3 pm Mon-Fri, 8 am-3 pm Sat & Sun
Must-Try Items: The Turkey Baconator Sandwich, The BLT Strikes Back, sit on the patio overlooking the Warehouse District with a great coffee
Average Cost: $2.50-$5.50 for coffees and teas, $6.50-$14.50 for smoothies and acai bowls, $7-$14.50 for sandwiches
Website: newworldcafes.com
15. The Mad Hatter Cafe and Bakeshop (Best Location Overall)
Open since 2001, the Mad Hatter is another of Durham's long-standing institutions that's absolutely worth the short ride from downtown or the nice walk through the Duke East Campus.
Sitting proudly on a well-known local spot that dates back to the 1920s that was previously a baseball field, a service station, and then a diner, the Mad Hatter offers some of the best cakes in Durham, all made onsite in the adjoining open bakery.
Its reputation often leads to some very busy spells, but with a nice outdoor seating area and the beautiful campus across the road, I never had a problem finding a pleasant spot to relax in and drink my coffee. The atmosphere is akin to that of a modern European bakery with glass-cased delicacies, marble counters, its open bakery to one side, and a bustling, lively ambiance.
The Mad Hatter is a popular spot for breakfast and lunches and also serves an all-day brunch menu. Their wine list is very reasonable too if you've had your fill of caffeine for the day.
The Mad Hatter Cafe and Bakeshop Information
Address: 1802 W Main St, Durham, NC 27705, United States
Phone: +19192861987
Operating Hours: 7 am-4 pm Mon-Sat, 8 am-4 pm Sun
Must-Try Items: Vanilla Cupcake, Pecan Pie Bar, Salted Caramel Fudge Bar
Average Cost: $2.80-$5.50 for coffee and teas, $10-$14 sandwiches, wraps, and salads, $2-$5 for cookies, cakes, and sweet treats
Website: madhatterbakeshop.com
Durham Cafes and Coffee Shops FAQs
Here are some answers to popular questions about the best Durham cafes:
What are the best cafes in Durham?
There are so many great cafes in Durham, all with different qualities. I personally love 321 Coffee for its commitment to employing adults with intellectual difficulties and the great brew coffee they serve. I also like Foster Street for its digital nomad working environment and its proximity to central Durham, downtown, and the Food Hall.
Do you tip in Durham?
Yes, in places that have servers, you can expect to be prompted to tip. In cafes, a jar might be present on the counter for cash payments or a screen will be presented to you to adjust your final total if paying by card. It's always your decision whether to tip and how much, but giving a little something extra is considered the 'done thing'.
What neighborhood has the best cafes in Durham?
There are numerous great hubs for cafes and good coffee but I personally found a bunch of my favorite places around 9th Street. There's a variety of cheaper, chain stores like Panera and Starbucks and a host of smaller independent shops such as the Mad Hatter and Monuts. Elmo's Diner is also on 9th Street and is a must-visit when in Durham.
Does Durham have good coffee?
Durham has many outstanding roasters, cafes, and coffee houses. Many of the local cafes pride themselves on serving locally grown quality coffee, and with stiff competition across the board, it means the prices stay reasonable while the quality remains high.
How much is an average coffee in Durham?
A standard drip or bulk-brew coffee costs around $3. More specialist coffees, iced drinks, nitro brews, and lattes are slightly more expensive at around $4.50-$5.50.
Is coffee popular in Durham?
The number of cafes and coffee houses to choose from would suggest that coffee is very popular in Durham. On top of the usual 'big chain' coffee merchants that you'll find, there are many independent retailers who are carving out their own slice of the market. You won't have to travel far to find a great coffee.
In Conclusion
Coffee is undoubtedly a big deal in Durham, the sheer number of independent retailers and roasters that are thriving in the local community is fantastic to see. The differences that can be found from one cafe to the next mean you can experience something new with each and every trip out for a caffeine fix.
From cafes that offer events like live music and weekly quiz nights, to those that just serve up some awesome drinks and delicious food as standard, Durham has them all. Have fun checking them all out.
☞ SEE ALSO: Where To Stay in Durham, NC, Best Day Trips from Durham