Planning a trip and wondering what to do with 3 days in New Orleans? Read on for a jam-packed itinerary for the Big Easy and plan the perfect weekend getaway.
With three days in New Orleans, you can indulge in the city's fantastic culinary, music, and nightlife scenes. If all you do is eat, drink, and dance that's totally fine here. In fact, it's to be expected.
Along the way, you'll get to enjoy strolling around the picturesque French Quarter, preferably with a to-go cup in hand — this is one of the few places where you can actually drink in public in the United States.
The motto of New Orleans is "let the good times roll," and that's precisely what you should do on a trip there.
Apart from eating, drinking, and enjoying the music scene, New Orleans is a wonderful melting pot of cultures and people and there are numerous museums, events and neighbourhoods to visit that reflect the city's diversity.
In this New Orleans 3-day itinerary, I'll share my best tips for where to stay, things to do, and where to eat and drink in what many consider one of the best cities in the US of A.
Day 1 in New Orleans
The first of your 3 days in New Orleans is dedicated to exploring the city's historic French Quarter. You'll get to admire the architecture, dig into mouthwatering local cuisine, and start the party off right.
Morning
Let's just go ahead and get one of the most touristy things to do in New Orleans out of the way. Start your day off at Cafe du Monde near Jackson Square.
This is a quintessential stop on any New Orleans itinerary.
Join the line (there will certainly be one) to sample the famous beignets. Never heard of them? It's a fancy French name for balls of fried dough that are doused in powdered sugar.
As you might expect, they are absolutely delicious! They're especially good with a cup of coffee. That sugar and caffeine high will definitely get you moving to kick off your 3 days in New Orleans.
Spend the rest of your morning wandering around the French Quarter. I find aimless wandering of the area to be a really good time, but if you prefer a bit more direction you can join the free walking tour.
Free Tours By Foot offers tours daily at 10AM starting at the statue of Andrew Jackson. Tours last about two hours and are donation-based, so be sure to tip your guide if you enjoy it! Click here to let them know you're coming.
Whether you join a tour or make your own you're in for a treat. New Orleans is one of the most photogenic American cities out there, so make sure you bring your camera for this one!
Afternoon
Walking around the French Quarter all morning will surely work up an appetite. It's time to start checking items off your to-eat list, which should be a long one for a weekend in New Orleans.
The cuisine of New Orleans is primarily composed of the holy trinity of Cajun, Creole, and soul food. From jambalaya to po' boys to crawfish, there are lots of classic New Orleans dishes you'll need to sample.
With so many restaurants to choose from, there are always deals to be had in the French Quarter.
It's worth it to check out Groupon just before your trip to see what promotions places are running. We had an excellent lunch for a very reasonable price at the New Orleans Creole Cookery on one visit.
It can be a bit intimidating deciding where to eat with so many options. Let someone else figure it out by going on this afternoon food tour. Over the course of three hours, you'll get to try ten tasty dishes as you learn about the history of food in New Orleans.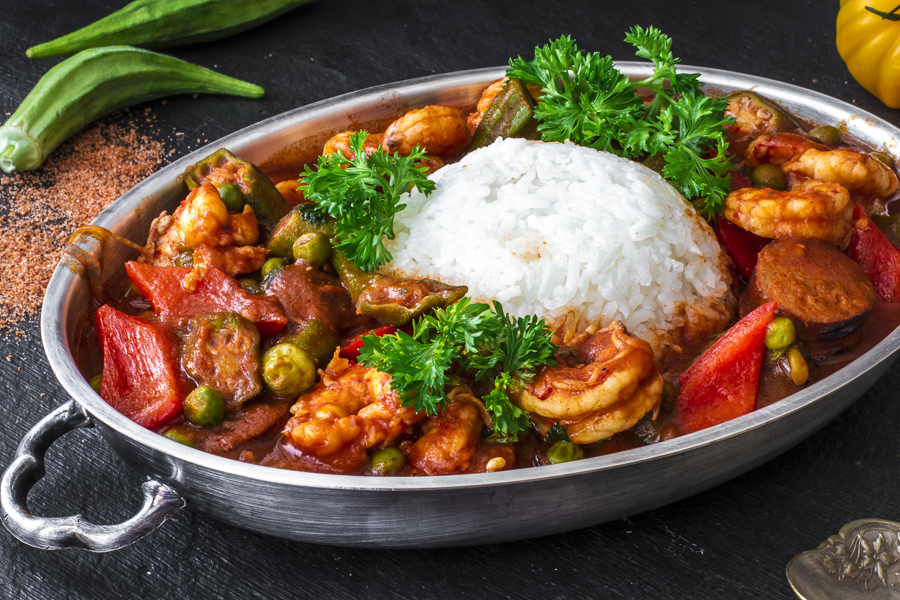 After all that food, you'll probably be feeling like you need a nap. You've only got 3 days in New Orleans, though, so I suggest grabbing a coffee instead.
Rejuvenated by the magic of caffeine, head down to the riverfront for a leisurely stroll. The Moonwalk Riverfront Park is the perfect place to start. Enjoy the views of the Mighty Mississippi and public art along this scenic promenade.
At the end of the park, you have a few choices for how to proceed.
The Audobon Aquarium of the Americas is a popular place to visit in New Orleans. There's also the Butterfly Garden and Insectarium nearby. Click here to check out ticket options for both.
While you're over here, you might want to jump on the ferry at the Canal Street Terminal. It's well worth the $2 to head over to Algiers for an amazing view of the cityscape.
Stick around for a bit to check out the Jazz Walk of Fame. If you feel like it's time for a drink (and it is), drop into Crown & Anchor — an English-style pub and a nice warmup before the madness of Bourbon Street.
Evening
Those who want a slightly classier experience than the local ferry can opt for a river cruise. Steamboat Natchez is the top choice, offering 2-hour dinner cruises with live music. Click here to check out all their options and prices.
If you don't go on the river cruise, you have plenty of options for where to eat and drink in New Orleans. For a classic Big Easy experience, head over to the Hotel Monteleone.
Here you'll find the excellent Criollo, which always has a creative seasonal menu. The hotel is also home to the famous Carousel, a legendary New Orleans bar. It's not just a clever name — the bar is an actual carousel!
Their signature drink is the Vieux Carré, a potent yet smooth cocktail with cognac, vermouth, whiskey, and bitters. It was actually invented here, so you're drinking in a bit of history! It's definitely one of the top New Orleans cocktails to try.
After a nice dinner and a couple of drinks, you're ready to check out the infamous Bourbon Street. Go ahead and grab a frozen cocktail in a comically large cup or one of the "big ass beers" they advertise and join the party.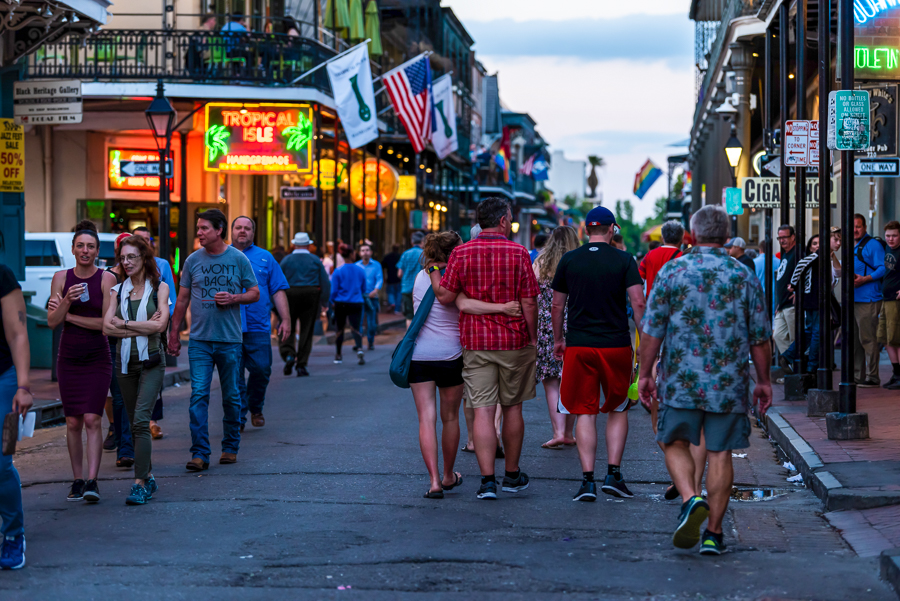 I'll be honest with you — Bourbon Street isn't really my thing.
It's super touristy, obnoxiously loud, and rather sloppy. That being said, it's definitely still a must-see for a weekend in New Orleans. If anything, the people-watching alone is worth the trip!
One of Bourbon Street's only redeeming qualities is that it's home to Lafitte's Blacksmith Bar & Shop. This historic watering hole is one of the top New Orleans bars to grab a drink in.
This place is 300 years old and is named after a French pirate. It's also a candle-lit piano bar. It doesn't get much cooler than that.
Looking for more posts about travelling to New Orleans?
Day 2 in New Orleans
Did you get a little carried away last night? It's OK, so did everyone else. No rest for the weary, though! You've got to make the most of New Orleans in 3 days.
Morning
I'm not usually a fan of brunch (it's overrated and overpriced), but I'll make an exception in New Orleans. For some reason eating a huge meal accompanied by a few drinks with sunglasses on just seems right.
On my last visit to the Big Easy, we had a fantastic brunch at the Ruby Slipper Cafe. Eggs Benedict, a Bloody Mary, and coffee provide the perfect fuel for another day in New Orleans.
Afternoon
While you're down here in the Mississippi Delta, why not head out to the swamp? It only takes half an hour from the French Quarter to be out in the bayou surrounded by gators.
There are tons of options — swamp boat, airboat, canoe, kayak, and hiking are all possible. Read all about the 7 best swamp tours in New Orleans to find which one is best for you.
The only downside to taking a swamp tour is that it takes up most of the afternoon. But, it's definitely a unique experience to have.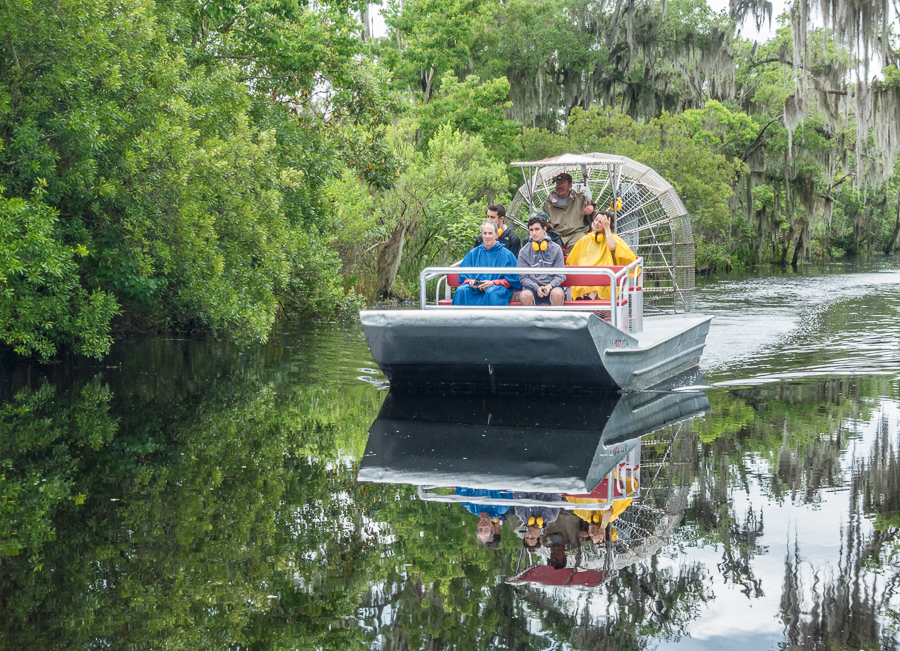 If you skip the swamp tour, I suggest heading up to City Park instead. It may not be as famous, but it's actually bigger than New York's Central Park.
There's enough to see and do in the park to keep you busy for several hours. You can check out the New Orleans Botanical Garden (tickets are $8) to see more than 2,000 plants from around the world.
Another option is the impressive New Orleans Museum of Art ($15) and the sculpture garden ($5). There are also boats and bikes for rent and a trifecta of golf courses (normal, mini, and disc).
It's a bit out of the way, but it's worth the detour to head to Parkway Bakery & Tavern. This is one of the most popular places among locals for a New Orleans classic — a po' boy.
Pro tip: order it "dressed" if you want lettuce, tomatoes, pickles, and mayo.
Evening
For your 2nd evening in New Orleans, I recommend sticking to Frenchmen Street. This is the place to dive headfirst into the rich musical heritage of the Big Easy.
New Orleans is known as the "birthplace of jazz," which originated from pre-Civil War drumming and voodoo rituals. While jazz is still a big part of the local culture (including the annual Jazz Fest), you can hear a wide variety of live music on Frenchmen Street.
There are dozens of music venues packed onto this 3-block section of the city's Faubourg Marigny neighborhood. Some have a cover charge but many don't, allowing you to bounce around to hear several bands in one night.
The music isn't just in the bars here, though. You'll also hear roaming bands jamming out in the streets. There really is music on every corner in New Orleans!
When you inevitably need some late-night food to soak up the booze, Dat Dog is the place to be. It doesn't get much more NoLa than an alligator sausage topped with crawfish etouffee.
Day 3 in New Orleans
By the last morning of a big weekend in New Orleans, you're probably a bit exhausted from all the fun you've been having.
Don't worry — I'll take it easy on you for the final of 3 days in New Orleans.
Morning
I use the term "morning" loosely here, as chances are you might not get moving until noon. If you manage to get going earlier than that on a Sunday in the Big Easy, I applaud you.
Whenever you roll out of bed, head just north of the French Quarter to Treme. This is one of the city's oldest neighborhoods and a center of African-American and Creole culture.
I'm sure you could use some caffeine right about now, so drop into either Treme Coffeehouse or Fatma's Cozy Corner. Fuel up with a coffee and a light breakfast then head out to explore the area.
Afternoon
You have a few options for things to do over here, including the New Orleans African American Museum. You can take a self-guided tour for $20 or sign up for one of their guided tours.
The half-day "Treme Experience" is a popular comprehensive tour that also includes lunch. Click here to see all the options.
Another must-see in the area is Louis Armstrong Park. Here you can visit the historic Congo Square as well as the New Orleans Jazz National Historical Park. That's right – there's a national park dedicated to jazz here!
The National Park Service has put together a nice self-guided walking tour of the area. Just click here to download the map. There's a phone number on it you can call for a free audio tour.
One stop on that walking tour is the legendary Preservation Hall. Their mission since they opened in 1961 has been to "protect, preserve, and perpetuate traditional New Orleans jazz."
Far more than just a venue, Preservation Hall is also a non-profit organization, band, and record label.
You can catch shows on a nightly basis with the first performance at 5 PM. General admission tickets are just $20 (cash only) but you should show up early if you hope to grab one.
They also sell seated tickets online for $35-40, so it's not a bad idea to pick some up well in advance if you know your dates.
It's a classic New Orleans experience and it's also for a good cause, so it's a win-win! Head to their website to check out your options.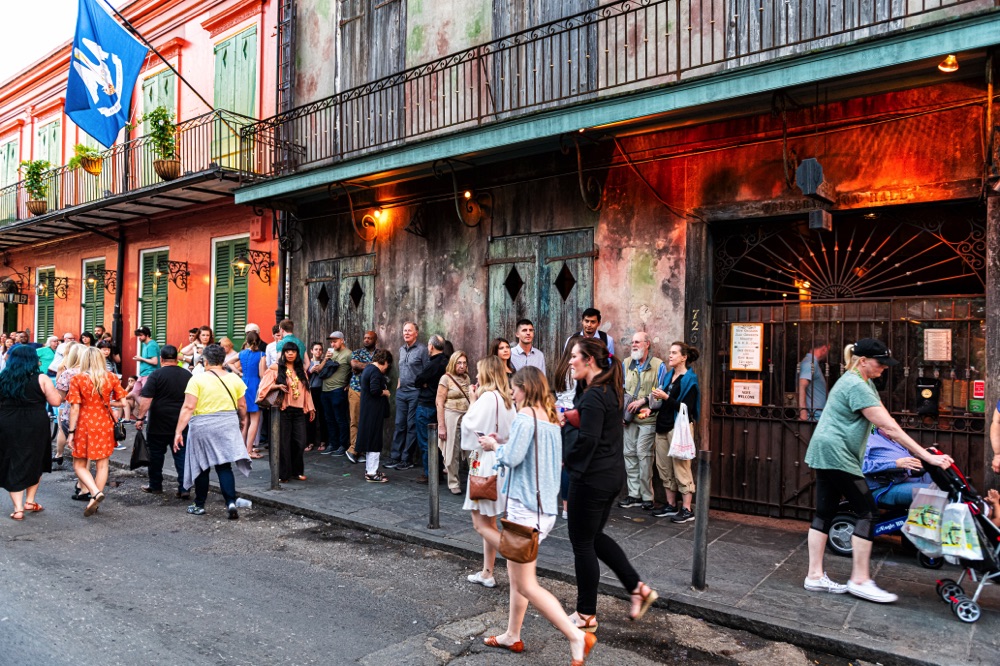 Evening
Whether you have tickets or not, it's time to grab one last dinner in the Big Easy. There are endless options within a short walk of the hall as it's in the heart of the French Quarter.
If you haven't had it yet, you can finally try a classic New Orleans dish at the Gumbo Shop. For Creole cuisine in a scenic courtyard, you can head to The Court of Two Sisters.
You can't leave New Orleans without experiencing a bit of voodoo. If you can make it there before 6, the Historic Voodoo Museum is worth a quick stop (tickets are $7). Otherwise, the nearby Marie Laveau's House Of Voodoo stays open late.
At this point, you might very well be running on fumes. You may also catch a 3rd wind and crank it up for one last night in New Orleans.
If you can summon the energy, I say go for it and wander the streets of the French Quarter. Grab one last to-go cocktail, enjoy the world-class people watching, and pop into any place that sounds good.
It's been a wild ride, but you've successfully completed a weekend in New Orleans! Congratulations, you just earned your party stripes.
Looking For Weekends Away in Other Major US Cities?
Insider's Tips for 3 Days in New Orleans
If you really want to "let the good times roll" in NoLa, then be sure to follow these tips:
Hydration is happiness – There are more bars per capita in New Orleans than any other city in the US. You can get to-go cups and some of them stay open all night. As you might imagine, it's a bit easy to go overboard when partying here. Be sure to get a glass of water every now and then, and maybe some food while you're at it!
Listen to the locals – Every time we go to New Orleans, we just let our friends who live there tell us what to do. I've incorporated a lot of their advice in this guide, but you should also definitely talk to locals and get their recommendations.
Book early for festivals – I can't believe I made it this far in a New Orleans guide without mentioning Mardi Gras. It's the biggest party of the year here and a bucket-list item for many.
If you're headed to the Big Easy for Mardi Gras or any other New Orleans festival, I can't stress this enough. Book your accommodation as early as you can!
Do your research – In a city like New Orleans, there are endless options for places to eat and drink. They are not all created equal, though. Avoid disappointing meals and cocktails by sticking to reputable places. There are lots of tourist traps here, after all.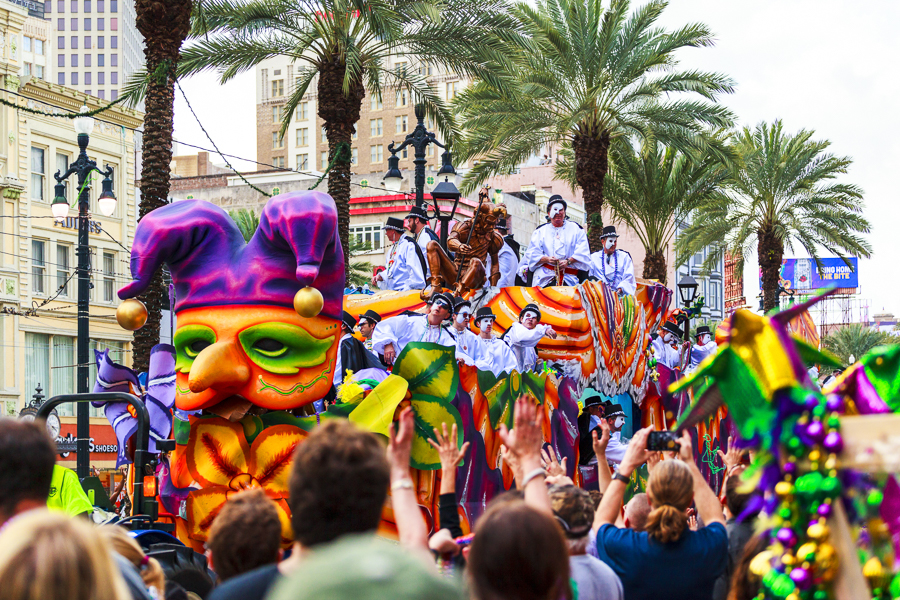 Getting to New Orleans
Chances are you'll arrive in the Big Easy via the Louis Armstrong International Airport (MSY). It's about 11 miles (18 km) west of downtown.
By Bus
You have a few options for getting to your accommodation from the airport. There's the Airport Express Bus, which costs just $1.50. The problem is that it doesn't run very frequently. Click here for all the info and the timetable.
Shuttles
There are also airport shuttles available for $24 one-way or $44 round-trip. They partner with many of the big hotels downtown so you can likely get door-to-door transportation. Click here to book your spot.
Taxi/Rideshare
Taxis from the airport offer a flat rate of $36 for two passengers for trips to the CBD or French Quarter. For three or more, it's just $15 per person.
Both Lyft and Uber operate in New Orleans. The airport has put together a useful guide for using rideshare apps, so click here to check it out.
Rent a Car
I don't know about you, but I want nothing to do with a motor vehicle during a weekend in New Orleans. It's best to leave the driving to someone else and enjoy yourself here!
The only reason I could see renting a car would be to take trips out of the city. You can just as easily hop on a tour to the swamp or a plantation, though. That being said, there are plenty of rental car companies at the airport if you choose to go that route.
Best Places to Stay With 3 Days in New Orleans
Most visitors to the Big Easy want to stay in the French Quarter, and understandably so. This is definitely the heart of the city and the most happening part of town.
Staying in the French Quarter gives you easy access to most of the top things to do in New Orleans. You also have seemingly endless options for places to stay, eat, shop, and party.
Here are a few recommendations for places to stay in the French Quarter:
For a more detailed look at where to stay in the area, check out our neighbourhood and accommodation guide, or this post with the best hotels on Bourbon Street.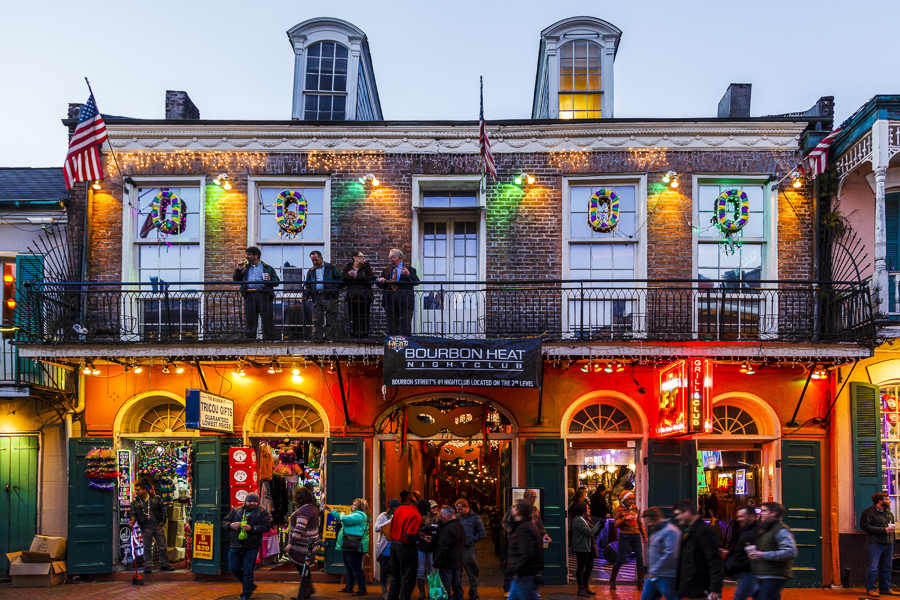 While the French Quarter is great, it's definitely a bit of a tourist bubble.
Very few locals actually live there these days. For a more local vibe, you can look for places in neighborhoods like the Bywater or Mid-City.
On our first trip to NoLa, we found a good spot on Airbnb in the Bywater. This is a cool, artsy neighborhood with a lot to offer. It's also just a quick trip to the French Quarter. Click here to get your Airbnb discount coupon.
Have Fun With This New Orleans Itinerary!
I hope this guide has you excited for a big weekend in New Orleans. There are few cities out there that can compare to the Big Easy. It's such a fun place to visit that you'll be planning your return before the weekend is up!
There are so many amazing things to do here and such a wide variety of fantastic restaurants and bars that you'll just have to come back.
With festivals going on all throughout the year, there's never really a bad time to visit New Orleans! I know I'm planning my next trip there to coincide with the city's famous Jazz Fest, or maybe I'll finally celebrate Mardi Gras there.
If you've been to New Orleans and have some recommendations, drop a comment below and let us know!
Images in this article are provided by Shutterstock, a top website for sourcing royalty-free videos and images. 
Like This Article? Pin it!