When it comes to the best cities for cocktails, New Orleans might just be one of the best places in the US. After all, the motto of the Big Easy is "Laissez les bon temps rouler" — "Let the good times roll."
Those good times are fueled largely by booze, thanks to the abundance of excellent New Orleans cocktails.
I often complain about my home country's uptight drinking laws, but thankfully those puritan rules go out the window in the Big Easy.
Here you can drink in public, bars can stay open 24/7, and there are even drive-thru places for frozen daiquiris.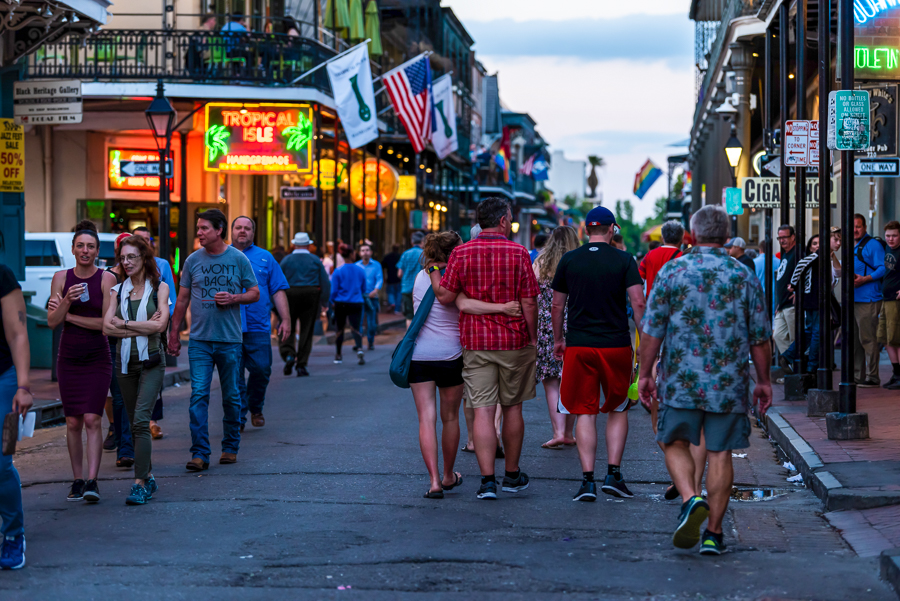 Speaking of partying, I most recently visited the city during our year-long party celebration There are so many New Orleans festivals and events!
Rest assured that I did some quality research in order to present you with some of the best cocktails in New Orleans.
In this article, I'll run the gamut from the classy to the debaucherous, which can usually be accomplished in half a city block here.
There are so many fun things to do in New Orleans (don't miss the swamp tours), and if you fancy an adult beverage when you travel, you're going to love visiting the Big Easy.
Read on for a look at some of the best New Orleans cocktails and recommendations on the best bars to get them.
Wondering where to stay in New Orleans? Don't miss our epic guide to the best Bourbon Street hotels and information on staying in the French Quarter.
1. Sazerac: The Official Cocktail of New Orleans
Ingredients:
Herbsaint
Bitters
Rye Whiskey
Sugar Cube
Lemon Wedge
Of course, we have to kick off our list of the best New Orleans drinks with the original.
Some actually claim this to be the oldest cocktail in the United States, as it dates all the way back to the 1830s. As with many things in New Orleans, there's an interesting backstory behind this classic drink.
As the story goes, a Creole man named Antoine Peychaud came up with the recipe. He was the owner of an apothecary and a big fan of a brand of French brandy called Sazerac-de-Forge et fils.
After hours, he would serve up a mixture of the cognac with his own home-made bitters. He served the drinks in an egg cup known as a "coquetier." Some believe to be the origin of the word "cocktail," but apparently that's a tall tale.
While historians may debate whether or not this was actually America's first cocktail, one thing is for sure — the Sazerac was an immediate hit.
A saloon named Sazerac Coffee House started buying Peychaud's Bitters and mixed them with the cognac and sugar. The new cocktail was the talk of the town and was immensely popular.
A few decades later, the main ingredient changed from cognac to American rye whiskey.
This was due to an epidemic in Europe that destroyed many of the vineyards in France. Without grapes, people turned to grain alcohol like whiskey. Another change to the recipe came shortly thereafter when bartenders added a dash of absinthe.
Things were going great for the Sazerac until absinthe was banned in 1912 because it was thought to cause hallucinations.
Bartenders replaced the banned booze with anise-flavored liqueurs. The most common was Herbsaint, which was made right in New Orleans. It's still used to this day, alongside Peychaud's Bitters and Sazerac Kentucky Rye Whiskey. Add in a sugar cube and a lemon wedge as a garnish and you've got an official Sazerac!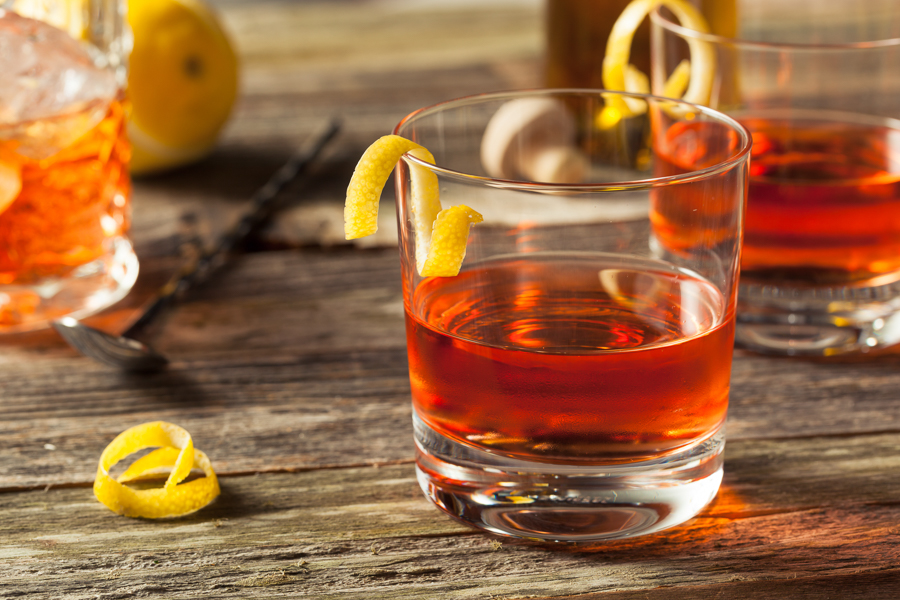 The Sazerac is so important that a Louisiana state senator even tried to have it declared the state's official cocktail. While this wasn't approved, his efforts were not in vain. It's now the official cocktail of the city of New Orleans.
You can order up a Sazerac all over New Orleans, but the best place to have one is definitely the Sazerac Bar. After all, it's right there in the name.
This bar is located in the Roosevelt Hotel (click here for directions). Other popular spots to try this classic New Orleans drink include Sylvain Tavern and Arnaud's French 75.
If you're interested in experiencing these bars with a fun and knowledgeable local, check out this walking and drinking tour. Four cocktails are included in four different bars, plus an informative guide.  
2. Hurricane: One of The Best New Orleans Cocktails for Rum Lovers
Ingredients:
Rum
Passionfruit Juice
Orange Juice
Lemon Juice
Simple Syrup
Grenadine
Garnish
What is the most popular cocktail in New Orleans? These days, one of the quintessential New Orleans cocktails is a Hurricane.
It's probably the most popular cocktail in the city for visitors, who enjoy slurping one of these potent concoctions as they stumble along Bourbon Street.
The Hurricane drink dates back to the 1940s and the post-prohibition era. Local tavern owner Pat O'Brien invented the drink when he needed to get rid of a bunch of rum. You may be wondering why he had an excess supply of rum. Of course, there's a story behind that as well!
You see, rum was one of the least popular liquors at the time. O'Brien's distributors forced cases of rum on him before they would sell him more popular liquors like scotch. He decided to whip up a concoction of rum with passion fruit and lemon juice.
The drinks were served in hurricane lamp-shaped glasses, and thus the Hurricane was born.
The recipe is still basically the same after all these years, and Hurricanes now include a garnish of an orange slice and a cherry or two.
Pat O'Brien's bar is still a mainstay in the city and is the top place to try the famous Hurricane drink (click here for directions). In addition to their signature Hurricanes, you can also enjoy dueling piano music as you sit by their flaming fountain.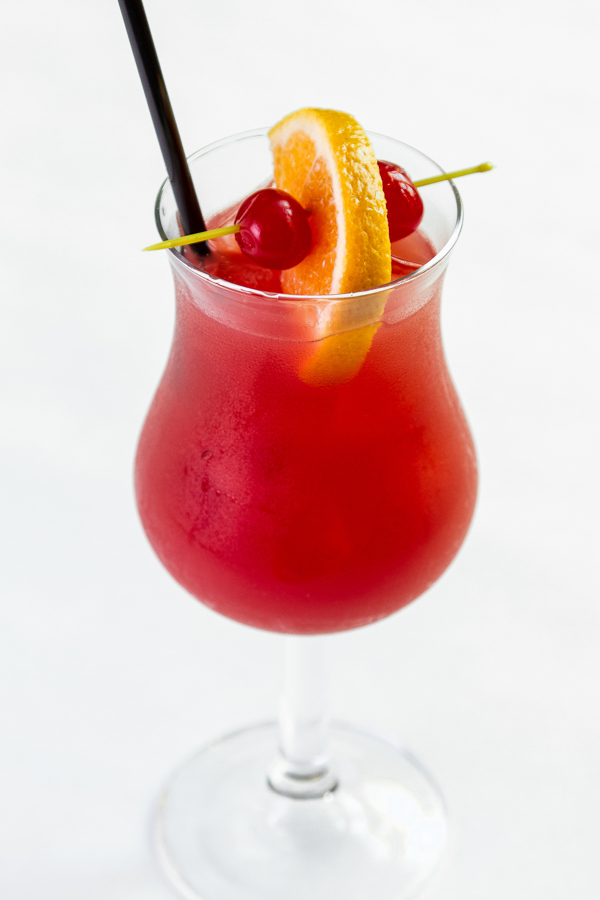 Since you're in New Orleans, you might as well take advantage of the fact that you can drink in public and order daiquiris from a drive-thru.
Go ahead and grab a Hurricane to-go for a wander up Bourbon Street. You can also try one of the frozen varieties from a drive-thru. When in Rome!
3. Brandy Milk Punch: Best Brunch Drink
Ingredients:
Brandy
Milk
Powdered Sugar
Nutmeg
Our tour of New Orleans cocktails moves on – or should I say "stumbles on"? – to Brandy Milk Punch. The Big Easy didn't invent this classic cocktail, but the city definitely perfected it. Once again, there's a lot of history behind the drink.
The story of Brandy Milk Punch in New Orleans goes back to the late 1940s. At the time, Dinner at Antoine's was a popular murder mystery. The name came from a local restaurant, which was the setting of the story.
The owners of Antoine's and several other restaurants and bars would often gather to play poker.
Owen Brennan owned a bar on Bourbon Street at the time, and the other guys made a bet with him that he couldn't open a restaurant. A friend remarked to him "If there's dinner at Antoine's, why can't there be breakfast at Brennan's?"
We have this interaction to thank for the beloved modern-day tradition of brunch. The idea of a late and lavish breakfast complete with cocktails started at Brennan's in New Orleans.
With a need for eye-opening cocktails, Brennan went with Brandy Milk Punch. As you may have guessed by now, the key ingredients are in fact brandy and milk!
Add powdered sugar (or simple syrup) and a dash of nutmeg on top, and you've got one of the best cocktails in New Orleans.
Not surprisingly, Brennan's remains the top place to try Brandy Milk Punch (click here for directions).
You might as well go ahead and do the whole brunch thing there during your weekend in New Orleans, as many say that if you haven't had brunch at Brennan's, you haven't really been to the city.
For a different spin on this drink, head to Bourbon House to try their frozen Bourbon Milk Punch.
4. Ramos Gin Fizz: A Cocktail for Gin Lovers
Ingredients:
Gin
Lemon Juice
Lime Juice
Flower Water
Egg Whites
Powdered Sugar
Milk
The Ramos Gin Fizz is one of the most well-known New Orleans drinks. Its name comes from Henry C. Ramos, bar owner and inventor of the drink. He came up with the cocktail back in 1888, and it has been a staple of NoLa ever since.
Ramos invented the drink at his bar called the Imperial Cabinet Saloon by mixing gin, heavy cream, powdered sugar, lemon & lime juices, an egg white, and orange flower water.
His recipe called for 12 minutes of vigorous shaking, which is quite a lot of work to make a single cocktail!
When he sold the bar and moved to a new place he called The Stag, he actually hired a whole team of shakers to help whip up his signature drink.
He basically set up an assembly line where each person would shake it for a minute and then pass it on. After sufficient shaking, they added a bit of soda water on top to give the drink its fizz.
He originally called the drink a New Orleans Fizz. Years later, the Roosevelt Hotel bought the rights to the drink from Ramos' son after Prohibition ended.
To honor the inventor, they named the drink after him. It was also at the Roosevelt Hotel that former Louisiana governor Huey Long fell in love with the drink.
Apparently, Long loved the Ramos Gin Fizz so much that be brought a bartender with him on a trip to New York just so he could teach people there how to make it.
This guaranteed that Long never had to be without his favorite cocktail on his frequent trips to Manhattan. What a legend!
The Roosevelt Hotel remains the best place to try one, so you might as well order one up after you try their Sazerac to make for an epic tour of New Orleans cocktails. Another good spot to try one is the Carousel Bar (click here for directions), where you can try several other famous New Orleans drinks.
5. Vieux Carré: For Those Who Want a Strong Drink
Ingredients:
Cognac
Vermouth
Whiskey
Bitters
Garnish
Just as is the case with New Orleans food, there's an obvious French influence with the city's cocktails. Just take the classic Vieux Carré, which is French for "Old Square" and a nod to the French Quarter.
Much like the city itself, the Vieux Carré is both potent and smooth at the same time. This signature New Orleans drink dates back to the 1930s and the Carousel Bar in Hotel Monteleone.
The bar is still there and it's definitely the best place to try one of the top cocktails in New Orleans. It's actually centered around a vintage carousel that you spin around as you drink. How cool is that?!
It's a melting pot of a drink, with French cognac, Italian vermouth, American whiskey, and Caribbean bitters. Drinking a Vieux Carré is kind of like drinking the history of New Orleans! It typically comes in an Old Fashioned glass along with a cherry or lemon wedge as a garnish.
6. Pimm's Cup: Simple and Refreshing Cocktail
Ingredients:
Pimm's
Lemonade
7-Up
Cucumber Garnish
As a city that gets very hot and enjoys day drinking, New Orleans needs a light, refreshing cocktail. Cue the Pimm's Cup, which came to the Big Easy via London a century after its creation.
We have London barkeep James Pimm to thank for this delightful concoction with a recipe that remains secret to this day. Over the years, he actually came up with six different variations of the drink.
Pimm's No. 1 Cup is the one that made its way across the pond when the owner of the Napoleon House gave it a New Orleans twist.
He took the popular tonic and added lemonade, 7-Up, and a cucumber garnish. This is definitely one of the most refreshing cocktails in New Orleans!
The Napoleon House is still the best place to try a Pimm's Cup in the Big Easy (click here for directions).
Isn't it awesome that the places where most of these famous New Orleans drinks originated are still going strong? Another great spot to enjoy a Pimm's is Bar Tonique, where they're just $5 on Mondays. I'll drink to that!
7. Hand Grenade: A Dangerously Strong Cocktail
Ingredients:
Vodka
Gin
Rum
Melon Liquor
Simple Syrup
Water to Dilute the Alcohol
Fresh Cantaloupe or Honeydew Juice
(The ingredients are a "secret", but this is pretty close.)
Our tour of New Orleans cocktails comes to a fitting conclusion with the Hand Grenade. As the name implies, this drink packs a serious punch. If you're looking to crank it up and get crazy on Bourbon Street, this is your ticket!
Owners of the Tropical Isle bar, Pam Fortner and Earl Bernhardt, invented this dangerously strong cocktail. They describe it as "a wonderful melon flavor drink with lots of liqueurs and other secret ingredients."
A Hand Grenade comes in a green plastic yard glass with a base that resembles, you guessed it, a hand grenade.
Much like a grenade, you'll want to exercise extreme caution with one of these in your hands. The creators themselves warn that while #2 will give you a nice buzz, #4 might result in public nudity. They even say you're on your own after the fifth one!
You can only find Hand Grenades at the various Tropical Isle locations along Bourbon Street (click here for directions to one of the best). You can also get them at the Funky Pirate bar, which is a great place to catch some live blues.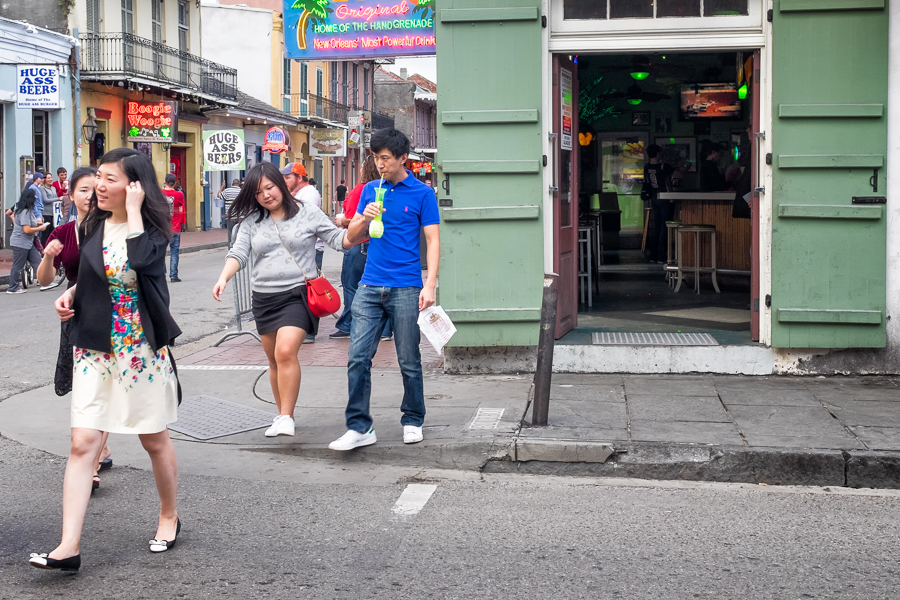 If you can manage to put down an entire Hand Grenade, you've got a nice souvenir cup to bring home to remember your trip. Of course, if you had one too many Hand Grenades, remembering anything might be a bit difficult…
Ready for Some New Orleans Cocktails?
It's really is fascinating to learn the stories behind some of these classic New Orleans cocktails. Read this post out loud as you sip on a few of these drinks and you'll have your very own episode of Drunk History.
While many tourists to the Big Easy get stuck drinking overpriced, watered-down cocktails on Bourbon Street, there's a lot more to discover when it comes to drinking in NOLA.
Get out there and start your day with a Brandy Milk Punch at Brennan's, then move on to a Gin Fizz during the hottest part of the day.
After a nap and some tasty New Orleans food (probably a po' boy or a bowl of jambalaya), you'll be ready to hit the streets again in search of the best cocktails in New Orleans.
Go ahead and grab yourself a Hurricane or a Hand Grenade and join the revelry at least once.
If the crowds and the noise drive you crazy, there are plenty of chilled-out bars you can retreat to. Best of all, many of them never close. And they say New York is the city that never sleeps…
Have you been to New Orleans and have a great recommendation for a specific cocktail or bar? Drop a comment below and let us know about it!
Like This Article? Pin it!