Broadway is a traditional English village in the heart of the Cotswolds and is one of the most picturesque places in the country. There are lots of fun things to do in Broadway from exploring the independent shops and cafes on the high street to climbing the Broadway Tower for stunning views of the surrounding countryside.
I've been visiting the Cotswolds for years and Broadway is one of my favorite places thanks to its gorgeous stone cottages, country pubs, and scenic walks. I love filling my time while here by visiting nearby stately homes and nature reserves and sampling the local cuisine that can be found at the many great restaurants in town.
The village is also known for its arts scene with lots of galleries and studios dotted around the town and an annual arts festival that attracts thousands of visitors. This idyllic village looks like it's come straight off of a postcard and is a must-visit for anyone planning on visiting the Cotswolds.
Best Things To Do in Broadway
Below, you'll find a wide variety of places to visit in Broadway from the historic tower to the Gorden Russell Design Museum, Millenium Garden, and large Deer Park where these magnificent creatures roam free over the Cotswold countryside.
1. Climb the Broadway Tower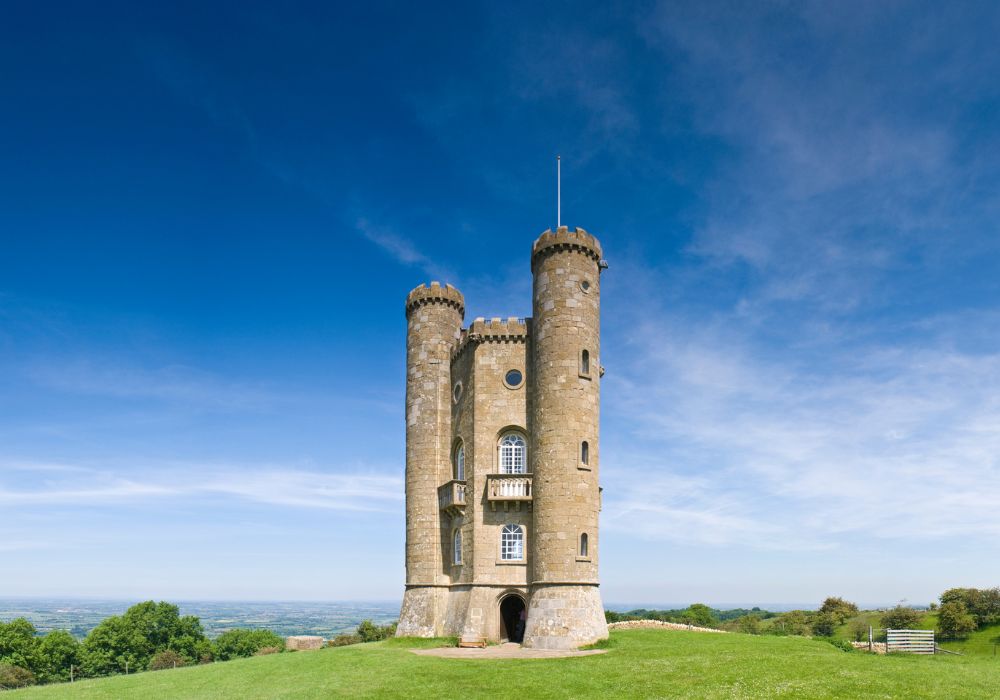 The impressive Broadway Tower is a folly (like a castle but ornamental rather than built for defense) atop Broadway Hill just outside of the village. The 65-foot (20-meter) tower stands 1,024 feet (312 meters) above sea level offering magnificent, panoramic views of the surrounding countryside.
This iconic landmark is set within 200 acres of land and was constructed in 1798 from the plans by landscape designer Capability Brown. Inside, you'll find a beautiful Georgian interior that also doubles as a museum stretched over the building's three floors.
It's possible to climb the 60 (odd) steps to the top which is one of the best things to do in Broadway to get a feel for the incredible location. The tower is open daily from 10 am to 5 pm and tickets cost £14 for adults and £6 for children. Tickets include access to the museum, tower rooftop, and grounds.
Address: Middle Hill, Broadway, Worcestershire, WR12 7LB
2. Walk Around the Deer Park
The Broadway Deer Park is a 200-acre stretch of parkland that includes the Broadway Tower, Tower Barn Shopping Center, Morris and Brown Cafe, and even an underground nuclear bunker. There's a pleasant circular walk that takes around 20 minutes to complete, as well as other trails to try, and there are E-bikes to rent for those who wish to explore with ease.
The park is one of the best places to visit in Broadway for families and dogs are also welcome if kept on a lead. This is the perfect place for a picnic thanks to its absolutely gorgeous views of the surrounding countryside and is one of my favorite places in the Cotswolds to get away from it all.
If you're lucky, you might spot one of the red deer including the stag Lancelot. If you don't want to climb the tower or see the museum, you can purchase a grounds-only ticket (£4 for adults and £2 for children), though I do recommend you take the opportunity to climb the tower for the views while you're there.
Address: Middle Hill, Broadway, Worcestershire, WR12 7LB
3. Admire the Picturesque High Street
The picturesque High Street is one of the best things to see in Broadway thanks to its beautiful honey-colored cottages and shops built from the ubiquitous Cotswold stone. This is definitely one of the most Insta-worthy places in the village; it's picture-perfect.
The High Street is packed with interesting shops selling everything from second-hand books to flowers, locally made foods, and handicrafts. There are also plenty of excellent tea rooms, pubs, cafes, and restaurants to try out (I recommend Russell's of Broadway, The Broadbean, and Tisanes Tea Rooms in particular).
Address: High Street, Broadway, Worcestershire
4. See the Gordon Russell Design Museum
You'll see the name Gordon Russell frequently in Broadway thanks to this famous designer's long association with the town. Russell set up a furniture company with his father in 1922 and pioneered a style of furniture-making that made his creations accessible to everyone.
The Gordon Russell Design Museum houses many of his creations as well as a history of the man himself and the village. This is a great place to visit if you really want to get a feel for the village over the last 100 years. The museum is open from 10 am to 4 pm Tuesday to Sunday and entrance costs £7 for adults (children go free).
Address: 15 Russell Square, Broadway, Worcestershire, WR12 7AP
5. Visit the Cotswold Lavender Farm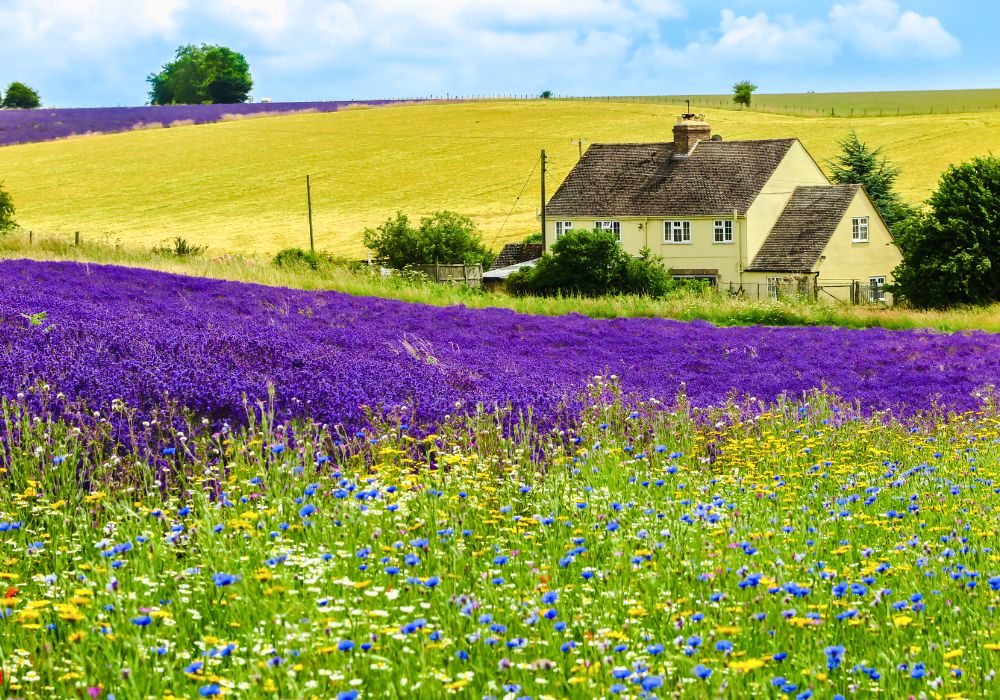 The stunning Cotswold Lavender Farm sits on a hill overlooking the pristine Vale of Evesham just 3 miles (4.8 km) from Broadway. From June to August every year you can walk amongst the sweet-smelling purple flowers and take in the beautiful countryside views (July is the peak flowering season).
The farm occupies over 70 acres of land with 35 different varieties of lavender which look incredible against the Cotswolds backdrop during the height of the season. You can visit an onsite distillery to learn how lavender oil is extracted and how it's turned into everyday products.
In the associated gift shop you can pick up lavender-scented souvenirs and gifts such as fragrances, candles, and more. The farm also has idyllic, woodland walking trails, a wildflower meadow, and a small cafe selling snacks and hot and cold drinks. Open every day from 14th June until 6th August from 10 am to 5 pm. Tickets cost £7.50 for adults and £3.75 for children.
Address: Hill Barn Farm Cottages, Snowshill, Gloucestershire, WR12 7JY
6. Attend the Broadway Arts Festival
The Broadway Arts Festival runs every year in June (9th to 18th June 2023) and hosts up to 80 different events from displays and workshops to village walks, yoga classes, and more. Learn how to construct animals from wire, take an oil painting masterclass or try your hand at clay shaping with expert tutors.
The festival is open to all ages and is one of the most fun things to do in Broadway for the whole family. With everything from music and theater to talks, dance, fitness, and more there's bound to be something to keep everyone entertained. You can book tickets in advance online, but act fast as they tend to sell out quickly.
The events take place in various locations across the village from the grounds of Broadway Tower to the village green, Cidermll Theatre, and the local church. The opening artBEAT which takes place on the first weekend of the festival showcases the work of some of Britain's top artists and designers.
7. Visit Snowshill Manor and Gardens
The 16th Century Snowshill Manor House and Gardens is a historic residence in the hamlet of Snowshill on the outskirts of Broadway. The house is home to an assembly of objects and curious collectibles by former owner Charles Wade who also painstakingly restored the house to its former glory.
There's plenty to do at Snowshill Manor and exploring the collection of items on display from suits of armor to costumes and more is a great way to spend an afternoon. Wander around the pristine gardens complete with orchards and the Wolf's Cove model harbor, or enjoy a snack and cup of tea at the Snowshill Cafe with outdoor seating and panoramic views.
Snowshill is open year-round from 11 am to 4:40 pm seven days a week. Tickets cost £13 for adults and £6.50 for children and include access to the house and gardens. This is definitely one of the best things to do near Broadway and makes for a great day out for the whole family.
Address: Snowshill, Broadway, Worcestershire, WR12 7JU
8. Check Out the Broadway Museum and Art Gallery
The Broadway Museum and Art Gallery is a must-visit for lovers of the arts as there's always something interesting going on. The gallery is set within a beautiful 17th Century coaching inn made of the trademark honey-colored Cotswold stone and is one of the few such buildings still open to the public today.
Current exhibitions include Postcards of Broadway, showcasing picture postcards of the village dating back over a century. The Geology of Gravestones offers a fascinating insight into how they're made, which definitely appeals to my interest in all things spooky, and Journey Through Steam which takes a look back at the golden age of steam.
The gallery hosts regular talks, workshops, and other events so check the website to see what's going on during your visit. It's open daily from 10 am to 4:30 pm and entry costs £5 for adults and £2 for children (though selected events may cost extra). This is one of the top things to do in Broadway to get a feel for its connection to the arts.
Address: 65 High Street, Broadway, Worcestershire, WR12 7DP
9. Walk Around Dover's Hill Nature Reserve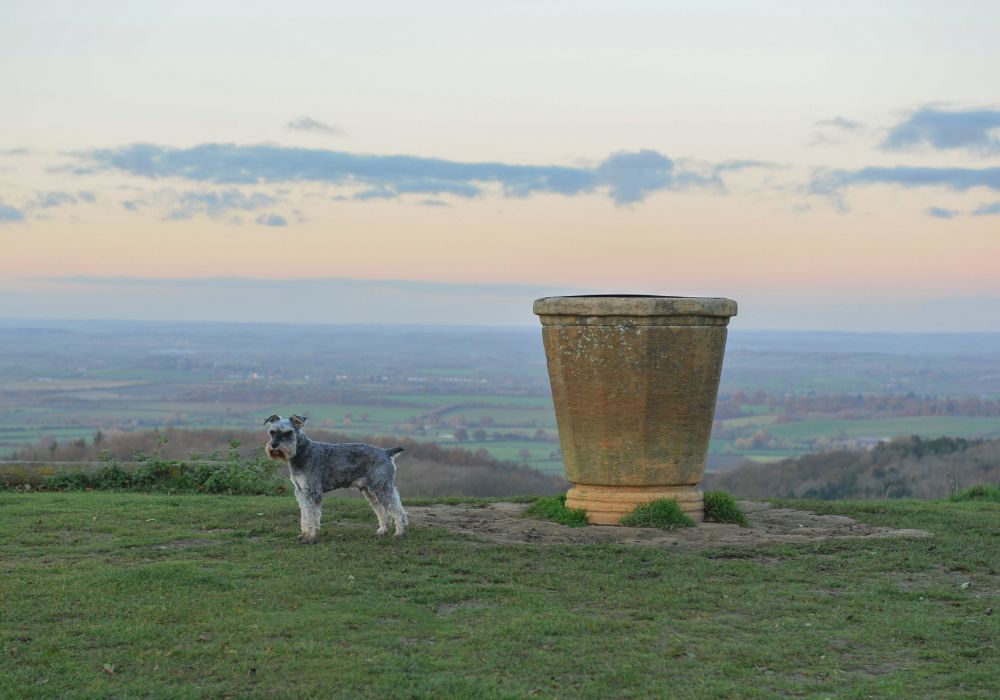 Dover's Hill is a natural amphitheater on a spur of the Cotswolds with a spectacular view across the Vale of Evesham. It's overseen by the National Trust and is located just a few miles from Broadway. Seeing this stunning natural vista is one of the best things to do around Broadway and is the perfect place for an afternoon walk.
Dogs are welcome but must be kept on a lead as there's often livestock grazing nearby. Parking is free but there aren't any other amenities here; it's a great place to escape into the tranquil Cotswolds countryside for a picnic. Driving is the best way to get to the reserve, but it's also located just 1.6 miles (2.6 km) from the Cotswolds Way hiking trail.
Address: Weston Subedge, Chipping Campden, Gloucestershire, GL55 6UW
10. Visit the Millenium Park and Garden
The quaint Millenium Garden is a tranquil escape from the bustling village tucked away next to the Broadway Museum just off the High Street. This small wooded garden enclosure has a couple of benches perfect for taking time out and soaking in the beautiful village views.
This often-overlooked green space is free to enter and is open from sunrise to sunset throughout the year. It's definitely one of my favorite little hideaways in Broadway.
Address: 65 High Street, Broadway, Worcestershire, WR12 7DP
11. Hike the Cotswolds Way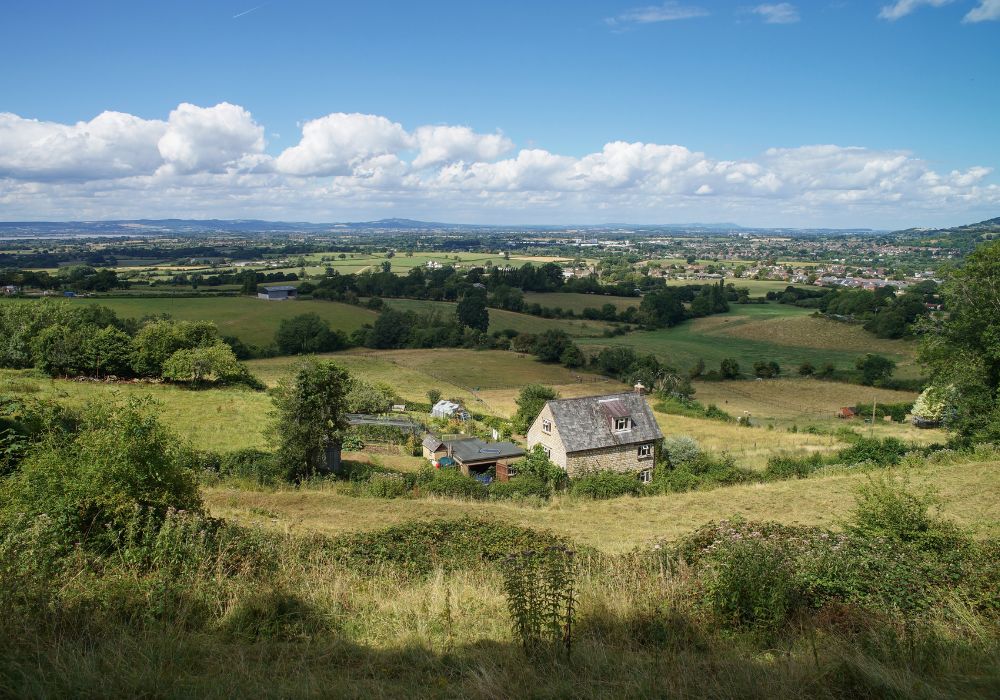 The Cotswolds Way is a hiking trail that starts in Chipping Campden in Gloucestershire and finishes up in the city of Bath in Somerset. This 102-mile (164 km) trail takes in some of the most beautiful areas of the Cotswolds and passes right through Broadway.
You can choose to hike any section of the trail. Hardcore hikers can attempt the Chipping Campden to Broadway circular walk which takes around five hours to complete, (depending on fitness levels and how many stops you have en route). The easier Broadway and Tower walk takes around two hours in total.
Whether you choose to hike just a mile or the entire thing, this is one of the most scenic hiking paths in the country and will reward you with stunning country vistas and the chance to spot local wildlife, as well as stopping at the odd country pub or two along the way.
12. Take a Steam Train on the Gloucestershire Warwickshire Railway
The Gloucestershire Warwickshire Railway is a heritage line with a 28 miles (45 km) round-trip of track between Cheltenham and Broadway. The route by steam train takes you on a journey through some of the most beautiful parts of the Cotswolds as you pass through sleepy hamlets and the lush valleys of the Malvern Hills.
There are lots of different ticket types depending on how you wish to travel but the best value is the all-day rover which is £25 for adults and £10 for children and allows unlimited trips for the day. This is truly one of the best ways to experience the beauty of the Cotswolds at a comfortable pace.
Address: Broadway Station, Broadway, Worcestershire, WR12 7DE
13. Have a Pint in The Swan Inn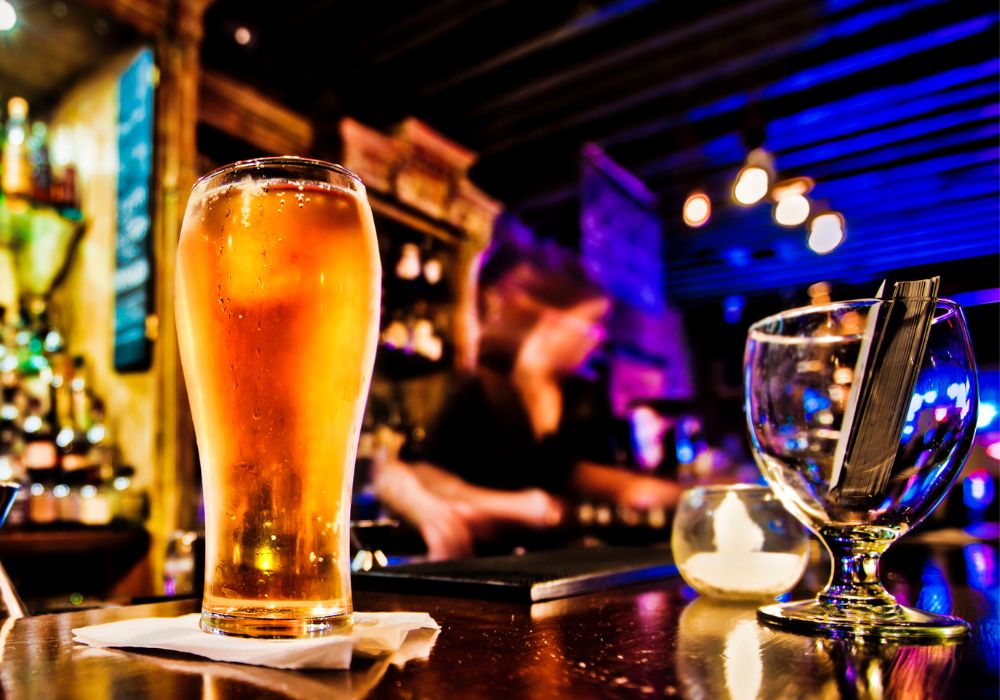 There are some excellent pubs in Broadway including The Horse and Hound, The Crown and Trumpet, and my favorite The Swan Inn. This traditional village pub built in the local honey-colored Cotswold stone is the perfect place to relax in the beer garden and watch village life go by.
The recently refurbished bar stocks a wide variety of local craft ales, ciders, and imported beers and wines. The kitchen serves a wonderful selection of lunches and main meals from salads and sandwiches to burgers, fish and chips, and locally sourced, seasonal British dishes.
The pub is open daily from 11 am until 11 pm and they have lots of great deals on food and drinks throughout the week. If you're looking for a proper British country pub, then The Swan Inn is definitely the place to go. Enjoying a few drinks here is one of the best things to do in Broadway for couples or groups of friends.
Address: 2 The Green, Broadway, Worcestershire, WR12 7AA
14. Visit the Nearby Town of Chipping Norton
Chipping Norton is a quaint market town less than 30 minutes away by car and is one of the best places to visit near Broadway. There are lots of wonderful things to do from exploring the bustling high street and its many shops to browsing the weekly farmers' markets.
The town is well-known as the home of many famous and influential people from former Prime Minister David Cameron to Top Gear presenter Jeremy Clarkson. There's an outdoor swimming pool, an excellent theater, and lots of beautiful Cotswold stone architecture to see from the Almshouses to Bliss Tweed Mill.
The best way to get to Chipping Norton is to drive (follow the A44) as there aren't any local buses for this route. Another great way to see the town and other highlights of the Cotswolds is to take a tour like this half-day tour from Oxford that also includes Bourton on the Water and Stow on the Wold. Click here to book.
15. Take a Day Trip to Bourton on the Water
Bourton on the Water is another beautiful Cotswold village famed for its honey-colored houses and charming rural scenes. There are lots of interesting things to do in Bourton such as walking along the charming River Windrush, seeing the impressive model village, and sampling craft ale at the local Hawkstone Brewery.
It's possible to paddle in the river in warmer weather so the village is a great place for families who love the outdoors. There are also many wonderful pubs and restaurants in Bourton on the Water serving up everything from pub grub to fine dining. The Mousetrap Inn is one of the most famous pubs in the village and well worth a visit.
Bourton is just a 20-minute drive from Broadway, but unfortunately, there isn't much in the way of public transport in this neck of the woods (you can book a tour instead). Regardless, Bourton on the Water is definitely one of the best places to visit near Broadway for its picture-perfect stone houses along the river.
Quick Travel Itineraries For Broadway
Below, you'll find some useful itineraries to help you get the most out of your trip to Broadway. These itineraries include all the top places to visit in Broadway and include day trips for longer stays.
1 Day in Broadway Itinerary
If you are wondering what to do in Broadway with just one day to spend then the answer has to be climbing the famous tower and enjoying the day at the beautiful deer park. There's enough there to keep everyone entertained whether you want to rent an E-bike, explore the underground nuclear bunker, or just relax with a picnic in the stunning countryside surroundings.
In the evening, head to one of the local pubs such as the excellent Swan Inn for a hearty meal of pub food washed down with a few pints or a bottle of wine. This is definitely one of the best things to do in Broadway at night; there isn't much else in the way of nightlife in the sleepy village.
2-3 Days in Broadway Itinerary
Follow the above itinerary for your first day and on day two spend time exploring the village. Browse the interesting selection of independent shops on the High Street, pop into one of the cafes or tea rooms for a cram tea (a Westcountry specialty), or another of the village pubs for a bite and a pint.
With a third day in Broadway, explore the village's vibrant art scene and pop into the Broadway Museum and Art Gallery to see the displays. If you happen to be in town in June then you'll be lucky enough to witness the Broadway Arts Festival which hosts theater performances and workshops for all the family.
1 Week in Broadway Itinerary
With a whole week to spend in Broadway, follow the above itineraries for the first three days and add in day trips to nearby attractions such as Chipping Norton, the Cotswolds Lavender Farm, Snowshill Manor and Gardens, and take a culinary trip through the village by trying out more of the excellent pubs and restaurants (see below for more info).
Where to Stay in Broadway
These are a few of the best accommodation options in Broadway for tourists:
The Lygon Arms – Best for First-Time Visitors
The historic Lygon Arms is a four-star, luxury hotel in the center of Broadway with easy access to all the top Broadway attractions, shops, and pubs. This dog-friendly hotel offers guests the ultimate relaxing stay with a spa, indoor pool, lounges with log fires, and an onsite bar and restaurant (overseen by celebrity chef James Martin). Click here to book your stay.
Sandscroft Annex – Best for Families
The one-bedroom apartment at Sandscroft Annex sleeps up to three people; making it the perfect place for small families to stay while sightseeing in Broadway. The property comes with everything you need for a comfortable visit including free onsite parking, a fully fitted kitchen, and WiFi throughout. Click here for more info.
Apple Tree Bed and Breakfast – Best for Couples
The Apple Tree Bed and Breakfast is a charming B&B in the heart of the village, just a stone's throw from the High Street with all the shops, restaurants, and amenities you'll need for your stay in the village. Rooms come with a large double bed, flat-screen TV, free WiFi, and tea and coffee-making facilities. Click here to find out more.
Best Restaurants in Broadway
One of the best things to do in Broadway is to experience its thriving culinary scene. Check out some of these top eateries in the village with options to suit all tastes and budgets: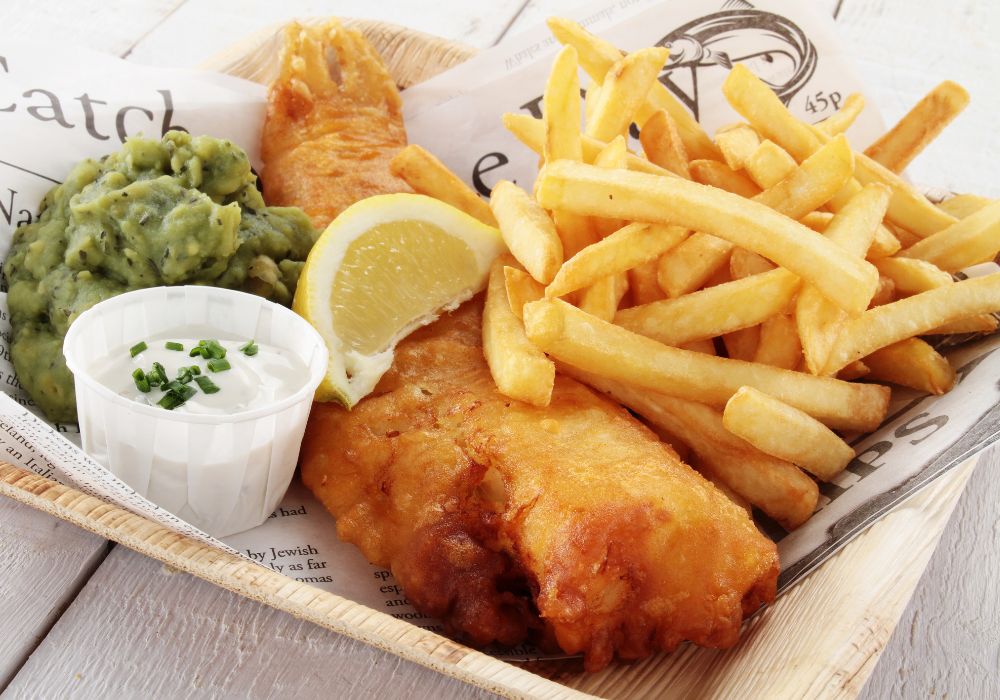 The Broadbean: The excellent Broadbean is a Mediterranean restaurant and wine bar just off the High Street. The interesting menu has a wide range of dishes from Spanish tapas to Morrocan tagines, homemade ice cream, and churros. Mains are priced from £7 to £11 making it one of the most affordable places to eat in the village. Click here for directions.
The Swan Inn Broadway: The rustic Swan Inn is a local village pub and the perfect place for a light lunch or a hearty dinner of homemade pub classics with a modern twist. From king prawn and crab linguine to pan-fried sea bass, steaks, burgers, and traditional fish and chips, there's something for even the pickiest of eaters. Click here for directions.
Russell's of Broadway: Another place with the Russell name, this upmarket restaurant in the heart of the village offers a set price menu (2 courses for £30 or 3 courses for £35), an evening á la carte, and a light, lunchtime menu. You can also get an excellent Sunday roast here of Cotswold chicken breast with all the trimmings. Click here for directions.
Grill by James Martin: If you're looking for a fine dining experience after exploring the tourist attractions in Broadway then look no further than Grill in Cotswolds by celebrity chef and Mastermind host James Martin. From spring lamb shank to roast cauliflower or something from the grill, this sumptuous menu isn't cheap but is worth every penny. Click here for directions.
Broadway Indian Restaurant: I love a good curry and the Broadway Indian Restaurant is one of the best places in the Cotswolds for a bhuna, tikka masala, or madras. The restaurant offers both a dine-in and takeout service and is the perfect place to get your fix of South Indian spices. Click here for directions.
Getting to Broadway
Birmingham International is the closest airport to Broadway and is just over an hour's drive via the M42. You'll need to rent a car as it's not easy to get from the airport to the rural village of Broadway. From London, it's just over a three-hour drive along the M40.
If trying to reach Broadway via public transport you'll need to get to one of the nearby towns or cities such as Oxford and then continue on from there, though this can take quite some doing. When visiting this part of the country I recommend having a car.
Getting around the village is easy enough on foot as it's not a big place, but again, if you wish to explore the surrounding Area of Outstanding Natural Beauty then hiring a car is the best option as buses are few and far between and most small towns and villages aren't served by the railway.
Things To Do in Broadway: FAQs
Here are some answers to commonly asked questions about visiting Broadway:
What is Broadway known for?
Broadway is known as a popular tourist destination in the Cotswolds thanks to its stunning honey-colored cottages, scenic high street, and the famous 18th Century Broadway Tower overlooking the nearby countryside.
When is the best time to visit Broadway?
The shoulder seasons of spring and fall are the best times to visit Broadway to avoid the crowds but still enjoy pleasant weather perfect for walking, hiking, and taking advantage of the many beer gardens and restaurant patios in the village.
Is Broadway worth visiting?
Broadway is definitely worth visiting as it is considered one of the prettiest villages in the Cotswolds. It also has a thriving arts scene and an annual festival in June that is well worth experiencing.
How many days should I spend in Broadway?
Two to three days is enough time to see all the attractions in Broadway including the Tower, Deer Park, and museums and galleries. If you wish to explore a little further afield and take day trips to nearby places of interest then a week is better.
Is Broadway safe?
Like most rural villages in England, Broadway is very safe for tourists. Violent crime is almost unheard of and it's a lot safer than larger towns and cities in England. That being said, it's always good to take the same precautions you would when traveling anywhere unfamiliar.
What is the most popular thing to do in Broadway?
Climbing the 65-foot tall Broadway Tower is one of the most popular things to do in Broadway, as is visiting the village's galleries, arts festival, pubs, and restaurants.
Does Broadway Cotswolds have a market?
Although only a village, Broadway does host some markets on the High Street throughout the year, and this tradition dates back to the 12th Century. For a more regular weekly market, head to nearby Cirencester which is the largest market town in the area.
What foods should I try in Broadway?
Some of the foods to try in Broadway include cream teas, handmade cakes, and of course the local Cotswolds beers and ciders. Foodies should head to the exclusive Grill by celebrity chef James Martin which is located at the Lygon Hotel in the village.
In Closing
Now you know what to see in Broadway, a stunning Cotswold village with so much to offer. Don't miss a climb up the Broadway Tower and walk around the adjoining Deer Park for a great day out for all the family. With so many great pubs and restaurants, Broadway is also an excellent destination for foodies.
With so much to do in Broadway for all ages and tastes, it makes a fantastic choice for your next holiday destination and is one of my favorite places to visit in the Cotswolds. So, what are you waiting for? Book your trip to this gorgeous little slice of middle England today.
Like This Article? Pin it!