In Banaue we were once again shocked by the unseasonable weather. The rain poured down the afternoon that we arrived so we sat in a quiet restaurant and enjoyed some delicious local specialties. We spoke to some other travellers who had done some treks around the area and loved them so Dariece and I were really praying that the weather would clear up.
The next morning it did, We had some sun but a dark ominous cloud on the horizon prevented us from committing to a full day trek so we just headed out to see some of the views in the area around Banaue town. This region in North Luzon is famous for its incredible rice terraces. Over 2000 years ago, entire mountain chains were carved and etched with brilliant green rice fields that completely changed the topography of this mountainous land. The terraces have been passed down within these hardworking families from generation to generation. These colossal feats of human engineering are now considered a Unesco world heritage site and 8th wonder of the world. They are said to be on par with the pyramids for the perplexing nature behind their design and creation without the use of modern-day tools. They go on for 10,000 square kilometres and are truly awe-inspiring.
Dariece and I decided to head up to some of the many view points around town where we could get a proper vantage point of the terraces, so we set out around 8 am on our own. We happened to pass by Banaue Homestay, owned by Doreen's family who we had met on the bus the day before. We stopped in and she offered to show us around to her favourite spots. She actually ended up acting like a guide for us, her knowledge of the areas flora, fauna and culture was amazing. We met some local tribesmen who used to hunt the area, many of whom were over 90 years old and still hike around the steep cliffs all day every day. As we neared the highest view points the sky closed in and the rains began just in time for us to get in a tricycle and ride it back to town.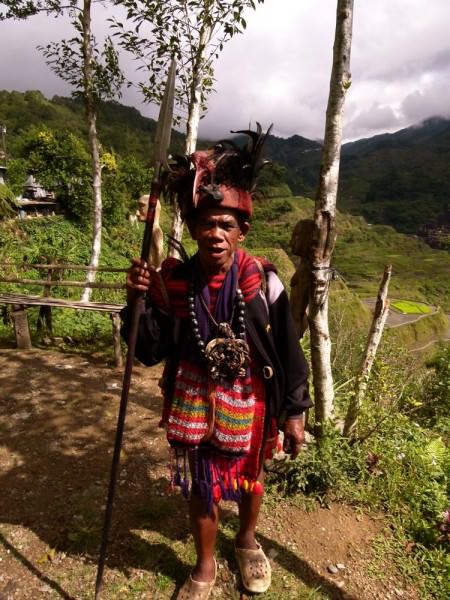 And that became the story for Banaue and basically all of the next 2 weeks of our trip. Rain. Usually this is the dry season which promises little more than a sprinkle every few days, but with the obvious change in climate around the world, the Philippines is no exception. The rain was relentless and the electrical storms were fantastic, but we were confined to the small restaurant in our hotel for the rest of our 2 days in Banaue.
On our last day, through the storm, Doreen came to our hotel and invited us out for karaoke at her local pub. Seeing as we had spent the last couple days working on our website in front of our laptop screens, we were happy to get out and spend some more time with our new friend. So she took us to her cousins karaoke bar and had us pick a few tunes that she could sing for us. karaoke is HUGE in the Philippines and everyone is into it. In fact the owner of the patent for the machine is Filipino and throughout the country everyone and their dog loves to get on and belt out a tune, talented or not. Luckily Doreen was extremely talented and sung some great tunes.
We enjoyed a couple of beers and great chats with her and at the end she even offered to pay for the drinks. She was extremely generous and gave us parting gifts of local good luck charm necklaces carved from indigenous Banaue wood. We may not have had the weather on our side, but we were very lucky to meet Doreen and have kept in contact with her via text messaging ever since. Unfortunately we were never able to do the treks that made the area around Banaue famous, but even what we saw close to town was amazing so I guess it's just a reason we'll have to return one day. We left Banaue on an overnight bus with the rain pounding down the whole way. Luckily we escaped the mountains without being held up by floods but we weren't liking the sound of the forecast all around the Philippines: rain, storms, typhoons and lightning. Not what we had in mind when we planned our stay in a country with violent and often dangerous weather. We could only hope that it would clear up.
Like it? Pin it! 🙂