We've written a few articles on the benefits of being a house sitter (free accommodation, enjoying the company of a furry friend and living like a local, to name a few) but what about homeowners, what's in it for them?
The house sitting sites aren't just for people looking to take care of homes and pets around the world, they're also for people who own a home and want to go on vacation knowing that their house and beloved pets are well taken care of.
We thought it was time to write an article for the home and pet owners out there! Here are some answers to the questions and concerns that you may have regarding house sitting.
Why can't I leave my pets with my friends and family?
If you're going away for a weekend, maybe it's ok to ask a friend or a neighbour to take care of your pets. But what about vacations that are a week, one month, or more? You can't put that kind of burden on your friends or family for such a long period of time. They have a life too!
Even if you did rely on friends, would your furry family member stay in your home, with visits from friends to feed, walk and love them? Or, would they be transplanted to an unfamiliar home while you're on vacation? What if something were to happen to your pets while your friend was away at work?
Wouldn't it be better to have your pets living in their familiar home, and having someone around full-time to take care of them and provide them with lots love and attention?
House sitters will live in your home, while providing full-time care to your pets. Animals are much happier, and therefore healthier, when they aren't stressed out by being in a new environment. Your pets are less likely to feel like they've been abandoned if they're still living in their own house!
What about kennels?
Where do I start? Your beloved pet will go through an enormous amount of stress while being dragged to the kennel. It's awful to have to put them into a box or a cage, then into your car (all the while having to deal with them freaking out), then drop them off at a random place with other terrified animals. How horrible.
I don't know which is worse: the fact that your pet is terrified; that you feel guilty while you're away on vacation; or that you actually have to pay for this service!
In Vancouver, Canada, kennels charge around $25 per cat and $36 per dog…per day. Depending on how long you're going away for, those costs could really add up.
Almost all house sitters will watch your pets free of charge, in exchange for accommodation in your home. It's a win-win situation. Your pets are happy, loved and living in their own home, and the house sitter is able to have free accommodation and enjoy the company of your pet.
My pets are on medication, they should be with professionals
Most animals are on some sort of medication, whether it's a routine monthly heart worm pill, or something more serious. Many home owners are actually registered vets, or have some medical care practice on their resume. Lucky for you, you're able to syphon through hundreds of pet sitters until you find the one that suits your needs, and the medical needs of your animal.
In your profile (if you feel that it's necessary) you can always state "Must have medical experience" so that you only get qualified applicants.
Many people have experience with administering drugs to animals, or if it's a simple procedure, you can always show the potential pet-sitters exactly what to do.
I don't have any pets, just a home
House sitters aren't just for those with animals that need looking after. Your home is important to you, which is why you should have someone there full-time to take care of it. Managing your garden, watering your plants, mowing your lawn, and doing any necessary minor repairs and maintenance are all things that you can expect from a house sitter.
I'll just leave my house empty while I'm away
Coming home from your relaxing vacation, only to find that your home is stuffy, musty or mouldy is not ideal. If someone is living in your home, they will be able to circulate fresh air through the house daily, or turn on the air-conditioning. This is especially important if you live in a tropical climate.
You may not be aware that your home insurance policy probably doesn't cover your property if it's left empty for more than 30 days. In Canada, some insurance companies won't cover your home if it's left empty for 4 days or more, due to the risk of pipes bursting in the winter.
Not to mention, leaving your home without anyone in it, really increases the risk of burglary.
I'd rather rent my home
The thought of renting might be appealing, as you'll be able to make money (or at least cover costs) while you're away. But, not many tenants want to rent a place for just a weekend, a week, or a month. Typically, 6 months is the minimum rental commitment from both parties.
Most (if not all) renters will have their own furniture, so you'll have to think about where to store your belongings, which could ultimately result in storage fees. Also, if you are renting out your home, you may have to pay income tax on any rental income earned.
Something else to consider is the mindset of a renter vs. a house sitter. When someone is paying rent, they may think differently about your home than if they're receiving the accommodation for free and have the responsibility of looking after the place. Perhaps renters will feel entitled to have parties, won't care if they make a mess or break something, or they may even let the garden die…because hey, they're paying to live there, you're not hiring them, so why should they worry about anything?
House sitters have their online house sitting profile and reputation to worry about. If they do a poor job, you can most definitely give them an honest reference on the website, for the whole world to see. This would basically be the end of their house sitting career.
Finally, many house sitters were previously homeowners before choosing to house sit around the world. Therefore, they know first hand what it's like to own a home and the importance of maintaining it.
How do I know I can trust the house sitter I choose?
As with finding a renter, house sitters are required to have references. The more positive references that one has, the higher up in the list their profile will be. References from homeowners who are members of the house sitting websites are listed at the top of profiles. Other references from past employers, family and friends are also given.
Many house sitters have a police check as well.
Have a Skype call with the potential sitter, email back and forth and try to get a feel for them before agreeing to have them take care of your pets and home.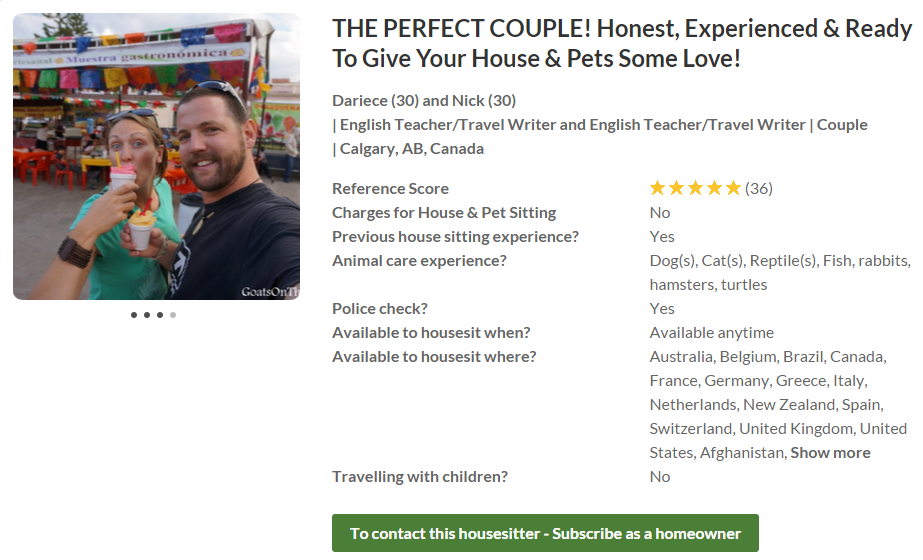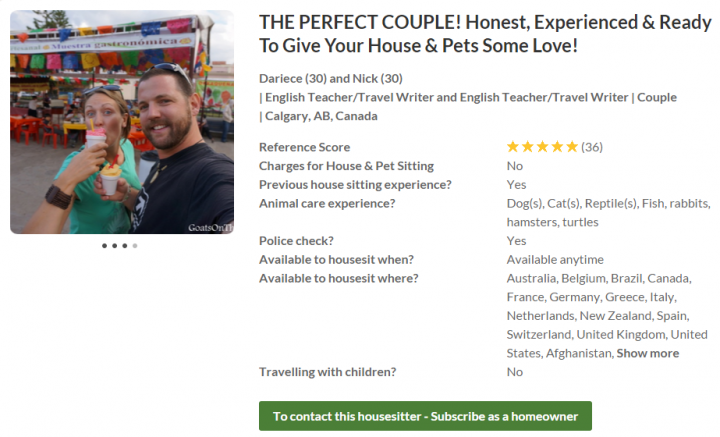 How do I sign up?
We aren't homeowners (anymore), we're house sitters and by using the website, TrustedHouseSitters.com, we've found 3 incredible house sitting jobs. We have two more coming up this year, which we're very excited about! We've met some wonderful homeowners (who we are still in touch with), and have been able to take care of some adorable dogs.
We find this service to be professional, easy to use and affordable.
Click here to list your home, or to become a sitter!
Join the craze
It's no surprise that this exchange is taking the world by storm. Pet owners can now travel with the peace of mind knowing that their animals and home are well taken care of. It's a win-win for all parties involved and a great way to meet some incredible people along the way. Check it out now to see what the hype is all about 🙂
For more house sitting articles, click here.
Are you a part of the house sitting network? Have you had anyone take care of your home? Was the experience positive? Share with us below!
Like it? Pin it! 🙂