Cornwall has some of the best surfing in the UK thanks to its location on the north Atlantic and the large swells that hit the many beaches along the coast. Surfing in Cornwall is something I've been doing for years and this is my favorite vacation destination in the UK.
Newquay is the surf capital of Great Britain with Fistral and Towan beaches being some of the best surfing beaches you'll find in Cornwall. This is also the best place for beginners to take surf lessons in Cornwall as there are lots of great surf schools close by.
One of the best places to surf in Cornwall is Polzeath; a large beach surrounded by dramatic cliffs and a coastal path close to the fishing town of Padstow. Polzeath beach is where I learned to surf and the swells here aren't as large as some of Cornwall's other beaches.
Where is Cornwall?
Cornwall is in the far southwest of the UK and has a large peninsula jutting out into the north Atlantic ocean.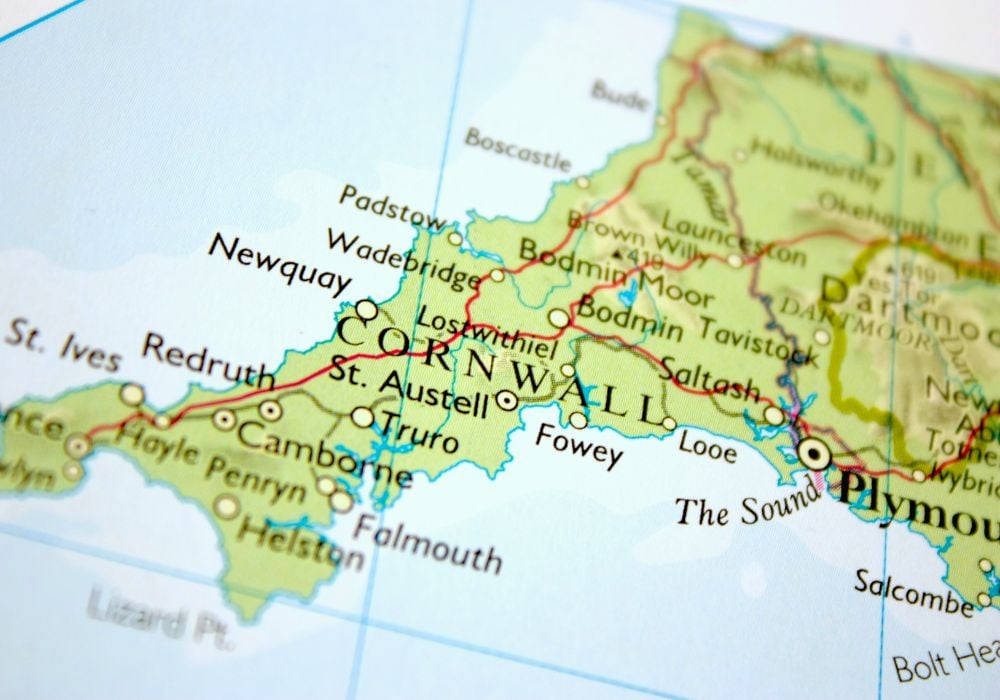 Its wild north coastline is the perfect place to catch big waves, and the calmer, more sheltered south coast is an ideal spot for beginners to learn.
Why Should You Consider Surfing in Cornwall?
Cornwall is famed around the world for its great surfing beaches and is one of the best places in Europe to have a go at this exciting sport.
With so many great surf spots across the county, from north to south, Cornwall is a great place for all levels of surfers; from those trying for the first time, to those wishing to advance their skills.
15 Best Places To Go Surfing in Cornwall
Below, you'll find a list of the very best surfing beaches in Cornwall including the likes of world-renowned beaches such as Fistral and Perranporth, to lesser-known beaches like Sennan Cove and Porthmeor.
The best beaches for surfing in Cornwall are generally in the northern and western parts of the county as these areas get the best waves. The south coast is very sheltered so it's a great place for beginners, whereas the best breaks can be found in the north.
1. Fistral Beach (Best Surfing in Cornwall)
Fistral beach is one of the most famous surfing beaches in Cornwall and it's a great place for all levels. There are many surf schools in the town so it's a fitting option for those looking to learn to surf in Cornwall.
2. Polzeath Beach
My favorite beach to surf Cornwall, Polzeath has a large beach with a couple of great surf schools and lots of places to hire equipment.
It's a good option for beginner and intermediate surfers thanks to the more gentle waves on this part of the coast.
3. Perranporth Beach
Perranporth is home to one of the best beaches for surfing in Cornwall. This huge stretch of golden sand sees some excellent waves and is big enough that it doesn't get too crowded. There are plenty of places to hire equipment, and some great beachside bars too.
4. Porthmeor Beach
Porthmeor is one of only eight Cornwall beaches given the sought-after Blue Flag Award in 2022 and is a great surfing spot for all levels. The beach is located next to the popular holiday town of St Ives where you can hire surf equipment.
5. Praa Sands
Praa Sands is a mile-long stretch of white sandy beach popular with families, but it's also one of the best surf spots in Cornwall thanks to the larger waves further out to sea.
Praa Sands gets some of the biggest waves along this part of the coast so is a good place for pros.
6. Sennan Cove (Best Surfing Beach in Cornwall for Advanced Surfers)
This picturesque surfing beach near Penzance gets some of the best Cornwall waves thanks to its exposed position in the far west of the county.
The huge rollers provide some of the best surfing conditions in the country and it's a favorable place for more advanced surfers to catch some big waves.
7. Porthtowan Beach
The beach at Porthtowan consistently gets big waves so is another attractive option for more advanced surfers. The beach is located within an area of outstanding natural beauty and is another holder of the prestigious Blue Flag Award.
8. Widemouth Bay
Widemouth Bay is a two-mile stretch of golden, sandy beach near the town of Bude in north Cornwall and somewhere I've surfed many times.
You'll find everything you need here from equipment hire to some bustling bars, and the perfect conditions for both beginners and intermediate surfers.
9. Porthleven Beach
The stunning three-mile-long Porthleven beach is one of the best surfing beaches on the south coast of Cornwall and offers excellent conditions for advanced surfers with consistently large swells creating some massive waves.
This spot isn't recommended for beginners as the conditions can be dangerous at times.
10. Crantock Beach
Crantock is a stunning stretch of sand that's backed by dunes and is known to be one of the best places to surf in Cornwall.
There are surf hire shops on the beach and the conditions are suitable for surfers of all levels – if you're lucky, you may even get to surf with the dolphins who are sometimes spotted here.
11. Gwithian Towans Beach
Wild Gwithian Towans beach near the popular holiday resort of St Ives is one of the best surfing beaches in Cornwall thanks to its near-constant large swells.
This is a satisfying stretch for more advanced surfers looking for big waves. Gwithian can be surfed year-round, though you'll want a wetsuit in the winter months.
12. Crooklets Beach
Crooklets beach is home to the Bude Surf Life Savers Club and is one of the best beaches for surfing in north Cornwall for all ability levels.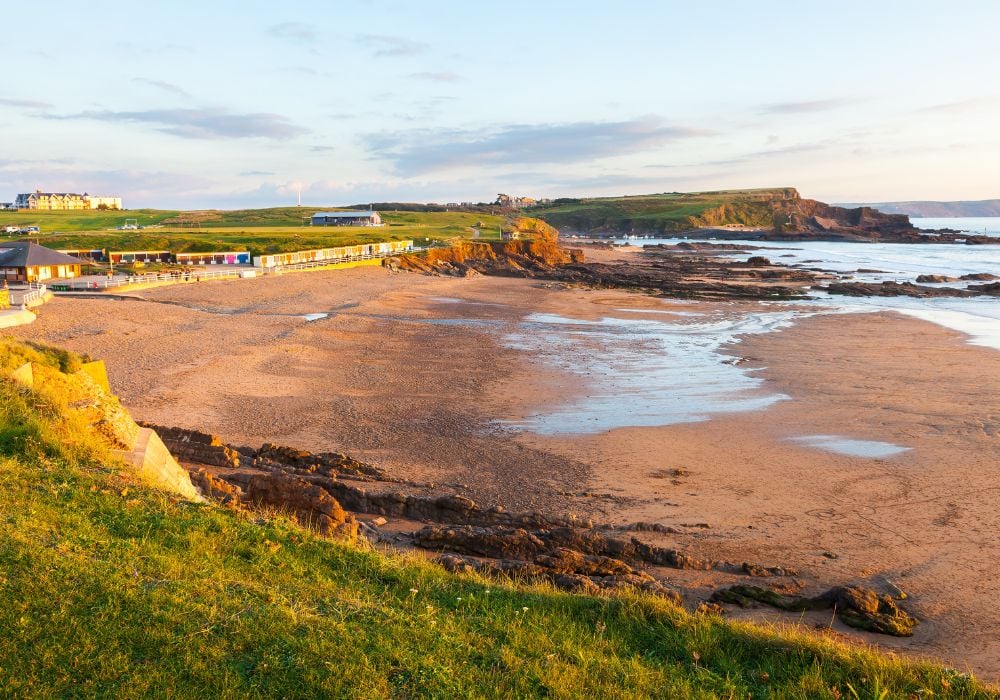 The beach has excellent facilities inclduing showers, so you can get hosed down before hitting one of the beachside pubs or cafes – perfect.
13. Godrevy Beach
Godrevy beach is separated from nearby Gwithian beach by a small river and is buffeted by large Atlantic swells making it most suitable for more advanced surfers. On good days the swells can be up to 8 feet high with some nice long walling left and rights.
14. Constantine Bay
Constantine Bay beach is well-renowned among Cornwall's surfers for its top-quality waves. There's a reef at the southern end that produces some excellent waves at mid and high tides.
15. Penhale Sands
The beach at Penhale (also known as Perran Sands) is one of the longest in the country and provides some serious swells. This gorgeous stretch of sand is backed by large dunes and is part of a specially protected nature reserve.
This is one of the more underrated surfing beaches in Cornwall – it's somewhat of a hidden gem.
How Much Does Surfing in Cornwall Cost?
Surfing is a great sport that doesn't have to break the bank. With rental costs beginning at as little as £15.00 per day for board hire, it's an exciting activity that anyone of any age can enjoy.
Board Rental: £15.00
Wet Suit Rental: £10.00
Surf Lessons: £50.00 (includes board hire)
Accommodation in Cornwall: £80.00 per night
Total Costs: £155.00
How Hard is The Surfing in Cornwall?
Cornwall offers some turly superb surfing spots for all levels and abilities. For beginners, there are easy places like Fistral and Polzeath, and for hardcore adrenalin junkies and pros, beaches like Sennan Cove and Porthleven.
What Equipment Do You Need to Surf in Cornwall?
The beauty of surfing is that you don't need a lot of expensive equipment to participate, and it's possible to rent boards and wetsuits cheaply.
There are a few additional extras to be aware of such as wax for added grip, and most essentially, sunblock!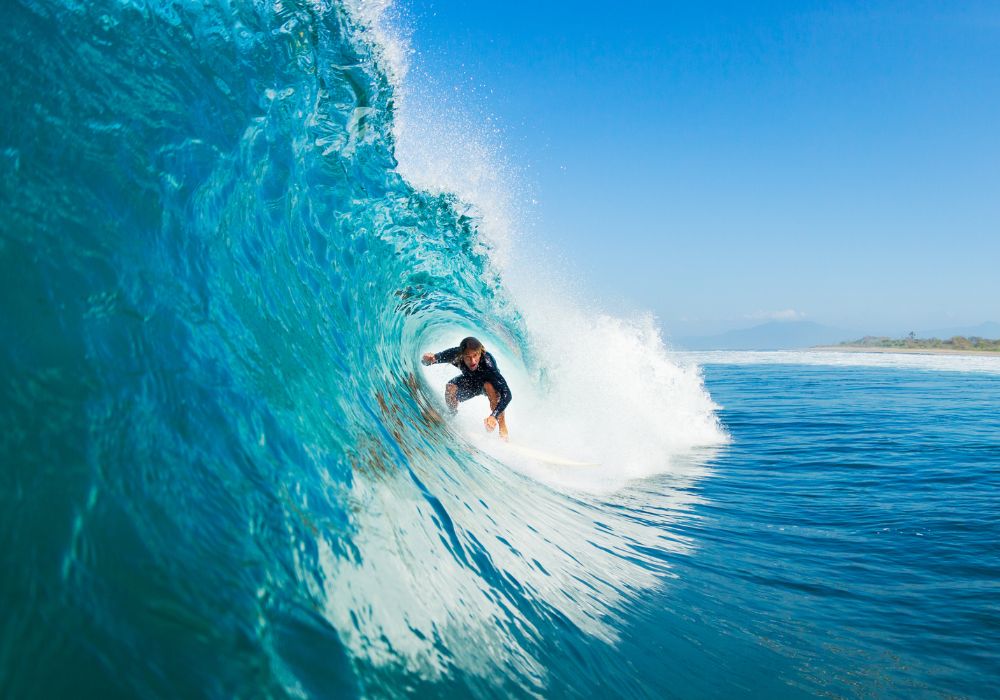 Clothing
Board shorts/swimsuit: 2 × swimwear to go under your wetsuit
Wetsuit: 1 x comfortable neoprene wetsuit
Gear
Surf Board: x 1 with a leash and fins
Wax: x 1 board wax for added traction
First Aid & Toiletries
Sunblock: Sunscreen (SPF 30+, water-resistant)
Paperwork
Passport or credit card for surf hire
Insurance policy details
Cash (for tips) and bank cards
When is the Best Time to Go Surfing in Cornwall?
For beginners and intermediate surfers, summer is the best time to surf in Cornwall. With warm and sunny weather and outside temperatures over 77 Fahrenheit, June to August (and even September) are all great months to plan your stay.
For more experienced surfers looking for the best time to in surf Cornwall, the breaks can be surfed year-round, but you'll definitely need a wetsuit if you plan to hit the waves outside of the summer months.
Best Surf Shops in Cornwall
One of my favorite pastimes in Cornwall is to browse the surf shops in places like Newquay, Bude, and Polzeath where you can buy and rent boards and wetsuits and also pick up some nice apparel from great surf brands such as Rip Curl, O'Neill's, Hot Tuna, and more.
Slide + Guide Newquay: If you're looking for expert advice on the best gear, the latest hot breaks, or any aspect of surfing or paddleboarding in fact, pay the guys at Slide+Guide in Newquay a visit.
As well as a knowledgeable team, the shop sells new and used surfboards, SUPs, wetsuits, and more. You can also rent equipment here with daily board hire from £15.00. This is definitely one of the best surf shops in Cornwall and my go-to place for boards when in Newquay.
Ann's Cottage Polzeath: I've been visiting Ann's Cottage Surf Shop in Polzeath for longer than I care to remember (they've been going since 1978 so you know you're going to get a wealth of experience).
This large surf, skate, and apparel store is situated just off the beach and sells everything from boards, SUPs, to wetsuits and hoodies, board shorts, sunglasses, and a whole lot more. Ann's Cottage also has stores in Newquay, Bude, Truro, and Falmouth.
Zuma Jay Surf Shop Bude: This independent surf shop in Bude is one of the oldest in the country and has an incredibly knowledgeable team who are all surfers themselevs.
Whether you want to get sized up for the right board, find out where the best waves are or hire a surfboard or SUP, Zuma Jay is the place to go in Bude. The friendly folks at Zuma Jay will tell you all you need to know about surfing as a beginner in Cornwall.
Best Cornwall Surfing Lessons
Below, you'll find a great selection of surf lessons and related activities in Cornwall, which mostly happen around the beaches of Newquay and the north coast. These great surf lessons in Cornwall provide all the equipment you need to successfully catch your first wave.
Beginners' Surf Experience in Newquay
Based In: Newquay
Starting Price: £51.00
Includes: Board rental, wetsuit
This fantastic crash course in surfing is perfect for beginners or those who haven't hit the waves in a little while (I like to take a refresher after a few years away from the beaches). You'll get to learn the best techniques at one of Cornwall's top surfing beaches in the UK's surf capital, Newquay.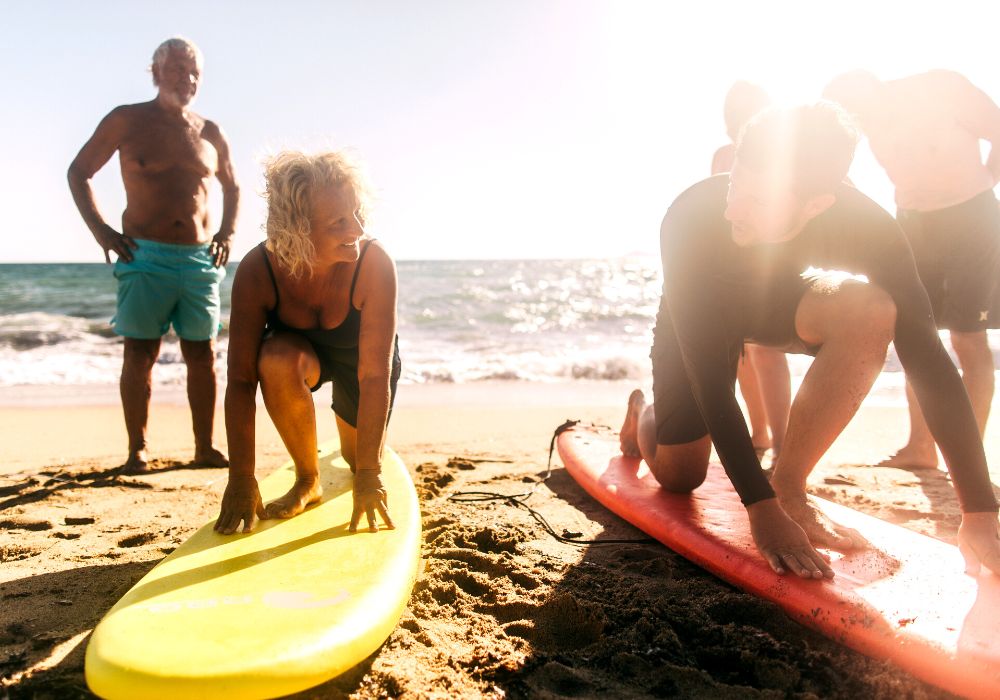 The session lasts 2.5 hours and you'll learn all about surf safety, standing up on your board and the keys to catching the perfect wave. This is definitely one of the best surf lessons in Cornwall as it's been hand-picked by the World Surf League.
Surf, Coasteer, and Wild Camp in Cornwall
Based In: Newquay
Starting Price: £270.00
Includes: Food, tent, surfboard, wetsuit
This incredible two-day and three-night Cornwall adventure will have you taking surf lessons at Newquay's Fistral beach before retiring to a beautiful spot in the Cornish woodland to sleep under the stars – something I've done on so many Cornish holidays.
On day two you'll be introduced into the exciting world of coasteering where you'll get to dive from cliffs into the water, swim through gullies, and clamber over the rocky shoreline in an adrenalin-fuelled adventure.
On the third day, you'll consolidate all you've learned and get to spend more time surfing. You'll even get to try out some of the bigger waves if you feel confident enough. All safety gear, camping, and surf equipment is included in the price.
Fistral Beach Surfing Experience
Based In: Newquay
Starting Price: £51.00
Includes: Surfboard, wetsuit
This two-hour surf lesson at Newquay's famous Fistral beach is perfect for beginners and is run by Fistral Beach Surf School. After meeting at the surf school and changing into your wetsuit, you'll get a quick safety briefing before hitting the water.
You'll learn all the best techniques from a fully qualified Level 2 ISA surf instructor at one of the best surfing beaches in Europe so you know you're in good hands.
More than Just a Surf Lesson
Based In: Mawgan Porth, Newquay
Starting Price: £46.00
Includes: Surfboard, wetsuit
This two-and-a-half-hour surfing lesson takes place at Mawgan Porth beach near Newquay on the north Cornwall coast. The experience includes a brief warm-up session, a safety briefing, and two hours on the water learning how to ride the perfect wave.
This surf lesson takes place at the closest beach to Newquay Airport so it's a convenient option for those coming from further afield. All equipment is included in the cost.
Taster Surf Lesson with Newquay Activity Centre
Based In: Newquay
Starting Price: £51.00
Includes: Surfboard, wetsuit
This excellent two-hour surf lesson taster is just the thing to get you hooked on this fun sport. Learn all the basics from beach safety to how to stand up on your board in one of the UK's best surfing spots.
All equipment and a Rip-Curl wetsuit are provided and you'll learn from professional surf instructors from the Newquay Activity Centre.
Surfing Cornwall vs Wales
Wales is another great surfing destination in the UK but it's a lot less developed and offers fewer surf schools and equipment rental shops. Cornwall is very much geared towards surfing which makes hitting the waves in the west country far easier.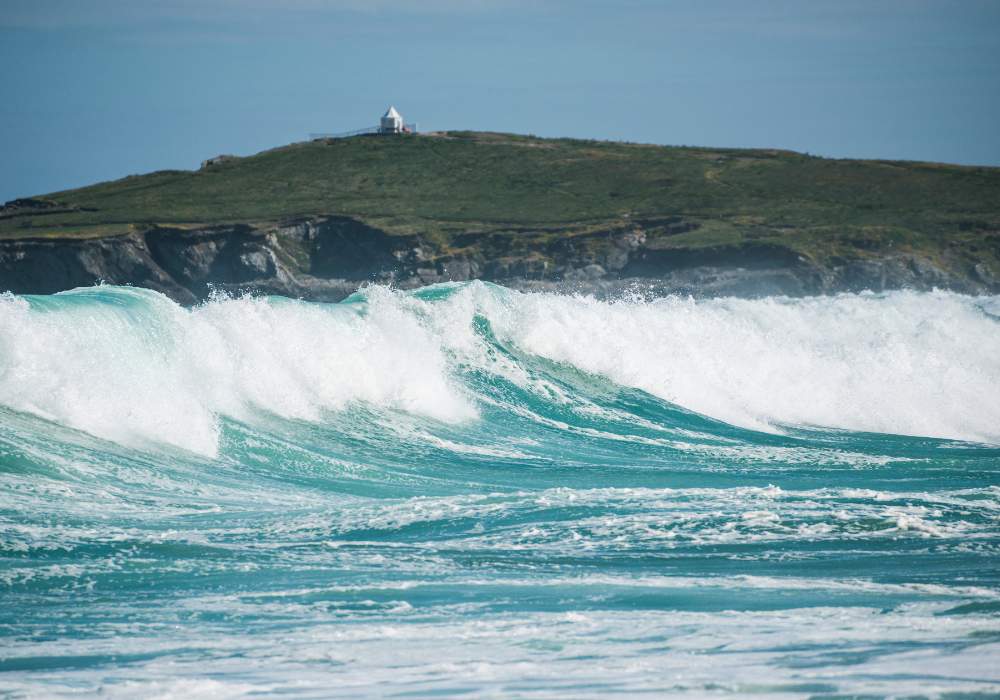 Cornwall is definitely the better location for surfing as not only are there many places for lessons and board rentals, it's also home to many of the best surfing beaches in the UK.
How To Get to Cornwall
Cornwall is easily reachable from the rest of the UK by road. There are also bus services from London, Birmingham, Bristol, and other major UK cities.
Trains run daily from London Paddington to Bodmin (with a journey time of four to five hours) where you can transfer to many of the surf spots across the county direct from the station.
Cornwall is served by Newquay International Airport with flights to major UK cities and direct flights to Europe. From Newquay, there are bus connections to some of Cornwall's top surf spots such as Bude.
Where to Stay in Cornwall for Surfing
Now you know where to surf in Cornwall, here are a few of the top surf hotels and accommodation options close to the best surfing beaches.
1. Two Onshore – Newquay
This stunning luxury two-bedroom apartment is located right in the center of Newquay with everything you could possibly need right on the doorstep.
It's a short walk to Fistral, Towan, and other Newquay beaches; making it the ideal spot for keen surfers. The property comes with an outside tap which you'll appreciate for being able to hose down after a day of riding waves. Click here to find out more.
2. Polzeath Beach House
This stylish new hotel (opened in 2020) is located a two-minute walk away from Polzeath beach making it the perfect option for surfers. All rooms come with an en-suite wetroom with a walk-in shower – just what you'll need to wash of the sand from a day at the beach.
The onsite Atlantic Bar and Restaurant is a great place to kick back and relax after hitting Polzeath's excellent surf, and has a beautiful terrace with spectacular sea views.
Although this hotel wasn't open when I was last in Polzeath, I'll certainly be staying here on my next visit. Click here to book.
3. Perranporth Apartment
This gorgeous ocean-front apartment is a stone's throw from Perranporth's surfing beach and has incredible views of the coastline.
The property sleeps two people and contains everything you need for your surfing holiday in Perranporth, including an incredible private decking for guests to take in the surroundings. Click here to find out more.
4. Widemouth Bay Home
This modern home has four bedrooms and sleeps up to eight people; perfect for a surfing trip to Cornwall with friends.
The property is a five-minute walk from the beach and comes with decking, a garden, and a barbeque, so you can enjoy those sweet Cornwall evenings after a day's surf. Click here to book.
5. Anchor Cottage Porthleven
The beautiful Anchor Cottage is a traditional fisherman's cottage in Porthleven on the south coast and is the perfect place to for surfers to stay.
This two-bedroom property sleeps up to four people and is just minute's away from the beach and all the amenities of the village. The cottage comes with a garden and an outside dining area. Click here to find out more.
Top Tips and Advice
Having surfed in Cornwall for over 30 years, I've listed some tips on how to get the best out of your experience below:
Tip: a wetsuit is only necessary if spending extended periods in the water or surfing outside of summer
Tip: speak to board rental staff about getting the right size board for your height
Tip: always use sunblock when in the water
Tip: don't go surfing straight after eating a big meal (and definitely don't try after drinking alcohol)
Tip: always surf between the designated black and white chequered flags at patrolled beaches
Tip: never surf when a red flag is up
Tip: check the surf forecast for Cornwall before hitting the water
Tip: watch out for man-eating sharks (just kidding, there are none in the waters of Cornwall)
Surfing Cornwall FAQs
Is Cornwall good for surfing?
Cornwall is excellent for surfing and is famed around the world for its fantastic surfing beaches such as Newquay's Fistral.
When did surfing start in Cornwall?
People have been surfing in Cornwall since at least the early 20th Century. Surfing started in Newquay in 1929 after friends saw surfers in Australia on a newsreel.
Which beach in Cornwall is best for surfing?
Fistral beach is the best all-around surfing beach in Cornwall thanks to its consistent waves, surf schools, (and great nightlife).
What is the best time to surf Cornwall?
Summer (June to August) is the best time to go surfing in Cornwall. If you're looking for big waves, the shoulder and winter seasons can be good, but surfing during these times should not be attempted by anyone other than advanced surfers/swimmers.
Can you surf Cornwall without a guide?
It's definitely possible to surf in Cornwall without a guide. All you need is a surfboard and a sense of adventure.
Is surfing Cornwall dangerous?
Any activity in the water can be dangerous and surfing is no different. If you surf at patrolled beaches and pay attention to the lifeguards the risks will be minimized.
In Conclusion
Now you know about the best surfing beaches in Cornwall, it's time to try out this exciting sport in some of the UK's most scenic locations yourself. From quiet stretches of coastline with huge waves to more family-friendly surf spots, there's somewhere for everyone to enjoy surfing in Cornwall.
Whether you're new to the waves, or a pro, Cornwall's sandy beaches and unspoiled coastline offer so many fantastic opportunities for hitting the surf and catching a few waves. The bigger towns of Bude and Newquay also have excellent nightlife so make fantastic vacation destinations for more reasons aside from surfing.
With mile upon mile of coastline, consistent waves, surf shops, board rental, and everything you need to enter the water, it's no wonder Cornwall is considered the best surfing destination in the UK.
Like This Article? Pin it!