Like most of you back home in North America, we were off for the Christmas holidays…well, 2 days of it! The Chinese don't celebrate Christmas so we were glad to actually have Christmas Eve and Christmas Day off. In all honestly, I don't think we would have had those 2 days as holidays had they not fallen on our usual days off at work! Either way, the time leading up to Christmas and those 2 days off we enjoyed to the fullest.
The Friday before Christmas the whole office participated in Secret Santa. Although the Chinese women (our teaching assistants) weren't really sure what this was all about, they joined in and bought their selected person a gift. Sunday night us and our colleagues went out for a delicious Japanese Teppanyaki meal which was a treat from our employer, Shane School. Monday was Christmas Eve and we spent the day having lunch at one of our favourite restaurants, Donbei, hungout with a friend for a bit and watched our favourite Christmas movies: The Santa Clause, Elf and a new one called Arthur's Christmas. We went to bed excited to wake up and see if Santa had found us here in China.
Wouldn't you know it…he did find us! We opened presents together in the morning under our Chinese-sized Christmas tree, had Baileys and Colombian coffee (a gift from Santa) and then Skyped with our families. We then treated ourselves to one of the three boxes of Kraft Dinner we had brought from Canada and were saving for a special occasion! KD is definitely not considered a luxury in Canada but it's nice to have familiar foods from home once in a while.
Christmas evening was spent with our foreign friends and some local friends as well. We ate, drank and were very merry. We made a dinner as traditional as we could based on what we can buy here in Yangzhou: roasted whole chickens, bread stuffing, mashed potatoes with gravy, baked pumpkin, roasted potatoes, stir-fried veggies, apple pie and strawberry cheesecake for dessert! So good. It was a fun night spent with great people.
Before we knew it, it was New Year's Eve. We typically find ourselves in a country where this holiday isn't celebrated. That was the case here in China, however, this year we were with other foreigners who also wanted to ring in the New Year with a party. It seemed as though every foreigner in Yangzhou descended upon our friend's house and we all counted down to 2013 together. It was a late night but definitely a memorable one.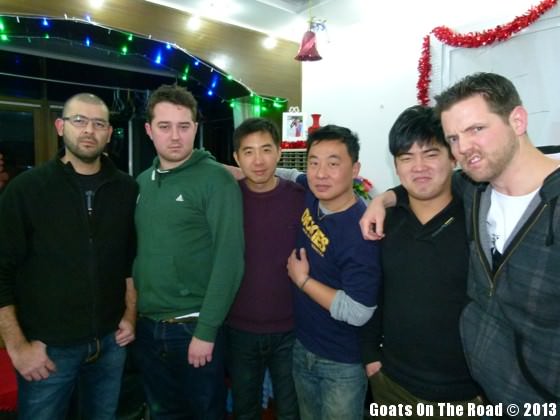 Unfortunately we didn't have a whole lot of time to recuperate from the night's events. New Year's Day we were attending a Chinese wedding. Our friend (and teaching assistant) Dora was getting married and invited the foreign teachers. We all sat around the table fairly quiet, picking at our food and wishing the loud music would stop! A Chinese wedding is the last place you want to be when you're tired and have a hangover. Nonetheless, it was a nice celebration and we were honoured to be a part of it.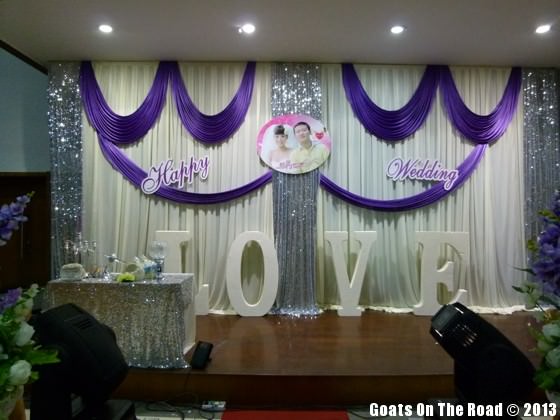 So far we've celebrated Christmas overseas together in Vietnam, India and China. We have to say that this year was the best one yet! With the eating, drinking and partying out of the way, we now have 4 days off to relax and work on our website. Although we're only a few days into 2013, this year has been very good to us.
We wrote a guest post "Lost In Translation: Ridiculous Signs From Abroad" for one of the most established and reputable travel websites: Vagabondish.com. We are also going to have a 3 page article printed in the popular magazine: Southeast Asia Backpacker! This is very exciting for us, it seems as though 2013 is off to a good start for the Goats On The Road. We're also making some changes to our website and we hope to have it revamped, restyled and ready for your enjoyment very soon.
Wishing our followers, friends and family an adventurous, prosperous and healthy 2013!
Like this Post? Pin it!