A couple of weeks ago, we decided to show our Chinese friends the western ways of BBQ'ing and picnics, a foreign concept here in China. They had a great time and wanted to show us something special from their culture. So, they invited us, Jhonny, Rose and Colleen over to one of their houses to show us how to make dumplings!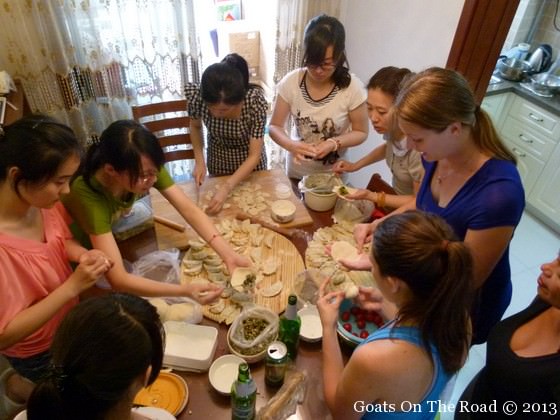 We love eating dumplings and are basically part dumpling, so teaching us how to make our favourite food here in China was perfect.
How hard could making dumplings really be? 
All we had to do was take a circular piece of dough, put a bit of water around the outer edge, fill it with a scoop of filling (made with pork, egg, mushrooms, celery and spices), fold it in half and then close up the half-moon shape by folding and pinching the sides.
It sounds easy, but it takes a lot of technique.
For our Chinese friends, it was a breeze, but for us, it was a mess. Our dumpling wraps were breaking, not folded properly, stuffed too full and had holes in them. Our friends kept saying theirs were "piàoliang" (pretty or impressive) and ours were "bu hao" (not good), which was true!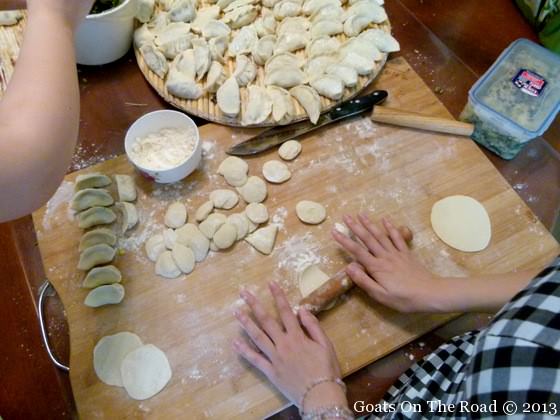 At the end of all the rolling, stuffing, folding, pinching and flouring, we ended up with trays full of dumplings just waiting to be boiled.
We not only had freshly made dumplings, but we had a homemade tofu soup and a delicious lentil soup as well. We all sat around the circular table chatting and feasting on our creations, stopping eating only to laugh at a horribly made dumpling that fell apart just by looking at it, most likely made by me or Nick.
We were very spoiled by our friends and eating the delicious, authentic food made from scratch was truly a Chinese experience that we will never forget. Hmm, I wonder what they will show us next?
Here's A Quick Video Of Our Dumpling Party:
Like this Post? Pin it!