The Naadam Festival is the time of year in Mongolia when everyone gets together to show off their skills and compete in different events: wrestling, horse racing, archery and ankle-bone shooting.
This festival is like Christmas to the Mongolian people. It's the time of the year that they most look forward to. Every village and town has a Naadam Festival of some sort and everyone dresses in their finest Mongolian attire, prepares lots of food and arak (fermented mare's milk) and spends the days out in the sun with friends and family.
We missed the big festival in Ulan Bator, but as luck would have it, we were able to see one out in the smaller village of Tsetserleg, which we were told are more authentic and better anyways.
The festival was like a small fair. Local people came from all over the province to either participate in the events, to sell food and toys, or to run small carnival games for children.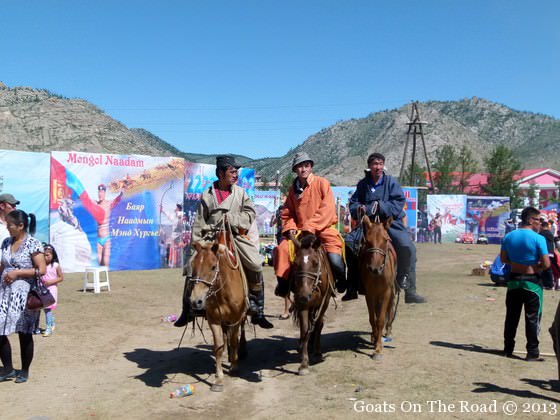 We made our way down to the local stadium to watch the ankle-bone shooting contest where 2 men flung a ball made out of cowhide at a target made from ankle bones. It's probably one of the most random sports we've ever witnessed!
What we were really waiting for was the wrestling. It's almost like a sumo style of wrestling like they do in Japan. The men came out wearing their small underwear-style bottoms, boots, traditional hat and an open, over-the-shoulder top. Years ago, the wrestlers started wearing these open style shirts because the men were constantly losing to a woman, who disguised herself as a man! Now that the shirts have to be open, the sex of the wrestler is definitely exposed.
The men lined the field and did their entrance dance, circling and holding their arms out like they were flying. They then matched up and the wrestling began, with a bunch of pairs going at once. There are no weight divisions in this sport and these Mongolian men are massive!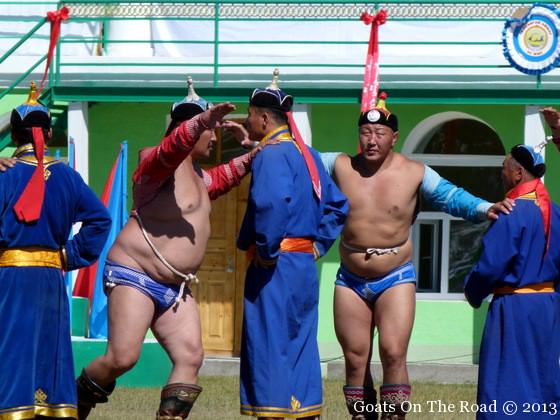 It was a really fun event to watch on the sidelines with the Mongolian spectators cheering on their favourites. We were offered snuff, handshakes and hello's from many locals and felt very welcome at this festival.
Unfortunately, there wasn't any archery to be had at this Naadam Festival and we also weren't able to see the horse racing. We searched everywhere for it before finding out that it was happening 45 minutes away. Regardless, we had really wanted to see the wrestling, and it sure didn't disappoint.
Witnessing the local festivals in different countries is always such a great experience. Being in Mongolia during their favouirte time of the year was a great way to see the locals enjoying themselves, and it was an excellent way for us to immerse ourselves in the local culture.
For more information on travelling to Mongolia, check out our Backpacking Guide to Mongolia.
What do you think? Leave a comment below!
Like it? Pin it! 🙂