Fly fishing has always been one of my favourite hobbies. Ever since I was a 3-year-old boy I've loved everything about it. The sound of the river rushing beneath my feet. The tranquility of nature. The abundance of life in the wilderness. The gentle whisper of the fly line as it cuts through the air, and of course, I love the feeling I have when a big fish bites down on the fly and sends my reel screaming and my adrenaline pumping!
When I was young, my dad picked me up every Saturday and took me and my older brother, Justin, out fly fishing. It represents a special part in my childhood and I wish I was able to do it more often today.
The Lake District in Argentina is world-famous for having some of the best fly fishing rivers and lakes in the world, so I knew that I had to try angling here. What makes it even more appealing is the setting. Nestled beneath the Andes Mountains, a series of river-connected glacial lakes provides a breath-taking landscape in one of the planet's most pristine environments, Patagonia.
(Don't miss the video from this trip at the end of this article)
My first attempt at fly fishing in the Lake District was a fail. I rented my own rod (450 pesos / $30 USD), paid for a 24 hour fishing licence (460 pesos / $21) and drove out to a river just north of the town of San Martin de los Andes. It wasn't the best fly rod I'd ever seen, but it would do the trick.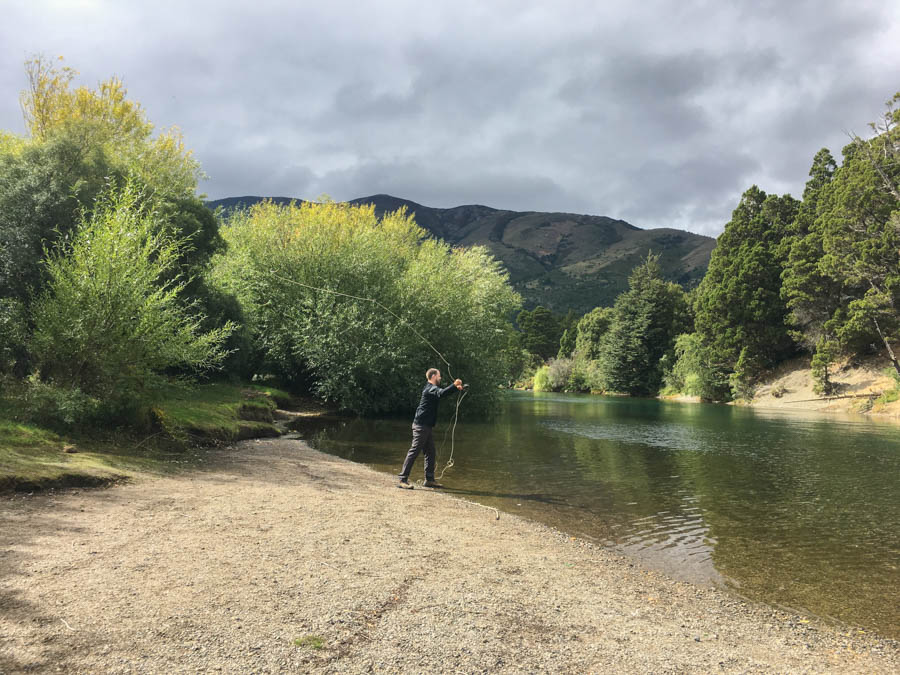 I casted until my hands were literally blistered, but I didn't have a single bite. Five hours I spent on that river, with Dariece patiently waiting on the shore, until finally I gave up. My dad and brother would attest that I'm not the "luckiest" fisherman, but this day on the river was definitely a bad showing on my part.
I needed help if I was going to catch any fish in Patagonia.
I called up the guys at Wilderness Patagonia and we waited for a good day to hit the river. Not too sunny, but not rainy. A time when the fish were likely to be at their hungriest.
When Mario & Christian pulled up to the Alma del Lago Hotel where we were staying, I was amazed at how professional the set up looked. A 3/4 ton pick up was hauling a beautiful drift pontoon boat, complete with hand railings and 360° rotating chairs.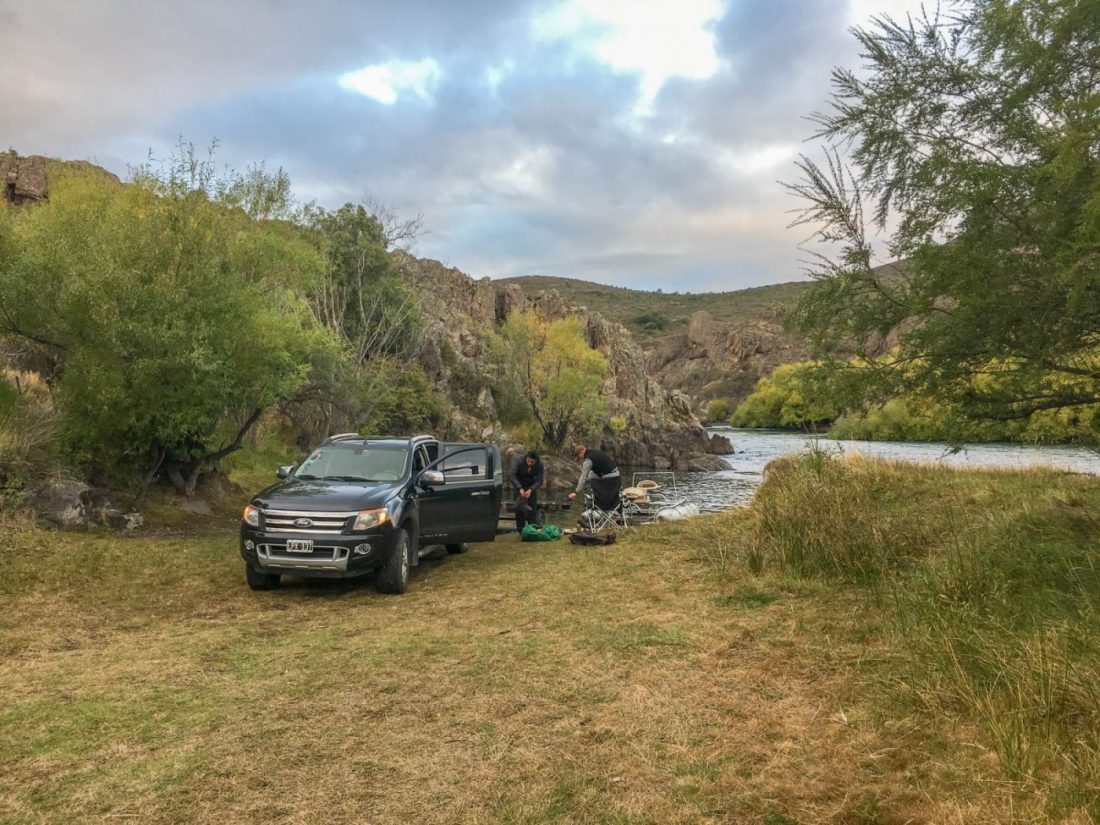 I had never been in a proper fly fishing boat before and I was excited to give it a try.
As we drove out towards the Limay River, the clouds darkened and the air moistened. I worried that it was going to be a wet day, but I could tell I was going to get along well with Mario, my fishing guide for the day. He was a wealth of information. I've been fishing on and off for my entire life, but I still learned so much from him in the short 1 hour drive to our starting point.
I was convinced that the rain that had dampened our travels in The Lake District for the past 2 weeks were about to return. When we pulled up at the river and launched the boat, it started to drizzle a little bit, but Mario assured me that it was going to pass.
We suited up in full gear, complete with waiters, boots, vests, hats, fly boxes, 2 rods… the whole kit. The gear was excellent and Mario brought more flies than I could count, all tied by him during his off-season months when he works as a personal trainer.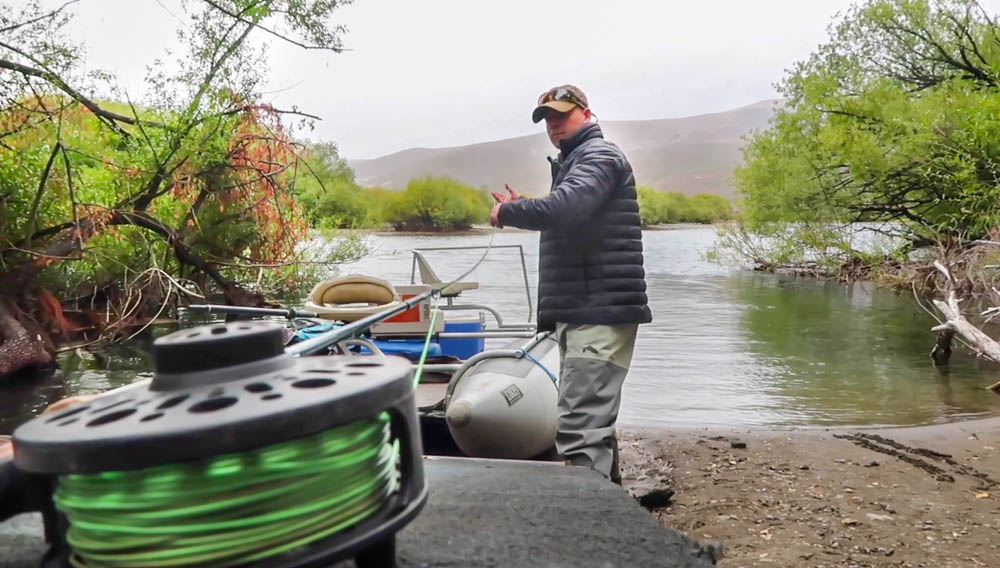 From there we boarded the boat and started to drift down the Limay River. "Limay" means "clear water" in the Mapuche language and as soon as the boat left the shore I could see why. Even when the river was at its deepest, I could see through the water like glass.
There are no motors allowed on this portion of the river, so the only sounds we heard were the chirping of birds and delicate splashes as the paddles entered the water with each stroke.
We stopped at our first fishing spot where two arms of the river met. We stepped off the boat and waded in the water for about 10 steps. Mario pointed to an area of water that was churned up near the neck of the smaller arm.
He pointed and said "There, cast there."
I listened to his instructions and anxiously waited as my fly drifted down the water, gently floating above each ripple in the rushing river. He reminded me to "mend" the line, which helps the fly to float more naturally.
Nothing.
Mario then scanned the surface of the water again, expertly searching for the perfect place to throw my fly. "There, that's the spot".
Again I casted to where he pointed and within 2 seconds of the fly hitting the water, a fish struck and I could feel the shaking and thrashing reverberating down the thin rod and into my hands.
I felt that same rush that I used to get as a boy as I reeled in the fish. It was by no means a monster, in fact a small fish could've eaten it, but I had caught a fish!
The day carried on like that. We spent time drifting down the river in the boat and wading in the shallows, all the while I was casting into the spots that Mario suggested. I caught two small fish early on in the day which was great, but I was just happy to be fly fishing in Patagonia!
At times I stopped casting and let the line lay zig-zag on the surface of the transparent water. I would gaze away from my reel and look at the massive mountains and rock formations all around me.
I had to remind myself where I was on a few occasions and also remind myself that this was real. This was really happening and the scenery wasn't something printed on a post card. It was right in front of me.
At one point while I was gazing off at my surroundings, I turned around to see that Mario had set up a table and chairs on the river bank. He laid out a bunch of sandwiches, fruit, crackers, cookies and even a bottle of red wine.
I paused fishing for a while and Mario and I enjoyed some lunch and wine while chatting about life. I know that if I had more time with Mario, we could have many chats like that. He too left a busier life to try something new and follow his passion – fishing and the outdoors. While he's still a busy man, he was genuinely happy with his life and seemed very positive about his job.
Shortly after that lunch break, the day was done. I couldn't believe it! The time passed so quickly, but we were on the river for nearly 6 hours total. Wilderness Patagonia also offers multi-day fishing, drifting and camping trips down the river, so next time I come to Patagonia, I want to book one of those tours for sure.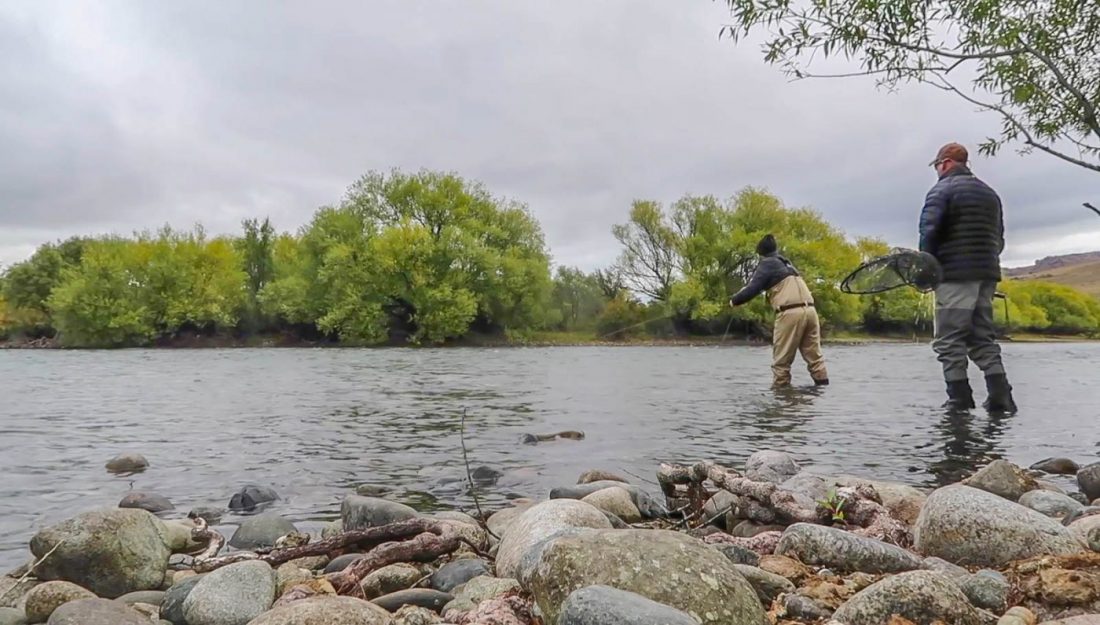 As we drove back to town, a new fire was lit inside me. I want to get back into fly fishing. I want to return to Patagonia and the Lake District in Argentina and I want to return during the peak fishing period in the spring or fall. I want to catch one of the massive 12 – 15 lb fish that are lurking in these rivers and I want to learn more from Mario about how to find them.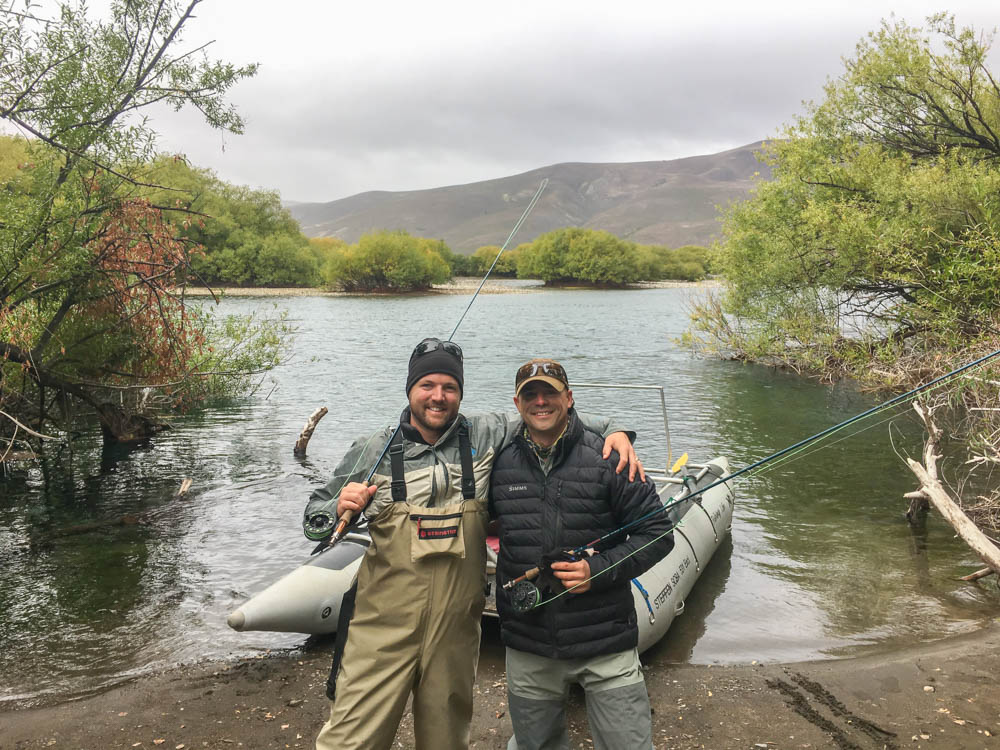 Shortly after this fishing trip, Dariece and I left Patagonia. As I gazed out of the window of the bus at the golden peaks, the mirror-like lakes and the glistening rivers, I felt a forlorn melancholy come over me. I truly didn't want to leave. I've never left a region and felt so connected to its nature.
From the epic O Trek that we completed in Torres del Paine, to the rugged glacier fields of El Chalten and of course, this fishing trip, I had fallen under Patagonia's spell. This will not be the last time we travel in this incredible region of the planet.
Traveller Tips:
Wilderness Patagonia offers many fishing trips including the full day private trip that I did ($690USD + $30USD for fishing permit), a half-day trip ($550USD + $30USD fishing permit) and multi-day fishing and camping tours. They also offer other outdoor and adventure tours. Check out their website for more info.
It is also possible to fish independently in The Lake District. You can rent rods from fly shops in many towns including San Martin de los Andes and Bariloche. They cost around $30 / 24 hours
There are plenty places around the Lake District to buy fly fishing gear including rods, waiters, flies and reels. I went to Mambo's and Damonte Outfitters.
All fishermen and women must have a valid licence to fish in Argentinian Patagonia. It costs around $30 for 24 hours. You can also purchase 3 day, 5 day and seasonal licenses. I was personally checked by rangers, so make sure to get one. You can also buy these in the fly fishing shops in many towns. I picked mine up at Mambo's in San Martin de los Andes.
Great fishing spots include the Limay River, the Correntoso River, the Lolog River on the road just north of San Martin de los Andes and Rio Hermoso (near the mouth of Lago Meliquina).
In Bariloche, we stayed at Panamericano Hotel and Alma del Lago. In other areas of the Lake District, we stayed in Río Hermoso Boutique Hotel and Correntoso Lake & River Hotel.
Don't Miss Our Videos From The Lake District in Argentina!
---
You can find more Argentina Videos here!
Want more Patagonia information?! Check out these interesting facts about Patagonia, our hikes in El Chalten, our awesome road trip through the Lake District and of course, the incredible 8 day trekking adventure in Torres del Paine National Park.
A huge thank-you to Destino Argentina and Wilderness Patagonia for putting together this incredible day on the river! All opinions and thoughts remain our own, despite any complimentary services received.
Like it? Pin it!