After an enormously rewarding 8 days in Hsipaw, we decided it was time for us to move on. We were on a 14 hour overnight bus to Inle Lake. We were lucky and managed to get some sleep in between all the stopping – seriously, who is so hungry that they need to have tea and lamb curry at 3:00am? The amount of stops on the overnight buses in Myanmar is unreal. We had heard and read mixed reviews about Inle Lake.
People had said it was really touristy and commercialized. We, however, found it to be quite a bit different. We had pre-booked a room at a guesthouse, which had been the case all over the country. In Myanmar there are so few guesthouses that are registered to allow foreigners to sleep there, and this year there has been a rise in tourism.
Therefore, we've had to book all our rooms in advance. The 20 year old guy that we woke up at 5:00am was a very smart boy indeed. He pulled the oldest trick in the book – show us the nicer, more expensive room first and then the crap room second. His up-selling worked and after seeing the better room for about $4 more, we took it.
May Guesthouse was superb. The well manicured garden area was cloaked in a thick blanket of colourful flowers, complete with a nice sitting area. The deck outside our room was the perfect place for enjoying the sunset with freshly made guacamole, delicious fruit and the local brew. And on top of all that, the staff was very switched on and attentive.
Inle Lake was beautiful. After having a much needed nap, we walked down the street and rented ourselves some one speed bicycles for the day. As soon as we left the main part of town, everything became photogenic, and we stopped numerous time to take the perfect shot. The Inda people live around this area and it was amazing watching them go about their lives, as they have for years. Men were fishing in the river using a very basic, small net that they would throw out, and pull back in.
Others were in the fields tilling the mud and dirt, using a very old and rusty machine. Piles and piles of sugarcane were being hauled from the farms onto old tractors or being pulled with an ox and cart.
We rode for about 1.5 hours around one side of the lake before deciding to take a narrow, canoe-like boat across the body of water. We figured the views from around the lake were just about as good as it gets. Wrong! Actually being on the lake was even more stunning. Seagulls circled above us and followed the boat in hopes that we had some fish for them to steal, the sun was sparkling off the water, people were harvesting seaweed and for a backdrop: beautiful, rolling mountains.
After crossing the lake, we hopped back on our bikes and continued the 1.5 hours or so home. This part of the ride was even more scenic and silent than the other side. But the best part of this side was that it was home to a winery! Can you believe it? A winery in SE Asia, unheard of. We made an immediate right turn and rode up and up to the mirage like vineyard in the distance.
The hills are full of limestone which enriches the soil and makes for the perfect grape growing conditions. We did a tasting each of Shiraz, Shiraz-Temperillo and Pinot Noir, complete with a cheddar cheese platter. All the oaky, fruity, full bodiedness was just what we needed after a long day of biking in the sun. We headed back home before the sun had set and met up with our neighbour, Kristian from Belgium, for some chats and planned to hire a boat to explore more of Inle Lake the following day.
The day on the boat with our captain, Tan-Tun, was one to remember. We set off at 7:30 and started the day just as the sun was burning the mist off the water. Most people who come to Inle Lake go on the typical boat tour. We had other things in mind. We had made a program that suited all of us, and which didn't include hanging out with other tourists all day.
As all the other foreigners were heading one way, we veered off in our own direction. Since it was early morning, the local fishermen were out on the lake practising their age-old techniques. The first technique was to slap the water with a long piece of bamboo, while balancing precariously on the front edge of his small canoe-like boat, in hopes that it would scare the fish to the surface.
The other was to drop a circular bamboo net into the water and continue to stab and stab inside the net, in hopes that some unfortunate fish would end up on the wrong (or right) side of the stabbing.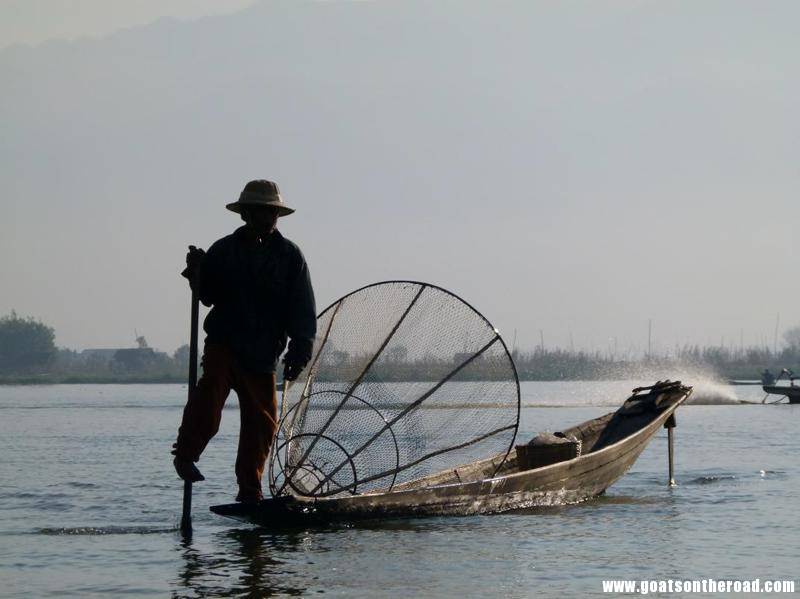 We sat there for quite awhile watching the fishermen. What was also interesting and something we've never seen before was the way they would row the boat…they used their leg instead of their arm! They would hook their thigh around the paddle and use the strength in their quads to propel the boat forward. It was bizarre but effective.
We continued further south down the lake and into a canal where there are a few villages right on the water. These people live in stilted communities and have everything from a gas station to floating gardens. It was amazing to see how self-sufficient they are living out in the middle of the lake. The floating gardens were so intriguing. Tomatoes, soy beans, cucumbers and onions were growing literally out of the lake. They put together stacks of weeds and mud which floats and then plant the vegetable seeds on top. To keep the garden from floating away, they hammered in bamboo rods through the garden and into the bottom of the lake. Very ingenious.
Next, we pulled up to another village (this time on land) and the three of us set off to explore and talk to some of the locals. First there was a man bathing his oxes in the lake and washing his wagon, then we watched a man build wagon wheels from different pieces of wood that he had so carefully sculpted. We then wondered around and found a woman making pottery. It was so interesting watching her abilities with the clay.
We saw the whole process, everything from the pounding of the rocks into a fine dust, to sifting away all the larger pieces of stone, to her rolling and kneading the clay like it was a bread dough and then finally she sat down and turned a ball of clay into 5 different sized pots with different designs, all within about 5 minutes. Nick had a go at it and even though he summoned his skills from grade 8 pottery class, his didn't turn out quite the same as hers…even though he proceeded to tell the professional woman that his and hers were "mooncan" (the same).
We meandered through the small village some more and saw more pottery drying in the sun, lots of livestock, women doing laundry or carrying things on their heads and toothless men building and fixing things. One boy who was 20 years old invited us into his home for tea. He then pulled out a few English – Myanmar language books and started talking with us. It was great. He knew many lines from the books and had taught himself some English. He was definitely interested in practising with us and we happily obliged. After the language lesson, we figured it was time to move on to another part of the lake.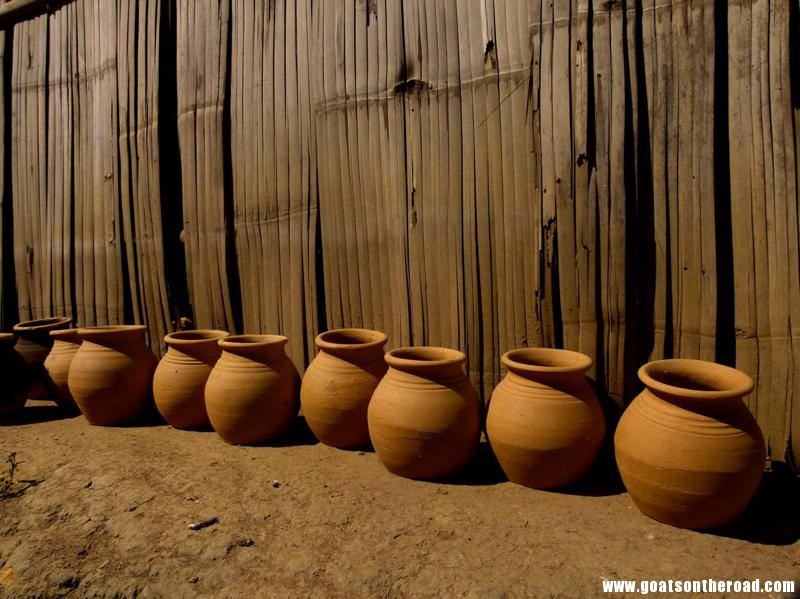 We cruised from the village through marshy canals, past more stilted homes before arriving at a beautiful hilltop pagoda. We climbed up the steps and once at the top we were rewarded with whitewashed monuments, Buddha statues and a place to ourselves. But the best part was the local Pa-U tribal women who were up at the pagoda doing their daily mantras and prayers. This tribe is known for wearing colourful towels on their heads. The women were mostly in the prayer 'zone' but would look up from their prayer beads to smile for the camera. They even sold us cigars and smoked one with Kristian.
It was a pretty surreal moment and we enjoyed it for awhile longer before making our way back to the boat. Since it was the middle of the day, we figured it was time to stop for a lunch break and pulled up to a floating restaurant and enjoyed fried noodles with chicken, soup and fried tofu pieces. After lunch we were off to see a couple of sights that are known to be on the more typical route.
We stopped at a floating cigar factory and then another pagoda that was supposed to be home to a group of cats who are trained to jump through hoops, literally. Unfortunately, the kitties were tired and had jumped enough for the day so I just petted their furry little heads…until we stepped in cat pee, then the cuteness was over. Our final stop was a floating bar to buy some beers for sunset. We parked the boat out in the middle of the lake and watched the golden, red sun dip behind the mountains. Just as the sun had set in the West, the bright, basically full moon rose from the East. A sunset and a moonrise within 5 minutes. It was a perfect end to an even more perfect day.
The next days were spent relaxing and riding our bikes around. We went back to the winery one night for a bottle of wine and sunset, which seems like a good idea, but turned out to be a bit sketchy coming home. The combination of a bottle of wine, one speed rusty bikes, roads full of potholes, and locals driving their ox & cart, motorbikes, and bicycles without any headlights was a recipe for disaster…well, for laughter anyways! It wasn't the ideal situation, but we made it home safe and sound and went out for a delicious BBQ dinner of freshly caught fish from the lake, potatoes and chicken wings.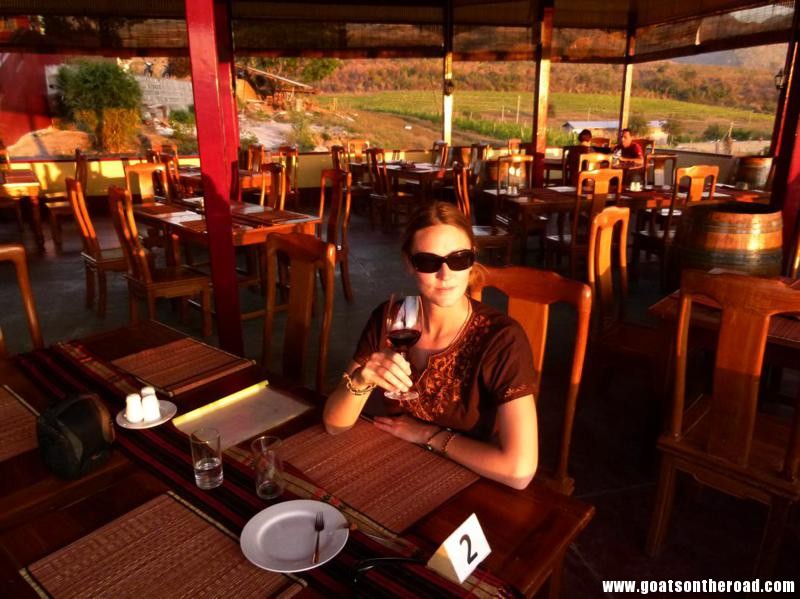 We spent 5 fabulous nights at Inle Lake and were planning to spend a 6th night when we decided to check the date of our bus ticket. Good thing we did, as it turned out we had to leave that day. It was hard to peel ourselves away from the relaxing deck, beautiful countryside and delicious wines, but it had to be done. We were on a 15 hour overnight bus ride back to the capital city of Yangon. We arrived at 6:00am and took a crazy one hour bus ride into the city centre to the guesthouse we had stayed at the first time, White House. We had one night in the city before heading to the airport. Bangkok bound…again!
Like it? Pin it! 🙂