"We all travel thousands of miles just to watch TV and check into somewhere with all the comforts of home and you gotta ask yourself, what is the point of that?"
– Leonardo DiCaprio, The Beach –
After Delhi we headed for Jaipur, The pink city of Rajasthan. We have been to Rajasthan once before and spent time in the smaller cities but this time we booked a nice hotel outside of town where we were to spend our Indian Christmas together. We reserved the "penthouse suite" on the top floor. It was very nice with Maharajan style archways and mouldings, satellite TV, a big comfy bed and it even had heating for the chilly desert nights.  It wasn't exactly a budget backpacker choice, but it was the holidays, so we splurged!
We spent our days mostly walking around the busy maze of the old walled city of Jaipur. We explored the Hawa Mahal Palace with 365 stained glass windows and stood in awe in front of the largest sun dial in the world some 27 meters tall.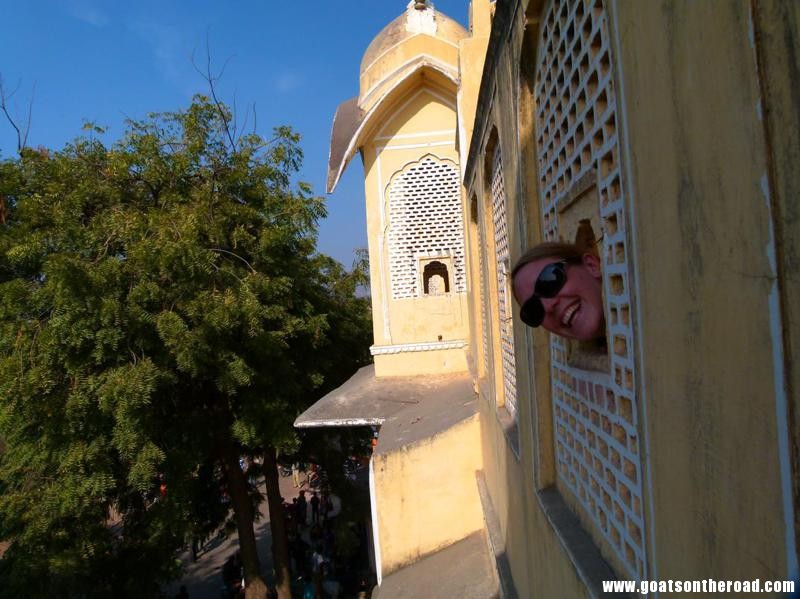 We visited the old mosques, temples, fruit markets and bangle merchants. We snapped photos of their age old techniques applied with modern materials in front of the thousand year old crumbling facades of Jaipur, remnants of a prosperous age in Rajasthan.
One day we took a tuk-tuk to see some sites that were to far to walk to. We visited the enormous 420 year old Amber Fort which loomed at the edge of a massive cliff. We climbed over two hundred stairs to reach Ganesh Temple where we offered the god of prosperity a garland of marigolds to bless our future endeavours. We finished the day off on the shores of a lake gazing at the floating palace while the sun dipped low in the sky. Each night we returned to our hotel and enjoyed some of the most rich and delicious Indian curries we've ever had, cooked fresh each order. We would then retreat to our warm room where we watched TV and ate treats in our big comfortable bed.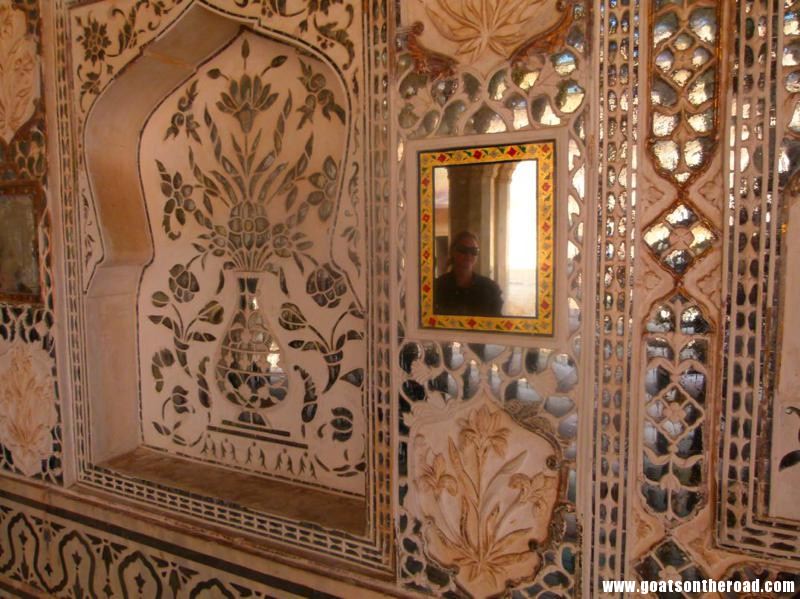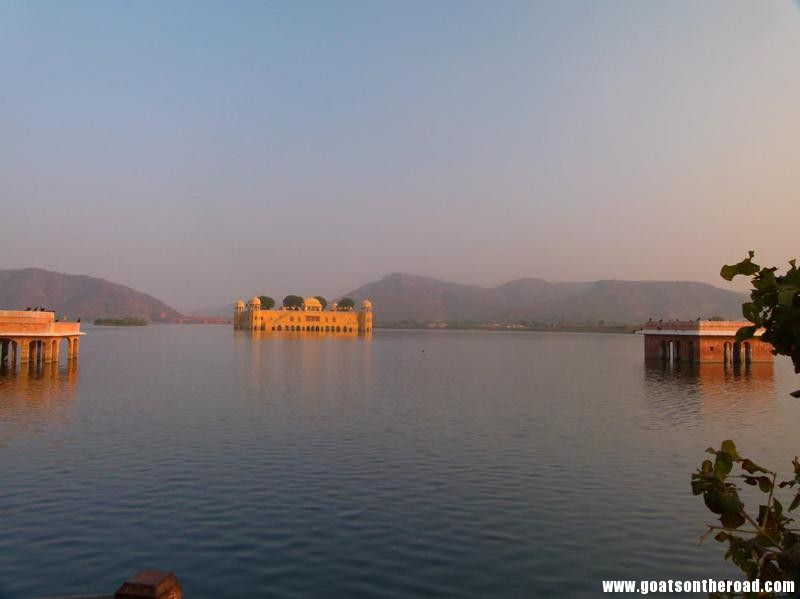 When Christmas morning came we woke up around 9 am and ordered some sweet tea to our room. We sipped the hot chai while we opened gifts that we had bought from Nepal. Simple things that were useful for travelling like warm slippers, shirts, pants and chocolate bars.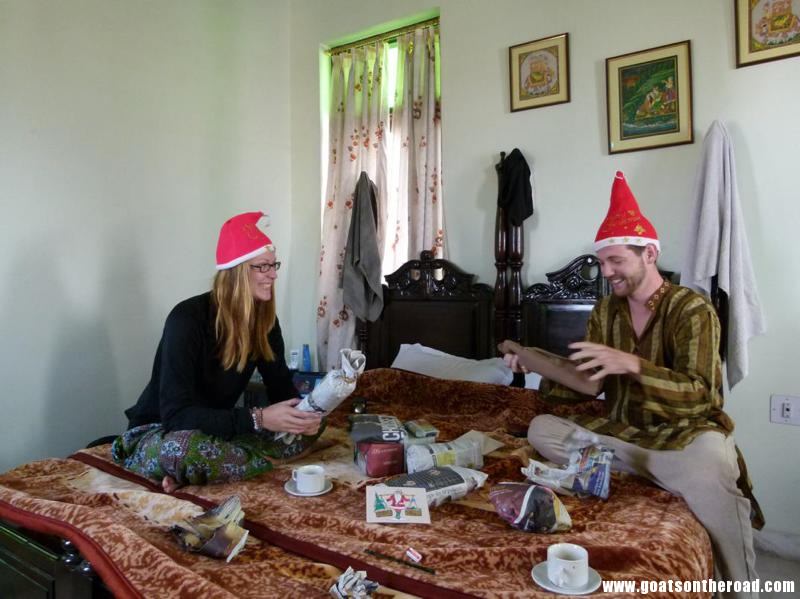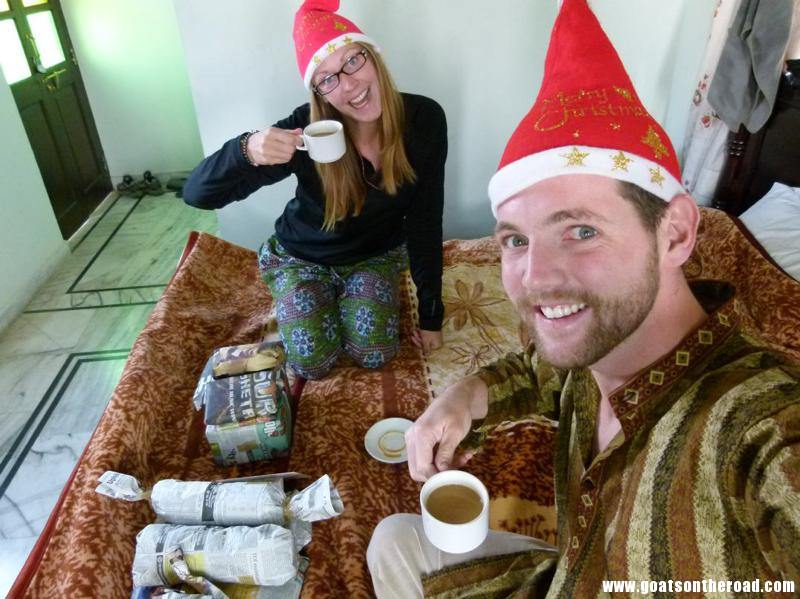 That night, while our families were just waking up in a different time-zone half way around the world, we had our Christmas feast. Domino's Pizza! There was even a Santa Clause outside handing out candy. A skinny, beardless dark-skinned Santa but a Santa nonetheless. We had a large pepperoni pizza with coke and garlic bread and ate it inside the festively decorated Indian style Domino's restaurant. And surprisingly it was delicious. I don't like Domino's at home but Domino's in India is a treat, or maybe it was because we hadn't had a proper pizza in so long.
Later, we called our families to say Merry Christmas. A mixture of emotions comes with Christmas abroad. It reminds you of how great it is when the whole family gets together in celebration and it's hard to not be around for it. Our Christmas ended back in our hotel room, with a bottle of wine which we drank in bed while watching our favourite TV shows from home. I guess sometimes, especially at Christmas, you need to check yourself into somewhere with all the comforts of home.
Like it? Pin it! 🙂