If you're a wine lover, you need to put Argentina on your travel itinerary, immediately! But, even if you're not a total wineo, you'll still appreciate the amazing wines on offer in this fantastic country. With seven provinces growing grapes (Mendoza, San Juan, La Rioja, Salta, Catamarca, Río Negro and Buenos Aires), and a culture filled with food and drink, Argentina is the ultimate place to sample a bottle of red in South America.
Prior to visiting Argentina, we loved red wine, but we didn't particularly love Malbecs, which is the varietal that Argentina is known for. Fast forward 2 months after travelling around this nation, and we are in love with Malbec!
Read on to learn about 7 bottles of red wine that you must try in Argentina – in no particular order.
Lote Finca la Colonia LC112
Location: Mendoza
Winery: Bodega Norton
Variety: Malbec
Year: 2012
The Lote Finca la Colonia LC112 is one of our favourite wines to date. If you like a dry, oaky taste, this bottle is for you. It's aged in new French oak barrels for 16 months, and has rich plum flavours, and spicy notes on the nose. This is a fabulous bottle of wine.
The Norton winery itself is a gorgeous spot. Located about a 30 minute drive from the city of Mendoza is this sprawling vineyard. Here you can create your own blends of wine, try your hand at harvesting grapes, or simply do a tasting. It's a great place to spend the afternoon.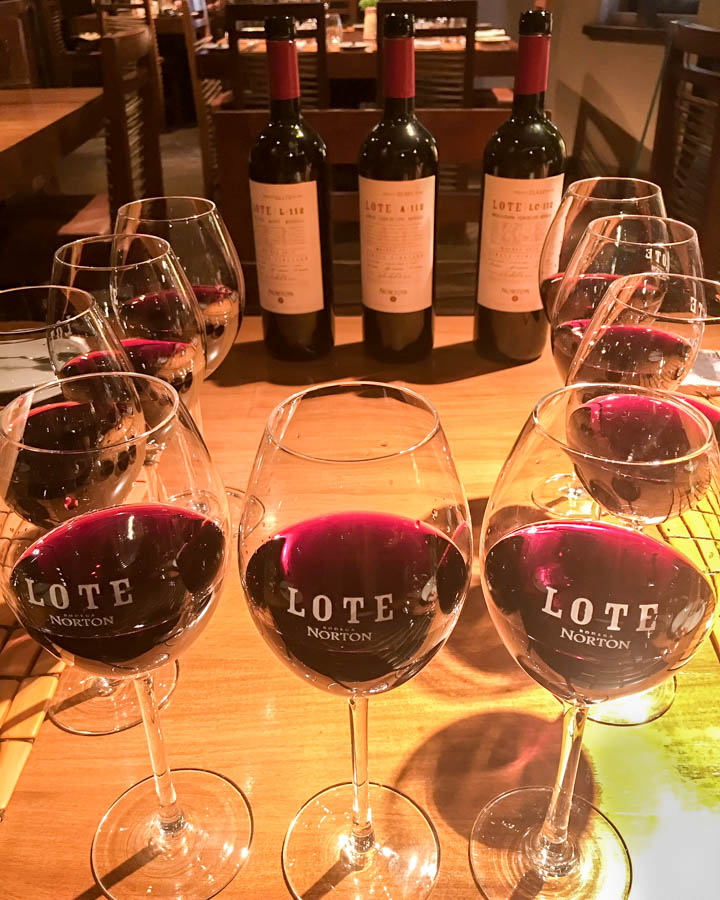 Altimus MMXI
Location: Cafayate
Winery: El Esteco
Variety: 61% Malbec, 25% Cabernet Sauvignon, 14% Cabernet Franc
Year: 2011
Altimus is El Esteco's icon wine, with the blend changing each year. The Malbec, Cabernet Sauvignon and Cabernet Franc are all aged separately for 12 months in French oak barrels. When blended together, the wine is aged again for a further 6 months.
The Latin word Altimus translates to "the highest" in English, which is very fitting for this bottle, as the grapes are grown at an altitude of 1,675 meters above sea level (5,500 feet). With hardly any rain, an abundance of sunshine and the high altitude, the Calchaqui Valley is the ultimate winemaking region.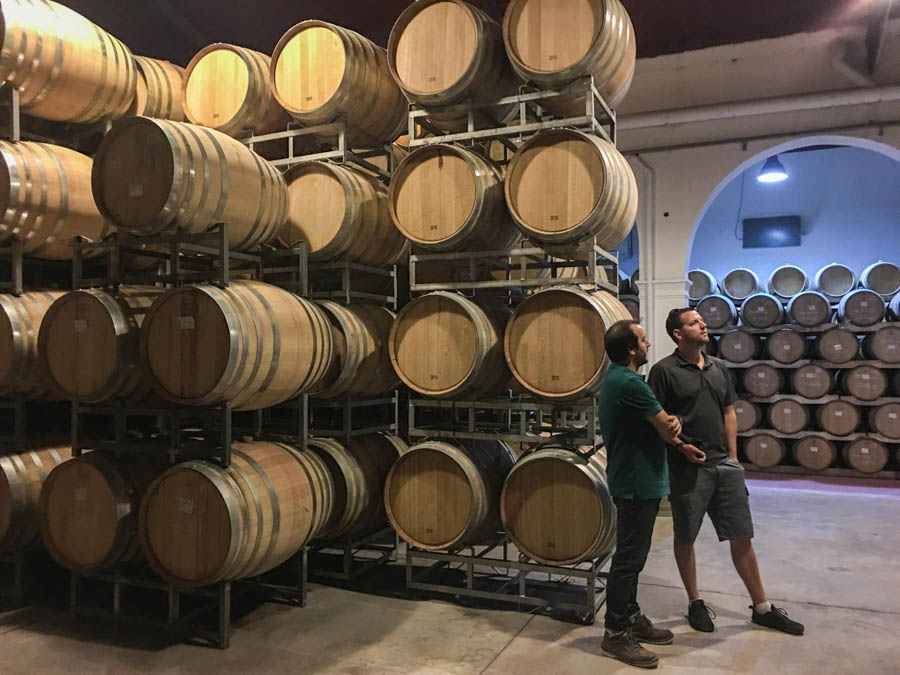 Facón Tannat-Cabernet Sauvignon
Location: Cafayate
Wine Company: Bad Brothers
Variety: 50% Tannat, 50% Cabernet Sauvignon
Year: 2015
The Facón line of wines is a play on words. A facón is a traditional weapon of Argentina, and after trying this red blend, you'll be saying: "That's a good "facón" wine!" This bold red is dry, full in the mouth and offers lots of tannins.
Bad Brothers isn't actually a winery, and in fact, they don't have their own vineyards, but they do have a wine bar and experience in Cafayate. The wine makers here work together with various vineyards surrounding Cafayate to collect the best grapes to make their bottles of wine.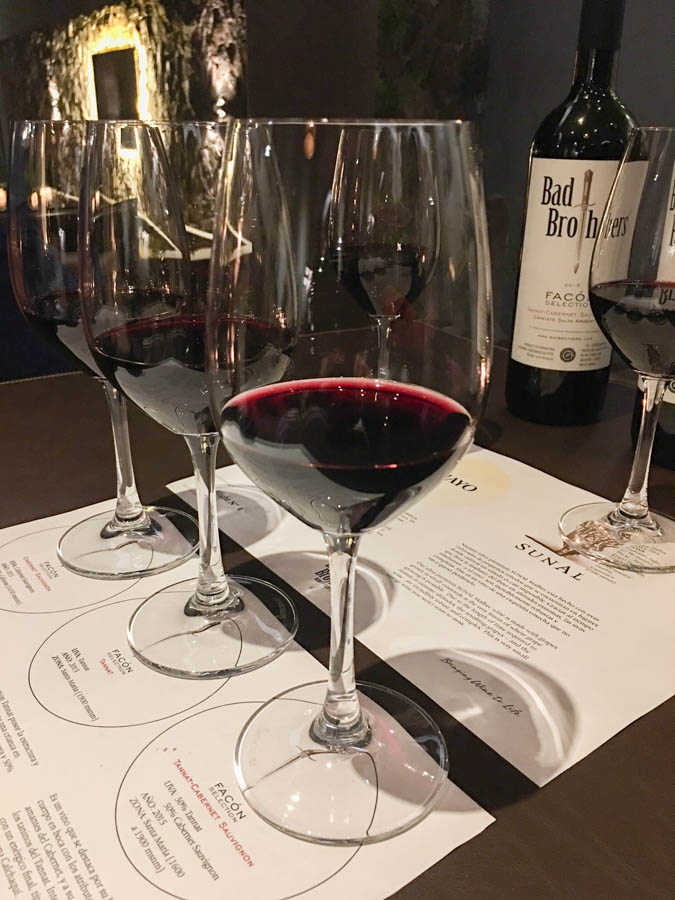 Piattelli Grand Reserve Malbec
Location: Cafayate
Wine Company: Piattelli
Variety: Malbec 
Year: 2014
Not only is the setting of Piattelli Vineyards absolutely stunning and the perfect place for lunch, but their wines are fantastic as well. After sampling quite a few from Piattelli, this Malbec was our favourite. In fact, it's so good that we've purchased it numerous times since visiting the winery.
The colour is super dark, with deep flavours of blackberry, chocolate and toasted oak. If you like Malbec, this is the wine for you.
Bonus: We're mostly red drinkers, but the Torrontés 2015 wine at Piattelli was our favourite! Don't miss trying that one.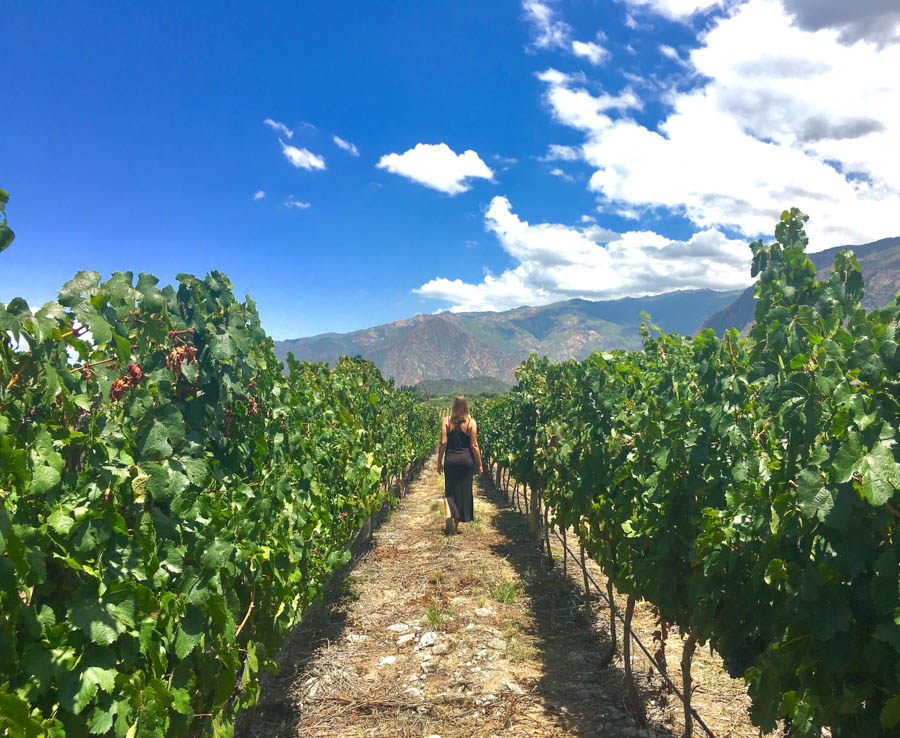 Zuccardi Q
Location: Uco Valley
Wine Company: Zuccardi
Variety: Malbec 
Year: 2014
If you're looking for an easy drinking bottle of wine (which is often very affordable at restaurants around Argentina), then make sure to check out this deep purple 2014 Malbec from the Zuccardi family. On the nose you'll find oak, chocolate and red fruits. On the palate you'll taste berry and oak. The Zuccardi Q has a nice, long finish.
Not only does the Zuccardi family know wine, but they also grow, bottle and sell olive oil! You can make a trip out to the vineyard and enjoy the restaurant and the wines with the spectacular Andes Mountains as the backdrop.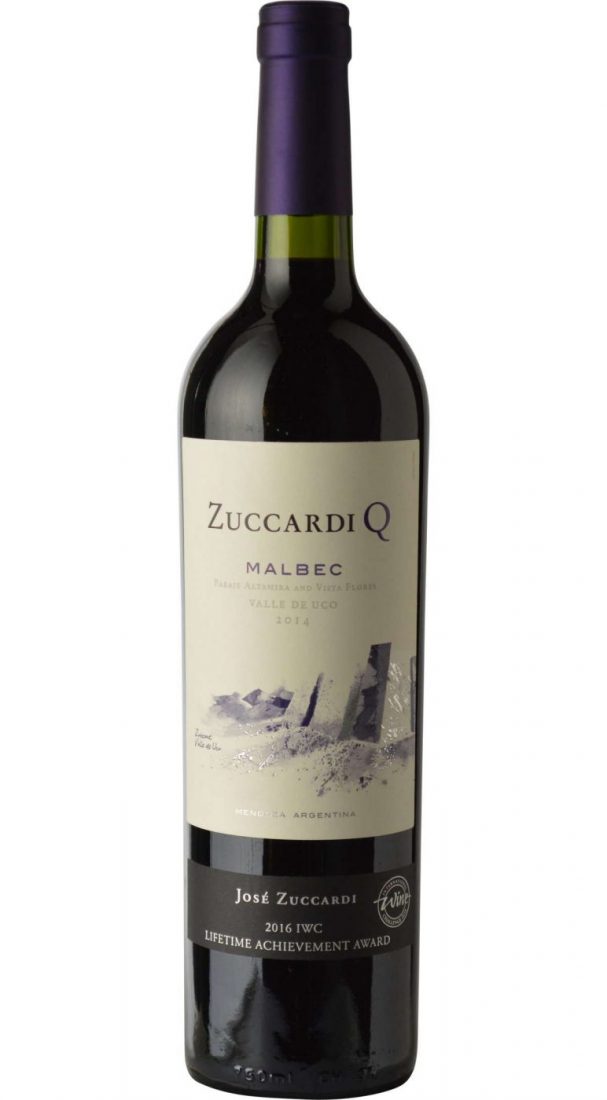 Ruca Malen Reserva
Location: Mendoza
Wine Company: Ruca Malen
Variety: Malbec 
Year: 2014
Red and black fruits on the nose, elegant and oaky on the palate. This bottle is aged for 12 months in oak barrels – 85% French and 15% American. After sampling numerous bottles from Ruca Malen, this one was our top choice.
At the Ruca Malen Bodega in Mendoza, you can drink the 2014 Malbec Reserva along with 4 other wines, while doing a food and wine pairing. The setting is spectacular with views across the vineyard and to the Andes Mountain Range.
Not only is the wine at Ruca Malen tasty, but the food is top-notch. This particular bottle comes paired with a 63° egg with roasted pumpkin and carob bread. Honestly, it was one of the best meals we ate during our time in Argentina, all of the food and wine paired together in perfect harmony.
Thirsty?!
Food and drink is such a huge part of travel, and in Argentina this is a great way to get to know the locals and learn about the culture of the country. Argentina is the 9th largest producer of wine in the world, so what better place to try a Malbec? Whether you sample the above listed wines in Argentina itself, or find the bottles somewhere else in the world, I hope you enjoy swirling, sniffing and sipping on these reds. Salud!
Like it? Pin it! 🙂
Check out our Argentina wine videos here: