Be sure to pack your walking shoes, as there's much to see and do during a weekend break in Bath. The city hosts some of England's most historical sites, fabulous architecture, and a superb restaurant and bar scene, so it's one of England's best places to visit. You might find that 2 days isn't long enough!
I recently spent 2 months pet-sitting in the area and got to know my way around. The city is a UNESCO World Heritage Site, and to help you plan, I've compiled a 2-day itinerary for Bath. It incorporates several cool things to tick off during 48 hours in the city.
As a permanent digital nomad, with family roots in the UK, I've had plenty of opportunities to experience all the best things to do in Bath. All of my visits so far have helped me put together a plan for the perfect city break in Bath.
Weekend Break in Bath (2-day itinerary)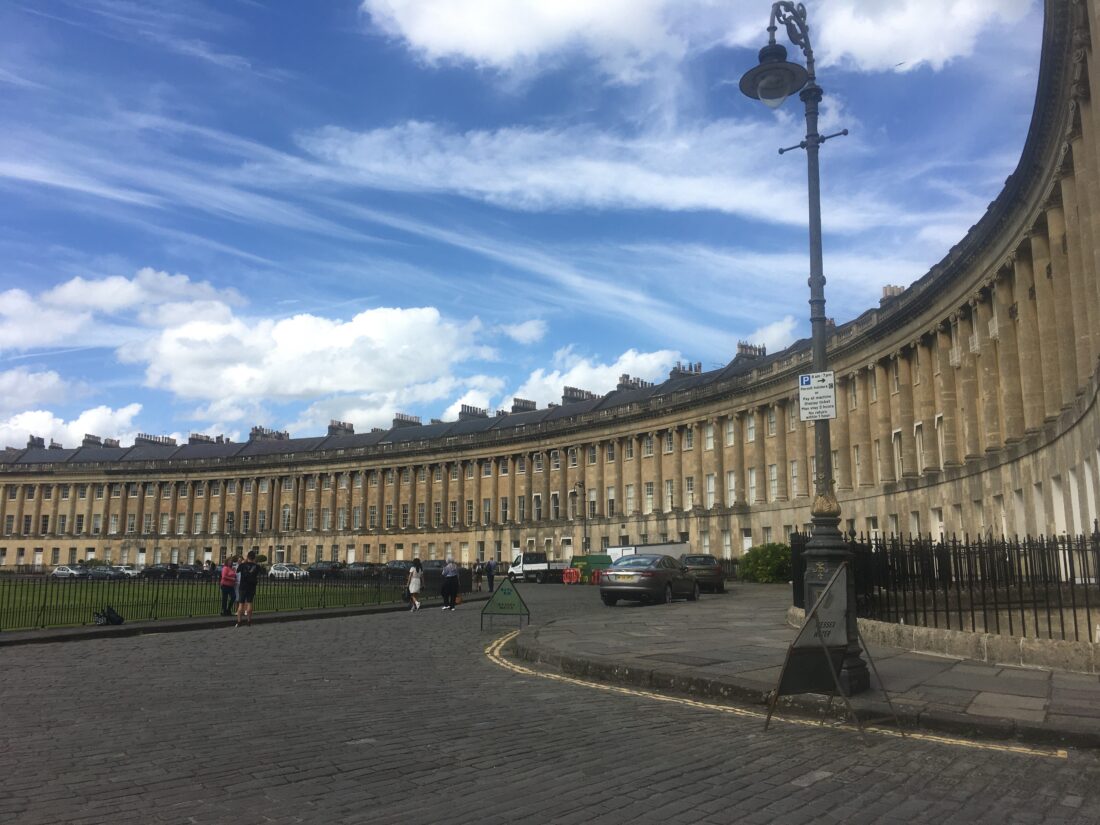 With 5 different groups of visitors during my 2 month-long stay, I was able to perfect the optimum 48-hour mini-break in Bath. Prior to my own stay, I had only ever visited the city for an afternoon, but I now feel like I know it like the back of my hand.
I really enjoy giving people 'the tour' of a place I consider to know well, wherever it may be. It encourages me to learn more about a city and discover things that I might have perhaps overlooked by myself. So, to cater to everyone (not just my family who liked the pubs!), here's an ideal weekend itinerary for Bath.
Day 1 in Bath
Bath is a very walkable city with incredible things to see at almost every turn and everything is easily accessible. If you're looking to book a weekend break in Bath sometime soon, be sure to read on as I guide you through the best way to spend 48 hours around these Roman-built streets.
Day 1: Morning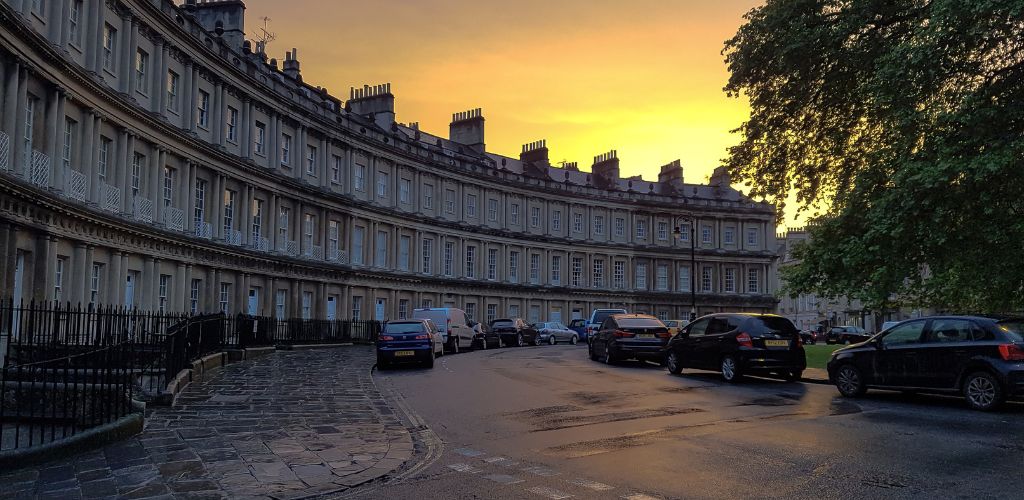 There are plenty of great cafe options to get your day started in the right way. The Green Bird Cafe is one of the best cafes in Bath and the breakfasts are excellent. I highly recommend the French toast with bacon and maple syrup.
From here, you'll be steps from two iconic locations, the Royal Crescent and the Circus. Both are amazing architectural sights and are famous the world over.
The morning is a great time to take a guided 1.5-hour walking tour. One that will give you a nice idea of where all the important sights are positioned. The tour will also give you lots of handy tips for the remainder of your two days in Bath. Click here to book this highly-rated walking tour.
A visit to the Jane Austen Center is a must during a stay in Bath. The permanent exhibition tells the story of one of Bath's most famous residents. Step back in time and explore how living in the city affected her life and writing. Skip the queues and book your entrance ticket ahead of time here.
Day 1: Afternoon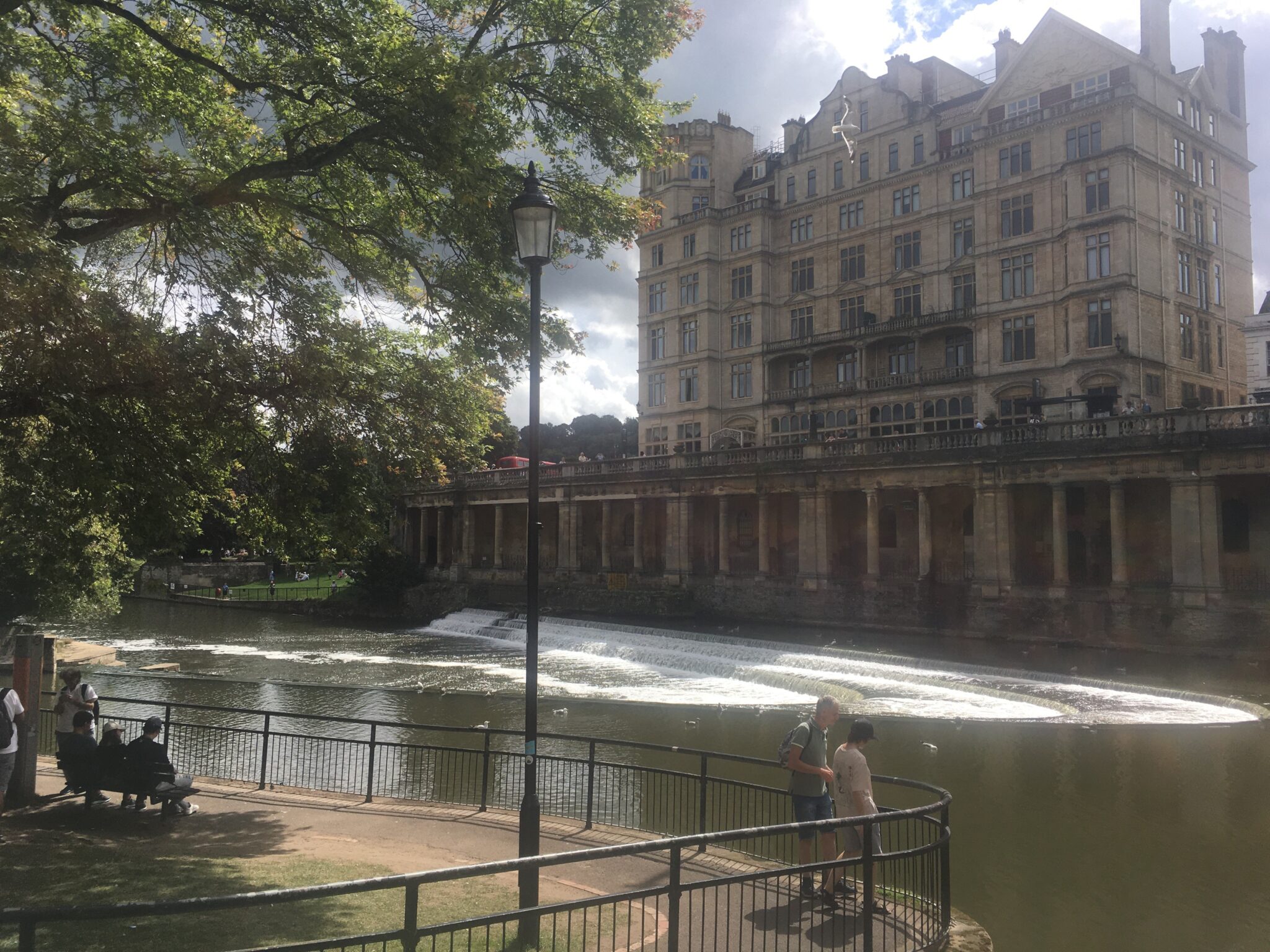 An excellent lunch spot is the Bridge Coffee Shop which sits atop Pulteney Bridge. With a view of the Pulteney Wier and the River Avon, you won't find a prettier view while refueling. They have a great lunch menu and some of the cheapest coffee around.
Bath Abbey is a medieval church that dates back almost 1400 years and is located in Bath city center. You can freely walk around the outside and admire the Gothic architecture or head inside to get the full impact. Hundreds of thousands of people visit the Abbey every year, and the $8 entrance fee is well worth it.
Right next to the Abbey are the Roman Baths, and it would be a shame to finish off your afternoon without a visit here – let's face it, you can't visit Bath and not stop by! The 2000-year-old historic site is a true gem with well-preserved ruins and informative exhibits that take you back in time. It's a popular attraction so I'd advise booking your tickets in advance.
Day 1: Evening
Bath by night is a different atmosphere altogether. The city is a bustling place to be and with the Georgian buildings and monuments lit up at night, simply strolling around the streets can be pretty spectacular.
With so much history comes an unprecedented number of ghost stories and paranormal tales. I recommend you get yourself booked on a guided ghost tour to really see Bath in a scarily different light. Click here to find out more.
After a busy day of sightseeing, there's no shortage of great bars and restaurants in Bath to chill out in. The Saracens Head is thought to be Bath's oldest pub and one that Charles Dickens frequented. Click here for directions.
The Raven is another excellent choice – a stop here gives a true British pub experience. This CAMRA pub of the year is set over 3 floors and serves a huge selection of ales and classic pub food. Click here for directions.
Day 2 in Bath
You can certainly clock up the steps walking around the city, so I'm sure you slept well. But with so much still to do, let's get the final 24 hours of your two-day trip to Bath started.
Day 2: Morning
Begin with a good breakfast and injection of caffeine at Cafe au Lait. It's perfectly located directly opposite Bath Spa train station and they have an excellent breakfast menu and a 1.5-hour bottomless brunch. So, if you're in the mood for something stronger than coffee, head here first.
Bath was a regular setting for the popular Netflix period drama Bridgerton, and you can visit over 70 filming locations around the city. It's a great way to see more of Bath's amazing architecture, learn some history, and of course geek out if you're a fan of the show. Check out this guided walking tour that takes you to all the important filming sites.
During a mini break in Bath, you'll have ample opportunities for shopping. The central streets are lined with everything from big brand retail stores to smaller independent shops. A trip to the Guildhall indoor market is a must. Trade has taken place here for over 800 years, and today, houses around 20 stalls selling different wares, from books to confectionary.
Day 2: Afternoon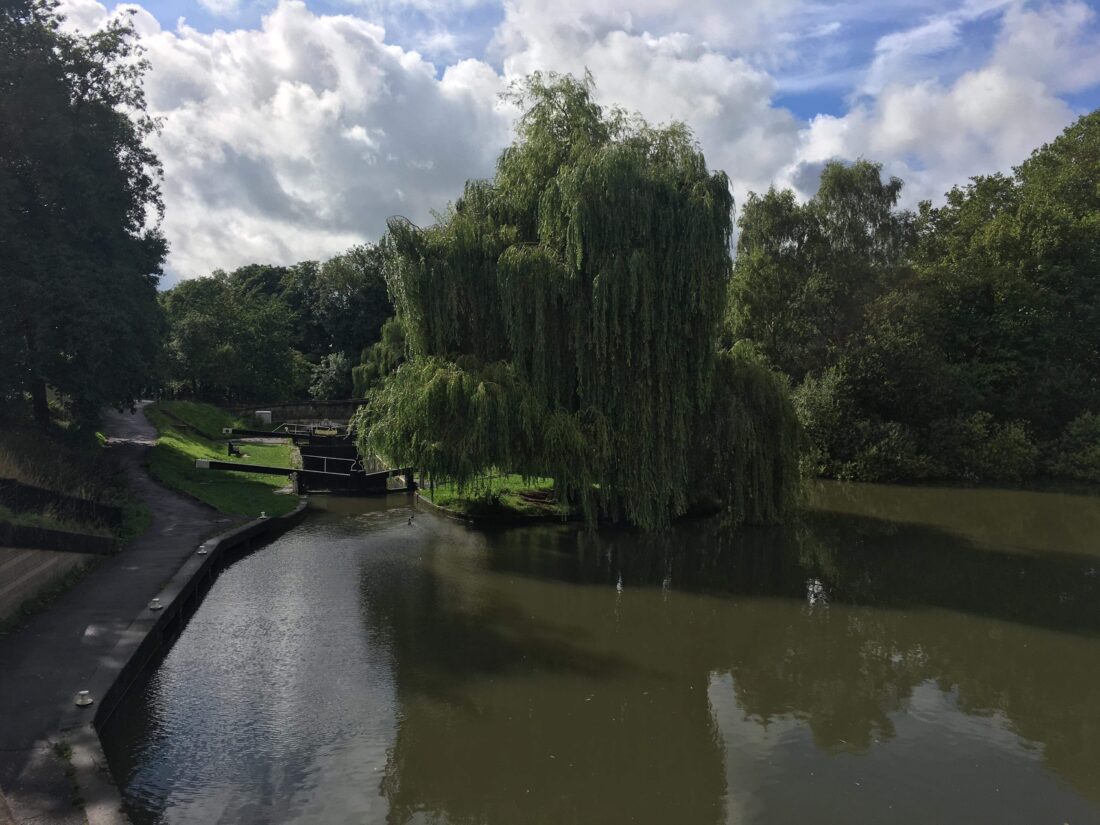 The River Avon is a big part of the city; it lines the boundaries of the center and is a delightful natural addition to the bustling cityscape. You can walk along the many footpaths of the banks admiring the locks, ornate bridges, and riverboats. My favorite thing to do is the 1 hour Prosecco boat cruise, where you can see the river in style. Click here to find out more.
Be sure to make a reservation at Sally Lunn's during your weekend stay in Bath. This historic cafe-tea room-restaurant is thought to be in one of the oldest houses in Bath dating back to c.1482. It's also understood to have been the first bakery to ever produce the Bath Bun – a unique pastry from the region that's now recognized across the world.
The decor at Sally Lunn's is in keeping with a vintage English tea room. It's a cool experience just to be in such a historical building. Making a reservation is absolutely imperative as tourists and locals alike love coming for coffee and high tea, and to enjoy the bistro-style menu on offer.
Day 2: Evening
Be sure to check the listings for The Forum, Bath's oldest theatre-style venue that originally opened its doors in 1934 as a cinema. The impressive building now hosts all varieties of live entertainment and is a great location to see a show. There's always something on but hopefully, someone great is visiting town during your weekend away in Bath.
As we've already visited the oldest pub, my other top choice is the smallest pub in Bath. The Coeur De Lion is a tiny Victorian bar with colorful stained glass windows located down a charming pedestrian alleyway. It seats around 20 people inside, with more seating outside if the weather's nice. It's a great traditional English pub experience for sure.
Another excellent bar to visit is the Bath Brew House. A short walk from the center, it has an impressive beer garden that, due to a retractable roof, can be used all year round. They make a range of their own beers in-house and also serve a tasty food menu. I loved the lively atmosphere here – it's a cool place to spend a few hours during a weekend getaway in Bath.
How to Get to Bath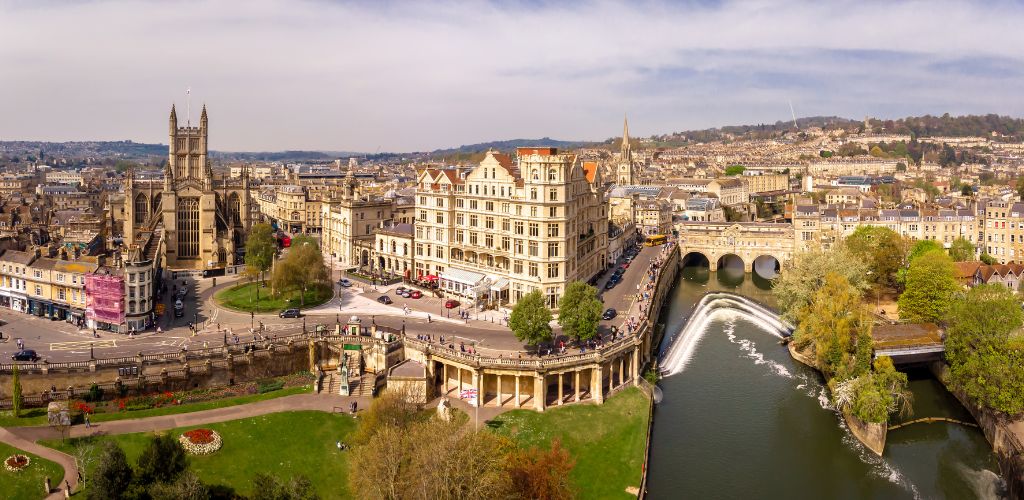 There are several easy travel options for your 2-day trip to Bath. Located on the southwestern side of England and serviced by a sizeable train station, short breaks to Bath by rail from most UK locations are easy and convenient. There are usually two direct trains an hour from London Paddington that take around 80 minutes.
There's also an option to take short breaks in Bath by coach. The bus station, which is located less than a minute's walk from the train platforms, has regular National Express coaches arriving from London, usually once an hour throughout the day. You can also access Bath from all major UK cities with a connection or two via the same coach service.
The closest international airport is to be found in Bristol, about 20 miles away. Although the airport is outside of the center of Bristol, once in the city, there are easy bus, coach, and train services to Bath. Hiring a car is also possible from Bristol Airport. The journey to Bath is straightforward and should take no more than 40-50 minutes.
Getting around during your weekend in Bath couldn't be simpler. It's very straightforward and pleasant to simply walk everywhere as the center is largely pedestrianized. An efficient bus service links the city and costs around $2.50 per trip. It's a great option if you want to travel a little further out of town. Taxis and ride-sharing apps operate in the city too.
Where to Stay With 2 Days in Bath
There are a few great areas to stay in Bath. Here are some of the best for a 2 day stay.
Bath City Center: Staying in the city center will give you easy access to all the attractions that Bath has to offer. There are lots of great accommodation options to suit varying budgets. So, whether you're looking for a cheap weekend break in Bath or something a little fancier, you'll find it here. Check out this great hotel in the city center, just steps from the station.
Widcombe: With its own high street of shops, cafes, and bars Widcombe is a great base for a weekend trip to Bath. Most visitors don't seem to stumble across this little Bath suburb as it's directly behind the station, a few minutes walk in the other direction from town.
Here, you'll find some great apartments just a short hop from the center. Have a look at this one featuring private parking and free WiFi.
Combe Down: Accommodation for a weekend break in Bath's city center can be quite expensive so staying further afield is a viable option if you're looking to save some money. The lovely village of Combe Down is only 3 miles away and has regular bus links with the city center.
My family stayed here and it saved them a fortune in hotel costs. Check out this lovely holiday home offering a fully equipped kitchen and garden space.
Tips for a Weekend Trip to Bath
During recent visits with my family, I noticed some easy things to miss or overlook during short breaks in Bath. Here are a few of my top tips to ensure you have the best two-day trip to Bath possible:
1. Book in advance: The city center and its many attractions can get very busy, especially during weekends and during the peak tourist seasons of late spring and summer. Book your tours, trips, and passes ahead of schedule to save time and ensure you get to do everything that you want.
2. Save money staying further afield: 2-night breaks in Bath can be pricey if you're staying in the city center. There are lots of villages and suburbs that are well connected with the center via buses and taxis or an easy drive away. Some are just minutes from the city and the accommodation prices are significantly cheaper.
3. Enjoy the free stuff: Remember that the whole city of Bath is a Unesco World Heritage Site. If you're on a budget, you can still make the most of this beautiful destination. Walk the streets, chill by the river, and visit the beautiful Royal Crescent and Pulteney Bridge. They're all memorable ways to fill a weekend break in Bath and they don't cost a penny.
4. Experience the thermal baths: You're not allowed in the Roman Baths themselves, but that doesn't mean you can't experience one of the UK's only naturally hot thermal waters. Thermae Bath Spa is a popular attraction and one of only a few ways to enjoy the warm waters and experience a true 2-night spa break in Bath.
5. Escape the crowds: If the busy streets of Bath are getting to you, consider swimming against the tide and head over to Widcombe. The much quieter but beautiful suburb has a high street with 3 excellent pubs, 2 lovely cafes, restaurants, and boutique shops. It's about a 5-minute walk from Bath Spa Station, in the opposite direction from town, and most tourists don't know about it.
6. Don't overlook the hiking: Although many people may go to Bath for the historic attractions and terrific nightlife, there are some amazing walks and hikes within reach just outside of the city center. The 7.5-mile Bath Skyline Walk can be joined and finished at numerous points, it encircles the entire city from a high vantage point offering some spectacular views.
7. Store your bags in the city center: If you can't get into your hotel until 3 pm and have to check out by 10 am, don't carry your baggage around with you. Make the most of your time in Bath luggage-free by paying $6 to store your bag all day at any number of places in the city center. There is even a Barbershop opposite the train station that offers a storage service.
8. Find a good happy hour: Being a student city, you'll find a number of bars in Bath that offer great deals on drinks, especially 2-for-1 cocktails. Some places like Las Iguanas even offer them all day, every day.
Bath is also home to a Wetherspoons pub – The King Of Wessex. The huge UK chain of pubs is renowned nationally for its large selection of cheap food and drinks. It serves breakfast, lunch, dinner as well as everything in between.
FAQs About a Weekend Getaway in Bath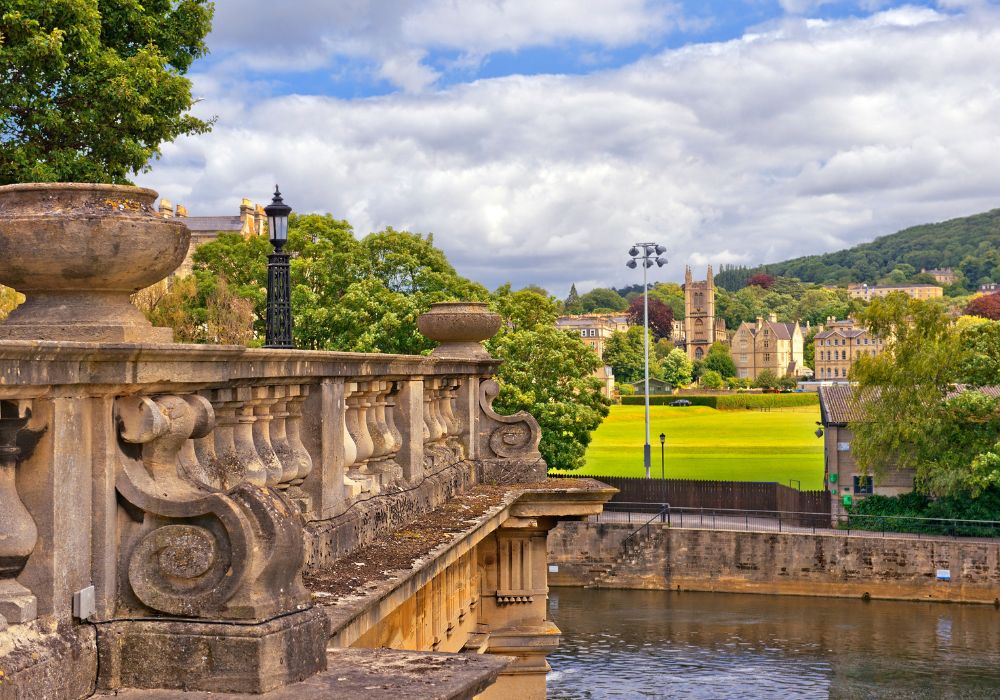 Here are some answers to commonly asked questions about a weekend break in Bath:
Can you do Bath in just a weekend?
You can absolutely do Bath in just a weekend. There are a lot of attractions and sights to see but everything is situated quite close together. It's a really easy city to get about in. With a well-organized itinerary and a bit of forward planning, you can be sure to tick off everything in a single weekend.
How do I spend my weekend in Bath?
Bath has numerous great tours and attractions such as Bath Abbey and the Roman Baths. There are also some amazing architectural feats such as the Royal Crescent and Pulteney Bridge to see. Plenty of great opportunities for shopping await with everything from big retail stores to smaller artisan shops. There's a plethora of bars, cafes, and restaurants too.
Where should I stay for 2 days in Bath?
Whether you're planning an activity-filled weekend or looking at romantic breaks in Bath, staying in and around the city center is where you'll find many great hotel and apartment options. However, staying just outside of the city in either Widcombe or Combe Down, for example, will generally be cheaper.
How much would a weekend in Bath cost?
A weekend budget of $250 per person would be a reasonable amount for accommodation, eating, drinking, and a tour or two. Spa weekend breaks in Bath may require a higher budget, or if you're looking for weekend breaks in Bath with a hot tub, you'd expect to pay more. There are a number of hotel and apartment options around the city.

With so many tours, museums, attractions, free sightseeing, and great walks to add to your list of things to see and do, it's possible to make an itinerary for all kinds of budgets.
What's the best month to visit Bath?
Bath can get very busy with tourists during the UK school summer holidays (mid-July to the start of September). May or June would be a great time to visit when you'd hope for nice weather and for it to be less busy. Generally, though, Bath is a year-round city and can be enjoyed fully at any time of the year.
Is Bath a good weekend break?
Bath is a fantastic weekend break. The city itself is a UNESCO World Heritage Site and there are so many activities, tours, and museums that you can easily fit into a two-day break. If you're looking for a more laid-back stay, simply relaxing and enjoying the beautiful historic city and the many bars, cafes, and restaurants is possible too.
Enjoy Your Weekend Trip to Bath
I hope my itinerary has given you some great ideas for a weekend in Bath. The beautiful historic city really is a delightful place to visit and a superb option for a two-day break. It's one of those places that has something for everyone.
I personally love having a nice mix of cultures during the day with plenty of sightseeing and walking. But also a lively evening scene with plenty of great bars and restaurant options to choose from at night, and Bath has that mix to a tee. I really enjoyed my time in Bath, and I'm certain you will too.