Our flight from Delhi to Bangkok left at 5:00 in the morning so we decided to sleep in the airport. There's no point booking a hotel just to get up at 2:00am to be at the airport in time for an international flight. The airport was nice enough but the seats were uncomfortable and hard to sleep in. We caught up on most of our sleep on the 5 hour flight.
Landing in Bangkok always feels like coming home. It's the hub we always end up coming back to and this would have been our 6th time back in the big Asian city. We were planning to immediately head south to the islands for some much needed beach relaxation, but upon checking the weather forecast and talking to some other travellers, we realized that an unseasonable storm had been sweeping the south coast for weeks and was expected to continue for a couple more.
Ah, the glories of independent travel, bad weather = minor speed bump = spontaneous change of plans. We immediately started planning for Myanmar (Burma). Surprisingly there's a lot to think about when planning a trip to the mystic, untouched South East Asian land of Myanmar. Foreigners are only allowed in certain areas of the country, many areas require expensive, time consuming permits and/or guides to follow you in.
We decided, from lack of time, that we would have to opt for the more conventional Myanmar holiday and visit the regular foreigner permitted areas, while trying to find our own way off the map. First was the issue of obtaining a visa, simple enough, we looked online, called the embassy and were able to drop our passports off in the morning and pick them up the same afternoon for $42 each. Then the second problem: Dariece fell ill with a bad case of "Pad Thai Tummy" and was unable to help me with rest of the issues.
Myanmar ATM's don't accept foreign debit cards, nor do they accept credit cards or traveller's cheques. Therefore, we had to exchange our Thai Baht into American Dollars; but not just any American Dollar bills, these bills had to be newer than 2006 series, they had to be in mint condition, completely unmarked, uncreased, and free of any damage otherwise the Myanmar banks would not accept them for exchange to local currency (Kyat).
This proved to be a task. I scoured through dozens of money changers and banks around Khao San Road for the desired tender, none of which were able to meet the strict criteria. Finally after 2 days of searching we found a small travel agent who kept such bills specifically for travellers heading to Myanmar (click here for info on obtaining USD for Myanmar in Bangkok).  We started withdrawing Thai Baht to exchange for US Dollars, which we had to do so in increments because our bank has limits, then our bank froze our accounts adding more headaches. Anyway, after nearly 3 days of this money hassle we finally had all the American money we would need, had our visas and we booked our flights to and from Yangon (foreigners cannot enter Myanmar by land). We were ready to go.
Landing in Yangon was surprisingly exactly how I had pictured it. A modern, clean Asian city with some of the comforts of home, minus the western brand names and advertisements one encounters in the rest of the world. We shared a taxi ($10) with two other people to The Whitehouse Hotel. The rooms were bare and basic but the included buffet breakfast was outstanding. We spent our days in Yangon wondering around the town gazing up at the massive colonial buildings left over from British occupation.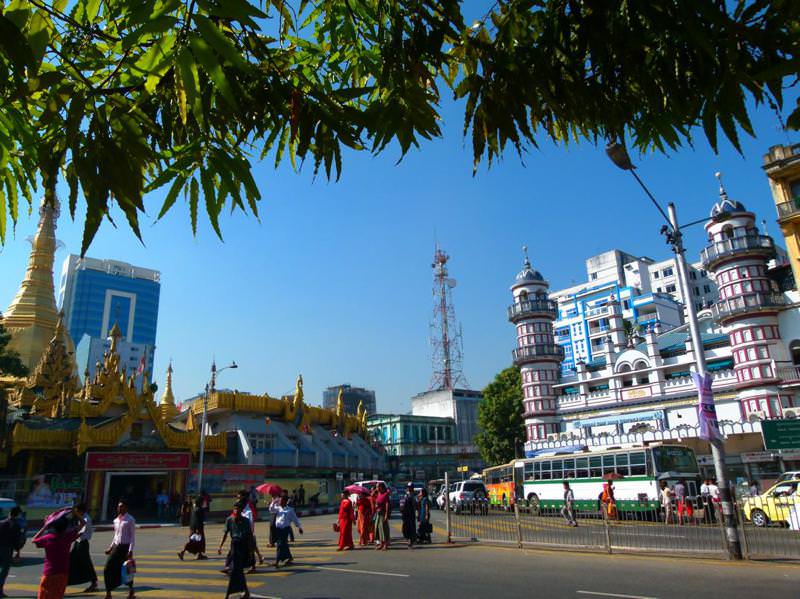 At sunset we went to Shwedagon Paya, an enormous golden pagoda at the edge of town. Shwedagon is not just a gold painted pagoda, this 100 meter high, 2500 year old masterpiece has hundreds of kilos of 24 karat gold leaf plastered all over it.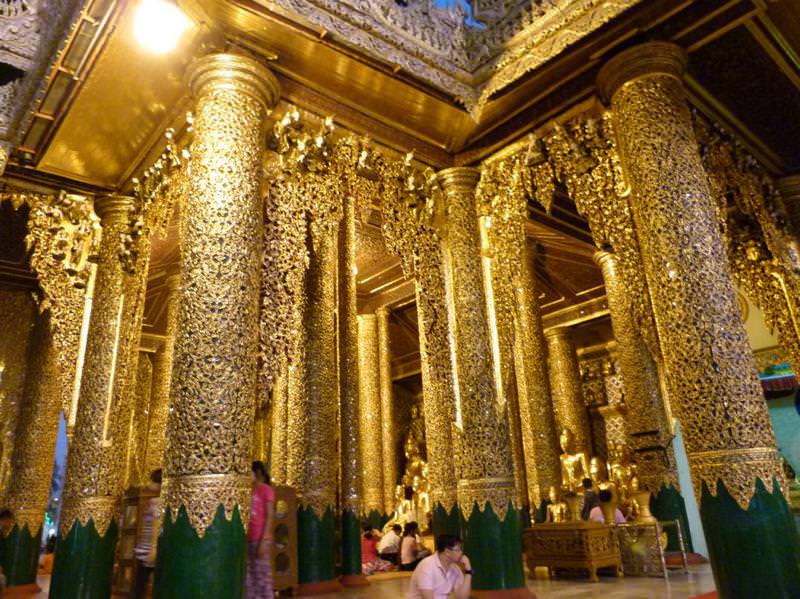 Like it? Pin it! 🙂