The southeastern state of New South Wales in Australia is famous for its charming coastal cities, breathtaking islands and a plethora of national parks. The jewel of the state is its capital, Sydney, with the iconic Sydney Opera House and Harbour Bridge showcasing the beauty of this port city.
Inland you'll find the jagged Blue Mountains, endless rainforests and typical outback towns that you'd expect to find away from the coast in Australia.
New South Wales has long been one of the first stops for backpackers and travellers because so many land in Sydney to begin their Australian adventures.
In this article, we're going to help you plan a 7 day trip to New South Wales with ideas of where to stay, what to see, where to eat and what not to miss. Let's do it!
See Also: How To Get a Working Visa in Australia
2 Days In Sydney
We'll start the 7 day itinerary in New South Wales with 2 quick nights in the Sydney. Your budget for Australia will probably be blown here in the cosmopolitan city, but Sydney offers excellent value for money and is worth every penny.
Obviously, you're going to want to head out and see the Sydney Opera House and the Harbour Bridge, but there are a few lesser-known places of interest while you're here.
To get a little off track, consider doing a pub crawl in Surry Hills. If you do, don't miss the Button Bar, a total hole in the wall joint with an extensive booze list including superb whiskeys.
For an attraction that few Sydneysiders know about, check out Paddington Reservoir Gardens. These are below street level and they combine the steel and brick structures of modern historical industrial development with beautiful garden design.
Also, to get a nice view of the Sydney Opera House, I recommend heading out to the Pylon Lookout Point for a gorgeous panoramic of the entire harbour.
If you're wondering where to stay in Sydney, check out this post which lists the best accommodations and neighbourhoods.
1 Day In The Blue Mountains
A trip to New South Wales wouldn't be complete without a day out in the Blue Mountains. Just over 90 minutes west of Sydney, this rugged mountain range is known for breathtakingly dramatic scenery, dense eucalyptus forests, charming villages, gardens and waterfalls.
You could easily spend days exploring this massive region, but a day trip will suffice on this 7 day NSW itinerary.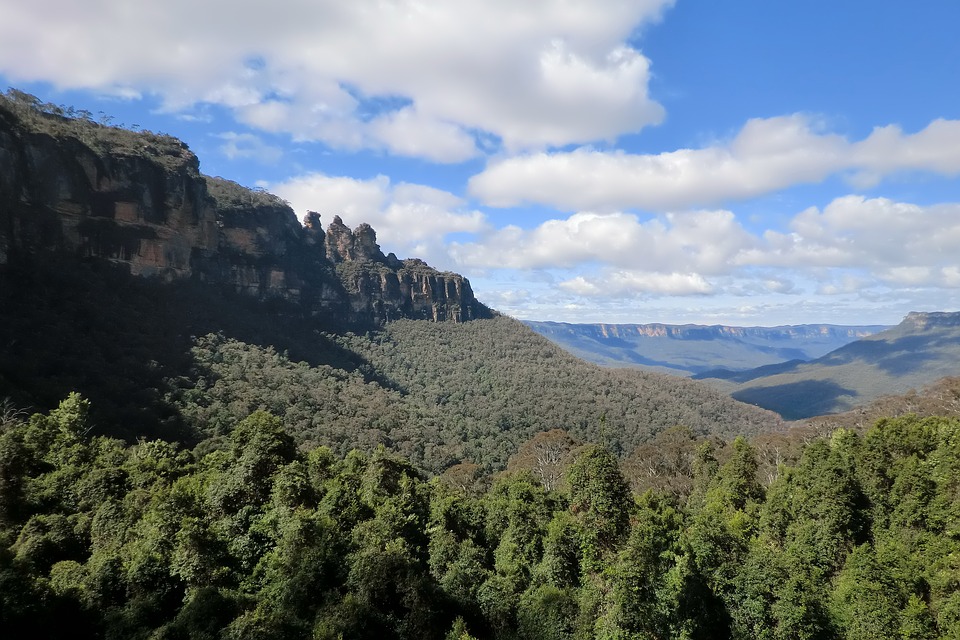 To get out here you can take your rental car, or you can hire a tour company from Sydney. There are plenty available for day trips to the Blue Mountains and many of them will also include a river cruise or gondola ride in the park.
Whatever trip you decide to take to the Blue Mountains, make sure you visit Katoomba town and the Katoomba Waterfall. Here you can learn all about the Aboriginal History in the Blue Mountains and the legend of the world famous Three Sisters rock formation.
2 Nights In Hunter Valley
Hunter Valley is one of Australia's prime winemaking regions with over a hundred wineries dotting the picturesque landscape near the coast. Here you can hike through ancient rainforest, visit tumbling waterfalls and witness an amazing diversity of wildlife.
You can also visit Wollemi National Park which is one of the largest in New South Wales. Home to the beautiful Wollemi pine tree, the national park offers wonderful rock climbing, hiking, canoeing and bushwalking opportunities.
I recommend basing yourself on the coast and exploring inland each day from here. Caves Coastal Beachside Hotel is a funky set of accommodations that's quite close to Hunter Valley. 18 individual beach suites are nestled right under the dunes and only accessed by Hamptons style timber boardwalks.
While you're at the Caves Coastal Beachside Hotel, I recommend visiting Hunter Valley, but also organizing whale watching, scuba diving, hiking and other activities along the coast. There is plenty to keep you busy for a couple of days.
☞ Click here for all accommodation options in Hunter Valley on Booking.com
1 Day In Outback NSW
Get ready for a harsh and desolate land, scattered with sacred aboriginal sites and boasting a haunting natural beauty. The topography here is fascinating. Nestled between the arid wastelands to the west and the rainy coastal east, the ground here erupts with spectacular rock peaks and domes, all the result of ancient volcanic activity.
Here you can hunt for opals in the mining towns of Lightning Ridge and White Cliffs, or explore the rich history of Dubbo. You can spend your time in the balmier lower-lying regions or high in the snow dressed mountains.
Wherever you choose to visit in the Outback of New South Wales, you'll be astonished by the eerie calm and the desolate beauty that has drawn outback explorers for centuries.
1 Day in Lord Howe Island
Easily one of the most naturally blessed destinations in New South Wales, Lord Lowe has always been one of my favourite places to escape and seek some sunshine and nature.
Engulfed by the world's southernmost coral reef, this breathtaking island can only house a maximum 400 guests at a time, making it feel a little VIP.
Because over 60% of the island is protected, it makes for an excellent birding destination, as well as a place to explore an astonishingly rich diversity of flora and fauna.
The Lord Howe Island Marine Park also protects the coral reefs that lie just offshore of the island, which provides visitors with fantastic snorkeling and diving opportunities.
The island itself is listed as a World Heritage site and makes for the perfect place for surfing, kayaking, cycling and hiking.
To get here you'll have to take a 2.5 hour flight from Sydney or Brisbane, so many visitors choose to stay longer than 1 day. At the very least you should fly in early in the morning, and return to Sydney the next day late in the afternoon.
Draw This Itinerary Out
Trying to fit all of this into 7 days would be very difficult, but it's doable. If you're able to double this into a 14 day itinerary then I would highly recommend it. Spend twice as much time in each place, or add new stops like Norfolk Island, the South Coast and Byron Bay.
Most New South Walers and travellers to this region will tell you that 7 days isn't nearly enough, but if that's all the time you have to explore then this itinerary should do well for you. Make sure to rent a car so that you have the freedom to explore and you don't waste your time waiting for buses and day tours.
Like This Article? Pin it!