I recently wrote about some excellent time-saving upgrades that we've invested in, but we've also put some money into a few incredible new gadgets that are sure to take our business, videos and photography to the next level.
Christmas time is just around the corner and if you're looking for some awesome electronic gifts to get for that special travelling someone, look no further!
1. The Feiyu-Tech Ultra G4 3-Axis Gimbal For GoPro
If you've been tuning in to the weekly episodes on Our YouTube Channel, you may have noticed that our newest videos have a really smooth, professional look. This isn't because I've learned to float instead of walk and it's not because I've trained my hand to stop shaking, this is all thanks to the incredible Feiyu-Tech G4 Gimbal!
I have to thank Feiyu-Tech for sending me this unit for testing and promotion, because I now consider it a MUST HAVE gadget for my YouTube videos. This thing has taken previously unusable filming situations and turned them into cinematic looking, smooth shots that I couldn't get any other way.
Basically the gimbal has three motors that work to eliminate shaking in pitch, yaw and roll (pretty much all movement). This thing is compact and incredibly easy to use, you just attach a GoPro and go. At $235 it's a well-priced investment, one that I honestly think is worth every penny.
2. GoPro Hero
We decided to go with the GoPro HERO3+ Silver Edition because it was $100 cheaper than the GoPro HERO4 SILVER and I don't really need 4K video yet. This thing is incredible and there's a reason why it's the best-selling action camera on Earth. A lot of people have GoPros, so this may not be a unique gadget for many, but paired with the above G4 Gimbal it's an amazing cinematography tool.
I've also added some excellent upgrades to my GoPro that improve its usability greatly. I picked up this UV Filter to protect its lens when it's not in the underwater housing, as well as this polarizer, this underwater red filter for colorful diving shots and some extra batteries. Now my GoPro is a well-balanced, video making machine that takes some pretty epic photos as well.
3. The Samsun GoMic Portable USB Microphone
The more we have gotten into voicing-over our videos and adding audio information to them, the more I've noticed just how crappy the built-in mic in my Macbook Pro is! I have to add exaggerated tones to my voice to avoid sounding too flat and in the end, the audio can sound forced and distorted.
That is why I picked up the Samson Go Mic Portable USB Condenser Microphone for just $35.99. Through my research I found that this is by far the highest quality, most compact mic at the lowest price point on the market. Professional audio is as important as smooth video so this purchase was a no-brainer.
4. My Macbook Pro
I bought my Macbook Pro Late 2011 Model way back in 2012 for $1,300 (now just $459 on Amazon) and it's still my favourite piece of equipment. Obviously it is! It's my money earner, my bread and butter, my baby!
Okay maybe that's going a little far, but I do love my Macbook Pro and I wouldn't even trade it in for the new Macbooks or Macbook Airs. My Macbook is more upgradable and now with my new ram, new SSD and new 2TB hard drive, it's one of the fastest and best laptops money can buy!
Note: I've since upgraded to a Late 2012 Model Macbook Pro with an i7 processor and Dariece now has the 2011 Mac.
5. The Sony Nex 6 Mirorrless Camera
If you're looking to buy a camera that takes SLR quality photos, but can easily fit in your backpack and in the palm of your hand, then I highly recommend the Sony Nex 6 Mirorrless Camera.
This thing takes incredible photos and crystal clear video and it is compact enough to travel with long-term. It's not perfect though. I find that the stock lens has a hard time focusing close up, it's a bit slow to turn on, and the viewfinder shows more contrast than the actual media is recording.
In my opinion, it's still the best camera of its size on the market. If only Feiyu-Tech made a handheld gimbal for it, I'd be set!
6. D-Link Range Extender
We've all been in hotels and hostels where the wi-fi doesn't reach the room. We've had to head out to the common areas or hang around the front desk so we can send emails, work on social media or upload photos for an article.
This problem has been fixed by our D-Link Wireless N 300 Mbps Compact Wi-Fi Range Extender, which can be bought on Amazon for just $39.99.  You just plug it into a wall socket, set it up in 5 seconds, and presto! You're rocking with wi-fi even in the most hard-to-reach spots.
7. The DJI Phantom 3 Drone
In case you don't know what a drone is, they are basically compact, remote-controlled helicopters (quadcopters actually) that carry a small, high quality camera for amazing aerial videos and photography. I wanted one of these back in 2012, but thought it was too expensive and bulky. The new Phantom 3 is now $999 and it blows the older models out of the water.
This flying camera has taken our videos and photography to the next level. This is why our YouTube Channel is full of amazing aerial shots.
To learn more about the drone and how we carry it, check out our article here.
Watch the video below, that sparked my idea of travelling with a drone:
TUNISIA 2014 from LUCA MIRANDA on Vimeo.
8. The Rif6 Cube Projector
This thing is only 2 inches by 2 inches and it can project a crisp, bright screen on a wall that can be over 70 inches across! This is without a doubt, one of the coolest new gadgets I've ever seen.
The best part is that it's super portable. All you need is the tiny cube and a laptop or smart device to project your favourite movies or TV shows on a hotel or hostel wall! How cool is that? You can pick up the Rif6 on Amazon right now for just $250!
9. Travel Card Charger
This charge card has come in really handy for us. It's a credit card sized charger that can fill up the battery on an iPhone or Android while on the go. We always forget to plug in our devices, so it's pretty cool to have a backup charger that we can grab on the way out the door (although we do have to remember to charge the travel card).
Note: Travel Card is sending me some new models for testing. I'll let you know if there are any improvements.
Pin This Post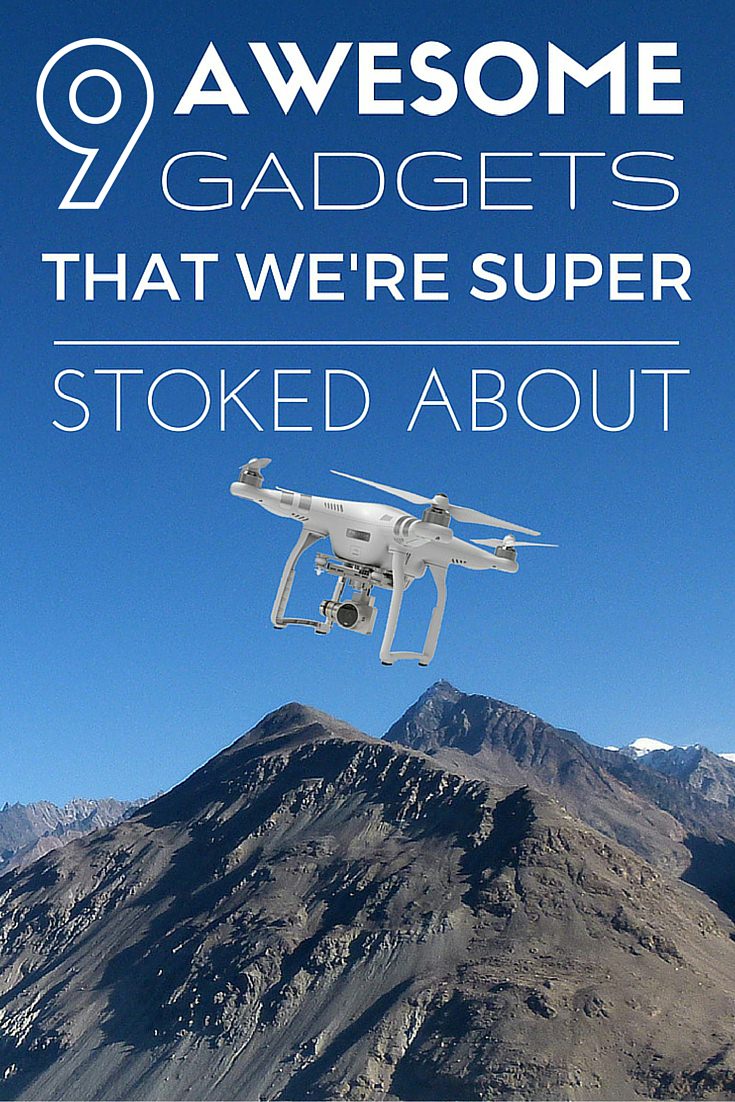 What gadgets are you super stoked about? Do you have an electronic device or an app that you simply couldn't travel without? Please share in the comments below!
Note: Some links in this article contain affiliate code, meaning that if you purchase an item from this page, we will receive a small commission. But don't worry, it won't cost you an extra penny and it will help to keep the Goats on the road! Thanks for your support 🙂
Disclaimer:Goats On The Road is an Amazon Associate and also an affiliate for some other retailers. This means we earn commissions if you click links on our blog and purchase from those retailers.