Paphos is one of the most popular destinations in Cyprus and so you'll find some amazing apartments, beach houses, and villas in Paphos. You're completely spoiled for choice when it comes to accommodation in this beautiful place.
Paphos itself is such an awesome destination. While it's not home to the best beaches on the island, it has some of the best hotels, restaurants and bars, and things to do in Cyprus based right here.
From water parks to national parks, incredible wildlife and fauna, and some of the bluest water you may ever see, you'll find it all in Paphos.
I spent four months in Cyprus as a digital nomad, and while I based myself in Limassol, I loved popping down to Paphos for a little vacation or a break over the weekend.
There are some amazing Airbnbs to choose from in Paphos, and if you rent a car, the variety only increases.
Keep reading this blog post if you're thinking about visiting Paphos and are wondering where to stay. I'll talk you through some of the best areas, and Airbnbs in Paphos.
15 Best Airbnbs in Paphos
There are some incredible Airbnbs, apartments, and villas in Paphos to choose from. I've tried to correspond my favorite Airbnbs in the Paphos area with my favorite areas in Paphos.
This list is based on my personal experience, and my friends' experiences (who are locals), along with the reviews of customers given to back it up.
1. Townhouse by the Sea
This stunning 2-storey townhouse is only 400 meters from the center of Kato Paphos and is a great Airbnb in Paphos close to the harbor.
This little gem features 2 bedrooms with space to sleep up to 5 people. It overlooks the shared pool, which is perfect for relaxing and cooling off in the sun.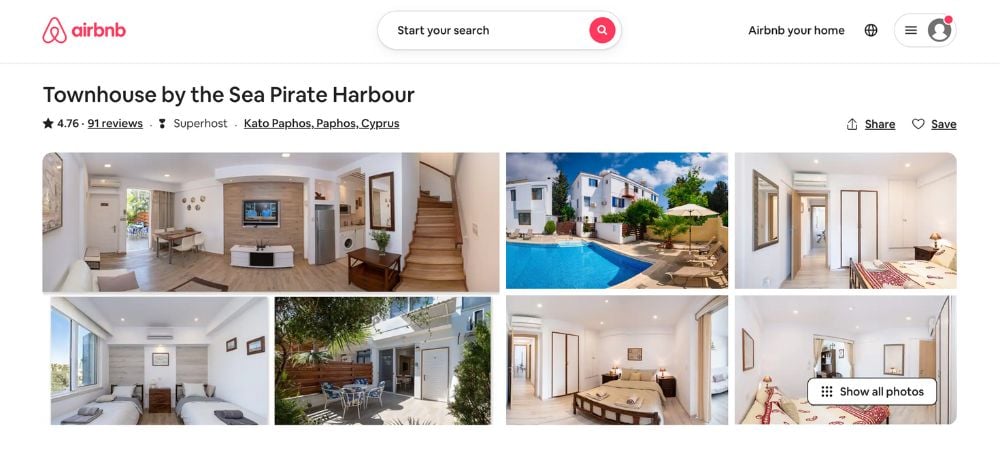 Inside, you'll find a modern and bright townhouse with free WiFi and air conditioning throughout. There's a fully functioning kitchen complete with a Nespresso machine for your morning coffee.
The open-plan living and dining room opens out onto a cute garden terrace complete with an outdoor dining table.
There's a huge flat-screen TV and even a desk and chair if you need to work while you're away. If not, then take advantage of all the amenities this Airbnb stay in Paphos has to offer.
Take a stroll to the nearby harbor and beachfront, which are all within walking distance.
The superb townhouse is one of my favorite holiday villas in Paphos.
2. Luxury Villa with Jacuzzi
If you're looking for the ultimate in luxury, then this villa could be the best Airbnb in Paphos.
Outside, you'll find a hot tap jacuzzi, a shared swimming pool, loungers, and fantastic BBQ facilities. All of this comes complete with stunning views over the Mediterranean Sea.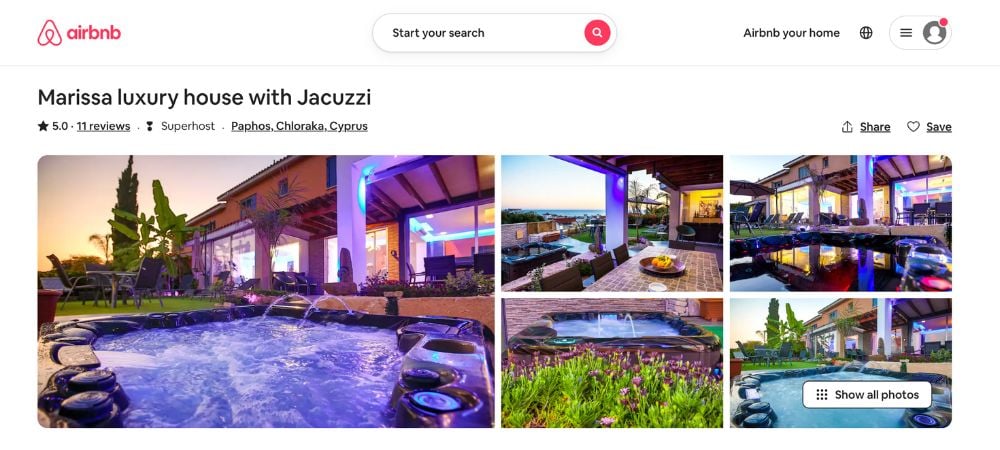 The villa sleeps up to 8 people, so it's a great Airbnb in Paphos for families or groups of friends. The decor makes a statement with neon lights and designer pieces throughout.
There's a large kitchen will everything you need to host. Or, if you prefer, a private chef can be hired for your stay!
Spread over 2 floors, there are 3 bedrooms in total with a penthouse studio on the top floor with its own kitchenette, working area, and bathroom.
This villa is located in the nearby town of Chloraka, to the north of Paphos. It has superb views over the sea and out towards the popular tourist sight of M/V Demetrios II; a partially sunken cargo ship off the coast of Cyprus.
This elegant stay is just a 5-minute drive to the beach and around 8 minutes to the tourist center of Paphos making it one of the most popular villas near Paphos.
3. Beautiful 2-bedroom Maisonette
This modern maisonette located in the heart of Paphos has been recently modernized and sleeps up to 4 people.
It's only 300 meters from the nearest blue flag beach and 15 minutes to the picturesque harbor in Kato Paphos.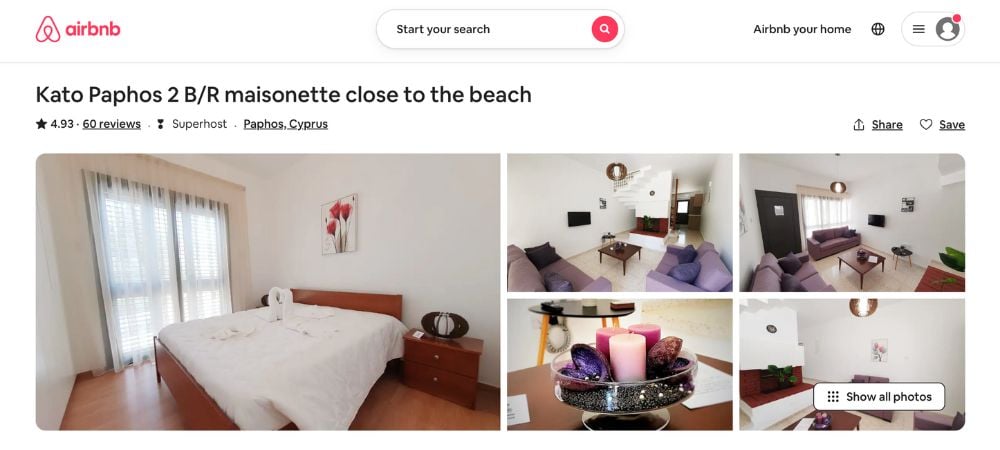 Inside, there are 2 bedrooms upstairs; one with a double bed and the other with two single beds. Downstairs, there's a living room and TV to the front of the maisonette, with a kitchen and dining table to the rear.
Guests have free WiFi and air conditioning throughout, and a large patio to the rear with a table and chairs for al fresco dining.
"Maisonette 8" is a superbly priced, modern Paphos Airbnb offering a great balance between location and amenities.
4. Modern Villa with Dreamy Sea View
If you're looking for a fantastic villa in Paphos, with epic sea views and its own pool, then look no further.
This gem is one of my favorite Airbnbs in Paphos. It's aesthetically stunning, has everything you and your family or friends need, and it's perfectly located. What more could you want?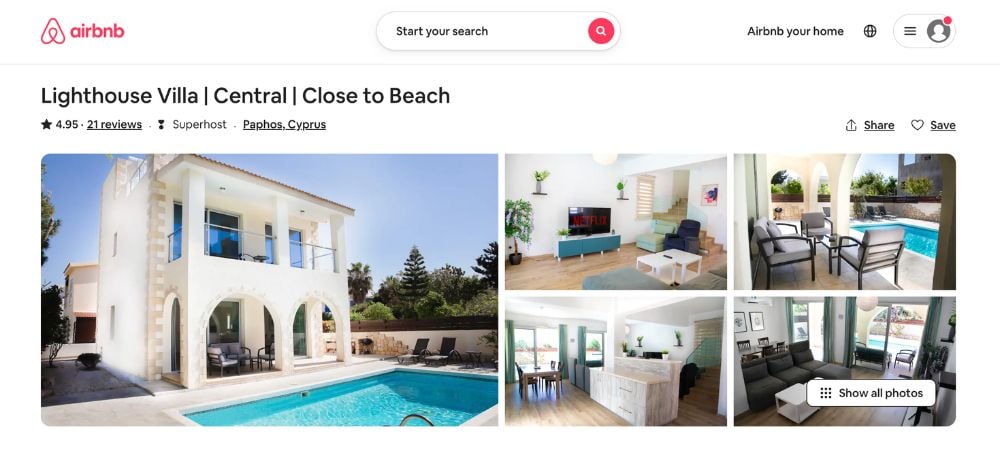 Outside, features a good-sized private pool surrounded by loungers and greenery. There's a shaded terrace downstairs under the house's arches, with a first-floor balcony for amazing views over the ocean.
Inside, you have some beautiful modern features combined with comfortable and well-considered furniture and finishes. The living area has a large sofa and flat-screen TV. There's a good-sized dining table and a modern, fully fitted kitchen, all laid out in an open-plan style.
Upstairs, you'll find 3 bedrooms. There are two double bedrooms, one with a balcony overlooking the sea, and a further twin room, together with a family bathroom.
If you can drag yourself away from this beautiful Airbnb in Paphos then you'll find yourself a mere 2 minutes from the sea, 5 minutes from the famous Kings Avenue shopping mall and a few minutes walk from Kato Paphos and the harbor.
This beautiful 3-bed Airbnb has it all, and for me, it's one of the best villas for rent in Paphos.
5. Contemporary 2-bedroom Townhouse
This beautifully styled 2-bedroom townhouse is an excellent Airbnb in Paphos for couples. It's full of modern features such as its marble floor and kitchen, complete with huge windows that allow lots of natural light to flood in.
The vaulted ceilings give you a sense of space, and the open-plan styling helps make this great Paphos Airbnb feel even bigger than it is.
The living room has a comfy sofa and a huge widescreen TV. The kitchen diner has a full kitchen together with an island and breakfast bar as well as a large dining table.
Upstairs, you'll find two bedrooms with large double beds and super comfortable linen and bedding. Coupled with the blackout curtains, you're guaranteed a good night's sleep.
Outside is a lovely, large patio which is nice and private. It comes complete with outdoor furniture and a dining table for relaxing outdoors.
There's superfast WiFi here so if you need to work, or just want to stream your favorite shows, you'll have no trouble.
Located close to Lighthouse Beach and a few kilometers away from Paphos Harbor, this luxury townhouse is one of the best Paphos holiday rentals available.
If you decide to stay at this lovely townhouse, you should definitely check out Divine Peak Restaurant which is close by. Its rooftop location offers incredible views over the sea and is a great sunset spot.
Pair the settings with some of the best seafood in Paphos which combines traditional Cypriot style and flavor with modern styles and you're in for a perfect meal. The food and wine are very good, and it's a superb 'special occasion' restaurant in Paphos.
6. Luxury Villa in the Heart of Coral Bay
For the perfect family vacation in Cyprus, take a look at this incredible Airbnb in the Paphos area of Coral Bay.
Coral Bay is located 15 kilometers up the coast from the tourist center of Paphos. It's home to some of the best beaches in the Paphos area and makes a fantastic family destination.
This luxury destination is one of the best Paphos holiday villas. The outside space boasts a private pool, BBQ, and loungers. Inside, is a 2-storey, modern and luxury villa with 3 bedrooms and 3 bathrooms.
This beautiful villa comes with a fully stocked kitchen, an indoor living area, and an outdoor dining area. Upstairs, you'll find a double and two twin bedrooms with amazing views over the sea.
Coral Bay is very family-friendly and has everything you'll need for your stay. There are bars, restaurants, and grocery stores within walking distance of the villa. And of course, the blue flag beach of Coral Bay is only 10 minutes away.
This luxury Coral Bay villa has everything for a fantastic vacation in Cyprus.
7. Chloraka Villa with a Private Pool
Here's another excellent Paphos Airbnb in the charming village of Chloraka, just north of the tourist heart of Paphos.
This highly-rated villa in Paphos displays plenty of traditional Cypriot charm. It's a 3-storey villa with views over the Mediterranean, which is only 500 meters from the villa.
On the first floor, you'll find a large kitchen complete with a dishwasher and washing machine. There's also a comfy living room and a flat-screen TV.
Upstairs, there are 3 double bedrooms on the first floor and a veranda on the second floor with magnificent views out over the sea.
Outside, is a good-sized private pool and grassy garden, together with loungers and an outdoor dining table. Perfect for an alfresco dinner after a day at the beach nearby.
It's in a super location, with easy walking access to the nearest sandy beach and only a 6-minute drive into Paphos itself. Or alternatively, stay in Chloraka and try some of the beautiful local restaurants and bars for an authentic experience of Cyprus.
This 3-storey Cypriot villa is a great option for families, couples, or groups of friends in a fantastic location.
8. Family Fun Villa
For families, this could be one of the very best villas to rent in Paphos. It has everything you could need for your stay near Chloraka, and then so much more.
Let's start with the basics. This villa is set over 2-storey and has 3 bedrooms and 2 bathrooms. It can sleep 7 in total; 4 adults, 2 children, and one infant in a cot.
There's a large living room with a flat-screen TV and a fully equipped kitchen with a dining table downstairs.
Upstairs, you have 2 double bedrooms and one children's bedroom with bunk beds. There's 50MB WiFi and dedicated workspaces in the double bedrooms.
To the rear, there's a large, secluded garden with plenty of shaded spots, a BBQ, and a patio area with a dining table.
Now, let's get to the good part. This is the ultimate Paphos Airbnb for kids, with considerable thought given to creating a fun and exciting holiday villa.
The fun starts with the fact the villa is painted orange and it doesn't stop there.
In the garden, you'll find hammocks, a trampoline, kid's toys, a swing, an obstacle line, a paddling pool and, the main event, a Pirate Ship. The 4-deck wooden construction comes complete with nets and ropes to keep the kids entertained for hours.
The hosts have thought of everything for the family. There's a cot provided, as well as a baby bath and potty, kids' toys, and a stair gate, and the garden has been covered in artificial grass to protect your little ones.
This nautical fun-filled villa could be one of the best family villas in Paphos and needs to be seen to be believed.
9. Luxurious Beachfront Villa
This villa in Paphos is an absolute showstopper. It's like stepping into something from a magazine; from its lavish interior design to the mesmerizing sunsets from the terrace and panoramic views over the Mediterranean Sea. It takes luxury to the next level.
Of course, with luxury comes a higher price tag, but if you're going to Cyprus for a special occasion, or even outside of the high season, you should consider staying here. It's one of the best villas in Paphos for sure.
With modern furniture, spacious en-suite bathrooms, a barbecue area, and a lovely communal pool to complete your morning laps, it's the perfect place to stay in Paphos.
It's centrally located in Paphos, just a few minutes from the Harbor, center, and mall. It's right on the beach and is just an 8-minute drive from Coral Bay too, so a winner in the location department too.
10. Fabulous Villa in Peyia
One of the best villas in Paphos is this beautiful place in Coral Bay. Coral Bay is home to some of the best beaches in the area and this amazing villa is just a 5-minute drive to them, as well as to the best restaurants and bars in the area.
Its whitewash walls and bright blue pool complement all you think of when you imagine Greece, and it automatically makes you feel relaxed before you even walk in.
This villa in Paphos has a more luxurious feeling to it and has a large swimming pool, comfy loungers, barbecue facilities, high-speed internet, a ping pong table, a washing machine, a coffee machine, and a large smart TV with Netflix. There's also a lovely covered outdoor dining area.
While you probably won't want to spend much time inside, the interior is divine and is so beautifully finished. You'll not want to get out of the amazing showers. With three bedrooms and two luxurious bathrooms, you can sleep 6 people in this villa.
11. Minimalist Villa in Chloraka
The decor in this villa is absolutely stunning. There's no clutter, and it's bright and clean, which makes for a very tranquil vacation.
There are full-width folding doors that create a stunning indoor-outdoor living space where you can enjoy a bottle of wine and eat alfresco.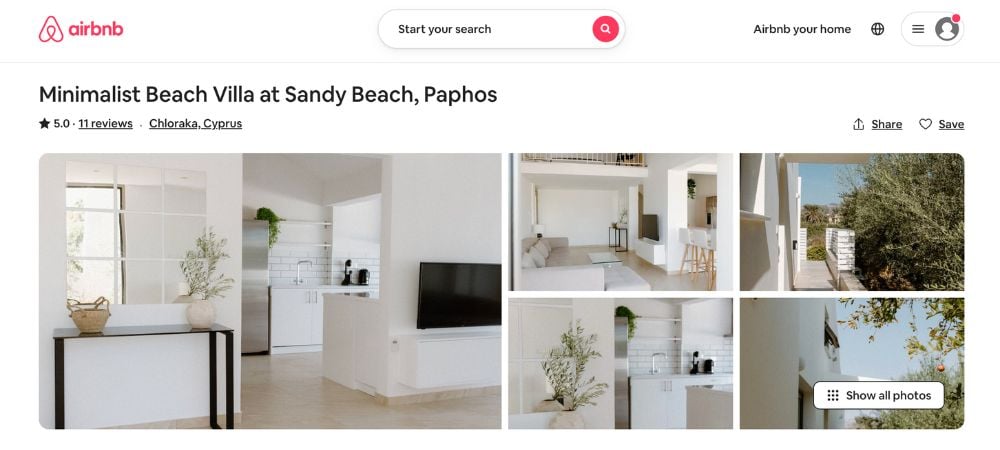 Located in Chloraka, you have extensive views over the hillside and coastline. While it doesn't have a pool, it's within walking distance to Sandy Beach, where you can grab a lounger and relax with a drink from the beach bar.
This is one of my favorite villas in Paphos for entertaining, as it features a sound system in the living area in the al fresco living area. The perfect place for a sunny vacation with friends.
12. Bright Beach House
You'll not get much closer to the beach than by staying at this beautiful Airbnb on Paphos beach. This gorgeous beach house has stunning views of the sea and is just minutes from the water.
It has three bedrooms and can sleep 6 people, so is a great option for groups of friends or families. There's a private pool too, which residents of the complex can use.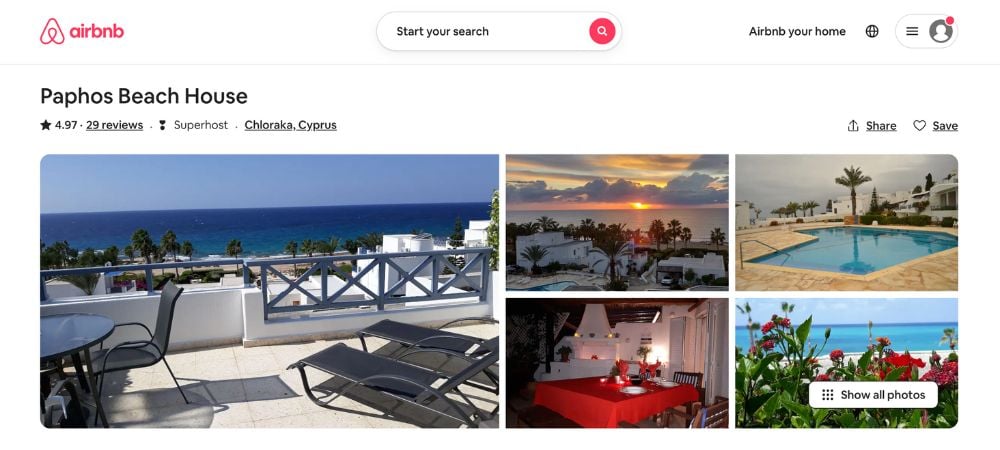 The house has two terraces, one of which has a few loungers on, and a table and chairs for ultimate relaxation.
Based in Chloraka, you're close enough to everything but far enough from the main strips to feel a little away from it all.
13. Coral Bay Villa with Pool
This boutique-style villa in Paphos is in an excellent location in Coral Bay. The beach is just a three-minute walk away and the taverns, restaurants, and bars are a 4-minute walk away too.
There's a gorgeous outdoor patio area with a table and chairs for 6 people (with fans above so you can keep cool in the summer months). Make sure you use the barbecue and enjoy the al fresco lifestyle that this villa offers during your stay.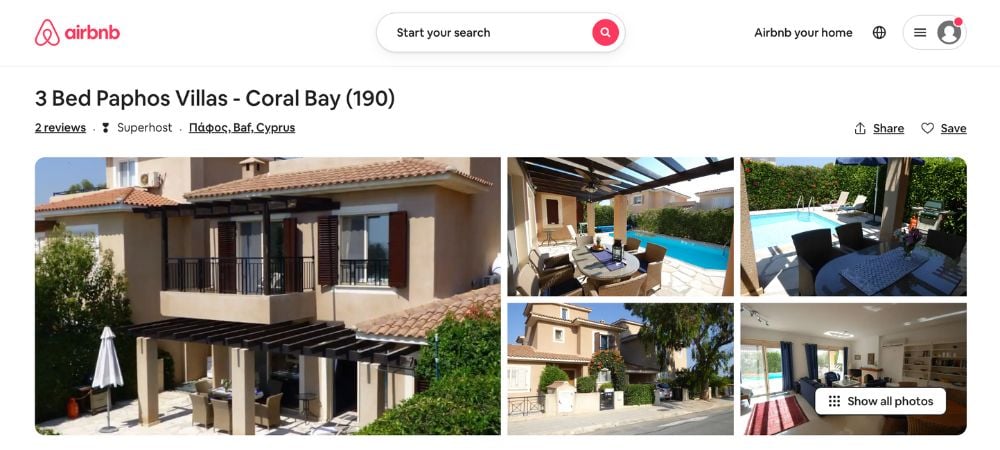 There's also a good-sized pool which is completely private, along with sun loungers for sunbathing.
Inside is very spacious, with three bedrooms, two doubles and one single, as well as a lovely open-plan living area.
14. Amazing Villa in the Hills
If you want to get away from the hustle of the most touristy areas of Paphos, then head to the hills and stay in this incredible villa near Paphos.
Barbara's Villa has two bedrooms and sleeps four. The host very kindly stocks the kitchen with staples too, which is super handy.
Located in an exclusive development in the village of Tala, it's great for people who want peace and privacy and to enjoy the sunshine and beautiful swimming pool. There's a beautiful-shaded area in the pool under the cover of a pergola.
You'll have use of part of the villa including a sitting room, kitchen, 2 bedrooms, and a bathroom which can be locked off from the guest side, so it's totally private.
You also have use of a laundry room and a second bathroom by the pool with the owner. If you'd prefer to use the facilities privately, exclusive use can be arranged with the owner.
15. Modern Apartment in Beautiful Complex
The outdoor amenities make this beautiful Airbnb in Paphos Cyprus one of the best. Located in the beautiful, gated Elysia Park Complex, it has not just one, but two HUGE cascade pools as well as 2 separate pools for children. It's a good option for family vacations.
Not only that but there's a playground, table tennis, a well-equipped gym, and a sauna on-site, as well as a fantastic restaurant.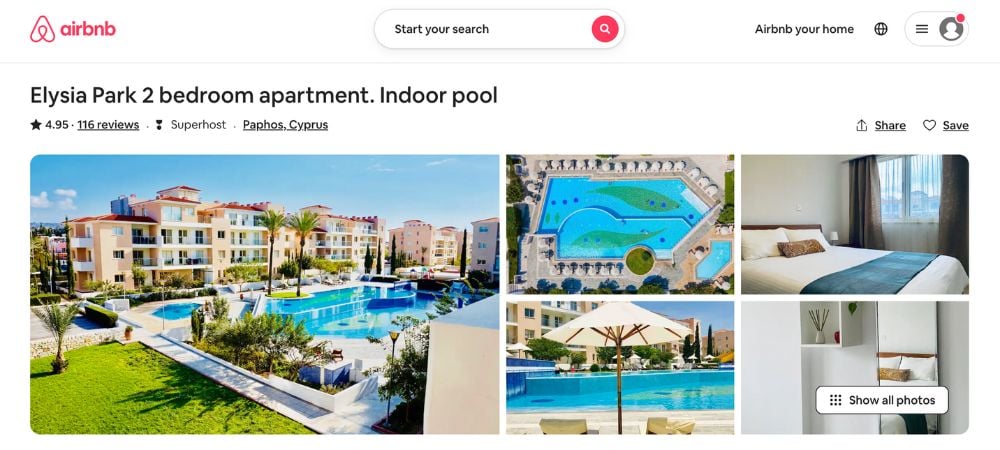 In terms of location, it's in the main Paphos town center, within walking distance of the main bars, cafes, and restaurants in the Paphos tourist area.
This Paphos apartment on Airbnb is super modern and beautifully decorated, with a large master bedroom with a bathroom, and a second bedroom with two single beds.
It has everything you need for an amazing stay, including a fully equipped kitchen and a washing machine. It's one of my top picks.
Best Areas to Stay in Paphos
Here's a breakdown of the best areas and neighborhoods to stay in for tourists.
Kato Paphos
Kato Paphos means "Lower Paphos". It's away from the rest of the city which is a little further inland, away from the Sea.
It's one of the main tourist destinations in Paphos, and you'll find lots of high-end hotels, beach bars, and restaurants here.
There are some fantastic beaches in Kato Paphos, and it's within walking distance from Paphos Harbor, and a short drive to Paphos Water park – two of my favorite things to do in Paphos.
Given its proximity to the sea, and because it's more built up, there are fewer villas in this area, but you will find some lovely townhouses and apartments. These are fabulous options if you like to have everything on your doorstep while you're vacationing.
If you're staying in Kato Paphos, the townhouse by the sea would be my personal choice.
If you're in Kato Paphos and fancy something a little different, then try the exceptional Indian street food at Namaste Paphos. They have a very contemporary menu with lots of specialty dishes. The Namaste chicken and the South Indian fish curry are both delicious.
Coral Bay
Coral Bay is another very touristy part of Paphos. It's very quiet in the winter, and in the summer it's one of the liveliest places in Paphos.
Coral Bay Avenue, is the main road in the area and is lined with restaurants, bars, and shops. There are some fantastic places to eat along the Avenue (I recommend Seriani Restaurant) and at the end, you'll find the blue flag beach, Coral Bay Beach.
It's a fantastic place for families as there is a lot to do here, the beach is sandy and the water shallow. If you're staying in Coral Bay, I recommend the luxury villa in the heart of the area.
Peyia
Peyia is set in the hills just above Coral Bay. It's a little further out and so it's very relaxing and a little calmer than Coral Bay.
It's a village which has been developed by ex-pats but has still retained its traditional charm, so you'll find a nice blend of old and new here. One night you can eat at a traditional tavern (try Peyia Tavern for amazing meze) and the next in a more modern European-style restaurant.
As it's a little further out, there's more space. More space means beautiful, spacious homes and villas in Paphos. If you're intending on staying in Peyia during your vacation, I recommend the classic Greek-look villa.
Chloraka
Chloraka is located between Coral Bay and Paphos/Kato Paphos. Coral Bay is around 7 km away and Paphos harbor is around 5 km; ideally, you'd need a car to explore the surrounding areas.
Whilst in Chloraka, I would definitely recommend that you check out the wonderful Kasparis Tavern. This traditional, family-run, Cypriot tavern serves excellent seafood and local delicacies. If you can't decide, go for the huge fish meze and try it all!
However, the benefit of staying in Chloraka is that it's a little quieter than the surrounding resort areas, while still being close enough to pop in and enjoy the nightlife or restaurants.
One of my favorite villas in Paphos is this one in Chloraka.
Tala
I've put Tala on the list because you can find some spectacular villas in the area with the most amazing views.
If you're looking for a relaxing vacation, and aren't fussed about spending too much time in the bustling city center, then you may wish to consider Tala. It's around 8 km from Paphos town center, but the landscape is magical. Full of carob, olive, almost and citrus trees.
There are some large villas in the village which are great for big groups. You'll just need a car if you stay in this area. If you're interested in Tala, go and stay at Barbara's, it's wonderful.
Airbnb Paphos: FAQs
What is the best Airbnb in Paphos with a pool?
For me, the modern villa with the dreamy sea view is one of my favorite villas in Paphos with its own private pool. The style and finish of the villa, together with its location, make it a winner.

If you're happy to share a pool, then this incredible 2-bedroom townhouse is the ultimate in luxury. It has everything you need for a perfect stay in Paphos.
What is the average cost of Airbnbs in Paphos?
In the off-season (from October to March) you can expect to pay between $50 – $100 per night for a great villa in and around Paphos. For a little added luxury, then you can increase that to $150 per night.

In summer, which in Cyprus runs from April to September, those prices can double, and you can expect to pay between $75 – $250 per night for the same villas.
What are the most popular Airbnbs in Paphos?
This blog highlights some of the most popular Airbnbs in Paphos. The fabulous family fun villa is extremely popular with kids and parents alike thanks to the amazing attention to detail.

For couples and those who love a touch of luxury, the incredible views from this villa with its own jacuzzi make it a firm favorite with holidaymakers in Cyprus.
What is the best budget Airbnb in Paphos?
There are some incredible budget Airbnbs in Paphos. This excellent 2-bedroom maisonette has been recently refurbished and is right in the heart of Paphos itself. It has everything you need for a great stay in this popular part of Cyprus, and it won't break the bank.

Alternatively, if you don't mind a shared pool and enjoy having all the benefits of staying on a complex, check out this modern apartment which comes finished to a high standard and has the use of two pools on site.
Are Airbnb stays in Paphos safe?
Yes, absolutely. Airbnb stays in Paphos are very safe and with Paphos being a hugely popular tourist destination for Europeans and people all over the world, it's very well set up for tourists.

There are a lot of Airbnbs in Paphos which means you'll find plenty of stays with plenty of reviews to help reassure you that the property and the host are as described.

Paphos itself is very safe. It's a popular town with locals and tourists alike, so there are always plenty of people around. It's one of my favorite places in Europe, with some of the friendliest people you could hope to meet. You'll have a blast!
In Conclusion
Paphos is such a great place to base yourself on any trip to Cyprus. There are lots of different areas to stay in depending on what you are looking for and similarly, many different accommodation options.
There are some incredible Villas in Paphos, some in the hills, some on the beach, some in the tourist areas, and some more remotely located. I hope this blog post helps you pick somewhere amazing to stay for your vacation or visit.
Like This Article? Pin it!