Without software, a graphic designer is nothing. There are tons of different software options out there, but it can be hard to differentiate the best graphic design software for your skill level.
I've been a graphic designer for quite a few years and I run my own graphic design business. Over the years, I've tried numerous different software programs. I've found the ones that work best for me and hopefully, this list will help you to do the same without all the research.
This list covers everything from the best free graphic design software to the best graphic design software for Mac vs Windows, so it truly covers it all.
Here are some of the best graphic design software programs you'll want to try.
Best Free Graphic Design Software
While much graphic design software is paid, there is actually some great free graphic design software that you can utilize instead — especially if you're a bit new to this line of work. Here's some of the best graphic design software that won't break the bank.
1. Canva
First up on this list of best graphic design software is Canva. While there is a paid version of Canva, I qualify it as free because the free version is all you'll need.
Canva isn't great for print projects, but it's perfect for digital products, including social media graphics and virtual advertisements. Everything is in the RGB colour space already, so there is no extra work needed on your end.
If you ever hit a creative roadblock, Canva has you covered. There are tons of free templates in many different sizes that you can use and tweak as needed. Canva templates have saved me many times when I couldn't get enough inspiration from Pinterest.
2. Figma
I like to call Figma the free version of Adobe Creative Cloud. Yes, I mean all of Adobe Creative Cloud, because it's like InDesign, XD, Photoshop, and Illustrator all in one, for free.
In Figma, you can create both print and digital projects for clients. Plus, you can send versions of it to review straight through the program, which can save you many back and forth emails.
Do you work with a design team? Well, Figma has you covered for that too. Figma is collaborative, so you can send a link for someone to join your project and edit right alongside you.
The real showstopping part of Figma that makes it stand out from other free software is how easy it is to create prototypes. This is essential if you ever design an app or web design layout. It can show your clients exactly what you have in mind for how everything works together.
While there are paid versions of Figma, the free version is perfect for most designers and can hold up to three projects at once.
3. SketchUp
One of the best free graphic design software programs available is SketchUp. Many people initially think, hey, isn't that for architects? I'm here to tell you no it's not — anyone can use it.
If you ever find yourself working on a more in-depth project that requires mockups, SketchUp can help bring it to life. For example, maybe you're designing a pattern that is going to go on a desk for your client. You can mock it up easily within SketchUp.
SketchUp can be a bit difficult to get used to when you've never used it before, but it won't take long to pick it up with the multitude of tutorials that you can find online.
4. Krita
Last but not least, on this list of best free graphic design software is Krita. This one is pretty underrated, but if you're a graphic designer on a budget, you'll find that it will help many of your projects.
While many artists use Krita, it can help graphic designers in the same way Adobe Illustrator does. It's essentially a platform for digital painting and illustration, so it can be great for creating vectors for logos or other projects that you may be working on.
Krita is continually coming out with updates and is always changing depending on what users are suggesting, which is impressive for free graphic design software. It's available for both Windows and Apple computers.
Best Graphic Design Software for Beginners
While Adobe Creative Cloud offers the best programs for graphic designers, they can be difficult for beginners to use. These software programs are a bit easier for designers just starting.
1. Easil
Easil is the best graphic design software for beginners, and I only recently learned about it. I'm currently a designer for a marketing company, and they had been using Easil for years, and they've been having me create a lot of my projects in it.
If you're wondering what Easil can compare to, it's sort of like Canva with training wheels, which is another one of the best graphic design software options out there.
Easil is filled with premade templates, so beginner designers can learn what makes a good design.
While there are paid versions of Easil, the free version is genuinely all you'll need, especially if you're just starting. Similar to Canva, Easel is better suited for digital designs.
2. Stencil
Stencil is a bit of a newer graphic design tool that deserves its spot on this list of graphic design software for beginners. While it doesn't have as many options as other tools out there, it has all you need if you're just learning how to design.
Within the software, users also have access to millions of royalty-free photos that they can use in their projects, which is a huge plus. There are also tons of templates you can use for designs.
Stencil even comes set up with all of the digital design sizes you could possibly need so you don't have to memorise them. They have premade documents set up for Pinterest pins, Instagram photos, Twitter posts, and more.
3. Picmonkey
I used to be obsessed with Picmonkey when I was first learning how to design. I used it even more than Canva, even though the two tools are quite similar.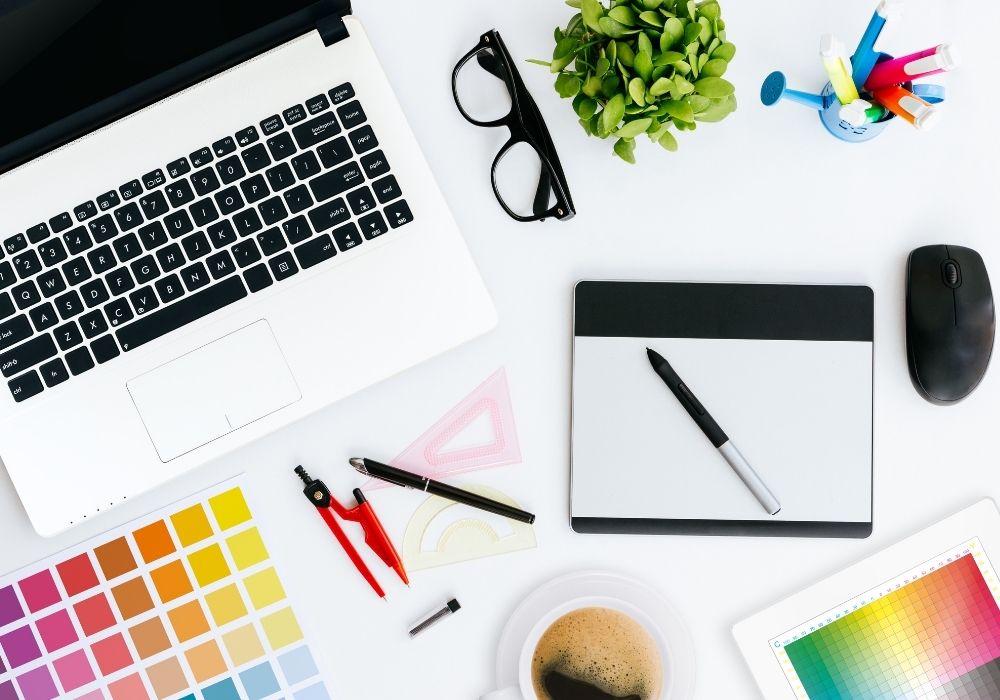 Picmonkey is perfect for creating all online graphics types, ranging from social media advertisement images to YouTube thumbnails. Plus, Picmonkey also has its own photo editing software built into it, so you can learn how to edit and later start using Adobe Lightroom.
If you're new to the graphic design space, Picmonkey is excellent and will provide you with all the tools and pre-made designs you could possibly imagine to start your own design business. The interface is really user-friendly, making it perfect for those who have never used the software before.
4. Sketch
Sketch is similar to Figma, which was mentioned earlier on this list, but it's more beginner-centric. Within the platform, you can design pretty much anything you can imagine.
Just like with Figma, the best thing about Sketch is the prototype feature. This is great if you're a beginner who is already starting to work with clients or you want to build your portfolio with projects that you're creating yourself.
With the prototype feature, users can mock up website designs, apps, and more. This is the perfect way for you to show your clients exactly what you envision happening once your designs are installed and come to life.
Unlike Adobe Creative Cloud, Sketch has a one-time payment of $99; then you get the license for life.
Best Graphic Design Apps for iPad
Utilising apps on an iPad as a graphic designer can be a huge time saver, especially if you often illustrate in your designs. Below, find some of the best graphic design apps for iPad that I've used.
1. Procreate
Even though I only recently started utilising Procreate, I already know it's one of the best graphic design apps for iPad. It's a lot easier to use than Adobe Fresco (the Adobe Creative Cloud version) even though it does have a small one-time purchase fee.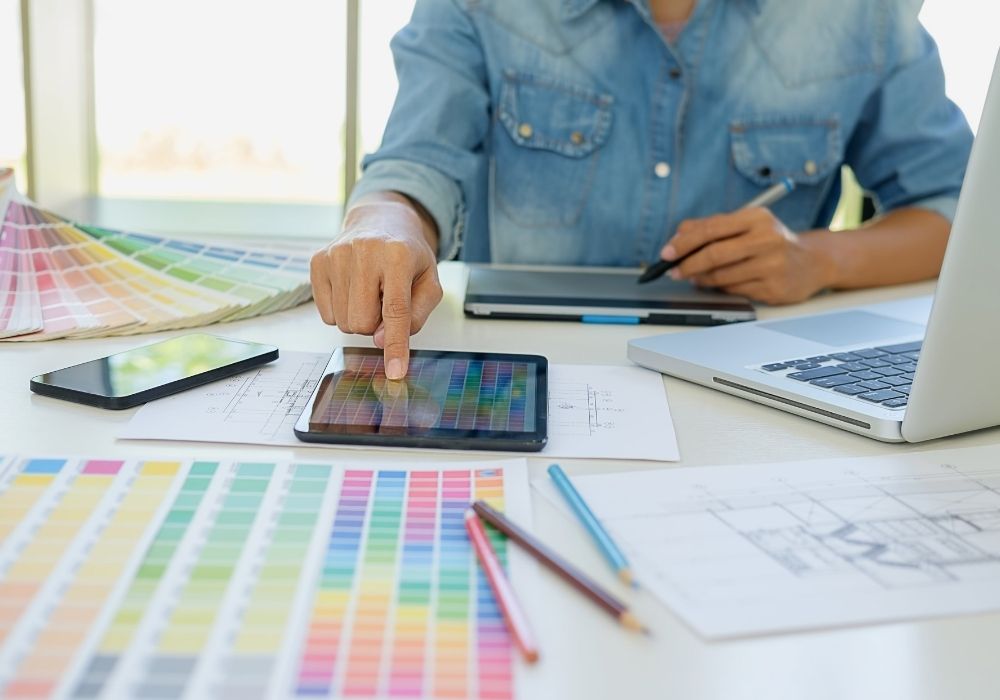 Many people probably think of Procreate as an app for illustrators, but if you're a designer who consistently uses illustrations or creates logos, then this app will save you.
I've even used Procreate to open up my own side business on Etsy selling travel stickers! The possibilities are endless with this app.
What's even better is that once you create something on the app, you can export it and airdrop it to your computer as an AI or PSD file, so it integrates seamlessly with your Adobe Creative Cloud products that you probably already use as a graphic designer.
2. Adobe Fresco
If you already use Adobe Creative Cloud and don't want to pay extra for a product like Procreate, Adobe Fresco/Adobe Draw will do the same thing.
It's an illustration app for the iPad, so you can make accents for any of your products instead of purchasing and spending hours searching for vector graphics online. Drawing apps like this have saved me tons of time in the past.
Because it's already an Adobe product, you can airdrop your finished vector illustration to any other programs you have on your computer within minutes. As an added bonus, if you love watching time lapses, you can see one of yourself drawing the image when it's all done.
3. Adobe Capture
Adobe Capture is one of the best graphic design apps for iPad that is seriously underrated. It's also an app for your phone, which you may find you use while you're out and about more often than your iPad.
With Adobe Capture, you can essentially take a photo of anything and turn it into a vector. Graphic designers know that it can take a while to do this, which is why this app comes in handy.
This is perfect if you're the kind of person who would rather not use a drawing app and would instead rather sketch by hand.
All you have to do is sketch in your physical notebook, then take a photo, and you can transfer it into Adobe Photoshop or Adobe Illustrator to digitize it in seconds.
4. Adobe Lightroom
If you've ever been sent a terrible photo by a client that is edited with colouring that doesn't make sense for the design, you can change that in seconds using the Adobe Lightroom app.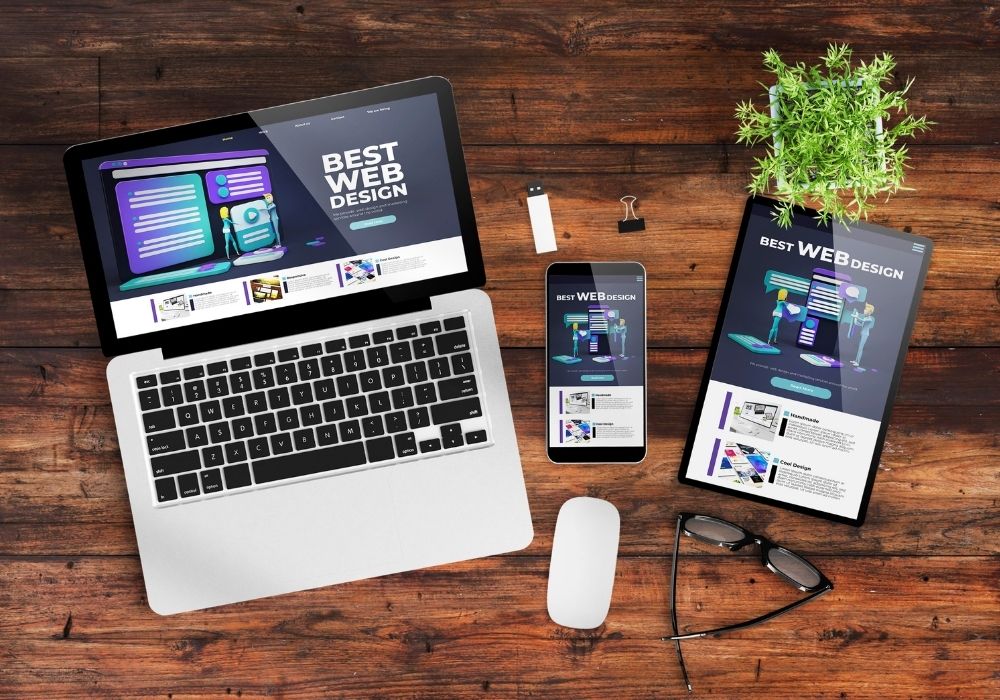 While it's also an app on the computer, I much prefer the iPad app version. It's a bit easier to use, and you can do it no matter where you are since you don't need the internet. Plus, the mobile app is free.
Once you're done editing the photo, just airdrop it back to your computer and get back to designing.
Best Graphic Design Software for Windows
Unfortunately, Adobe Creative Cloud programs don't run as smoothly on Windows, but there are graphic design software options if you prefer a PC computer.
1. CorelDraw
While CorelDraw isn't as great as Adobe's software, it can get the job done and runs a bit better on Windows than Mac.
It's essentially a vector-based graphic design software, so you can scale the artwork however you need once it's done like in Adobe Illustrator.
The main plus of CorelDraw is that it isn't a subscription-based program. Instead, you pay a one-time fee of $250 USD, and you'll have it for life unless you want to update to a newer version.
CorelDraw is also an extremely collaborative graphic design software, so it's perfect if you're consistently working on or with a team. It makes the process of sharing a lot more seamless than using another program like Dropbox to store files.
2. Affinity Designer
Affinity Designer is another vector-based software that deserves a spot on this list of the best graphic design software for Windows.
It's similar to Adobe Illustrator, and if you also do some artwork on the side of your design business, then this software is perfect for you.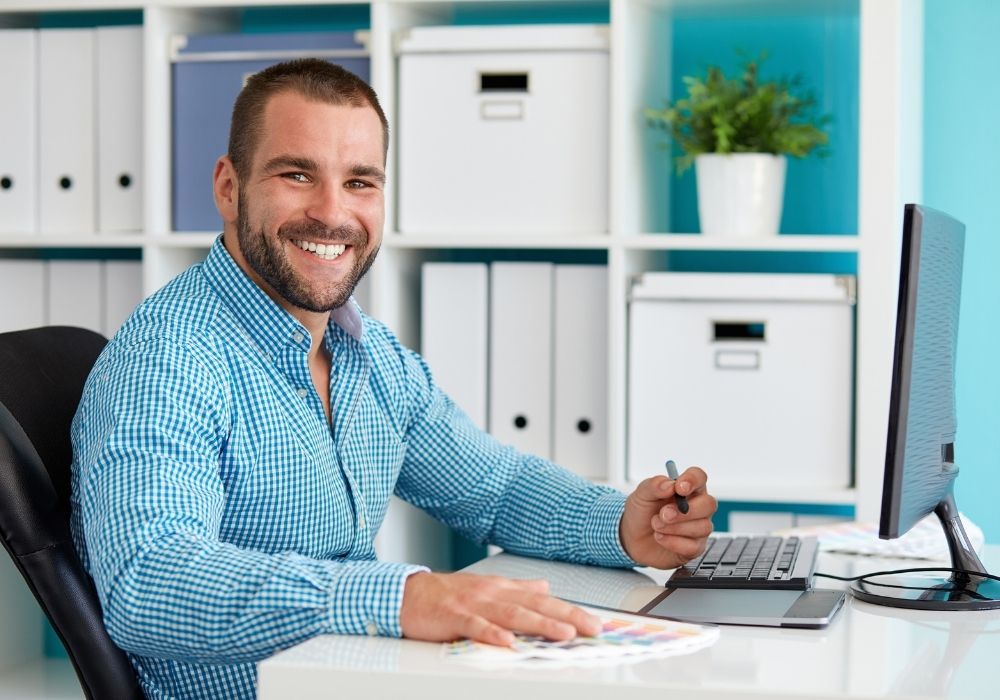 Within Affinity Designer, you can edit photos (similar to Lightroom), create vector-based typography designs for projects like branding, and illustrate different shapes or pieces of art that you may need in your designs.
First-time users are allowed to use Affinity Designer for free for up to ninety days, so you'll have more than enough time to try it out before you purchase. As an added bonus, Affinity Designer is also available as an iPad app so you can use it on the go.
3. Gravit Designer
Next up is Gravit Designer. This vector graphic design software is similar to Canva and Adobe Illustrator, so it can come in handy while designing or working on clients' projects. Believe it or not, many designers even rank Gravit Designer higher than Adobe Illustrator.
The web app is perfect for creating both print and digital images. You can also prototype within the software for showcasing your projects to clients and export to a multitude of file types, including SVG.
Gravit Designer is simple to use if you're new to graphic design because of how clean its interface is. There is a free version and a paid version that costs $49 per year.
It's worth splurging on the paid version because then you can work offline. Gravit Designer truly is one of the best graphic design software for Windows.
4. Photoscape
While Photoscape may not have the prettiest interface and looks a bit outdated, it can get the job done for photo editing. It's consistently ranked as one of the best photo editing platforms out there.
If you're looking for a quick and easy way to edit photos on your Windows computer to use in your graphic design projects, Photoscape is great. It doesn't have as many options as Photoshop but has excellent photo editing features.
Best Graphic Design Software for Mac
Without argument, the best graphic design software for Mac is all of the apps included in the Adobe Creative Suite. Below are a few of the ones that I use most often in my own graphic design business.
1. Adobe Photoshop
Adobe Photoshop is the best graphic design software out there for digital designs. You can manipulate photos in any way and edit them, so it's almost like Lightroom but with a lot more graphic design capabilities.
You can also touch up any photos, alter the text to make some interesting typographic designs, and more. I open up my Photoshop app at least once a day for a project.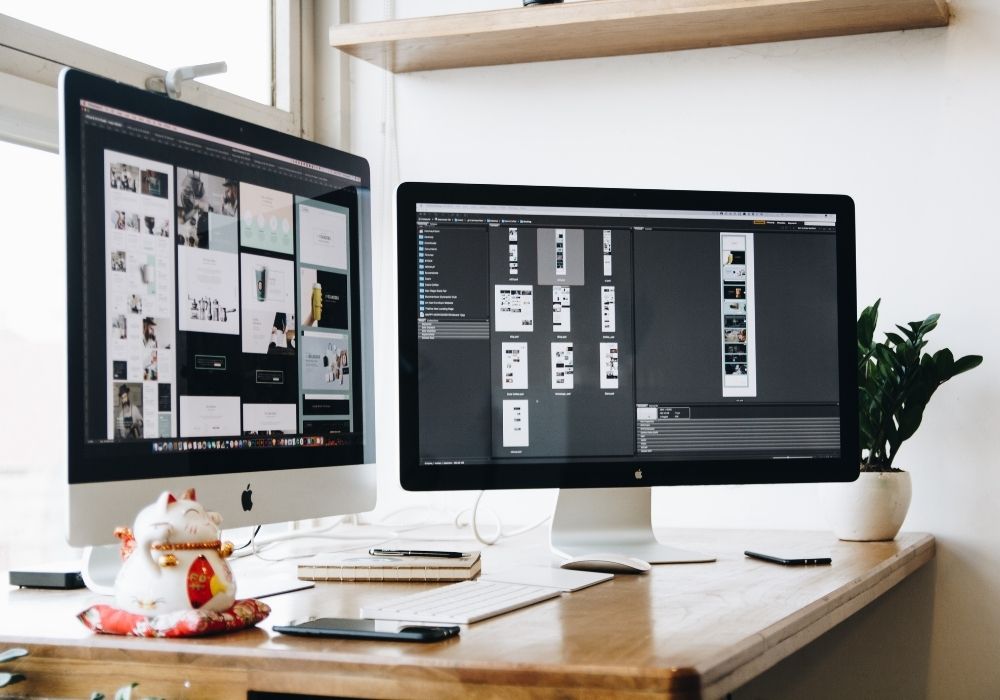 It also seamlessly integrates with all the other Adobe applications, which makes it even more useful. You can easily take something that you're working on in Adobe InDesign, move it to Photoshop and make it a Smart Object in minutes, and then move it back. It's great!
2. Adobe Illustrator
If you frequently use graphic design apps or consistently make vector-based illustrations, look no further than Adobe Illustrator. Yes, there are many free applications out there that work similarly to Adobe Illustrator, but nothing beats it.
Adobe Illustrator is perfect for drawing vector art on the computer and creating logos. It's also great for projects that you know will have to get blown up to a huge proportion. With AI, you can change the size of any project without worrying too much about the resolution.
Whether you've used it or not, if you've had the chance to use any other applications by Adobe, you'll be able to pick it up quickly without watching many tutorials at all.
3. Adobe XD
I like to think of Adobe XD as the new kid on the block. Not many people use it or even know what it is yet, but it's an app that I frequently use in my graphic design business.
It works a lot like Adobe Illustrator because you can create multiple artboards, making designing go a lot quicker. It's perfect for creating app designs and web design layouts, and since I've recently added web design as a service, I've been using this almost every day!
Similar to Figma, you can also prototype with Adobe XD, which is helpful for showing projects to clients. They can see just what their website or app will look like once it's live.
What's even better is that Adobe XD is included in the Adobe Creative Cloud price.
4. Adobe InDesign
Adobe InDesign is the original design software, and it's one of the first programs that all designers are taught when they're in design school.
It's one of the best graphic design software for Mac, and even if you don't think you'll use it often, it's good to have a subscription for it at least.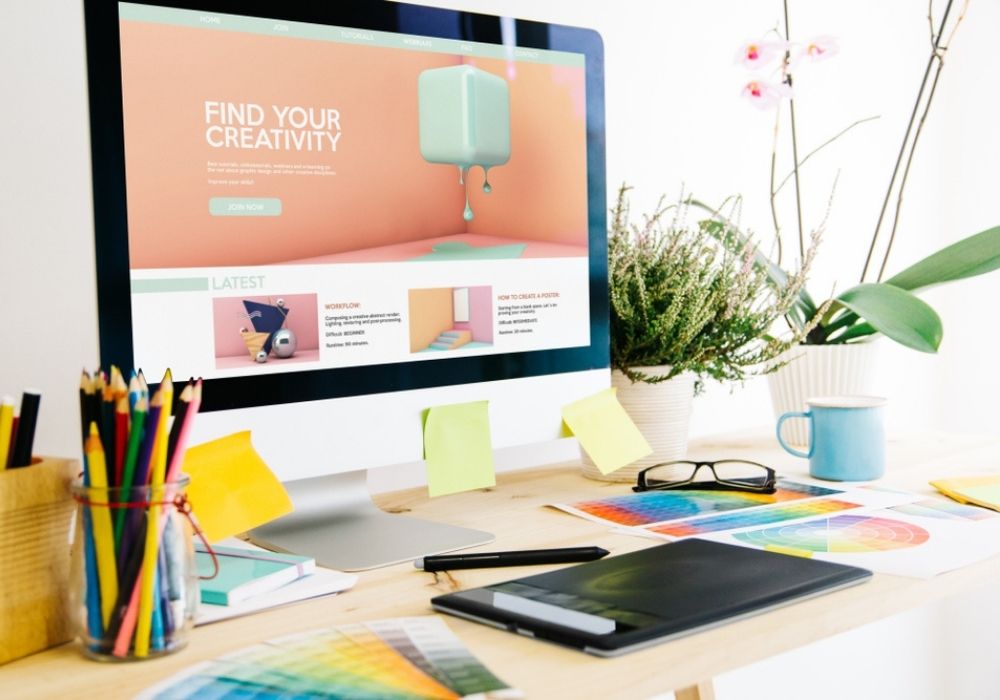 InDesign is the perfect software for creating print designs. You can work with grids, add bleeds and crop marks for printing, and quickly design multi-page documents.
Plus, once you master how to use different text and design styles, you'll save yourself loads of time working on big projects.
I feel that every other project in my design business has to be created in Adobe InDesign, so the monthly subscription more than pays for itself through my services.
Conclusion
Now you know the best graphic design software that there is. Honestly, there is no reason to spend an arm and a leg on software if you don't have to. There are many affordable options out there no matter your skillset and computer type.
Be sure to utilise free trials for these programs before purchasing — try before you buy to see if the software is right for you.
Like This Article? Pin it!