Bude is a town on the north Cornish coast close to the border with Devon. There are lots of great things to do in Bude from hitting the many beaches around the town to exploring beautiful country parks, historic buildings, and more.
I've been visiting north Cornwall and Bude since childhood and love this wild stretch of Atlantic coastline, perfect for surfing and other activities on the water. Bude is one of the top places to visit in Cornwall thanks to its many beaches located close to the town.
There are many wonderful places to visit in Bude such as the High Street with a plethora of quirky, independent shops, some excellent pubs in the town, a river and a canal, and a lot more besides.
Best Things To Do in Bude
Below you'll find a great selection of places to visit in Bude and the town's best attractions, beaches, and natural landmarks. Bude is a hugely popular vacation destination for both Brits and those coming from abroad, and with so much to see and do, it's no wonder it attracts so many tourists.
1. Spend the Day at Summerleaze Beach
Summerleaze is a large sandy beach just five minutes walk from the center of town and certainly one of the best places to visit in Bude.
The beach is perfect for sunbathing, paddling, swimming, and body boarding. There are lots of rock pools to explore and some pleasant rolling dunes behind the beach.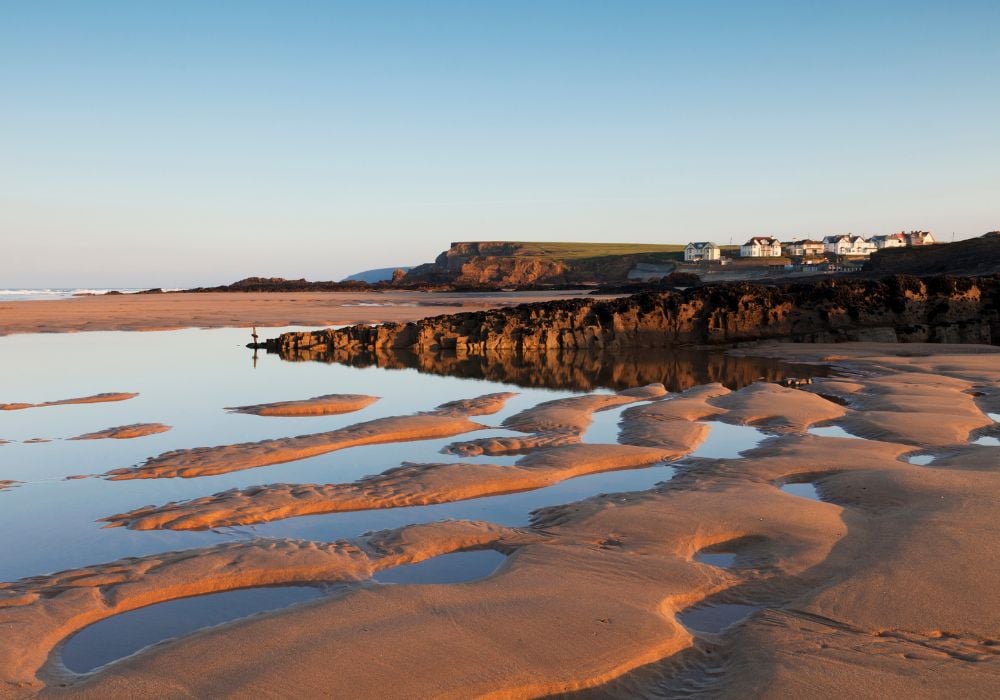 You can hire a beach hut or deck chair for the day and there's a cafe, toilets, and other amenities nearby. There are lifeguards from 1st May to 26th September on watch each year.
Summerleaze can be infamous for rip tides and I actually got caught in one here in my teens – it was a scary experience. Always swim between the flags and if you get caught in a rip, don't fight against it, swim parallel to the beach until you can stand up again. Learn more about rips here.
2. Take a Dip in the Bude Sea Pool
If you want to swim in more tranquil waters, then the protected sea pool on Summerleaze beach is the perfect place, and perfect if you have youngsters that want to experience the water.
Attracting locals and visitors since the 1930s, swimming in the sea pool is one of the most fun Bude activities you can find. This part natural, part man-made saltwater pool gets cut off from the sea at low tide each day.
There's no charge to access the sea pool, making it one of the best free things to do in Bude.
3. Go Surfing at Widemouth Bay
Three miles south of Bude lies the beautiful expanse of Widemouth Bay. This is one of the top surfing beaches in Cornwall, so what better place to have a go at this exhilarating sport? I've been surfing along this stretch of the Cornish coast for years and it always delivers some great waves.
This two-hour real surfing experience is perfect for beginners and will have you learning all the best techniques and how to stand up on your board.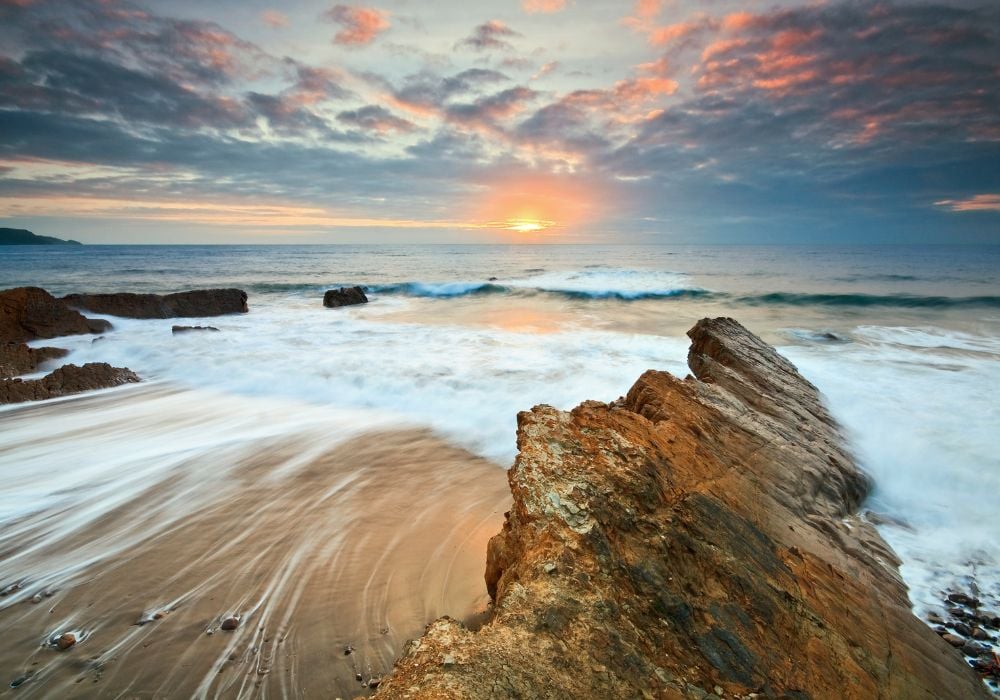 A wetsuit, board, safety vest, and training is provided by an experienced coach from the Freeway Surf Academy in Bude. This is definitely one of the best outdoor activities near Bude.
If you're looking to spend more time catching waves then be sure to head to Cornwall's Widemouth Bay.
4. Visit the Castle
The Castle Bude is one of the most famous Bude tourist attractions and dates back to 1830. It's a Grade II listed building nestled behind the sand dunes of Summerleaze beach. Inside, you'll find a museum and heritage center, art gallery, cafe, and shop, making it one of the best things to do in Bude in the rain.
The castle is also one of the best free things to do in Bude (there's no entrance fee for this great town attraction). Be sure to indulge in a Cornish cream tea in the Cafe Limelight (one of my favorite Cornish snacks), with fantastic views of the town and beach.
Bude castle is open from 10:00 am to 4:00 pm every day.
5. Walk or Paddle Along Bude Canal
Discovering the town's historic canal is one of the best things to do around Bude. You can walk or cycle along the towpath (footpath) or hire a kayak or pedalo to paddle along this quiet stretch of water in the heart of the town.
The canal was once used to bring lime down from the hills to factories in and around the town, but now its purpose is very much one of pleasure.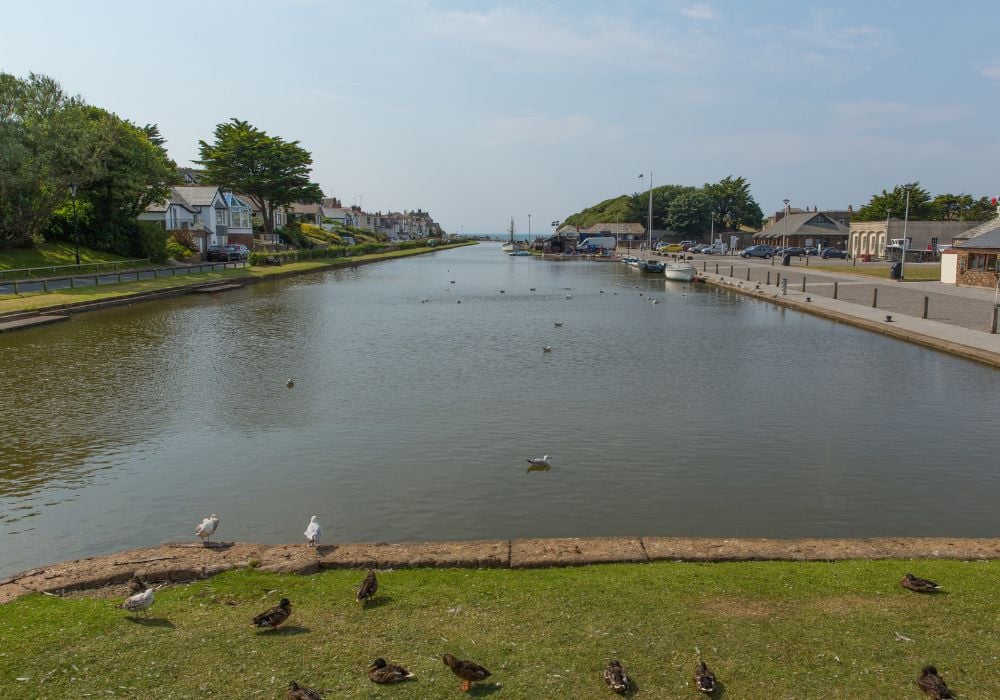 You can hire boats and kayas from Shoreline Activities, and the canal is a great place to learn before having a go at sea kayaking. They offer a range of courses as well as just rentals.
6. Visit the RNLI Lifeboat Station and Shop
The Bude lifeboat has been helping stranded seafarers and fishermen since 1837 and is located to the rear of Summerleaze beach, where it's been based since 2001. The Bude RNLI shop sells a wide assortment of souvenirs from clothing and cards to sweet treats and more.
All sales help to fund the RNLI (Royal National Lifeboat Institue) which relies entirely on donations and volunteers, so purchasing a gift or souvenir here is a great way to give something back to the town. The shop is open every day from 10:00 am to 4:00 pm.
7. Visit Tamar Lakes Country Park
Visiting the beautiful Tamar Lakes Country Park is one of the best things to do in Bude for families as there are so many great activities on offer. Here, you can try out anything from cycling, paddle boarding, windsurfing, sailing, kayaking, or just enjoying this beautiful country park.
The Tamar Lakes Cafe is the perfect place to grab a bite to eat from its menu of home-cooked meals, cakes, coffee, and artisan teas.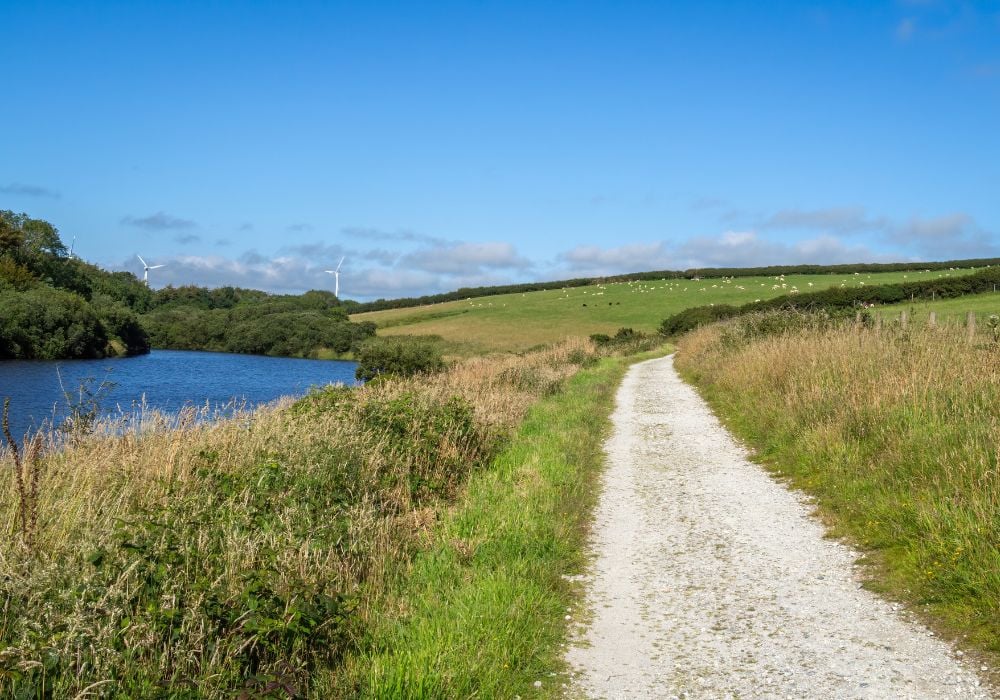 The country park is always open, and the cafe is open from 10:00 am until 3:00 pm Friday to Tuesday. To book activities visit the South West Lakes website.
8. Hike the Bude Coast and Canal
This relatively easy 5.7-mile circular hike is one of the best things to do in Bude Cornwall if you want to escape the busy beaches and get out into nature. The route takes in dramatic cliff paths with stunning sea views before meeting the Bude canal and circling back into town.
The route also passes some (dog-friendly) pubs so this is one of the great things to do in and around Bude with a furry friend.
You should be able to spot plenty of wildlife from birds to various marine species, and there are plenty of great places to stop along the way for a picnic. See the route and more details here.
9. Have a Pint in The Brendon Arms
The Brendon Arms is one of Bude's most loved traditional pubs and has been run by the Brendon family for over 150 years. The pub is located in a prime position next to the canal, and inner harbor and just a few hundred yards from Summerleaze beach.
Here, you'll find a great selection of Cornish tipples from local beers and ciders to wines. The menu offers traditional "pub grub" at great prices as well as vegan and gluten-free options to suit all diners.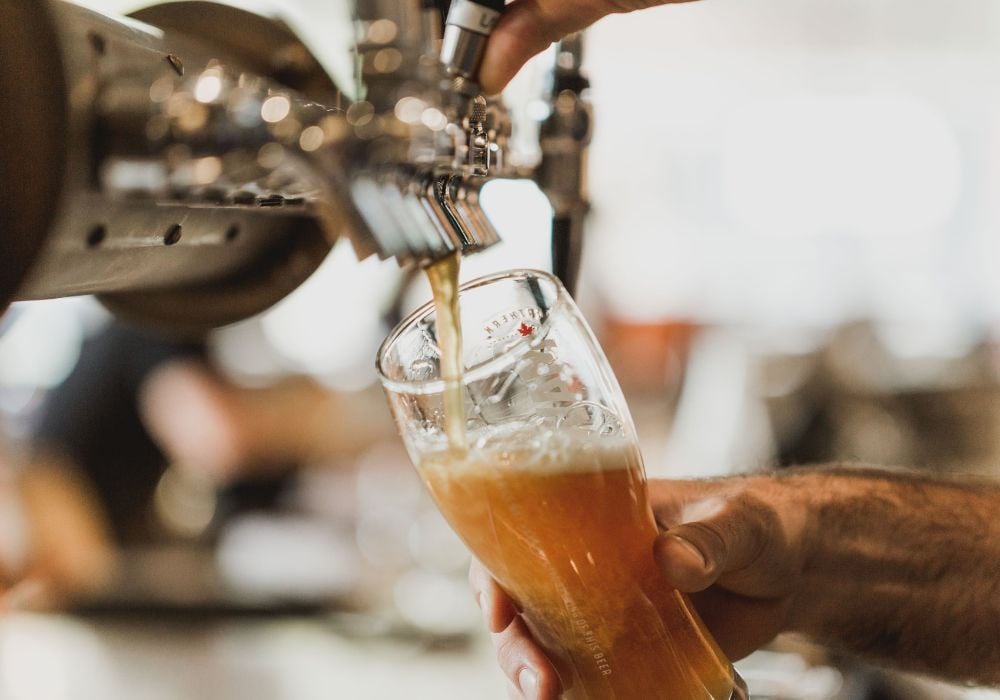 Food is served from 12:00 pm to 8:30 pm every day. Pub classics such as fish and chips, scampi, and burgers are priced from as little as £10.00 per meal, making it a great place to feed the whole family.
10. Visit a Thatched Microbrewery
This excellent microbrewery tour on the edge of Dartmoor in nearby Devon is one of the best things to do near Bude Cornwall for lovers of craft beer and real ale.
The brewery is located on a large farm that dates back to the 17th Century with perfectly preserved thatched outbuildings (and is the only thatched microbrewery in Great Britain).
You'll learn all about how traditional British beers are made and visit the spring that provides the water for the brewing, before heading to the tap room for the most important part, the tasting.
Westacott Barton Farmstead is one of the best days out near Bude and is less than an hour's drive away from the town.
11. Go Birdwatching at Bude Marshes
The Bude Marshes are part of a nature reserve close to the town that covers nine hectares of reed beds rich in biodiversity.
Here, you're likely to spot native otters, kingfishers, and even grass snakes sunning themselves in summer.
The marshes are one of the best places to visit near Bude if you want to escape into one of Cornwall's most tranquil natural landscapes.
12. Check Out the Paintings at Seventh Wave Gallery
Seventh Wave Gallery is located in the heart of Bude and showcases local artworks inspired by the ocean. The gallery is run by Martyn and Lynne who first set up in Bude in 2007.
If you're looking for a great souvenir to remind you of your time in Bude, purchasing one of the gorgeous artworks from this gallery is just the thing.
13. Visit the Stunning Village of Clovelly
Clovelly has consistently been voted one of England's prettiest villages (and Airbnb's 3rd most Trending UK destination) and it's easy to see why. Located just 17 miles along the coast in Devon, this charming village is one of the best attractions near Bude.
There's a small charge to enter the perfectly preserved fishing village (£8.50 for adults and £4.95 for children) which may seem slightly strange, but believe me, it's worth the fee to see this cobbled village clinging to the cliffs above the sea.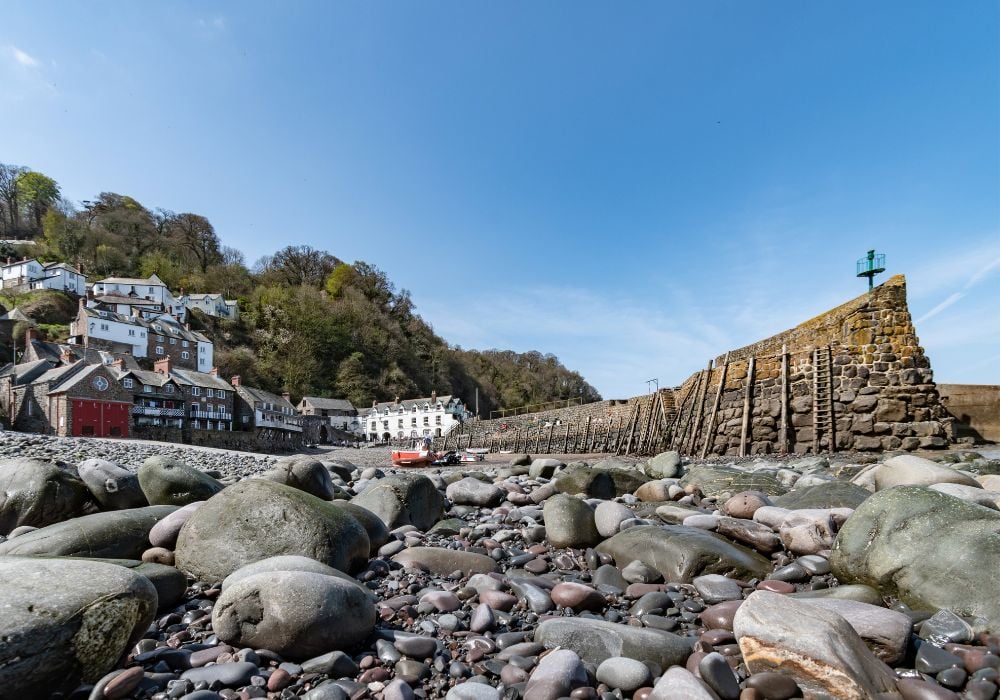 Clovelly is definitely one of the most picturesque places to go near Bude and offers some serious insta-worthy shots.
14. Visit Tintagel Castle
One of the best days out near Bude is to visit the legendary Tintagel Castle (and Merlin's Cave far below). Tintagel is steeped in myth and legend and was supposedly the home of King Arthur and his Knights of the Round Table.
I've often visited Tintagel while on the north Cornish coast and it's an easy trip from Bude at just 30 minutes by car, or an hour on bus 95 (Bude to Newquay service). The castle is on an island and you'll need to cross a very high bridge to reach it, so a head for heights is needed.
There are plenty of other great things to do in Tintagel from visiting King Arthur's Great Halls to supping a pint of Cornish ale at the King Arthur's Arms (you're probably starting to see a theme here).
15. Take a Day Trip to Padstow
Padstow is the perfect destination for days out near Bude, especially if you're a foodie, as the town is home to some seriously good restaurants, (including one of Cornwall's Michellin-starred).
This charming harbor town is just an hour's drive from Bude and can also be reached relatively easily by public transport (take the 95 to Wadebridge and change to the number 11 to Padstow).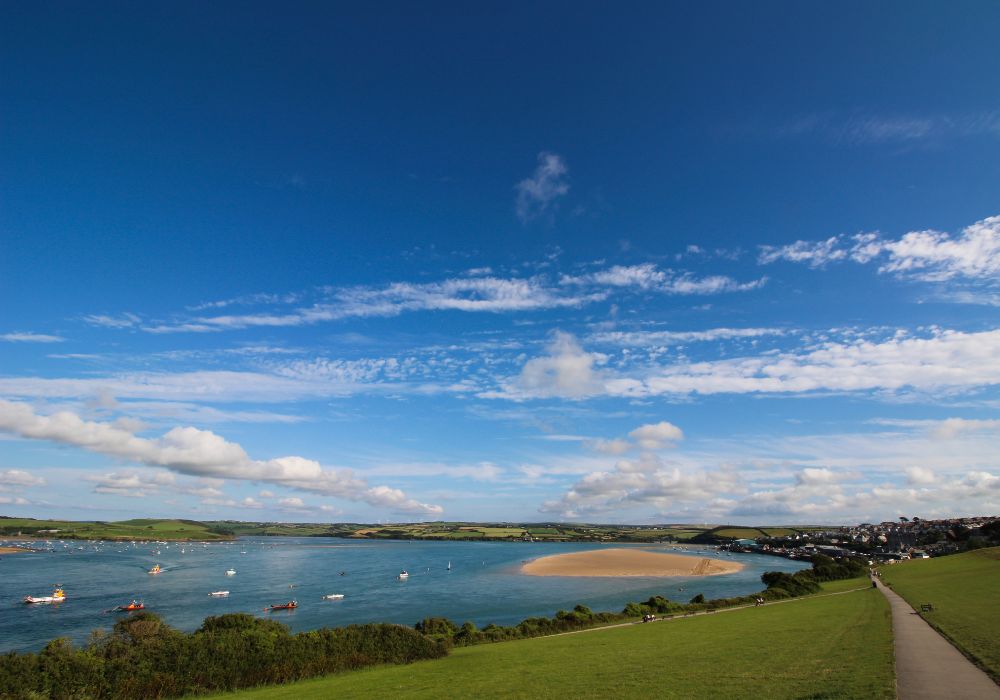 Explore the stone cottages and rustic pubs around the harbor, take a ferry across the Camel Estuary to Rock, or cycle the beautiful Camel Trail (one of my top things to do in Cornwall).
Honorable Mention – The Bude Tunnel
You may find the "Bude Tunnel" listed on Tripadvisor as one of the best things to do in Bude, however, this is something of a local joke, and it's not actually an attraction, though it could be considered one of the more unusual things to do in Bude.
The Bude Tunnel is a covered walkway from a car park to a local supermarket which started to get lots of 5-star reviews and pushed its way up the listings.
At Christmas, the tunnel is lit up with decorations and can be worth a quick look, but otherwise, this is one Bude attraction you can comfortably pass on.
Quick Travel Itineraries For Bude
Below you'll find some helpful itineraries to help you get the most out of your trip to Bude. As the town is quite small, everything is within easy reach and good public transport links make visiting some of the top places near Bude easy.
1 Day in Bude Itinerary
With one day in Bude head to Summerleaze beach (and the sea pool) if the weather is fine. For lunch, pop into the Brendon Arms for some fish and chips or other traditional pub food, before taking a walk along the canal (or better yet, hire a kayak and hit the water).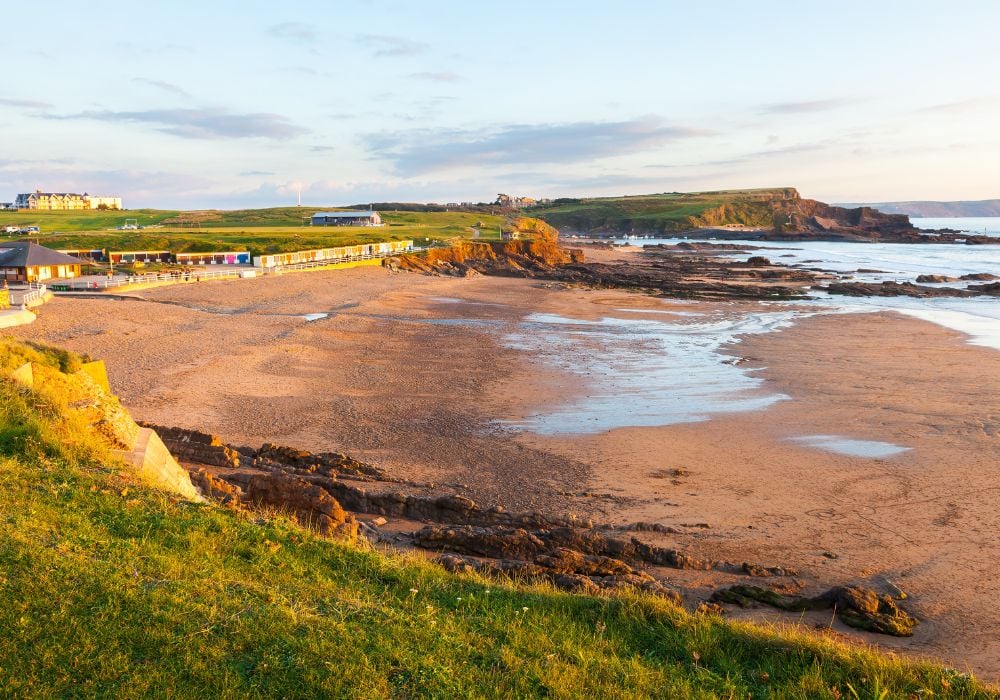 Finish up in Potters for a sumptuous feast of freshly prepared fish.
2-3 Days in Bude Itinerary
On your second day, hike the Coast and Canal path, and be sure to stop off at one of the many pubs along the route for refreshment and a bite to eat. On your third day in Bude head to Widemouth Bay and take a surfing lesson (seriously, you can't come to Cornwall and not surf).
1 Week in Bude Itinerary
A week is the perfect length of time to spend in Bude to visit all the best Bude attractions and beaches, plus add on some day trips.
Spend one day exploring Tintagel and its Arthurian castle, caves, cliff paths, and rustic pubs. You can also take a day trip to Padstow further down the coast and enjoy fresh seafood straight from the boat in idyllic harborside surroundings.
Use another day to visit the Tamar Lakes Country Park and get out on the water with your choice of sailing boat, kayak, or canoe.
Where to Stay in Bude
These are a few of the best neighborhoods in Bude for tourists.
Town Center – Best for First-Time Visitors
This luxury one-bedroom annex is just a five-minute walk from the center of town and Summerleaze beach.
The property sleeps two and comes with a double bedroom, a private courtyard, and off-road parking. Click here to find out more.
Summerleaze Beach – Best for Couples
This double-bedroom loft conversion with en-suite is the perfect place for a romantic getaway and is just a few minutes walk from Summerleaze beach and close to all the amenities, pubs, and restaurants in the town. Click here to learn more.
Widemouth Bay – Best for Families
This luxury five-bedroom beach house a few minutes walk from Widemouth Bay is the perfect place for large families. The property comes with three bathrooms, a large garden, and beach access. Click here to book.
Best Restaurants in Bude
Don't miss these great places to eat in Bude.
Potters
This award-winning restaurant is recommended in the Michelin Guide and is one of the best places to go in Bude for foodies. If you're looking for a fine dining experience at a reasonable price then Potter's won't disappoint.
The menu changes weekly, but you're always guaranteed the freshest local produce cooked with care and attention. The Cornish cod with shellfish bisque is a great option and a bargain at just £21.00.
The Cornish Pie Company
This award-winning pie restaurant is a great option for lunch or dinner. With a wide range of fillings from meat to vegetarian, and of course, Cornish pasties, this simple yet charming eatery close to Summerleaze beach is the perfect place to try some of Cornwall's best-loved dishes.
Breakwater Brasserie
This stylish brasserie and bar located in Bude's Falcon Hotel is a great dinner option. You can choose between the relaxed Coachman's Bar or the more sophisticated Breakwater Brasserie which is perfect for a romantic meal and serves the freshest Cornish produce and catch of the day.
Getting To Bude
Bude is easily reachable from the rest of the UK by road, rail, and air. The closest airport is Newquay which is just 40 miles away and is connected to the town by public transport (bus 95).
To reach Bude by public transport from London there are daily train services to Bodmin Parkway, from where you can take bus 180 for the final leg to Bude.
Getting around Bude is easy as the town is small. All the top attractions, pubs, and restaurants are reachable on foot within a few minutes. Bude has good public transport links to the rest of Cornwall with Tintagel, Padstow, and Newquay all reachable by bus.
Things To Do in Bude: FAQs
Here are some answers to commonly asked questions about visiting Bude.
What is Bude known for?
Bude is known as one of the UK's top vacation destinations thanks to its large beaches and unique sea pool. Nearby Widemouth Bay is a famous surf spot and another popular beachside destination.
When is the best time to visit Bude?
The summer months of June to August are definitely the best times to visit Bude and its beautiful beaches and nature reserves. Spring and fall are also great seasons to visit with fewer people. You can still get out on the water with the addition of a wetsuit.
Is Bude worth visiting?
Bude is definitely worth visiting as there is so much to see and do in and around the town. With miles of golden, sandy beach right on the doorstep, this is one of the best places for a seaside vacation in Great Britain.
What is there to do in Bude at night?
At night there are plenty of great pubs to visit such as the Brendon Arms. There are also some great bars and nightclubs if you want to stay up and dance until the small hours.
Is Bude nice?
Bude is a very nice place thanks to its large beach, historic canal, and river running through the town. With dramatic cliff paths and stunning sea views, it's one of the nicest places in Cornwall.
Where is Bude?
Bude is on the north Cornish coast not far from the border with Devon.
In Closing
Now you know about all the best things to see in Bude and the town's top attractions and beaches. Bude is one of my favorite destinations in Cornwall as there is so much to do in and out of the water.
Whether you want to hit the beaches, sample some of Cornwall's fantastic cuisine, or hike the rugged coastal paths, there's something for everyone in this charming seaside town.
Like This Article? Pin it!