While beautiful sunsets, enchanting wildlife, fascinating landscapes, and friendly people are its major attractions, the food in Kenya is also worthy of a trip to this East African nation.
The country comprises over 44 ethnic groups, and almost every community has its own unique traditional dish. When you combine that fact with international cuisines and culinary variations, every traveler is sure to have an unforgettable experience.
So, if you're visiting Kenya soon and wondering what to eat, read on. In this article, I'll introduce you to dishes from various regions in my home country. These include ugali, the staple food; biryani, a Swahili meal from the coast; and irio, a traditional food from the Mount Kenya region.
Below, are some of my favorite dishes to try during your trip to Kenya.
15 Foods To Try in Kenya
As a Kenyan native, I've traveled to many parts of the country, sampling different meals. To give you an idea of what to expect, I've prepared this guide on 15 must-try dishes in Kenya. It includes popular foods, main dishes, snacks, pastries, and street food.
1. Ugali (Cornmeal) – The Most Popular Food in Kenya Overall
We begin this list with ugali, undeniably the most popular food in Kenya and many parts of Sub-Saharan Africa. It's also the staple food of Kenya and is usually part of lunch and dinner in most households.
Ugali is made by adding flour (maize, millet, or cassava) to boiling water and stirring to a dough-like consistency. The wholesome meal is then enjoyed with green vegetables, beef stew, or nyama choma (roasted meat – more on that below!).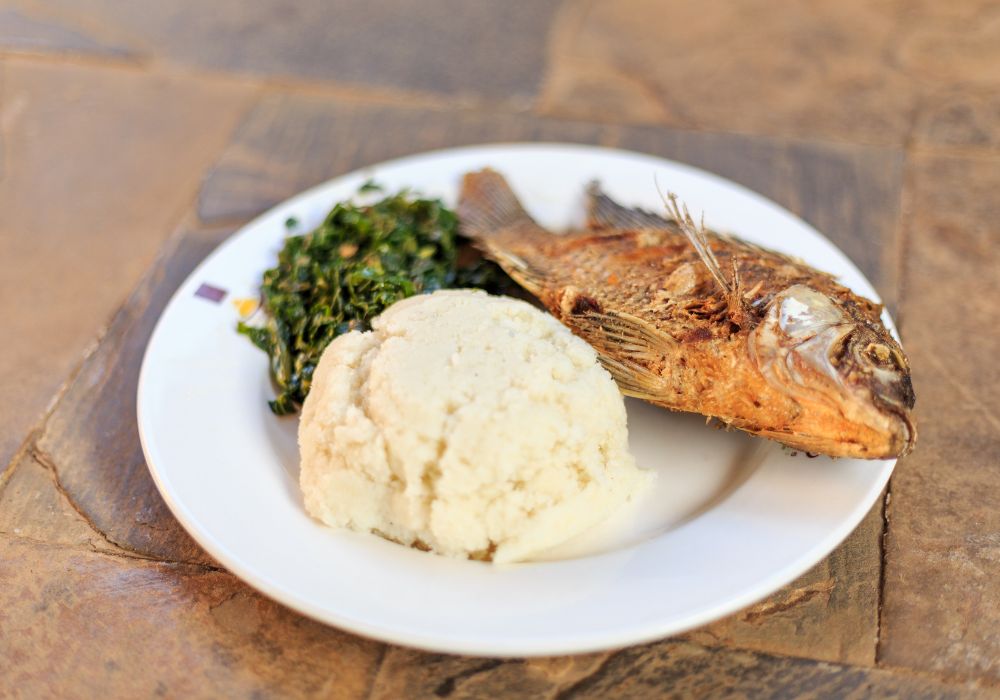 This popular meal is available in almost every local restaurant. If you're in Nairobi, K'Osewe Ranalo Foods is a great option and a place I've enjoyed brown ugali (made of millet flour) many times. The restaurant also serves other traditional and must-try dishes in Kenya, like fried tilapia fish and beef stew.
K'Osewe Ranalo Foods Information
Address: Kimathi Street, Nairobi
Phone: +254 721 323238
Operating Hours: 10:30 am-3:00 am (Mon-Sun)
Average Cost of the dish: $7
Website: N/A
2. Nyama Choma (Roasted Meat)
Translating to roasted or grilled meat in Swahili, nyama choma is the most famous dish in Kenya. This classic barbecue is made by slowly roasting meat (goat, beef, or chicken) over hot coals until it's tender.
Once grilled, nyama choma is placed on a wooden board and chopped into pieces, and served with ugali, vegetables, and kachumbari. In Kenya, we usually enjoy the famous dish with friends. It also goes well with ice-cold beers or coffee.
You can find nyama choma on many sit-down restaurant menus across the county. It's also available from roadside eateries ("choma zones") and local meat shops.
If you're in Nairobi, visit the Carnivore Restaurant. It has a wide variety of nyama choma to choose from, and you can eat all you want at a fixed price. Char-Choma Restaurant is my favorite spot for the dish in Mombasa.
The Carnivore Restaurant Information
Address: Off Langata Road, Nairobi (near Wilson Airport)
Phone: +254 731 611606
Operating Hours: 12:00 pm-11:00 pm (Mon-Sun)
Average Cost of the dish: $50 (for a buffet)
Website: tamarind.co.ke/carnivore
3. Samaki Fry (Fried Fish)
Samaki fry, Swahili for fried fish, is one of the most delicious and popular foods in Kenya. The fish (usually tilapia or Nile perch) is deep-fried and served with ugali alongside kachumbari (usually fresh tomato and onion salad). Other than the dry fry (my favorite), it can also be wet-fried (with onions, tomatoes, and spices) which gives it more aroma.
Omena (silver cyprinid) is another typical fish dish in Kenya, especially among communities living along the shores of Lake Victoria. The small fish are first dried in the sun before being deep fried.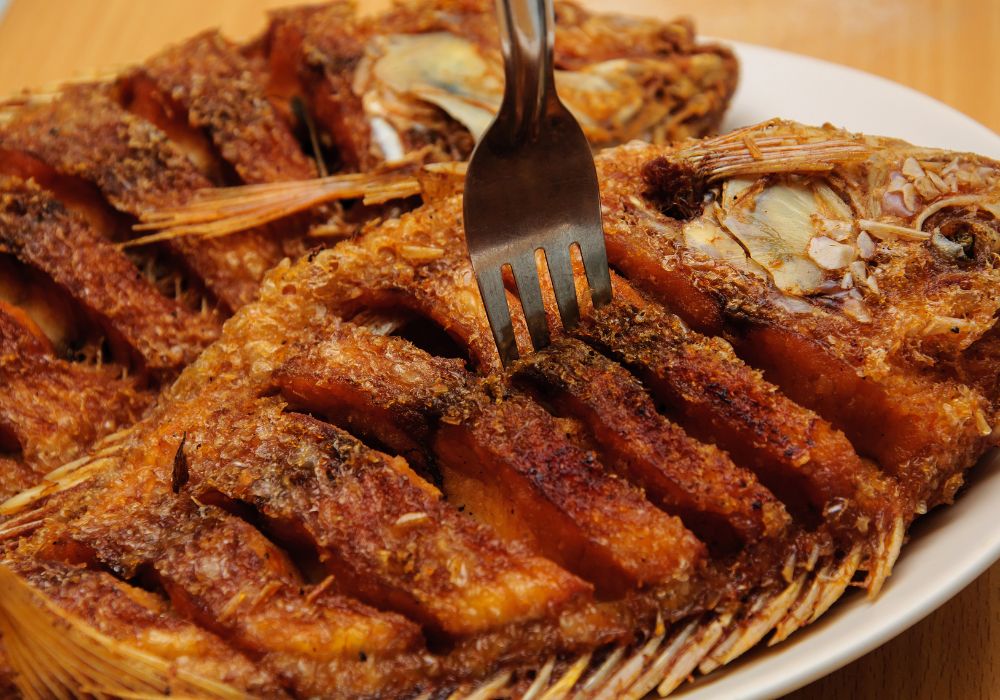 One of the best places to eat fish in Kenya is Mama Oliech Restaurant in Nairobi's Kilimani area. If you're visiting Nanyuki town, drop by the Trout Tree Restaurant. It's my favorite fish restaurant in Kenya for its delicious farm-to-table trout and fresh sukuma wiki (kale).
Trout Tree Restaurant Information
Address: Along Road A2 between Naro Moru and Nanyuki
Phone: +254 726 281704
Operating Hours: 10:00 am-5:00 pm (Mon-Sun)
Average Cost of the dish: $10
Website: trout-tree.com
4. Karanga (Kenyan Beef Stew)
Karanga (a local stew) is a typical meal in Kenya and a favorite for many people. The dish is easy to prepare using different meats and other ingredients that give it an inviting aroma.
It's made by frying chunks of meat with onions, tomatoes, potatoes, vegetables, and spices. When water is added, the result is a thick, hearty meal best enjoyed with ugali, chapati, or rice.
My favorite restaurant in Kenya for karanga is K'Osewe Ranalo Foods. The eatery serves delicious beef stew, which I enjoy with ugali (millet flour) and managu (indigenous green vegetables).
The Talisman Restaurant may have a different name for the stew, but it's definitely famous for making some of the best.
The Talisman Restaurant Information
Address: Off Ngong Road, Karen, Nairobi
Phone: +254 705 999997
Operating Hours: 11:00 am-10:00 pm (Tue-Fri), 9:00 am-10:00 pm (Sat-Sun)
Average Cost of the dish: $13
Website: thetalismanrestaurant.com
5. Sukuma Wiki (Collard Greens or Kale)
Aside from nyama choma and Kenyan stew, ugali is often accompanied by sukuma wiki (similar to kale). This vegetable dish, which translates to "push the week," is affordable and common in many Kenyan households.
Preparing sukuma wiki involves washing the green leaves, slicing them into small pieces and then frying them with onions. In some cases, tomatoes and spices are added to deepen the flavor.
Besides sukuma wiki, there are other green vegetables commonly used in Kenya. These include spinach, mrenda (jute mallow), marenge (pumpkin leaves), and thabai (stinging nettle leaves).
Sukuma wiki is available in almost all restaurants across Kenya – including the small eateries in the countryside. There are also some great places to try this dish in Nairobi, with my favorite being Cultiva Farm, a great farm-to-table restaurant in Karen.
Cultiva Farm Kenya Information
Address: Pofu Road, Karen, Nairobi
Phone: +254 701 579902
Operating Hours: 8:00 am-11:00 pm (Mon-Sun)
Average Cost of the dish: $5
Website: cultivakenya.com
6. Kachumbari (Salsa or Salad)
Kachumbari, a fresh vegetable salad, is Kenya's most popular side dish. The salad/salsa comprises sliced fresh tomatoes, onions, green/red pepper, coriander, and sometimes avocado.
The refreshing salsa/salad is synonymous with nyama choma. It also goes well with pilau, mutura (street food), boiled eggs, and fried fish.
If you want to try Kenya's most delicious salad, visit a nyama choma restaurant or a street food vendor. For first-time visitors, I recommend Road House Grill in Nairobi or Char-Choma Restaurant in Mombasa. They have some of the best barbecue and kachumbari in the country.
Char-Choma Restaurant Information
Address: Off Mombasa-Malindi Road, just before Whitesands Hotel
Phone: +254 794 673598
Operating Hours: 6:00 am-12:00 am (Mon-Sun)
Average Cost of the dish: $15 (served with nyama choma)
Website: facebook.com
7. Chicken Tikka Masala (Spiced Chicken)
Kenya is a multicultural country with a sizeable population of locals of Indian descent. This has led to the introduction of delicious Asian foods, including chicken tikka masala.
The dish is made by tossing pieces of chicken (clay oven cooked) into a spicy sauce. This sauce usually comprises fresh tomatoes, onion gravy, and a variety of incredible Indian spices.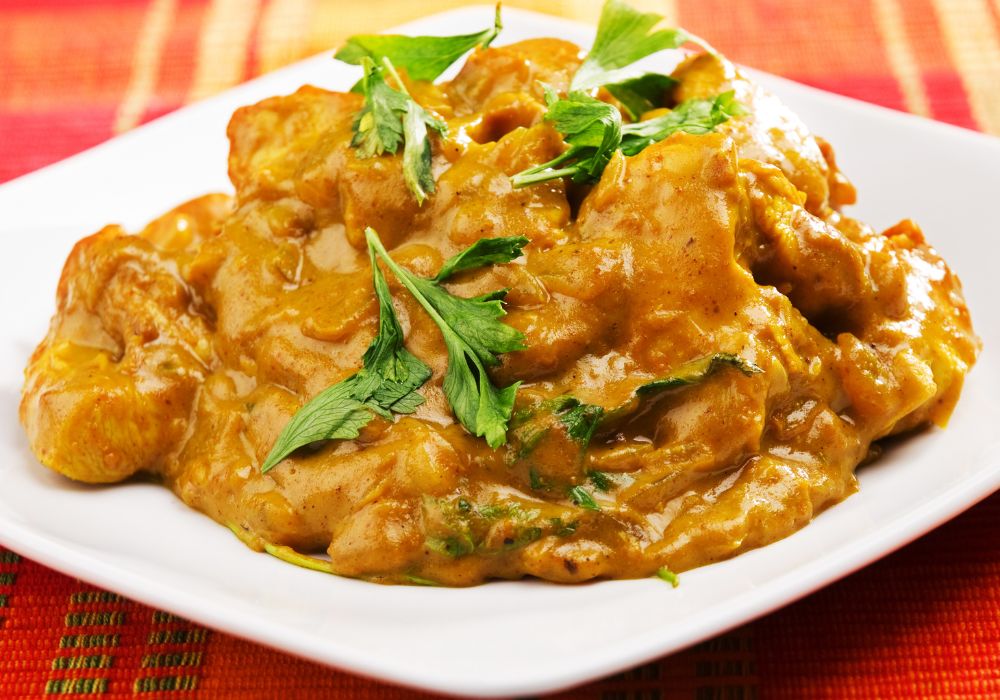 There are several places where you can try chicken tikka masala in Kenya. My favorite is The Mayura Restaurant at the Nairobi SGR Terminus, which serves this tasty dish, among others. The restaurant also has branches in Karen and Westlands.
The Mayura Restaurant Information
Address: Nairobi SGR Terminus, Syokimau
Phone: +254 737 224422
Operating Hours: 11:00 am-11:00 pm (Mon-Sun)
Average Cost of the dish: $11
Website: themayura.com
8. Biryani (Spiced Rice) – My Favorite Swahili Food in Kenya
Biryani is a traditional food in Kenya popular among communities along the coast. To make this dish, rice is usually cooked with meat (chicken or beef) and different spices. These spices include cardamom, coriander, cumin, black pepper, cinnamon, and cloves.
Another spiced rice and a famous dish in Kenya is pilau. It's cooked with aromatic spices and either beef or chicken and is served with vegetables and kachumbari.
The main difference between biryani and pilau is that with biryani, rice and other ingredients (meat, sauce, and spices) are cooked together. On the other hand, pilau rice (and spices) are cooked in a separate pot from the sauce and meat.
I've had biryani chicken and pilau in many places, but my favorite eatery is Jahazi Coffee House. The small restaurant is located in Mombasa Old Town and serves the most delicious Swahili dishes in the city.
With its old furniture, floor mats, and Arabic-style doors, Jahazi is a true symbol of the ancient town.
Jahazi Coffee House Information
Address: Thika Street, Off Ndia Kuu Rd, Mombasa
Phone: +254 742 917263
Operating Hours: 9:00 am-6:00 pm (Mon-Sun)
Average Cost of the dish: $8
Website: N/A
9. Wali wa Nazi (Coconut Rice)
One of my favorite dishes in Kenya is Wali. This dish is also popular among the communities living along the Kenyan coast. It's typically made of white rice and various ingredients and is usually enjoyed with chicken, beef, or fish curry.
The most popular wali dishes are wali wa kukaanga and wali wa nazi. The latter comprises rice boiled in coconut milk, while the former consist of boiled rice that's fried with ingredients like onions, carrots, peas, turmeric, and vegetables.
The best places I enjoy wali wa nazi are in Swahili restaurants, and you'll find them in almost every town along the Kenyan coast. While in Mombasa, try out Mombasa Dishes or Barka Restaurant in Mombasa Old Town. Kilimanjaro Jamia in Nairobi is also one of the best places to try wali.
Barka Restaurant Information
Address: Mji wa Kale, Makadara Road, Mvita
Phone: +254 722 881009
Operating Hours: 7:30 am-10:30 pm (Mon-Sun)
Average Cost of the dish: $4
Website: N/A
10. Matoke (Plantain Banana Stew)
Matoke, a staple food among the Kisii people of the western region, should definitely be on your list of must-try dishes in Kenya. The meal is prepared by frying plantains and is best enjoyed with rice, chapati, or beef stew.
It's common to find different variations of matoke in different parts of the country. In central Kenya, for example, the dish consists of plantains, potatoes, arrowroots, pumpkins, and sometimes sweet potatoes.
Matoke is available in local restaurants countrywide. Whether in Kisii, Mombasa, Nairobi, Nanyuki, or Nakuru, you're sure to find a place serving this amazing dish. While in Nairobi, check out Bridges Organic Restaurant.
Bridges Organic Restaurant Information
Address: Along Tubman Road, Nairobi
Phone: +254 711 575756
Operating Hours: 6:00 am-6:00pm (Mon-Sun)
Average Cost of the dish: $4
Website: bridges-organics-shop.web.app
11. Irio (Mashed Peas)
Also indigenous to communities residing in the central region like the Kikuyu, irio (meaning food) is my favorite traditional food in Kenya. This healthy dish is made of mashed potatoes, beans, peas, and traditional vegetables (like pumpkin leaves) and served with beef stew or nyama choma.
It's worth noting that, unlike mukimo, irio does not contain githeri (corn and kidney beans).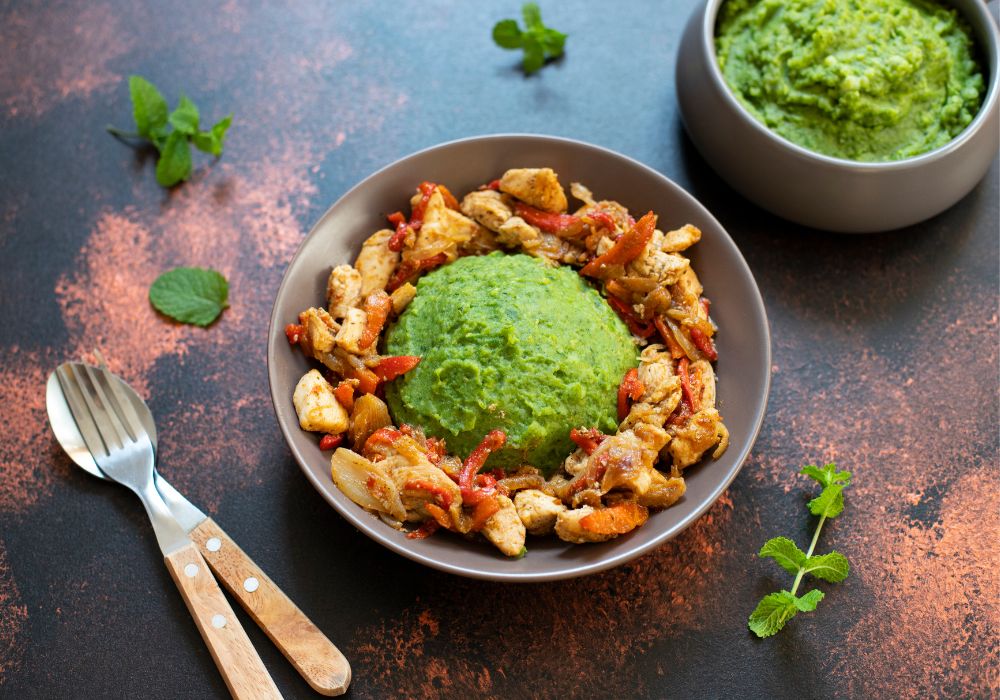 One of the best places to taste irio is at a nyama choma restaurant (although they mainly sell mukimo). If you're visiting the central region (the area around Mount Kenya), drop by any local restaurant and you'll find the most authentic irio, githeri, and mukimo around.
My favorite place to eat the local dish is Betty's Place in Nyeri; a rustic restaurant that serves tasty nyama choma accompanied by delicious irio or mukimo.
Betty's Place Restaurant Information
Address: Kimathi Way, Nyeri
Phone: +254 711 666792
Operating Hours: 7:30 am-12:00 am (Mon-Sat), 9:00 am-12:00 am (Sun)
Average Cost of the dish: $5
Website: N/A
12. Githeri (Corn/Maize and Beans)
Githeri is one of the best traditional dishes in Kenya. Originally, the dish was exclusive to communities living around central Kenya, but now it's widespread across the country. This simple meal is made by mixing maize (corn) with beans and boiling them in a clay pot or sufuria.
Once it's cooked, githeri is served alone or fried with onions, tomatoes, green vegetables, and potatoes. Sometimes, the dish is mashed with potatoes, and pumpkin leaves to make mukimo – another typical food in Kenya.
Githeri is available in most restaurants in Kenya. If you'd like to enjoy this meal in Nairobi, I reccomend you visit the Hot Dishes Restaurant.
Hot Dishes Restaurant Information
Address: Old Mutual Building along Kimathi Street, Nairobi
Phone: +254 782 333444
Operating Hours: 6:00 am-9:00 pm (Mon-Fri), 6:00 am-8:00 pm (Sat-Sun)
Average Cost of the dish: $3
Website: hotdishes.co.ke
13. Samosas (Triangular Pastry)
No trip to Kenya would be complete without trying at least one samosa, a yummy triangular-shaped snack.
This popular snack can be enjoyed any time of the day, especially with a cup of chai. It's made by filling cooked minced meat or peas in small triangular dough pockets that are deep fried. Ingredients like onions, garlic, pepper, and coriander are sometimes added to give them extra flavor.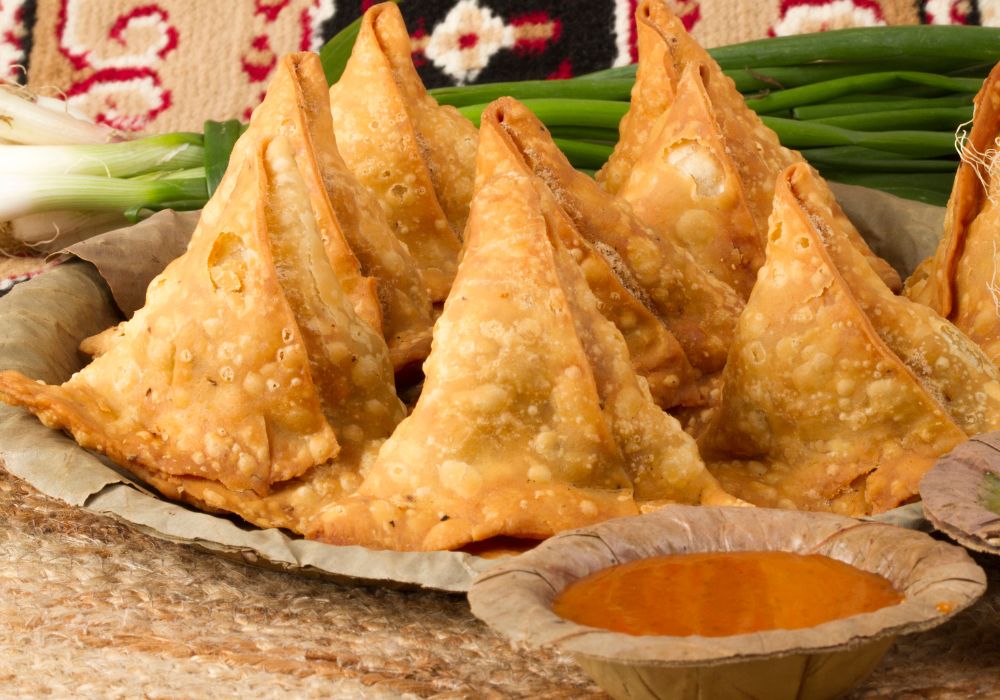 I wasn't a big fan of samosas until a friend suggested I try T Tot Restaurant in Machakos town. The restaurant is popular with locals, and their hot samosas will leave you craving more.
If you're in Nairobi, check out Cafe Deli Restaurant along Moi Avenue. It serves beef and chicken samosas which go well with Kenyan chai.
Café Deli Restaurant Information
Address: Moi Avenue, Nairobi
Phone: +254 707 712287
Operating Hours: 6:30 am-10:00 pm (Mon-Sun)
Average Cost of the dish: $3 (with tea)
Website: cafedeli.co.ke
14. Mutura (Kenyan Sausage) – Best Street Food in Kenya
In addition to the traditional dishes in Kenya, street food is common, especially in markets, neighborhoods, and along alleys. Some of the popular options include mahindi choma (roasted maize), mayai pasua (boiled eggs), and mutura (Kenyan sausage).
Mutura is the most famous of all Kenyan street food. The sausage-like snack is delicious and rich in protein. It comprises a combination of different pieces of cow or goat meat and cooled blood encased in a wrapper (usually goat intestines).
To prepare mutura, pieces of meat are initially cooked with different ingredients (like onions and spices) and then stuffed in small intestines. The sausage is then roasted on a charcoal grill to give it a smoky flavor. Once cooked, mutura is cut into small ring-like pieces and enjoyed alone or accompanied by kachumbari.
If you're looking for a place to taste this excellent and unique Kenyan street food, take an evening stroll in any small town or big city in the country, and keep a keen eye out for it. You can also visit a restaurant such as Betty's Place in Nyeri or Ankole Grill in Nairobi.
Ankole Grill, Kilimani Information
Address: Senteu Plaza, Galana Road, Nairobi
Phone: +254 710 202020
Operating Hours: 7:30 am-11:00 pm (Mon-Sun)
Average Cost of the dish: $7 (for a small plate)
Website: ankole.co.ke
15. Tusker (Kenyan Beer)
Although this article is about food in Kenya, it would be incomplete without a drink to wash down the meal. A cold Tusker (the most popular local beer) goes perfectly well with nyama choma or fried fish. You can also enjoy hot beverages like chai (Kenyan tea) and kahawa (coffee).
Tusker (for around $4) is available in almost any bar and restaurant in the country. If you're in Mombasa, go to Maasai Beach Bar and Restaurant. It overlooks the magnificent Mombasa Beach and serves delicious roasted meat and various drinks.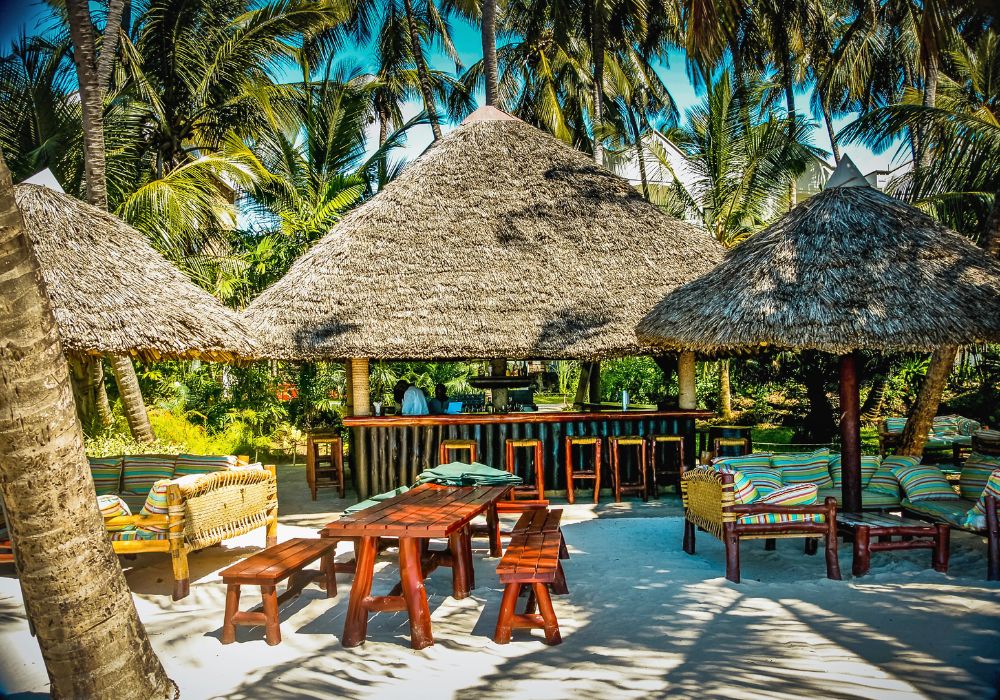 Downtown is my favorite place to hang out in Nanyuki, while K1 Klub House is one of the best nightlife spots in Nairobi.
One of the best places for coffee and tea in Kenya is Java House. I frequent the Kimathi Street branch for a full breakfast, which includes Kenyan chai, omelets, and bread.
Maasai Beach Bar and Restaurant
Address: Mount Kenya Road, Mombasa
Phone: +254 717 310902
Operating Hours: 6:00 am-2:00 am (Mon-Sun)
Average Cost of the dish: $4 (for local beers)
Website: N/A
Bonus (Other Must-Try Dishes in Kenya)
Below are other dishes in Kenya that you should try.
Ingoho: A stewed chicken common among the Luhya community of Kenya. It's usually served with ugali (made from millet, cassava, or whole-milled maize flour).
Chapati: This is a soft flatbread that's normally served with other foods like sukuma wiki, beef stew, and matoke.
Chips Mwitu: Translating to "wild French fries", chips mwitu is another famous and must-try street food in Kenya. It's simply fried potato chips sold by the roadside. Similar foods include viazi karai (potato wedges – boiled and then deep-fried) and bhajias (potato fritters).
Smokie Pasua: This is usually a smoked sausage. Just like mayai pasua (boiled eggs), smokie pasua is a street food that goes perfectly well with kachumbari.
Mahindi Choma: Also known as makai, mahindi choma (grilled maize) is one of my favorite street food in Kenya. It has a crunchy texture and a sweet taste (sour if you spice it with lemon or chili).
Food Tours in Kenya
With numerous restaurants in Kenya to choose from, it takes a lot of work to know where to eat local meals. However, by joining a guided tour, your local host will take you to well-known places as well as some somewhat secret spots where you can eat and drink like a local.
Check out the following food tours in Kenya for an authentic local culinary experience.
Nairobi City Food Tour
If you're ready to taste the best food in Kenya, join this exciting tour. Your local guide will take you to the best spots to enjoy traditional dishes alongside other Kenyans.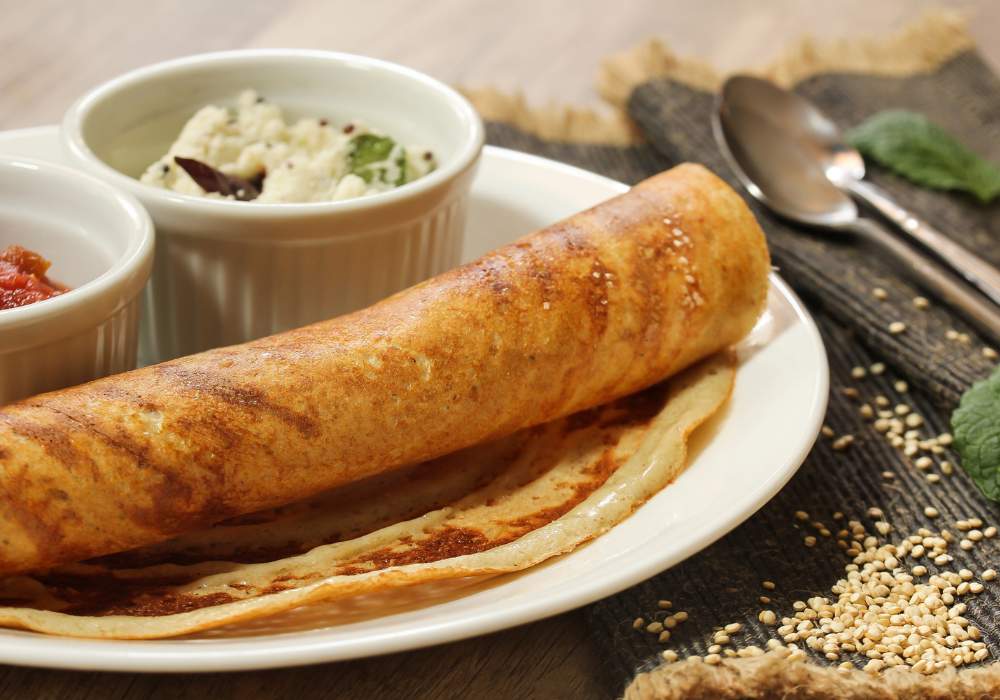 You'll get to sample famous Kenyan delicacies, including ugali, chapati, mukimo, nyama choma, kachumbari, fish, indigenous vegetables, and Swahili dishes.
The Carnivore Dining Experience
To taste different types of nyama choma, join this local dining experience. It takes you to Carnivore Restaurant – one of the most famous places for roasted meat.
The dining experience includes a mouth-watering starter (soup), a tasty dessert, and an all-you-can-eat meat selection. After dinner, you'll wash down the nyama choma with coffee or a cold Tusker beer.
Mombasa Street Food Experience
The Kenyan Swahili cuisine is a beautiful mix of ingredients from different communities that live along the Indian Ocean coastline. It combines local, European, Arabic, and Indian influences to produce some of the most delicious dishes in the country.
When visiting Mombasa, make sure you join this street food tour to sample different local delicacies. These include chicken biryani (my favorite), pilau (spiced rice), wali wa nazi (coconut rice), and mabuyu (baobab seeds coated with sugar and colored flavors).
Make Kenyan Cuisines With a Local
One of the best ways to appreciate the local food scene is by learning how to prepare and cook traditional meals. On this tour, you'll visit a local farmers' market to buy ingredients and then learn how to cook them with a local guide.
The trip to and from the market includes riding in a matatu (a local minibus), where you can interact with local Kenyans along the ride.
Learn Everything About Coffee and Tea
Kenya is not only famous for its dishes but also for its great tea and coffee. Join this tour to learn everything about coffee (from farm to cup).
If you're more interested in tea, this experience is perfect for you. It includes a delicious local meal made from fresh farm produce.
Kenyan Food: FAQs
Below are some answers to commonly asked questions about food in Kenya.
What is the staple food of Kenya?
Ugali is the staple food of Kenya.
Which is the most famous dish in Kenya?
Nyama choma is the most famous dish in Kenya. The roasted meat is usually served with ugali, sukuma wiki, and kachumbari.
What are the most common foods in Kenya?
The most common foods in Kenya are nyama choma, ugali, fish, kachumbari (salad), matoke, mukimo, and mutura.
What are the most traditional foods in Kenya?
There are plenty of traditional foods in Kenya, including ingoho (Luhya community), irio (Kikuyu community), and matoke (Kisii community).
What are the best places to eat in Kenya?
Some of the best places to eat in Kenya are The Carnivore for nyama choma, K'Osewe Ranalo Foods for beef stew, and Jahazi Coffee House for affordable Swahili dishes.
What time is dinner in Kenya?
The usual time for dinner in Kenya is between 8 pm and 10 pm.
What time is lunch in Kenya?
Lunch in Kenya is usually from 12 pm to 2 pm, based on work schedules and the day of the week. Lunch hours during weekends and holidays are generally flexible.
What is the typical breakfast in Kenya?
A typical breakfast in Kenya includes chai (tea) and bread. It's also common to have coffee, sweet potatoes, and arrowroots. In big restaurants, it can consist of omelets, bacon, fresh juice, fruit servings, and cornflakes.
What time is breakfast in Kenya?
In Kenya, breakfast is usually served between 6 am and 9 am.
Do you tip in Kenya?
Although tipping is not mandatory in Kenya, it's common to add 10% of the bill as a tip based on the quality of food and the service.
To Summarize
Big restaurant chains, local eateries, and street vendors rely on countryside farms for fresh produce, vegetables, and ingredients. They also source the best fish, meat, and chicken in order to prepare delicious dishes.
So, when you visit this beautiful and hospitable country, don't confine yourself only to national parks, beaches, and mountains. Head over to a restaurant and indulge your digestive juices with Kenyan cuisine.
Besides the popular meals like ugali, nyama choma, and kachumbari, make sure you also try street food like mutura and smokie pasua. I am sure you'll leave the country with a beautiful food experience and many happy memories.
☞ SEE ALSO: 15 Best Restaurants in Nairobi, Kenya
Like This Article? Pin it!