Local Of:

Nanyuki, Nyeri, and Nairobi, Kenya

Expert of:

Nairobi, Mombasa, Nakuru, Nanyuki, Kampala, Dar es Salaam

Travel Style:

Budget, Backpacker, History, Wildlife, and Hiker.

Traveling Since:

2013

Favorite Destinations:

Nanyuki

,

Nairobi, Mombasa, Kampala, and Kigali.

Backpack or Suitcase:

Backpack

Window or Aisle:

Window

Bus or Train:

Train

Education:

Technical University of Kenya
Connect With Leo
Facebook  |  Twitter  |  Instagram  |  Website  |  YouTube  |  Portfolio
Leo's Expertise
I'm a trained electrical technician and web developer, and I really enjoy traveling and exploring Africa. After working in the offshore oil and gas industry for 3 years, I continued to travel around the continent in search of historical sites, places to backpack, hiking trails, and unique traditional architecture.
During my adventures, I started a blog, Kenyan Backpacker. Through this blog, I share my experiences with thousands of readers and help them plan their own trips. I also write about my favorite travel destinations for Goats on the Road, one of the best travel blogs in the world.
When not traveling and writing content, I enjoy doing DIY projects, constructing natural buildings, and designing websites. So, if you're into backpacking, flashpacking, mountain climbing, history, or nature, come along with me as we explore the world together.
Leo Around The World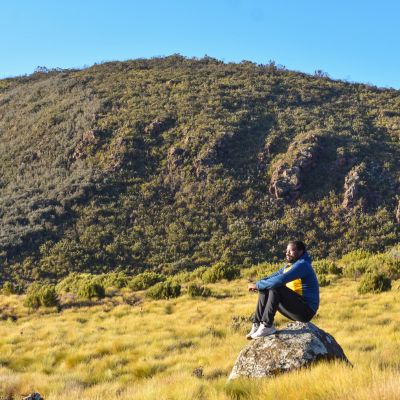 Leo's #1 Travel Tip
In his book, "Travels with Charley in search of America", John Steinbeck says, "A journey is a person in itself; no two are alike. And all plans, safeguards, policing, and coercion are fruitless. We find after years of struggle that we not take a trip; a trip takes us."
This means that much of what happens during a trip is not planned. Things just come together as you go along, and by the end, your journey can be entirely unique, different from mine or anyone else's. It might also be quite distinct from the experiences of your fellow travelers.
So, I recommend being spontaneous, flexible, and experiencing as much as possible on the go.
Leo's Favorite Food
Ugali is the main food in Kenya, and I love it. We usually eat it with barbecue (nyama choma), vegetables, and a fresh salsa salad called kachumbari, made from tomatoes, coriander, onions, avocado, and pepper. However, when I visited towns like Mombasa, Watamu, Lamu, and Malindi on the Kenyan Swahili coast, I discovered biryani. It's a tasty dish made with spiced rice and either mutton, chicken, or beef. Biryani is popular throughout the East African coast and is now my favorite food.
Leo's Favorite Destination
Some of my favorite places to visit are in Kenya and beyond. In Kenya, I love Nanyuki for its peaceful atmosphere, Nairobi for its exciting nightlife, and wildlife spots like Nairobi National Park and the Elephant Nursery. I'm also drawn to the Kenyan coast because of its rich history, culture, water activities, beautiful beaches, and tasty food like biryani. Towns like Mombasa and Watamu are my top picks in that area.
Outside of Kenya, I really enjoy going to Kampala for its friendly people, historical sites, and the beautiful botanical gardens in Entebbe. Kigali, the capital of Rwanda, is at the top of my list for its tranquility and wildlife. I also like visiting Dar es Salaam in Tanzania and Lusaka in Zambia. These cities not only have welcoming people and stunning scenery but are also connected by one of the best long-distance trains in Africa.
Where Have You Lived?
While I've had the privilege of journeying to various corners of Africa and beyond, my heart has always belonged to Kenya, my home country. My story begins in the charming countryside town of Nyeri, where I was born and raised. The town is in the central region, where coffee and tea plantations paint the landscapes green. It's also home to enchanting waterfalls, abundant wildlife, and great hiking trails that nurtured my love for the outdoors.
For over a decade, Nairobi became my second home as I pursued work and college education. Those years in the bustling city allowed me to explore the diverse corners of this incredible country. I embarked on numerous trips, each a chapter in my evolving story as a travel writer.
Now, I live in a quaint town north of Nairobi called Nanyuki. I have been here for over three years, and I love it. Nanyuki offers a unique blend of tranquility and experiences, with its proximity to the majestic Mount Kenya, wildlife conservancies like Ol Pejeta, and many other incredible places for intrepid souls like me to explore. It's also a perfect base for my adventures, and I'm excited to continue sharing my experiences and discoveries with fellow travel enthusiasts.
Funny Travel Quirk
I enjoy collecting things like currencies, artifacts, flags, and postcards when I travel. Over the years, I've gathered notes, coins, and cool stuff like African masks, flags, mugs, and art. These things are awesome, but sometimes they take up too much space in my backpack.
Lately, I've been traveling around southern Africa, and each country has its special dishes. But almost all of them have something in common called "ugali," which is like a thick corn flour porridge. So, I started doing something unique – carrying a bag of corn flour with me and making it with locals in every country I visit. To cook it, you just add the flour to boiling water and stir.
In Kenya, we like our ugali hard, but in other countries, it's more like thick porridge. Seeing people from other African countries amazed at how we make ugali is always fun. It's become a great way to start conversations with locals and my top travel quirk.
Posts By Leo