With its dense forests, stunning waterfalls, and epic hill summits, hiking in Kenya is a beautiful and rewarding activity. It's a secret known to a few travelers and people seeking an experience beyond wildlife safaris.
So, whether you're a beginner looking for a new adventure or a pro looking for a new challenge, you'll have a fantastic hiking experience in Kenya.
I was born in a Kenyan village where walking for long distances was part of everyday life. We walked to school, games venues, rivers, and to graze cattle in deep forests.
Today, walking along forest trails, going to hill summits, and chasing waterfalls is a necessity in a different sense. It's a hobby, an adventure, and an escape from busy cities and towns.
If you're like me and are always looking to explore the great outdoors, the following article is for you. It includes the best trails for hiking in Kenya. The ones I've hiked at least once, and others high on my list (like Mount Kenya).
15 Best Trails for Hiking in Kenya
Whether your idea of a hike is a 2-hour leisurely walk, a full-day trek, or climbing a mountain for five days, Kenya has no shortage of excellent hiking trails.
Here's my list of some of the best hikes in Kenya. It's based on proximity to Nairobi, difficulty, accessibility, and attractiveness of the trail.
1. Oloolua Nature Trail, Karen
Let's begin this list with easy hikes around Kenya.
Oloolua Nature Trail is one of the best walking trails in Kenya. It features forest paths, a waterfall, a cave, a stream, and a picnic site.
The trail is a great place to hike near Nairobi if you love nature, and it's suitable for hikers of all levels. You can walk, hike, jog, or stay the night and camp in this serene forest.
The entry fees for this trail are Ksh 600 (non-residents), Ksh 400 (residents), and Ksh 200 (citizens). Children pay half the price.
Trail Details and Information
2. Karura Forest (Easy Trail for Hiking in Kenya)
Karura Forest is an urban forest close to Nairobi city. The forest is one of the easiest walking trails in Kenya and is ideal for complete beginners.
The hiking trail takes you in a loop along forest paths. During the hike, you'll enjoy a natural environment, watch birds, and see a beautiful waterfall.
If you're looking for a nice hiking trail near Nairobi, head to Karura. It's magical and offers you a deep connection with nature. Besides hiking, you can ride a bike, picnic, or jog in the forest.
Karura Forest is easily accessible from the capital center. You can self-drive, hail an Uber, or join this hiking and biking tour. Check out the Friends of Karura's website for the latest entry fees.
Trail Details and Information
3. Mount Longonot (The Most Popular Trail for Hiking in Kenya)
Due to its proximity to Nairobi, Mount Longonot is the most famous of the day hikes around Kenya. This moderate to challenging trail is located in Mount Longonot National Park near Naivasha.
Although it's not my favorite, Mount Longongot was my first hiking trip from Nairobi. I expected it to be an easy walk, but it was a challenge.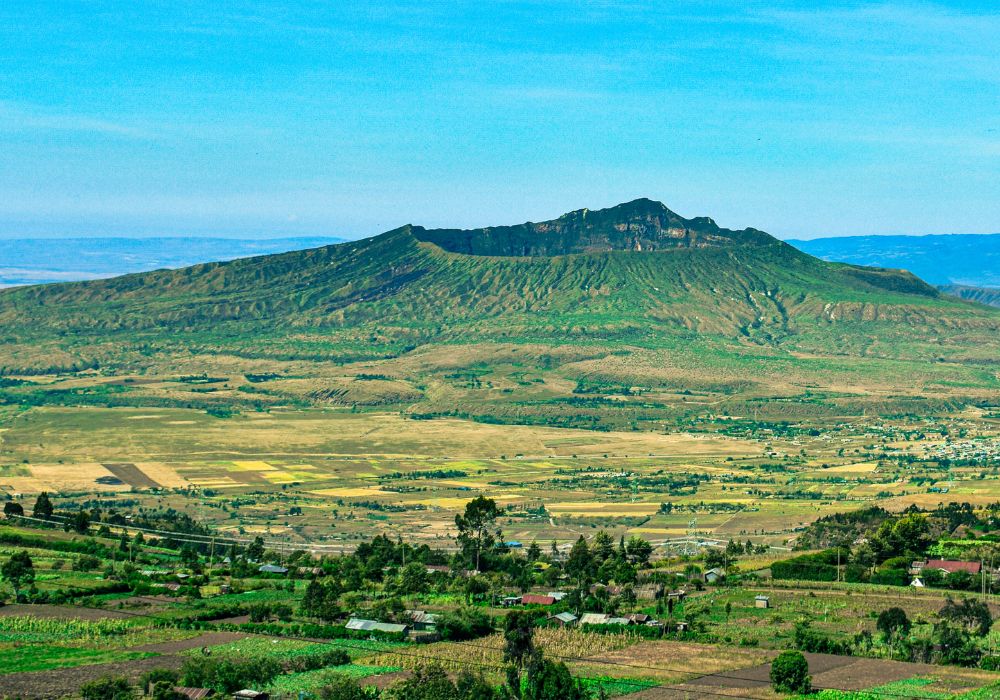 The hiking trail starts from the park's gate. It then runs up a gradual rise along a forested path and steep steps. As you approach the crater's rim, the trail becomes quite exhausting.
From the rim, you can take either a clockwise or anticlockwise walk around the crater to the summit – Kilele Ngamia, and back to the gate. Make sure to take a photo and enjoy the spectacular views of the Great Rift Valley.
You'll be walking in full sun almost the entire way. For this reason, energy bars and plenty of water (about 4 liters) are required. Make sure you're also wearing comfortable hiking gear.
Trail Details and Information
4. Ngong Hills, Kajiado
Ngong Hills is a perfect hike for beginners and those looking for a nice trail near Nairobi. The trail is located in the Ngong Hills Forest, managed by Kenya Forest Service (KFS).
I love this trail for its diverse landscapes and breathtaking views. On a clear day, you can see the Great Rift Valley, Nairobi National Park, and Nairobi city under a blue sky.
There are two gates leading to the Ngong Hills Trail – Kona Baridi and KFS Post near Ngong town. Therefore, hikers have the option of point-to-point or out-and-back trips.
I prefer and recommend the out-and-back trail from Ngong. This trail follows a murram (gravelly surface) road past wind turbines and then takes you through open grass fields and forest paths.
After the seven knuckle-shaped hills, you'll be at the second gate (Kona Baridi). From here, you can choose to finish the hike or head back to Ngong.
If you're not on a guided tour ziplining over the forest canopy, you should consider the company of a Kenya Forest Service ranger. The rangers offer guiding services to hikers at a fee of Ksh 2,000.
Trail Details and Information
5. Mount Kilimambogo (Ol Donyo Sabuk)
Whenever I need an easy hike out of Nairobi, Mount Kilimambogo comes third after Ngong Hills and Oloolua Nature Trail. It's an excellent trail and one of the best day hikes around Kenya.
Starting your journey in Nairobi, you'll drive through Thika town until you reach the trailhead. The hike is about 6 kilometers (3.7 miles) each way and takes between 4 and 6 hours to complete.
The trail starts at the Ol Donyo Sabuk National Park gate. From there, it takes you along a dirt road and up through a forest. It then rejoins the dirt road and winds up to the summit.
Although long in length, Mount Kilimambogo is one of the easiest hikes in Kenya. So, if you're a beginner, this could be a great experience. Make sure to stop and view the Fourteen Falls after the hike.
Trail Details and Information
6. Mount Satima (The Dragon's Teeth), Aberdares
Mount Satima (The Dragon's Teeth) is my favorite hiking trail in Kenya. The hike is rated hard but takes you to the most beautiful parts of the Aberdares – it's well worth it.
Although there are three gates to this trail, Shamata Gate is the best. It follows a murram road between a thick indigenous forest to the Twin Rocks – the common starting point.
The trail takes you along a narrow marshy path leading to the famous Dragon's Teeth (sharp volcanic rocks). After a short rest, you'll follow the trail to the unexpected summit, which opens to beautiful landscapes and enchanting scenery.
Mount Satima can get cold, and some parts of this trail are marshy. So, wear warm clothes, supportive hiking boots and leg gaiters, and carry a raincoat.
I've hiked Mount Satima several times, and it never stops calling. Maybe this post is a sign that I need to go back.
Trail Details and Information
7. Elephant Hill, Aberdares
Elephant Hill in the Aberdares is one of the best treks in Kenya. The trail is challenging; making it a favorite among pro hikers.
If you plan on trekking Mount Kenya or climbing Mount Kilimanjaro, Elephant Hill is an excellent place to test your level of preparedness.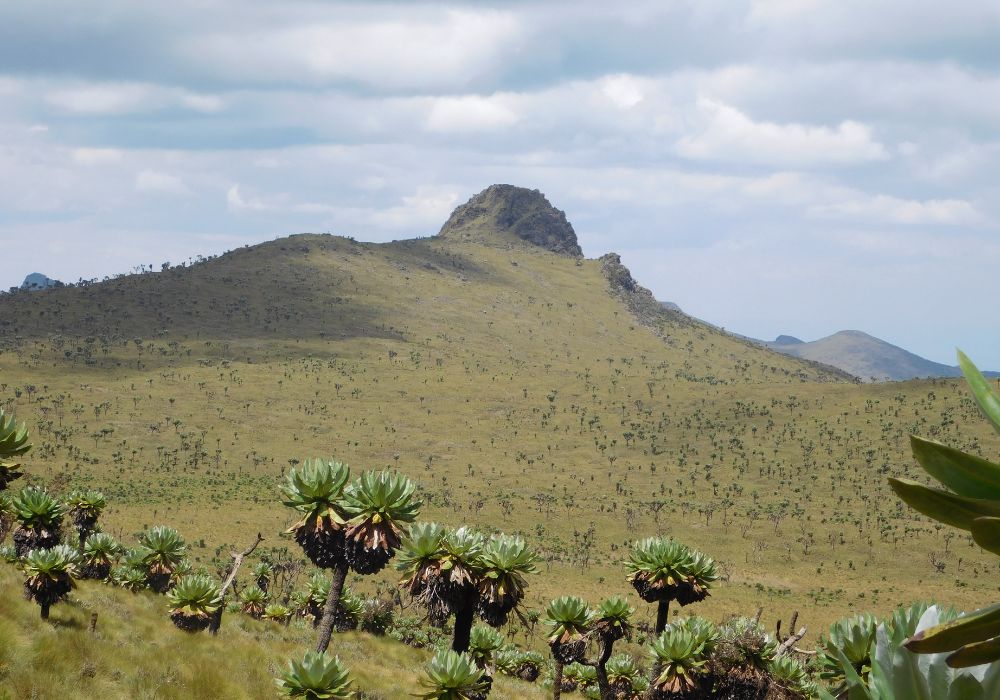 Hiking this trail takes you deep into the Aberdare National Park, journeying through bamboo forests and regions with alpine vegetation. From the summit, the Kinangop Peak (3,906 m above sea level) is visible and calls to anyone looking for a challenge.
Having summited Elephant Hill several times, I wouldn't recommend it to beginners. It's challenging, and the weather in the upper regions can change drastically. Wear proper hiking boots and pack your rain gear.
For the latest entrance fees, check out the Kenya Wildlife Service website.
Trail Details and Information
8. Rurimeria Trail, Aberdares (Hardest Day Hike in Kenya)
I have only hiked Rurimeria once, but not a day goes by without missing its challenging moorlands and beautiful landscapes. The trail is physically and mentally exhausting, making it the "Mother of Day Hikes in Kenya."
If you're looking for challenging walking trails in Kenya, go to the Aberdares and explore this "beautiful beast." Whilst it's certainly not easy, it's one of the most picturesque trails in Kenya.
The trail starts with an easy 4 km leisurely walk. It then becomes steep almost all the way, taking you past three false summits leading to the third-highest point in the Aberdares.
Rurimeria Trail is rated difficult and recommended for experienced hikers only. Make sure you have full hiking gear, which includes comfortable boots, warm clothes, rain gear, and leg gaiters.
Be sure to bring your camera and binoculars, for there's beauty in every step you take on this trail. You'll also see Rurimeria's higher siblings – Mount Satima and Kinangop Peak.
Trail Details and Information
9. Table Mountain, Aberdares
I love the Aberdare National Park because it's home to beautiful waterfalls, indigenous forests, and many hiking spots.
As you may be able to tell by now, the best trails for hiking in Kenya are located in this park. Mount Satima, Rurimeria Trail, Elephant Hill, and the fantastic Table Mountain Trail.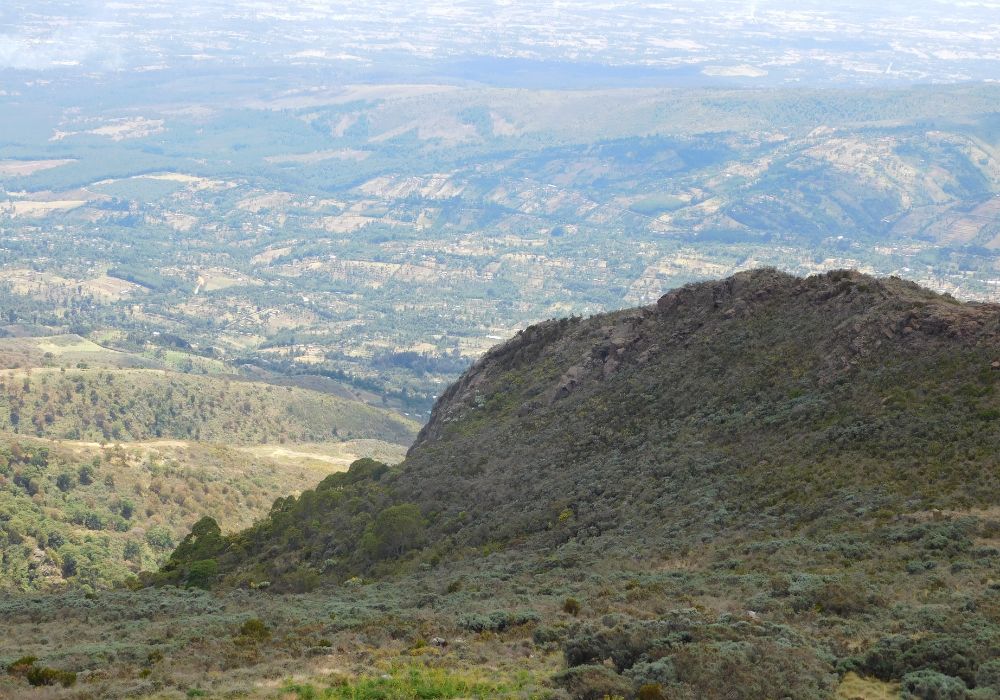 Some hikers may consider this trail moderate, but I agree with the majority – it's hard. The hike comprises sharp ascents and gentle walks along forest paths and moorlands.
By the time you reach the summit (above the clouds), your feet will be singing, and your knees will be resisting the grueling descent.
Trail Details and Information
10. Kijabe Hills, Kijabe
It's been a couple of years since I hiked Kijabe Hills, but going by travelogues from other hikers, the trail is still just as impressive as it was when I completed it. It's also moderate and ideal for anyone who likes long walks and beautiful landscapes.
The hike begins from a place called Governor along the Old Naivasha Road (just past Mai Mahiu). It then takes you up a gentle hill and along an old railway line. From here, it continues to the summit of Kijabe Hills and down through local farms.
After a long, gentle walk, you cross the railway one last time, and the real challenge begins. The trail goes up a steep escapement and ends near Soko Mjinga – along road A104.
Kijabe Hills Trail has two routes, both of which are in remote locations. Therefore, I recommend hiring a guide.
Trail Details and Information
11. William Hill Trail
William Hill is another one of my favorite hikes in Kenya. I've hiked it twice and always look forward to the trail. The hill is moderate and suitable for beginners, day trippers, and anyone seeking breathtaking views.
The hike starts from the historic Traveler's Church in Mai Mahiu. It then follows a dirt road up to a river crossing. From here, you encounter the first steep ascent along a narrow path.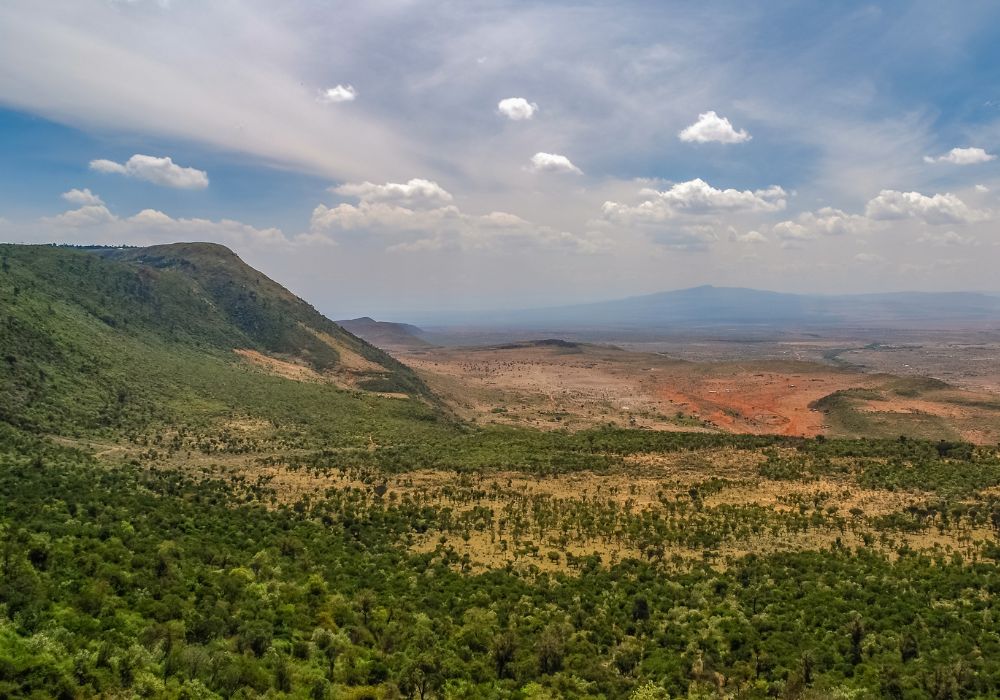 The hike then rejoins the dirt road for a long walk up to an abandoned camp. The fun begins at this point, as the trail takes you through the steep face of the Kikuyu Escarpment.
The summit of this trail rewards you with great views. The landscapes are lovely, and the sights of the surrounding hills and mountains are beautiful. Attractions visible from the summit of William Hill include Mount Longonot, Mount Suswa, and the Great Rift Valley.
If you want to hike this hill, check out local events or contact local guides. Ensure you wear sturdy hiking boots and warm clothes.
Trail Details and Information
12. Eburru Forest Trail
If you're after hiking trails near Naivasha, Kenya, Eburru Forest Trail is your best bet. This beautiful trail is a hiker's paradise. It attracts fewer crowds, allowing you to connect with nature and have a memorable experience.
Its route takes you through a lush indigenous forest that leads to the summit of Ol Doinyo Eburru mountain.
The hike is moderate and suitable for hikers of all levels. You'll enjoy the sight of hot steam vents, a waterfall, and beautiful views of Lake Naivasha and the Great Rift Valley. Eburru is also home to the endangered mountain bongo – a beautiful antelope found only in Kenya.
To access the trail, drive to the forest station or join a day trip from Nairobi.
Trail Details and Information
13. Menengai Crater and Caves
There are several hiking trails near Nakuru city, but Menengai is my favorite. The moderate hike offers excellent views of Lake Nakuru and the Great Rift Valley.
The hike starts at the viewpoint of the Menengai Crater (one of the largest calderas in the world). It then follows a path along the rim before descending to the crater's floor.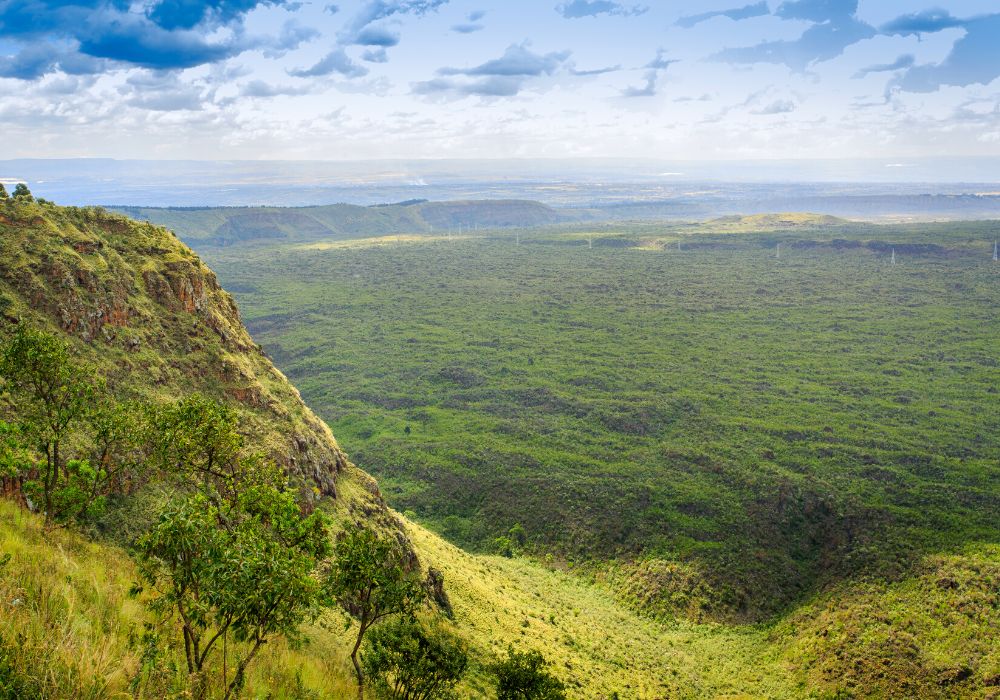 After another long walk, the trail takes you back up to the rim through a steep ridge. From here, you'll walk through Menengai Forest back to the starting point.
If you're staying in Nakuru, hail a taxi or self-drive to the crater's viewpoint past the KFS station. Here you'll find very organized local guides. You can also join this tour which includes visiting Lake Nakuru.
Make sure you stop at the two sacred caves on your way out of the forest – they're really something. Mau Mau freedom fighters used the caves as hiding spots during Kenya's war of independence. Today, they are prayer centers for pilgrims.
Trail Details and Information
14. Ragia Forest Trail
Ragia Forest Trail is one of the best waterfall hikes in Kenya. It begins from the Ragia Forest Station gate or at the Sasumua Dam. From either starting point, the trail follows a dirt road that leads to a beautiful bamboo forest.
This is an easy hike with only a few steep ascents. If you love nature and chasing waterfalls, this hike is for you. The forest is home to two magical waterfalls and a Mau Mau Cave.
To get to this trail, join a hiking trip from Nairobi. You can also drive to the Ragia Forest gate near Njabini town.
As with all other forest hikes in Kenya, wear suitable hiking gear.
Trail Details and Information
15. Mount Kenya
To wrap up this list of best places to hike in Kenya, I'll take you to the head of all Kenya treks; Mount Kenya.
I live in Nanyuki town where I see the mountain almost every day. Its beautiful sight is captivating and a daily call to a climbing adventure. Although I've hiked similar trails like Mount Meru, I am yet to answer Mount Kenya's call.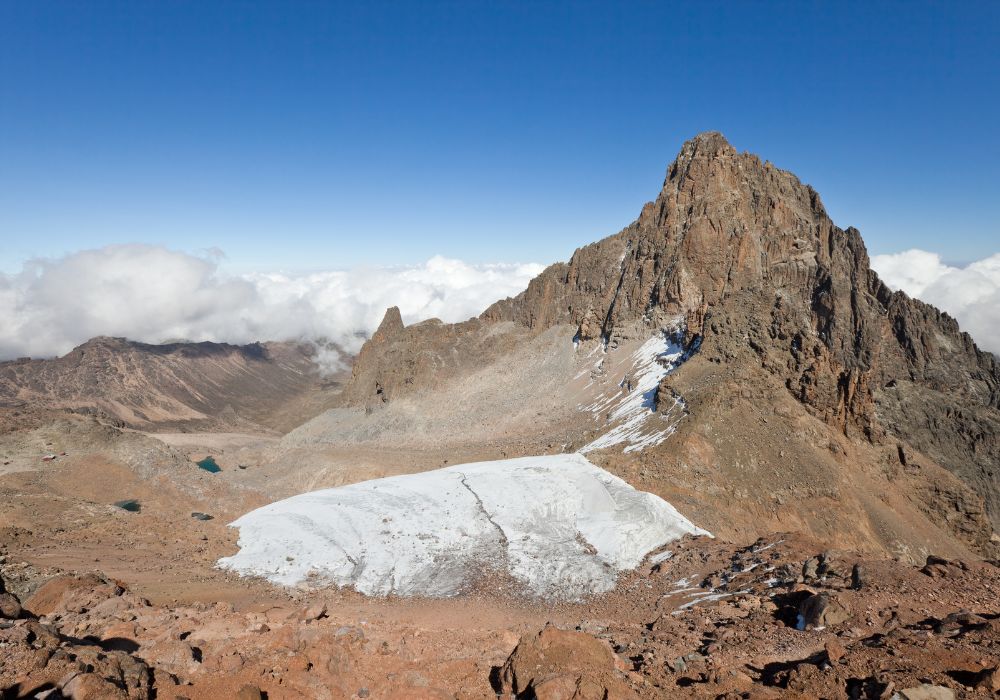 Standing at 5,199 m above sea level, Mount Kenya is the highest mountain in the country. It's also the second in Africa after Mount Kilimanjaro.
There are three prominent peaks on Mount Kenya; Batian (5,199 m), Nelion (5188 m), and Lenana (4,985 m). Batian and Nelion are highly technical and only suitable for expert climbers, while Point Lenana is the most popular with trekkers and those less experienced.
The main routes to Mount Kenya are Naro Moru (Park headquarters), Sirimon, and Chogoria. There are several others which include Burguret, Timau, and Kamweti.
If you're planning to climb Mount Kenya, I recommend joining a guided trip. Such trips take care of all the logistics, allowing you to enjoy the trek and experience the beauty of the mountain.
Check out this 4 days Mount Kenya trekking guided tour (Sirimon Route).
Trail Details and Information
What You Should Know About Hiking in Kenya?
Almost all the hiking trails in Kenya are located inside national parks or forest reserves. They are therefore under the management of the Kenya Wildlife Service (KWS) or Kenya Forest Service (KFS).
Before you tie your hiking boots and drive to the trailhead, here's what you need to know about hiking in Kenya.
How to Get There
In most cases, you can drive to the trailhead for the hike. However, you'll need a local guide, a forest ranger, or a park warden to accompany you. The current rates for an armed guide are Ksh 1,500 – Ksh 3,000.
Alternatively, you can join a guided day trip from Nairobi. Such trips cover transport, guiding fees, park entry fees, and lunch.
Check out GetYourGuide, Viator, and local events on social media to find the best trips.
Where to Stay
Places to hike in Kenya are usually day trips from Nairobi. So, you can explore the destinations from your hotel or Apartment in Nairobi. Most parks also have campsites if you want to continue the adventure into the night.
Check the available camping options from your local guide, Kenya Forest Service, or Kenya Wildlife Service.
What to Wear
When hiking in Kenya, it's always recommended to follow the simple gearing rule: "There's no bad weather, only bad gear." Always have comfortable hiking boots, warm clothes, and rain gear.
What to Carry
Plastic bottles and bags are not allowed on Kenya trails; make sure you carry enough water in suitable containers, light snacks, a fully charged phone, and an identification document when visiting parks and game reserves.
What to Pack
To reiterate and add to the above, the essential things to pack for a hiking trip in Kenya include enough water, energy bars, snacks, lunch, prescribed medication, and a first aid kit.
Payments
Cash payments are not accepted in Kenya's national parks and game reserves. You can only pay with M-PESA (local mobile payment) or global cards such as MasterCard and Visa.
Hiking in Kenya: FAQs
Here are some answers to commonly asked questions about hiking around Kenya.
Where can I go hiking in Kenya?
There are many hiking routes and trails in Kenya. For leisurely walks, go to Karura Forest. Elephant Hill is one of the best hikes for experienced hikers.
What is the most popular hike in Kenya?
Mount Longonot is a moderate hike that's most popular hike in Kenya.
What is the easiest hike around Kenya?
There are many easy hikes in Kenya. The best include Karura Forest, Oloolua Nature Trail, and Menengai Forest.
What is the most challenging hike in Kenya?
Mount Kenya, Elephant Hill, Kinangop Peak, and Rurimeria Trail are the most challenging hikes in Kenya.
What is the most beautiful trail in Kenya?
For waterfall chasers and nature lovers, Ragia Forest is the most beautiful hiking trail in Kenya. However, Mount Satima (Dragon's Teeth Trail) is my favorite hike because of its beautiful scenery.
Are there any waterfall trails in Kenya?
Some of the best waterfall trails in Kenya are Ragia Forest, Zaina Falls, and Karuru Falls in the Aberdares.
What should I wear when hiking in Kenya?
When hiking in Kenya, make sure you wear comfortable hiking boots and warm clothes. Water-resistant gears are also recommended for most trails.
What are the best one-day hiking trails in Kenya?
Most of the hiking routes in Kenya are one-day trips from Nairobi. The best ones include Mount Longonot, Ngong Hills, Mount Satima, and Elephant Hill.
What are the best hiking places in Nairobi?
In Nairobi, you can go hiking at the Ngong Hills, Oloolua Nature Trail, or Karura Forest.
Is hiking in Kenya dangerous?
Hiking in Kenya is safe. However, since most trails are located in remote places, it's recommended to have a guide.
In Conclusion
Now that you have ideas about Kenya trails, it's time to prepare your gear and backpack. To venture into the great outdoors and wander in search of beauty, serenity, and adventure.
I am on the same mission too, but before I dust off my boots, let me leave you with the following quote.
"Keep your life on your back, and get more back from your life." ~ Nick and Dariece (The Goats)
Like This Article? Pin it!