Within this article, I've curated a list of unique stays for every traveler thinking of planning a trip to Kenya and looking for the best Airbnbs in Nairobi.
For starters, Nairobi is the capital of Kenya and is one of the best cities to visit in Africa. The vibrant metropolis has an incredible mix of wildlife, captivating history, friendly people, top restaurants, and vibrant nightlife.
I lived in Nairobi for over ten years. During that period, I stayed in different neighborhoods and even saw some new ones come up.
So, to help you save time and make the most of your stay in this beautiful city, I've put together a list of the best Nairobi Airbnbs. They include unique lofts, apartments, and homes ideal for budget travelers, holidaymakers, couples, and digital nomads.
☞ SEE ALSO: Day Trips from Nairobi, Where To Stay in Nairobi
Top 15 Best Airbnbs in Nairobi
Airbnbs are perfect accommodation options in Nairobi, and there are many amazing properties suited for all tastes.
If you're wondering where to stay during your trip, check out the following 15 Airbnbs in Nairobi. The listings feature modern amenities that are highly rated for style, cleanliness, location, and more.
1. Unique A-Frame Cottage in Karen
The A-Frame on Windy Ridge is one of the most lauded Airbnbs in Nairobi, and for good reason.
This slice of heaven is located in the lush suburb of Karen – one of the best neighborhoods in the city. I love this suburb of Nairobi as it's secure and close to shopping malls, tourist attractions, and excellent eateries.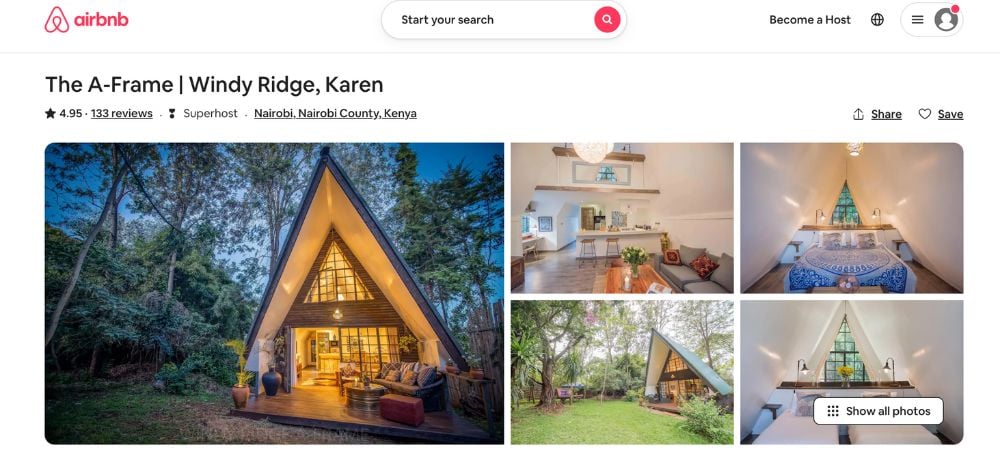 I recommend going to the nearby Talisman Restaurant and trying their delicious steak. You can also go shopping at The Hub, take a walk at Oloolua Nature Trail, or explore tourist attraction centers like Karen Blixen Museum.
The stylish one-bedroom abode features a spacious bathroom, a kitchen, and a small workstation, making it attractive for up to two travelers – couples, solo travelers, and digital nomads.
Inside, The A-Frame boasts an elegant interior design thanks to its art, cozy furniture, and minimalistic style. If you love the outdoors, there's also a private garden for relaxing and playing games.
2. The Brandy Bus (One of the Best and Most Unique Airbnbs in Nairobi)
I like staying in a place that's as close to nature as possible. So, if you're like me and are always looking for an Airbnb that offers a mixture of luxury living and outdoor immersion, this converted bus is for you.
Just like the A-Frame, The Brandy Bus is located in the serene suburb of Karen. It's also close to places to visit like the Giraffe Center and restaurants such as Cultiva Farm.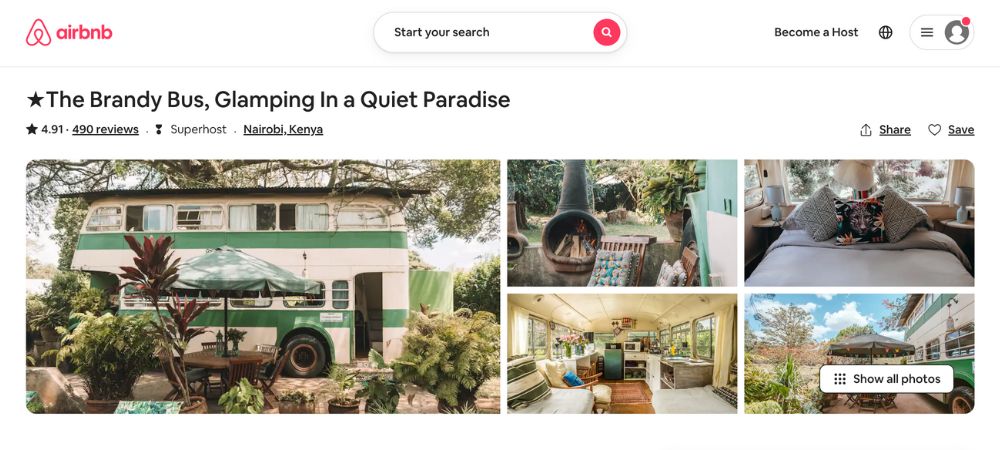 The listing has two double beds in the loft and two small ones downstairs, making it ideal for small families, couples, solo travelers, or small groups.
Besides the essential amenities like a bathroom and kitchen, this cozy Airbnb in Karen boasts a garden, an outdoor fireplace, and a dining area.
3. Rustic Treehouse on a Ridge in Loresho
This cozy treehouse is located in one of the most affluent neighborhoods in Nairobi – Loresho. It has lovely views of the nearby ridge and features a swimming pool, garden area, and a fireplace.
What I find unique about this one-bedroom treehouse is its location. It's set in the natural and quiet area of Loresho, where guests are guaranteed a serene environment and cool ambiance.
The listing is self-catering and has everything you might need for your stay. It's also close to Westlands and Nairobi city center; offering a prime location for exploring the city.
If you're staying at this amazing Airbnb in Nairobi, you've plenty of options for places to eat. My favorite restaurant around here is Shamba Cafe for its wood-fired pizza. Wasp & Sprout is also a great option.
4. Olive House – Unique & Rustic Private Home
There aren't many houses built in 1958 that are still standing strong today, but this rustic home has stood its ground and retained its charm and coziness.
The stunning 4-bedroom house has stood the test of time and offers families a unique accommodation experience. It's set in a lush 5-acre property near Nairobi National Park and the famous Giraffe Center.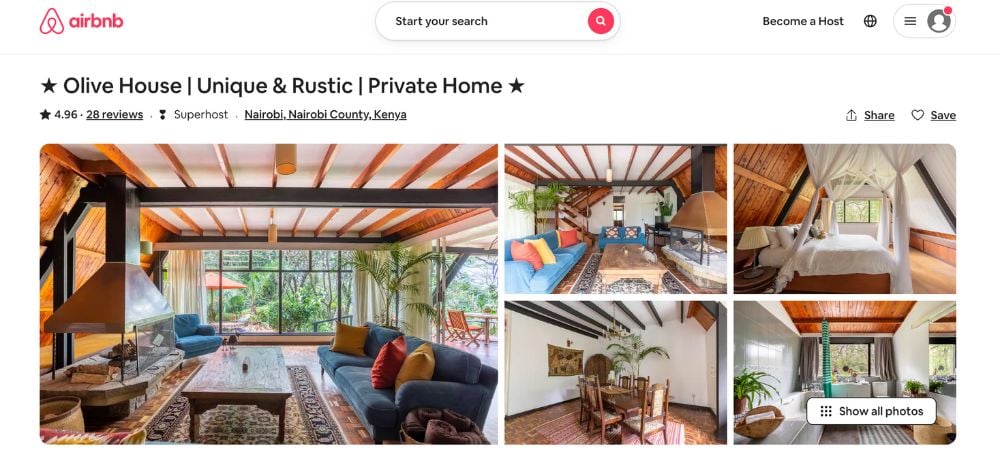 Besides spacious rooms and elegant furniture, the listing features a fireplace, veranda, lush garden, and other amenities. With five beds and two baths, it can host up to 5 guests and is suitable for families or group travelers.
For a quiet stay away from the busy city, I recommend staying at the Olive House. While here, try out the tasty burgers or steak at Cultiva Farm restaurant. You can also go for a walk on my favorite trail in Nairobi – Oloolua Nature Trail.
5. Peaceful Villa Next to The Nairobi National Park
If you're looking for unique accommodations in Nairobi, search no further than Kampi ya Karin.
This villa is everything a traveler needs, and it's ideal for all types of guests. Whether you need a place to relax, concentrate, watch wildlife, or enjoy beautiful views, Kampi offers all that and more.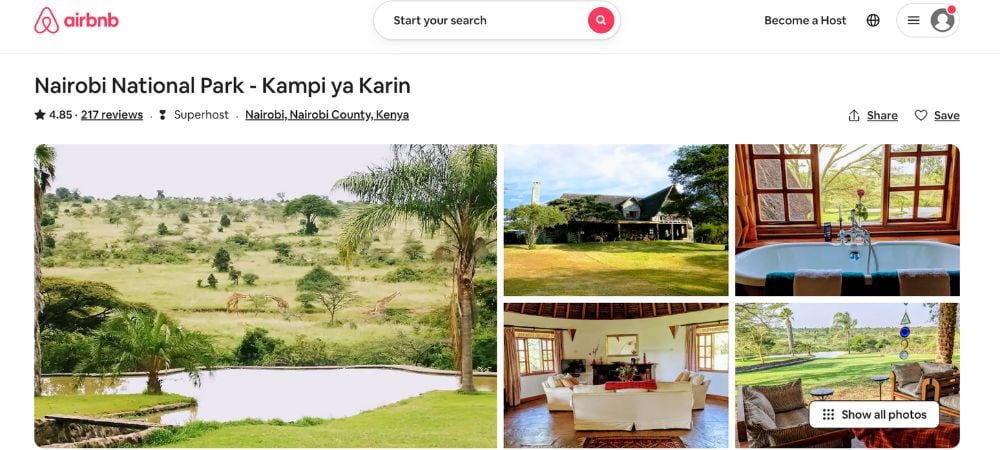 The rustic villa is set on the edge of Nairobi National Park. It has a beautiful interior and comes with all the necessary amenities. With two bedrooms and 2.5-baths, this Airbnb is ideal for up to four guests.
One of the highlights of this incredible listing is the terrace. From here, you can see the sunset below the Ngong Hills, and experience romantic sundowners.
Since the villa is located far away from shopping malls, you'll need to buy groceries and other supplies on your way there. Your host can also arrange for transport and deliveries if required.
6. Affordable One-Bedroom Apartment in Lavington
I've stayed with friends in Lavington and find it one of the best neighborhoods in Nairobi. Although it's pretty expensive, the area is safe, serene, and quieter than its neighbor, Kilimani.
With prices starting from $49, this fully furnished unit has all the necessary amenities for travelers. The one-bedroom abode has a king-size bed and 1.5 baths, making it suitable for up to 2 guests.
It also features a fully equipped kitchen, a spacious living room, and a balcony from where you can view the city's neighborhoods. Guests also have access to a laundry room, a shared swimming pool, and a gym.
If you'd like to explore Nairobi, your host can arrange for an experienced tour guide/driver to Nairobi National Park and Elephant Sanctuary.
Every time I visit Lavington, I drop by the Artcaffé restaurant in Lavington Mall. They serve delicious burgers, chicken wings, and amazing coffee. You can also try out the Ankole Grill in Kilimani.
7. Cozy Apartment Near the Airport and Train Station
If you have an early flight from Jomo Kenyatta International Airport, you need accommodation that's nearby.
This affordable apartment is one of the best Airbnbs in Nairobi in terms of location. It's situated along Mombasa road; close to the JKIA airport and Nairobi Terminus (For the Mombasa bound train).
The apartment accommodates up to 6 guests and features three bedrooms, two baths, and a fully fitted kitchen. It also includes other amenities such as free parking, WiFi, and a washing machine.
The Acacia Restaurant at Emara Ole-Sereni Hotel is an excellent place to go for dinner during your stay. I love the restaurant for its lovely ambiance and delicious meals like the T-bone steak. Here, You can also enjoy drinks overlooking the Nairobi National Park.
☞ SEE ALSO: 25 Things To Do in Nairobi, Kenya
8. The 1919 "Constant Gardener" Home in Thigiri
If you've read my Kenya Travel Guide, there's a chance you came across The Constant Gardener movie. The 2005 drama thriller film follows the life of Justin Quayle, a British diplomat who relocates to Kenya with his wife, Tessa.
In the movie, Justin is thrust into the world of detectives trying to uncover the mysterious death of his wife, and this unique home was used as Justin's home and garden in the award-winning movie.
It's set in a 2-acre land in the quiet area of Thigiri which is close to some great social centers. Guests can go hiking at Karura Forest and later eat at the Zen Garden Restaurant.
The listing features a double bedroom, a spacious living area, an equipped kitchen, and a clean bathroom. Guests also have access to a courtyard, a private veranda, and a garden.
If you're a solo traveler, there's also a single room available to book on the property.
9. Nova Luxury Apartment in Westlands
Westlands is one of my favorite neighborhoods in Nairobi for hanging out and partying. It's also lush and vibrant, making it popular with ex-pats and affluent locals for long-term stays.
If you're looking for a cozy unit for up to 4 guests, this two-bedroom Airbnb in Nairobi Westlands is an excellent option. The stylish apartment has a fully stocked kitchen and plenty of convenient amenities.
It also features two en suite bathrooms, a spacious living room, and large windows that open up to the stunning Nairobi skyline. Besides the luxurious indoor amenities, you can also work out in the shared gym and enjoy a swim in the heated pool.
Step outside, and you'll find convenient social amenities in the apartment's vicinity. You can go shopping at the Sarit Center or check out nearby bars and restaurants.
10. A Wonderful Treehouse Set in a Serene Estate
This rustic treehouse is one of the best Airbnbs in Nairobi. It's located in the upscale neighborhood of Karen/Lang'ata and features all the necessary amenities.
If you're looking for an Airbnb in Nairobi for up to 3 travelers, check out this listing with two beds and one bathroom. Besides the fully furnished unique treehouse, you'll also have access to Boho Eatery, a swimming pool, and a lush garden.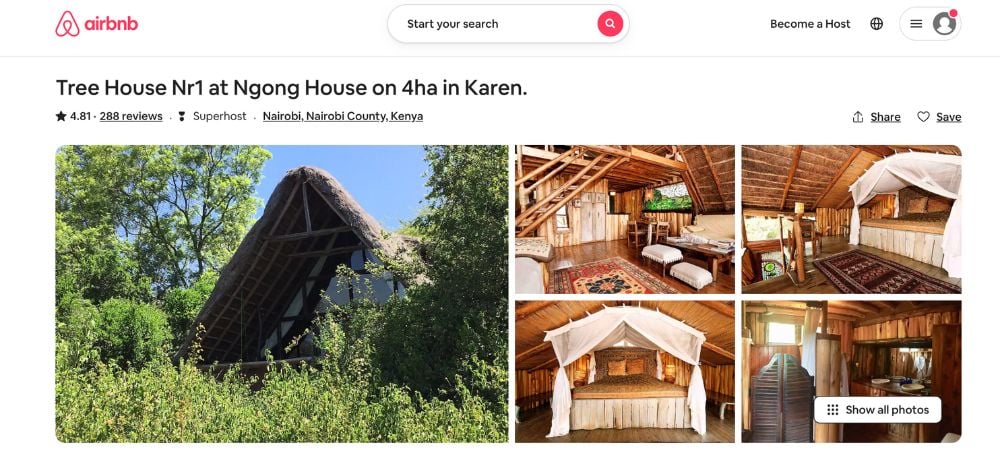 Close by, you'll find the Giraffe Center and the Artcaffe Restaurant. Popular attractions, including Nairobi National Park, Bomas of Kenya, and Elephant Sanctuary, are also just a short drive away.
☞ SEE ALSO: 15 Best Game Reserves and Safari Parks in Kenya
11. The Jabali Luxury Apartment (One of the Best Airbnbs in Nairobi for Couples)
Whenever I'm asked to recommend an Airbnb in Nairobi, the Kilimani area comes straight to mind. This popular neighborhood is accommodating to all types of travelers and it's near many popular bars, restaurants, and shopping malls.
So, if you're looking for a place to relax and unwind in Nairobi, this spacious apartment in Kilimani offers a sparkling clean bedroom, a well-stocked kitchen, and a cozy living room. Costing from $48/night, the space is also one of the most affordable Airbnbs in Kilimani.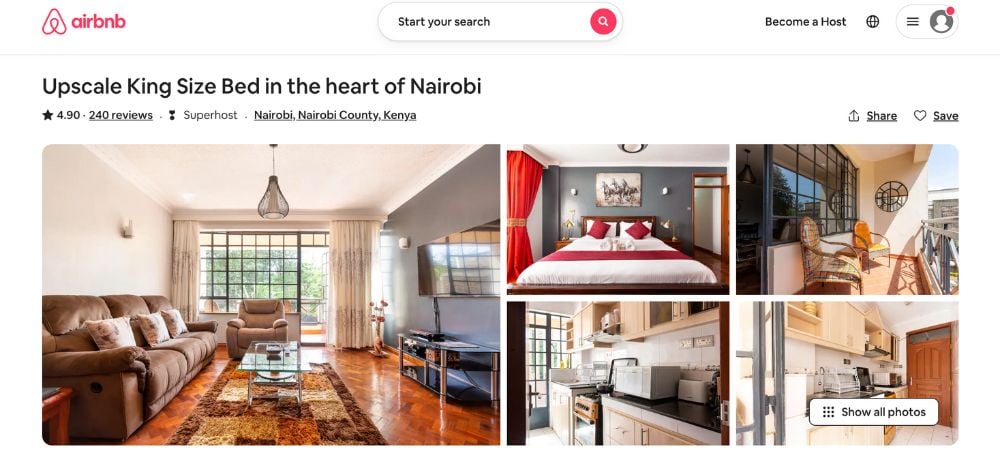 While here, you can go shopping at Prestige Plaza, eat at CJ'S Restaurant, and explore Nairobi attractions. If you love partying, make sure to experience Nairobi's nightlife at Empire Kilimani Lounge – my favorite lounge in the area.
12. Glamorous Serviced Apartment in Westlands
This stylish apartment in Westlands offers an experiential stay to travelers on holiday or business. The modern one-bedroom abode has one queen-size bed and 1.5 baths, making it ideal for up to 2 guests.
Its spacious living room is well decorated, furnished, and has a large window for views and letting in lots of natural light. The kitchen is fully equipped, and the entire unit is designed to offer maximum comfort.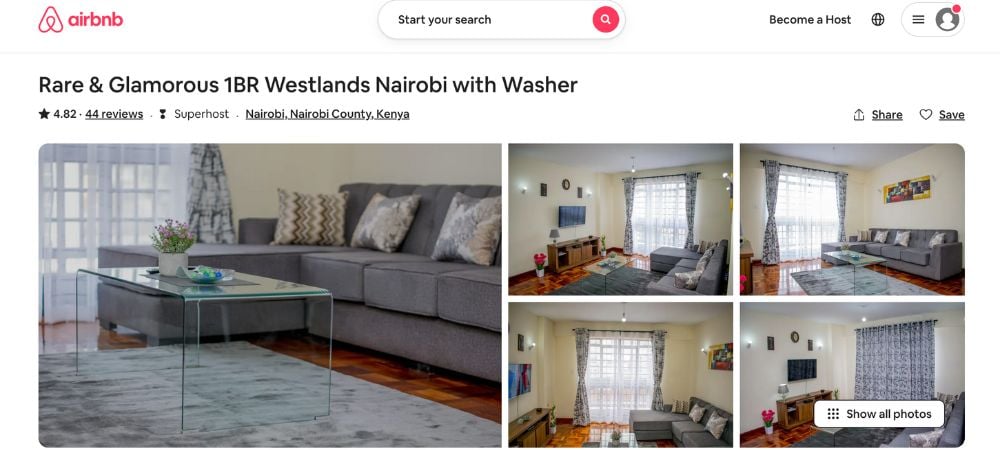 With its perfect location in Westlands, the city center is only a few minutes away. You'll also be close to shopping malls like the Sarit Center and Village Market.
If you'd like to do some sightseeing, hail a taxi to nearby attractions like the National Museum, Giraffe Center, and Karen Blixen Museum. You can also explore Karura Forest and finish the day with a culinary experience at Fogo Gaucho.
13. A Cozy Apartment in Kilimani (One of the Most Affordable Airbnbs in Nairobi)
Finding a cheap Airbnb in Nairobi, especially in popular neighborhoods like Kileleshwa and Kilimani, is difficult. In fact, for $30 a night, this Airbnb in Kilimani is one of the most affordable for its location.
The cozy studio is modern, and elegant, and is fitted with everything a traveler needs for a short-term or long-term stay. It's also close to malls such as Yaya Center and entertainment spots in Kilimani, Westlands, and Lavington suburbs.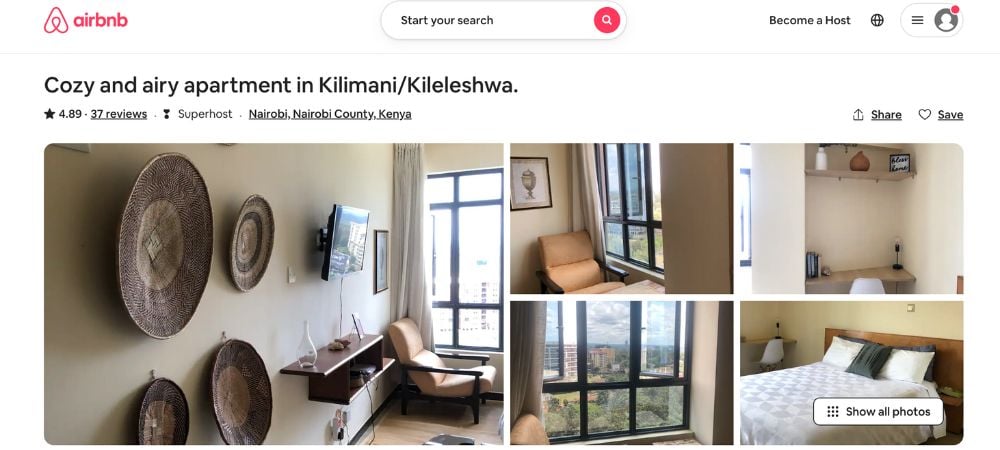 What I like about this listing is the workstation, the beautiful interior decor, and the big window overlooking the city.
The studio apartment is self-catering and ideal for digital nomads, solo travelers, or couples. From here, you can take a short drive to the best places to visit in Nairobi and dine and drink at Brew Bistro Fortis.
14. Apartment With a Gym and Rooftop Pool
I love the Upper Hill area for its proximity to the city center and modern skyscrapers which offer beautiful views of the capital. It's also home to great cafes, restaurants, and entertainment spots making it a nice neighborhood to stay in.
If you're looking for a peaceful apartment to return to after a day of sightseeing in Nairobi, this Airbnb in Upper Hill is your best bet. It features a spacious bedroom, a bath, a cozy living room, and a kitchen, and it's ideal for two guests. There's also a shared swimming pool and a gym for guests to make use of.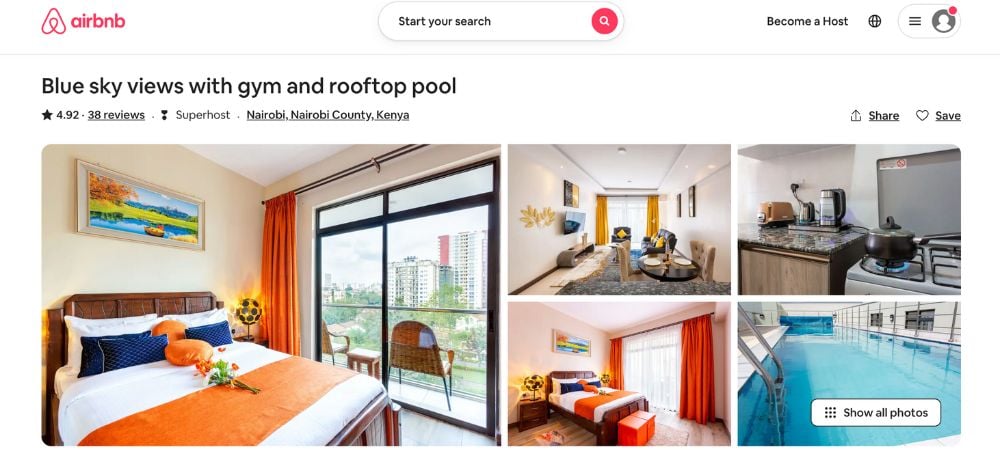 If you're staying in this stylish apartment, I recommend trying out the chicken biryani at Kilimanjaro Food Court or a beef burger at Java House. You can also join a day trip to Nairobi National Park which includes visiting the Giraffe Center and Elephant Sanctuary.
15. Modern Furnished Apartment in Westlands
To wrap up the list of the best Airbnbs in Nairobi is a comfortable apartment with modern amenities and an elegant interior. It features beautiful decor, a working area, a fully equipped kitchen, and more appreciated amenities.
If you're looking for an affordable Airbnb in Nairobi, Lemac 1108 apartment is one of your best choices. The one-bedroom and one-bath furnished unit is located in Westlands, close to tourist attractions and shopping malls. With a king-size bed, it can accommodate up to 2 guests.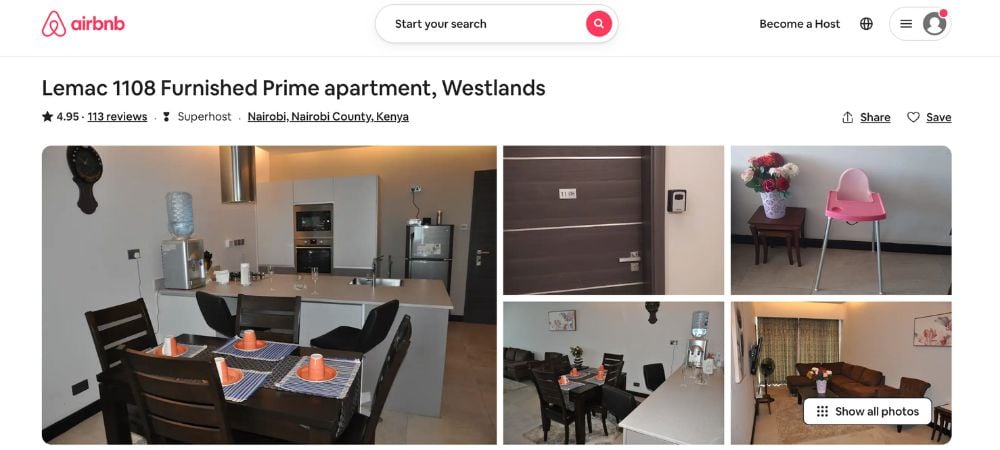 Staying at the Lemac, you can eat at the Brazilian steak house Fogo Gaucho and party at K1 Klub House. You can also hail a taxi for a day trip within Nairobi to National Museum, Railway Museum, or the Giraffe Center.
Best Areas to Stay in Nairobi (Neighborhoods)
Here's a breakdown of the best areas and neighborhoods to stay in for tourists and expatriates.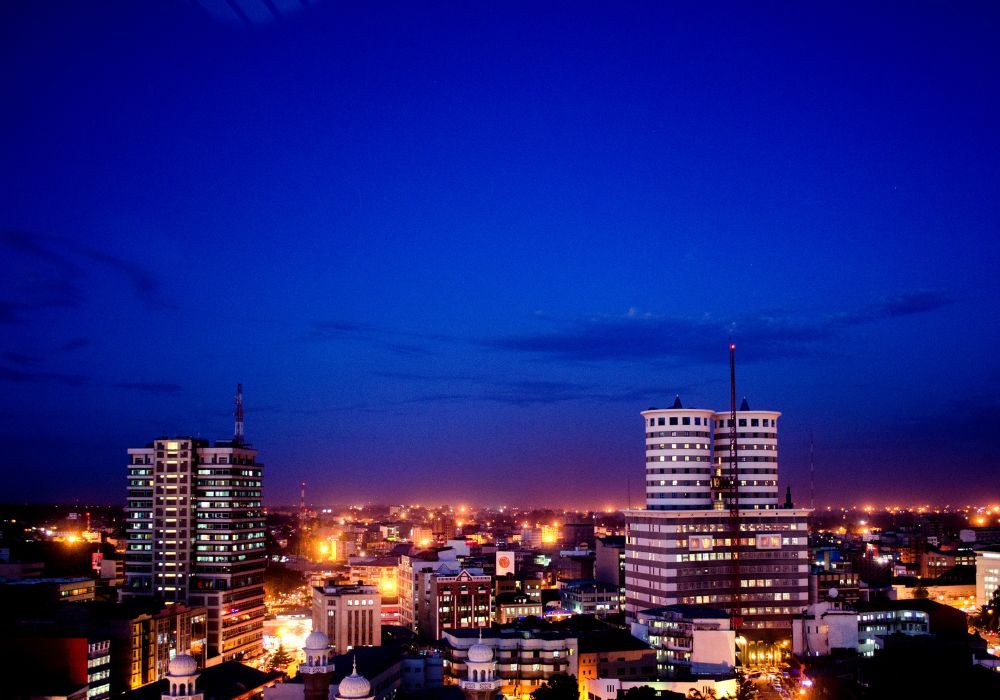 Karen – Best for Families and Nature Lovers
This is the best neighborhood in Nairobi for everything from tourist attractions to nature and shopping. The affluent neighborhood is home to wealthier Kenyans and ex-pats. There are plenty of sights and social places in the quiet Karen suburb.
Some of my favorite places to visit nearby include the Karen Blixen Museum, Oloolua Nature Trail, the Giraffe Center, and Nairobi National Park.
Karen is also brimming with restaurants and shopping malls. The Hub and The Waterfront malls feature upmarket shops, restaurants, and recreation facilities. Visitors can also enjoy dinner and drinks at Carnivore Restaurant or Talisman, which are close by.
The neighborhood is ideal for nature lovers and families looking for a serene environment close to all the amenities. It's located in the larger Lang'ata area; southwest of Nairobi city center.
Kilimani – Best for Digital Nomads and Fun Seekers
Timeout ranked Kilimani at number 28 in their list of "the coolest neighborhoods in the World" for a reason. Kilimani is the epicenter of nightlife, fun, arts, food, and work.
The neighborhood is considered a middle-class area and is dotted with highrise apartments, nightclubs, art galleries, and eateries. It's also in this mixed neighborhood where local and international startups are hatched.
If you're a digital nomad looking for a nice place conducive to work, chilling, partying, and experiencing the local vibe, rent an Airbnb in Kilimani.
Although the vibrant neighborhood is a gateway to affluent areas like Kileleshwa and Lavington, it has its own unique charm. It's safe, hip, and a lesser-known place off the tourist trail.
While staying in Kilimani, you can take a walk at Nairobi Arboretum, eat at Fogo Gaucho, drink at Empire Kilimani Lounge, and shop at Yaya Center.
Westlands and Parklands – Best for Nightlife
If you're into nightlife and are keen for city views, you should look for Airbnbs in Westlands or Parklands, Nairobi. These two areas are the favorite of the upper middle class and are home to some of the best entertainment spots in the city.
Westlands and Parklands are also close to the city center, making it ideal for exploring attractions in Nairobi. After a day of sightseeing, you can unwind and enjoy dinner and drinks at a joint such as K1 Klub House or Mama Rocks.
If you plan to stay in Parklands, visit City Park. You can take a nature walk in the park and then pass by the nearby local market for fresh groceries.
Kileleshwa – Best for Families
Kileleshwa is another popular leafy neighborhood in Nairobi. It's located near Kilimani, and although its old villas are slowly being replaced with modern apartments, the estate is still lush.
The affluent neighborhood is a favorite of the middle class and ex-pats. If you fancy a calm and serene environment, look for an Airbnb in Kileleshwa.
Kileleshwa is ideal for families and travelers looking for either long or short-term stays.
South B and South C – Best for Budget Travelers
I lived in South B for around five years and found the neighborhood one of the coolest in Nairobi. Although high-end apartments are slowly replacing the laid-back family units, the area is still abundant and quiet.
The same goes for South C, which gives you easy access to tourist attractions such as Nairobi National Park and restaurants like the Carnivore.
If you're looking for a friendly and affordable place to stay in Nairobi that's close to the city, search for Airbnbs in South B or South C. These two estates are located on the capital's south side – separated by Mombasa Road.
These estates are near shopping malls like the incredible Capital Center. They're also close to transport hubs like Wilson Airport, Nairobi Terminus, and Jomo Kenyatta International Airport.
Airbnbs in Nairobi FAQs
Are there Airbnbs in Nairobi?
There's a variety of Airbnbs in Nairobi. They range from unique homes to elegant apartments and everything in between.
Is Airbnb worth it in Nairobi?
Airbnbs offer a cheaper alternative to hotels and lodges. They're ideal for travelers seeking a convenient location, uniqueness, and affordable accommodation.
What are the most popular Airbnbs in Nairobi?
The most popular Airbnbs in Nairobi are; The Brandy Bus and The A-Frame in Karen.
How much does Airbnb charge in Kenya?
The average daily rate for an Airbnb in Nairobi is roughly $50. Most listings are located in middle-class and upper-class neighborhoods such as Kilimani, Westlands, Karen, and Kileleshwa.
Are Airbnbs safe in Kenya?
Nairobi Airbnbs are safe accommodation options. However, it's always advisable to research the property and host before booking. Lock doors and close windows as you would do when leaving your own home.
What are the best places to visit in Nairobi?
Some of the best places to visit in Nairobi include Nairobi National Park, the Giraffe Center, and Elephant Orphanage. There are also many non-wildlife attractions like the National Museum, Karura Forest, and Karen Blixen Museum.
Now You Know The Best Airbnbs in Nairobi
There's certainly no shortage of outstanding properties in Nairobi. The choice depends on your taste, budget, style, and preferred location.
Whether you want a unique stay in a lush suburb or an elegant room near the airport or train station, you're sure to find the perfect place for you.
I hope this article on the best Airbnbs in Nairobi has given you ideas of where to stay in the city.
Like This Article? Pin it!