From wildlife parks and museums to cooking lessons and cultural experiences, there are so many amazing things to do and places to visit in Kenya. This East African country is a true gift to travelers searching for places to relax, enjoy nature, or even indulge in thrilling adventures.
Along with the magical national parks, some of the best places to visit in Kenya are the country's beautiful beaches and old towns.
These places are close to each other, and with the added benefit of a good year-round climate, travel within Kenya is an exciting and affordable choice.
I've lived in Kenya for most of my life and explored different parts of the country. During my wanderings, I have encountered many great tourist attractions and hidden gems that I'd like to share with you.
So, if you're planning a visit, but wondering where to go, here are the 15 best places to visit in Kenya.
Fun Things To Do Around Kenya
→ More Places To Visit in Kenya
15 Best Places to Visit in Kenya
Check out this list of the best places to visit in Kenya and start planning your trip to my beautiful home country.
1. Nairobi City
Nairobi City, the capital of Kenya, has grown from a swampy area to one of Africa's largest cities and economic hubs. There are plenty of things to do in Nairobi, including museums, markets, wildlife parks, cultural centers, and great dining spots.
I have lived in Nairobi for most of my life and would always recommend it to everyone who plans to visit Kenya.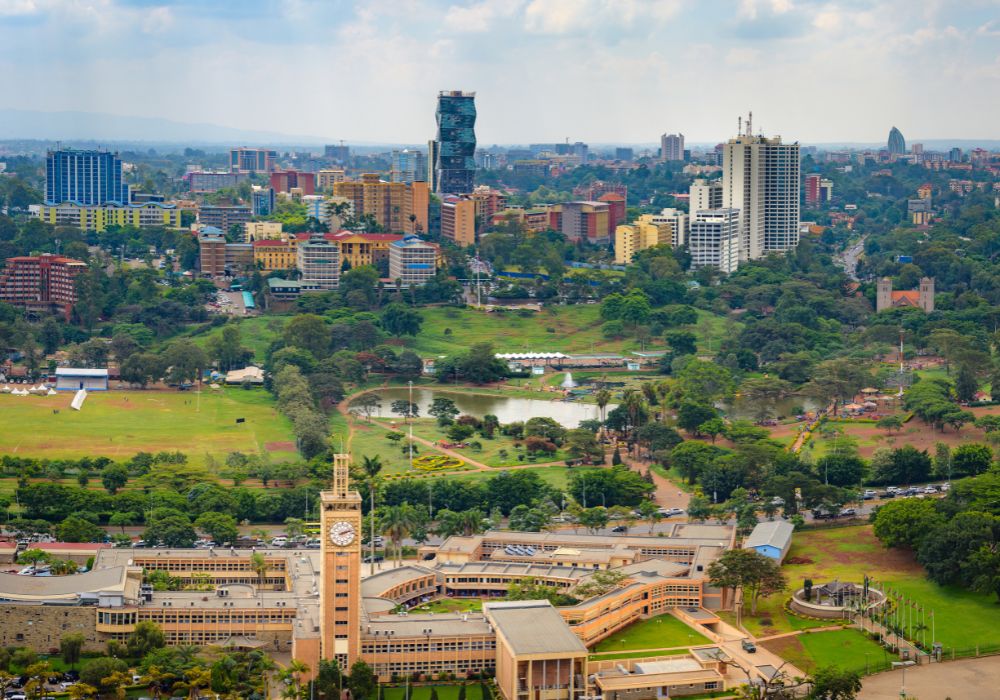 You cannot go wrong with Nairobi if you want to learn about the Kenyan past, its journey to independence, and modern life.
One of my favorite spots here is the Nairobi National Museum. But Jamia Mosque, Masai Market, Railway Museum, and the August 7 Memorial are worth exploring too.
Besides wildlife viewing and things to see, there are other worthy activities to engage in while visiting Nairobi. You can go shopping, partying, or learn how to cook a traditional Kenyan dish. So, don't miss all the fantastic things to do in Nairobi, and be sure to get a taste of the nightlife too!
Getting There: Most visitors to Kenya arrive at the Jomo Kenyatta International Airport in Nairobi. Reputable taxis are the best option for transfers to the city center. The city is also accessible by trains from Mombasa and buses from other regional cities.
2. Nairobi National Park
Visiting Nairobi National Park is one of the best things to do while in Nairobi. It offers a rewarding trip, especially to visitors who can't make it to other Safari Parks in Kenya. Here you'll see lions, buffalos, giraffes, rhinos, and other wild animals with the unique backdrop of Nairobi's tall buildings.
The best way to explore the park is by going on a game drive. Many affordable tour groups offer pickups and drop-offs in safari vans costing anything between $60 and $150 per day. However, although more expensive ($150-$250), hiring a professional guide is the best option.
Other attractions in the park include the Nairobi Safari Walk, Ivory Burning Site Monument, and the Animal Orphanage. After the Nairobi National Park visit, pop into the David Sheldrick Elephant Nursery and the Giraffe Centre.
Location: The park lies about 7 kilometers from the city center. It's best accessed using the main gate off Langata Road.
Getting There: While it's possible to get to the park using public transport, the most convenient way is to hire a van or self-drive.
Things To Do: Some of the activities in the park are game viewing, camping, and picnicking.
Entrance Fee: Nairobi National Park fees for adults are $60 (non-residents), Ksh 1200 (residents), and Ksh 500 (Kenyans). Children and students pay half the price.
3. Aberdares National Park
Aberdare National Park is one of the hidden places to visit in Kenya. It's situated in the central highlands and consists of beautiful waterfalls, rivers, hills, and natural bamboo forests.
Several wild animals thrive here, including lions, buffalos, leopards, the elusive bongo, colobus monkeys, and baboons. Also, over 200 birds can be spotted in the park, including sparrow hawks, eagles, Jackson's Francolin, and sunbirds.
The Aberdares is a historical place too. Its forests and deep caves were once the hiding spots for the Mau Mau freedom fighters during the war for Kenya's independence. And ironically, the late Queen Elizabeth II became Queen of England while on safari in the Aberdares, at The Treetops Hotel.
I've been to the Aberdares several times, but the ranges keep calling. One of the best activities in the park is hiking. Trails in the Aberdares include Elephant Hills, Rurimeria, and Mt. Satima (my favorite).
The park is also home to Kenya's most magnificent waterfalls. Adventurers go to the Aberdares to chase Karuru, Zaina, Gura Giant Falls, and others.
Location: There are several gates to the Aberdares. The most common is Njabini Forest Station which is about 2 hours from Nairobi.
Getting There: Drive about 60 Kilometres from Nairobi towards Nakuru and branch off to Njabini town at the Flyover center. The Forest Station is about 4km from there.
Things To Do: Some of the best things to do in the Aberdares include chasing waterfalls, hiking, and camping.
Entrance Fee: Aberdares National Park fees for adults are $60 (non-residents), Ksh 1200 (residents), and Ksh 500 (Kenyans). Children and students pay half the price.
4. Amboseli National Park
Amboseli National Park is situated near Oloitoktok, a border town with Tanzania. It's one of Kenya's most visited national parks, with great views of Mt. Kilimanjaro. The key sights in the park include elephants, lions, cheetahs, leopards, and over 600 species of birds.
The area surrounding Amboseli is inhabited by the Maasai people, which is also an opportunity for an authentic cultural experience. Amboseli is also a perfect setting for capturing Kenya's classic postcard – with the snow-capped peak of Kilimanjaro lurking behind herds of elephants.
Location: Amboseli is near Kimana and Oloitoktok towns in Kajiado County, about 4 hours from Nairobi.
Getting There: Self-drive from Nairobi to the park is the best option. But you can also fly or join a safari tour.
Things To Do: Amboseli is an excellent game viewing and bird-watching destination.
Entrance Fee: Amboseli is a premium park. Entry fees for non-residents (adults) are $70. Children and students pay $20.
5. Naivasha
When visiting Nairobi, take a road trip to Naivasha and explore the many things to do in Niavasha. It's one of the best places to visit in Kenya with family and friends.
Start by going to Lake Naivasha for a boat ride where you can spot hippos, fish eagles, and the Great White pelicans. Later, eat fish at the Karagita Market and proceed to Crater Lake Game Sanctuary for a wildlife experience like no other.
Just south of Lake Naivasha is the famous Hell's Gate National Park. A hot spot for adventurers, it's one of the few parks in Kenya where camping is allowed, and visitors can explore on foot or bike.
For hikers, travel to the nearby Eburu Forest. This little-known forest trail is one of my favorites in Kenya. It takes you through deep valleys, rolling foothills, and indigenous forest cover. The top of Mt. Eburu offers a spectacular view of Lake Nakuru, Elementaita, and Naivasha.
If you're looking for unique places to visit in Kenya, don't miss Naivasha and its surrounding area. There are numerous things to see and do in Naivasha to keep you busy.
Getting There: The best way to get to Naivasha from Nairobi is by Matatu, which costs about $5. Self-driving or hiring a van is also possible and more reliable.
If you'd like more help planning your trip, have a look at our complete travel guide to Kenya. This free online guide includes information on the cost of travel, getting around, the dos and don'ts, safety, places to visit, best things to do, and much more.
6. Nakuru City
The capital of the Rift Valley region, Nakuru, was recently elevated to a city for a reason. Situated about 2 hours from Nairobi, the city is home to many tourist attractions. It also serves as a transit for travelers heading to safari destinations such as Masai Mara and Lake Bogoria.
I've visited different places in Nakuru, and I can confidently recommend the city to all types of travelers. Visitors can spend time in Nakuru exploring museums, hiking, visiting game parks, and partying. It's also the perfect base to explore the Kenyan Rift Valley.
From here, you can go on a wildlife safari in Lake Nakuru National Park, hike the Menengai Crater, and walk along Lake Elementaita. Rock Hyrax Museum, Kariandusi archeological site, and Lord Egerton Castle are nearby for history lovers.
Don't miss our post all about the best things to do in Nakuru written by myself, a local guide!
Getting There: Visitors can get into Nakuru City by Matatus, big buses, cars, or planes. There is also a train that leaves Nairobi every Friday night bound for Kisumu. It passes through Nakuru and happens to be the cheapest.
7. Masai Mara (One of the Best Places to Visit in Kenya for Safari)
Masai Mara National Reserve is synonymous with wildlife safaris and cultural experiences. A stage for the Great Migration, the reserve sees close to a million wildebeest and zebras crossing the Mara River between July and October each year. This spectacular scene is one of the best attractions in Kenya.
Besides the safaris, the surrounding conservancies allow visitors to interact with the fascinating Maasai people. Curious travelers can visit their homesteads and indulge in daily activities – it's an experience not to miss.
Masai Mara is one of the best safari parks in the country. Don't miss our list of the many other amazing game reserves and safari parks in Kenya.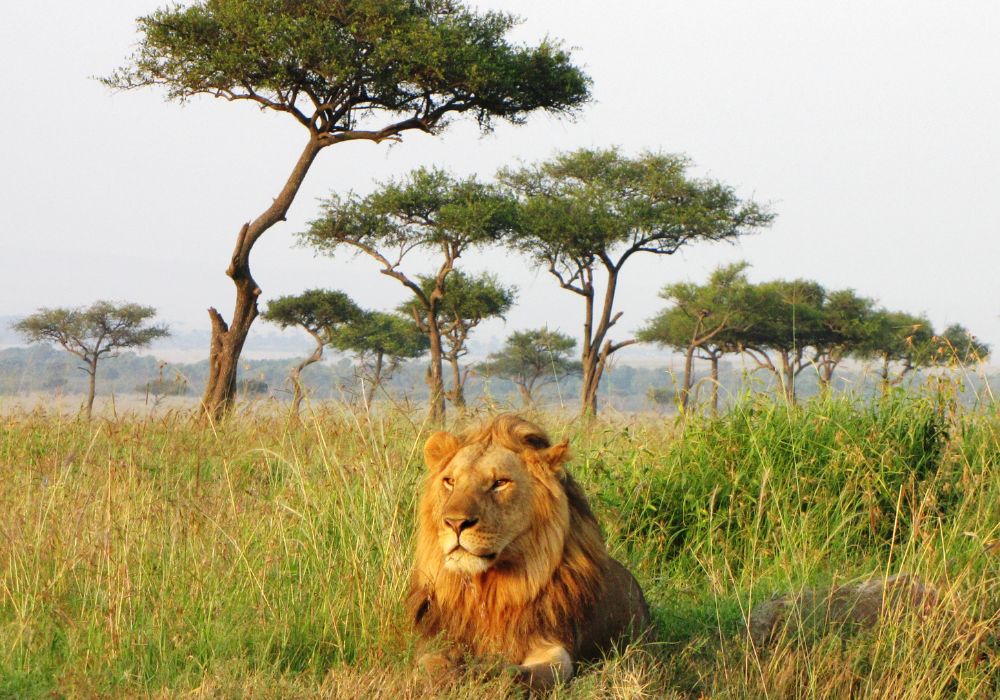 Location: Masai Mara National Reserve is located in Narok county in southwest Kenya.
Getting There: There are various access points to The Mara (Sekenani, Talek, Musiara, Oloololo, and Ololaimutia). The main one is the Sekenani Gate, and the best way to experience the park is to join a guided tour.
Things To Do: The Mara is popular with wildlife viewing, accommodation in world-class camps, horseback safaris, and flying in hot air balloons.
Entrance Fee: Non-resident adults pay $70 and $40 for children and students.
8. Kisumu City
If you're looking for the best places to visit in Kenya other than safari destinations, you'll have plenty of choices in the country's third largest city. Situated next to Lake Victoria, Kisumu is a fun place and a gateway to western Kenya.
Are you craving some cultural experience in Kenya? You'll find several worthwhile places to visit in Kisumu. Dunga Beach is great for Luo cultural artifacts, boat rides, and fish sampling. You can also see the Kit Mikayi – a mysterious rock formation that features in many legends.
Another popular tourist attraction is the Kisumu Museum. It hosts cultural and natural history exhibits of the people of western Kenya. These exhibits include a snake park, a fish aquarium, a cultural history gallery, and a traditional Luo homestead.
If you still fancy some wildlife, visit the Impala Sanctuary, which is home to various wild animals, such as the rare Sitatunga antelope.
Getting There: Besides buses, matatus, and self-driving, Kisumu City is accessible by air. Domestic airlines like Jambojet operate daily flights from Nairobi to Kisumu. There is also an overnight train from Nairobi every Friday.
9. Mombasa City
Mombasa is the main port and the 2nd largest city in Kenya. The old coastal city was once the country's capital and existed even when Nairobi was just a swamp. Today, it's home to some of Kenya's best places to visit.
The city is famous for its history, culture, and tourist attractions. Besides marine parks, beaches, and world-class cuisine, visitors are attracted to the vibrant nightlife and thrilling adventures. Accommodation is ample and ranges to suit any budget.
For history and culture, wander along the alleyways of Mombasa Old Town, visit Fort Jesus, or go to Bombolulu Workshop and Cultural Centre. Haller park and Nguuni Nature Sanctuary are great opportunities for a wildlife experience.
A trip to Mombasa would be incomplete without fun activities, watersports, and a beach visit. Nyali Beach, Shanzu Beach, and Bamburi Beach are the best spots. Visitors can engage in beach volleyball, go swimming, dive, snorkel, or take a boat ride.
While in Mombasa, I particularly enjoy visiting the Mama Ngina Waterfront, riding the Likoni ferry in the evening, and Go-Karting in Shanzu. There are many things to do in Mombasa, give yourself a few days here if you have the time.
Getting There: The cheapest and best way to arrive in Mombasa from Nairobi is by Railway, with three daily trains costing $10-$30. There are also several scheduled flights to Mombasa International Airport.
Self-driving along Mombasa road is possible if you fancy a road trip. Not to forget the numerous comfortable long-distance buses.
10. Diani Beach
About 30 kilometers down the coast from Mombasa, you'll find the beach town of Diani. This small town in Kwale County attracts all types of travelers. Besides luxury beach experiences, it's the best place in Kenya for diving, snorkeling, dhow sailing, and dolphin watching.
Diani offers many options for getting off the beach for a bit too. You can visit Shimba Hills, Mwaluganje Elephant Sanctuary, or enjoy a birdwatching trip at Kaya Kinondo Sacred Forest.
Culture and history enthusiasts can explore the Diani Mosques and Shimoni Caves or visit the Kongo Mosque. And if a relaxed experience is part of your Kenya travel plans, Diani might be the perfect destination to rest and recharge.
Don't miss my guide to all the best things to do in Diani for travelers.
Getting There: The quickest way to Diani is to fly into Ukunda Airport via domestic airlines like Jambojet and Safarilink. The beach town is also accessible by buses, self-drive, and Madaraka Express trains from Nairobi.
11. Malindi
Malindi is a beach resort town in Kenya along the Indian Ocean coastline. It's one of the best places to see in Kenya for historical and cultural experiences. The old town is also popular with holidaymakers who rent or buy holiday homes by the beach for relaxation.
Overall, there are just so many things to do in Malindi.
Travelers from all over the world come here to bask on the white sands of Malindi Beach. You can also visit Malindi and Watamu Marine National Parks for water activities like surfing, diving, and snorkeling. For more ideas on what you can do, click here.
If you're into history, you can explore the old town, see the Vasco da Gama Pillar and visit the Malindi Museum. The Church of St. Francis Xavier (Kenya's oldest church), is also worth visiting.
And while still in Malindi, travel north for about 40 minutes and see the Hell's Kitchen in Marafa. This depression is a sandstone gorge worn by wind, rain, and floods into incredible colored canyons. It's one of the hidden gems in Kenya.
Getting There: The most affordable way to get from Nairobi to Malindi is by bus, while the quickest way is to fly to Malindi Airport.
12. Lamu (One of the Best Places to Visit in Kenya for History)
Lamu is a charming archipelago of four islands (Lamu Old Town, Kiwayu, Pate, and Manda) situated along the Kenyan coast, northeast of Mombasa. The Lamu Old Town is Kenya's oldest and best-preserved settlement, dating back to the 12th century.
Walking along the narrow labyrinthine streets of the old town is one of the best things to do in Lamu. You can marvel at the ancient buildings and architectural designs which are part of the town's rich history. The alleys and markets also reflect the trading activities that used to take place.
Visiting Lamu is like traveling back in time. Dhows plow the harbor, donkeys and handcarts rule the streets, and people still cling to their rich traditions. And if you fancy the timeless way of architecture, rooftop patios, carved doors, and coral stone buildings are standard features here.
Lamu Archipelago is one of the best places to go in Kenya because there is plenty to do. The island is small but rich in culture, history, architecture, and natural beauty.
Some of the top attractions in Lamu include the Lamu Fort, The Donkey Sanctuary, The Old German Post Office Museum, and Lamu Museum. The museums are home to ethnographic exhibits of Swahili people – the principal inhabitants of the old town.
Besides the museums and ancient ruins, visitors to Lamu can enjoy fun activities like strolling along the white-sand beach at Shela, taking a dhow ride to Manda, or staying in an elegant Swahili house.
Don't miss my local's guide to the best things to do in Lamu that includes all my favorite recommendations for Lamu attractions, sights, tours and more.
Getting There: Lamu is best accessed by air. There are several daily flights from Nairobi to Manda Airport. Road transport is also possible but not very reliable.
13. Meru
Meru is a beautiful town in the central region close to the slopes of Mount Kenya. Due to its strategic location and rich soil, crops do very well in the area. The tea and coffee from Meru is some of the best in east Africa.
Besides farming, the town boasts several tourist attractions, including waterfalls, natural forests, cultural centers, national parks, and reserves. Key attractions of Meru town are the Mount Kenya National Park, Meru National Park, Mbili Waterfall, Meru Museum, and the Giitune Sacred Forest.
If you're looking for breathtaking activities and places to visit in Kenya outside the tourist hotspots, head to Meru. And while there, visit the Tamaduni Cultural Centre, hike Kiathandi Hills, and explore the Mucheene Mau Mau Caves.
Getting There: The best and cheapest way to get from Nairobi to Meru town is by public buses or Matatus. It takes about 4.5 hours and costs less than $10.
14. Mount Kenya
If you're interested in intensive hiking, wildlife, and the allure of snow-capped peaks, Mount Kenya National Park is for you. Here you'll find some of the best hiking trails in the country.
This park is one of the top tourist attractions in the country. It's famous for its exhilarating wildlife safaris and its plentiful natural sights, and is a UNESCO World Heritage Site.
Are you planning a visit to Kenya for a trekking safari? Mount Kenya is the most remarkable place for mountain climbing.
At 5199 meters above sea level, it's the second-highest mountain in Africa after Kilimanjaro. The third Peak, Lenana, is the most popular with hikers.
Mount Kenya is also considered sacred by adjacent communities (Kikuyu and Meru). They use the mountain for prayers, and traditional rituals to their God, Ngai, who they believe dwells on the mountain.
Location: Mount Kenya is located in the central region of Kenya. It's accessed from Chogoria, Narumoru, Nanyuki, or Timau town.
Getting There: The best way to get to Mount Kenya National Park is by joining a tour. The tour company will cater to all the logistics.
Things To Do: Some of the activities in the park include hiking, camping, and wildlife safaris.
Entrance Fee: Mt. Kenya park fees depend on the number of days spent there. Prices start from $52 for day trips (non-resident adults). Please check out the Kenya Wildlife Service website for the latest fees.
15. Turkana
Although Turkana is occasionally looked down upon, I believe it's one of the best destinations in Kenya. The region is home to many places of interest including museums, national parks, beaches, and heritage sites.
If you're curious about discovering off-the-beaten-path places in Kenya, head northwest to Turkana – The Origin of Mankind.
Some top things to see include the Kalokol standing stones, Nariokotome Turkana Boy Monument, and Kapedo hot waterfalls. You can also visit South Turkana National Reserve and explore Lodwar town.
My favorite things to do in Turkana are taking a boat ride to Central Island National Park, exploring the Ferguson Gulf, and basking on Eliye Springs Beach.
Location: Kalokol is one of the most accessible towns along the shores of Lake Turkana.
Getting There: The western side of Lake Turkana is accessed via Lodwar town. The quickest way to get there is by flying into Lodwar airstrip with domestic airlines like Fly540. You can also take a road trip from Nairobi through Nakuru, Eldoret, and Kitale.
Getting Around Kenya
There are a wide range of travel options available around Kenya. You can travel on a shared safari van, take domestic airlines, board a long-distance train, or rent a vehicle. Also, there are several public transport means like buses, Matatus, motorcycles, and taxis for those on a budget.
By Plane
Most international travelers arrive in Kenya through Jomo Kenyatta International Airport (JKIA) in Nairobi. Kenya Airways (KQ) and other international airlines offer regular daily flights to Mombasa, Malindi, Lamu, and Kisumu. Low-cost airlines like Fly540 and Jambojet also fly to Mombasa and other destinations in Kenya.
Using Buses
There is a reliable network of buses in Kenya. These buses are run by private companies and operate within cities and to upcountry destinations. Companies like ENA coach and Mash East Africa offer comfortable buses for long journeys. Super Metro, KBS, Citi Hoppa, and Double M are the most preferred within Nairobi.
Using Matatus
Matatus are privately operated vans and minibusses, typically for 11, 14, or 33 passengers. They operate within cities and towns and over medium distances. Matatus are affordable and quick, but travelers should be cautious not to travel past their desired destination.
Travel by Trains
Kenya Railways runs several passenger train services from Nairobi. These include three daily trains to and from Mombasa, a twice-a-week train to Suswa, and weekly MGR trains to Nanyuki and Kisumu. A few commuter trains operate to destinations within Nairobi, like Kikuyu, Syokimau, and Embakasi.
Hire a Vehicle
In Kenya, you can rent a vehicle with a driver or self-driving. The former is the best option if you're unfamiliar with Kenyan roads, especially in cities. If you plan to go off-road, a 4WD vehicle would be the most ideal. There are many car rentals in the country starting from $30 per day. Always read the hire terms and check the vehicle's roadworthiness before renting.
Other Ways
Other ways of getting around Kenya include Uber, traditional taxis, motorcycle taxis, and tuk-tuks.
Quick Itineraries for Kenya
Here are a few simple itineraries to follow when visiting Kenya.
3 Days in Kenya
A 3-day Kenya itinerary offers plenty of exciting possibilities. Start your first day in Kenya with a morning game drive at the Nairobi National Park. Later, visit the David Sheldrick Elephant Sanctuary (11 AM to Noon) and stop at The Giraffe Centre.
Wake up early and spend the second day at the Amboseli National Park. Mount Kilimanjaro rises behind this park, home to herds of elephants and other wildlife. Alternatively, you can take a trip to Hell's Gate National Park and Lake Naivasha.
To get an all-around taste of Kenya, drive northwest for a hike up Mt. Longonot and stop at the Rift valley viewpoint. After the hike, head back to Nairobi and shop for gifts at a Masai Market.
One Week in Kenya
If you have one week in Kenya, begin the trip with two days in Nairobi. Visit the wildlife destinations and explore the city on foot. You can also include a visit to the Kibera slum and learn about the art culture in the informal settlement.
Spend the next four days in Kenya visiting destinations such as Masai Mara, Lake Nakuru, Lake Naivasha, and Amboseli National Park. If you still have time, include Diani Beach and Kisite Mpunguti Marine Park.
For those who fancy a trip off the tourist hotspots, drive to central Kenya and climb Mt. Kenya in 5 days. You can also visit other places such as the Ol Pejeta Conservancy, Ngare Ndare Forest, and Meru National Park.
10+ Days in Kenya
If you have ten days in Kenya, this itinerary combines beach relaxation, cultural experience, and wildlife safaris.
Kick off your trip with a full day in Nairobi. Explore the famous Nairobi National Park and stop at the nearby wildlife centers (Elephant Sanctuary and Giraffe Centre). Later, head back to your hotel and prepare for trips outside the city.
The next stop should be in Naivasha. Spend at least three days visiting nearby attractions like Lake Naivasha, Hell's Gate, Crescent Island, and Eburu forest. After activity-filled days, relax and enjoy your evenings at Camp Carnelley's.
After Naivasha, drive to Nakuru City and use it as a base to explore Lake Nakuru National Park, Hyrax Hill Museum, and Menengai Crater. But don't get caught up in the beautiful city, there's still so much more to see.
Spend the next two days enjoying a safari experience at Masai Mara National Reserve. If you're traveling between July and October, you'll get an opportunity to experience the Great Migration. I can't recomend trying to experience this enough – it's a once-in-a-lifetime wonder. While in the Mara, visit a Maasai Village to taste the culture.
After the Mara experience, transfer back to Nairobi and take a train ride to Mombasa. From there, you can opt to travel north to a beach in Watamu or south to Diani Beach. Either of these places are excellent for a beach treat and for watersport activities.
Finally, return to Nairobi and explore Kenya's cultural and historical side. See the city on foot, enjoy local dishes, and interact with Kenyans at Gikomba Market. Before you leave, shop for souvenirs at the City Market.
FAQs About Visiting Kenya
Below are answers to some of the frequently asked questions about Kenya's best places to visit.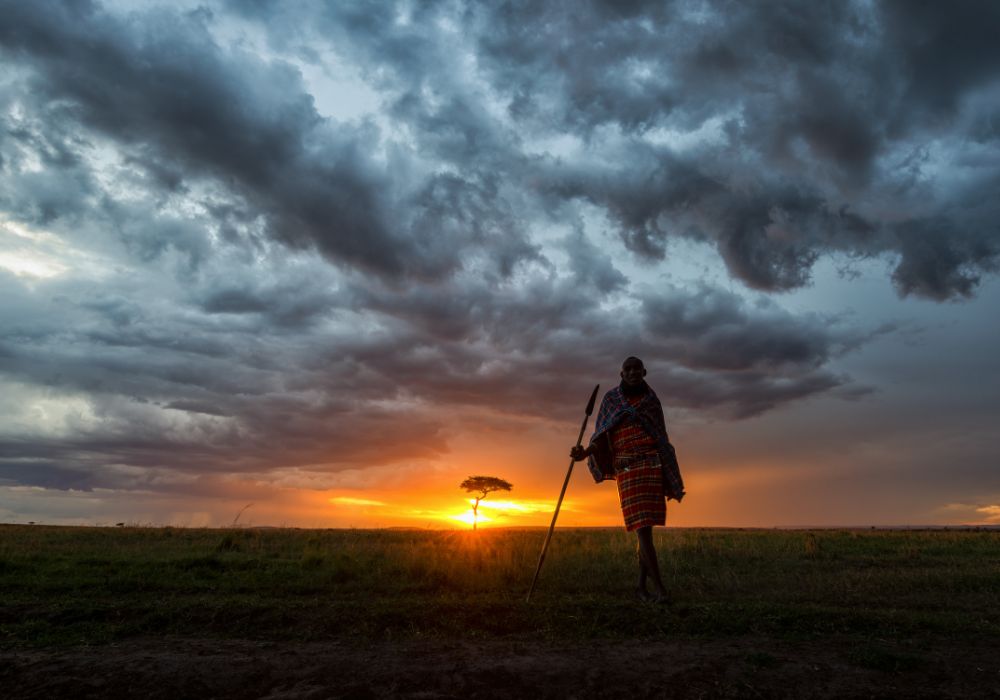 Which is the Best Climbing Route to Mount Kenya?
There are five main climbing routes to Mount Kenya. They include Chogoria, Sirimon, Burguret, Naru moru, and Timau. Chogoria is the most scenic route, while Naru Moru is the shortest and most popular route.
Which are the Best Places to Visit in Kenya?
Kenya's best places to visit are Masai Mara, Lamu Old Town, Nairobi City, Diani Beach, and Mount Kenya.
Is Nairobi a Safe Place to Visit?
Nairobi is not considered the safest city in the world. But by taking precautions, you can travel safely in the city. Always ensure you secure valuables and be aware of your surroundings.
Why is Aberdare National Park Famous?
The Park is most famous as the place where Princess Elizabeth II learned that she was Queen at The Treetops Lodge. It's also a popular hiking destination in Kenya, with excellent trails and beautiful waterfalls.
Why is Amboseli National Park Famous?
The National Park is the best place to get close to large herds of elephants. It also allows visitors to meet Maasai People and visit their village. The Park also has excellent views of Mount Kilimanjaro – otherwise known as the Roof of Africa.
What Makes Lake Turkana Famous?
It's the world's largest desert lake and a UNESCO World Heritage Site. The lake is also home to Sibiloi, the South Island, and the Central Island National Parks.
What is Unique About Diani Beach?
Diani Beach is one of Africa's best water sports and holiday destinations. It has something for all types of travelers to experience.
Is Lake Naivasha Worth Visiting?
Yes. It's worth the visit, especially if you want to spot hippos and fish eagles.
Now You Know the Best Places To Visit in Kenya
Over a century ago, travelers from all over the world visited Kenya, lured by stories of big game. The multitudes of wildlife roaming the plains and savannahs aroused their curiosity. In those days, these wandering souls would "go on safari"; taking notes, and telling stories around campfires.
Today, visitors continue to flock to Kenya to experience her allure. Also, to explore the country's pristine wilderness, connect with its friendly people, vacation to its coastal beach destinations, and much more.
If you've been looking for places to visit in Kenya, I hope this article helps you to put together the best itinerary.
Like This Article? Pin it!