In this article, I'll share the best places to visit and things to do in Lamu, Kenya. These include exploring an old town, visiting museums, attending festivals, watching the sunset on a traditional dhow cruise, and simply relaxing on a beach. This is one of the most beautiful places to visit in Kenya.
Lamu is a magical and enchanting archipelago with four significant islands – Kiwayu, Manda, Pate, and Lamu. It's situated along the northern coast of Kenya and features many attractions including forts, museums, and settlements dating back to the 12th century.
If you're visiting Kenya and are looking for things to do outside of the safari national parks and hiking trails, Lamu is a fantastic coastal destination to consider. Experience the history, culture, and heritage of the Swahili people through ancient buildings, dhows, cuisine, museums, festivals, and by interacting with the friendly locals.
As a native Kenyan who enjoys exploring less-traveled destinations, Lamu is one of my favorite places to visit. It's like stepping back in time when donkeys were the sole means of transport and dhows ruled ocean routes. So, to help you plan your trip better, I've prepared this article for the best things to do in Lamu.
Best Things To Do in Lamu
Lamu is rich in history, architecture, and cultural heritage. It offers magnificent historical sites, pristine beaches, restaurants, and natural attractions.
To help you explore one of my favorite destinations in Kenya, here are 10 attractions and top things to do in Lamu.
1. Explore Lamu Old Town on Foot
Kenya has several UNESCO World Heritage Sites, but none is more impressive than Lamu Old Town. It's the oldest Swahili settlement along the East African coast, and its people still retain their traditions and culture today.
Walking along the narrow alleyways of Old Town is one of the best things to do in Lamu. A stroll takes you past ancient buildings, historical sites, markets, and local shops.
Marvel at old houses with carved doors, coral stone walls, and beautiful rooftop patios. The day-to-day activities of the locals are sure to transport you back to a time when trade was blooming in the town as you wander around.
Lamu Museum is my favorite place to learn the history of this beautiful place. It's found in the heart of Old Town and hosts ethnographic exhibits of the local Swahili people. It also houses artifacts and materials that link the town with trade during the 12th century. In addition to Lamu Museum, you can stop by the Lamu Fort and spot the Old German Post Office.
Address: Visit Lamu Museum and the Lamu Fort (Sultan's Fort). Click on each attraction for directions.
2. Sample the Delicious Swahili Dishes
A trip to Lamu wouldn't be complete without exploring Swahili cuisine and seafood. There are several places in the archipelago serving coastal dishes at affordable rates, but the best restaurants include the Floating Bar & Restaurant, Seafront Cafe, and Mangrove Restaurant.
So, whether you're craving biryani (my favorite), wali wa nazi (coconut rice), or fresh prawns, Lamu has it all. Check out any local restaurant in Lamu Old Town for more traditional dishes like pilau.
I highly recommend the Seafront Cafe. The restaurant serves delicious meals ranging from biryani to grilled lobster and fresh juices. Their seafront setting is brilliant, and the ambiance is beautiful – especially in the evening.
Address: Click here for directions to the Seafront Cafe. Also, check our guide to 15 Must-Try Dishes in Kenya.
3. Attend the Lamu Cultural Festival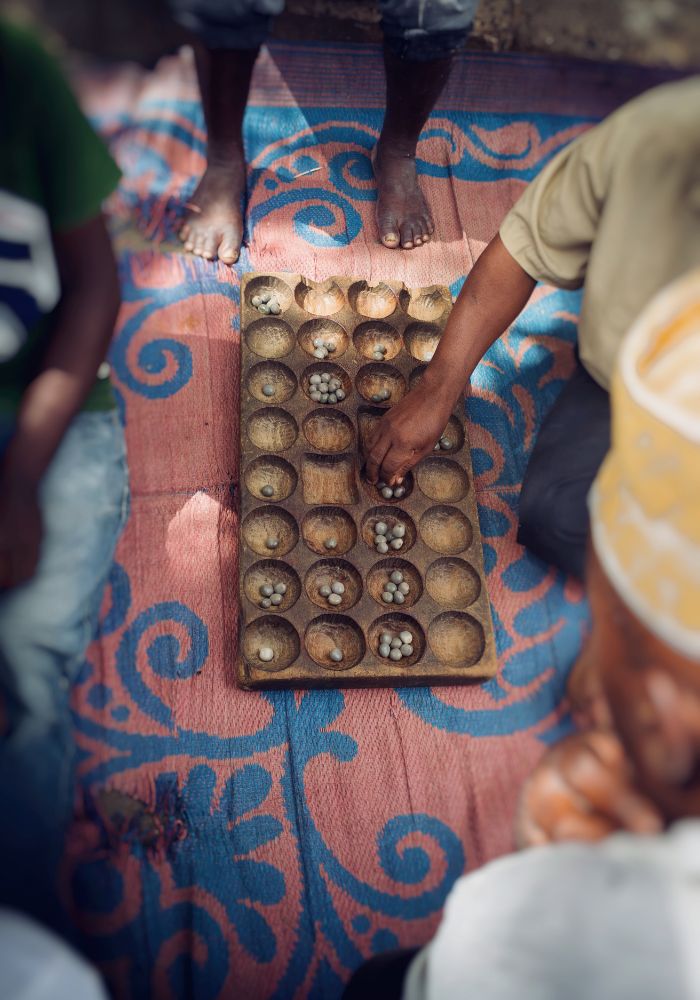 Lamu hosts several festivals every year. One of my favorites is the Lamu Cultural Festival which takes place from late November to early December. The 4-day event celebrates the cultural heritage of the archipelago. It includes samples of local food, music, and traditional dances.
Visitors during the festival can take part in various activities. These include sampling delicious local dishes, dhow races, and experiencing the Swahili traditional ceremonies.
I particularly enjoy watching the dhow races. Locals race the beautiful traditional boats in the ocean, offering spectators a truly spectacular scene. If you're visiting Lamu during this weeklong festival, be sure to also learn how to play the Bao game, listen to Swahili poetry, or get yourself a henna painting.
Address: The Cultural Festival occurs between Nov 30 – Dec 2 in Lamu Old Town.
4. Stroll Along the Magnificent Shela Beach
Unlike adventure-filled destinations in Kenya like Masai Mara and Mount Kenya, Lamu is a slow-paced place to relax. Most travelers visit this coastal town for its history and the beach, and there's no better place to soak up some sun than the magnificent Shela Beach.
The 12 km-long white sands and dunes guarantee moments of peace and serenity. You can stroll along the beach, sunbathe on the sand, or sit still and watch the beautiful sunset. Compared to beaches in Mombasa and Diani, Shela Beach lacks amenities such as toilets and showers. However, it's one of the most peaceful and least crowded beaches in Kenya.
Address: The beach is best accessed from Shela Village. Walk past the Peponi Hotel or the Beach House to get there from the Old Town.
5. Go on a Sunset Dhow Cruise
Lamu is one of the most beautiful places to visit in Kenya. With only a few cars around and donkeys roaming the streets, the best way to explore the island is by foot. Wandering along the labyrinthine backstreets allows you to follow in the footsteps of locals and traders who first set foot in the area.
Another way to see the magic and beauty of Lamu is by exploring its islands – Manda, Pate, and Kiwayu – by taking a dhow ride, (an ancient Arab sailing boat), and cruising from Shela Village to any of these scenic spots.
Evenings are particularly magnificent. The sight of the orange-yellow African sunset makes Lamu a destination you'll remember forever, and sailing between the islands invites you to enjoy the breeze and think of how traders made their way to Lamu from as far as Oman in these traditional dhows.
Address: Dhows are one of the primary means of transport between islands in Lamu. You can ask your host or accommodation facility to arrange a trip with a reputable captain.
6. Visit the Donkey Sanctuary
A Swahili proverb claims, "A man without a donkey is a donkey.". Better still, a saying goes, "A man who doesn't take care of his donkey is a donkey.". The latter is meant to create awareness about looking after pack animals.
Donkeys play a significant role in the economy and growth of Lamu. Without motorized cars and vehicles, the community relies on them for day-to-day activities. They transport people, move goods, and even carry building materials around the beautiful town.
The Donkey Sanctuary was established by a Sidmouth-based organization (by the same name) founded by Dr. Elisabeth Svendsen, and in addition to offering clinical services to donkeys, the facility advocates for their better welfare.
When strolling along the Lamu Old Town alleys, pass by the sanctuary and learn about their cause. You can also support the initiative by donating, adopting a donkey, or buying some of their merchandise.
Address: The Donkey Sanctuary is situated off Faza Kenyatta Road in Lamu Old Town. Click here for the address.
7. Experience the Lamu Yoga Festival
Even if you don't know much about yoga and its many styles, the Lamu Yoga Festival facilitates an all-new perspective. The 5-day event takes place in Shela Village and brings to life the nearby Manda Island and Lamu Old Town.
This festival attracts visitors from all over the world who are enthusiastic about yoga, health, wellness, and meditation. Besides taking yoga classes, you can enjoy other activities like dune walks, dhow meditation trips, and even paddleboard yoga safaris.
What I like most about the event is that the organizers are keen on involving the community. With sponsors' help, the festival has raised funds to support initiatives such as Ubunifu (a community art center in Maharani village). They also offer free yoga workshops and sanitation pads to girls in Lamu.
Address: For dates, programs, venues, and accommodation options, check out the Lamu Yoga Festival website.
8. Attend the Maulid Festival
Maulid or Maulidi is another famous festival in Lamu. The annual event takes place during the third month of the Islamic calendar to mark and celebrate the birth of Prophet Mohammed.
During the 3-day celebration, pilgrims and curious visitors enjoy and take part in various activities. Discover music and dances, art exhibitions, recitals of praise poems, dhow races, and swimming competitions.
The festival includes games, a prayer vigil, and a narration of Prophet Mohammed's life and deeds. It culminates with a parade (Zeffe) along the Old Town's narrow streets.
So, if you love experiencing different cultural practices and people's way of life, add the Maulid Festival to your bucket list.
Address: The Maulid Festival takes place in Lamu Old Town annually during the third month of the Muslim calendar (usually at the Riyadha Mosque).
9. Visit Kiwayu Island and Kiunga Marine National Reserve
Very few people travel further than Pate Island. However, if you're bold and adventurous enough, take a boat ride to Kiwayu Island – one of the most beautiful places near Lamu.
The island is situated north of Pate and close to the unspoiled national reserves of Dodori. The main attraction here is the Kiunga Marine National Reserve.
This spectacular ecosystem is home to various marine species like fish, coral reefs, and sea turtles. Besides rare sightings of dugongs, visitors can also enjoy scuba diving, snorkeling, and surfing opportunities.
Address: Kiwayu Island (and Kiunga Marine National Reserve) can be accessed from Lamu town via speedboat or dhow. The trip takes 2-7 hours. While there, you can stay at Mike's Camp – the best accommodation facility on the island.
10. Visit the Many Ruins
Lamu is particularly rich in ruins; most of which are remains of abandoned settlements along the Swahili coast. While their abandonment remains a mystery, some people believe warring tribes attacked them. Others argue that it was because of silting up of the harbors.
One of the most famous ruins and attractions in Lamu is Takwa, a relic of a 16th-century village situated on Manda Island. If you're a history lover like me, make sure to add Takwa Ruins to your list of the best things to see in Lamu. You'll learn about Lamu's history, architecture, culture, and people's way of life.
Other ancient ruins in Lamu include Faza, Siyu Fort, and Shanga on Pate Island.
Address: To visit Takwa Ruins, take a boat ride to Manda Island. You can also ask your accommodation facility to help organize your trip.
Quick Travel Itineraries For Lamu
Whether you're on a tight schedule or you have the luxury of more time, these quick itineraries will help you make the most of your trip to Lamu. They include visiting museums, spending time on the beach, and taking a dhow cruise.
Your host or accommodation can arrange trips to places and attractions mentioned in these itineraries. You can also engage locals (mostly in restaurants and on the main jetty) for boat and dhow rides.
1 Day in Lamu Itinerary
The best way to spend 24 hours in Lamu is to explore its Old Town on foot. Start your day with coffee and snacks at the Whispers Cafe or Mangrove Restaurant. From there, walk along the backstreets, and appreciate the town's architecture.
Make sure to stop at Lamu Museum, Lamu Fort, and the Donkey Sanctuary. If your trip coincides with one of the festivals, join in and experience the rich culture of the Swahili people. At the end of the day, take a boat ride for dinner at the Floating Bar and Restaurant.
2-3 Days in Lamu Itinerary
Three days is long enough to get a good taste of the Lamu Archipelago.
Spend your first day exploring the Old Town and visiting its historical sites. Follow the 1-day itinerary above.
Begin your second day by walking or jogging along Shela Beach before it gets too warm. Head back to your hotel for a late breakfast and then take a boat to Manda Island. While here, visit Takwa Ruins and enjoy some fresh seafood at The Majlis Resort.
Relax at their beach until evening, and enjoy a dhow cruise to watch the sunset as you head back to your hotel or guesthouse – in Shela, Manda, or Lamu.
Spend your third day experiencing the adventurous side of Lamu. You can go windsurfing, snorkeling, or tubing in the Indian Ocean. The Majlis Resort in Manda Island can arrange these activities for you. After the day's thrill, go for dinner in one of the local restaurants to culminate your trip to the archipelago.
1 Week in Lamu Itinerary
If you have seven days in the Lamu archipelago, you'll have time to experience everything in the Old Town and even enjoy a trip to Kiwayu Island.
Spend your first two days wandering around Lamu Old Town, a UNESCO World Heritage site with its narrow alleyways and beautiful coral stone houses. Visit the Lamu Museum, Riyadha Mosque, the Donkey Sanctuary, and the Lamu Fort. Spend the evening walking along Shela Beach. Wrap up your day of exploration with a Swahili dish or seafood at the Seafront Cafe.
On day three, embark on a day trip to Manda Island. Start by exploring its ancient ruins at Takwa and then relax at its magnificent beaches. Stop at either Majlis Resort or Diamond Beach Village for food before taking a sunset dhow cruise.
Take a full-day trip to Kiwayu Island on a dhow or speed boat on your fourth day, and stay at Mike's Camp – a well-kept secret in a simply unforgettable location.
Spend day five visiting the areas around Kiwayu Island. Go snorkeling, fishing, windsurfing, or exploring coral reefs at Kiunga Marine National Reserve.
After an adventurous day in Kiwayu, head back to Lamu town or Manda Island on a boat. Explore the mangroves along the way and look out for bird species such as flamingos and storks. While in Lamu Old Town, revisit your favorite restaurant for dinner.
Spend your last day in Lamu relaxing. Stroll along Shela Beach, rejuvenate in a spa, or practice some yoga by the sea – Banana House and Wellness Center is the perfect place to unwind. Bid Lamu farewell with a sunset dhow cruise or go souvenir shopping.
Where to Stay in Lamu
Whether you're traveling on a budget or looking for luxury accommodation, Lamu has a stay for everyone. There are various facilities in Shela, Kiwayu, Manda, and Lamu Old Town to choose from.
No matter if your preference is a guesthouse, backpacker's hostel, or boutique hotel, here are a few of the best places to stay in Lamu for tourists:
Lamu Old Town – Best for First-Time Visitors and History Lovers
Of all the islands in the archipelago, Lamu Old Town has more attractions. It also has accommodation options for each budget. Some of the best facilities include Jamala Guesthouse and Lamu House.
Click here to check out the best hotels, guest houses, and villas in Lamu, Kenya.
While there, you can visit museums, markets and marvel at the ancient architecture. The beach (Shela) is also within walking distance, and Manda is less than one hour away by boat.
Shela Village – Best for Solo Travelers and Beach Lovers
Shela is a beach village neighboring Lamu Old Town. Due to its long strip of unspoiled beaches and dunes, many visitors prefer staying there. Here, you have an option of rustic Swahili houses, villas, and hotels ranging from budget to luxury. The best facilities include Peponi Hotel and Kijani Hotel.
My favorite place to stay here is the Banana House and Wellness Centre. This unique house is surrounded by green gardens that provide a perfectly relaxing setting. It features rooms for both individuals and families, a swimming pool, a wellness center, a restaurant, and spacious sitting areas. Book your stay here.
Manda Island – Best for Couples and Families
Manda is a quiet hideaway less than an hour from Lamu Island. It's calm and relaxed, offering visitors a chance to have tranquility during their trip to the archipelago. The main accommodation facilities on this island are Diamond Beach Village and The Majlis Resort.
Majlis Resort is the main feature of the island – and my favorite place to stay. The privately owned beach resort features luxurious suites, four restaurants, and other facilities to make your stay memorable. It's also a launching spot for water sports and activities in Lamu.
While on the island, you can visit Takwa Ruins (remnants of an ancient coastal settlement) or go snorkeling at Manda Bay. A dhow cruise to watch the sunset and view mangrove plantations is also well worth your time.
Kiwayu Island – Best for Adventurer Seekers
If you love venturing into less-traveled places, your wanderlust may lead you to Kiwayu Island. The reward for this curiosity is a beautiful, off-the-beaten-path location north of Lamu.
While here, you can explore the villages and release your wild side with some water sports. The nearby Kiunga Marine National Reserve is also great for snorkeling and windsurfing.
There are few accommodation facilities in Kiwayu. My favorite is Mike's Camp. It may not be a five-star facility, but it features all the amenities you'll need for a comfortable stay and offers a more authentic experience.
You can also check out the Baobabs of Kitangani camp on the island's northern end, overlooking Mkokoni village and the circular bay.
If you'd like to travel to Kiwayu, request your hotel in Lamu or Manda to help arrange the trip. There aren't any public ferries, but hiring a speedboat or dhow is possible.
Best Restaurants in Lamu
Although you'll find a few places to eat on the other islands, most of the Lamu Archipelago eateries are located in the Old Town. Accommodation facilities such as Majlis Resort on Manda have in-house restaurants too, so you don't have to worry about going hungry.
To give you some ideas on places to eat, my favorite restaurants in Lamu are below:
Floating Bar & Restaurant
The Floating Bar & Restaurant is one of the few places in Lamu where you can eat, drink, and party. Besides its great ambiance and superb ocean views, the restaurant offers quality local and international dishes. It also features a stylish seating space to relax and enjoy a cold drink.
If you love local dishes, try their ugali (a starchy, polenta-like dish), served with fish and kachumbari (fresh chopped salad). They also have excellent pizzas and samosas.
The Seafront Cafe
If you love authentic local vibes and dishes, stop by the Seafront Cafe. This modest restaurant serves fresh seafood and Swahili dishes at affordable prices. They also have non-alcoholic drinks, soups, and juices. Try out their biryani served with coconut beans, beef curry, fish curry, or mixed seafood (prawns, lobster, and Lamu crab).
The Majlis Restaurants
The Majlis Resort has four in-house restaurants that stand out due to their distinctive architectural design. Their cuisine ranges from delicious Swahili dishes to spicy Indian flavors and other international foods, and the restaurants are open to non-guests.
Their ingredients are sourced locally from market vendors and fishermen, ensuring the freshest of dishes. You can order anything from fish and lobster to biryani and pizza here.
If you're staying in Shela or Lamu Old Town, be sure to take a boat to Manda Island for a bespoke culinary experience at The Majlis.
Moonrise Restaurant
Moonrise Restaurant (part of Lamu House) is one of the best places to eat in the Old Town of Lamu. It's a place where flavors from across the globe come together, with a charming local twist.
The menu is a delightful journey through culinary cultures, ranging from the intricate tastes of Italy to the authentic richness of Swahili cuisine. No matter your palate's preference, the restaurant's diverse array of dishes ensures there's something to satisfy every taste bud.
Some of their best dishes include chicken in Swahili sauce, fish in coconut sauce, and pilau. If you're traveling in a group, try out their biryani platter or tagliatelle seafood (with fish, prawns, and octopus sauce).
Diamond Beach Village
The Diamond Beach Village is a beautiful place to stay in Lamu, and their restaurant is certainly worth stopping by. It's open all day for breakfast (oven-backed bread, mandazi, and chai) and light lunches (tapas, pasta, and seafood salads).
Dinner usually features pizza, Swahili dishes like wali wa nazi, and fresh seafood. They also serve vegetables, fish fillets, vegan options, and finely mixed fruit juices.
Their beachfront bar is ideal for a cold beer as you watch the sun setting below the horizon.
Other restaurants in Lamu include Whisper's Cafe, Mangrove Restaurant, and Kijani Hotel Restaurant.
Getting to Lamu
Manda Island in the Lamu Archipelago has an airport served by flights from other airports in Kenya – Wilson (Nairobi), JKIA (Nairobi), and Moi (Mombasa).
Some of the best local airlines from Nairobi and Mombasa to Lamu include Jambojet, Fly Safarilink, and Skyward Express. Costs for a one-way trip start from $60 and take around an hour.
There are several buses to Lamu if you're in Malindi, Watamu, Kilifi, or other towns along the north coast. Tawakal Coaches is one of the best companies. They have daily departures from Mombasa to Lamu, and their fare is affordable.
However, there are occasional security concerns about the Malindi-Lamu overland route. Flying into Lamu is therefore recommended.
Getting Around Lamu
Lamu town doesn't have any public transport vehicles (owing to the narrow roads). However, like other islands in the archipelago, it's small and, therefore, easy to explore on foot. If you're arriving at Manda Airport, you'll need to hop on a boat to reach any part of the archipelago. Your hotel or host can arrange the boat in advance or you can find one on arrival.
Moving between the islands (Manda, Pate, Lamu Old Town, and Kiwayu) is also done by boat. Although it's naturally slower than taking a speed boat, you can hire a dhow for a more scenic experience.
Things To Do in Lamu: FAQs
Here are some answers to commonly asked questions about visiting and sightseeing in Lamu:
What is Lamu known for?
Lamu archipelago is known for its rich Swahili culture and history, ancient architecture, and stunning beaches. The 12th-century destination is home to some of the best-preserved Swahili settlements along the East African coast.
When is the best time to visit Lamu?
Just like most of Kenya, the best time of year to visit Lamu is during the dry season – from June to early October.
Is Lamu worth visiting?
Absolutely. Its unique mix of history, architecture, and culture offers a truly immersive experience. The Old Town's UNESCO World Heritage status attests to its beauty and significance.
How many days should I spend in Lamu?
To fully explore and appreciate Lamu attractions and experiences, I recommend staying between 3 – 7 days. This allows time for exploring the old town, enjoying the beach, immersing yourself in the local culture, and island hopping.
Is Lamu safe?
Lamu is generally considered safe for tourists. However, there have been security issues in the past and the situation can change at any minute. Like any destination, taking caution and following travel advisories is essential to ensure a safe and enjoyable trip.
What is the most popular thing to do in Lamu?
One of the top things to do in Lamu is wander through the Old Town's narrow streets to see its unique architecture and historical sites. Taking a sunset dhow cruise is also a must-do experience.
What is the best beach in Lamu?
Shela Beach is the best beach in Lamu. It offers a 12 km stretch of unspoiled dunes and white sands, and a tranquil, relaxing atmosphere.
Which are the most popular festivals in Lamu?
There are several annual festivals in Lamu. The most popular ones are Maulid Festival, Lamu Yoga Festival, and Lamu Cultural Festival.
In Closing
As you can see, there are plenty of free things to do in Lamu. However, the archipelago differs from your typical destination. It's a secret paradise offering an intimate and memorable experience.
I hope you enjoyed this article and that it'll guide you in planning your trip. Make sure to explore the Old Town on foot looking for signs of days gone by – in mosques, shops, hotel houses, museums, and forts. Markets and restaurants are also great places to learn about the residents and their culture.
See more articles about Kenya here: