It was a long and emotional journey travelling to Mexico from Grenada, but after 22 hours of flying on a horrible airline and freezing in various airports, we arrived in Puerto Vallarta! We felt like proper backpackers again with our bags slung over our shoulders as we waited for the local bus to take us to Hotel Catedral located in the center of town (centro), right near the old town.
Check out our epic journey from Grenada to Puerto Vallarta here:
We were exhausted from our very long travel day and were delighted when we stepped into the boutique hotel, which was adorned with incredible artwork and Day of the Dead sculptures. There was a central courtyard, which was open to the sky and surrounded by pretty vines hanging down from the railings. We were greeted by the lovely Mara at reception who could see the fatigue on our faces and promptly took us to our room.
When we opened the doors, we were so pleased with what we saw! There were two comfortable looking beds just waiting for us to lay down for a nap and a day-bed was placed in the corner with brightly coloured pillows lined on top. We immediately noticed the flat screen TV hung on the wall, as well as the air-conditioner – items we didn't have while living in Grenada.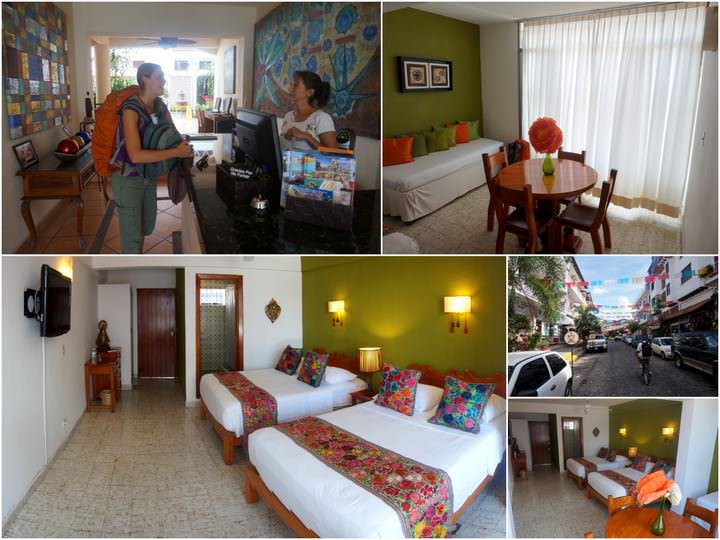 Two nights were spent in the big Mexican city. We swam in the Pacific Ocean (something we had never done before) and braved the big waves. We were so used to the completely calm waters of the Caribbean that even the slightest ripple seemed huge. We explored the old town and hiked up cobblestone steps to reach lush, green residential communities. We gazed out at lovely vistas, zigged and zagged in between streets and ate too many tacos to count! We even met up with some friends for an impromptu visit and enjoyed a night of catching up over margaritas.
Before coming to Puerto Vallarta, we had a completely different image in our minds. We thought it was a city lined with resorts and overrun with tourists. We soon realized that that area of the city is called Nuevo Vallarta, and the old town and center of town still retains much of its authentic charm. Little carts of food and goods were pushed along by vendors, lovely wrought iron balconies jutted out from colourful homes, laundry was drying on ropes strung in-between houses, there were numerous tree-lined parks near the river and the local people far outnumbered the tourists.
We noticed right away that the topography of this area of Mexico is quite different from that of the Yucatan. Lush, rolling mountains surround the massive Bay of Bandaras with its deep blue waters and golden shores. In the Yucatan, there are no mountains and it is quite flat. The trade-off is that the waters on the Caribbean side of Mexico are turquoise blue, calm and the sands are blindingly white.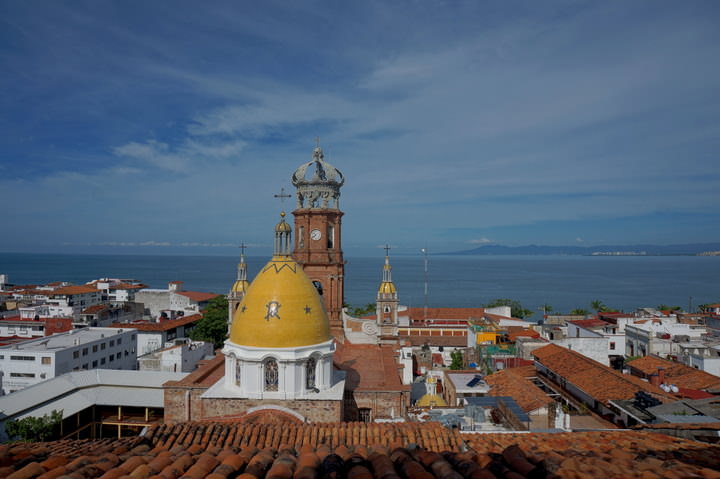 We travelled to Puerto Vallarta independently, stayed in a very affordable, beautiful hotel, ate amazing Mexican foods, wandered down back lanes to meet local people…and had an awesome time! We highly recommend that everyone travels independently to Mexico. Contrary to belief, this type of travel is cheaper than an all-inclusive resort package and the experiences you'll have outside of the hotel gates will be unforgettable!
After exploring for 2 days, we were off to the little surf town of San Pancho, which we decided would be our temporary home for the next two months!
Goat Notes for Travellers:
To get downtown: from the airport, go out of arrivals, turn left and walk until you see the pedestrian overpass. At the base of that walkway, there is a bus stop on the same side of the road as the airport. Catch the bus (blue and white) that says "Centro" on it to take you to where you want to go downtown. The journey takes about 30 minutes and the cost is $7.5 pesos ($0.60 USD).
For a place to stay: we recommend staying at Hotel Catedral, which is in a great area of the city. It's clean, the staff are awesome, it has wi-fi and the beds are comfortable! Make sure to check out the rooftop area as well. The cost of a double room is 700 pesos for two people ($50 USD). Click here to book a room, or click here to contact the hotel.
For cheap drinks: Check out Sea Monkeys Restaurant for $1 beers and margaritas…all day long!
For delicious breakfast: Near Hotel Catedral you'll find CoExist Restaurant, which has good western and Mexican meals, but for a more authentic meal, check out El Hurachan Mexican restaurant and bar just down the road from the hotel. Cheap, delicious meals are served here and the owner, Frank, is the best.
To move on north: To leave Puerto Vallarta and go north, catch a local bus that says "Wal-Mart" on it. After about 25 minutes, you'll arrive at the Wal-Mart, where you'll need to get off and switch buses to your next destination – Bucerias, San Pancho, Sayulita, Punta de Mita, etc. Bus workers will be at the bus stop to help you get on the right bus.
Have you ever been to Puerto Vallarta? Did you travel there independently, or with a resort package? Share your thoughts with us below in the comments!
A special thanks to Hotel Catedral for hosting us during our stay in Puerto Vallarta! As always, all opinions, thoughts and reviews remain our own 🙂
Like it? Pin it! 🙂