First I have to say that finding Google Flights was one of the most exciting things we've discovered online since Johnny Ward's travel blog (which inspired us to start this one). And no, Google isn't paying us to write this post (although they should… they probably pay very well). We just found out about Google Flights a few days ago and we've been spreading the word amongst our friends and everyone is just as amped as we are. It's time that we share this amazing service / travel hack with you guys!
What Makes Google Flights So Great?
You know how whenever you're searching for a flight, you use about 6 different search engines (well, you should), because each one has a feature that you like. One website shows a full week of fares, one allows you to track flight costs, and on another booking engine you can choose to book onward flights in a package deal. Well Google has all of these features, plus one more that makes it BY FAR the best booking engine we've ever seen.
You Can Search Flights By Country or Region!
We've been wishing and hoping for this feature to appear in flight booking services since we started travelling in 2008 and finally the Google gods have answered our prayers!
We'll go over the other features of this site soon, but the main difference that we've found, which we haven't found with any other booking site, is the ability to search for flights to a particular region.
For example, if you want to fly to Europe, but you don't really care what country you land in because you just want the cheapest possible flight, with Google Flights you can type in your departing city and for destination, you can simply put "Europe".
Google Flights will then open a map of Europe with fares on each city, so that you can easily choose the cheapest place to fly to. All Europe travellers know that once you're in Europe, you can fly anywhere for under $50 with airlines like Easy Jet and Ryan Air, so this feature will save a lot of time and money.
For spontaneous vacationers, full-time travellers and digital nomads like ourselves, this feature is priceless. Finally, we can choose what region we want to travel to and find the best possible rate in 5 seconds, rather than having to search through thousands of cities, airports and airlines.
I just have to say… Thank-you Google!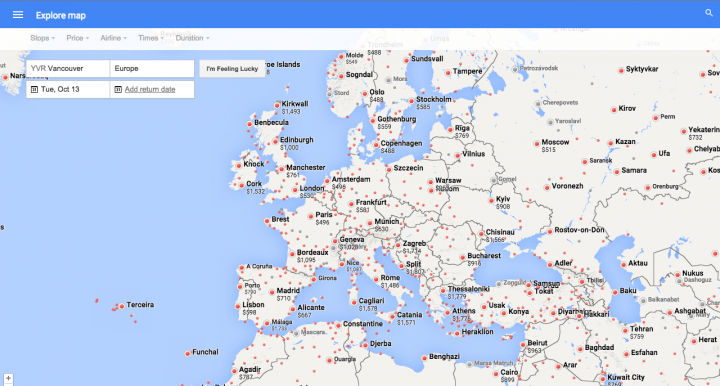 The same tool works when you type in a country as your destination. There are over 5,000 paved runways in the US alone, so being able to choose a nation as the destination, and then picking the cheapest airport to land in will save travellers a ton of money.
But that's not all. As we said earlier, Google Flights has all of the features that hardcore travellers look for in a booking site, so let's continue…
1 Month of Fares!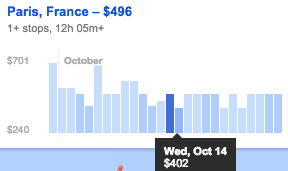 So you're looking at the map and you see that if you fly into Paris, it's going to save you $250 so obviously that's your decided port of entry into Europe. Now you simply click on the fare next to Paris on the map and a pop-up appears that shows an entire month of fares. Now you can look through the dates and choose which one is the cheapest.
Sometimes you can save up to 75% off of the flight cost just by booking on the right day of the month (we've tested it). You'd never see all those fares on a normal booking site unless you spent hours re-entering your dates and searching different airlines.
Multi-City Tab
Not all booking engines have this feature, but Google Flights does. It allows you to group multiple flights together so that you can save big money.
We flew from Guatemala City to Havana, and then Havana to San Jose, Costa Rica using this handy little hack and it saved us $200 each.
I'm Feeling Lucky
Once you've chosen a destination region and expanded the map view, you can click the "I'm Feeling Lucky" button to scan through random destinations and see which one is the cheapest. How fun is that?
Maximum Flight Time
Nobody likes to be in transit for 36 hours. Simply drag the "Flight Time" indicator down to your maximum allowable travel time and the flights will automatically update. We like to keep it under 24 hours if possible!

As usual you can do the same with departure times, number of layovers and fare price.
Best Flight Indicator
Google will do all or your calculations for you. Once you've chosen a destination and you're looking at that long list of fares, Google will calculate which flight gives you the best bang for your buck based on a combination of cost and speed.

Handy Tips Bar
When you're booking a flight, there is a "Tips Bar" at the top of the screen and it will tell you how much you can save if you decide to book a bit earlier, later or from a different airport.
Happiness Factors
This feature is fantastic. Google Flights has teamed up with Routehappy to include comfort and happiness factors into their search results. When you're booking your flight, you can see the aircraft model, seat type, cabin layout, integrated entertainment, power sockets, Wi-Fi provision and fresh food availability right next to the fare. You can even see how much leg room you'll have!
A good deal is only a good deal if you're happy and comfortable while you're in the air. Sometimes an extra couple of bucks is worth it if it means you have have wi-fi, food and power sockets on the plane!
Flight Fare Tracking
Simply click the "Save This Itinerary" function and Google will warn you of significant price drops via the Google Now app which will send you notifications on your smart device.
Some Features We'd Like To See
Okay, Google did a good job of creating this flight booking engine, but as always… we as the consumer figure we could have done better. Here are a few features we'd like to see implemented in the future:
Flight & Hotel / Flight & Car Rental Tab: These tabs offer huge savings on other booking sites so we'd like to see them on Google Flights as well.
Lowest fare to anywhere: Google has all of this amazing information about flight costs, history of fares and discounted rates, they should include a "Best Flight To Anywhere" button for real spontaneous travellers like us. Google could search the whole map and find the lowest fares based on historical searches. Kind of like a worldwide "I'm Feeling Lucky" button based solely on price.
Low Fare Highlighter: Once you choose a country or region in Google Flights, you have to manually scan through the fares on the map to find the lowest one. Google should highlight the best deals based on the fares history.
We Hope You Find This Useful
We loved this flight booking engine so much that we just had to share it with you guys. It has pretty much every feature we have ever wanted, plus the amazing new innovation that allows you to choose a destination region to fly to, rather than just a city.
Leave it to Google to take something that's been around for years and make it ten times better. If this doesn't save you money and time when you're booking your future travels, I don't know what will! This article is a veritable travel hack bonanza and everything can be found on Google.com/flights. Enjoy!
Like it? Pin it! 🙂