Whether you're a carnivore, pescetarian, vegetarian or vegan, you'll find the food you're looking for in the deliciously diverse cuisine of India. I am personally a meat eater, but because the vegan food in India is so delicious, it's easy to avoid meat completely when travelling there. To me, the rich vegetable curries, crunchy papadum and soft naan are the best dishes. When I'm travelling in India, I'm on a completely vegetarian or vegan diet.
While India definitely has some of the best food of any country in the world and it's also one of the cheapest countries to visit, planning a trip to India can be a pretty difficult task and getting from point A to point B can really test your patience, but when you arrive in a new town and get to taste the regional specialties, it makes it all worth while.
While I do enjoy the cream based curries and buttery naan breads, some of the best Indian dishes are completely vegan. Before we get started with our favourite dishes, I'd like to introduce you to a few key words in Hindi because if you're looking for vegan food in India, these words will be handy when ordering your first Indian meal.
The Hindi word for vegan is Śākāhārī (शाकाहारी)
Other important words:
Without – Binā (बिना)
Cheese – Panīra (पनीर)
Meat – Manasā (मनसा)
Egg – Aṇḍā (अंडा)
Seafood – Samudrī bhōjana (समुद्री भोजन)
Poultry – Pōlṭrī (पोल्ट्री)
Dairy – Ḍēyarī (डेयरी)
Honey – Hanī (हनी)
Note: If you're shopping at grocery stores to cook for yourself, you can use the country-wide mandatory labeling (below) to ensure that your ingredients are vegetarian. Unfortunately, there is no vegan (pure-vegetarian) labeling as of yet.
The Best Vegan Food in India
Luckily for vegans, even after siphoning off the meals on the menu that include the above ingredients, you'll still have a lot of tasty dishes to choose from. Some of the dishes below may be garnished with butter or cream and while it's easy to ask for them to omit those ingredients, your best bet is to go to "pure vegetarian restaurants", which won't use any animal products.
If you're travelling with a guide who speaks the local language, you'll be able to order vegan food in India with no problems. If you're travelling independently, practice the above words or ask around for someone who speaks English.
Here are some of my personal favourite vegan foods in India:
Vegetable Biryani: You'll have to request that they fry with oil, not butter. This is the Indian version of veggie fried rice and it's absolutely divine. With a huge mix of spices including nutmeg, mace, pepper, cloves, cardamom, cinnamon, bay leaves, coriander and mint, it's no wonder that this flavourful dish is famous all over southern Asia. You'll often find dismal attempts at a veg biryani served in train restaurant cars, but your best bet is to hit the streets for this meal. Quality and flavour can vary greatly, but if you get a good one, you'll be craving more!
Aloo Gobi: 
Directly translated,
Aloo Gobi
means "potato cauliflower" and it's just that. This savory dry curry is typically spiced with turmeric, curry leaves and sometimes kalonji. The turmeric gives the dish its yellowish hue, while garlic, ginger, onion, coriander, tomato, peas and cumin round off its flavour and add to its robust aroma.
Aloo gobi
is best eaten with a delicious plain 
naan bread or
chapati 
(no butter).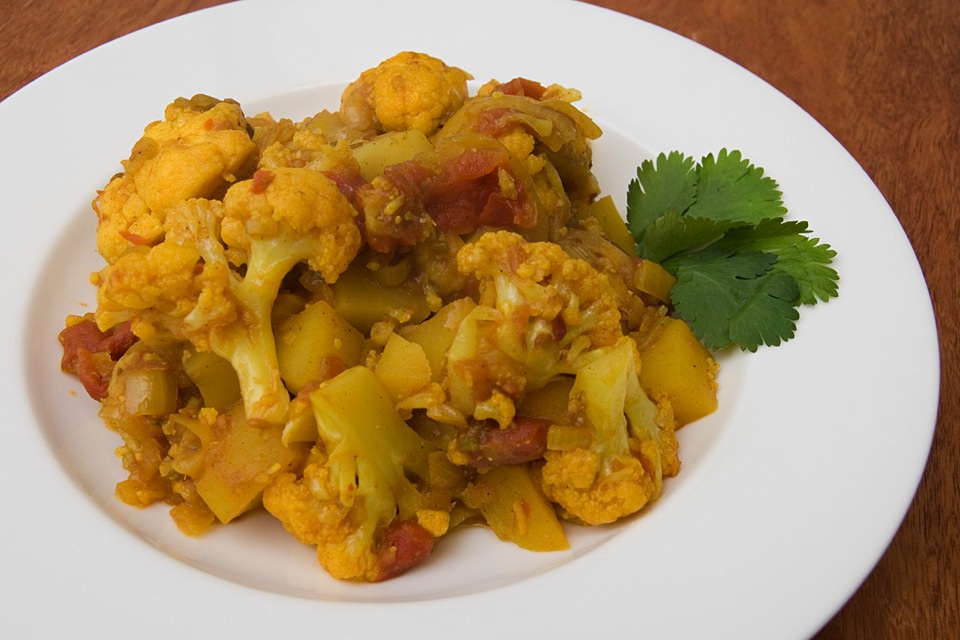 Aloo Puri: Puri refers to the delicious, whole-wheat, puffed bread that accompanies this famous South Indian favourite. The potato (aloo) comes in a delectable spicy gravy and makes the perfect dipping sauce for the steamy bread pockets.
Masala Dosa: 
This scrumptious dish is typically served for breakfast or lunch and it is completely vegan as long as you confirm that they don't use 
ghee 
(clarified butter) to fry it. Masala Dosa is a thin, crispy, savory pancake made from fermented rice and
dahl
(lentil), wrapped around a mix of curried potatoes, onions and spices. The mixture is typically dipped in chutney and
sambar
 or a side of curry gravy. Technically a South Indian dish, Masala Dosa is also one of the most popular exported Indian meals and it is found in many parts of Southeast Asia and
Nepal
. You have to try it, it's the best vegan food in India, and one of our personal favourites!
Note: The masala dosa pictured below (center of the photo) is accompanied by idli and vada (to the right). While these two sides are tasty, sometimes they are made with fermented milk as well as rice flour. Ask before eating them. 
Pakoras: 
The perfect vegan snack!
Pakoras
are small, bite-sized bits of spiced (eggless) bread and mixed vegetables, deep-fried and often served in a folded newspaper. There are some
that are made with chicken and cheese, so you'll have to request vegan-friendly ones. Street stalls around Kolkata and Chennai cook up some of the best
pakoras
, but you can find them all over the country. They make for excellent train food for those long, hungry journeys.
Dahl Tadka: 
This dish is sometimes garnished with 
ghee 
(clarified butter), so ask them not to do so. It's worth the request because this is one of the best dishes to ever come out of Punjab. Known as "yellow
dahl
", the simplicity of
Dahl Tadka
is what makes it so delicious. Made from onion, ginger, garlic, tumeric and of course
dahl
(lentils), this thick, steamy yellow curry can often be found in 
thalis 
(all-you-can-eat Indian lunches). If you're looking for protein packed vegan food in India, this is one of the best dishes.
All of the dishes above are best eaten with papadum (a thin, crispy chickpea chip) or naan (delicious, soft bread made in the tandoor oven). 
Order Up!
If you're planning a trip to India, make sure you try as many different dishes as you can. You can order any vegan meal on the menu and know that it will be delicious and healthy. Indians have a very close connection with their food and they take pride in their spices, flavours and aromas. They also consume less meat per capita than any other country in the world, so they'll understand and honour your requests!
If you've read our articles about India you know that we love to travel independently, but if you'd like to experience India's culture, cuisine and chaos without any stress or frustration, consider a 2 week package with Eshores.co.uk. The Golden Triangle trip will take you through Kerala which has some of the best food in the country.
No matter how you visit India, make sure you do as the locals do and eat with your hands, get a bit messy and enjoy the communal ambiance of an Indian meal at a restaurant. This is the best place for food-loving vegans, so get your taste buds ready for a spicy adventure through one of the most culinarily diverse countries on earth.
Like it? Pin it!