Blessed with a rugged coastline, sandy beaches, and pine forests, the hiking trails in Nova Scotia are diverse and beautiful. No matter your skill level, there's a hike in Nova Scotia for you.
Most people begin their trip to Canada's second-smallest province in the city of Halifax. From the capital, there are lots of nearby paths and trails waiting to be explored. Getting around with your own wheels is the best way to do so.
The best time to explore by foot is the summer months when the weather is more predictable and warm — however, that also means more people on the trails. Springtime and autumn are also great seasons for hiking Nova Scotia.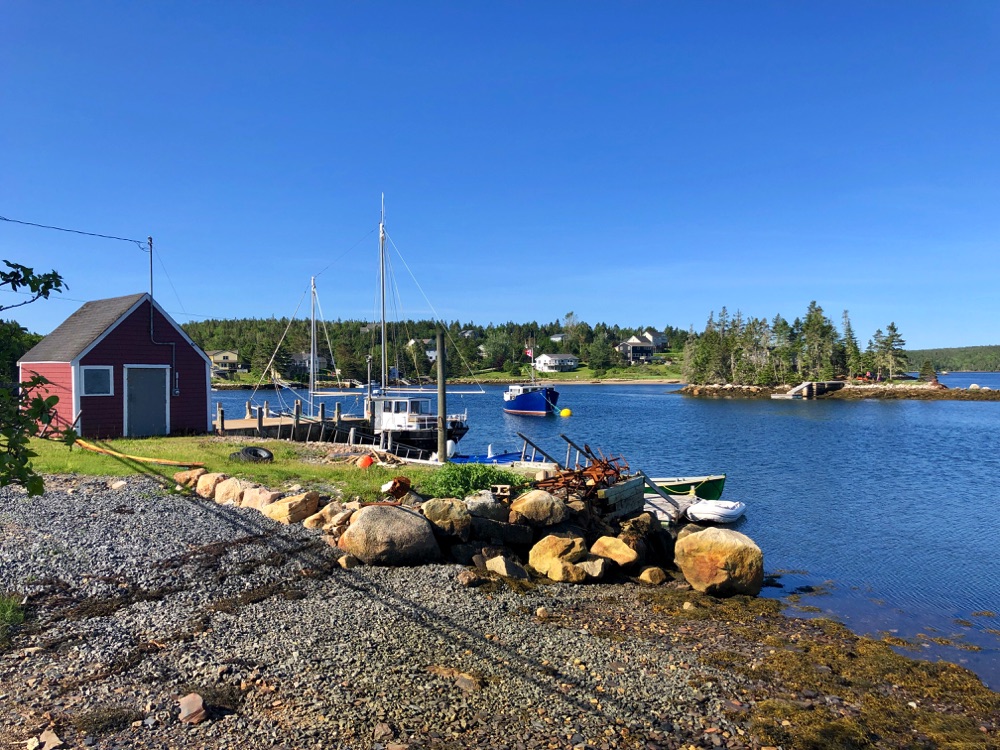 We spent 15 days driving all around the province; starting from Halifax, heading west to Yarmouth, central NS, and across to Cape Breton Island. Along the way, we explored as much of the natural beauty of the province as possible.
Lace-up your hiking boots, pack some food and water and head out on a hike in Nova Scotia. Here is a list of 10 recommended routes.
1. Kejimkujik National Park (Hemlocks and Hardwoods Trail)
Try saying that 5 times!
Nova Scotia has just two National Parks; Cape Breton and Kejimkujik, or simply "Keji" for short. The park is split into two sections: Kejimkujik National Park & National Historic Site, and Kejimkujik National Park Seaside.
This was our favourite place to hike in Nova Scotia, the natural beauty was incredible! Make sure to add Keji to your list, it's definitely one of the best places to visit in Nova Scotia when it comes to nature and history.
Kejimkujik National Park and National Historic Site
If you're looking to get away from it all and enjoy a peaceful day out in Mother Nature, this is a good spot. Here you can go camping, cycling, canoeing, geocaching and of course, hiking.
There are 15 regular hiking trails here in the park and 2 backcountry routes offering a wide range of lengths and difficulty levels. Many of the routes are short, but we found a good in-between hike, the "Hemlocks and Hardwoods" trail.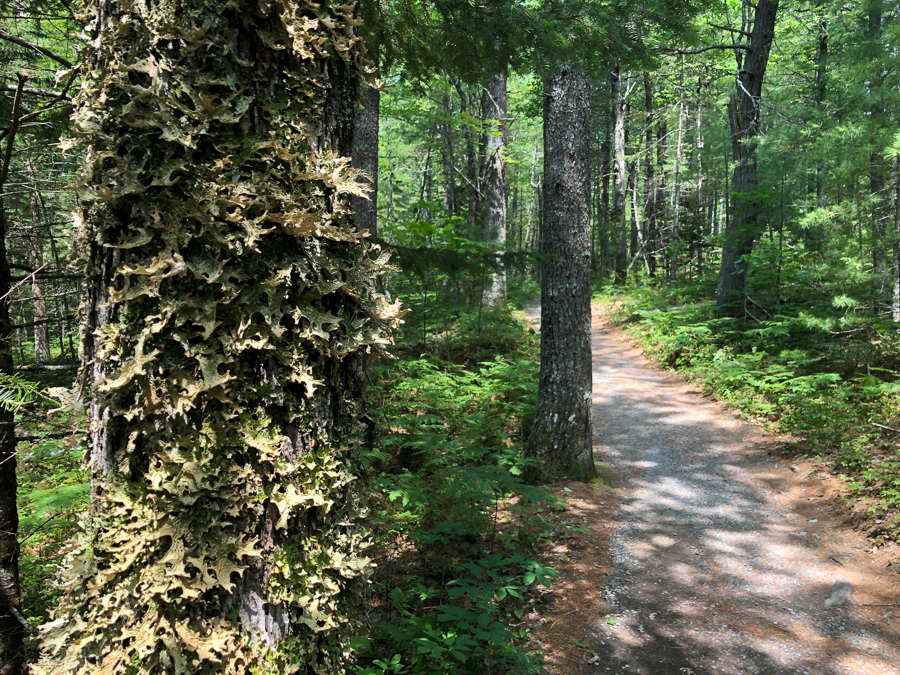 During this 5 km (3.1 mi) loop hike, we only came across one other person! This was a very peaceful hike through 300-year-old Hemlock trees. The majority of the trail is natural, but a portion is along a wooden boardwalk, built to protect the roots of the enormous conifers that tower above.
If you're up for the challenge, there's the Eel Weir to Fire Tower loop (19.5 km/12.1 mi), Channel Lake trek (overnight, 24 km/15 mi), Big Dam/Frozen Ocean (overnight, 23 km/14.3 mi), or the multi-day 60.5 km/37.6 mi Liberty Lake route.
Click here to find Kejimkujik National Park on the map, and click here to learn more about the hikes available in the park.
Kejimkujik National Park Seaside
Located 100 kilometers to the southeast of inland Keji is Kejimkujik National Park Seaside.
If you're looking to do some hiking by the Atlantic, this is a good place to do so. Check out the easy, 2.8 km (1.73 mi) linear Harbour Rocks Trail which passes by bogs, forest, a gorgeous sandy beach and Harbour Rocks.
Keep your eyes peeled for various birds, flowers, and if you're lucky a seal offshore!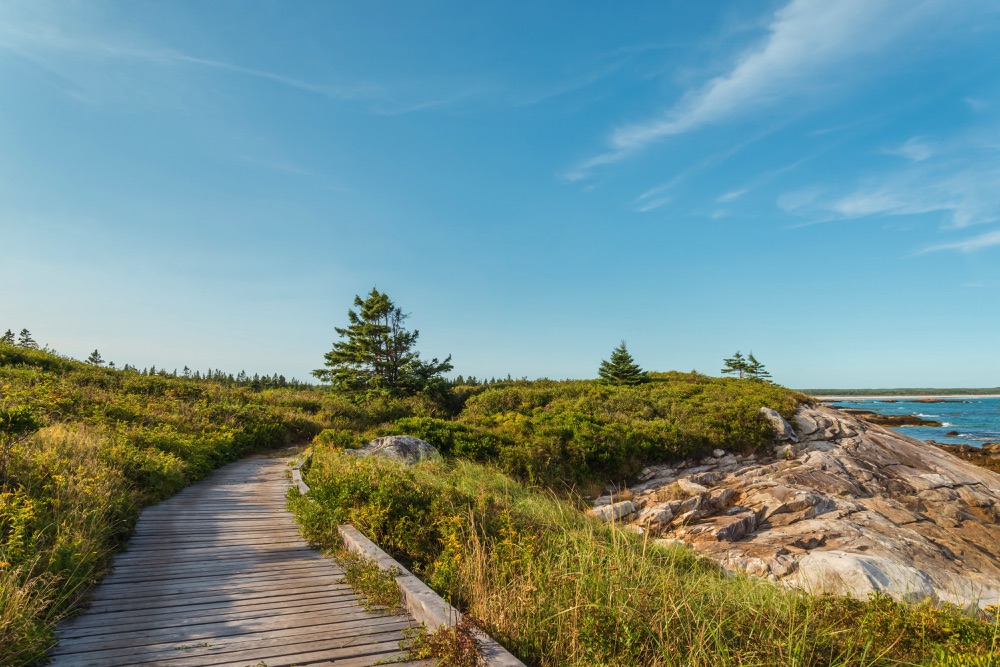 Another option in the Kejimkujik National Park Seaside is the longer, more difficult 4.4 km (2.73 mi) Port Joli Head loop trail. This route crosses a bog, past coastal forest, and opens up at the head with amazing coastal views, complete with crashing Atlantic waves.
You can do the route counterclockwise, or clockwise, but if you do the former, you'll save the white sandy beaches for last! Click here to find Kejimkujik Seaside on the map.
A good place to base yourself for exploring this National Park is White Point Beach Resort, which is just a 25-minute drive to Keji Seaside (about 1 hour to inland Keji). This resort has been a Nova Scotia vacation staple since 1928.
We loved the onsite hiking paths, the gorgeous private beach, the live music in the evenings, the view of the ocean while dining, and the lovely cottages.
Note: At the time of writing, Port Joli Head trail was closed due to some damage caused by Hurricane Dorian. Keep an eye on Parks Canada to see when this beautiful route will reopen.
2. Pennant Point (Crystal Crescent Beach)
If you're coming from Halifax, before you reach the famous Peggy's Cove and its iconic lighthouse, make sure to pop in at the lesser-known Pennant Point, one of the many "fingers" comprising Nova Scotia's jagged coastline.
While the aptly named Crystal Crescent Beach is well-known by the locals, the less popular Pennant Point trail is a great hike, just a 40-minute drive from the capital.
This is a nice loop following blue markers, taking you through a variety of terrain during the 10.5 km (6.5 mi) trail. Starting on the sandy beach, the track brings you into the forest, before looping around the perimeter of the point (along the coastline) and back to the start.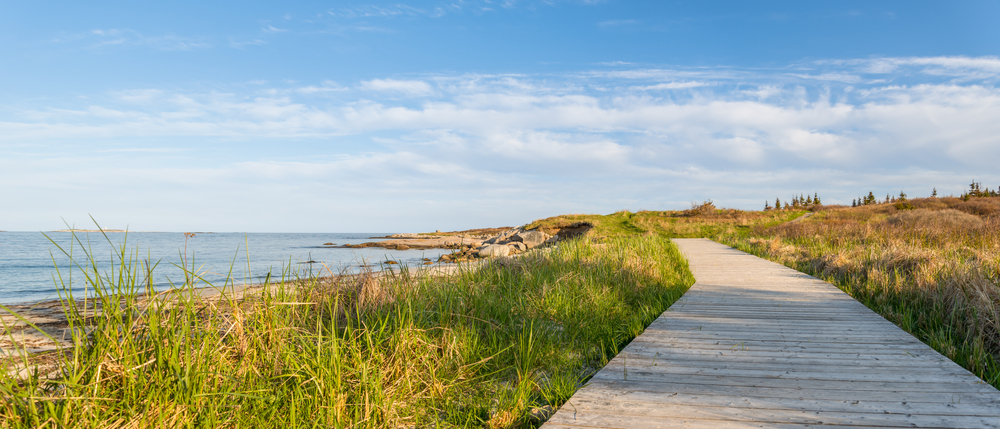 The scenery and terrain you'll experience during your visit depends on the time of year. If you're in the area in the summer (like we were), you'll likely find blue skies, calm water, and more greenery and flowers, while during the winter and autumn months you could experience more fog, a damper trail, and a wilder coast!
Regardless of the time of year, there can be some muddy parts on this hike and the back half is a bit narrow and overgrown. Be prepared with proper footwear — and bug spray! Once you're finished hiking, continue west to see Peggy's Cove, or return to the capital for a bite to eat.
Click here to find Crystal Crescent Beach and Pennant Point on the map, and learn more about the trail here.
3. Middle Head Trail
Located on Cape Breton Island in the National Park of the same name, this is a short but sweet hike.
Middle Head Trail is located in Ingonish, with trailhead access from next to the highly-rated Keltic Lodge. This 3.8 km (2.4 mi) loop can be enjoyed by all fitness levels and is one of the best hikes in Nova Scotia.
Jutting out into the Atlantic is the Middle Head peninsula, with the trail taking in the perimeter of the neck. Enjoy spectacular views of the ocean, Cape Smokey, and Ingonish Island from the tip of the peninsula. Keep your eyes peeled for whales and seals!
Unfortunately, we didn't spot any marine life during our hike, but there were many seabirds, squirrels and woodpeckers.
There are lots of trees on this route so you won't be short on shade when hiking in the summer. If you're looking for a picturesque place for a leisurely hike, you'll want to check out this 1.5-hour hiking spot.
Click here for directions to Middle Head Trail.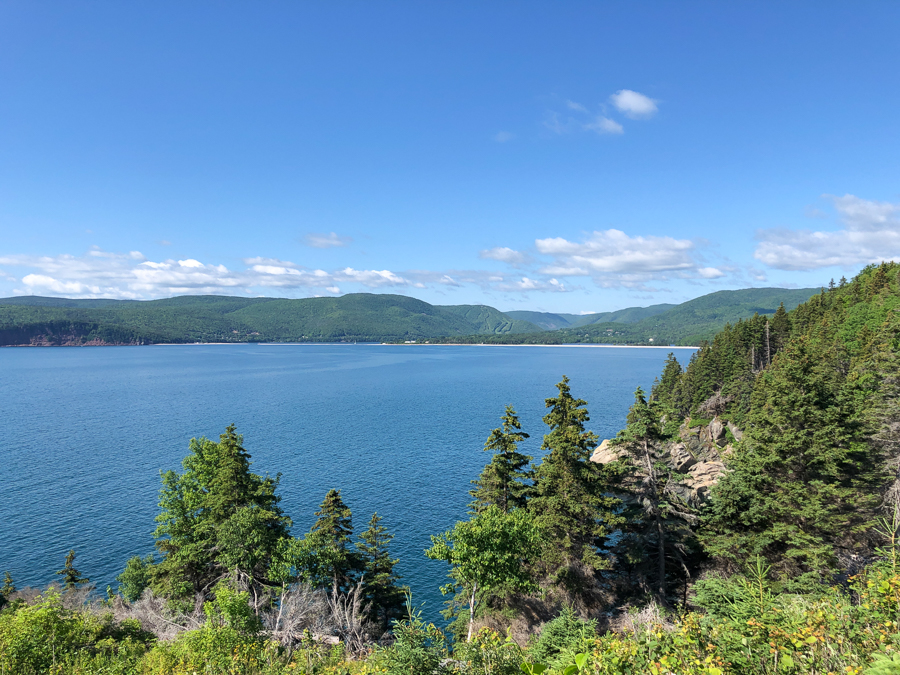 4. Franey Trail
Sticking nearby, next up is Franey Trail. Even though it's located just a 10-minute drive from Middle Head, this is a more challenging trek.
Many of Nova Scotia's hiking routes are located along the coastline, but Franey Trail is all about the mountains and forest — with lake and ocean views!
There's an elevation gain of 341m (1,118ft), making the way up a bit difficult. However, if you're fairly fit, you shouldn't have any issues and the loop should take you about 2 – 2.5 hours to complete.
Once at the top, enjoy a reward for your efforts!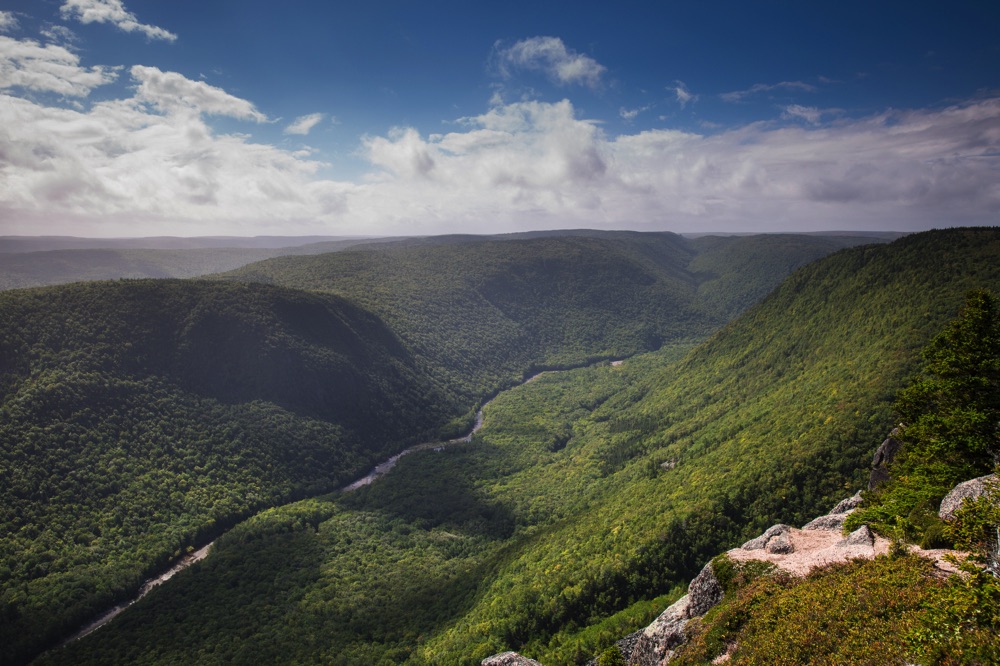 Sit on one of the many rocks and gawk at the expansive views of the Clyburn Brook canyon below and the Atlantic coastline further afield. You'll also be able to spot the Middle Head peninsula from this vantage point.
The Franey Trail is a loop trek, but many people opt to hike down the same way they came up as the fire road down isn't as interesting.
Make sure to bring lots of water, bug spray, sunscreen, and some snacks for this trail. And, keep your eyes peeled for moose.
Click here to find Franey Trail on the map and learn more about this hike on the Parks Canada website.
5. Spry Bay and Headland Trail
The Taylor Head Provincial Park is home to 5 marked trails, with Spry Bay and Headland being an excellent choice to fully enjoy the area.
If you're not keen on a longer hike, you can just do the Spry Bay loop. But, if you're up for it, continue to the headland and enjoy the view from the point. In total, it should take about 3 hours to complete both Spry Bay and the Headland loop.
Walk through coastal forest, rocky beaches, marshlands, and more — this is a great place to experience numerous natural habitats. Keep your eyes peeled for porcupine (and keep your dog on a leash!), seals playing in the bay, and lots of seabirds.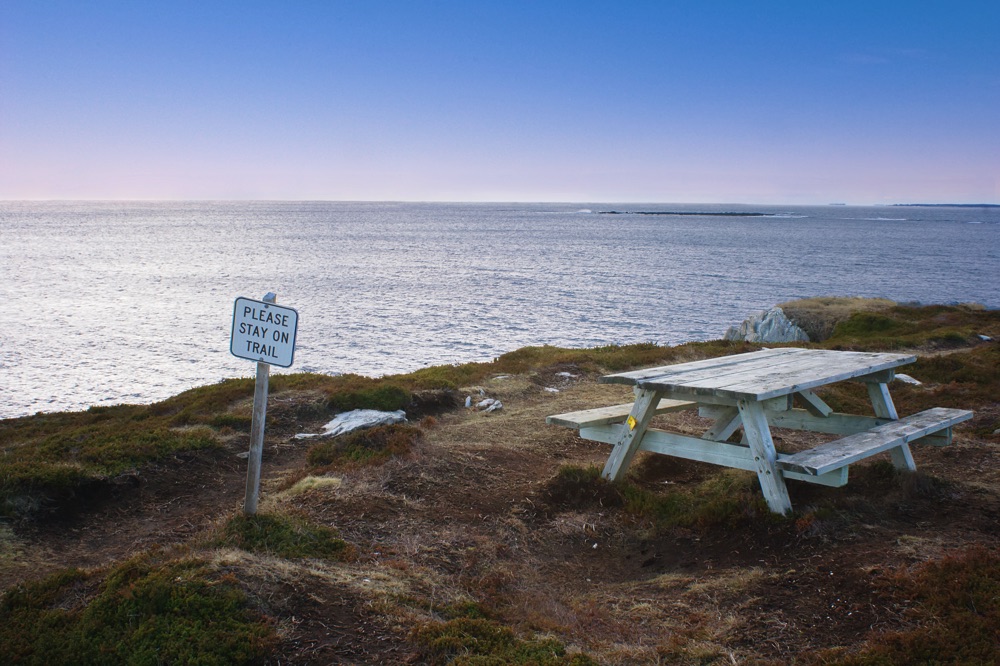 As this is a coastal hike leading out to a headland, be prepared for changes in weather…and wind. Click here to find Taylor Head Park on the map.
6. Skyline Trail
This is one of the most popular hiking trails in Nova Scotia. During our visit, the route was quite heavily trafficked, but we chose to complete the loop, rather than just an in-and-out hike, and were rewarded with a quieter track.
Located in the Cape Breton National Park, the Skyline Trail offers epic views of the Cabot Trail road, the Gulf of St. Lawrence, and Cheticamp Island. If you're lucky, you'll spot whales in the water and moose or a bear on the trail!
The path is well maintained and once you reach the headland, there's a wooden boardwalk with steps (to protect the fragile foliage) leading down to a point.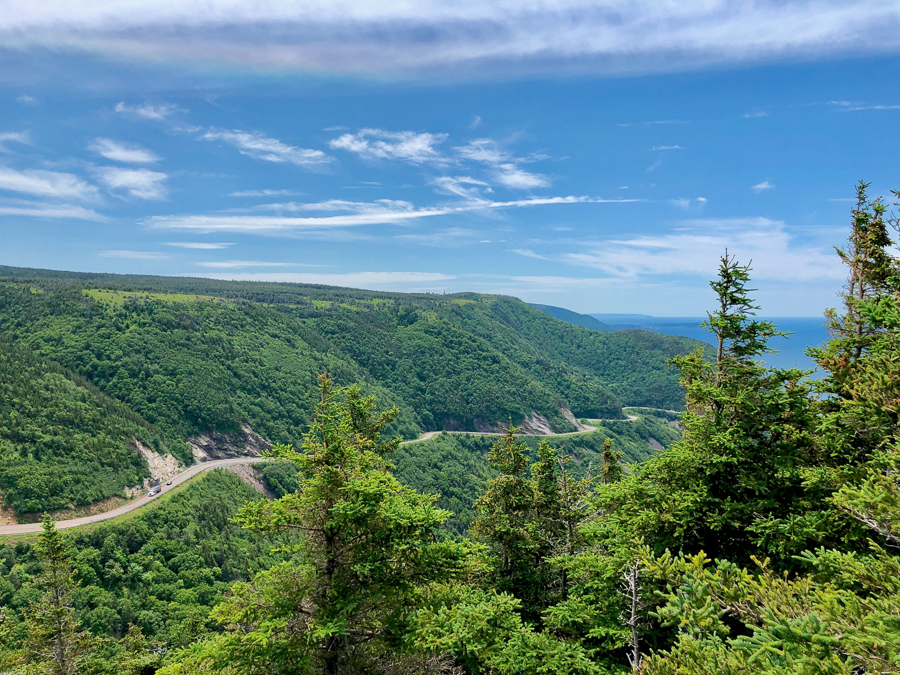 If you're hiking Nova Scotia in the summer, I recommend completing the 8.2 km (5.1 mi) loop rather than backtracking the way you came in.
The backside of the loop is more rugged and definitely quieter. In total it will take about 2-3 hours to complete the beautiful Skyline Trail.
Click here for directions to the Skyline Trail.
7. Cape Split Trail
In the Bay of Fundy & Annapolis Valley area, you'll find this popular hike in the Provincial Park of the same name. The scenery along this forest path route is nice, but it's the endpoint that's the real star of the hike.
Opening up at the tip of the headland, you'll spot The Spires (a rock formation) jutting out of the water. With nothing but expansive views of the Bay of Fundy, this is a great place to enjoy a picnic.
Totalling 13 km (8 mi) and about 5 hours return, the Cape Split trail is considered a moderate hike by many websites, but it's more on the easy side. If you're prepared with water and good shoes, and in relatively good shape, you'll be fine.
Be aware that the cliffs here are eroded and it's advised to stay well away from the edge.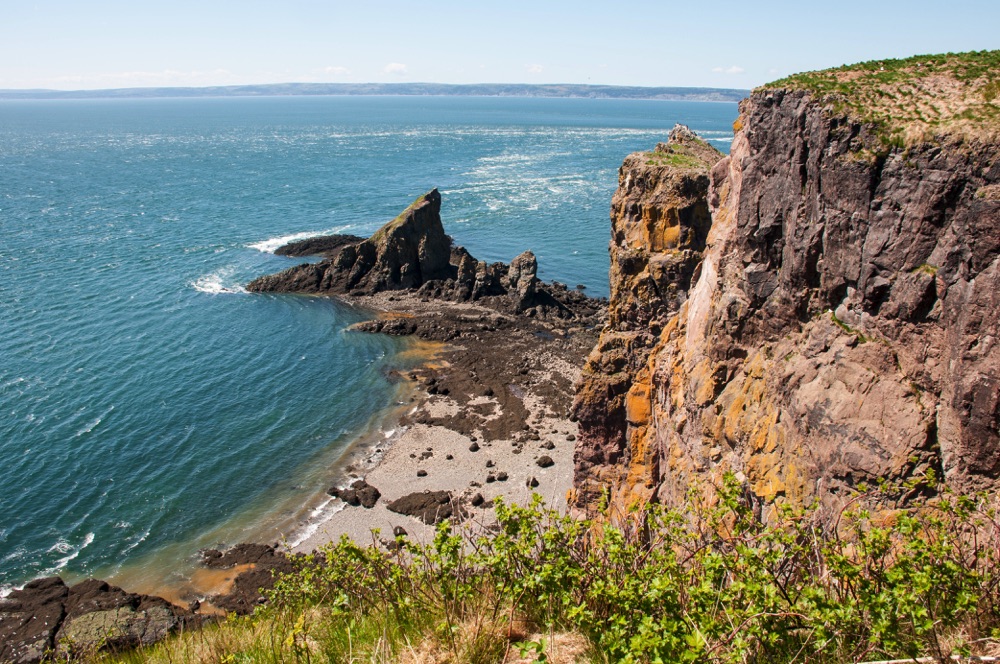 Once you're finished your hike, drive 35 minutes and spend some time in and around Wolfville and the Annapolis Valley, Nova Scotia's premier wine region.
I recommend staying at the historic Blomidon Inn and eating at the Church Brewing Company — a church turned pub. Or, stay just 5 minutes from one of the most popular vineyards at Victoria's Historic Inn.
Finally, don't forget to join a wine tour so you can fully enjoy yourself without having to drive. We went with Grape Escapes and had a great day!
8. Pot Lake Loop
This beautiful area is located quite close to Halifax, making it a great day trip from the city.
Pot Lake Loop is one of four consecutive loops, with the entire area known as The Bluff Wilderness Hiking Trail. If you stick to just Pot Lake Loop, you can expect a scenic 7.4 km (4.6 mi) hike, which should take about 3-4 hours.
The views along the trail are great, but the icing on the cake is when you reach the end and enjoy panoramic views of Cranberry Lake and Pot Lake.
Spend some time here on one of the many flat boulders and enjoy a picnic. Bring lots of water, and make sure to pack out what you pack in.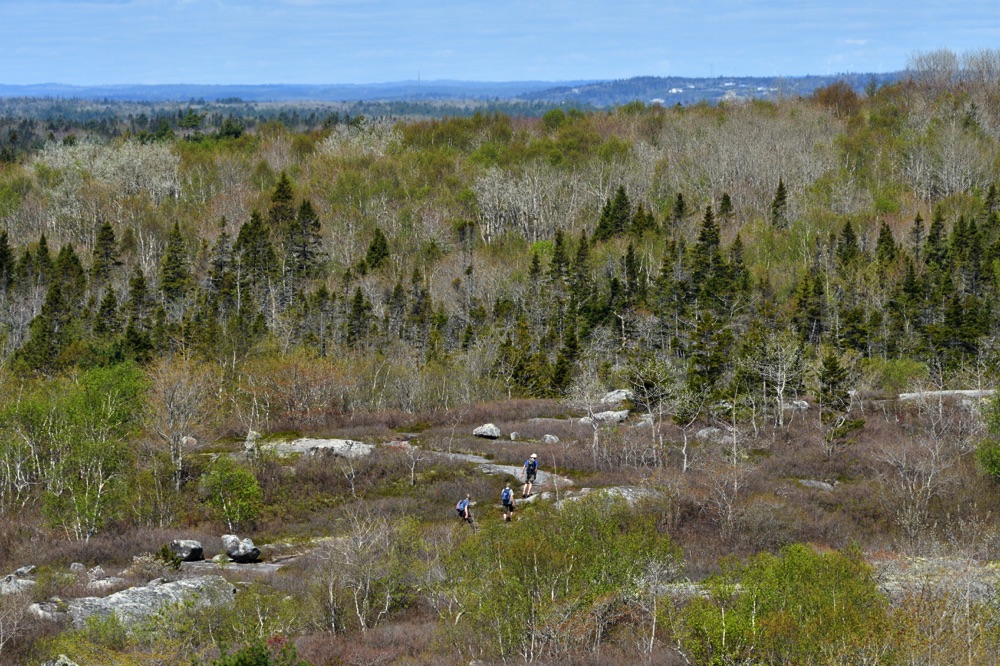 If you're feeling energetic, the second loop (the Mi'kmaq Hill Loop), is 17.4 km (10.8 mi) return. Or, visit again and try the third and fourth loops — Bluff Loop and Hay Marsh Loop.
These are much longer at 23.4 km (14.5 mi) and 29 km (18 mi) and are considered backcountry hikes, so make sure you're properly prepared and able to tackle this type of adventure.
Since Pot Lake Loop is just a 25-minute drive from Halifax, you can be back in time for dinner and a pint of beer on the waterfront at The Bicycle Thief. Try the ragu or the lobster roll — you won't be disappointed!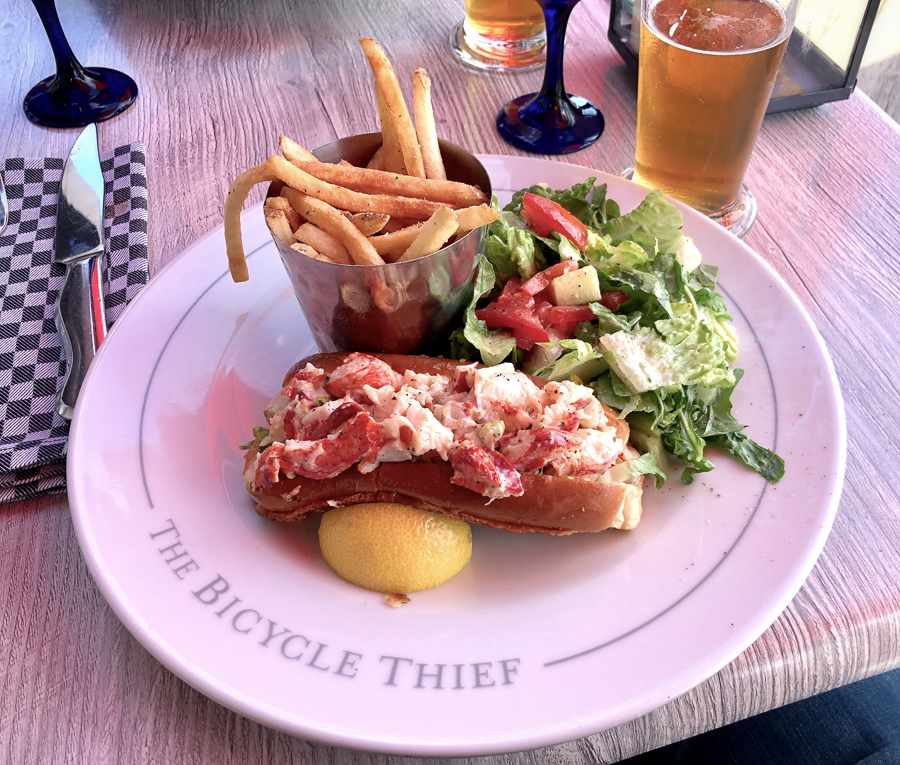 You can find the parking lot for these trails on the map, here.
9. Uisge Bàn Falls Provincial Park
If you're looking to add swimming in a waterfall to your Nova Scotia hike, check out Uisge Bàn, which is Gaelic for "white water" and is pronounced "ish-ka-ban".
This easy, yet scenic, hike passes through a variety of trees (birch, maple, and beech woods), before arriving at a 16 meter (50 ft) waterfall! Enjoy the scenery and the fresh air on this hike (it can be muddy autumn/winter) and go for a dip in the fresh water.
At 2.7 km (1.7 mi), it's a nice in-and-out trail that's good for all skill levels. Uisge Bàn Falls Provincial Park hike is located just a 20-minute drive from Baddeck, which makes for a great day trip from the village.
We stayed at the Inverary Resort in Baddeck and had a nice stay there — the property is set right on the Bras d'Or Lake in a gorgeous spot.
The newly renovated lakeside restaurant serves up pub food and tasty pints of craft beer. If you're feeling active after your hike, you can rent SUP boards or kayaks here as well.
Click here to find Usige Bàn hike on the map.
10. Celtic Shores Coastal Trail
Take your pick with this route! Running from Port Hastings in the south to Inverness in the north, this 92 km (57 mi) trail on Cape Breton Island is one of the best places to do long-distance hiking in Nova Scotia.
If you wanted, you could hike the entire length, while camping or staying at guest houses along the way.
Or, you can just choose to do portions of the trail, as we did. We pulled over just outside of the community of Judique when we saw the trail map and were instantly intrigued!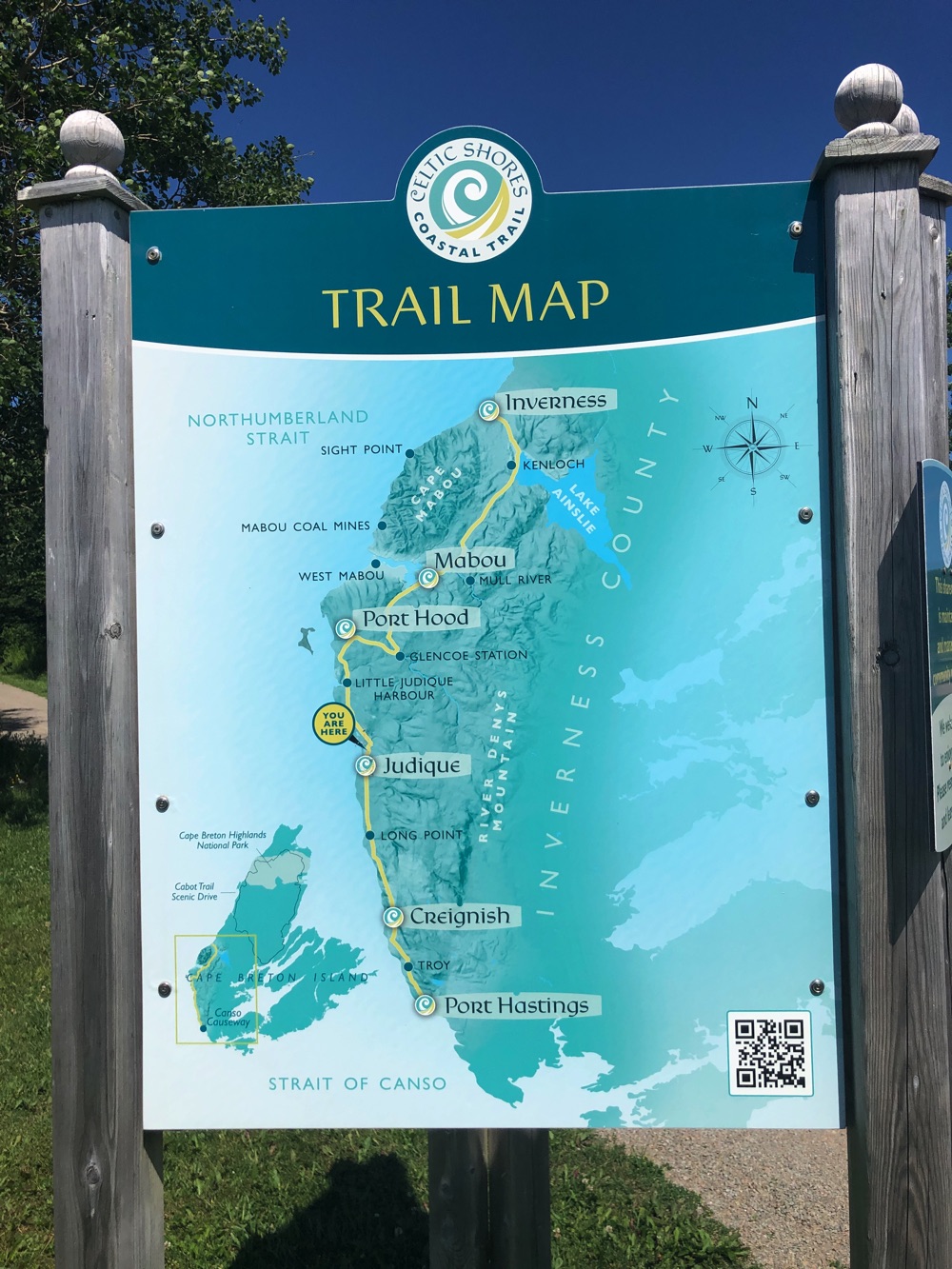 We parked the car, brought a small backpack with some water, and a jacket and went for a stroll. We had just filled up on fish cakes and chowder at the nearby Celtic Music Interpretive Centre and this was a great way to walk it off.
The trail is well maintained and flat, making for a very enjoyable walk.
Along the 92 km (57 mi) route, there are numerous places to visit and things to see and do. Don't miss the Glenora Distillery in Glenville (a great place to spend the night …and sample the whiskey), and the beach, golfing, and brewery in Inverness.
What To Pack For Your Hike
As with hiking anywhere in the world, you'll want to ensure that you're properly prepared when venturing out on the trail. But, when hiking Nova Scotia, it's especially important to be aware of the weather and pack accordingly.
Here are some things you should bring for a day hike:
A windproof/waterproof jacket – even if it doesn't look like it will rain.
Sturdy hiking shoes – the rocky coastline can be hard on the ankles, and you want to make sure you have good grip. We both wear Merrell brand hiking shoes.
Sunscreen and a hat for sunny days.
Bug spray – especially around bogs and marshland.
Small First-Aid Kit – with some basics such as Band-Aids (plasters), antihistamine, fever reducer, antibiotic ointment, tweezers, duct tape and nail clippers.
Water – more than you think you would need for the hike, it's better safe than sorry.
Snacks – protein bars, nuts, dried fruit, and pepperoni are good options.
A phone – if you need to make an emergency call (and for all the photos you'll want to take!).
Tips For Hiking Around Nova Scotia
I'm sure you'll have a great time hiking in the province, but here are a couple of tips and things to know before you head out.
Be aware of wildlife. Moose and bears are present in Nova Scotia and while they are incredible to see in the wild, you'll want to keep your distance. Give moose and bears a (very) wide berth, especially if cubs and calves are present.
Pack out what you pack in. Respect the environment and leave no trace when hiking in Nova Scotia. If you bring in garbage, make sure it comes out of the park with you and is disposed of in designated areas.
Be mindful of the weather. Clouds, wind, rain and snow can move in quickly on the eastern coast so make sure you're aware of the weather when you're heading out on a trek, and while on the trail as well. It's best to turn around if it's looking dark and ominous on the horizon.
Stay away from the edge. The rocky, craggy cliffs are very picturesque and naturally, you probably will want to get close to the edge and take photos. But, those gorgeous cliffs have been receiving the force of pounding Atlantic waves for years, and even though it might not be noticeable from above, the cliffs could be eroded below. Stay away from the edge.
Mind the tides. If you see a deserted bay below, think twice before making the trek down. The tides can move incredibly fast and what was once sand could very quickly turn to water — leaving you stranded. You can tell how high the tides come up based on the sand (whether it's soft and dry, or packed and damp). Best to be on the safe side and save the beach excursions for designated areas.
Enjoy These Hikes in Nova Scotia
For outdoor lovers and hiking aficionados, Nova Scotia will steal your heart with its rugged trails and wild coastline. In this list, I mostly shared easy to moderate hikes, but for those up for more advanced treks, you'll find them in the province as well.
Always heed local advice before setting off, and always be prepared for a change in weather — after all, this is Atlantic Canada. Enjoy the natural beauty of the province, and make sure to reward yourself with a fabulous seafood meal and glass of local wine or beer at the end of the hike!
A big thank you to the Nova Scotia tourism board for making our trip to the province possible. As always, all thoughts and opinions remain our own despite any complimentary services or accommodation offered. Some of the images in this article are courtesy of Shutterstock.
Like This Article? Pin it!