Honestly, you would think we were rookies or something. All we had to do was take a bus from Brighton to London, an underground train from one stop to the next and then a bus to York. When it came time to find the bus to York, we were running around like idiots. We didn't do our research and just assumed it was a bus…which we later found out was a train, THEN a bus. We ran outside the station and inside, asked about 10 people where to find the bus, I fell off the curb, landed hard on my knee and wrist…grrrrr!
We had about 5 mins to find the 'bus' before it was leaving…we figured we better start looking for a place to spend the night in London instead. Finally someone explained that it was a train first to a bus and we made it literally as the doors were closing. We sat down, shook our heads and stared out the window. The scenery on the way to York was beautiful, lots of little houses, sheep, farmland and old looking churches along the way. Our friend Richard met us at the bus station and we headed back to his and Rachael's house. Since we were in York, we had to have Yorkshire puddings!! They were delicious, think we had about 5 each. Caught up with them and had some beers that night and went to bed after long exhausting day.
The following day we walked around the beautiful City. It's a walled City and there are so many old buildings and cobblestone streets, it's a very romantic place. York is also known for being haunted. There are pubs and houses that are apparently haunted and have been on tv because of that.
Unfortunately we didn't go inside any of them. We walked along the wall surrounding the City, went into a church turned pub (hmmm…), went for lunch and went to the York Minster Cathedral. It was amazing. Much, much bigger than the cathedral in London. Lots of stained glass windows, intricate carvings and a huge organ playing music.
We spent quite a bit of time in there looking at everything. The next day we walked around downtown and stopped in for a Starbucks (horrible, I know) and had a delicious non-fat, extra hot, ½ sweet, caramel macchiato..oh how I've missed you! Rach and Rich only spent part of the day with us and then we were on our own. We went back to the Cathedral and listened to the choir singing, went to the old library behind the building and the oldest book we found in there was from 1802! We went on a ghost walk around the town with a guide and a group of people, the guide was slightly crazy and it wasn't scary, more like funny, but he was quite the character so we had a good time anyways. We navigated our way around the City and back to their place and had our final drinks with them before leaving the next morning back to Brighton.
Said our goodbyes to Nicky and Surj and headed to the airport. Time to say farewell to England, the pints, the greasy food, our friends and the beautiful architecture….off to Malaga, Spain!
Like it? Pin it! 🙂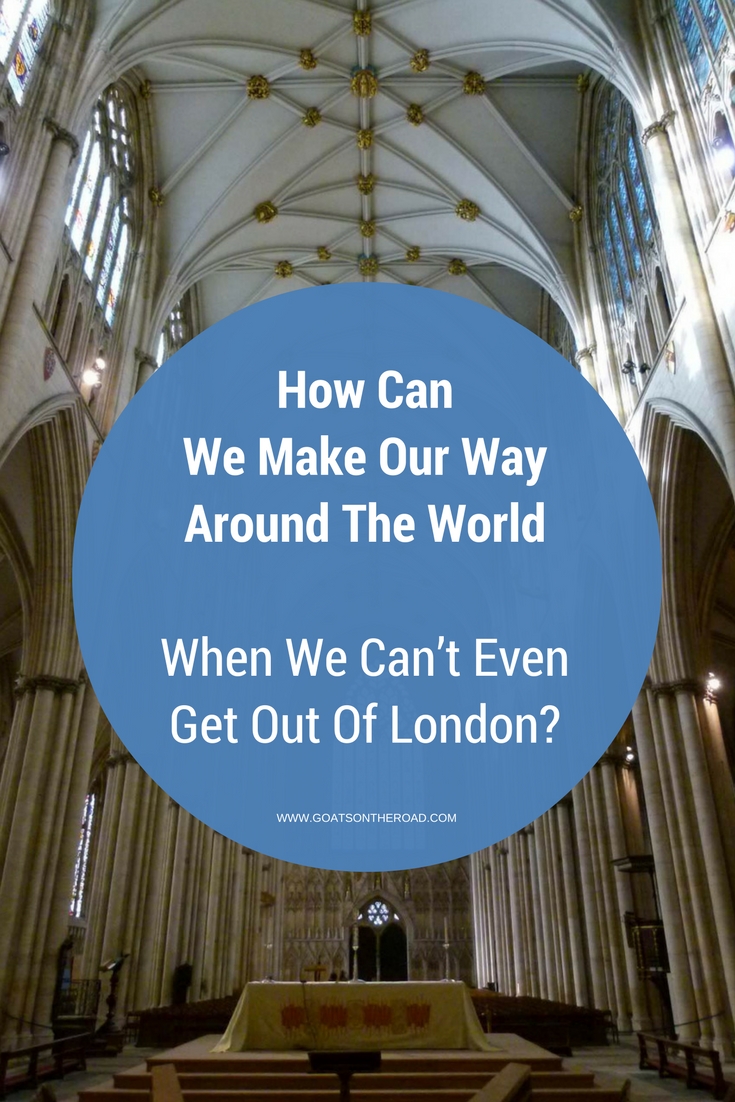 Disclaimer: Goats On The Road is an Amazon Associate and also an affiliate for some other retailers. This means we earn commissions if you click links on our blog and purchase from those retailers.