Is today the day you finally learn how to start a travel blog? Have you been thinking about doing it for a long time, but you keep putting it off? Are you worried that learning how to start a blog that will one day earn money is an overwhelming task? We want to help. We started this blog in 2012 and even though we didn't know the first thing about blogging, after 1 year it earned enough to supplement our travels and today it earns over $20,000 USD / month through advertising, affiliates and product sales.
This tutorial is the easiest to follow, step-by-step guide on how to start a blog with WordPress and it's the only one which offers a 63% OFF discount on hosting ($95.98 $59.40), one-click WordPress install, our WordPress Beginner Blogger Video Course for free, a $20 Blogging ebook for free, as well as ongoing email training and access to our private beginner blogging Facebook support group.
Prefer to start a blog by following along with an easy video tutorial? Click Here
What are people saying about our free course?
It is possible to start a free WordPress blog, but you would not own the domain (included in the price above), you won't be able to track the visitors properly, you won't be able to design your website / blog and most importantly, you would never be able to earn money from a free WordPress blog because you don't own it.
Using this guide, you can easily start a blog on WordPress, Drupal, Blogger or any other platform as Bluehost makes it easy with one-click installs of all major blogging platforms. We recommend WordPress because it's by far the easiest to use and most popular, but you can choose any one.
What We'll Cover In This Post:
Note: If you already have a blog, but would like to purchase the beginner blogging course and ebook by Goats On The Road, CLICK HERE. Once you click the link to our discount, you will always see that discount, even if you look at the Bluehost home page separately. This is due to a cookie being set in your browser. The regular Bluehost price is never less than $3.95 and goes up to $7.95. Our discount is always $2.95 / month.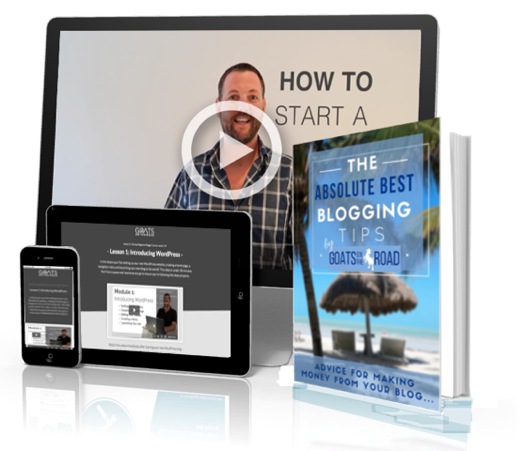 Readers of this blog get 63% off the cost of blog hosting, our Beginner Blogger Video Course, our $20 ebook for free and ongoing email training. They also receive $175 in free advertising with Google (perfect for growing blogs), 24/7 support and a 30-day money-back guarantee with Bluehost.
…or keep reading to learn more ☞
When we started our blog it was after reading a guide very similar to this one, and although we didn't get a discount or a free course, we are still thankful every single day that we read that post, because if we hadn't, we never would have learned how to start a travel blog, we wouldn't be earning $20,000+ / month online today and we wouldn't be travelling full-time and living the amazing life that we are now.
FREE COURSE OFFER
With over 2 hours in video content and more than a dozen PDF downloads, it has everything from writing your first post and setting up WordPress, to installing plugins and creating a professional looking blog design. The course offers new bloggers all the vital steps for building a foundation for a successful travel blog. Start your blog today and get the free ebook and free course, as well as access to our 24/7 New Blogger Facebook Support.
We honestly believe that travel blogging is the best way to earn money on the road and pay for travel.
We remember when we were considering starting our blog and we had doubts, just like you probably have today. This is why we've taught over 1,000 people how to start a travel blog from this website and after each and every one of them has started their blog, we've sent weekly emails to check on them to make sure they're on a track to success. You will get the same VIP treatment when you start a blog from this page. You will be a part of the Goats On The Road New Blogger team, you'll be added to our private blogger Facebook group where you can ask for help from hundreds of our other students and ourselves, and we'll help you along the way.
…or keep reading to learn more ☞
Some of the people who started a blog with us were able to earn income within just a few months of reading our ebook and following the instructions in our training. Some of them are even earning thousands of dollars per month just over a year after starting their blog. Even if you don't want to earn money through blogging, the free course and ebook will at least show you how to properly set up and use WordPress and design a nice looking blog!
There are a few reasons that you might not want to start a blog today, and that's totally understandable. But in reality, these things are not worth putting off your blogging potential. Click on any of the reasons below that you think apply to your situation
Common Excuses to Not Start a Blog
I don't understand why I need to pay for a blog if WordPress is free.
This part is confusing for a lot of people and understandably so. Why would you pay for a blog if WordPress is FREE? In reality, WordPress is free, but only for a very lite version of it. If you want to design your blog, customize it and be able to upgrade elements of it, you'll need to pay for hosting to unlock the full version of WordPress.
Also, on the free WordPress you will never own your domain or your blog and someone could easily steal it from you. By signing up for Bluehost, you'll get a free domain registration (ie: YourBlogName.com), you'll own all rights to your new blog, you'll be able to customize it exactly how you want and you'll be able to monetize it and earn money one day.
Luckily when you sign up for Bluehost using the link in this post, the full version of WordPress is free. You also get a free domain name, free advertising credit, our free course, our free ebook and free 24/7 support from both Bluehost chat and from our amazing Facebook Group. That's a lot of FREE.
There are too many blogs online today. I'll never make it as a travel blogger.
We hear this ALL THE TIME from would-be bloggers. Sure, when we started Goats On The Road in 2012, there were fewer travel bloggers online. But even then, people told us the market was too saturated. Back then, there was no opportunity for bloggers. Today, virtually EVERY travel company knows the value of advertising on travel blogs. That's why more travel bloggers today are earning 6-figures per year than ever before.
I'm not currently travelling, so I have nothing to blog about.
This is totally backwards and so many people think this, and never start a blog because of it. In reality, just as many people want to read about saving for travel and planning for a big trip as they do about the trips and destinations themselves. Write about quitting your job. Write about building your blog. Write about saving money and planning out your big itinerary. This is what all travel blogs are based on and it will likely be your most popular content down the road.
I can't think of a blog name
This is the easiest excuse to squash because if you start a blog using this how to start a travel blog guide, you won't have to think of a name today. Bluehost allows you to buy your domain without a name, install WordPress, begin blogging and then pick your name later. This is perfect because it will give you the opportunity to create some content and really get a feel for where your blog is going and what your niche will be. That way, you can pick a name that suits your blog, after your blog is created. Genius.
I don't know enough about blogging, the internet or website design.
First of all, most bloggers who you read today started out just as new as you (or even newer). When we started Goats On The Road, we didn't even know what WordPress was, we had barely used Facebook and had never taken a web design class in our lives. The FREE eBook that you'll receive after starting your blog today includes the basics of designing your blog, as well as how to add photos, posts and plugins. It also gives you a beginners rundown of WordPress.
I don't have enough money to start a blog.
I'm sorry but I have to be brutally honest here. If you have enough money to pay for the device that you're reading this post on, then you have enough to pay for your blog, which will cost you less than a cup of coffee ($2.95) per month using our discount. Think of those few dollars as an investment. Invest a few bucks today and if you keep at it, you could be earning a full-time income from blogging one day.
I don't have enough money to travel internationally.
As far as running a blog goes, this is actually an advantage for you. The hardest thing about building a successful blog is nailing down a niche. If you're only travelling within your country or within your region, you'll already have a great niche. You can become the expert on your home province, state or country in no time! You'll be able to work with local businesses far easier than an international blogger works with international brands.
I'm not a very good writer or photographer.
As long as you can write fluently in your language, you're a good enough writer to be a blogger. People who read blogs online don't want to read poetic language and jargon. People online want to get straight to the point! Think about it. When you search the web for answers, you generally want the quick and easy version.
If you read the posts on this blog, you'll notice that we never over-describe things or try to sound like a magazine or novel. Blogging is simple writing.
When we started this blog, we were horrible photographers. Luckily there are a lot of free tutorials for photography on YouTube and it's quite easy to learn how to take great photos and with just a few hours practice, you can improve your photo quality dramatically, even if you're just using your smartphone.
I don't have a passion for travel, writing or photography
If that is the case, then this job isn't for you and you should consider following a path towards success doing something that you're truly passionate about. If you don't love the job of blogging, then it will feel like just that… a job. Travel blogging should be so fun that even when you spend 6 – 10 hours per day at your laptop, you're happy because you love building up your own travel business. There will be hard days even if you're passionate, but if you're not passionate at all about travel, then you'll never make it as a travel blogger.
No more excuses…
…or keep reading to learn more ☞
We're going to show you how to start a travel blog and our blogging ebook will show you how to grow and earn money, while our email training shows you the beginner steps of building a website! We're not selling you anything here. You will purchase your domain at a discounted price with Bluehost (a lead hosting provider) and because we are an affiliate for Bluehost, you get a massive discount and you'll be able to download our course and ebook ($119 value) immediately after starting your blog.
The purpose of this guide is not just to teach you how to start a travel blog. We want to show you how to start the best quality blog for the least amount of money possible. The free eBook and training will give you the foundation to build a blog that can grow and profit as early as just a few months down the road. This guide, the ebook and the training aren't just for travel blogs either, the information will help you create any type of blog or website you want.
You can learn how to start a travel blog for free if you want, but you won't own the domain and therefore you can never earn any real income from it (plus I won't be able to send you our free ebook & training). If you follow this guide, your new blog will cost you less than the price of a cup of coffee. At $2.95 per month (billed $35.40 / year over 3 years or $59.40 for a single year), this is the cheapest and best hosting available today. We host this blog you're reading on Bluehost and we love it.
If you're having difficulty with any of the steps in this article simply contact us and we'll help you out. Remember, we're here to help even after you've started your blog. We'll be emailing you each week to help you out and you'll receive our beginners ebook to get you off on the right foot and you'll be a part of our very active travel blogging Facebook Group if you choose. If you can't think of a blog name, don't let that stop you taking advantage of the free course. Start a blog today and think of a name later… for free. We'll show you how below.
Okay, now it's finally time to get started!
STEP 1: How To Start a Travel Blog
Set Up Your Domain & Hosting
To get started with this process, you can click the blue button below and it will take you to a special Bluehost sign-up page which includes our 63% Goats on the Road discount. Once clicked, a Bluehost page will open in a new tab in your browser. From there you can begin signing up Bluehost and installing WordPress. I'll explain the process below. When you click the button below, you won't be asked to pay for your blog until the very end of the process (5 – 10 minutes) and the price will be very clear.
If the above button doesn't work CLICK HERE to continue.
Click the above button and receive 63% off your blog StartUp cost + our free ebook & training.
After you click the blue button above, you'll see the special Goats On The Road discount screen at Bluehost. Now just click the green "get started now" button on that page.
After you click the "get started now" button, you'll be brought to a new page where you will sign up for hosting.
What is Hosting?
Every real blog online has to be hosted by a hosting company. Bluehost is one of the most used and trusted hosting networks on the internet and with our discount, it's also cheaper than you'll find anywhere else. In early 2017, Bluehost made major strides in improving their customer service and server speeds, so today it is again one of the strongest and most reliable hosts online.
It's worth noting that you could start a blog for free, but someone else would own your blog / domain. You must own the domain and pay for hosting if you ever want to make real money from your travel blog, or if you want to design it yourself and add to its functionality. When you click the Get Started Button at Bluehost, you'll be buying your site name, hosting and brand so that you own it 100%.
Now you can simply choose the cheapest, most basic plan on the left and click "select". There's no need to spend any more than the absolute minimum today. We'll keep the sign-up process as cheap as possible now, you can always upgrade later.
Go back to the Bluehost tab in your browser and select the basic plan.
Now it's time to choose your domain. Don't worry, you won't be charged extra for this as it comes free with your Bluehost basic package. After clicking "Select" on the cheapest basic plan, you'll see a "Sign Up Now" screen like this:
A lot of people have been emailing me because it's so hard to think of a name. Trust me, I know. We've been there and it took us a while to think of a name for our blog. Luckily, you don't have to think of one right now.
Can't think of a blog name right now?
No problem! Bluehost has you covered. Simply go back to the "Sign Up Now" screen at Bluehost, hover your mouse to the top of the screen and you'll see a magical pop-up appear. Click "Choose Free Domain Later" and Bluehost will allow you to continue with your sign-up process and pick a blog name later on.
If the popup pictured above doesn't show up, scroll to the bottom of the page and there should be a box that looks like this:
Click the Choose Later link and you'll be able to choose your website name at a different time, free of charge. A lot of people never learn how to start a travel blog because they have a hard time thinking of a name. This is no longer an issue because you can choose your domain name later.
If you have already chosen your domain name, then you don't need to use the above pop-up. From the "Sign Up Now" screen (pictured below), simply type in your new domain in the left box and choose ".com" from the drop down menu (.com websites are the best). Then click "next".
The domain name is the part that goes between the "www." and the ".com" in your new blog's web address. It's also the name of your blog, your brand and your new company so choose wisely. If you need help, send me an email and I'll help you choose a name.
Time to pay.
IMPORTANT NOTE: Immediately after entering your credit card information and clicking "submit", you should see a pop-up appear on your screen at Bluehost, which will allow you to download the ebook & sign-up for the training, all for free. Don't close out of this pop-up. If you do close it by accident, or you simply don't see it, please forward us your transaction reciept email that you receive from Bluehost. The email will be from "[email protected]" and the subject line will be "BLUEHOST ORDER COMPLETE". Please forward it to [email protected]
With the Goats On The Road How To Start a Travel Blog discount you won't pay more than $106.20 USD today and that will keep your blog running for 3 whole years. If $106.20 is too much for you today, you can start your blog for just 1 year ($59.40) and I'll still send you the free ebook & free training.
You'll have to fill out all of your new account information now. It's quick and easy and they don't ask for anything too personal aside from your credit card info 🙂 Don't worry, Bluehost pages are 100% secure and use advanced encryption technology to keep your information very safe.
You'll have to make sure the address and phone number match the country (ie: if you put "France" as the country, then you should also put a France phone number and France address). If you don't have a phone number, just add whatever phone number that matches the country (even if you make it up), because you can change this at any time after signing up.
Further down on the page you'll have to confirm the package that you chose. Here, make sure the cheapest one is chosen (Basic 36 Month $2.95/mo or Basic 12 Month $3.95/mo). If you want to start by just paying for 12 months at first, go for it.
As I said, I want to teach you how to start a travel blog for the least amount of money possible today, but there is one of these check boxes that you might want to splurge on, Domain Privacy.
It's only $1 per month and you don't have to if you don't want to, but if you pay the extra dollar a month for this, it'll save you getting emails from random people asking to design your blog or to add something to it. Basically, when you buy a blog, your web address is public record unless you pay to block your name (it's the same with all hosts). By paying the extra money, you'll save yourself from getting a bunch of spam emails. Totally up to you.
Important Note: If you selected the option to "Choose a Domain Name Later" you must leave the "Domain Privacy" box unchecked. Don't worry, you can add it when you decide on a name later on.
Note: Taxes depend entirely on what country you're reading this "how start a travel blog guide" from. If you see taxes added to the total amount, it's the local government tax and can't be avoided. Some countries don't charge tax on hosting and some do, but it's not usually more than $25 or so.
You're almost done the hardest part. Go back to the Bluehost tab in your browser and enter your credit card information, tick the "I confirm" box and then click "submit". When you submit for payment, the next screen should include our popup to get your free ebook and training.
Don't close out of it! If you do close it by accident or you don't see it, no problem, just remember to forward us your transaction receipt that Bluehost will email you after your purchase. To find the email, look in your inbox for an email from [email protected] with the subject line "BLUEHOST ORDER COMPLETE" and forward that email to [email protected]
STEP 2: How To Start a Travel Blog
Download Our Free Course & Ebook
Success! Once you pay for your hosting and see the Congratulations Page at Bluehost, a popup should appear that allows you to download our course and ebook. If you don't see it, try hovering your mouse arrow to the very top of your screen to see if it appears.
Click the button that says "Get the course now!" and you'll be brought to a new window in your browser where you can download the free course and ebook.
Note:
If you don't see the above popup at Bluehost or you closed it without clicking the green button, don't worry. Simply look in your inbox for a transaction receipt from Bluehost (subject line: "BLUEHOST ORDER COMPLETE") and forward that email to
[email protected]
and I'll review your info and send you the book and training.
After following the steps to get your free ebook, go back to the Bluehost screen and close the popup. Now you'll see the page that's pictured below: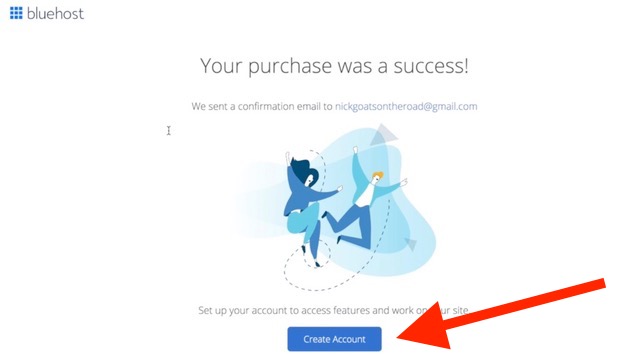 Click the "Create Account" button. Now you'll see the welcome to Bluehost page. Try to include a capital letter, a number and a symbol if possible and make sure you write it down. This will be the password that you use to sign into your Bluehost account. Enter in a password in the middle box and then retype it in the bottom box and hit "Create Account".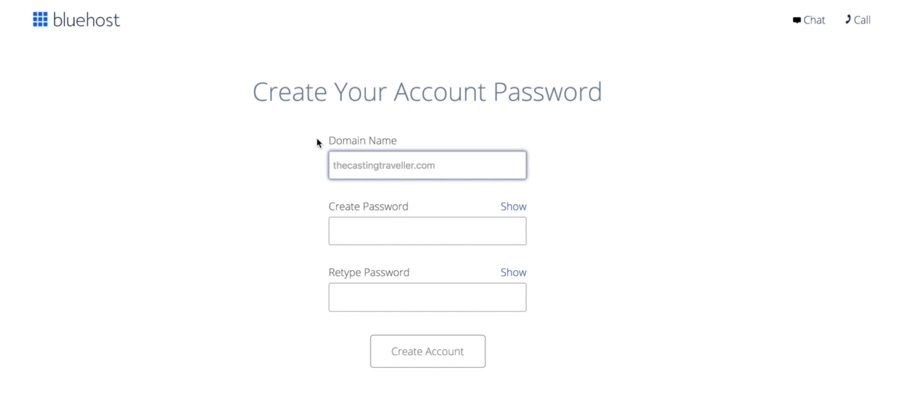 You'll then see a screen like the one pictured below. Simply click the button that says "go to login" to continue installing WordPress.

You will now reach the page where you can sign-in to your Bluehost account. To get to this page in the future, whenever you want to sign into your account, the URL is https://my.bluehost.com/cgi-bin/cplogin. You can bookmark that so that you always know how to easily login to your WordPress Blog.
For now, login using your domain name and password. The domain name should already be written in the box and your password is the one you just created. Go ahead and type that in now and login to Bluehost.
Once you have logged into Bluehost, the automatic set-up and install of WordPress will begin. If you're confused and wondering why you have a Bluehost account AND a WordPress account, let me explain.
Bluehost is your hosting account. You won't really need to access your hosting account all that often, but it's where your website actually lives. WordPress is the software you will use to edit posts and design your blog, so after this initial set-up you'll mostly be logging into WordPress rather than Bluehost.
Let's continue.
The next screen you'll see is pictured below. Here you can add the name of your site, a tagline (a brief 1 sentence explanation of your blog) and where you'll display your posts. For now, choose a different page. Don't worry about getting everything exactly right here. I'll show you how to change these settings in the Beginner Blogger Course.
When you're done, click "Continue".
The next screen will be asking you about your goals. These settings really don't matter so please don't worry too much about them.
Simply choose "Share my ideas, photos, stories or videos." and then click the option "a little" under "Are you comfortable with creating websites?". Then click "Continue to Theme Selection".
Next you'll see a screen like the one pictured below. This screen will allow you to choose a theme for your new WordPress blog. A theme is basically a design template that you can start with so that your blog automatically has a nice-looking look and feel right off the bat.
Every blog has to have a theme. I recommend that you quickly pick one from here (most of these are free) and I'll show you how to find even more free themes later in my course.
To choose a theme, hover over it and click "Use This Theme".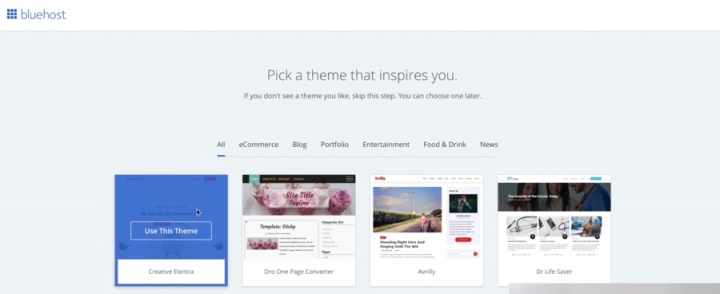 Next, Bluehost will automatically install WordPress for you. This is one of the many reasons that I love Bluehost. Many other hosts require that you install WordPress yourself. This can be confusing and time-consuming. Bluehost will do all of this for you right now.
Now you'll be able to login to WordPress. Great job! Simply click the button that says "WordPress" to quickly log in. Don't worry about the other stuff on this page, we'll cover that in the course.

The next screen you'll see will be the WordPress Dashboard. This screen is no longer Bluehost, you are now fully in WordPress. This is where you'll add new posts, photos, videos and design your blog. Congratulations! You officially have your own WordPress blog now!
You can keep reading this post, or, if you already have access to my course, you can download it and begin following the steps in it. If you don't have the course yet, email me, tell me your domain name and I'll send it to you right away.
STEP 3: How To Start a Travel Blog
Design Your Blog
After loging into WordPress you'll automatically be brought to the WordPress dashboard or "back-end" of your new website. You may just want to bookmark this page. You'll be in here a lot. You've already learned how to start a travel blog, but now we're going to cover a bit about blogging, creating posts and navigating the WordPress Dashboard.
First you need to quickly edit your profile. To do this, click the top right of the screen where it says "Admin". Once in this screen, scroll down and add your name as shown below:
Then scroll down further on this page and click "Generate Password". You can either write down and use this password to sign into WordPress from now on, or you can type a new password as long as you make it strong (ie: use symbols, capitals and numbers).
The password that you created earlier during the sign-up process was to login to your Bluehost cPanel (backend of the website). This password is to log-in to WordPress. I know it's confusing! All you need to know is that in the future, to get back to your WordPress Dashboard screen, simply type your domain in the browser with "/wp-admin" or "/wp-login" on the end (ie: www.yournewblog.com/wp-admin) and then enter Username "admin" and whatever password you just created.
Now comes all of the fun stuff! You're ready to pick a sexy theme / design for your new blog and start adding articles, pictures and videos. The eBook and WordPress course that you received for free through this post explains blog design in great depth, so we won't get too far into it here, but I will show you how to quickly choose a theme to get started.
After signing into WordPress in the last step, you should be seeing a screen like the one above. This is your WordPress Dashboard. This is where all of the bloggy magic happens. Our eBook will explain a lot of the stuff that is in this area and will help you to get to know the many different sections of your WordPress blog.
The dashboard is where you'll start new posts, change your website appearance, add WordPress plugins and make your website become an extension of YOU.
First, hover over "Appearance" on the left side of the Dashboard and click "Themes".
A screen will load like the one below. Bluehost probably already installed the Twenty Seventeen theme for you. If that's the case, you don't have to add a new theme right away. If you'd like a different theme, you can then click the button that says: "Add New Theme".
This will take you to a screen that will allow you to choose from thousands of themes. This is one of the most exciting parts of learning how to start a travel blog!
Take your time. When you start a travel blog, you want to kick it off with a style and theme that suits you and your new brand. Your site is likely already set up with the Twenty Seventeen theme which is created by WordPress. This is a great theme to start out with.
To see what each theme looks like, just hover over it and click the "Preview" button. Remember, there are more themes available at Bluehost. If you like the one that you chose in the previous step, you can keep it. If you want to change it, you can choose a new one from this screen.
Now that you've picked the perfect theme, you can go in and customize it by adding your own logos, colours, pictures, widgets and page elements.
Bonus – Useful Tips: Check out Canva.com and use the Logo design templates to easily create a professional-looking logo
To start customizing your new blog, hover over "Appearance" on the left side of the dashboard and click "Customize".
This will bring you to a screen that will allow you to change the colours and layout of your theme.
In the image below, you can see an example of the theme customization page. Going down the left-hand side you can see which theme you're editing and different parts of the theme that you can change.
Please note: the items that appear on the left sidebar of this screen vary by theme, so if yours looks a little bit different than the image below, that's because you have a different theme.
The options to customize your theme that appear on the left-hand side are as follows:
Site Identity: The title of your site and the tagline that will show up in Google searches
Colours: Edit the different colours on your blog. From background colours to font colours.
Header Image: Most themes will have a header image at the top. Here you can upload a picture of yourself to show on your home page.
Background Image: Sometimes sites have an image as a background. This can look too busy though so be careful if you choose to upload a background image here.
Menus: Here you can change what will appear in the menu bar at the top of the page. Write the structure of your blog on a piece of paper, then transfer it to your menu. Make sure your readers can easily navigate your site.
Widgets: These are those cool things you find in the side bar of most blogs. Choose and customize them here.
Note: I'm not going to go into too much depth about design in this How To Start a Travel Blog Guide, because we go over it extensively in the free training. We also introduce you to the best theme we've found (and we've tried many).
Each theme is different and offers different things that you can customize. Play around for a while in here and try to find a layout that is fun, interesting and most importantly – easy to read and navigate.
Don't worry, if you applied for our free blogging ebook in the earlier steps by clicking the blue button and entering your new domain name, you'll receive our ebook soon. In that book, there is a ton of more info on customizing your blog and even some useful plugins that will help you get started.
STEP 4: How To Start a Travel Blog
How To Start a Travel Blog By Writing Your First Post
Now that you've learned how to start a travel blog and you've chosen your blog layout, theme and colours, it's time to begin your blogging journey. You have a lot of work and research ahead of you.
For now, let's just start with the basics. Writing a blog post. To do this, head back to your WordPress Dashboard and at the top of the screen hover over the "+New" button and click "Post".

You'll then be brought to the Edit Post Screen. Here you can type away and create as many blog posts as you want. Get writing! The more content you create, the quicker your blog will grow. If you can write a post a day, or even just 3 posts / week, you're doing a great job.
Set a schedule for yourself and stick to it. If you can only write 1 article per week, always write just 1 and publish it at the same time of day. If you can publish every Monday, Wednesday and Friday at 4:00 pm, stick to that schedule.
Google loves it when a blog produces content on a reliable schedule… like a newspaper. Keep in mind that Google is your new boss so make sure you keep him / her happy! There's no point in going through all of this work learning how to start a travel blog, if you're not going to spend time writing useful content and making the Google Gods happy
Try to write things that people will find useful. How-to's, guides, hacks etc. Like this How To Start a Travel Blog post that you're reading now! Isn't it useful?
Don't just write a diary. These types of blogs hardly ever attract readers or make any money without some level of useful information. Feel free to write in a personal way, and talk about things you have done. It's important to keep YOU inside your blog. But try to mix your travel anecdotes with useful information that your readers can use.
Now you'll want to set up your social media accounts for your blog. This isn't technically part of learning how to start a travel blog, but social media is extremely important for building a brand and a relationship with your readers.
Don't use your personal social media accounts for this. Set up an entirely new Facebook fan page, Twitter account, Instagram, YouTube, Google+, Pinterest etc. Set up as many as you think you can handle and continuously post on each account.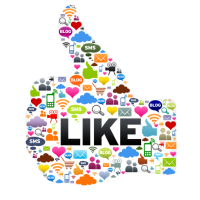 After you've produced a lot of useful content (posts) on your blog and you've started your social media accounts, you'll want to start with basic marketing of your blog so that you can grow your readership and eventually earn money.
To do this, you'll want to share your articles on your social media accounts, and do A TON of guest posts. You may have even found this How To Start a Travel Blog Guide in your Facebook news feed this morning. That's because we always share our best articles to social media, and you should too!
Another great way to market your blog is through guest posting (writing articles for other blogs / websites and linking them back to your blog).
Email all of your favourite bloggers and ask them if you can write an article on their site and link back to your new blog from it. If your blog is about budget travel, then the anchor text should be "budget travel"… like this: Budget Travel. In that link, the words "Budget Travel" link to GoatsOnTheRoad.com.
Those words are called "anchor text" and the more links you have with certain anchor texts, the more likely Google will show you in search results for those terms. Again, if you've spent all this time learning how to start a travel blog, you should also learn how to write great SEO articles so that your blog appears in Google results.
Be careful not to create hundreds of the exact same anchor texts in different guest posts because it can start to look spammy. Choose variations of your main anchor texts and link to specific articles with anchor texts that match the articles' main point.
For example, if I wanted to write multiple guest posts and link back to this post I would use anchor texts like How To Start a Travel Blog, Start A Blog, Create a Blog, Start a Blog From Scratch etc.
Now you're going to continue to write new content, add new pictures and posts to your social media accounts and write a ton of guest posts for months on end. This will be your routine. Recycle it over and over and watch your traffic grow.
It will be VERY slow for the first year, but suddenly things will speed up, Google will start to recognize you and you'll start growing a loyal readership. Once you've grown some traffic, you'll be able to start earning an income.
Note: To keep track of your traffic, you'll want to set up Google Analytics. Click Here to learn how to do that.
Because there is so much information in our eBook, I won't get into too much detail about creating posts and using WordPress in this How To Start a Travel Blog post. Running social media and marketing your blog online is very important, but for now, we've covered the basics to start a blog that can one day earn you a full-time income.
GREAT WORK!
If you found this article useful and easy to follow, it would help us a lot if you would share it with your friends on social media!
You can check out our Travel Blogging Section for more about running a blog, plus, you will learn A LOT from the free eBook, which should be arriving in your inbox soon. It covers everything from how to earn free travel, get flown around the world on press trips and get paid to travel.
If you bought your domain and built your blog through affiliate links in this How To Start a Travel Blog post, thank-you so much for your support. Please check your inbox for the free beginner blogger ebook and look out for our email training that will be sent out to you over the coming weeks!
Remember, if you didn't start a blog today using this guide, or if you already have a blog, you can purchase our ebook here.
If you have any questions about running a blog, or you run into any troubles while following the steps in this article, please do not hesitate to Contact Us.
Disclaimer: All of the links to Bluehost are affiliate links, which means that because we work with Bluehost, you will receive a large discount and we receive a commission for any purchases you make using our links. It doesn't cost you anything extra, in fact you can save as much as 63%, and it helps to keep this blog running so we do appreciate your support.
Congratulations. You are now officially a blogger!
Like This Article? Pin it!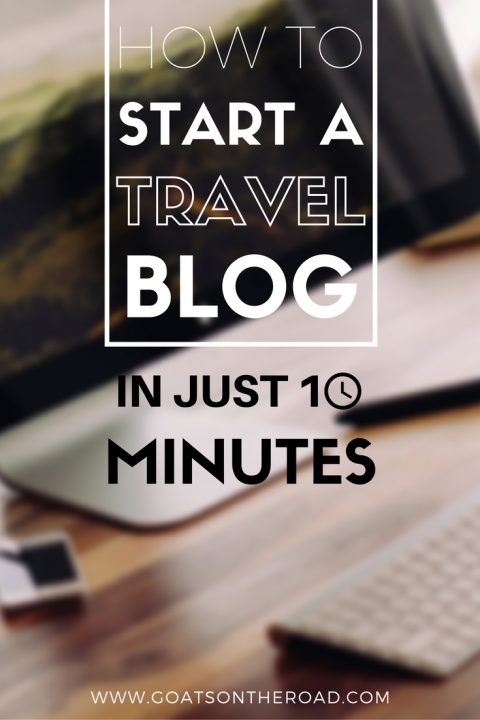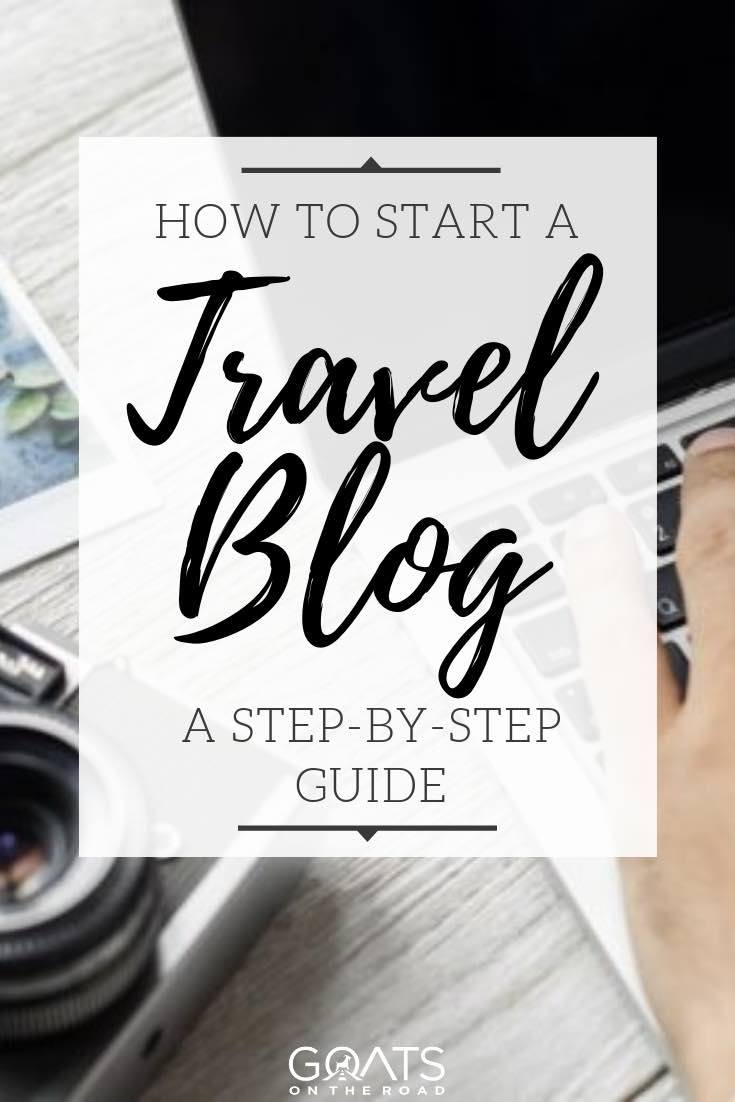 Disclaimer: Some links in this article are affiliate links, which means that if you purchase through them, we receive a small commission. This will never cost you extra and in many cases you receive a special discount. We appreciate your support!