In this International TEFL Academy review article, you'll learn from a certified teacher what it's like to take a course and get a certification through this top company.
In this post, we're chatting with Jessie Smith who lived and worked abroad as an English teacher in Vietnam and South Korea. She received her TEFL certification with the International TEFL Academy (ITA), and off she went.
After taking her course and teaching in Asia, Jessie actually got hired at ITA — she went full circle!
In this International TEFL Academy review, Jessie shares more about the courses and opportunities the company offers, why they are so highly acclaimed, the pros and cons, and much more.
Here we go!
What made you decide to get your TEFL Certificate?
I was interested in teaching English overseas and therefore needed a TEFL certificate.
You'll need to get TEFL certified if you want to teach abroad or online. TEFL stands for Teaching English as a Foreign Language. A TEFL certification is a lifetime investment that never expires — with a TEFL certification, you'll never be without a job.
This certification truly is your key to the world. You'll be qualified for jobs all across Asia, Europe, Latin America, and the Middle East…or, you can work online from the comfort of home.
So, if you're looking for a way to earn money and travel the world, then a TEFL certification is a legitimate option. You could even country-hop and teach in Asia for a couple of years, Europe for a year, and then go to Latin America.
Whether you're looking to make a long-term career change or maybe you just want to escape home for a year or two, teaching English abroad is a realistic way to go on the adventure of a lifetime, gain international work experience, and earn money along the way.
It's important to note that you can also use your TEFL certification to teach English online (TEO). The industry of teaching online and online learning overall are exploding, so if you're interested in working from home from anywhere in the world, this is a flexible career option with tons of opportunity.
I took International TEFL Academy's 170-hour Online TEFL class in 2012 and taught English abroad in South Korea and Vietnam. Upon my return, I actually got a job with International TEFL Academy (ITA) and have been working here for 6 years.
I did extensive research before choosing to get certified with ITA. It became crystal clear that ITA and its staff are not only experts in the field but they genuinely cared about me and my experience.
I called many other TEFL providers and more often than not, they'd ask me for my credit card before even fully understanding what I wanted to do or where I wanted to go.
About The International TEFL Academy
ITA was founded in 2010 with a mission to improve the world through international education & cultural exchange.
Reasons to Choose ITA
ITA's TEFL courses and curriculum are regulated and recognized by Ofqual, and are extremely high-quality. You are getting university-level instruction and university-level professors.
The course isn't easy but once it's over you're left with an extensive, impressive skill set and the confidence to run your own classroom. It's also not the cheap option and they are not the option for those looking to just get certified ASAP.
ITA is an investment you make in yourself, your future students, and your career. If you want to actually learn and become a high-quality teacher then ITA is the way to go.
The personalized guide from your Admissions Advisor and Job Search Advisor are out of this world. This is an organization that very obviously cares about what they do and they genuinely care about every single one of their students.
They've all walked the walk themselves and lived overseas, and they pride themselves on giving transparent, honest guidance and advice.
ITA's Alumni Community is extremely vibrant and active. ITA has Facebook groups where alumni can connect, network, and support one another.
The second you enroll in an ITA class you can begin connecting with fellow teachers and making friends. These networks also prove to be great ways to find jobs, roommates, travel buddies, and much more.
Why did you decide on the International TEFL Academy instead of another company?
If I had to pick a single reason why I chose ITA though, the answer is my Admissions Advisor. My ITA Advisor took the time to get to know me as a person and really listened and understood what my goals were.
It's funny because when I first started researching TEFL and teaching abroad, I wanted to live in Rome, Italy. After hours of conversation and guidance from my ITA Advisor, I made the choice to teach in South Korea.
Looking back, Korea was 100% the right choice for me and I'm extremely glad I had this personalized guidance to help me come to that conclusion.
After I finished my teaching contract in South Korea, I decided I wanted to move to southeast Asia and teach in Vietnam.
Because ITA offers all of its grads lifetime job search guidance, I was able to simply email my job search advisor and they were able to help me seamlessly transition from Korea to Vietnam.
ITA offers TEFL courses online and in-person and they are all internationally accredited and recognized worldwide. In addition to offering the highest quality TEFL courses, they also offer all graduates lifetime job search guidance.
This job search guidance isn't just an email with a bunch of links in it or a job board. ITA has a job search department that will work with you one-on-one to achieve your goals and get overseas.
ITA's most popular class is its 170-hour Online TEFL course and the tuition price is $1,399. When shopping for a TEFL class, you'll find a variety of tuition costs, some as low as $50 and as high as $3,500+.
This can cause a lot of confusion when researching, so it's unbelievably important to call every TEFL provider you are considering before enrolling.
Like anything else, you get what you pay for.
If you spend $50 or even $200 on a TEFL class, it's unrealistic to expect you'll get a university-level instructor and lifetime job search support. So it really depends on what you're looking for and how much guidance and education you want/need.
ITA doesn't offer job placement but it does offer the lifetime job search guidance mentioned above. There are programs out there that do job placement, but I didn't have any interest in these because I wanted complete control over where in the country I was going to teach.
Program placements are desirable to some, but I really liked being able to apply to a variety of schools in South Korea and work with my job search advisor to choose the best fit.
When searching for International TEFL Academy reviews, most people want to know if they are trustworthy and legitimate. My answer is yes, absolutely! If you are looking for a legitimate TEFL school that cares about you and has your back from start to finish, ITA is an obvious choice.
What was your personal experience like with International TEFL Academy?
I took the 11-week, 170-Hour Online TEFL Course.
I really enjoyed this course because it's part-time, so I could take it while also working and saving money. The class sizes are small (20 students) and you have a ton of access to your professor.
The course is a lot of work, there are weekly assignments to complete and there is a sort of final project at the end, but you get weekly feedback from your professor and have lots of support from fellow classmates and your instructor along the way.
You leave the class with a lot of material that you can go on and use in your classroom in the future, which is also a major plus. The course is hosted on Moodle and it's extremely easy to follow and navigate. The course mixes videos, text, and images, and the information is all current and obviously important.
The best part of ITA's online class is the 20-hours of live practice teaching that's required.
This was when I got to put what I learned in the class to the test and actually gain teaching experience and practice before I went overseas to Korea.
This experience not only was vital to my confidence but it served as great talking points in my job interviews. ITA provides plenty of resources to be able to find a local organization to complete these hours and you can also always as your ITA Job Search Advisor if you're having any trouble.
The biggest dislike of the class is that was hard. I am glad I stuck with it and it was totally worthwhile, but it is a legitimate 8-10 hour per week commitment and it's 11-weeks of hard work. I never taught a day in my life before this TEFL class, so I needed this intense training.
The course is broken down into 11 units, so each week is 1 unit.
On average, it's about 8-10 hours of coursework per week. You have the control in that you can choose when you want to complete the coursework throughout the week.
So for me, because I was working full-time while taking the course, I oftentimes did the homework and course readings over the weekend.
You submit assignments each week and take short quizzes along the way. Your course professor will grade all of your work and give you detailed feedback so you can learn and improve.
You'll have a peer participation chat box in your class, too. This is a great way to connect with your fellow classmates, ask for advice, and make some new friends.
Did you feel that your ITA certification was worth the time and money and was sufficient for finding work?
Yes, 100x over.
ITA helped me land a fantastic job in the heart of Seoul, South Korea and I enjoyed it so, so much.
I interviewed with a number of different schools in Seoul and my ITA Job Search Advisor was able to help me differentiate between offers and ultimately choose the best one for me based on what I was looking for.
I had the experience of a lifetime in South Korea and I am so glad I had the support and guidance to get there.
I also had all the guidance and support I needed to find a second job in Hanoi, Vietnam. This was a process that I thought was going to be extremely daunting and overwhelming and my Job Search Advisor made it very straightforward and smooth.
ITA completely held up its end from start to finish. I know without a doubt that my ITA TEFL certificate is truly a lifelong investment that I can use anytime.
Online TEFL Certification vs. In-Person Certification – which is best?
The International TEFL Academy offers a 4-week, full-time Intensive Online TEFL class and an 11-week, part-time Online TEFL class.
These are both fantastic options, it really just depends on when you want to go abroad (or start working online) and how quickly you want to get certified.
If you're working full-time or are in school, then the 11-week, part-time class that I took is definitely your best option. I loved the flexibility of the online, part-time class and it was really important to me that I could keep working and saving during the course.
I had the initial concern that an online course couldn't possibly be as good as an in-person course, but I was pleasantly surprised at the course quality and learned a lot.
ITA also offers 4-week, full-time In-Person TEFL courses in 20 locations worldwide. I lived near the ITA headquarters and still didn't take the in-person course because of cost and timing.
The online courses are more affordable and again, I needed to make sure I could keep working and saving while getting TEFL certified.
However, these 4-week classes are great for people looking to get certified ASAP. If you know where you want to teach, then these also make sense.
For example, if you know for sure you want to teach in Chiang Mai, Thailand, then it's not a bad idea to take the course there and then jump right into a job in Chiang Mai afterward.
What is the cost of the International TEFL Academy's course? What's included?
The 11-week, 170-hour Online TEFL class tuition is $1,399 (flexible payment options available) and this includes your internationally accredited TEFL certification (never expires), lifetime job search guidance, and access to ITA's alumni community.
What are the Pros and Cons of the course?
As with anything, there are pros and cons.
Pros of taking the International TEFL Academy Course:
Staff are absolute industry-pros, they know this industry extremely well and stay current on everything happening in the world.
Both ITA's Admissions Advisors & Job Search Guidance Advisors care about you and genuinely want to help you make this 'crazy' dream a reality. You'll speak with them many times and they will help you step-by-step through this process.
All ITA staff have lived, worked, and traveled overseas extensively so they know what it's like to take the plunge and do this.
The TEFL curriculum is extremely high quality. You'll be hard-pressed to find a better course in terms of instruction, content, and overall experience.
The TEFL course professors are truly university-level and will give you a ton of support and guidance.
The lifetime job search guidance is for real and it's not going anywhere.
The ITA Alumni community is massive and there are endless networking opportunities in addition to a countless number of ways to meet new friends, share travel tips, and connect.
Overall, ITA as an organization has integrity. They do things the right way and don't ever cut corners. They care about education, they care about their teachers, and they want to make the world a better place.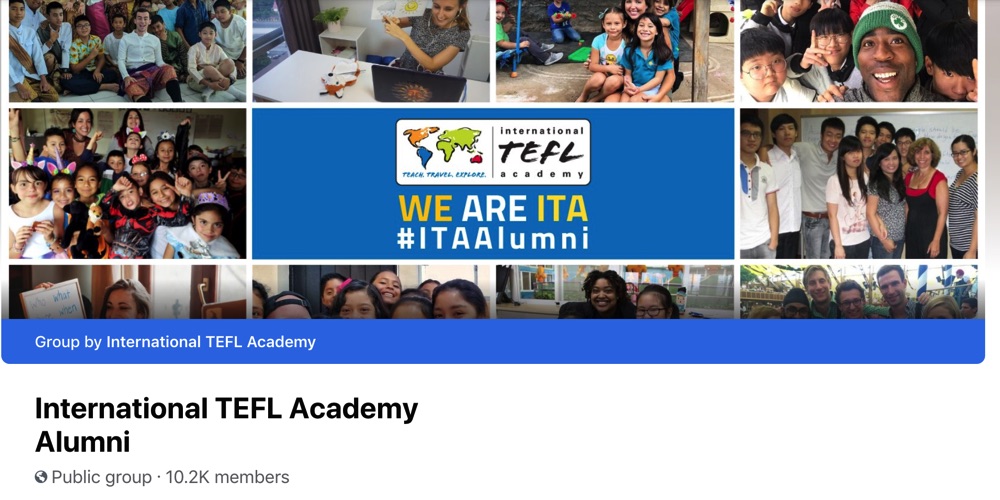 Cons of taking the International TEFL Academy Course
This wouldn't be a legitimate review of the International TEFL Academy if there weren't any cons listed! While there are more pros, here are a couple of downsides:
At a glance, the course costs more than other TEFL classes. That being said, I can't say this enough — the cost is worth it. But it does take some time to save and plan for it.
The TEFL courses are hard work. You actually need to put the time in and do the work. You'll be glad you did and you'll learn a lot, but it is work.
Who Can Take These TEFL Courses?
Teachers need to be at least 18-years-old to take one of ITA's online TEFL classes. If you are younger than 18 it's still possible to take the course, you'll just need to submit a young teachers essay and get approved to enroll.
All non-native English speakers interested in this course must complete an essay and should also speak with an ITA Admissions Advisor to verify their English skills are at a high enough level to be successful in the course.
Each In-Person course has its own set of requirements, but 18 years-old is generally the norm (your ITA Admissions Advisor can verify this for you depending on which course you want to take).
There are registration documents to submit upon enrollment that can be e-signed.
You can enroll in any of ITA's TEFL classes using this link.
Thanks for the International TEFL Academy review!
Thanks for chatting with us, Jessie! For those of you who have any questions about taking the ITA TEFL course, please visit their website for more.
*The lead image in this article was provided by Shutterstock.com.
Like This Article? Pin it!