Imagine starting your morning with a shot of espresso and a freshly baked cornetto before making your way to your co-working space. Your walk takes you down a winding cobblestone path, past colorful Reinassance buildings and trickling fountains. After work, you plan to head to the local market before meeting up with some of your new friends for refreshing afternoon Aperitivo.
If you plan to live and work in Rome, your days could be spent doing exactly that. This is one of the best places to visit in Italy, for sure.
After living in Rome for several months, I can attest that Rome is one of the best places for freelancers and digital nomads. Not only is the cost of living in Rome relatively affordable, but you'll also have the opportunity to meet plenty of expats just like yourself.
If you've ever considered moving to Rome, then this article is for you. I'll cover why you should live in Rome, how to find accommodation, and where to book a co-working space. I'll even give you a few insider tips on where to eat and what to see during your stay.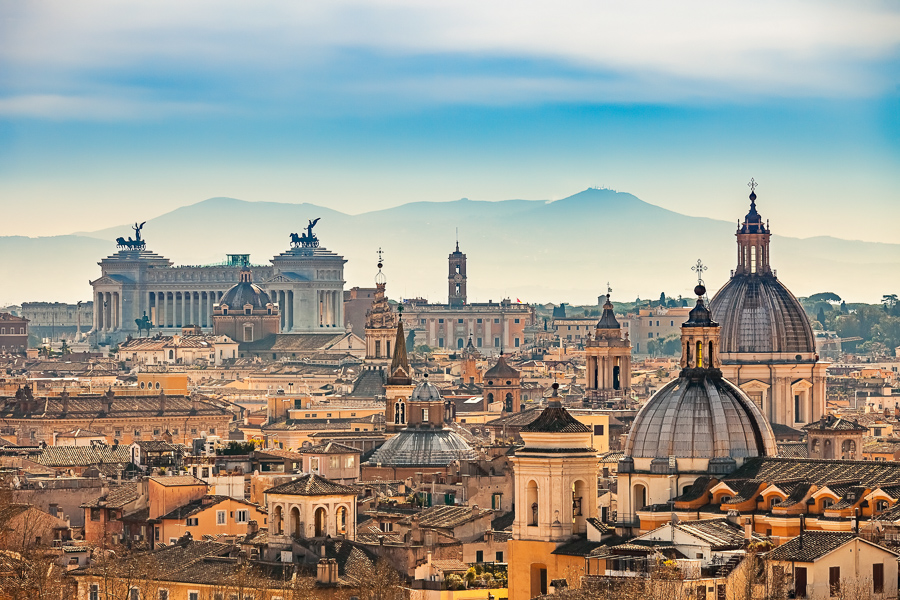 After this article, you'll be on your way to a new, unforgettable journey in Italy. Here's my digital nomad guide to living in Rome.
Cost of Living in Rome
Although it's considered one of the most expensive cities in Italy, Rome can still be affordable. Here's a breakdown of expenses that you should take into account when living in Rome.
Accommodation Costs in Rome
Generally speaking, the closer you live to the historic city center, the more expensive your rent will be. If you don't mind taking the tram or subway, you can find a cheaper apartment in the suburbs or outskirts of Rome.
Depending on the neighborhood, renting a private studio or 1-bedroom apartment will cost around 800€ – 1400€ ($880 – $1,545 USD) per month, including utilities. Shared flats are cheaper, and you can expect to pay anywhere from 400€-1000€ ($440 – $1,100) per month. Keep in mind that furnished flats will cost more.
Food Costs in Rome
One of the best things about living in Rome is eating local cuisine. Fortunately, Romans take their cooking very seriously, and there are plenty of dining options for every budget. On average, you can expect to pay the following prices when eating out in a restaurant in Rome:
3-course meal for two people at a mid-range restaurant: 70€ ($77)
Fast food meal with drink: 6€ ($6.60)
.5 liter of local beer: 3€ ($3.30)
Bottle of wine: 20€ ($22)
Bottle of water: 1€ ($1.10)
If you are sticking to a budget, don't worry; groceries in Rome are much cheaper than in other parts of Europe. Not to mention, there are tons of markets throughout the city that sell fresh, organic produce of the highest quality. If you plan on cooking while living in Rome, you can pay the following prices for grocery store ingredients:
Loaf of bread: 1€ ($1.10)
Local cheese: 2€ ($2.20)
12 eggs: 2.50€ ($2.75)
Bottle of wine: 5.00€ ($5.50)
Bottle of beer: 1.10€ ($1.20)
1kg chicken breast: 3.80€ ($4.20)
Going out for drinks in Rome can be cheap, if you know where to go! Hotel bars, touristy areas, and cocktail lounges sell drinks that are just as expensive as other parts of the Western world. However, you can still find affordable bars and lounges that sell cheap drinks.
Cocktail in mid-range bar: 10€ ($11)
Cocktail in expensive bar: 15€ ($16.50)
Glass of wine in mid-range bar: 4€ ($4.40)
Afternoon apperitvo: 5€ ($5.50)
Transportation Costs in Rome
If you live in the city center of Rome, you'll have plenty of public transportation options available. It's important to note that tourists and foreigners are not allowed to drive in the historic city center of Rome. However, you can still take buses, trams, trains, and taxi to most destinations around the city. Note, there is Uber in Rome, but you are only able to order Uber Black, Uber Lux or Uber Van.
Single ticket (1 zone) : 1.50€ ($1.65)
Monthly ticket: 35€ ($38.60)
Taxi (1 mile): 6€ ($6.60)
Best Neighbourhoods in Rome
Within Rome's city limits, there are 14 distinct neighborhoods – or riones, as the locals say. Each rione has a unique identity, and it's up to you to decide which one fits your style and budget. Here are some of my favorite places to stay in Rome.
Trastevere
Located on across the Tiber river, Trastevere is considered Rome's most picturesque rione. With ivy-lined brick buildings and charming courtyard cafes, Trastevere oozes with Italian style and atmosphere. At night, the neighborhood becomes one of the hippest nightlife areas, with students, locals, and visitors spilling out into the street with glasses of wine. Even though you're a 10-minute walk from Centro Storico, you'll feel as if you're miles away from the hustle and bustle of the city.
Monti
A stone's throw from Roma Termini Station is the quaint Monti district. Dotted with boutique stores, hip cafes, and small wine bars, this cozy neighborhood attracts visitors and locals alike. At night, you'll find plenty of local Italians sitting outside in one of the squares, listening to music and chatting with friends. This is a great place to live if you want to see the cooler, artistic side of Rome that most tourists overlook.
Centro Storico
If you want to be in the center of it all, there's no better rione than Centro Storico. Home to jaw-dropping attractions like the Pantheon and Trevi Fountain, Centro Storico is the heart of the city. There's no shortage of restaurants, shops, or bars. However, there is one downside: you'll be sharing your space with thousands of other people!
Testaccio
Tucked away in the south of the city is the residential neighborhood of Testaccio. Although you may see a tourist or two around, this is an excellent option for people who want an authentic taste of real Roman life. You're still within walking distance of Centro Storico, but you're lightyears away from the hectic and slightly chaotic masses of crowds. Foodies will also love being right next door the famous Mercato Testaccio, which is open every day except Sunday.
Co-working Spaces in Rome
Before you start working as a digital nomad in Rome, it's crucial to find a reliable and functional co-working space. Fortunately, Rome has dozens of fun and unique co-working offices to choose from.
Millepiani – Located south of the city is Rome's award-winning co-working space, Millepiani. Monthly prices start at just 75€ ($82.75) a desk and come with free internet, printing, meeting room usage, and even an on-site kitchen. If you're looking for a space bursting with creative atmosphere, then Millepiani is the spot for you.
FAMO COSE – Situated in the heart of Pignento, FAMO COSE is not your average co-working space. They cater to creative and hands-on freelancers by providing photography darkrooms, 3D printers and scanners, and even carpentry and welding tools. A one-month membership starts at just 150€ ($165) per person.
Cowo 360 – As one of the more traditional spaces in Rome, Cowo 360 is an affordable option for digital nomads. Desks can be rented hourly, daily, or monthly, which is ideal for those needing a bit more flexibility. They also host a variety of events, such as networking meetups and instructional courses.
Finding Rome Accommodation
In a city with almost three million residents, finding the ideal apartment can prove challenging. However, there are several Rome accommodation websites you should use to help you with your search. These English sites cater to foreigners and expats needing both long-term and short-term stays.
SpotAHome – think of SpotAHome like a long-term Airbnb Rental. All furnished flats are individually rented by the owner. What really makes SpotAHome stand out is that a SpotAHome employee personally verifies the flats that are listed. Some employees also shoot walk-through videos, so you know exactly what you're renting. This is the service I used while living in Rome for several months, and I couldn't have been happier with the flat!
NestPick – is an English website that aggregates thousands of furnished flat listings for Rome. Their easy to use search system allows you to filter between different neighborhoods, and desired move in and move out date. Learn more here.
ZappyRent – whether you're searching for a shared room or a private flat, ZappyRent has a wide selection of apartments in Rome. You can filter by size, budget, and location. The best thing about ZappyRent is that it's completely free to use! You can rent a flat directly from the owner without paying extra fees or commission prices.
Top Things to Do in Rome
Once you arrive in Rome, you'll probably want to head straight for the ancient Colosseum or Roman Forum. After all, no visit to Rome would be complete without visiting these iconic landmarks! However, if you look beyond the major tourist attractions when travelling Rome, you'll find that the city is teeming with unique attractions around every corner.
Here are some of the best touristy (and non-touristy) things to do in the Eternal City.
Campo de' Fiori and Mercato Testaccio
As one of the oldest markets in Rome, Campo de' Fiori is a lively place in the center of the city. This market operates from 7 am to 2 pm Monday through Saturday, and sells everything from fresh flowers and vegetables to Italian spices and souvenirs. Although it's more touristy than other markets in Rome, its Campo de' Fiori is still a great place to watch Roman daily life.
For a more authentic market experience, head to Mercato Testaccio in the charming Testaccio neighborhood. Attracting a local crowd, Mercato Testaccio sells a variety of goods, including clothes, kitchen supplies, and fresh produce. Don't forget to stop by Mordi & Vai, a hole-in-the-wall sandwich shop that's possibly more famous than the market itself.
Villa Borghese
If you're looking to escape the hustle of the city, head to the top of Villa Borghese, one of the largest parks in Rome. Home to lush gardens, world-famous museums, and sprawling grass fields, Villa Borghese is an urban oasis where you can unwind.
Stop by Galleria Borghese, which contains a vast collection of artistic masterpieces from Bernini, Rossi, and Rotari. Or bring a picnic and a bottle of wine and soak in the sun for a relaxing afternoon. Make sure to stop by Viale del Muro Torto for an unbeatable and dramatic view of Rome.
The Vatican
Whether you're admiring the Sistine Chapel or marveling at the grandiose St. Paul's Cathedral, the Vatican is a must-see while in Rome. This tiny city-state is home to the Roman Catholic Church and attracts millions of visitors every year.
If you're hoping to catch a glimpse of the Pope, then you're in luck! The easiest way to see the Pope is during the Papal Audience, which takes place every Wednesday at 10 or 10:30 am. It's free to attend, but make sure to come early to snag a good seat.
Baths of Caracalla
Dating back to the 3rd century, the Baths of Caracalla is one of the best-preserved ruins of a traditional Roman bathhouse. In fact, the blueprint of the baths influenced many other notable buildings that were built around Rome.
During your visit, you'll be able to walk the same path as the ancient Romans. Visit the swimming pool, on-site libraries, and even a frigidarium – or cold room. You'll even have a chance to see the colorful mosaic tiles and statues that once adorned the walls of the bathhouse.
WiFi and SIM Cards in Rome
With a SIM card, it's easy to stay connected to family and friends while living in Rome. You can buy a prepaid SIM card at the airport, or in a mobile phone store like Vodaphone, TIM, or WIND 3. You'll need to make sure your smartphone is "unlocked" so that you can add an international SIM card.
If you're staying in Rome for an extended period, you'll need to top up your card. All you have to do is visit a tobacco shop, newsstand, or supermarket to add more money to your SIM card. Keep in mind that most places only take cash in Euros. Foreign credit cards might not be accepted.
WiFi is also readily available in most tourist areas. Cafes, restaurants, and hotels offer free WiFi to patrons. You might be able to find city-wide hotspots in Centro Storico and other popular neighborhoods.
Best Restaurants in Rome
There's no doubt that Rome is home to some of the best restaurants on the planet. Whether you're eating homemade pasta from a family-run restaurant or sampling traditional fried artichokes and risotto balls, Rome has something for every taste.
As a rule of thumb, you should look for smaller restaurants away from popular tourist attractions. Restaurants located near the Colosseum, Pantheon, and Trevi Fountain tend to be overpriced and less authentic compared to other restaurants in Rome.
After living in Rome and eating my way through dozens of restaurants, I've compiled a list of some of my favorite places.
Roma Sparita – Tucked away in the back streets of Trastevere, this charming establishment still manages to keep its old-school Italian charm. During the summer, you can enjoy your meal in the sun-soaked terrace out front. You can't go wrong with any dish here, but take my advice and order the cacio e pepe, a simple Roman pasta dish made with pecorino cheese and freshly ground pepper. It's by far the best version I found in Rome!
La Salumeria – For the best selection of cold cuts, cheeses, and sandwiches, head to La Salumeria next to the Sant'Angelo bridge. This deli-style restaurant serves gourmet charcuterie boards filled with homemade jams, Italian cured meats, and mouth-watering cheeses. If you don't see a mix you like, you can also customize your own platter with your favorites.
Pizzarium – Located near Vatican City, Pizzarium takes pizza to the next level. The brainchild of famous chef Gabriele Bonci, Pizzarium whips up unique flavors that change by the hour. These rectangular pizzas are cut and sold by the weight, so go ahead and try as many types that you want!
Osteria del Sostengo – You know you're in a good restaurant when the whole place is overflowing with locals! Osteria del Sostengo has all the features of the perfect Italian restaurant – friendly service, fresh meats and pasta, and a neverending list of wines. The only downside is that the place is so popular that you'll probably end up waiting a while for a table.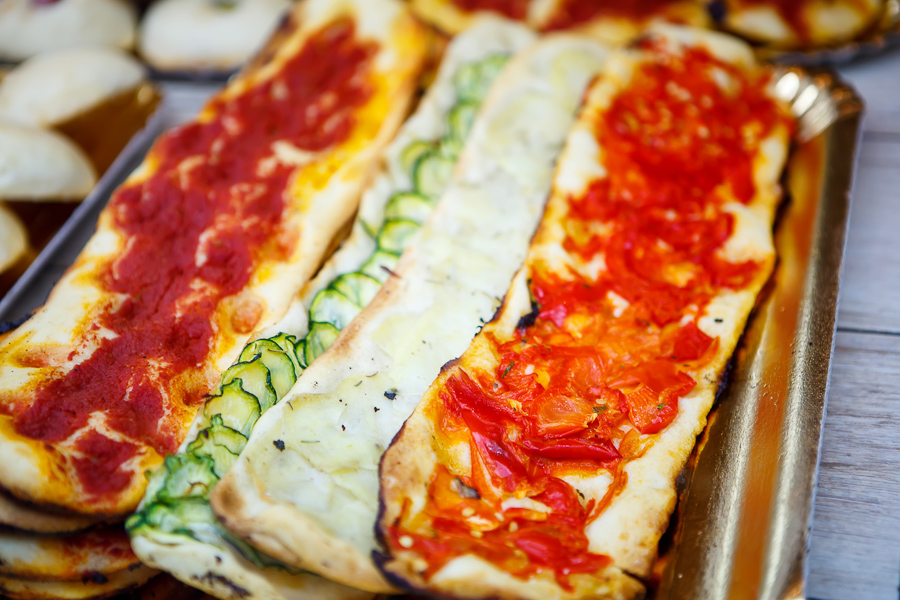 Transportation in Rome
Getting around the inner city of Rome using public transport is relatively easy. One ticket allows you to take most methods of transportation, like buses, trains, and railway trams. Tickets can be purchased from the machines in the metro station, or in a tobacco shop or newsstand.
While transportation is cheap in Rome, it may not always be on time or reliable. It's not uncommon to wait for a bus or tram for 10-20 minutes after it's scheduled to arrive. If you need to be somewhere urgently, I recommend taking an Uber or Taxi.
Although Rome is a sprawling metropolis, it's actually fairly easy to get around on foot. Starting at Roma Termini station, most attractions and neighborhoods can be reached within 15-20 minutes. Not only will you save money by walking, but you'll also get the chance to see some of the city's hidden streets, buildings, and sights.
The underground train can take you to most places in Rome, with the exception of Centro Storico. The two main lines are Linea A (red) and Linea B (blue), which intersect and meet at Roma Termini train station.
Obtaining a Visa for Italy
If you plan to stay in Rome for an extended period, you might be required to get a long-term visa.
Canadian and US citizens can enter Italy and stay for up to 90 days for the purpose of tourism without a visa. However, you will be required to obtain a visa if you plan to stay in Italy longer than three months. If you plan to put down some temporary roots in Rome, this might be an alright option for you.
British citizens can also live in Italy visa-free for up to 90 days. However, it is unknown how Brexit will impact visa procedures in the future. Specific details for British citizens will be released once Brexit has been finalized.
In Italy, long-term visas are classified as D visas. There are different types of D visas, depending on your reason for staying in Rome. If you come to Italy for work, then your company will sponsor a work visa or EU blue card. Another option is to enroll in university or school in order to receive a student visa.
Digital nomads starting their own business can apply for two different visas. Italy offers self-employment visas, as well as start-up entrepreneur visas.
The visa application process can take anywhere from a few weeks to several months. For this reason, I recommend applying for your visa months before you plan to move to Rome.
Pros and Cons of Living in Rome
Living in Rome as a digital nomad can be a life-changing experience. But just like any other country in the world, there are several strong advantages and disadvantages to keep in mind.
Pros of Living in Rome
Amazing, mouthwatering food around every corner
Centuries of history and culture in one of the world's oldest cities
Creative and affordable co-working spaces
Lively nightlife and bar culture
Cheap transportation
Easy to travel around Italy and other places in Europe
Cost of living is lower compared to other parts of the world
Cons of Living in Rome
Tons of tourists everywhere (especially during peak summer tourist season)
Can be difficult to obtain a long-term visa
Traffic can be bad
Foreigners are not allowed to drive in the city center
Petty theft and pickpockets are common
English isn't commonly spoken outside of hotels and restaurants
High unemployment rate for locals and expats
Final Thoughts
With over 3,000 years of history, art, and culture, Rome is a breathtaking city for all types of visitors, travelers, and digital nomads. Between the iconic landmarks, historic ruins, and charming cobblestone alleyways, you'll always have something to see and explore in Rome.
As a freelancer, Rome is also one of the best places to live. This welcoming city has a variety of co-working spaces where you can mingle with other creative nomads and expats from around the world. Housing, food, and transportation is also more affordable than other countries in Europe, which is ideal for those looking to save money or stick to a budget.
So why not spend a few months living in one of the oldest and most fascinating cities in the world? After all, you're in Rome; enjoy delicious food, soak in the lively atmosphere, and do everything exactly as the Romans do!
Images in this post courtesy of Shutterstock.
Like This Article? Pin it!