The land of pasta, pizza, the Pantheon and Pisa is still one of our favourite travel destinations. With so many places to visit in Italy, it's no surprise that tourists have been flocking to this romantic, architecturally blessed, foodie heaven for centuries.
From the wood fired ovens of Naples and the sumptuous wines of Tuscany to the crumbling ruins of Rome and the romantic canals of Venice, Italy has enough to seduce even the most sceptic of travellers. Those who believe that "Italy is too touristy" are often still intoxicated by the cobblestone back streets, the passionate street music and the picturesque cafes that spill out onto the streets at every corner.
This is a place that you will fall in love with and it's almost a guarantee that you will return here. We spent over a month in Italy and we're still dying to go back. In this article, I'm going to highlight not just the places we've visited, but all of the best places to visit in Italy. One day, we hope to see them all and hopefully this list will give you some ideas for your next trip to Europe's big boot.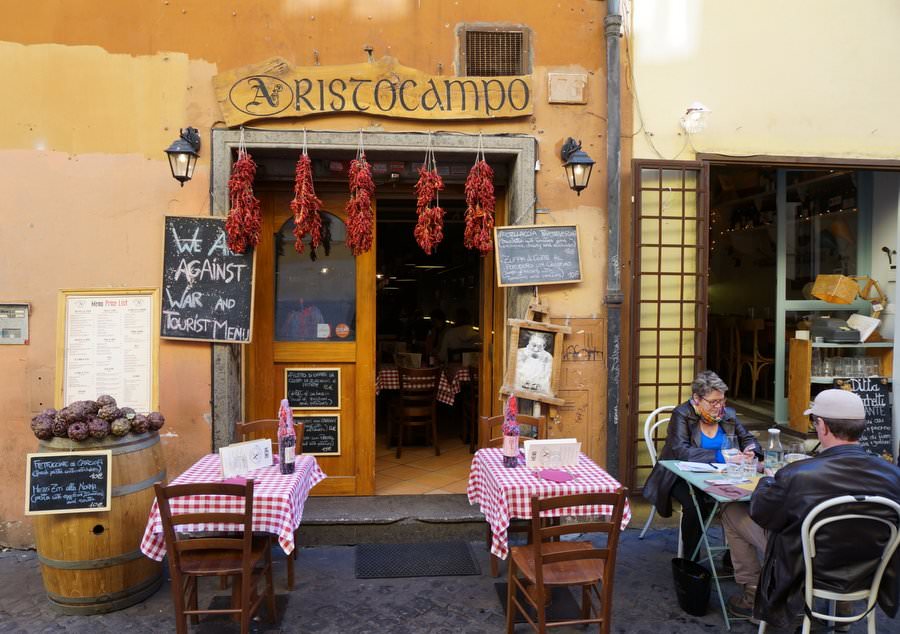 When To Visit Italy
The best time to visit Italy really depends on what part of the country you plan to visit, what activities you want to experience and if can handle the heat! If you're into winter sports, then the low season might be for you, but if you want to experience Italy with fewer crowds and an ideal temperature, then shoulder season is probably the best time to go.
High Season in Italy
May to July & September to Mid-October (Plus a peak over Christmas and Easter)
Summer is the high season in Italy, but August is so hot that fewer people actually visit during this time, however this is when Italians go on holiday. Because they tend to travel to other parts of Europe, there is actually more availability for hotels around this time, but the heat can definitely be oppressive, especially in the south and in the cities.
Mid-May to July is a very busy season in Italy because the weather isn't too hot, but not too cold and all hotels and sites are open. The beaches are warm enough for swimming and people are planning their first holiday of the year after Christmas. This is considered peak season. Again after the summer heat dies down, there's a secondary peak in September when people come to enjoy the fall colours and temperate weather.
Of course, different places to visit in Italy have different climates, but generally this is a great time to go.
Shoulder Season in Italy
March to Mid-May (Easter is super busy) & October to November
Shoulder season is our favourite time to visit Italy, particularly late March and April, when the weather warms up a bit (perfect for sightseeing), and there aren't too many travellers. The hotel costs are also much lower around this time, but beware of Easter when the country (particularly Rome and around Vatican City) becomes extremely busy. Hotel prices soar and it's hard to find rooms. Other than the few days around Easter though, the country is not too busy, the sites aren't packed and the hotel prices are great.
In general, no matter what places in Italy you choose to travel, shoulder season is our favourite time to visit.
Low Season in Italy
August (too hot) as well as December to February (outside of Christmas and Carnival)
Winter is low season in Italy mainly because it's really cold and most people choose to visit warmer destinations during this time. Many hotels and some sites actually close down in the low season, but those that remain open often have huge discounts.
It's nice to enjoy the cities and sites without the crowds, but sometimes the ambiance dies along with the tourism season. If you're into winter sports however, this is the time to visit.
Getting Around Italy
Our favourite way to get around the various places to visit in Italy is by train, but there are also good bus connections, decent domestic flights and some affordable multi-day, multi-city tours. Trains however, are comfortable, affordable and offer the best way to see the Italian countryside when getting from point A to point B.
If you're looking to book tickets online, check out GoEuro. They search loads of different partner websites to find the best rates on buses, trains and planes across Italy and the rest of Europe. They also have a super-useful app that makes it easy to book trains and navigate the transportation options in Italy.
I like using their app to search for transport options between destinations because you can easily bring up options between two cities (ie: Rome and Venice or any other places on this list) and then you can simply switch between the tabs in the results to compare the prices and times between buses, trains and flights.
They also have a good list of destinations and a blog with different places to visit in Italy, what to do, what to expect and where to eat.
Places To Visit in Italy: The North
Perhaps nowhere in the country is the Italian connection to the soil, the food, the wines and zest for life as prominent as in the north of Italy.
If you've only visited Venice, you'd be forgiven for thinking otherwise, but outside of the quiet canals and growing casino scene of Italy's biggest tourist draw, there lies hidden villages, dramatic coastal terrain, inspired cuisine and near perfectly preserved architecture. Here are our favourite places to visit in northern Italy.
Cinque Terre
Technically pronounced chinkway tayreh and meaning "5 islands", Cinque Terre is a region of five historic towns along Italy's Ligurian Coast that appears on most people's travel bucket list. The tiny villages of Manarola, Monterosso, Vernazza, Corniglia and Riomaggiore used to be little more than fishing villages, but today they attract thousands of visitors from around the world and together form one of Italy's main tourism draws, Cinque Terre.
Most tourists choose to hike between the villages along one of the many picturesque trails that weave their way through the towns, up and down the hills and along the dramatic coastline. Now designated as a Unesco World Heritage site, Cinque Terre is well-preserved, well-signed, well-trodden, and well-worth a visit. It's no wonder why so many people list Cinque Terre as one of their favourite places to visit in Italy.
Dont Miss:
Riomaggiore: The largest of the five villages in Cinque Terre and the unofficial capital of the coast, brilliantly colored buildings all tumble-down a steep ravine towards a tiny harbor. Be sure to see this place at sunset when it's aglow in the late afternoon sun.
Manarola: A bustling fishing village surrounded by grapevines that produce the famous Cinque Terre wine, Manarola is the perfect place to experience what everyday village life looks like in the region.
Corniglia: Surrounded by vineyards and perched atop a 100 meter high cliff, this tranquil village maze of cobbled streets and stone terraces is the only one of "the big 5" towns in Cinque Terre that doesn't have direct access to the beach, but it's the only place where you can get that perfect picture of all 5 villages together from this high-altitude viewpoint.
Vernazza: Narrow lanes known as caruggi make up a romantic labyrinth of stairs, terraces, balconies and amphitheaters all facing the brilliantly blue Mediterranean Sea. Check out the Piazza Marconi and come in the afternoon when the pastel-colored buildings are at their brightest.
Monterosso: Always in the shadow of the more charming villages in Cinque Terre, Monterosso still has its worthy qualities aside from being the most easily accessible town and the only one with a proper beach. It also has lemon trees and you can purchase fish right from the fishermen in the harbour.
Best Tours of Cinque Terre:


Tuscany
Instead of listing each of the villages in Tuscany, I'm just going to list the entire region and tell you that you should spend at least a week here, exploring the many villages, vineyards, cathedrals and cobblestone back streets. I highly recommend basing yourself in Florence and then travelling out from there. Florence is still one of our favourite places to visit in Italy, and while it's a very special city, it is the surrounding villages and landscapes that really add to its allure.
See Also: What To Do in Florence – Our List of 21 Awesome Things To Do
There are some amazing tours available which I'll list below. We did a wine tour that also brought us to many nearby towns which was a great way to see the region while sipping on some of the vintages that made this area of Italy so famous. If you choose to rent a car for your visit, you could also explore on your own, but I found the guides to be invaluable for learning about the history, culture, cuisine and viticulture of Tuscany.
Are you a foodie? Check out our pick of the best restaurants in Florence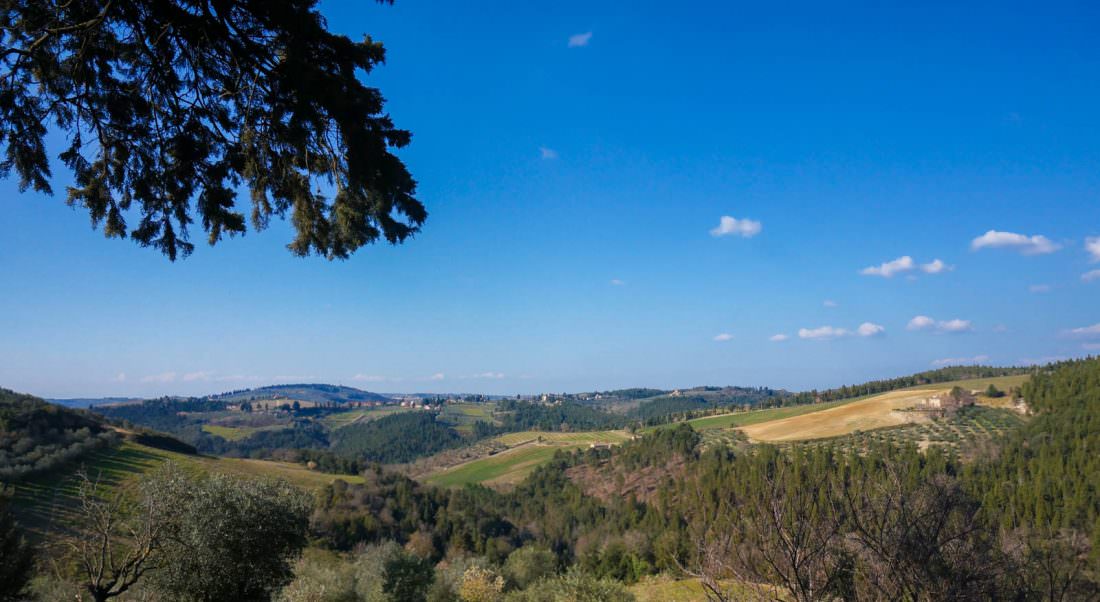 Don't Miss:
Florence: The perfect base. Florence's Duomo is truly a sight to behold. There are also some great walking and wine tasting tours within the city. Without a doubt, Florence is one of the best places to visit in Italy.
Siena: A classic medieval hill town in Tuscany famous for its large fan-shaped piazza the Piazza del Campo, which features an imposing bell tower, the Torre del Mangia.
San Gimignano delle Belle Torri: This small medieval town dates back to the 8th century and is probably the most famous of Tuscany's small towns. San Gimignano boasts 14 medieval towers and narrow alleyways, all overlooking olive groves and vineyards.
Best Tuscany Tours:

Milan
Best known for its high-end fashion factories, fancy boutiques and super shopping, Milan also has some of the country's most stunning architecture and historical sites as well as its best bars and most chic cafes (usually Milanese don't distinguish between the two).
There's a considerable amount of rain in Milan and the locals often don't speak English, but that's never deterred the enormous number of tourists who flock to this haven for high fashion hand bags and top-end restaurants. Take your time and get lost in the lesser known areas of Brera, Corso Como, and Navigli and find a Milan that is miles away from what you likely expected before your arrival.
Don't Miss:
Castello Sforzesco: The former fortress and residence of Milan's most powerful rulers is now a campus for some of the city's best cultural institutions.
Duomo: Milan's Duomo is considered the largest and most fascinating Gothic complex in all of Italy, which is no surprise because it took about 500 years to build!
Monumental Cemetery: A cemetery may not have been at the top of your list of places to visit in Italy, but once you see the architecture that makes up the Monumental Cemetery, you'll see why it's considered such a must-see site.
Best Tours in Milan:
Venice
For some reason, despite all of they hype for this infamously romantic canal village in Italy, we weren't overly impressed. Don't get me wrong – aesthetically, Venice was breathtaking and is still one of the places to visit in Italy that you shouldn't miss.
See Also: Things to do in Venice (video)
To us, Venice felt so touristy that is was almost completely devoid of what makes Italy so amazing. Even the local businesses here were run by foreigners with many Russians buying up gorgeous old buildings and converting them into large hotels or (even worse) casinos.
On the surface, Venice is still one of the most beautiful places to visit in Italy, but as you dig a little deeper and find out that many Venetians have sold up and moved to the mainland and very little true culture actually remains here, the place becomes somehow tainted.
That's not to say it shouldn't still be on your bucket list of places to visit in Italy, but you may find that it lacks the food, culture and day-to-day life of places like Rome, Naples and Florence.
Don't Miss:
Canal Tour: You have to hop on a boat and be gently paddled around the canals for at least an hour. If you don't, you'll be the only tourist to ever visit Venice without actually venturing on a traditional gondola.
Murano & Burano: Don't miss these two nearby islands. Colourful, quaint and picturesque.
Piazza San Marco: Packed, chaotic and oh so gorgeous, this piazza is home to Saint Mark's Basilica. It's a stunning place, but just know that the lines here are enormous! If you actually want to go inside the basilica, join a tour so you can skip the horrendous lines.
The Grand Canal: The main canal in Venice, this is a great place to chill, stroll, enjoy an aperitivo or a gelato and people watch.
Best Tours in Venice:
☞ Click here to see all tours available in Venice with Walks of Italy
Turin
Filled with flea markets, tasty aperitivo, an Egyptian museum and lovely back streets, Turin is another rain-prone tourist hub with a lot to offer visitors. If you expect to spend a lot of time enjoying cultural activities abnd excursions, you should definitely pick a special tourist card. These are sold at ticket kiosks and many hotels around the city and can save you a lot of money on entrance fees around Turin.
You may feel like you've temporarily stepped into Paris as you meander through the bougainvillea draped, cobble stoned streets and tuck into tiny cafes for espresso and pastries, but Turin has a personality all its own.
With a history of chocolate, booming contemporary art and architecture, a growing live-music scene and innovative food and wine culture, Turin has enough to keep you busy for a while.
Don't Miss:
Piazza Castello: Also known as Castle Square, you'll find this site in the centre of the city. It is surrounded by arcades on three sides, each of which were built in a different period.
Palazzo Reale: Actually the home of the royal family from 1660 until the Unification of Italy in 1861. The State Apartments in the Palazzo provide a fascinating glimpse into the architecture, history and life of old.
The Egyptian Museum: Perhaps an Egyptian museum wasn't the first place to visit in Italy that came to mind when planning you're trip, but thanks to Bernard Drovetti, the French Consul General in Egypt during the Napoleon wars, this museum has the largest collection of Egyptian relics and sculptures outside of Egypt.
Genoa
Still one of the country's most intriguing and intoxicating, yet undiscovered cities, this Italian Riviera gem should definitely be on your list of places to visit in Italy, especially if you like to get a little bit off the beaten path.
Sitting right on a one of Europe's best stretches of coastline, Genoa boasts fantastic art, culture, history and architectural marvels. The former Republic of Genoa ruled over the Mediterranean waves during the 12th to the 13th centuries and this history is still vividly etched into the endless labyrinth of twisting caruggi (narrow streets), pasted in the gold-leaf halls of Palazzi dei Rolli and painted with the brush strokes of Caravaggio.
Don't Miss:
Piazza de Fararri: Featuring a central fountain and fringed by a bold mix of 19th-century architecture, this is one of the city's most beautiful plazas.
Porta Soprana: Just a few minutes from Piazza De Ferrari, the Porta Soprana represents some of the last standing examples of a once great city wall. Today the two towers and arched gateway make for a great walk and pretty photos.
San Lorenzo Cathedral: Also known as Genoa Cathedral, the church of San Lorenzo has architecture that may remind you of the Florence Cathedral, with a striped marble stone facade.
Lucca: This hidden gem is just a short train ride from Florence and features cobblestone streets, elegant palaces and churches all surrounded by an imposing Renaissance-era fortification wall that is now the perfect place for a stroll or a bike ride.
Best Tours in Genoa: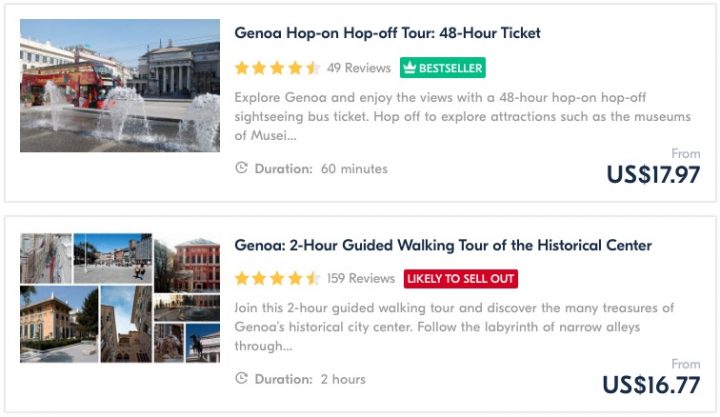 Bologna
Bologna is a newly booming tourist hub which sees more and more visitors each year. Despite its size, the city is very easy to visit thanks to its medieval grid-like design. If you enjoy delicious cuisine, unique character, elegant shopping and quirky architecture, then Bologna is for you.
The city's gastronomic specialties include pasta and sausages, but you can truly get lost in the cuisine of this important Emilia-Romagna capital, and you're likely to leave a bit heavier than when you arrived.
Thanks to its easy accessibility, old town, cool vibe and fun nightlife, this is one of the up-and-coming places to visit in Italy and many digital nomads are now flocking here to live and work long-term.
Not only is Bologna a great destination in itself, but there are numerous day trips from Bologna that you can take, making it a great base to see the surrounding areas. Check out the amazing food options in "Food Valley", the Ferrari Museum in Modena and the beautiful beaches of Rimini…to name a few.
Don't Miss:
All'Osteria Bottega: If you want a true foodie experience in Bologna, don't miss this amazing osteria. Try the culatello di Zibello ham, Petroniana-style veal cutlets (breaded, fried and topped with Parma ham and parmigiano reggiano with a sumptuous salty broth).
Quadrilatero: Still holding onto its ancient tradition, the old market of Bologna was one of the greatest developments in the Middle Ages and kept its trade and bustling energy throughout the centuries. Wander around and watch as goldsmiths, butchers, fishermen, meat curers, barbers and painters go about their business under the high vaulted ceilings.
Torre degli Asinelli: The leaning towers of Bologna are a group of medieval structures in the center of town. The two most prominent ones, known as the Two Towers, are the landmark of the city and shouldn't be missed on a visit.
Best Bologna Tours:
Verona
Do as the locals do and arm yourself with an ice cream as you stroll along one of Verona's most famous shopping streets, the Corso Porta Borsari. Gaze up at the well-preserved Roman gate as you pass under its great arches before slowly making your way to the quiet Piazza dei Signori.

Verona is known as city of love thanks to its magnificent Arena and its association with Shakespeare's love story, "Romeo and Juliet." This Unesco listed world heritage site is Italy's fourth-most-visited city making it one of the most important tourist destinations in the country.
Don't Miss:
Arena di Verona: You may have already had the Colosseum in Rome as one of your top places to visit in Italy, but Verona has its own well-preserved Colosseum. Built just 30 years after the death of Christ, this remarkable structure has stood in impeccable condition for nearly 2000 years and awaits your "oohs and ahhs".
Castle Vecchio: Located on the banks of the River Adige, this 16th century castle is an important structure in the city as it once served as its primary defence and was regarded as the greatest feat of engineering during the time of the Scaliger Dynasty.
Basilica of San Zeno Maggiore: Located on the western side of the Adige River, this basilica is one of the most important religious buildings in Verona and was the fictional venue for the marriage of Romeo and Juliet in Shakespeare's famous novel.
Parma
This riverside city of Parma may be synonymous with food (think: Parma ham and Parmesan), but it also satisfies appetites for art, music and history. Tapping into many of the things that make an Italian city so special – religious monuments, art, food, architecture, theatre, music, and history – this compact metro-area is actually very easy to walk. Many visitors choose to get around by foot.
Don't Miss:
Eating Parma-ham and Parmesan: Obviously you don't want to leave Parma without the sampling some of the city's meat and cheeses. See the food and wine tours below for the best way to find, learn about, taste and purchase these Parma specialties and more.
Galleria Nazionale: The National Gallery of Parma focuses on artwork from the 17th, 18th, and 19th centuries. Inside you will find some works by van Dyck, Da Vinci, Barbieri, Allegri, and many others.
Cattedrale di Parma: Take a walk around the 11th century dome of Romanesque Cathedral of Parma to find frescos by Antonio da Correggio. Together with the Baptistery of Parma, the Cattedrale usually hosts art exhibitions and educational workshops.
Trieste
A city at a crossroads, this impressive and historically important port town has been captured by Romans, Venetians and the Hapsburg monarchy and the Germans during WWII. Despite, or perhaps because of this tumultuous past, the city has formed a unique and vibrant culture that enjoys a blend of Austrian, Italian and Slovenian influence.
Geographically isolated from the rest of the Italian peninsula, it's no surprise that Trieste is a place all of its own, and despite not having a single site worthy of writing home about, it's still an enchanting place to visit in Italy and has been an escape for writers, exiles and misfits over the years.
Today, its Slavic, Jewish, Greek, Germanic and Italian cultures intertwine to create a city of cafes, bars, buffets and wines.
Don't Miss:
Bagno Marino Lanterna: Hidden behind the Trieste's abandoned 19th-century lighthouse, this pebbly beach is worth checking out, despite being segregated by gender!
Castello di Miramare: Commanding a rocky outcrop 7km outside of town, Castello di Miramare was built in the 1800's for Austrian Archduke Ferdinand Maximilian and his wife.
Piazza dell'Unità d'Italia: The main square in Trieste, this piazza is set at the foot of the hill with the castle of San Giusto and facing the Adriatic Sea. It's often said to be Europe's largest seaside square and is definitely worth a visit… in fact, it would be hard to miss this one.
[widget id="shortcodes-ultimate-5″]
Brescia
This rich industrial city sits between the foothills of Valtrompia and Lake Garda. More famous for its manufacturing of weapons and kitchen accessories than it is for any facet of tourism, the city itself is home to several interesting museums, but little else. So why is it on this list of places to visit in Italy?
Well, many people choose to visit Brescia as a less touristy part of their itinerary and find charm in the fascinating old town, which attempts to compensate for the city's otherwise unappealing urban sprawl.
The narrow streets of the old town are where you'll find some important Roman ruins (some of the best examples in the entire province of Lombardy), a few nice restaurants, some frescos in the corridors of the medieval monastery and a collection of 2000 year old architecture.
Don't Miss:
Tempio Capitolino: These old Roman ruins are the last remains of what was once the city's public forum during the Roman Empire, built by the emperor Vespasian.
Old and New Duomo: This pre-renaissance church has an enormous stone dome and large crucifixes that date back to the 12th century. While you're here, pop in next door to the city cathedral which was built over 150 years ago and boasts the third largest dome in Italy.
The Castle: Built in the pre-Roman times and last fortified by the Venetian overlords of the 16th century, this castle was once the city's stronghold and it still houses museums of armory and provides picturesque views of the Valtrompia alps which fringe the city itself.
Monza
Perhaps best known for the Monza Race Track (often home to the Formula 1 Grand Prix), this city lies just 20km northeast of Milan and is often considered a satellite town that has been pretty much fully incorporated into the fashion-capital. Despite the large shadow of nearby Milan, Monza still impresses (its very few) visitors with lovely architecture and a deep and rich history.
Don't Miss:
Villa Reale: Built between the years of 1777 and 1780, this former summer home for Italian royalty was actually modelled after Vienna's Schonbrunn Palace and boasts a 3500 square meter interior that's covered in frescoes, stucco work and intricate gilding.
Duomo: Yes… there's another duomo on this list of places to visit in Italy, but this green and white striped facade is home to the Iron Crown (a medieval treasure apparently made from one of the nails used in Christ's crucifixion), some nice frescoes and a gothic interior.
Museo e Tesoro del Duomo: Containing what is often regarded as Europe's best collection of religious artwork, the Monza Cathedral Museum is a site not to be missed during your visit. Among the best pieces are a priceless collection of Lombard gold and an intricate stained glass rose window that is thought to date back to the 15th century.
Como
The town that sits on the lake of the same name, Como is a place you can spend a few days. The dramatic surrounding mountain landscapes, the pristine, calm waters of the lake and exquisite architecture make Como one of the best places to visit in Italy for sure.
This isn't the only village on this beautiful lake, so once you've finished soaking up the gothic ambiance of Como itself, take to the waters of Lake Como and enjoy a peaceful boat ride to visit one of the other lakeside towns such as Bellagio, Lierna and Dervio.
All of these towns offer great views across the lake, and plenty of restaurants and cafes.
Don't Miss:
A Boat Ride: As I mentioned above, a trip to Como wouldn't be complete without a ride on a boat to a neighbouring village. The surrounding mountain scenery is best viewed from the water.
Funicular: The ride up the Funicolare Como-Brunate is definitely worth the €5.60 round trip.
Walk the waterfront: The city is famous for its picturesque waterfront promenade, spend the day sauntering along here.
Gothic Como Cathedral: With out a doubt this is one of the most important buildings in the region. It's commonly described as the last Gothic cathedral built in Italy.
Udine
By now on this list, we've started to list some places to visit in Italy that you never thought you'd find on your itinerary, and while Udine may not compete with the likes of Rome and Florence as far as tourist attractions go, beneath the sprawling urban suburbs you'll find a medieval center with grand Venetian archways, Roman columns and Grecian statues carved to perfection.
The old town is pretty much untouched and devoid of tourists, but also very lively as there are some great bars, restaurants and cafes and a surprisingly buzzing nightlife.
Don't Miss:
Udine Castle: Perched on a legendary hill, supposedly built by the Gods, smack dab in the center of the historical area of Udine, this 16th-century castle took nearly 50 years to construct and now houses the History and Art Museum of the City of Udine.
Udine Cathedral: Consecrated in 1335 as Santa Maria Maggiore and later damaged by an earthquake in 1348, the Duomo di Udine (Cattedrale di Santa Maria Maggiore) is a Roman Catholic cathedral and is currently the seat of the Archbishop of Udine.
Piazza Libertà: Also known as Piazza della Libertà (previously known as the Piazza Cantarena), this is the oldest square in Udine and makes for a great place to stroll or grab some gelato, sit on a step and people watch.
Places To Visit in Italy: The South
Rome
Barely sitting in the south, Rome is the nation's capital, likely your jumping off point to the country and most definitely one of the best places to visit in Italy. There's just something about this city. From the vibrant art to the buzzing street life scene, the thumping wine bars and the impressive Romanesque architecture, this capital boldly holds up its hand proclaiming to be one of the world's most romantic, energetic and fascinating cities… and we have to agree.
See Also: Where To Stay in Rome
Don't Miss:
Note: The lines to see the sights in Rome can be extremely long. If you don't want to waste your entire holiday standing in line with thousands of other people (yes, literally thousands), we highly recommend you take a tour. Walks Of Italy is our favourite tour operator in the country and they have the best tours of Rome, including the Vatican, the Colosseum, Trastevere and all of the main sights. The best part is… they skip the lines!
Trevi Fountain: Coming around the corner to spot the Trevi fountain is likely an experience you'll never forget. How a fountain can inspire such emotion, awe and chaos is beyond me.
Trastevere Neighbourhood: This is without a doubt one of the most romantic places to visit in Italy, if not the world. Tiny cafes and restaurants spill their tables onto cobblestone streets, each with their own unique entrances – you'll find yourself tempted to have 6 lunches a day.
The Colosseum: Best visited with a tour (skip the lines), we loved our time spent at the Colosseum. Before visiting, we had no idea that it sat smack dab in the middle of the urban rush that is Rome, but when walking down a back street, through a park and simply stumbling across the Colosseum, our jaws dropped. This is Rome and it boldly throws its iconic structures at you from all angles.
Pantheon: Another of the world's most iconic structures in the same city? Yes… the Pantheon is stunning and a must visit.
Vatican City: Okay… not technically "Rome" and, as its own country, not even technically "Italy", if you can make your way through the dense crowds to actually buy a ticket, the Vatican is a sight to behold.
The list goes on and on…
See Also: Our Ultimate Guide To Rome
Best Tours in Rome: